Not far from San Marcos, pilgrims reach a park on the top of the last hill before arriving in Santiago. The hill is appropriately called Monte do Gozo (Hill of joy) and from there it is possible to see the towers of the Cathedral in Santiago de Compostela for the first time. Traditionally, this was the place where pilgrims used to cry out with huge joy for finally coming so close to their ultimate destination. Nowadays, there is a small chapel and a large modern albergue for the placement of pilgrims, as well as a monument.
I did not cry out at all there, nor did I look at or visit anything, I just wanted to continue. My plan was to get down the hill and as soon as I see a sign saying Santiago to try to catch a taxi. But, this was not what was in store for me. Obviously I HAD TO walk and cover even those last couple of kilometres. I did not see any sign nor did I see any taxi. Later I saw that Francesco had a photo of him taken with a sign saying Santiago. I asked him where this was and he said at the very entrance into the city (which is logical), but one had to make a small detour. I was obviously just looking straight ahead of me and possibly at my own feet, and thus I did not even notice the sign.
From the entrance into the city to the Cathedral there are still 2.5 km and I was so tired and overwhelmed by the pain in my leg that I had to make a few breaks, sitting down on the benches I came across. At some point I realised I was already quite close to the Obradoiro square (Praza do Obradoiro) where there's the Cathedral and I tried to ascertain clearly how and what I felt. I felt nothing – neither any joy, nor excitement, or sorrow, or relief – I felt absolutely nothing. No, that's not true, I did feel the pain in my leg, but that had nothing to do with the place I was at and I only wanted to get there.
And I got there.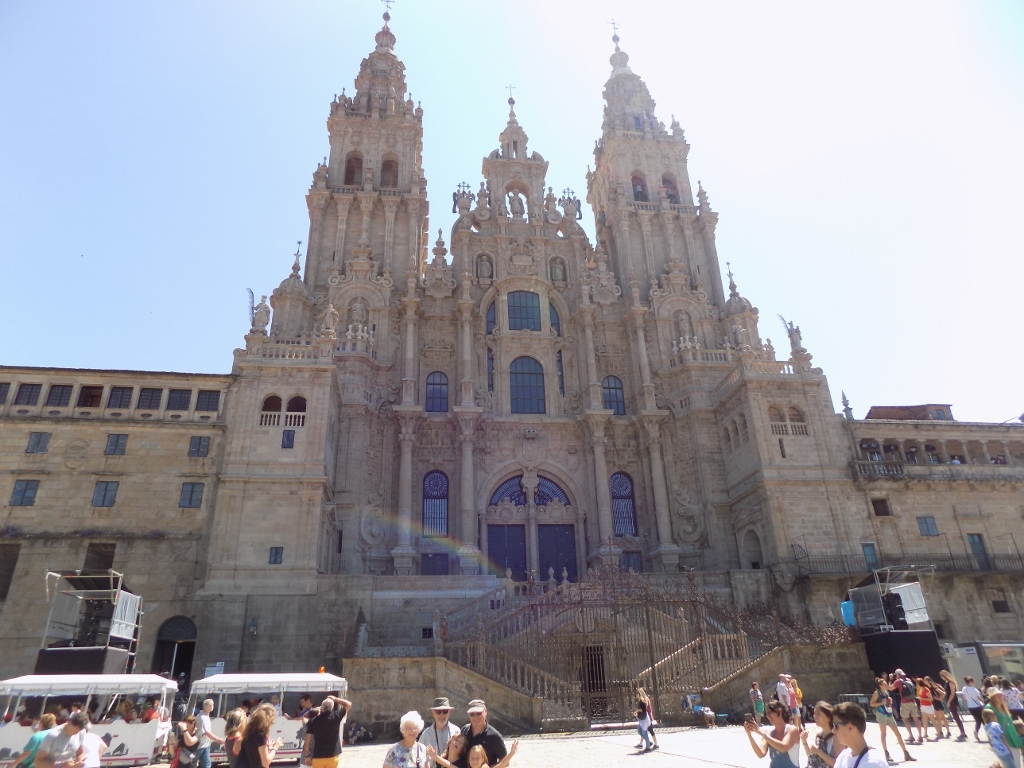 The front facade of the Cathedral in Santiago de Compostela
I made almost no photos in that last leg, but here I did have to make a selfie; somehow it's a question of honour and tradition (!). Later I explained to my friends that I was all smiles only because my camera needs to see a smile in order to do an automatic selfie, but this was absolutely no reflection of how I actually felt. Dull, empty and exhausted to the ultimate personal limits, both physically and psychologically.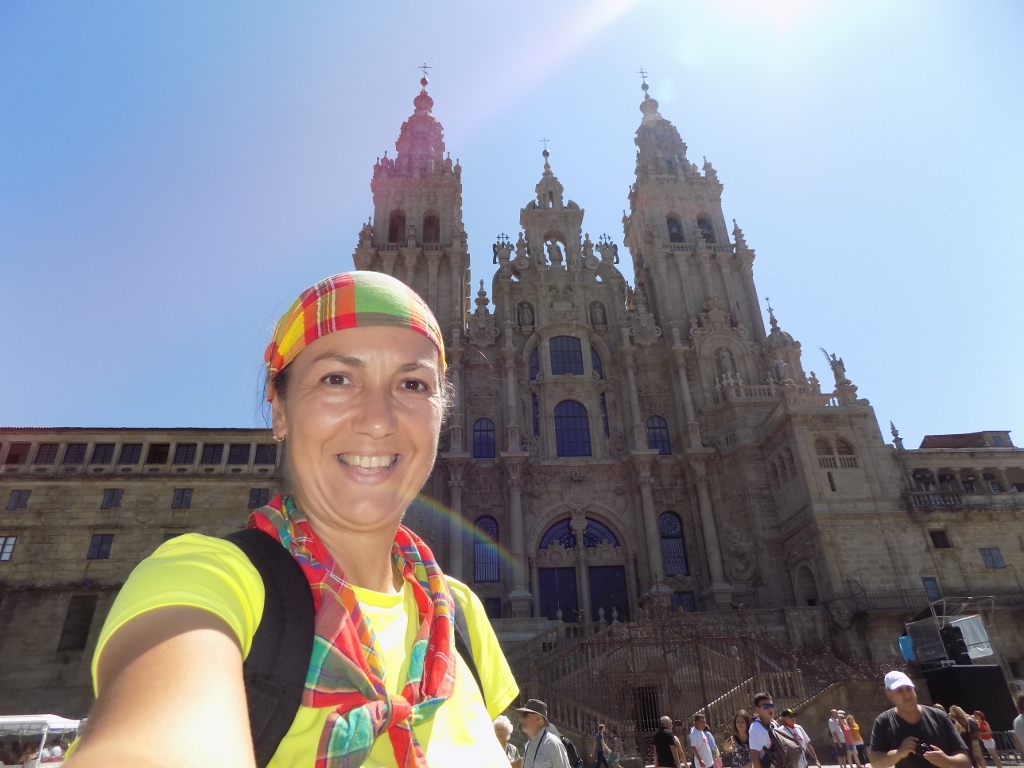 A selfie to remember the moment
And here is why:
My pilgrimage was 867 km long, out of which I physically walked 575 km. And I'm perfectly happy with this.
As soon as I finished with the taking of photos, I went to the nearby post office for this was where the package with my things awaited me. When the three of us wanted to book the accommodation in Santiago, we faced a small problem. Namely, a couple of albergues we wanted to stay at were completely full and this seemed to us to be a problem. However, it turned out that we did find the place for us at a hostel that was at a fantastic place, especially for me who now carried a box with 4.5 kg of things under my arm. Although I occasionally worried whether the package would wait for me or not (I received an email saying they would keep it for 30 days and then they would send it back to the place of "origin"), the system actually functions in such a way that the package is kept at the destination post office. The hostel we had booked was located a couple of hundred of metres from the post office and for me this was the real end of my pilgrimage and exertion.
Already when I got to the hostel in Santiago, it was clear to me that this was also the end of my hanging together with my two great co-pilgrims. Namely, when we were looking for the accommodation, and this was particularly challenging since we were in fact a small group, the hostel could only offer to us one separate bed and one double bed. As we had already been told by a very big albergue that they had no beds available for the dates that suited us, Francesco and Gabriel agreed to share this double bed. There we also got a new topic to joke about!
As I have already mentioned before, the two of them left very early that last morning and when I finally reached the hostel I was told I could not be placed in the same room as the two of them, and that was a large shared dormitory, but rather they put me into a small room right next to the reception. Although I felt sorry not to be together with my friends, I did not complain since my room had only two beds and I did not have to climb up to the upper floor which was very important for my leg.
Admittedly, the bathroom was on the upper floor so I did have to go up and down the stairs, but I did this one step at the time, so I managed. Freshly showered, as always I first put my washed clothes out to dry and then I stretched on my bed, writing a text and posting it on the Facebook.
Day 36: "The last, as well as the most difficult stage"
And now everybody wonders: "What now?"
Yesterday afternoon, after Francesco gave me some strong Italian painkiller, I could finally walk even a little around the hostel. Before that, I almost could not. By the evening, the pain in my leg significantly decreased as long as I lay down, but was still there a little when walking. Since Francesco and Gabriel wanted to be present at the pilgrims' mass held at the Cathedral in Santiago de Compostela at noon, they decided to leave early, while it was still dark. I said I would leave later and we agreed to meet at the hostel.
I was still not sure how I would actually get to Santiago, but then I decided to go on foot and hope for the best. But...
Since I'm not a person who shies away from challenges, on this day I decided that I should personally make the last stage particularly demanding, almost impossible to do. Walking 1000 kilometres, climbing Mount Everest, jumping with a parachute from stratosphere,... well, all of this is for chickens. On this day I decided to take a vow to be – silent! Until I have reached Santiago. To everybody who knows me even little it is clear that this is on the verge of the inconceivable. And yet, carried by my decisiveness, strong character and the faith in better future, I covered 19.5 km and spent almost 6 hours without uttering a word!
Still, this was no small feat. During the endeavour, I faced serious challenges – people walking past me, kindly saying "Buen Camino!" and I only wave back and smile. On a couple of occasions I made a break in order to drink something, as well as to take some ice to put in a plastic bag and then onto my leg. I did this by writing down on a piece of paper what I wanted. I even managed at one place to buy a couple of souvenirs without speaking a single word. I pointed at the thing I wanted with a finger, gesticulating "how much?," etc., and I did it!!!
And yet, today's walking also had some other aspects as well. Especially in the first part of the morning, when there were more people, I often remembered a wonderful Zen story. It roughly goes like this:
"A man walked along a road. At some point, he heard a noise behind him, looked back and saw a crowd of people hastily and loudly going towards him on the same road. The man got off the road, stopped and let the people pass him. Then he went back onto the road and continued to walk."
I did the same thing on a couple of occasions when the noise of the others bothered me too much.
My leg, of course, hurt me a lot. I took a medicine again and that, together with the breaks, cooling down with improvised ice-pack and applying of ointments, helped me reach Santiago. From the entrance into the city (and, unfortunately, I did not see any sign with the name of the city to have a photo with it) to the Cathedral there was a never-ending stretch and I barely walked. Only when it was clear to me that I was a couple of hundred metres away from the "goal" I started to think whether I felt any excitement or whatever. Nothing. I just wanted to get to the final designation and that was the Cathedral. There I made a couple of shots, but although I'm smiling on the photos, I did not feel great. The reason why I'm smiling is that my camera has a programme for automatic selfie but only if it recognises a smile. In other words, this has nothing to do with the state of the spirit.
After a short stay in the square, I went to the Post Office. Namely, it was important for me to take my things that were waiting for me there and the Post Office was anyway half-way from the hostel I had selected and this time I really made a fantastic choice! A couple of hundred metres from the Cathedral with the Post Office in the middle.
And then, finally, something I have been waiting for more than a month. On my way to the Post Office and farther to the hostel, when passing by cafés and restaurants, imagining myself sitting there, resting, and enjoying the food, the drinks and the not-moving, I started to smile from the depth of my soul.
In front of me: 0 km
Behind me: 867 km
I did walk a little in the afternoon though, after the rest, but this was something special. Namely, I went to the Pilgrim's Reception Office. This is the place to go to when the pilgrimage is over in order to get a Compostela – a certificate of the completion of the pilgrimage that is obtained on the basis of the stamps collected in the credencial, i.e., the pilgrim's passport.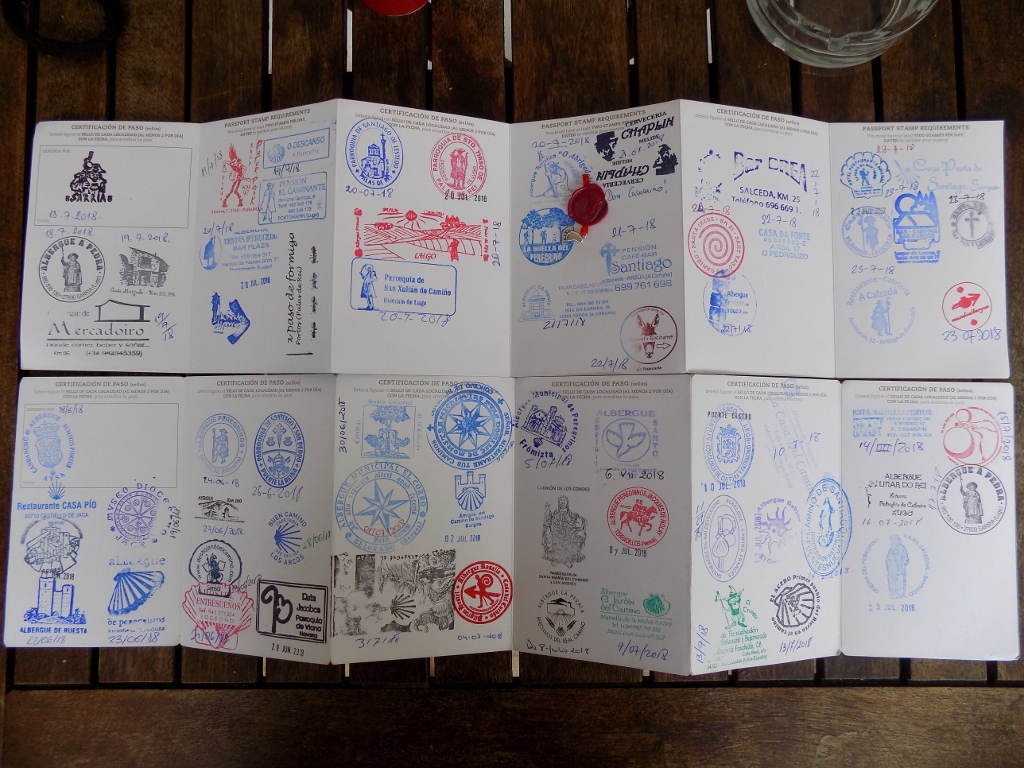 My two credencials
It is also necessary to fill out a couple of more forms and among other things they also ask about the reason for coming to the pilgrimage – the religious, spiritual or touristic one. I thought it would be completely stupid to start lying now in the end, so I checked the third reason. They also asked me if my name had its Latin version, but since it does not, they wrote it such as it is. Namely, the whole Compostela is written in Latin.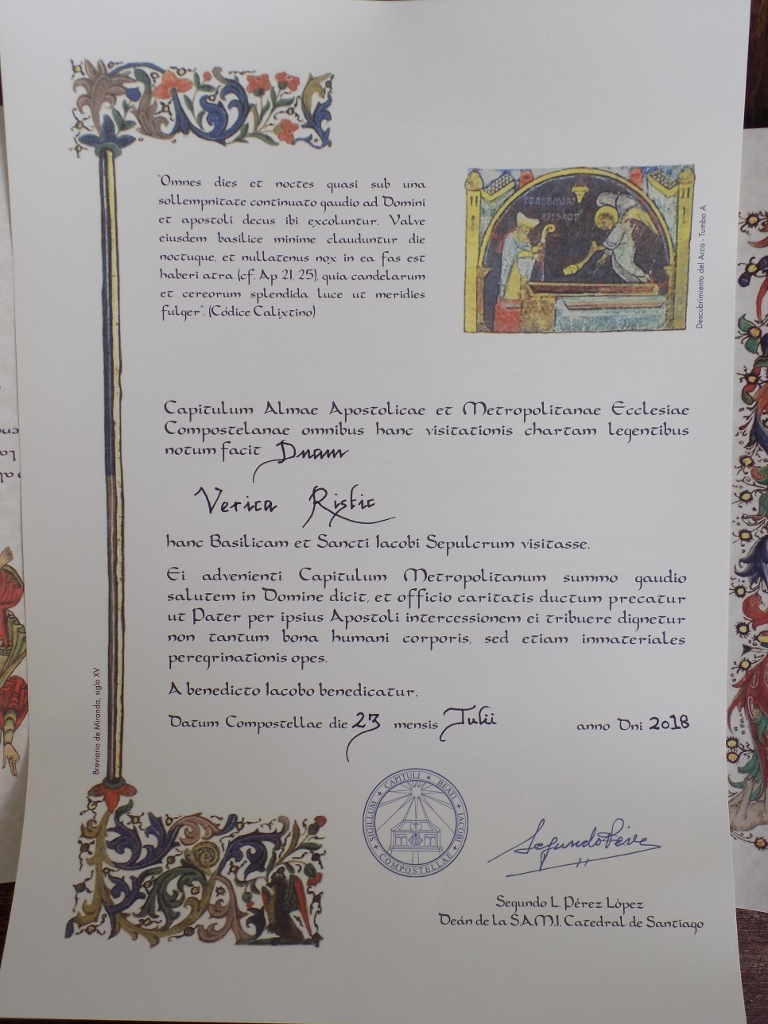 My Compostela
In addition to this certificate, which is obtained for free, it is possible to pay 3 euros and get a certificate of the route covered. That could also be seen from my "passport", so the gentleman I spoke with put down that I covered 867 km, but he made a mistake and wrote that I did the French route, where in fact I did the Aragonese route, although the latter coincides with the former one to a large extent. Still, I did not want to be petty. After all, this was all for the sake of symbolism and fun. My soul and my body know exactly what I went through.
When I got out in the street I ran into two Romanian women with whom I had shared the room back in Camponaraya. We were very joyful at meeting one another, exchanging congratulations and hugs, and we asked each other about our current state and then with a lot of positive energy we parted. Earlier I had a similar encounter with a couple of Hungarians. I don't know the names of these people, we have never formally met, but we are bound by a very specific experience and I know I was truly happy about meeting them again, about the fact that they have completed their pilgrimage and that they were well, and I certainly wished them all the best from the bottom of my heart.
Later in the evening, the three of us, Francesco, Gabriel and I, went for dinner in a nearby restaurant, and the food there and our company were great. I enjoyed being with my friends, as well as the idea that I would not have to walk the following day. At least not more than a kilometre or two which I would cross by walking around the city.
And this was what really happened. After a relaxed waking up and breakfast that I had at the hostel, I walked to a newer part of the city where I was looking for a couple of books. Namely, my original plan was that I returned to Barcelona via Madrid, or rather, my return entailed making a stop at San Lorenzo de El Escorial in order to meet with an ex-colleague there. We worked together some 20 years ago and have not seen each other since then. Meanwhile, he started writing. Recently he has published a book, but there is also a short story by him included into a collection published a couple of years earlier. I have to admit that this collection was particularly interesting for me, since Javier had told me that I was also present in that story of his. Of course I had to see if I could buy the book. I couldn't since it was out of print, but I did buy the other book. (By the way, when I returned to Belgrade, I ordered the collection of short stories through internet and I'm indeed present in the story by Javier. Quite interesting!) In the meantime, because of the problems with my body, I had decided to fly directly from Santiago to Barcelona without complicating things and making any stops anywhere.
Later I met with Gabriel at the hostel, while Francesco was nowhere to be found. It was precisely Francesco who came up with the plan to get to Santiago on 23 July in order to have the time for all important celebrations and marking of the feast of St James celebrated on 25 July. He often went to the Cathedral because of the pilgrims' mass and also in order to ask when exactly the famous thurible, Botafumeiro, would be used. This is the biggest thurible in the world which weighs around 80 kg (there are different data in connection with this) and it is 1.6 m tall. Taking into consideration its size and weight, the thurible is swung by a system of ropes, with the ropes being pulled by eight thurifers (tiraboleiros). This happens only 11 times a year, when there are important feasts.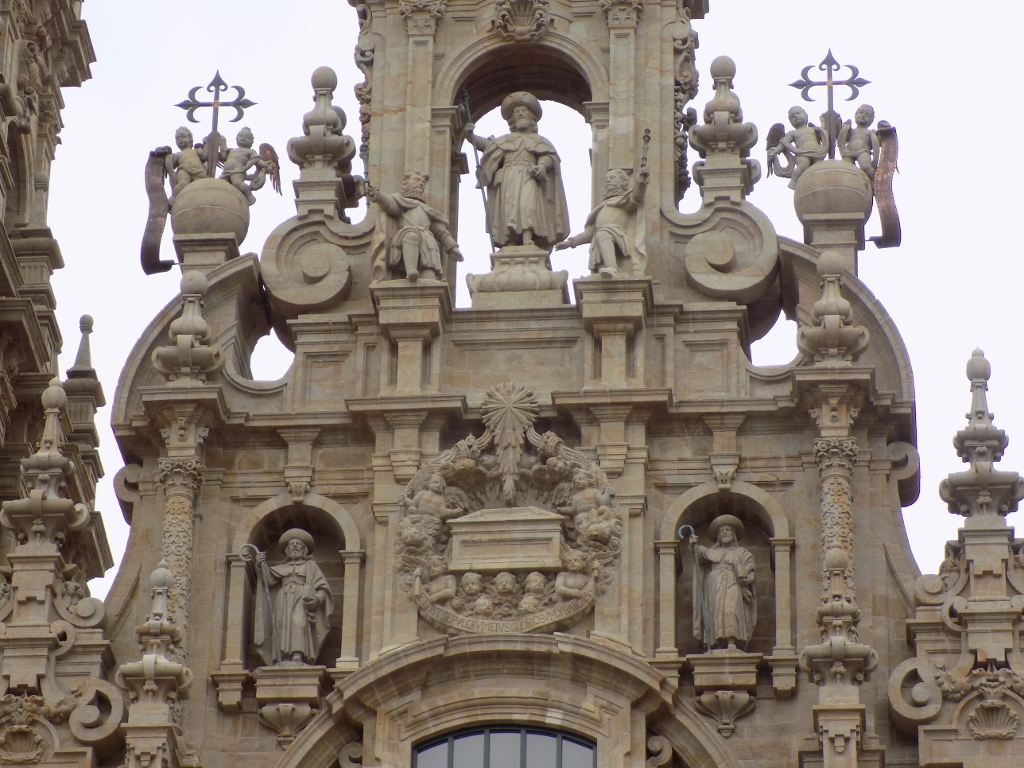 A detail from the front of the Cathedral in Santiago de Compostela
Gabriel and I met again at the hostel at noon and there we waited for Francesco for a while, but he did not come. We tried to call him on the phone, but he did not pick up. Then the two of us decided to go to eat something, since it was our lunch time, but beforehand we stopped at the tourist information office in order for me to ask about the possible activities during those couple of days. It turned out that the evening "show" was to start at 11.30 pm and I said right away that at that time I would be fast asleep.
When I first reached Santiago, despite being so utterly exhausted I did spot a tourist train in Plaza del Obradoiro, so I inquired about that, too. Gabriel said that he might go for such a tour. And then it was finally time for lunch.
I said I was only interested in fish and sea food (I can eat meat quite well at home) and Gabriel chose a restaurant. There we had a very nice meal – grilled squid and our favourite padrón peppers – and in the meantime we also heard from Francesco, so we agreed with him to meet later at the hostel. And so we did. Meanwhile, the wine I had with my lunch knocked me off my feet so well that I said I had to go and take a nap, while the two of them went for "caña" (the draft beer).