An advantage of staying at a place at the end of a town is that when leaving it the next day in order to continue with your pilgrimage you are actually close to the exit from it. This was the case for the three of us in Arzúa that morning. Very soon we left the town and headed along the path that led us through the nature or between farms.
It seemed to me we were walking at a rather fast pace, but like every morning all three of us were silent in the beginning and we just pressed on. At one point we reached a place where there was a forking of the path, but without a clear mark, so we got confused. We were not the only ones. A couple of other pilgrims caught up with us at that point and they also hesitated as to which way to go. Then came a pilgrim with a Spanish mobile phone and on his digital map he saw which way we should continue, so we all headed in that direction.
Although I slept for quite a decent number of hours the night before, the sleeping was not of a good quality since my leg hurt the whole night and this continued in the morning as well. I usually postponed taking a pain medicine until after breakfast, but the discomfort was strong enough that I first took some food from my small backpack, ate something in order to make sure my stomach was not quite empty and then I took the pain killer. Practically, with no effect of which I would be aware. Francesco and Gabriel still kept walking rather fast. Then I realised I did not like this, so I started to lag behind and I just shouted towards them that we would meet later at the albergue in village O Pedruozo.
I was comforted by the fact that on this day I would cover fewer kilometres than the day before and that I would even walk for one hour less, but this did nothing to reduce the pain and the sensation of extreme unpleasantness while walking.
After a steep uphill section, when I stopped in order to catch my breath, I was caught up by the pilgrim who had seen which way to go on his mobile, so we started to chat a little. It was Rodrigo, who is actually a Mexican, but who has been living in Barcelona for years. I found it very interesting when he told me that he had done several sections at night. He has the map and a headlamp, so he wanted to make an experiment. I believe this could be a very specific and particular experience. In the continuation of the day, we walked together for a little while and we also separated for a little while.
At some point I walked past a farm where the owners had made a sort of a notice board beside the Way on which they displayed different thoughts of well known people on the topic of journeys and travel, both in Spanish and English. I particularly liked what Lao Tze had said: "A true traveller has no fixed plan and is not intent on arriving." Well, I was not a Taoist ideal, since I did have a fixed plan and I was intent on arriving somewhere, but this was great in case I decided to give up my intent at the last moment. A good excuse is always handy, especially if I may refer to and quote such a wise man as Lao Tze.
And I did indeed think about whether I should give up. The pain, a rather strong one, was present all the time. And nothing I did helped. Still, I tried to create an impression of normality, so I stopped every now and then in order to take photos. Thus, for instance, I took a photo of a motorway that was still being constructed, but early in the morning on a Sunday it was naturally completely devoid of people.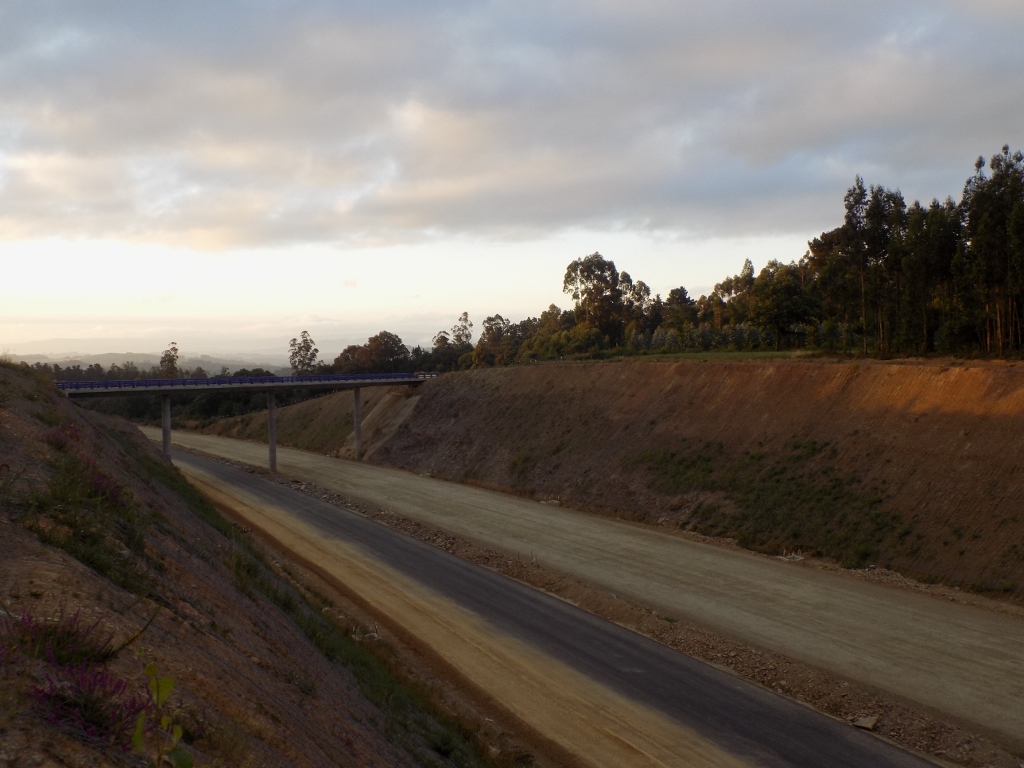 A motorway under construction
After all, each interesting or beautiful sight which made me stop for a moment in order to take the photo also meant that the pain in the leg would cease for a moment as well.

Beautiful sceneries of Galicia
At some point, walking through a forest, I noticed a fantastic sight of the light penetrating through between slender trees. I stopped on the spot, took my camera out and pressed its button, not having a clue as to whether the photo will look well once it's transferred onto computer. But, the moment and the trees and the light still seemed magical to me.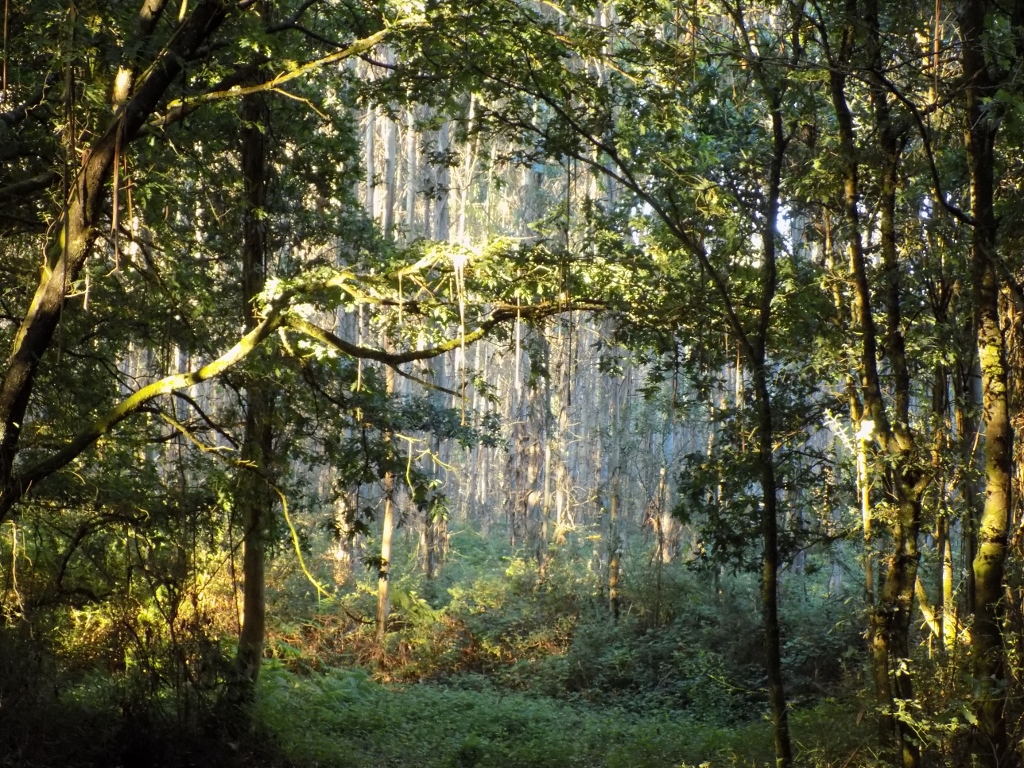 A magical moment
And, of course, there were still numerous granaries which I kept taking photos of with undiminished interest.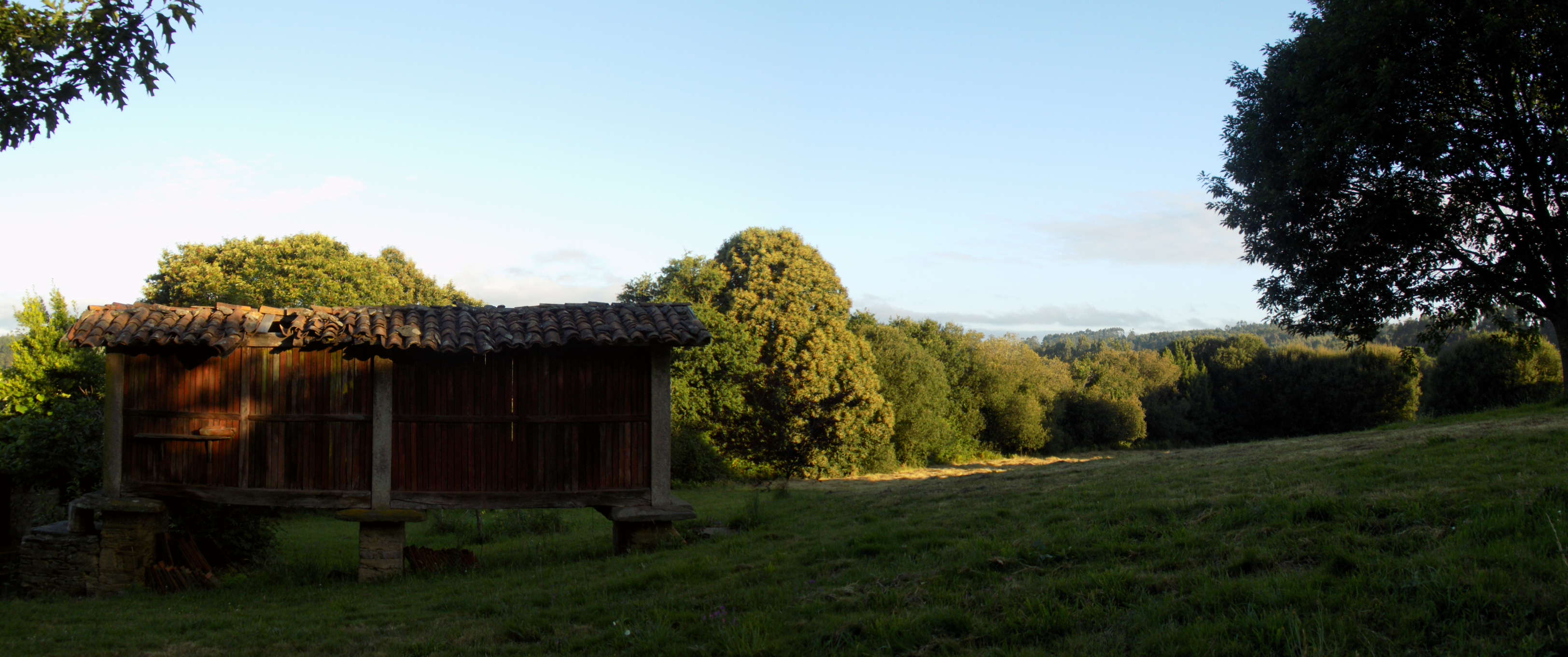 Yet another one of the numerous granaries in Galicia
When I finally reached a bar where I wanted to have my breakfast, I ran into Francesco and Gabriel who were just getting ready to move on since their breakfast break was over. I found it great that even though we were separated, we were still very well synchronised and chose the same places to have our rests.
This break, although it felt good on the one hand, still had no impact on the pain whatsoever. By now, it was simply constant and strong. I continued with my walk, however, since I had no other choice and Rodrigo walked a little with me or just stayed behind. I guess in order to take photos. I love taking photos, but I think he was "worse" than me.
On the other hand, I completely understand him. The nature through which the Way passes in this section is truly beautiful. Since this is Galicia we are talking about, everything was green and after some sporadic morning clouds, the sky that was by now completely blue took over.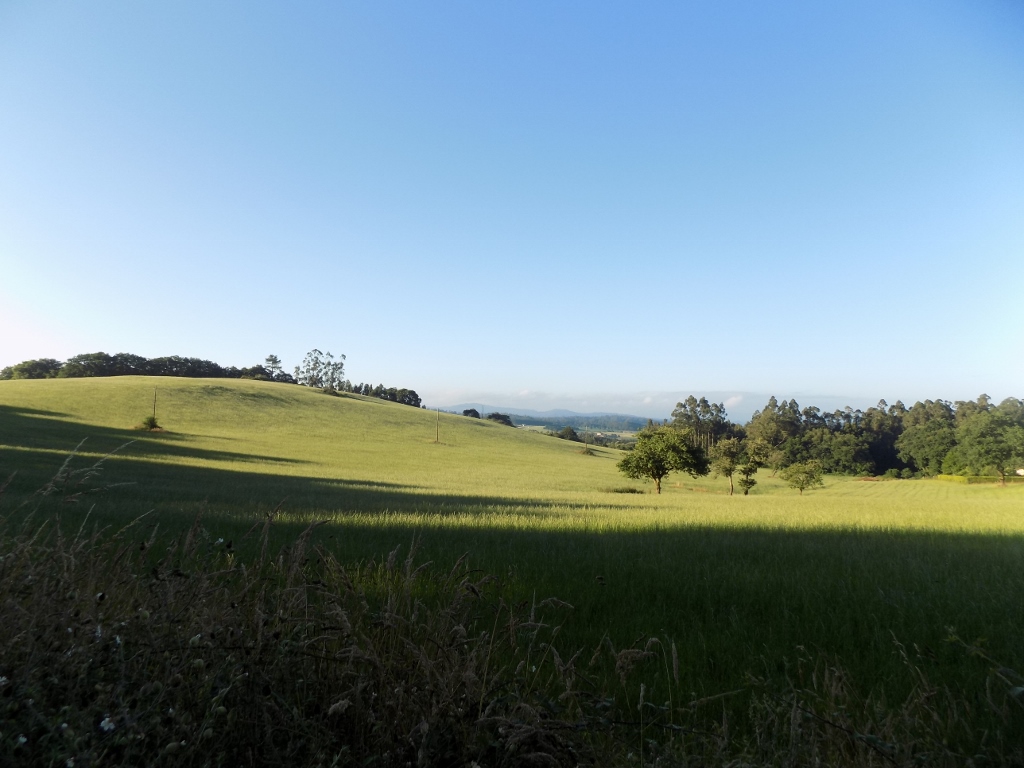 Landscapes around the Way
In addition to the nature, the human intervention has also done its fair share and so there were from time to time lots of flowers that grow beside the path followed by pilgrims.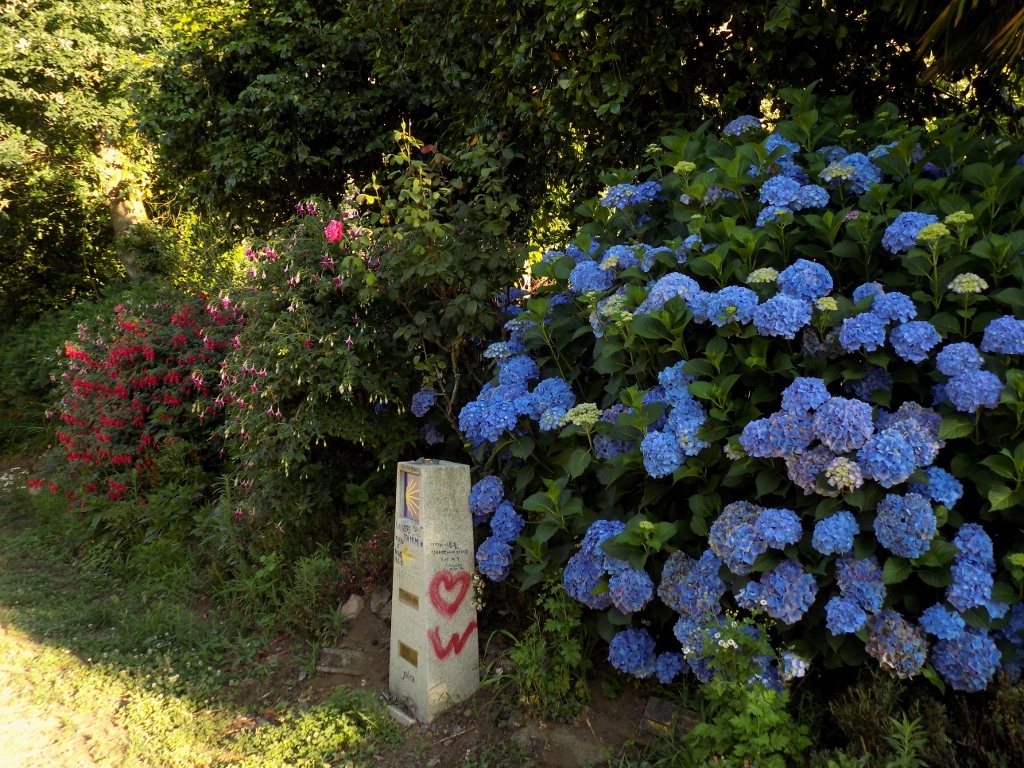 Flowers as the background of a milestone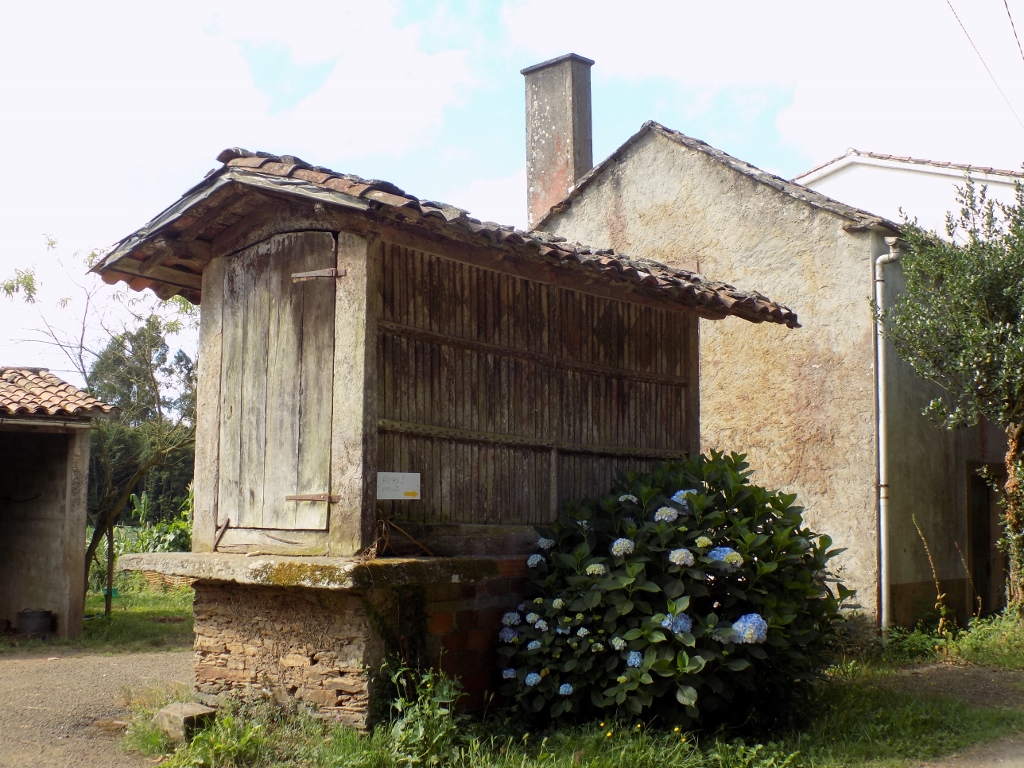 All of it is here: the granary, the milestone and the flowers
I would have certainly stopped more often and would have taken more photos, had I not had the pains. This way, I had to make yet another break at a bar near an asphalt road and if I had seen a taxi or a bus there, I would have momentarily taken them. Since I hadn't, with heaviness in my body I got up to my feet again and barely managed to drag myself to village O Pedruozo. There we had booked one of the very modern and nice albergues in which Francesco and Gabriel waited for me. Although the dormitory was rather large, the berths in it were distributed in such a way that this not matter at all. I just needed a little bit more strength to take a shower, wash my laundry and put it out to dry in the yard, and then completely exhausted I could finally lay down, stretch my body in the bed, not move my legs and consequently be pain-free.
Day 35: "A tired dog"
Today I got a concrete answer to the yesterday's question. And the answer was: "The next thing you will have problems with is a strong pain in the lower part of the right shin, i.e., tendinitis." I already felt certain "pricking" in that part of me a few days ago and even went for a preventive massage, but my body has decided to have it its way. Last night I slept very well, but I still felt the pain during the night, as well as this morning, irrespective of the auto-massage and the painkiller. Well, what can I say, it would really be silly to have a day with no problems whatsoever.
Since today's stage is shorter, we have decided to leave when it already begins to dawn, i.e., at 6:20 am. I started boldly and at first followed Francesco and Gabriel, but at some point I realised that the pains were present all the time (they did not weaken on account of the warming up of the body and the muscles), while these two friends of mine were walking as if chased by a hundred devils. Then I also realised that this pace did not feel right and so I just slowed down. We agreed we would meet later at the hostel.
In the meantime I was caught up by a guy, a Mexican, who lives in Barcelona. A very talkative person. Full of enthusiasm, everything is wonderful, every tree and every blade of grass are gorgeous, the Way is great, full of interesting and fabulous people, and it brings something new and good to everybody,... You know what I mean – a depressively positive person. Under different circumstances I would have certainly enjoyed the chatting, but this way I only told him that I had been enduring different problems for 35 days, not a single day without pain, and I didn't see any good that I got from the Way, only pain and effort. Then he said he was a psychologist and that I certainly got a wave of positive energy every day when I successfully finished the stage, that it was very important to bring things to a closure and that this made me surer of myself and increased the level of my self-confidence. I tried to explain to him that I didn't feel any satisfaction at the end of the day, only exhaustion, an attempt to recuperate from the pains and worry if I would manage to rest sufficiently for the following day, or whatever (if you have read my "reports" then you know what I'm talking about), that I am quite sufficiently sure of myself and that I have quite sufficient level of self-confidence. Oh, no! He said that this was all done at the subconscious level and I gave up any further discussion.
So we walked together for a while, I made my breaks, applied anti-inflammatory ointments on my leg, took the pills, but nothing helped. The pain was present all the time and it even increased, I dragged myself dog-tired and then I also became very nervous, so when Rodrigo at some point came up with another topic for our chatting I told him I was not in the mood at all and that I could not talk. There is the first time for everything.
Later at the albergue I read on the internet that what is recommended for tendinitis is – resting at home for 4-5 weeks!!! What a wonderful sense of humour.
Now I have really very little to walk. According to the plan I should arrive in Santiago tomorrow. At this moment I have no idea, however, whether I will move at all in the morning. Perhaps it would be good for me just to rest for a whole day, as I have done before. While I was walking, feeling the pain all the time, I thought that it would be quite all right even if I gave up. Now. And that would be completely OK. At the same time, a part of me does think about the fact that I have only 19 km left. That is really not a lot and this section is not physically very demanding, while the nature is very pretty. I don't know. I will leave it open and also as a type of a "teaser" for those who are reading my texts – Will she go?, Will she get there?, Will she take a taxi?, Or perhaps a coach?, ...
After all, today I've passed by a "Wall of Wisdom" where somebody has displayed quotations in English and Spanish, and my favourite one was what Lao Tze who was significantly wiser than me, said: "A true traveller has no fixed plan and is not intent on arriving."
In front of me: 19 km
Behind me: 848 km
Later, Francesco and I were supposed to eat – we already had spaghetti, ready-made sauce and wine. Needless to say, the two of us counted on Gabriel as well, but he told us that there was no way he was going to eat any more pasta – apparently he didn't even like it! Poor thing. Francesco and I must have killed him along the way, preparing only variations on the same topic. Luckily, pasta is particularly great for something like that. But, Gabriel is French and although the Italian cuisine is extraordinary, the French one is a category for itself.
However, when I was supposed to get up from bed, I realised I could barely move. Somehow I got to the stairs (the dormitory is one floor down from the reception area, the kitchen and the dining area) and there I climbed one step at the time. All the time I could not help thinking how I would walk in such a lousy state the following day. I was supposed to cover another 19 km and here I had problems covering 10 metres.
When he saw me dragging myself, my dear Francesco told me just to sit down and he would do the rest. I felt very embarrassed, but I was in such a lousy state that I did not complain. On the other hand, there are no words in which I could describe the depth of my gratitude and the purest human love I felt for this fantastic man. In the end he did not even allow me to wash the dishes, but rather he insisted I took some special, strong painkiller he had brought from Italy and he also gave me the entire remaining blister pack to have it with me the following day. I have no idea what I took, but I did feel somewhat better a little later. Still, I did not want to test the effects of the medicine any further, sticking only to my bed and soon I also went to sleep.
When I woke up the next morning, the dormitory was almost empty. Most of the pilgrims had already gone. The previous night, Gabriel explained to me which way I should follow in the morning, since our albergue was a little off the main direction of the Way. Moving very cautiously and slowly in order to cause the least possible effort and pains in the leg, as well as because I could not move any faster anyway, I left my big backpack at the reception and went out.
I did not follow Gabriel's advice to go to the path of the Way, since I would then have to return and that way I would have to go slightly around in comparison to an asphalt road, but rather I decided to go directly along the road. From time to time this seemed to be a very stupid solution, for there is no proper path by the road, but I really stuck to the edge of the road and eventually did well. I may have saved half a kilometre that way and that seemed like something worth the risk.
At some point, the path for the pilgrims cuts across the asphalt road and thus I finally got again to the Way of St James.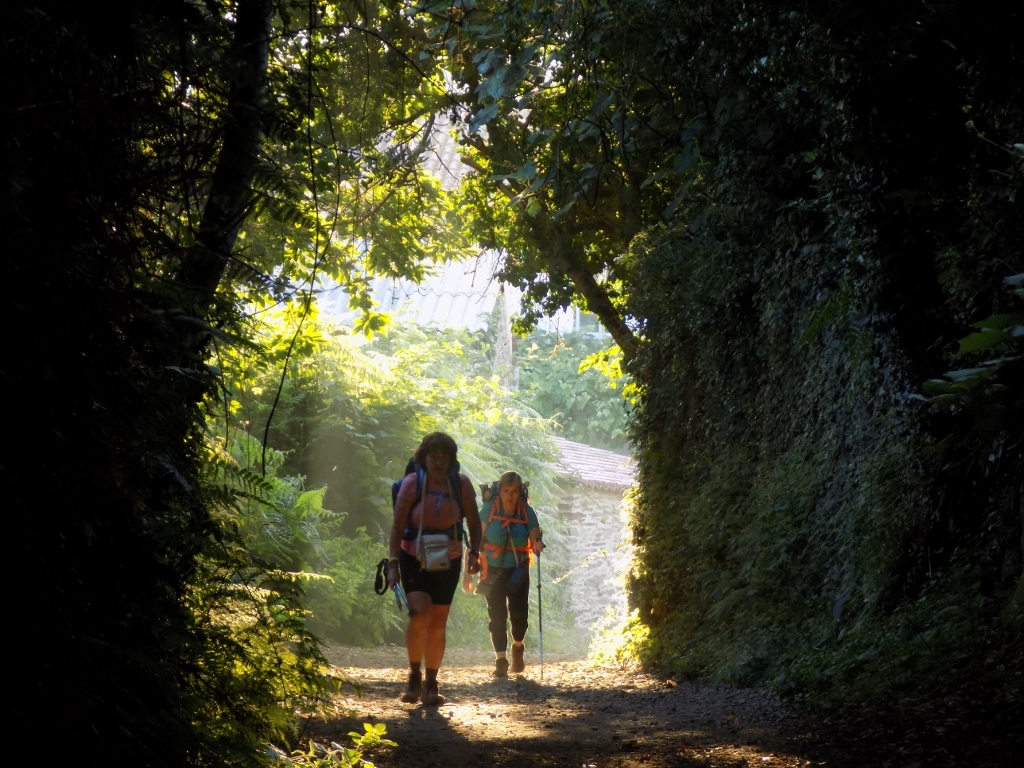 Pilgrims on a section of the final stage before Santiago de Compostela
On this day, as a part of some whimsical vow, I decided not to speak until I had reached the Cathedral in Santiago de Compostela. Just like that. I felt like it. I am well known to be a very talkative person, I've always been, so this was not some flimsy vow. On the other hand, it felt embarrassing when other pilgrims passed by me, greeting me kindly and saying, as the manners would have it here, "Good Way!" (Buen Camino!), while I kept being silent. It seemed at least I was ill-mannered and I'm not. Well, what could I do? I just hoped I would not spoil anyone's day by not greeting them back and if they had a poor opinion of me, well, I would survive that.
In one section, the Way goes around the city airport of Santiago de Compostela and there were also some works on the motorway. Still, there was a big stone marker of the Way of St James, so some pilgrims stopped to take photos, some did not, but they all continued from there on, since the city could be seen, at this time no longer that far away.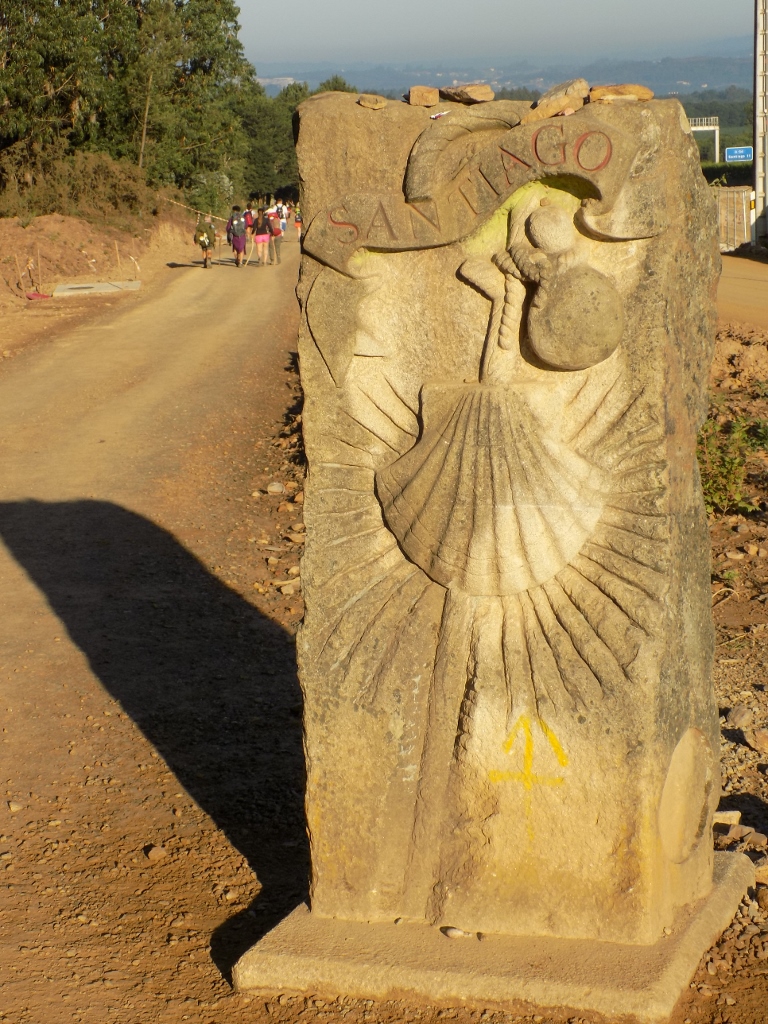 Stone marker on the Way, while Santiago de Compostela is in sight
Soon the time came for me to make a breakfast break and I did that in village San Paio in which there is a small and very picturesque church. First I went to the church in order to have a stamp put into my pilgrim's passport and then I returned to the bar. This was the first time I was supposed to ask for something while not speaking. It was actually very simple – I just wrote on a piece of paper what I wanted, including ice-cubes. By now I was well versed and I had a plastic bag ready, while the bartender put in several ice-cubes, which I applied to my lower shin as soon as I sat down. When I got up to move on, I thought it would be silly to throw away all the remaining ice and thus I just fixed it with my sock such as it was in the plastic bag and continued walking that way.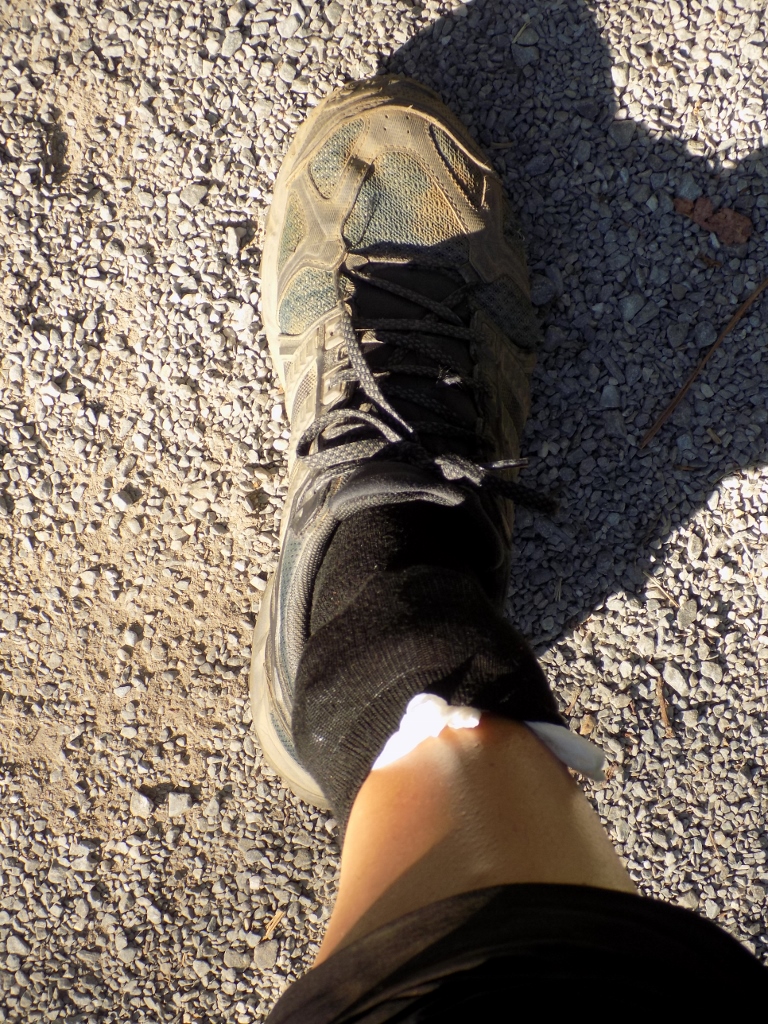 An extraordinary situation requires extraordinary measures
Of course, the ice melted after a short while and all that water drained into my sneaker, but I did not mind this at all while walking. After all, with time, the water evaporated.
Still, I was not sure if the ice helped at all, since the leg just kept hurting me a lot. I continued to drag myself, in silence, while a lot of people walked past me. I did not meet that many people in any other part of the Way. It was as if it were enough to do the last twenty kilometres in order to get the certificate of the pilgrimage.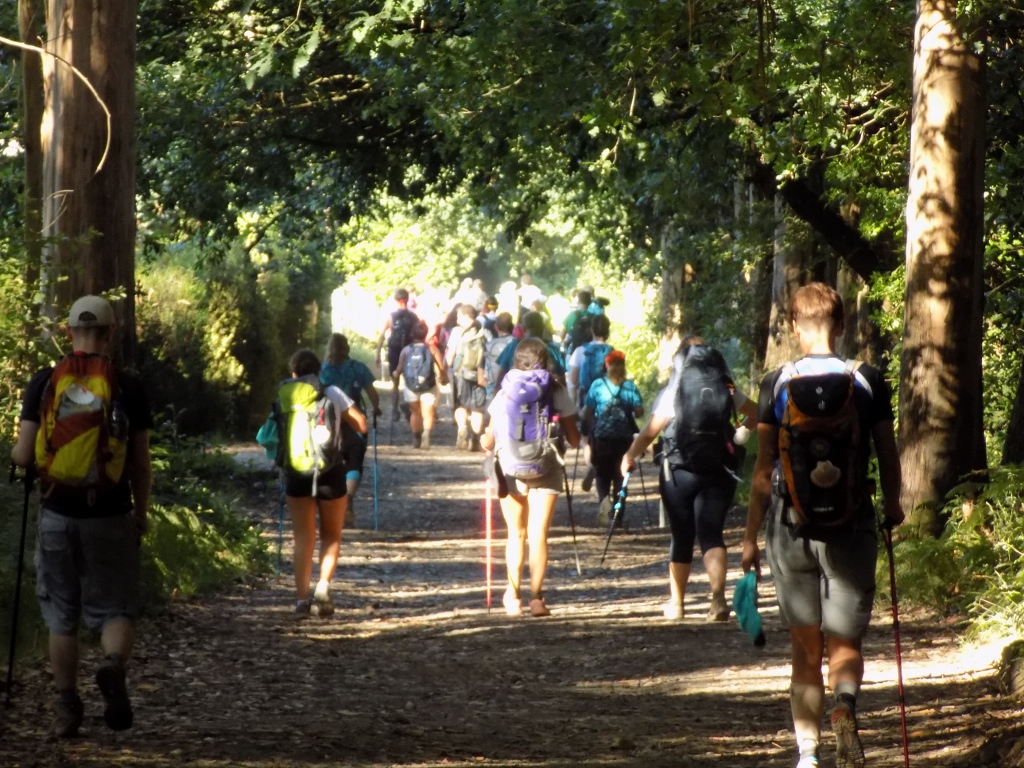 The final section of the Way of St James
And then I reached another psychological boundary and crossed it...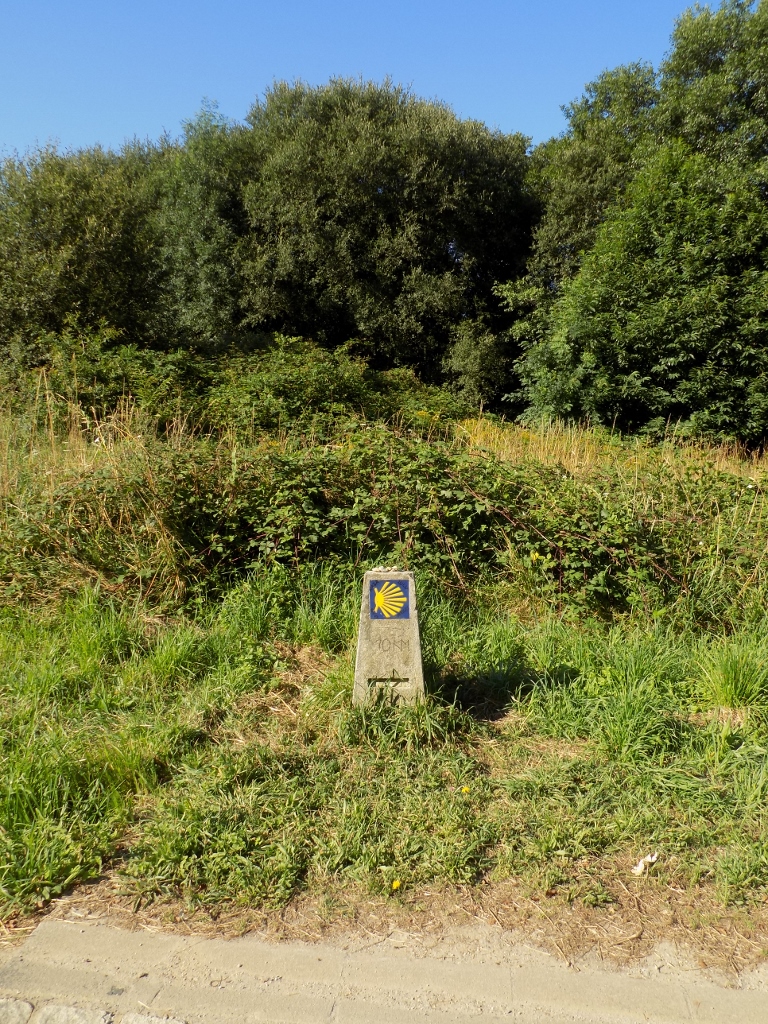 Just 10 km more
Still, it was so hard for me to walk that at one point I decided to make a slightly longer break again. I stopped at a bar-restaurant in village San Marcos, asked again for something refreshing to drink by writing this down on a piece of paper and I also asked for and got several ice-cubes. The most important thing, however, was that I sat down and put my feet up on a nearby chair. It felt so good!!
From there I had only 5 km more to go before finishing my pilgrimage, but it felt as if it were 50 km – both physically and psychologically.