How wonderful it felt to be lazy after 36 days and it was also wonderful that I didn't have to wash my clothes simply because I did not sweat and no dust fell over me!
After the great lunch and wine, I retired to my room and had a short nap, after which I decided to write once more to my friends and acquaintances on Facebook in the form of some final thoughts on the topic of the Way of St James.
The Epilogue: "When she hears the music, the granny has to think things through"
Somehow it all came to that saying of ours: "Dala baba dinar da uđe u kolo, sada bi dala dva da izađe, ali ne može" (literal translation: A granny gave a coin to join the dance, now she would give two to get out, but she can't). In other words, when she hears the music, the granny needs to think things through and to weigh out if her legs would hold her or not, and not to give the money right away in order to join in and start dancing to the music.
And so it was with me. I have already mentioned that I thought/expected to have issues with knees, but not in my wildest dreams did I expect to go through everything I've been through. The life is sometimes very kind to us and gives us the shocks in dosages. If we knew in the beginning what is there in the store for us later, we would give up very early. This is the same when you climb a mountain and you see the end of an ascent and already start to imagine how you are going to rest on the top and then you get there and see there is more to climb which you could not see right away, but by this time you have already climbed a lot and then there is no other way but to continue.
Despite all the heaviness of this experience of mine, the first thing is that I think I was extremely lucky in all of this. If I hadn't by chance come across some information about Somport pass a month before the journey and decided to start from there, I would have started from Jaca and the following couple of days I would be staying in villages with 2.5 houses with all 20 kilos on my back (now I'm extremely proud of myself for carrying them stoically the first two days), I would not have had the huge blister and then I would not have come to the idea to send the surplus of the things by post to wait for me in Santiago. If I hadn't gone to the post office to send the package, I would not have known (at least during the first couple of days) that I could keep sending my backpack from one place to another. Then, the problem with the toe and its blister was at its peak right in a town where there was a health centre and a pharmacy and not in some of the above mentioned villages with 2.5 houses. It seems to me that the main problems happened to me right in the places where I could come up with some alternative approaches to the Way. All in all, I'm grateful that I was also lucky with all of my problems, although I must admit I would have been even more pleased if I had not had the problems in the first place. But, let me not be petty.
Then, I was EXTREMELY lucky to meet Francesco and Gabriel and to walk with them. Great people, fun, good, honourable, … I can only say the best things about them. There is, of course, Angela as well whom we have met much more often than I have mentioned in my texts and the two of us have agreed that this was destiny. Angela has finished her Way according to the plan, a couple of days ago, and is already back in Bergamo. There are also numerous other pilgrims whom I have had the honour to meet and with whom I have walked for some time or we have just shared a dormitory. I know the names of some of them, with some of them I have established an internet contact, for some I don't know their names, but I know, for instance, where they are from... Every time we meet and recognise each other, these are very joyful encounters, hugging, smiles, preoccupation whether we are fine, as well as exchange of good wishes. The human kind at its best, but, alas, such a rare edition!
On the last day of the pilgrimage, while walking, in addition to the constant pain, I also occasionally felt anger, sometimes boredom, even sadness, but pleasure – no. Even when I finally arrived, if the sensation of pleasure suggested its distant existence somewhere, it was not because I did what I did or because I have crossed the finish line, but because I would no longer have to do it. Regardless of all the beautiful things (the uniqueness of the experience, stunning landscapes, fantastic people), there has been sufficient quantity of the unpleasantness and therefore this is not something I would like to repeat. This time, my Way was 867 km long, out of which I have physically walked 575 km. Enough from me.
Still, despite the swollen leg, following the afternoon break and getting in touch with my family and friends, I went to the Pilgrim's Reception Office. That was the final end of my pilgrimage. Namely, already at the beginning of the Way, I bought a "credencial," i.e., a pilgrim's passport used in order to collect stamps regularly. Since it was clear to me they would not all fit into that one (each bar, restaurant or albergue along the way, as well as the churches, have those stamps, so one may easily fill out 3-4 credencials if one wants to), I bought a second one in Sarria, since it was important for me to show that I did walk the last 100 km and that I collected the stamps along the way. So I came to the "counter" with both of my credencials and talking with a man there I started to feel satisfaction and pride for having done what I did. I got a "Compostela" at that counter, a diploma that confirms that I've done the pilgrimage. I also paid to get a Certificate of the kilometres covered. Like any other good eager beaver, I love diplomas.
And finally, regardless of all the moaning, of course I'm very glad I've done the Way. My main reason for this journey was that I love to walk in nature and that I wanted to see if I could do the Way. In those terms, I've succeeded in both, but not in the way I have imagined. Also, this is one of the travels I've wanted to do for years, so I'm also glad I've done it for that reason, too. Still, there are many other places in the world and many other travels that attract me, so may my own way lead me in their direction in the future.
Greetings to all and thank you for being a part of my Way!
In front of me (to my home): around 3000 km and a week
One of the reasons why Francesco wanted us to get to Santiago de Compostela on 23 July was in order to have a whole day to rest well so that we could be present at a large celebration in the evening of 24 July, thus waiting for the midnight and 25 July, the Day of St James. Taking into consideration the feeble state of my body and the great tiredness that could not disappear just like that, I told Francesco I would not go to that celebration and I was particularly adamant in this position of mine when I heard it would start at 11:30 pm. I only wanted to be fast asleep at that time. That much I also said to Gabriel.
Still, this afternoon, while I rested and not moved in my bed at the hostel, I realised that this would be completely silly and that probably I would never come again to Santiago precisely on this date and finishing some pilgrimage of mine. In addition, this does take place only once a year and although originally I did not plan to be in Santiago right at the time of the celebration of the Day of St James, this did happen, so it would really be ludicrous not to see it. Therefore, I changed up my mind and when I said it to Francesco, he was delighted. Gabriel still remained adamant he would not go, especially since the following morning he had to get up at 4 am in order to catch his train back home. Francesco wakes up at 3 o'clock in the morning anyway, so this was fine with him, for he, too, was leaving Santiago the next morning continuing to walk to Muxia.
A little later, the three of us went for a good-bye drink and then Gabriel walked with us to the Obradoiro Square where metal fences had already been assembled, while people were slowly taking up their places. There, Francesco and I parted from Gabriel who went away, while the two of us found some free space next to a fence and there we started to wait. It was 7 o'clock in the evening.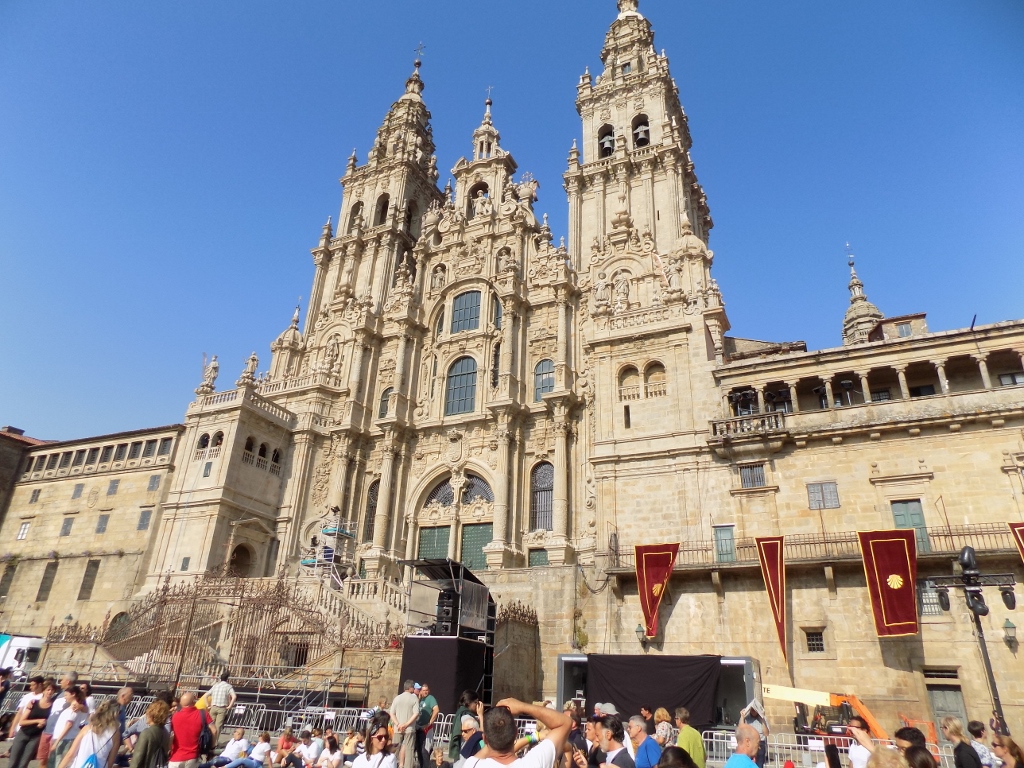 The front facade of the Cathedral in Santiago de Compostela is best lit towards the evening
And then we waited until 11:30 pm! The point was that we had to come earlier and take up the space, because the square is closed off at some point, when it is filled up. One can, of course, leave it even after that time, but people are no longer admitted in.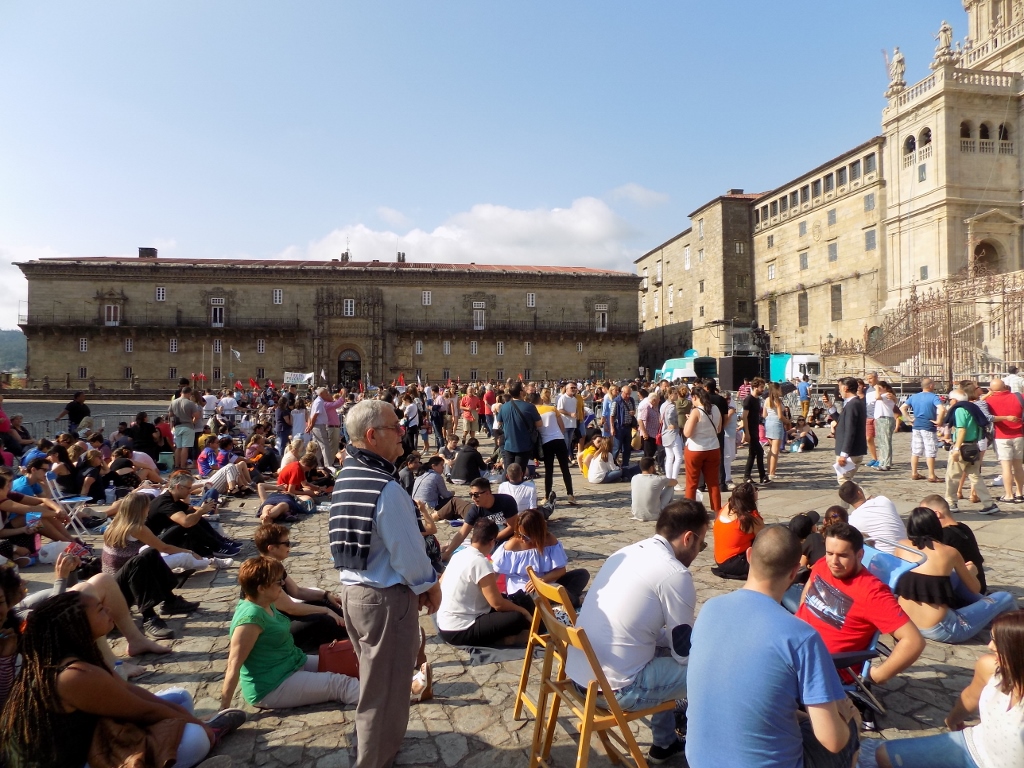 Obradoiro Square is slowly filling up
I did remember, however, at the very beginning to go to our nearby hostel and get my blanket, so I could sit on it while it was neatly folded, for it was softer for me that way. I did try to keep my leg stretched and rest it that way, but staying in the same place for four and a half hours was really not my cup of tea. I did forget though to get my Sudoku booklet, so I could only practice my patience. Francesco found some Italians he had met along the way, so he was sitting closer to them and I occasionally spoke with a very nice Spanish couple. Everybody was bored, but there was nothing to do about it. Later, in addition to being boring, it also started to be cold. On a couple of occasions during the evening, while waiting for everything to start, it did occur to me to pack up my things and to go bed to sleep. But, I didn't.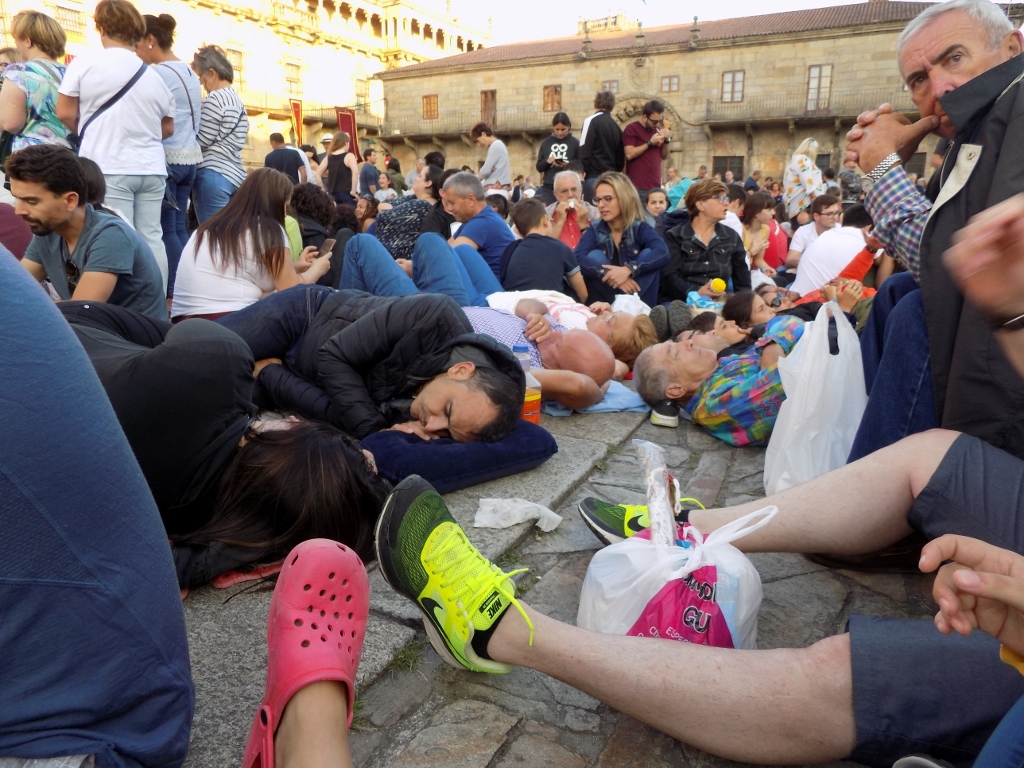 Waiting in Obradoiro Square
At some point, two Austrians also appeared and one was particularly lively, absolutely delighted with everything, not taking a broad smile off his face, calling everybody listed in his mobile directory and showing everybody by the same mobile where he was and what was happening, and he also danced on the spot. We talked a little and of course I complained that I had huge problems all the time, but he was obviously very religious and it was so important to him that he had reached Santiago de Compostela and that he had completed the pilgrimage that the importance of the feat simply surpassed any possible problems. Admittedly, this was his seventh pilgrimage (not all of them were in Spain, he also walked to Rome) and in all of the previous ones he had problems with his feet, but this time around everything went well, so I can understand such exaltation of his.
There is one curious thing about the time. Whether we want it or not, it passes! And so it did this evening as well. Slowly, slowly, but we did get to 11.20 pm. In the meantime, spotlights started to play across the façade of the Cathedral. In the past, the light and sound show was displayed on the façade of the Cathedral, but it's been several years now that it is shown on the façade of the local government office which is situated right opposite of the Cathedral. Francesco and I did not know the details and thus we took our positions beside the fence in the middle of the square thinking we would watch the show from the back rows, but as it turned out we watched it from the first one.
Already some ten minutes before the official beginning, they started to play with coloured lights on the façade of the edifice and then at 11.30 pm the main show started and it all lasted for half an hour.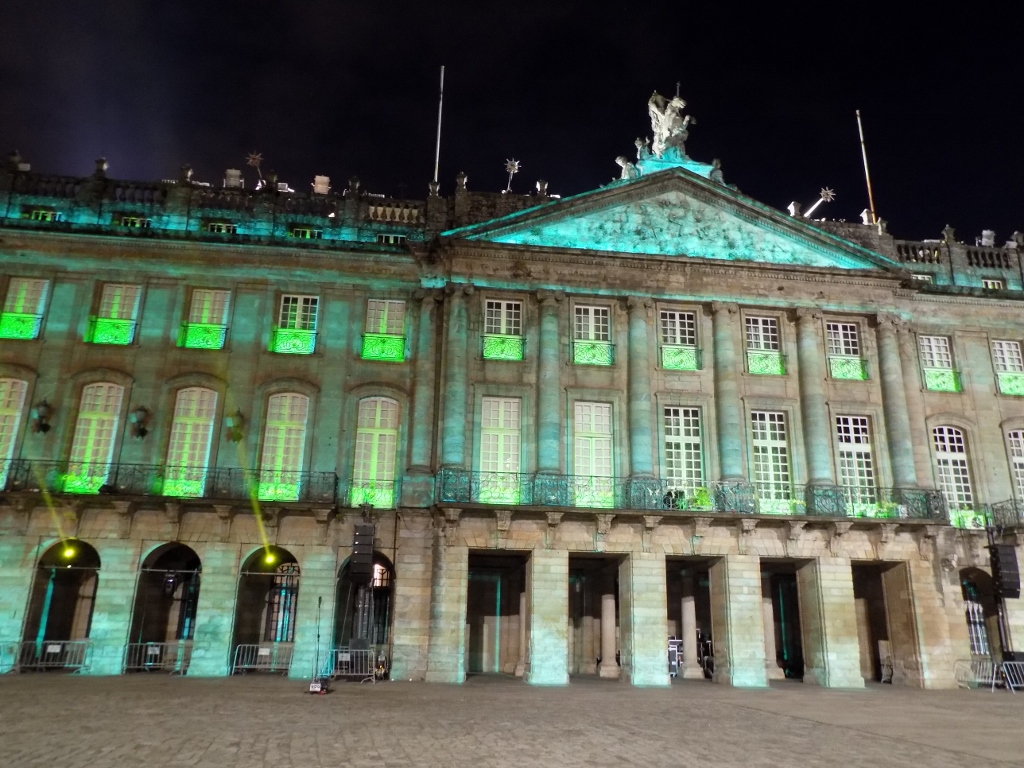 The light and sound show begins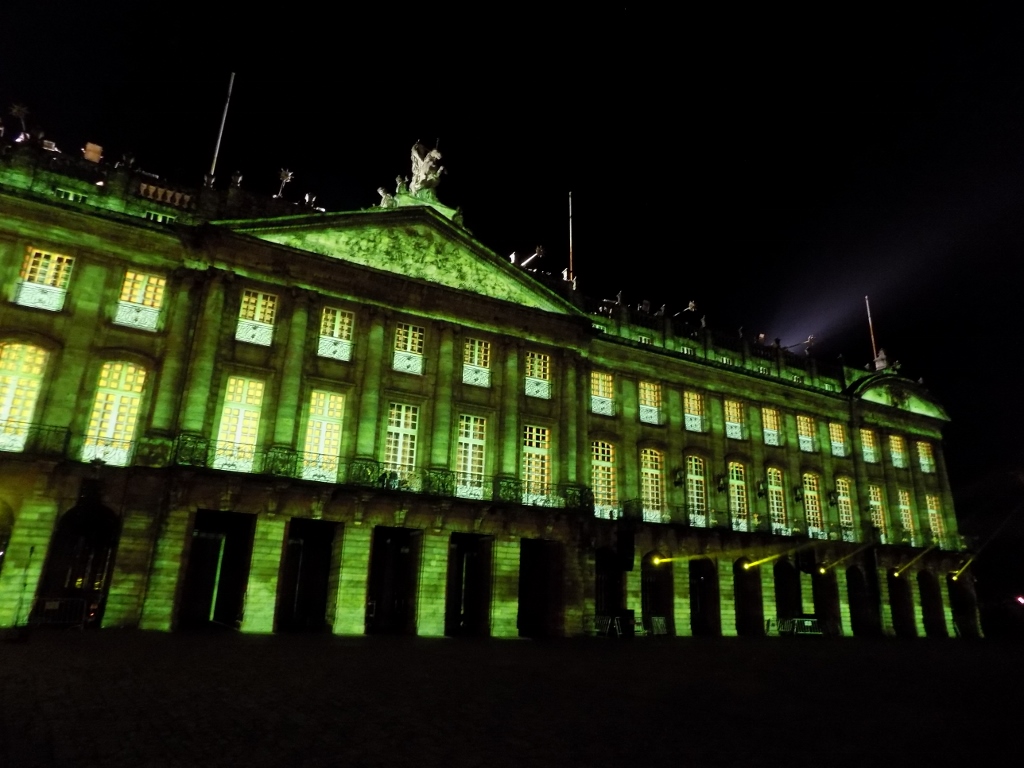 The light and sound show begins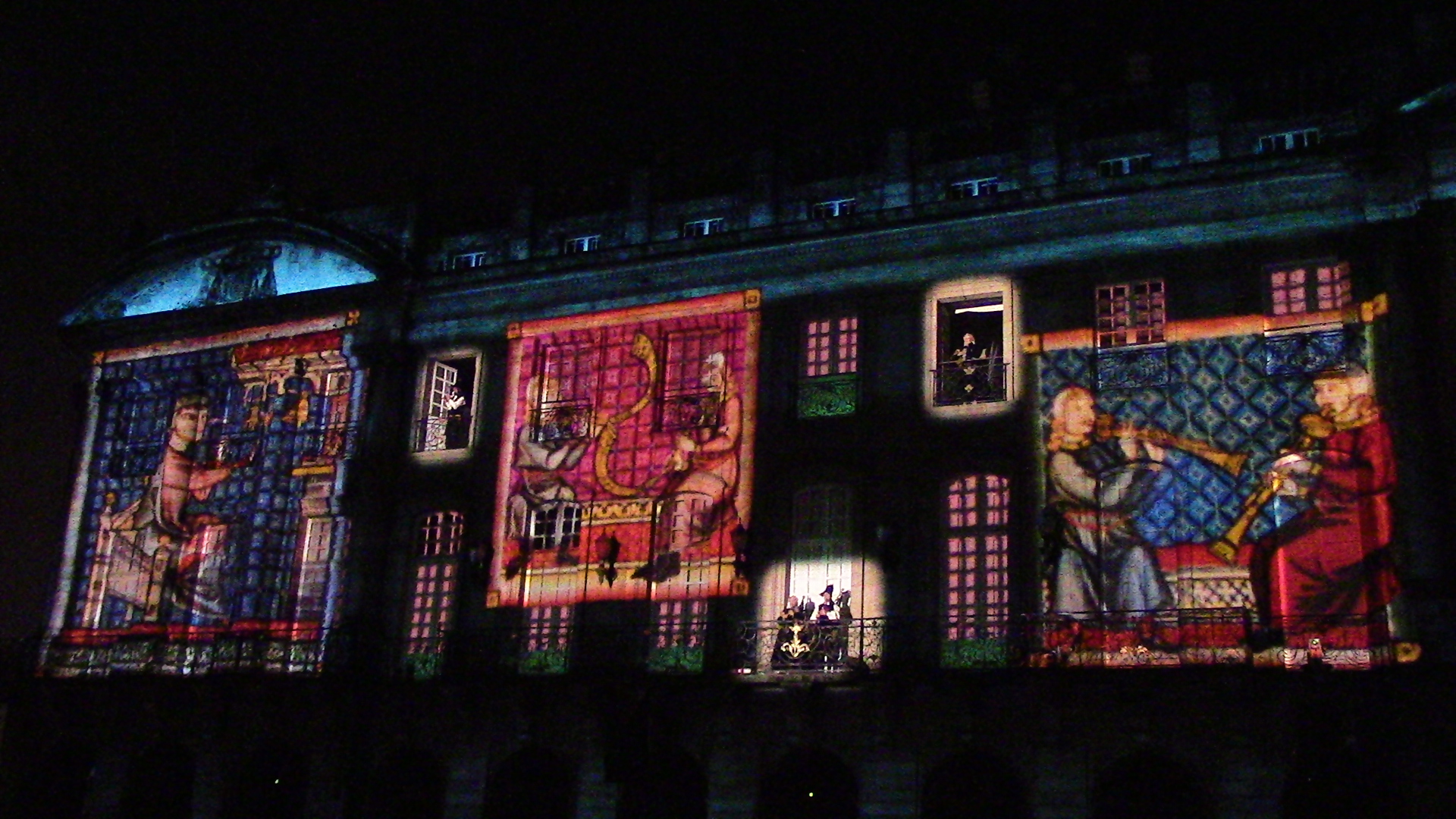 The story is going on
Because of the more than fantastic position in the front row, I also managed to record some parts of the show. Have a look.
In addition to the sound and light, the show also included fireworks and it was all really impressive and I had never looked at the fireworks from such proximity. This last half an hour went by very quickly, but no matter how much fun it was, when it was over, Francesco and I moved through the crowd as fast as we could, making sure we did not lose each other, in order to get to the hostel. There we hugged and parted and I wished him good continuation of the Way. He had already been in Finisterre before, so this time around he wanted to go to Muxia.
The following day I woke up slowly and when I went to have breakfast, they gave me at the reception something wrapped in paper saying that one of my friends had left it for me. From what they told me I realised it was Gabriel. I was puzzled since I had no idea what he could have had for me. And then I opened it and saw it was a small figurine of a typical Galician granary. My wonderful, thoughtful Gabriel! He was the most quiet and the least talkative member of our team and I mention him in my stories considerably less. That certainly does not mean that he was any less important – he was absolutely indispensible and completely equally important for my overall experience of the Way of St James. Just like Francesco, he is a fantastic person and my experience with them is such that I've seen them as individuals who exhibit the best human characteristics; only Gabriel did it in a somewhat less expressive way. And it was exactly like that with this figurine – with no words he left for me a souvenir that physically reminds me a lot specifically of Gabriel himself and of the final stages of our pilgrimage on the Way of St James. For while we walked through Galicia I liked those granaries very much and often took photos of them and it was precisely Gabriel who drew my attention to them if he thought I had not noticed some that we were walking by.
After the breakfast I went back to my room and it was a real luxury just lying idly there. I knew that the main mass would start at 10 o'clock that morning, but I also knew I did not want to go there with too many people, since I presumed there would be a big crowd. Still, when the time came, I heard the tolling of the church bells and thought that I could walk to the square after all. And so I did and it turned out I did well and right on time. Some officials and special invitees were getting ready for the ceremony on the square and there were special guards as well.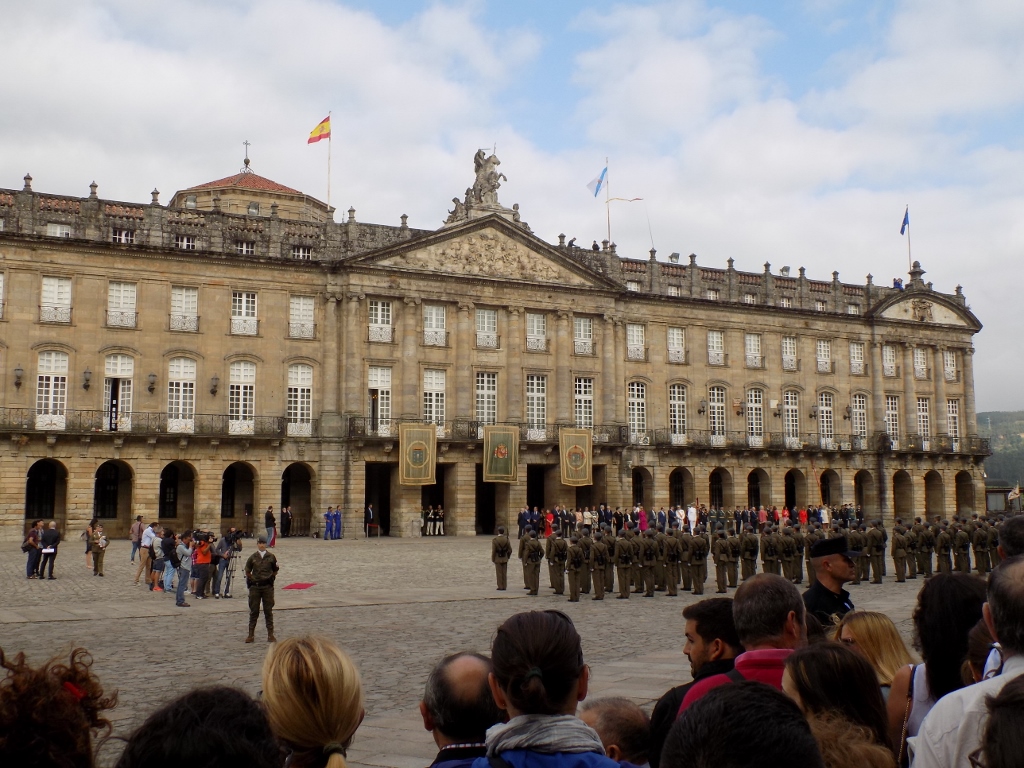 The officials and the guard on Obradoiro Square
After this, I moved towards Praterías Square (Praza das Praterías) from where the Cathedral is actually entered. And just as I headed along the street leading towards the square, I could see that the procession was moving towards Obradoiro Square, i.e., in the direction from which I was coming. I was ideally positioned to watch the procession of the church officials.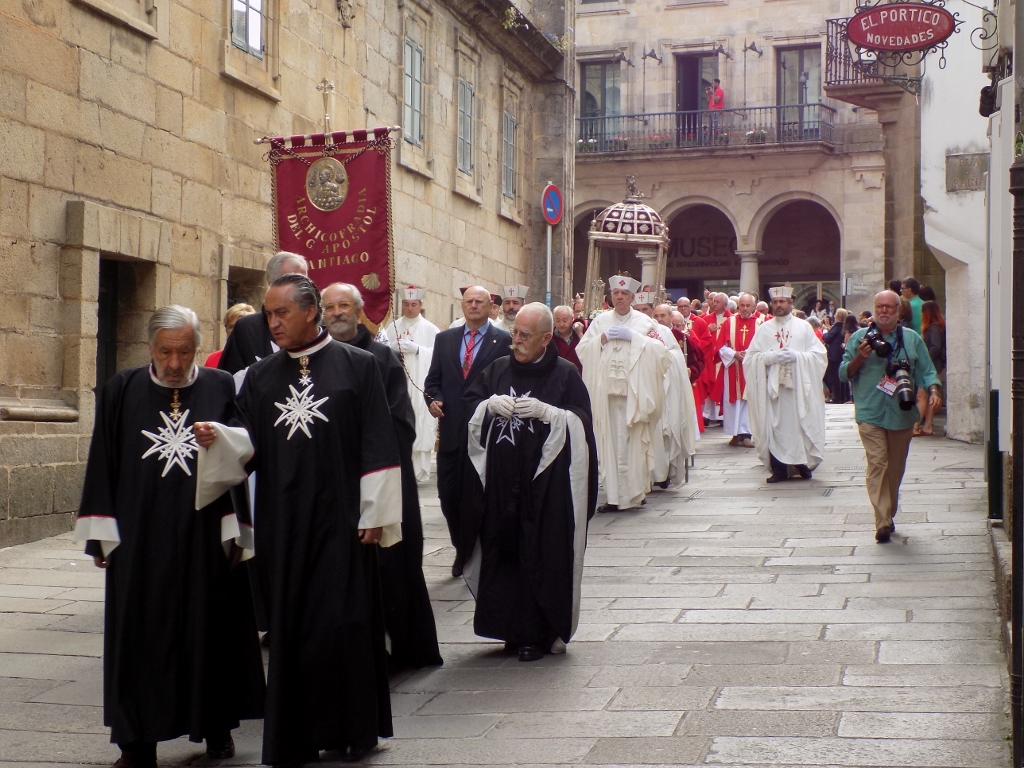 The procession is going towards Obradoiro Square
There I briefly met Rodrigo with whom I had already agreed to meet for coffee later. I watched what was going on for a little while yet, but I still did not want to enter the Cathedral. Namely, in order to go into the Cathedral, there was a huge line at this time and I had no wish whatsoever to wait there. I was counting on the fact that I would return to Santiago in a few days and that it would be less crowded at the time, so it would be simpler and easier to enter and visit the place.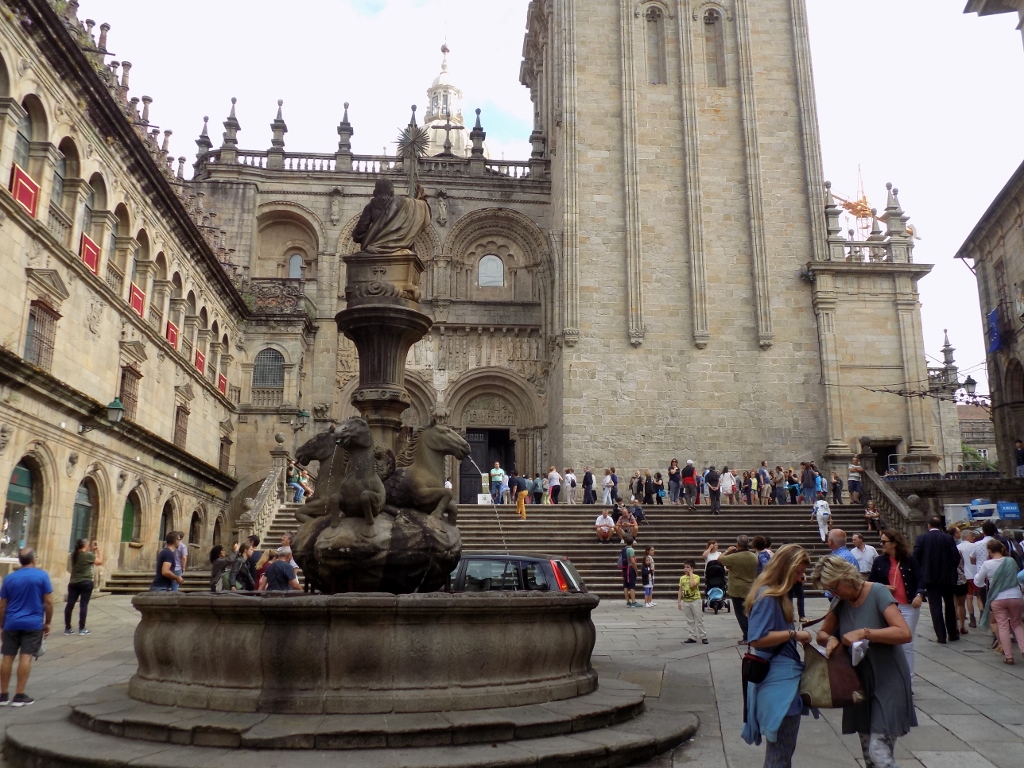 Praza das Praterías and the line of people waiting to enter the Cathedral