When we returned from the shopping in the nearby supermarket in Sarria we started to prepare lunch for all three of us repeating my recipe from the night before – fried cured ham and eggs, of course with a big salad. We were all pleased and as such went up to our room for the afternoon rest. Since I slept very well the night before, woke up relatively late this morning and did not walk at least 20 km, I did not sleep, but rather I wrote about the people who may be encountered on the Way.
Day 31: "Unusual Way and even more unusual travellers"
Yesterday, half way to town Sarria, two guys entered the coach, one Spaniard and one Italian, and they were dead drunk. I don't know about the Spaniard, but I realised that the Italian was on the Way. He left his backpack in Triacastela and I had no clue why he was going to Sarria at all, but the Spaniard kept reminding him all the time, in slurred speech, that he should take the 6 pm coach to return since he had to collect his backpack. Still, this did not prove enough, so when we reached Sarria, the Italian started to search the minibus looking for his backpack and wondering aloud where he had left it.
Apart from the fact that they were so drunk already at 10:30 am, I found it fascinating that they were speaking half in Spanish, half in Italian and then at some point the Italian started to confess in English admitting to his pal that he had spent three years in some prison in South America and that it was a horrible experience. The Spaniard told him several times he did not speak English, but when they finally managed to understand each other, he also said that he himself had been in prison for five years. A fine company.
At some point, the Spaniard started to shout to the driver: "Hey!," "Buddy!" and then finally "Driver!" and when the latter responded, the Spaniard asked him to turn on some music. As it happened, the driver would do it gladly, but the radio did not work. Then the drunken Spaniard advised him that he should take the minibus to a mechanic and have it fixed. We continued to drive with no music.
There was a very nice garden at the hostel and I rested a lot there, since it was sunny, but not too hot. I met there a very nice Italian, Marina, a completely cheerful girl who had absolutely no problems whatsoever and enjoyed each second of the experience. There was also a German woman who had ghastly blisters all over her toes, like I used to before, so I gave her some advice. There were also a couple of Americans in the garden. One of them, with whom I talked a little, was obviously very religious, not only because of the cross he wore around his neck, but also because he tore up when I told him about David, the Italian who lost his wallet that was later returned to him intact, saying full of emotions: "That is the Way!"
Last night before going to bed, I also met María, a Spanish woman who had decided to give up. She had already been on the Way seven times and each time she was fine, but this time she got a severe inflammation of her left Achilles tendon and practically could not walk. She did go to the doctor's, they gave her all sorts of things, but she simply almost could not get even to the toilet, let alone continue to walk.
This morning, when we woke up, while I was solving a Sudoku puzzle in my bed, I could see her suffer and although it seemed to me her leg was less swollen than the night before, she cried silently. It must have hurt her terribly. She also worried how she would get home, although there was a train from Sarria to Madrid, but on account of the getting on and off the train. I offered to go with her to the train station and help her there. She thanked me and said she would check if there was a service at the station to help her get on the train, but as it turned out, she should have called them earlier, so we went together by taxi, I helped her with her backpack and let her hold my arm, so we had coffee there and later I walked back to the hostel.
Meanwhile Francesco and Gabriel arrived in Sarria. Gabriel did not feel well yesterday, some stomach problems, but it all calmed down today. Then Francesco told me he had met some Italian from Pisa who was 76 and this was his 14th time on the Way and apparently he was doing fine.
While I was making this break in Sarria, I met again two jolly and positive Italians (as if there are any other types among them?) whom I had encountered several times before (Angela walked with them for a while), I met a young German who spoke Serbian, I saw again a very nice couple of Hungarians that I had met the other day and that confused the petit bourgeois part of me because he did not resemble her as if she were his mother and the age difference appeared even greater, then I met Enzo again, a French guy of the Italian origin who dislocated his knee along the Way and had to make a long break in León, but still continuing to walk, I also saw the two Spaniards who walk by a cart pulled by a donkey, while being followed by a dog. I had already heard from Angela before that among other things they had a canister with 5 litres of olive oil they had produced themselves, but today I saw they also had chickens on this cart of theirs. I saw a myriad of others who marched forwards. Some say "Buen Camino," some just pass by you without a word.
This is an unusual Way. Apparently, different each time and each time different for each one of the unusual travellers.
In front of me: 118 km
Behind me: 749 km
Later, all three of us continued resting, but by sitting either out in the garden or in the bar-restaurant where we also had a better internet connection. Gabriel had his own tablet he used for playing on, I had my transformer book, while Francesco still kept solving Sudoku puzzles with dedication and it was clear that he has become very good at that.
And then at some point we started preparing dinner. This time we had a guest as well – earlier that day Francesco met Francisco, a Brazilian we had met a couple of weeks before and whom we had regularly encountered on the Way. Back when we first found ourselves at the same albergue, he gave Francesco some special cream that made the open wounds Francesco had on both small toes heal faster, so I suppose that in addition to being namesakes and that they were both equally talkative, Francesco also wanted to thank Francisco. This was quite all right for Gabriel and I, since we just enjoyed hanging around and having dinner with nice and fun people.
Over an improvised, but nice and tasty dinner, and good Spanish wine, we found a lot of shared topics, talking in several different languages, but we all understood one another perfectly. Still, like every other evening on the Way, we parted relatively early since we had to continue walking the following day and do so very early.
I have already said that a lot of walking pilgrims start on their Way right here in Sarria which is well connected with the other parts of Spain. Although it is situated 18 km before the milestone marking 100 km that need to be covered in order to get the Compostela, the certificate on the completion of the pilgrimage, it is precisely this good railway network connection that makes it ideal for the beginning of this version of the Way.
Whether because of the popularity of this part of the Way and the higher number of pilgrims or by pure coincidence, along the standard section of 23 km to little town Portomarín, there are as many as 17 villages and hamlets through which the Way passes (not counting the starting and the finishing points of the section), so it was clear that this day we would not have any problems about where we may take a break. One or several of them.
When we left in the morning, it was still completely dark. Already in Sarria itself, it was necessary to go up some steep streets that were still sleepy so early and apart from us there was nobody else out. That ascent was probably not as steep as it seemed to me, taking into account that in the previous days I was exposed to minimal efforts, everything appeared difficult. Still, there was no other way around it and I just followed my friends. By the way, as opposed to the rest of the day, neither Francesco nor I were in the talking mood early in the morning. Gabriel was always moderate in this regard. Like a well synchronised machine, the three of us functioned perfectly and without uttering a single word we walked on and spontaneously decided which way to go if there was an option available.
This morning, led by Gabriel and his headlamp, we came across one of the few very old trees that exist along the Way. Francesco was much more knowledgeable about this than me and he just mentioned that this tree had several metres in circumference. Truly impressive, even in the pitch black.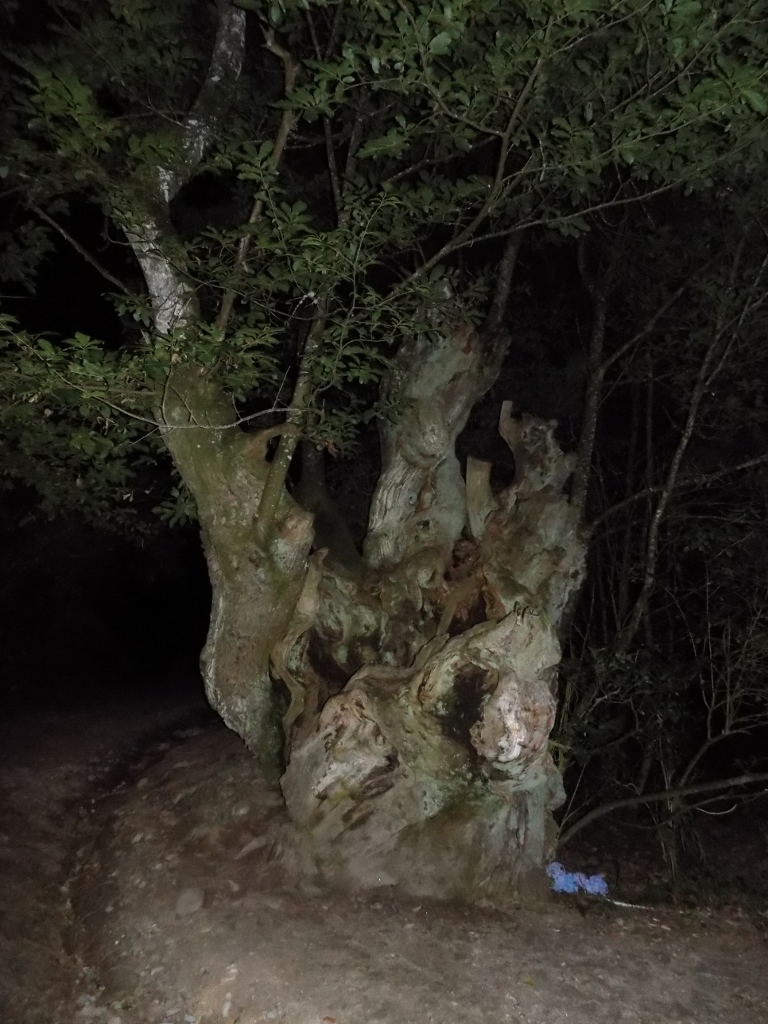 An old tree on the Way
Since today's route often led us through small settlements, we could often see traditionally built houses. Some of them, like the one you can see in the next picture, have obviously been reconstructed and modern elements have been added to them, such as better fitting windows, but what caught my eye was a hole in the exterior wall that obviously served some function, I presume linked to ventilation. But actually neither of us knew what that hole was really there for, but that was certainly the first time I saw something like this.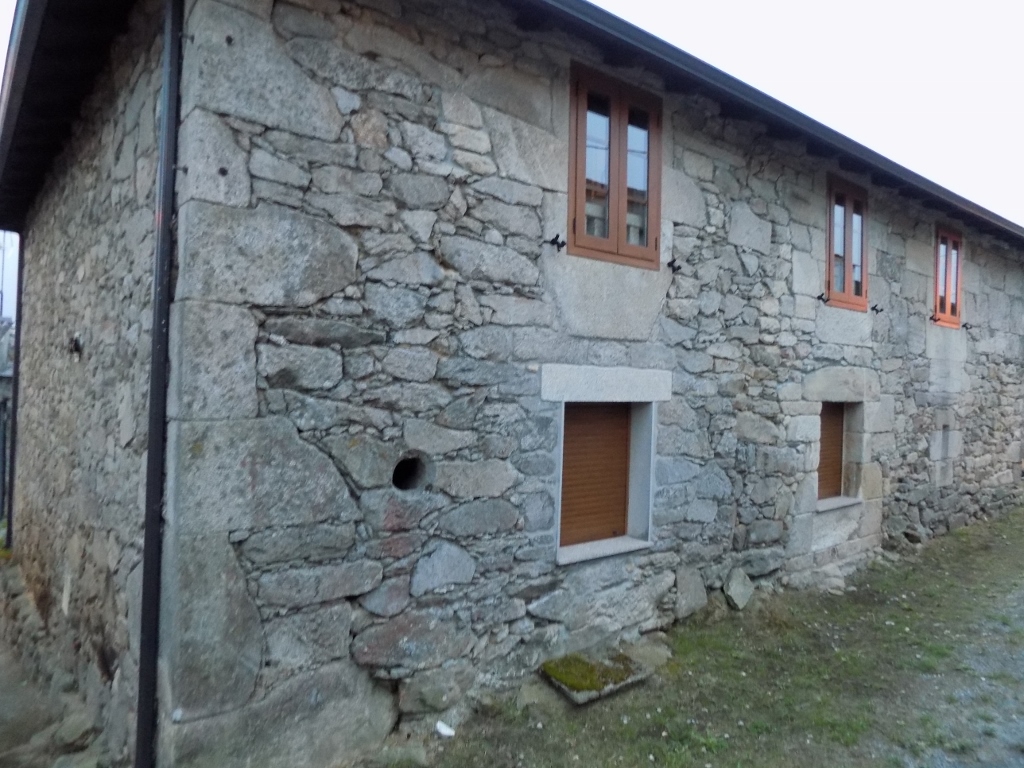 House with a functional hole in the wall
Following the Way from one village to the next, we walked between fields or through groves and everything was quite green, even in the second half of July. Generally speaking, this part of Spain is rather rainy, and consequently green, on account of the proximity of the Atlantic.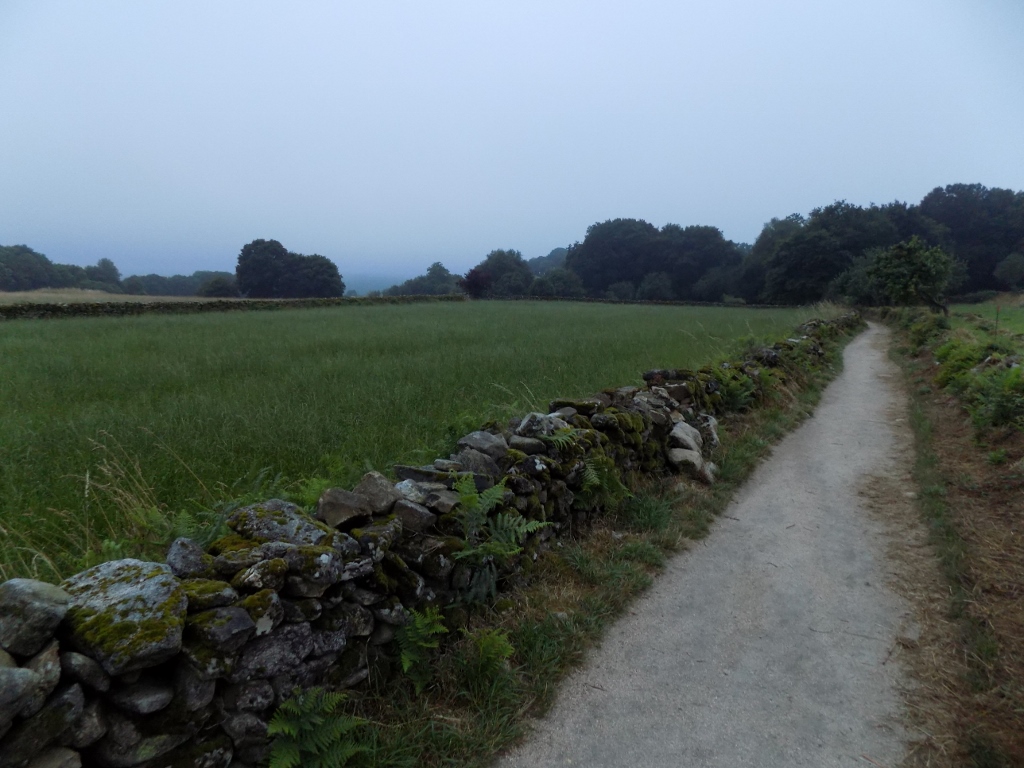 Way through Galicia
As it may be seen from the photos above, in addition to the green colour of the vegetation, we mostly had grey because of the clouds that covered the sky. Perhaps this was the reason why a theme-appropriate wall painting which showed the way and emulated the style of Joan Miró appeared even more joyful than it would have normally.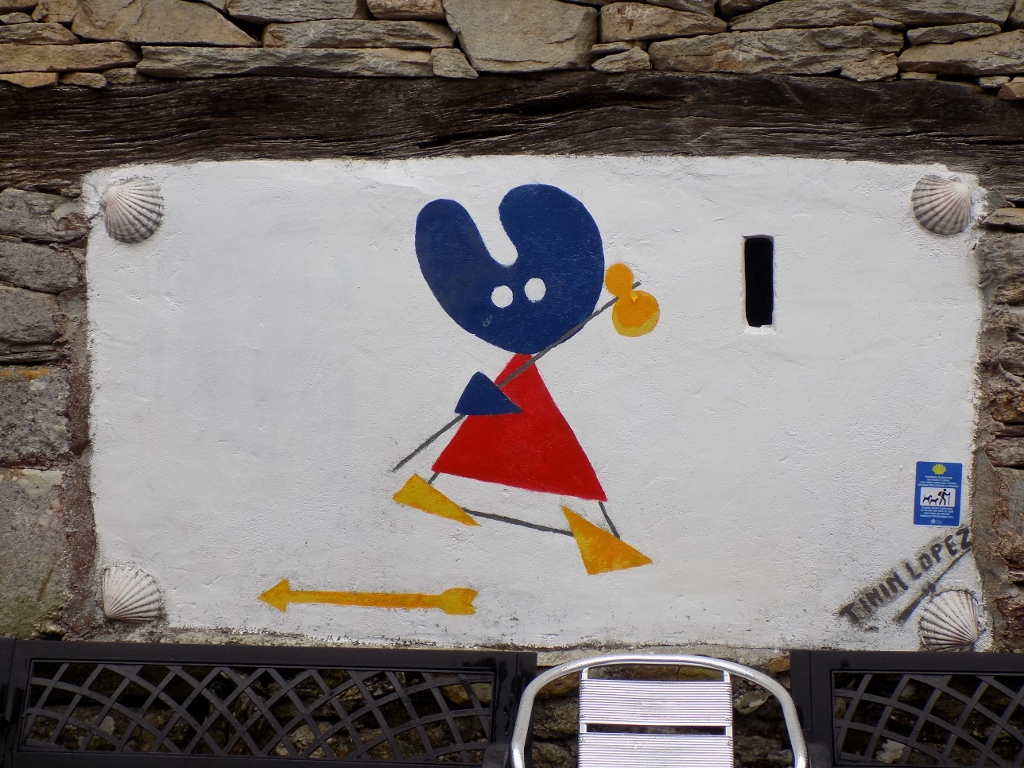 A painting along the Way
Be as it may, while we were walking, the clouds got even lower and it started to rain, but this all happened right at the moment when we were passing by an albergue where we could have breakfast. Still, we did not dwell there for too long after the breakfast, but continued although it still drizzled. The moment finally came for us to use some things we had with us with the purpose to keep us or our backpacks dry – Francesco and Gabriel had covers for their backpacks, while I had a wide rain-coat that covered both me and my small backpack. The rain stopped soon, so I took the raincoat off since it felt hot underneath.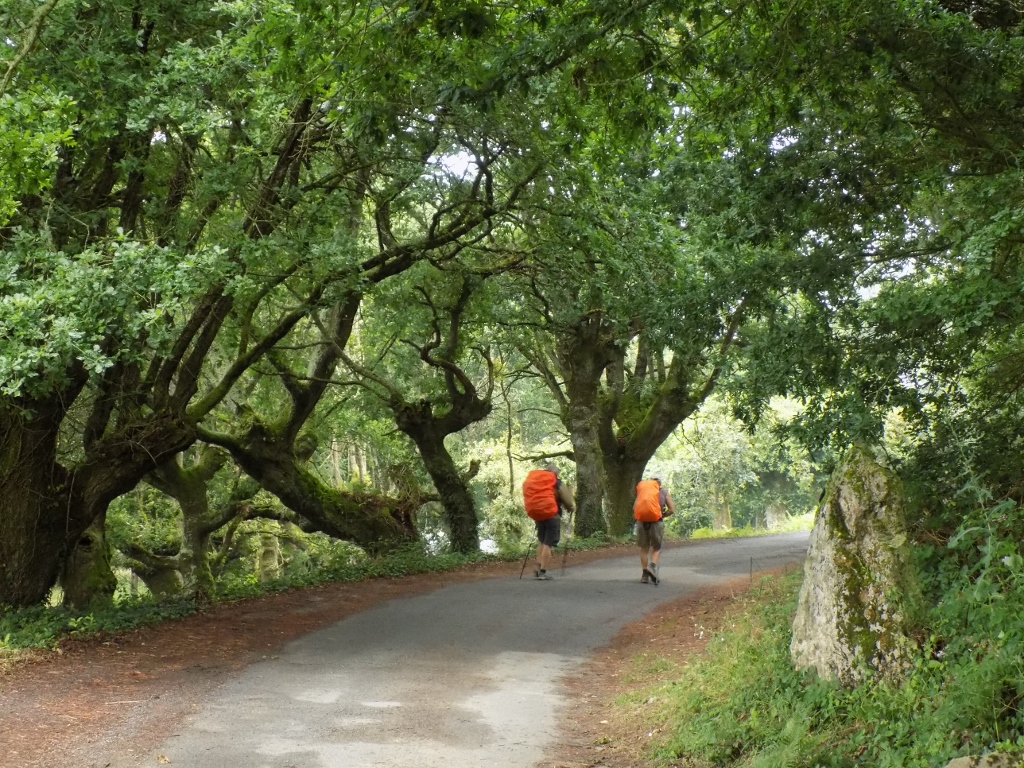 Gabriel and Francesco with brightly-coloured backpack covers
What makes Galicia different from the rest of Spain through which we had already walked is linked to the following story. Namely, while we were still treading along the parts of the Way that seemingly had no end, when we would finally glimpse the bell tower of a church as the first sign we were approaching a village, we would cry out: Caña!, meaning draught beer, and over time this turned into a code for a break. Then I went a step further and as a joke said: "Wherever there's a church, there's a bar!" and it was indeed like that. At that time we were walking through villages that were not distributed very densely along the Way and therefore they almost always had a church and at least one bar in their centre.
Well, since I actually did not walk through the first part of Galicia, it was on this day that I became aware of the following – there were significantly fewer churches in the villages or the villages were so small and so densely positioned that churches simply had not been built in all of them. On the other hand, we did pass by and saw a couple of churches, but here thay had a completely different position in comparison to Castilla y León, for instance, so I came up with a new saying: "In Galicia, where there's a church, there's a cemetery!" and Francesco doubled with laughter at this.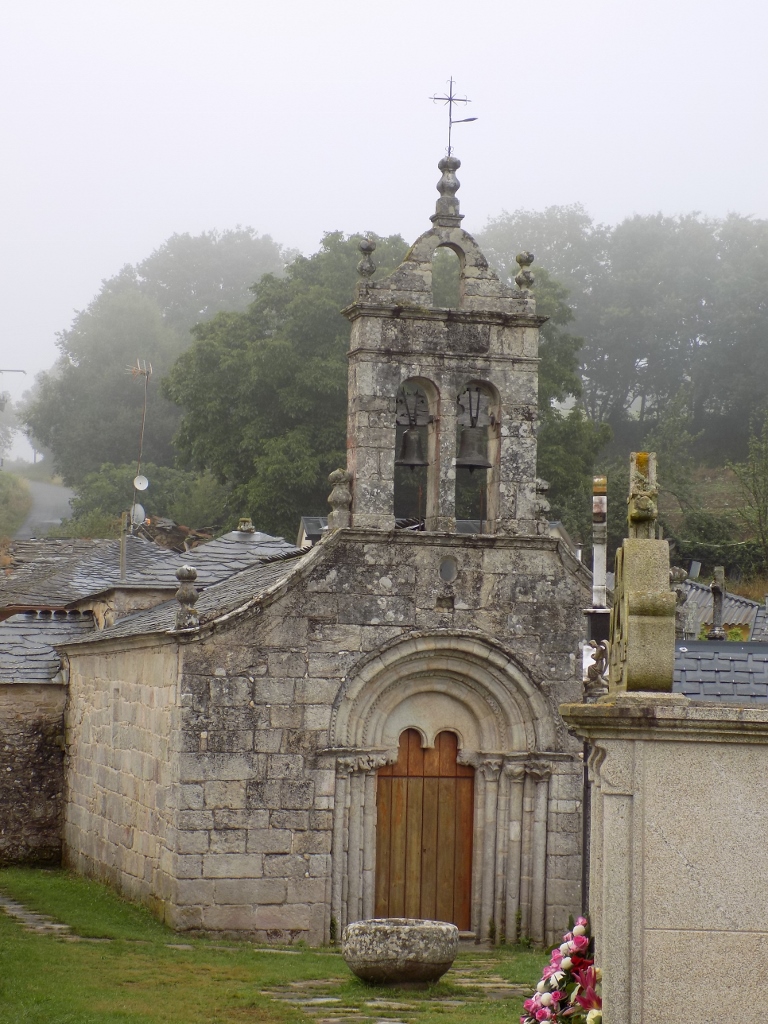 Where there's a church, there's a cemetery!
And then we finally reached the mental milestone – the place from which there is "only" 100 km left to the Cathedral in Santiago de Compostela. Needless to say, we stopped here and took photos, like probably all other pilgrims who walk this way.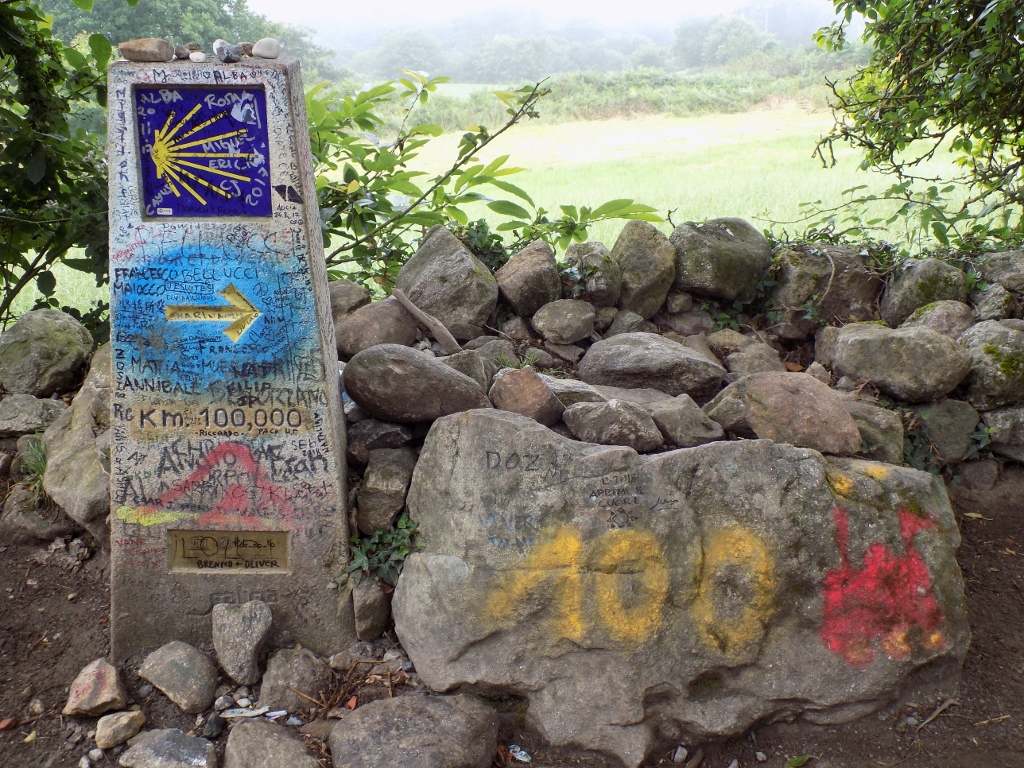 "Only" 100 km left!
Although a lot of pilgrims pass here and although there are a lot of albergues, B&Bs, small hotels, bars and restaurants, this is still primarily a rural area. The local people here deal with the activities typical of such areas, not necessarily linked with pilgrims and tourists, and these are agricultural activities. We were already used to passing by large fields under crops, but this morning we also came across a herd of free-range cows.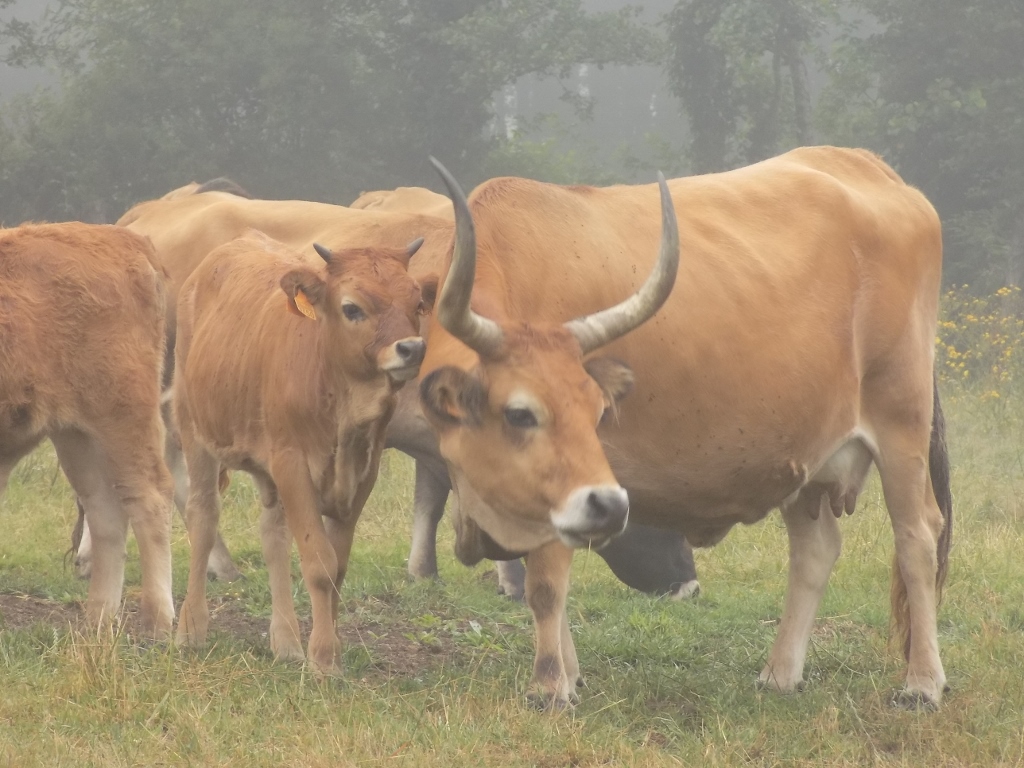 A part of the rural ambient
We soon came across a very nicely developed and kept place for the stay of pilgrims and I went to their bar in order to start a regular collection of stamps in my new pilgrim's passport, i.e., the credencial. Namely, I was not sure that I would have the space in my original pilgrim's passport and it was vital that I collect the stamps because it is on the basis of them that later in Santiago it is ascertained whether the person has really done the pilgrimage.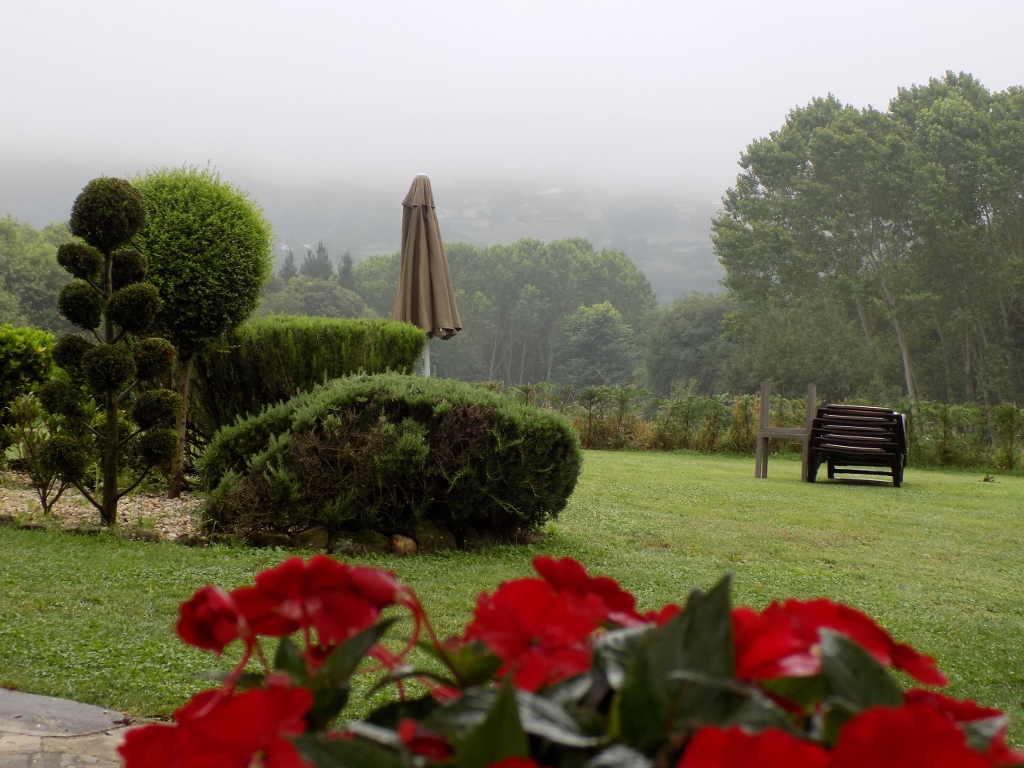 Garden of one of the B&Bs along the Way for the stay of pilgrims
Here I saw the Spanish woman with whom I travelled on the same coach to Sarria and who had problems with her tendon. We were truly very glad to see each other and we hugged, after which we parted wishing each other all the best and "Buen Camino!"
While walking I also started regularly seeing granaries some of which were very picturesque.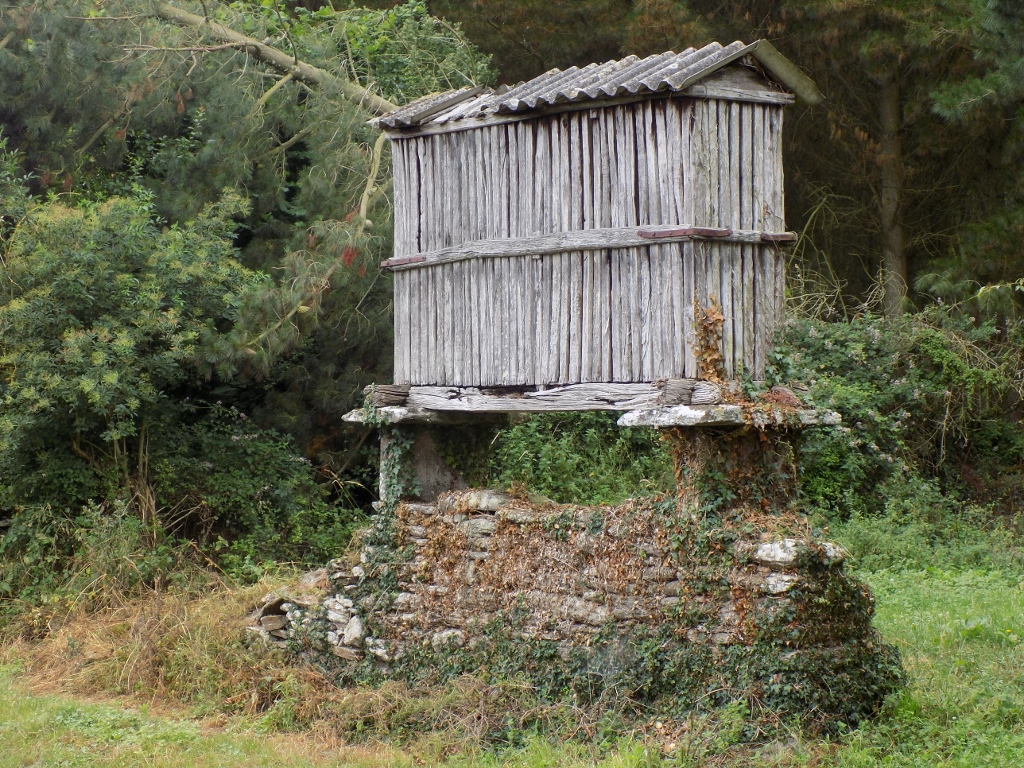 A granary from Galicia
Galicia is indeed very beautiful, very green, almost all the houses and fences are made of stone and they are very picturesque. On top of that, the paths, although occasionally rather steep, seemed easier for walking than those of the previous days. We also walked by an abandoned house and there I also saw a special opening in the outside wall, but this one appeared to be made for mail. But perhaps the appearance is deceitful.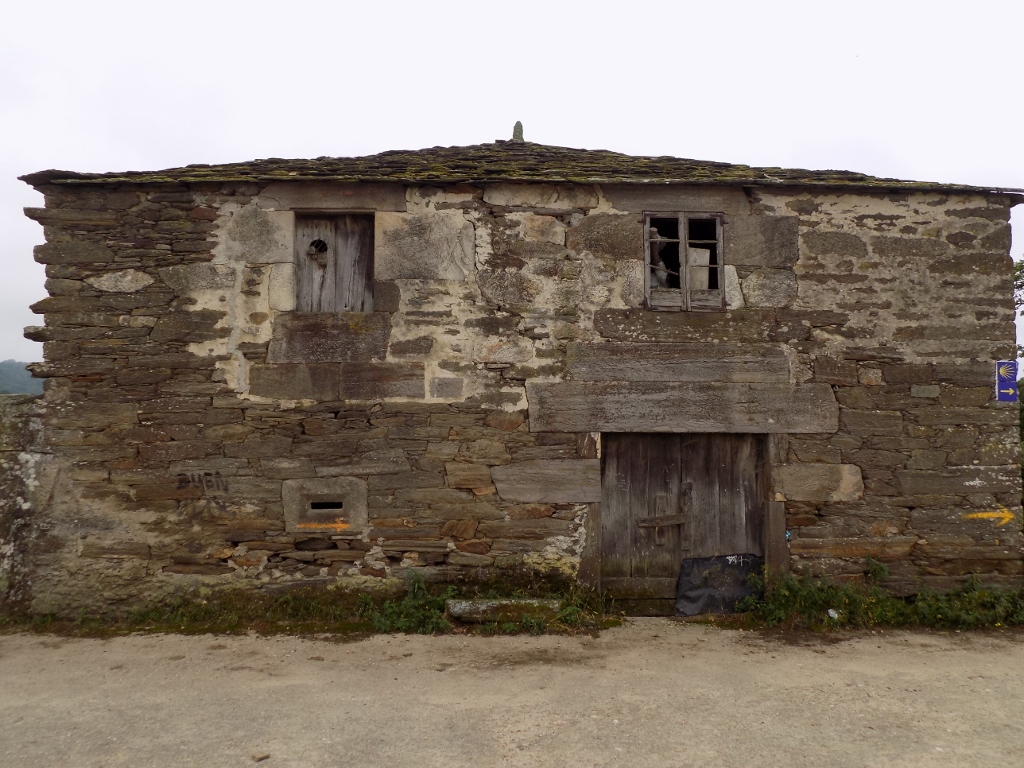 An abandoned house in Galicia
By the end of the day's stage, I could enjoy the very beautiful landscapes we were going through and after a while we saw a reservoir created by the building of dams on the Miño river.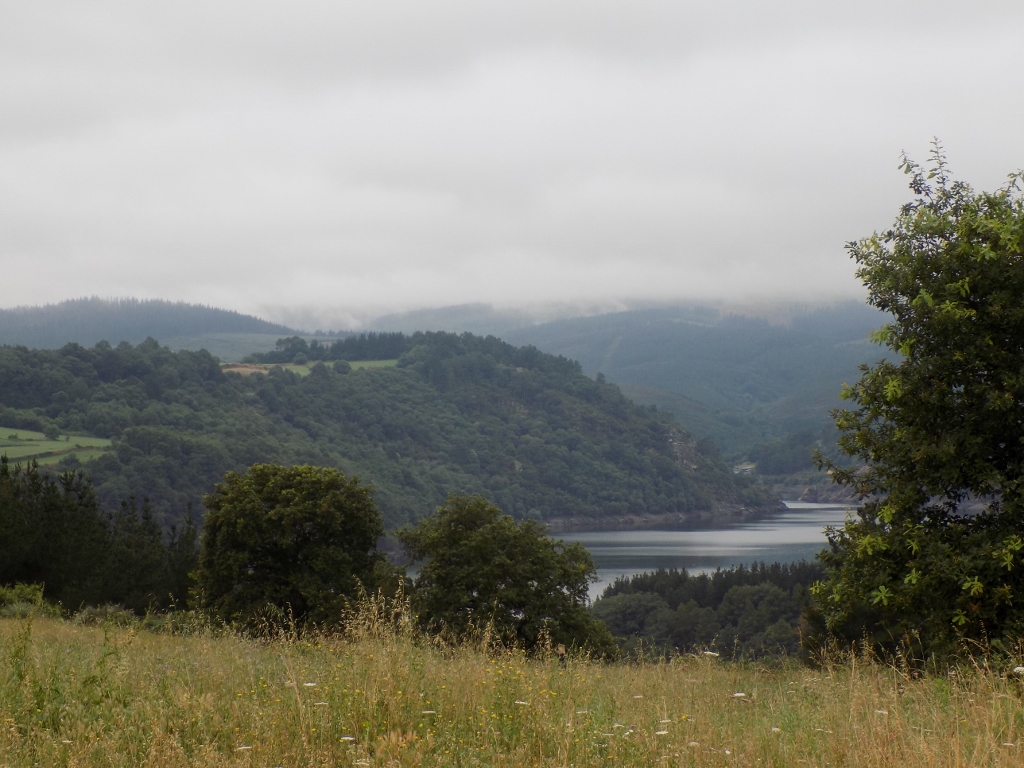 Reservoir in the valley of the Miño river
Very soon we saw the little town of Portomarín that was our final destination on this day.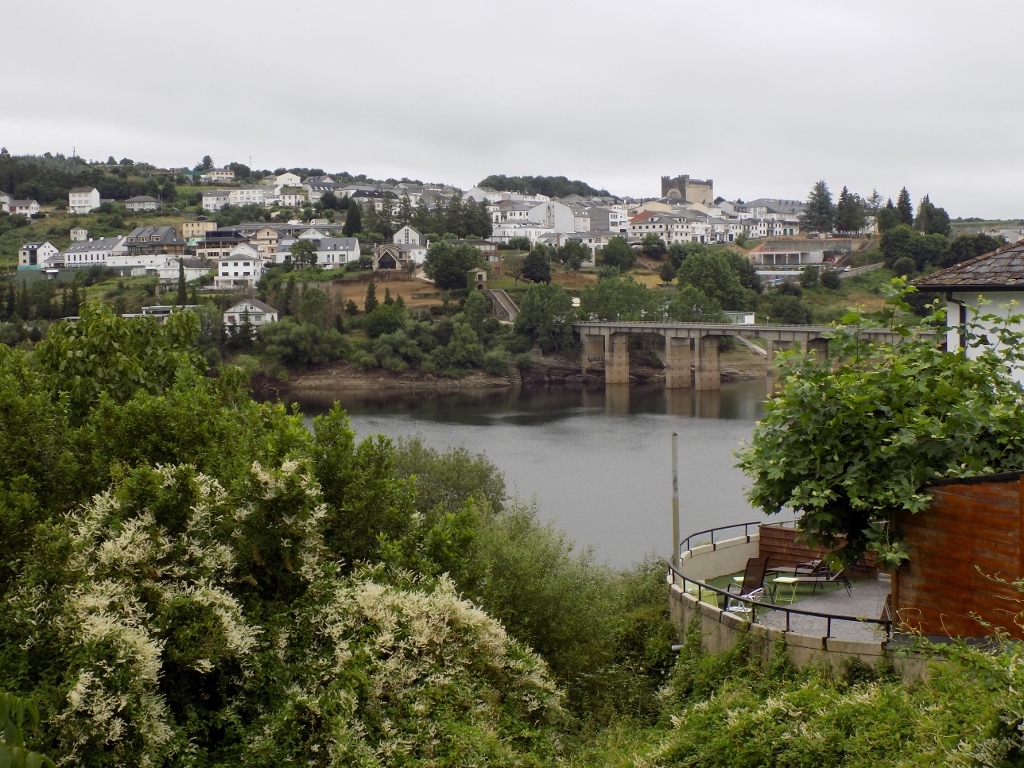 Portomarín