Following the afternoon rest, I walked around the albergue in Liñares, still trying to move my head minimally in order not to have new vertigo episodes. I did not feel like venturing out, although the weather seemed stable, but looking out through the window, I still had the impression I was somewhere in Serbia.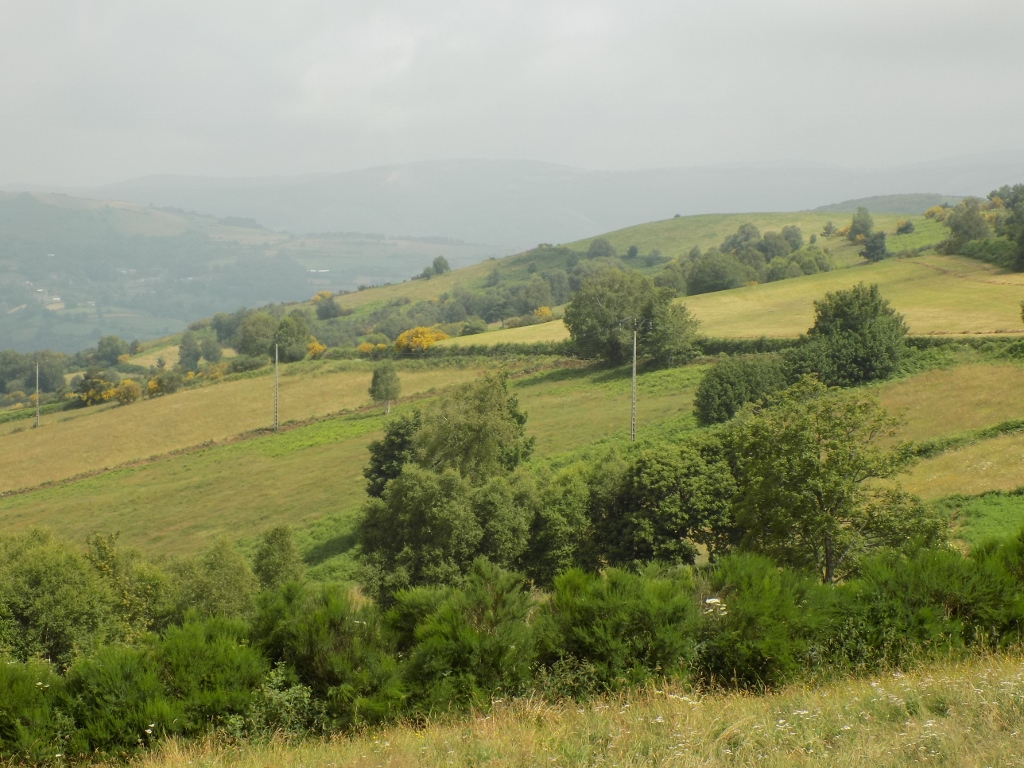 Surroundings of the albergue in Liñares
Near the hostel, there was also a barn and it was rather cute when I saw a cow shyly peering from there.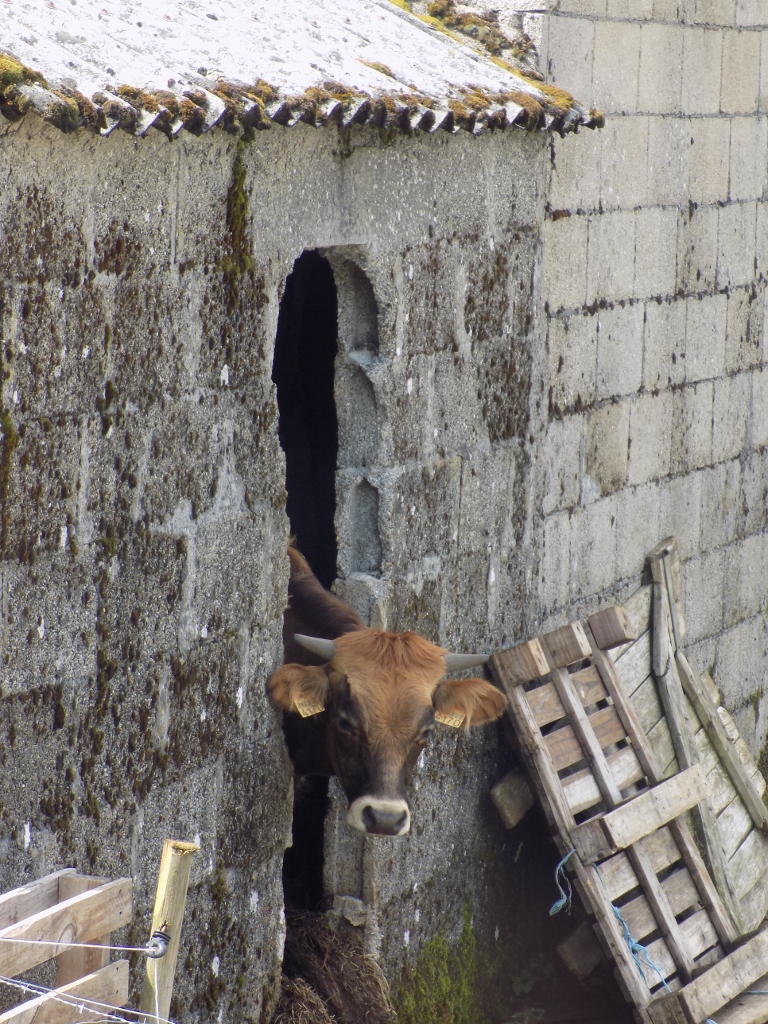 A scene from Liñares
As I was walking like that, suddenly I saw the Korean girl with whom I had shared the hostel in Trabadelo and who encouraged me not to give up earlier that morning. She was truly happy not only to see me again, but also to see that I had decided to continue after all.
Also, at this albergue I met some more of my geographic "neighbours" – a couple of Hungarians from Pecs. The young man was rather quiet, but the female part of the couple was quite talkative and the two of us had a nice chat.
Meanwhile, Francesco started to prepare early dinner and since we knew from the experience that we tended to have surplus food, this time we succeeded in convincing the girl from South Korea who could not join us for dinner the night before to do so now. It was a fine company and after the dinner, Gabriel volunteered to wash the dishes so that I could continue to rest.
We all went to bed early that night and in the morning almost everybody was gone by the time I got up. I slept long and well that night and that was exactly what I needed. Since I was completely alone for a while, before incredibly dear and helpful hostess Lola came, I took an opportunity to make a couple of photos within the albergue in order to post them later together with comments. Namely, regardless of the problems with my physical body, people often wrote to me saying that what I was doing was fabulous and that they would like it if something like that existed in our country, too, so from time to time I mentioned some "sobering" aspects, primarily linked to the accommodation and some of the perks that exist in some of the hostels. The Way of St James is a pilgrimage with a very long tradition – over a thousand years. Needless to say, the pilgrims did not always travel with the comfort provided by the 20th and the 21st centuries, but it is important that this incessant flow of people kept creating conditions which along with the economic and technological prosperity of our times have led to what nowadays constitutes a serious "logistical" support to the pilgrims. Also, my intention was to mention occasionally ballpark prices, as information for those who would like to go on a journey like this.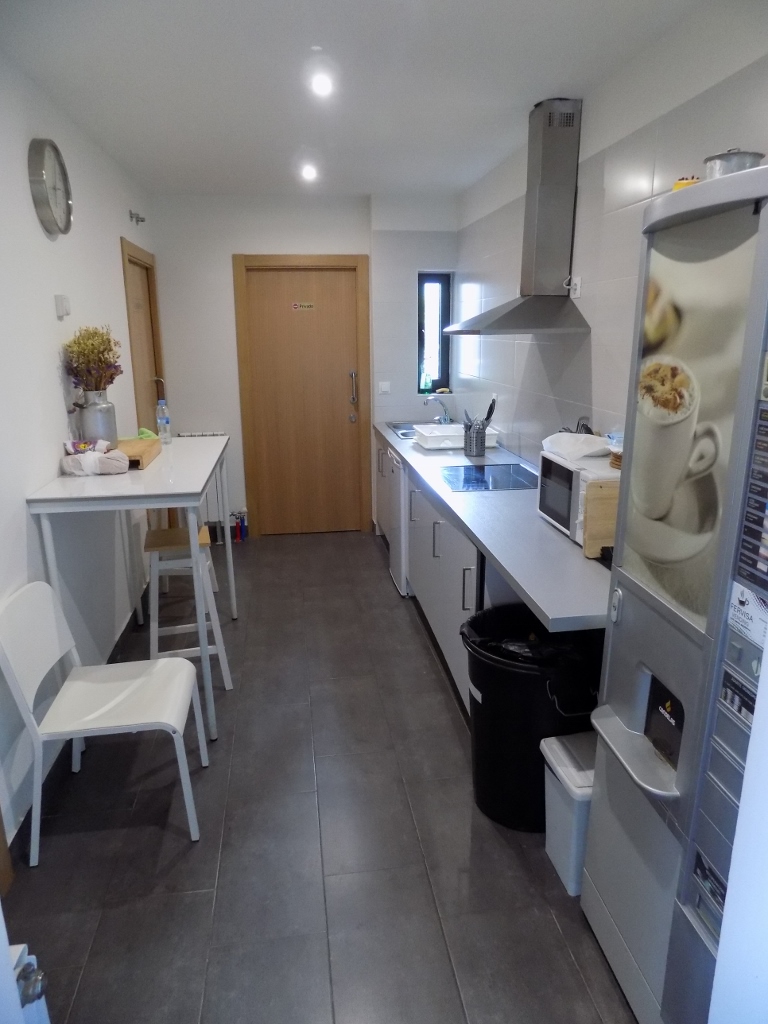 A detail from the albergue in Liñares
At some point Lola came and she started cleaning up the hostel and preparing it for the new wave of pilgrims who would start coming later that day, but she did come out when the coach by which I was moving forward came in order to see me off.
So, that day I moved on by coach and I went directly to town Sarria, which means that I skipped two walking sections. The idea was that I spent two nights at the same albergue in order to have my head stabilise and Francesco and Gabriel would join me there on the second day. Looking from the coach I did feel sorry that I was not walking through those wonderful landscapes, but I comforted myself saying that this was prudent and not walking for two days would do me good.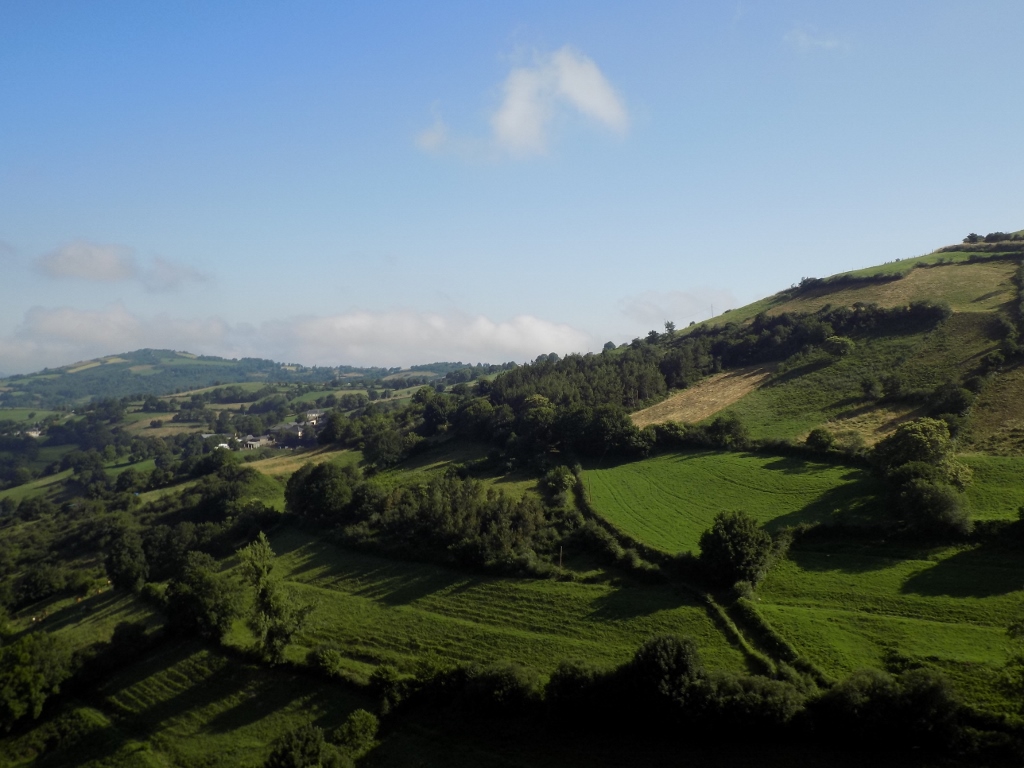 On my way to Sarria
When I got out of the coach in Sarria, it turned out that a Spanish woman also came by the coach and now the two of us were going in the same direction since we chose two hostels that were one opposite the other. Although this was not very close, we walked from the terminal to the albergues and then I learned that she also had tendinitis on the left leg and that was why she chose to move forward by coach and make a break in Sarria. While I was carrying the big backpack, as well as the small one, which I completely clearly felt as the heavy weight pressing on me, I wondered how I managed in the first place to carry all of that plus 4.5 kg of things during the first two days. Now, when I was thinking of my beginnings on the Way, I didn't know if I was barking mad or I just didn't know what laid before me, but although I was certainly glad that I had "got rid" of the surplus and that I was regularly sending my big backpack by organised transportation, I was nonetheless proud of myself for having endured those two days at all.
When I reached the albergue I left my big backpack in the room and sat in the restaurant that goes together with the hostel in order to eat something. Still, since the hostel had a kitchen for pilgrims, I decided to make myself a simple but tasty dinner, so a little later I walked to the nearby central street and a supermarket. Only after I had done that, I posted a text on Facebook and then I retired to the room and took a little nap.
Day 30: "Practicality and practical information"
Despite my half-sitting position in the bed, I slept well last night. Still, the movements, primarily with my head, were very cautious and limited. When I got up, since almost everybody else was gone, I took an opportunity and took photos of this "five-star" pilgrims' hostel.
This is just to give you a feel of where pilgrims may sleep and what is on offer. I think this has been (at least for me) the best albergue so far. Since it is at high elevation (over 1200 m above sea level), it also has radiators (yesterday when I came they were turned on until the place warmed up), in the bathroom there is soap and paper towels (this is not found in all the hostels), pilgrims get cotton bed sheets and I also got an additional pillow in order to feel more comfortable. Not very far, there is a small shop where it is possible to buy ingredients and later prepare food in the hostel's kitchen. If the three of us are cooking, we stick to the good old spaghetti and ready-to-use sauces. And that is quite all right. At this albergue overnight stay is 10 euros. Machine washing and drying of laundry is paid separately, like everywhere else. The stay at pilgrims' hostels costs usually around 10 euros, at least at those we have chosen. Once we stayed at a place that cost 5 euros and that was several times better in all the aspects than the hostel of the night before where we paid 10. To put it simply, there are no rules and it also greatly depends on what one wants and expects. The sizes of the rooms/dormitories are different – from 4 beds to over 100. These are mostly berths actually, but it also happened that we had normal beds.
Who wants to sleep in small hotels or B&B needs to pay 25+ euros, but it does not necessarily mean significantly better conditions (unless you want to be alone in the room). Thus, for instance, once I paid 33 euros for a room and yet I had to share the bathroom.
The hostess of this albergue in Liñares, Lola, is an exceptionally fantastic lady and she's told me I had a coach at 10 o'clock and that the coach would stop right in front of the hostel. When the coach arrived, she got out and told the driver, whom she obviously knew, to take care of me and then the two of us hugged, wishing each other all the best.
So, today I've decided to be practical and thus I took a coach to the small town of Sarria admiring the natural beauties of Galicia along the way. Covering two stages in this way, I've settled at a nice hostel where I will wait for Francesco and Gabriel to arrive tomorrow, also giving myself a chance to rest WELL and hopefully recuperate.
Sarria is not a big town, but it is very important because those who want to do the pilgrimage (the French Route) only in order to get the Credencial, i.e., the certificate about the completed pilgrimage, most often leave from here. In order to get this piece of paper, it is necessary to do the last 100 km on foot or the last 200 km by bike. From here, there are in fact a few more kilometres, but the town is easily reached by public transport and this makes Sarria interesting.
After the settling at the hostel and eating some food, I walked to the nearby main street in order to go to a pharmacy, as well as a supermarket where I bought cured ham and eggs (to fry them for my dinner), as well as some cheese and salad, hoping that through being practical, making an early dinner for me, as well as through familiar and loved tastes I could reduce the level of stress and drama in my life. Still, hmm? It seems that when there is no suffering and the practicality takes over, the creativity wanes, doesn't it?
In front of me: 118 km
Behind me: 749 km
Since this albergue had a lovely and spacious back garden, later in the afternoon I lay on one of the sun loungers solving Sudoku. Just like Francesco, I myself bought a small booklet with the puzzles and that was a nice way to kill the time, while completely immersed into the solving of the puzzles I didn't even think about moving.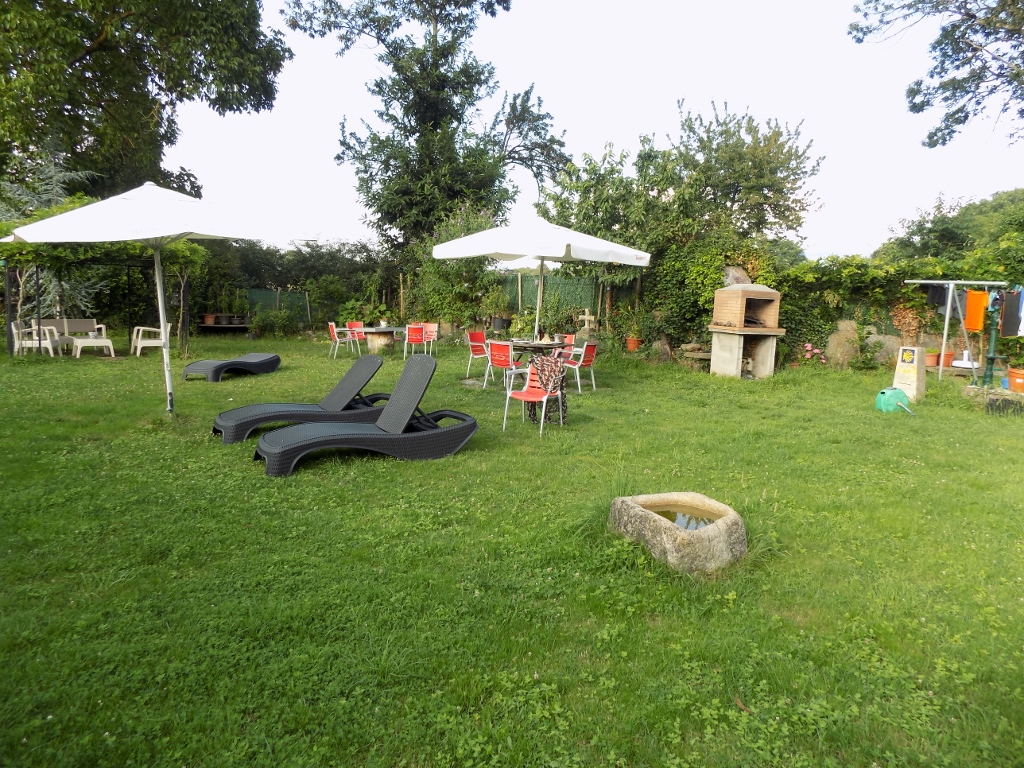 Garden at the albergue in Sarria
Of course, since the garden was an attractive place, I was not alone and soon I was chatting with other pilgrims who also enjoyed the pleasant sunlight, loungers and chairs in order to rest and get ready for the following day.
Thus, for instance, I talked with Marina, a very nice Italian who spoke perfect English, so I could relax my brain a little and not only my body. There were also some Americans with whom Marina had very cordial relations, since they often walked together or at least they spent the nights at the same hostels. This was so familiar to me and I just thought that everybody on the Way have their own Francesco and Gabriel. I missed my friends.
Then Marina and I started to talk with one woman from Germany who had major problems with her feet. As an expert on this subject, I did the "check up" of a toe puffed from a blister and gave her a couple of practical pieces of advice. While the three of us talked, it turned out that the German woman started from Astorga and Marina from Saint Jean Pied de Port, the typical starting point for the French Route. I felt very proud that out of the three of us I had most kilometres behind me.
Afterwards, I made myself a salad and fried the thin slices of cured ham covering them with eggs, thinking how this was both very tasty and very good for me since it was full of proteins (I was actually just giving myself the pep talk) and that tasty combination not only filled out my stomach physically, but also my entire body was filled up with a feeling of satisfaction in a rather primordial way.
Very pleased, I withdrew to my room early in order to sleep for as long as possible. Here, too, I got two pillows in order to be able to keep both my head and the upper part of my body up, but in this hostel the upper berths were placed rather low above the lower ones, so I didn't have too much space. Still, I managed to find a good position for me.
That evening I met María, a Spanish woman with whom I shared the room. She had taken the decision to stop walking on her Way, since she had a very severe inflammation of the Achilles tendon. She had been to see a doctor and she had also spoken with her husband who was a physiotherapist and who had told her, on the basis of her description of the problem, that she should go back home at once. It could be seen that she suffered, not only physically, but also psychologically. I consoled her as best as I could and soon after I fell asleep.
The following morning I woke up early, but it was already the daylight. Since I did not walk along the Way that day, I stayed in bed for a while, working on Sudoku. A couple of pilgrims had already left. At some point, I saw María sitting quietly on her bed, while tears ran down her face. It was clear that she was unwell. Soon we started to talk and she said she had a train to Madrid to catch a little later. I offered to help her get to the railway station, but she said she would see if it were possible for the railway company to assist her. As it turned out she called them too late, I told her not to worry at all and that I would see her off. She had both a backpack and hiking poles and she almost could not step on her ailing leg at all and often had to hop a little. I had a free day anyway, so it was out of question that I should let her go by herself to the railway station.
When the time came, she called a taxi and so we both went to the railway station. I helped her enter a bar where she ordered coffee for the two of us, wanting to thank me in this way, while I went to ask around about the arrival of the train, etc.
After some chatting, we parted and I returned to the albergue where I waited for Francesco and Gabriel, sitting in the bar-restaurant.
Since this was already the second day in the same place, I talked nicely with the exceptionally kind and thoughtful host and owner of the albergue and the bar, as if we had known each other for years. He told me that albergues would soon start to close down since there were problems with people. A lot of them complain and then write about all sorts of things on the internet, which certainly influences the number of visitors. One of the typical complaints says that there are too many flies or whatever. The fact is that there are a lot of flies, but it is also a fact that pilgrims walk through smaller towns and villages, where agriculture is intensive and therefore it is completely normal that there are flies. I can understand that flies are a boring pest, they bothered me as well when I could not wave them off for long, but I cannot understand people complaining about it. If they want sterile conditions, let them go to a hyperbaric chamber and let them just imagine that they are walking. If not, they should at least keep their mouth shut.
At some point, Francesco and Gabriel arrived, they first rested and refreshed themselves, and then all three of us moved to a room that was new to me, since we got a triple room, which was a proper luxury on this journey.
Still, before the afternoon rest, all three of us went to the supermarket to buy additional food for dinner. While doing this, we saw again those two Spaniards who travelled with a cart and a donkey, but there were also other four- and two-legged friends.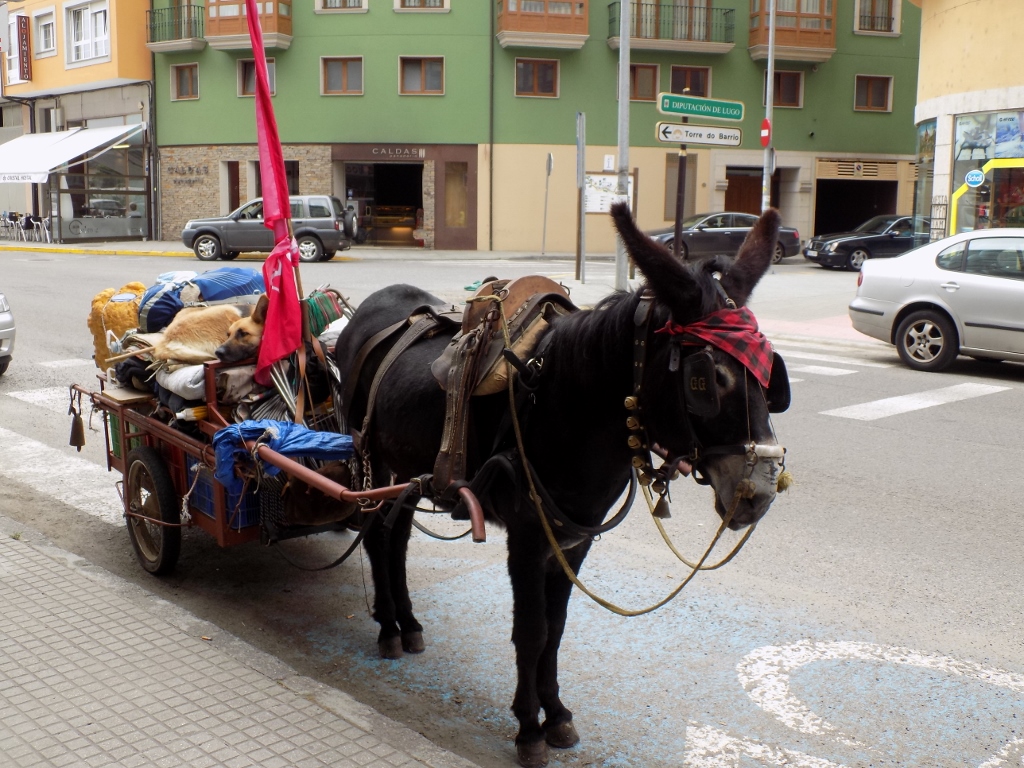 I don't know about the donkey, but the dog is definitely resting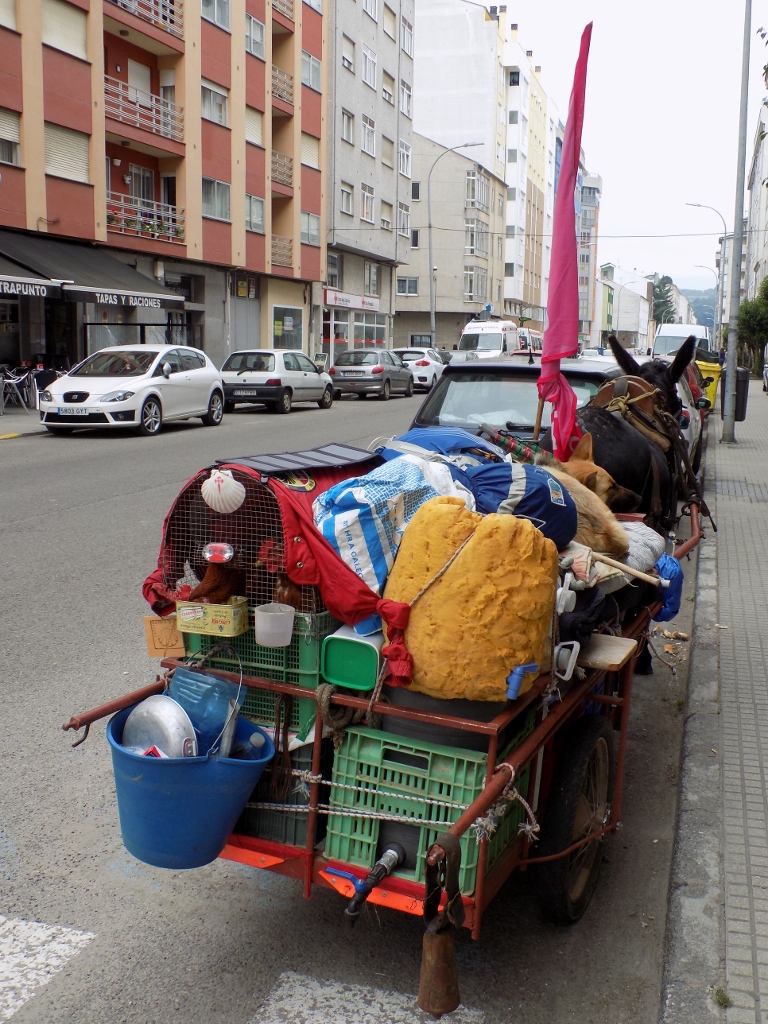 Note the chickens in the cage to the left and up