The town of Portomarín has developed over time in the close proximity of a Roman bridge over the Miño river. During the 1960's, the river was dammed in one part, a reservoir was created and the old settlement and the Roman bridge were inundated, but the most important historical building were "dismantled" and then brick by brick moved and "assembled" again at another spot.
I knew none of this when together with Francesco and Gabriel I walked across a modern bridge over the Miño river, so I didn't even pay attention to the fact that on one of its sides it is still possible to see the top of the old inundated bridge. I discerned this only much later, when it was almost evening.
Since the little town is nowadays located on a safe elevation circumvented by a road at the foot of the elevation, one first has to cross the road in order to enter the town. This challenge has been resolved in the shape of an interesting stone viaduct for pedestrians that extends directly from the new bridge over the river that is used both by vehicles and pedestrians alike.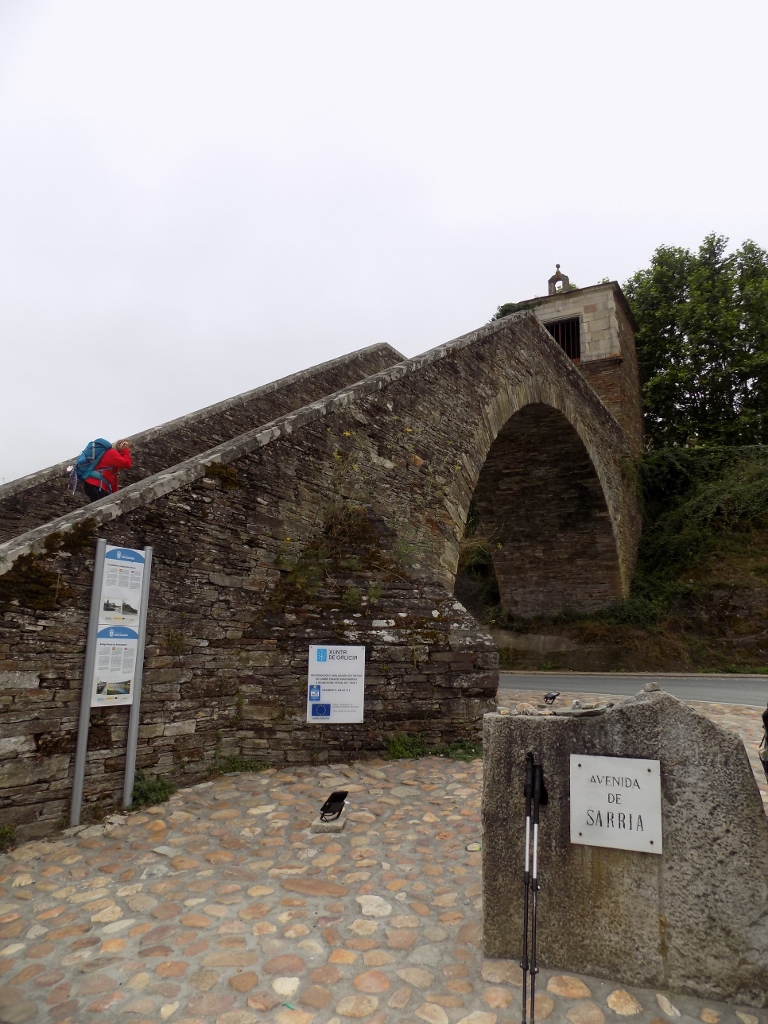 Pedestrian viaduct at the entrance into Portomarín
We slowly entered the town, stopping occasionally to take photos and then we settled at a pilgrim's albergue that we had booked earlier from Sarria. Namely, we had realised that since a significantly larger number of pilgrims were covering those last hundred of kilometres or so, being summer, i.e., the high season, plus this was all taking place right before the feast of St James, which is the main holiday in Santiago de Compostela, it would be prudent to make sure we had booked accommodation in those last days of the pilgrimage. Not only in order for me to know exactly the destination to which I should send my big backpack, but also in order for us not to have to look for the accommodation for the three of us exhausted after the day's walking. Here, of course, they had our booking and when we settled in a smallish room with four beds, we took showers, washed our laundry and I could then post my text for those who followed me on my Way on internet.
Day 32: "Motive"
Yesterday they announced precipitation for today. There was supposed to be heavy rain around noon, with the probability of rain going up before this. That's why we left Sarria already at 5:25 am walking quickly. During the previous two days, I had an impression that Sarria was a flat town, but to be frank I did not do any investigation to this effect. As it turned out, there is a very steep hill and the Way leads precisely over that steep hill, going through the old part of the town with churches and numerous albergues, but as it was still night, everything was quiet and asleep.
At one point there were two possibilities – to walk along an asphalt road or to follow a dirt path and, needless to say, we opted for the dirt path which went down towards a stream, only to climb up again. What I want to say is that during the first 40 minutes I already went up and down several times and this did not feel great. I was not sure whether I was fully awake or I would fall asleep right away if I stopped, whether I was hot or cold, I could not establish whether I was thirsty or not, but my legs did not hurt and I did not feel dizzy, so I concluded everything was fine. Still, in this total absence of a clear idea about how I actually felt, I remembered the previous night.
We had pasta for dinner and Francesco had invited Francisco, a Brazilian whom we see occasionally along the Way, to join us. There was a lot of fun, we laughed a lot and it also turned out that none of us had good opinion of politicians. But, let me not spoil the story. At one moment, Francisco asked why we were on the Way, but his question somehow remained unanswered. Still, it was obvious that he felt the desire and need to share his reason with us. There were actually two. One was to express his big gratitude for the luck he has had in his life, since according to his own words, he has lived much better than what he deserves. The other reason was repentance, for as he said many have suffered because of him, and also to atone for his sins towards his parents.
So, as I walked in pitch dark, with the light coming only from Gabriel's headlamp, I remembered this and thought that this was a good motive. I think that it is then easier to sustain. I also remembered a situation when during one of my stays in Egypt I went for a night tourist ascent to the top of Mount Sinai. Practically with no sleep I was taken to the Saint Catherine's Monastery from where I signed up for riding a camel up just shy of the peak itself. The last couple of hundred metres in terms of the altitude did, however, have to be covered on foot and no matter how much I comforted myself by saying I had not slept at all, etc., I felt almost embarrassed when I saw myself barely dragging myself up the elevation, while some people significantly older than me went much faster. It was then that I realised that the essential difference lay in a serious and strong motive. They were led by a religious reason and I was led by my personal feeling of good fun. An important difference, isn't it?
Thinking about all of this, it occurred to me that now, after the problems with my physical body and the psyche, maybe I had somehow entered the mental sphere. Although I did not feel like fantasising a lot on the topic, I was nevertheless fully aware that on this day we were crossing a 100 km distance line from Santiago and this was primarily a mental category and distance line.
Also, within the scope of today's contemplations about this whole experience I've realised that my initial motive for this Way was completely wrong or rather it was not "right" again – I wanted to enjoy and rejoice in the walking and nature, but I mostly suffered. Now, towards the end, my motive is simple – to endure!
Before me: 95 km
Behind me: 772 km
The previous night Francesco did not sleep too well since Gabriel who was in the berth above him tossed and turned, and got out of the berth a lot (until Gabriel falls asleep, he does tend to toss and turn a lot, which I had also experienced). That whole morning Francesco seemed drowsy. In the afternoon, we went to bed to sleep, but first we got a fourth person in the room who made noise and then a bottle of wine came which Francisco (the Brazilian from the night before) had left at the reception of the albergue for Francesco, after which Gabriel decided to get up again. The whole double-berth structure shook again, Francesco finally gave up the napping and then he said: "Attila's brother!" (Fratello di Attila). I doubled up with laughter.
At some point, we decided that we had had enough of the afternoon rest and that we should get out and walk a little around the town. Portomarín is not a big place and it only took us a couple of minutes to be in the central square.
And there, in the central square, there is an exceptionally interesting and unusual Church of St John that belongs to the order of the Knights of St John of Jerusalem. This late Romanesque church was designed in a way that it should serve both as a church and a fortress, so it has merlons, as well as four defence towers. The last time when Francesco passed through Portomarín the church was closed and now we all together took the opportunity to enter and visit it from within as well.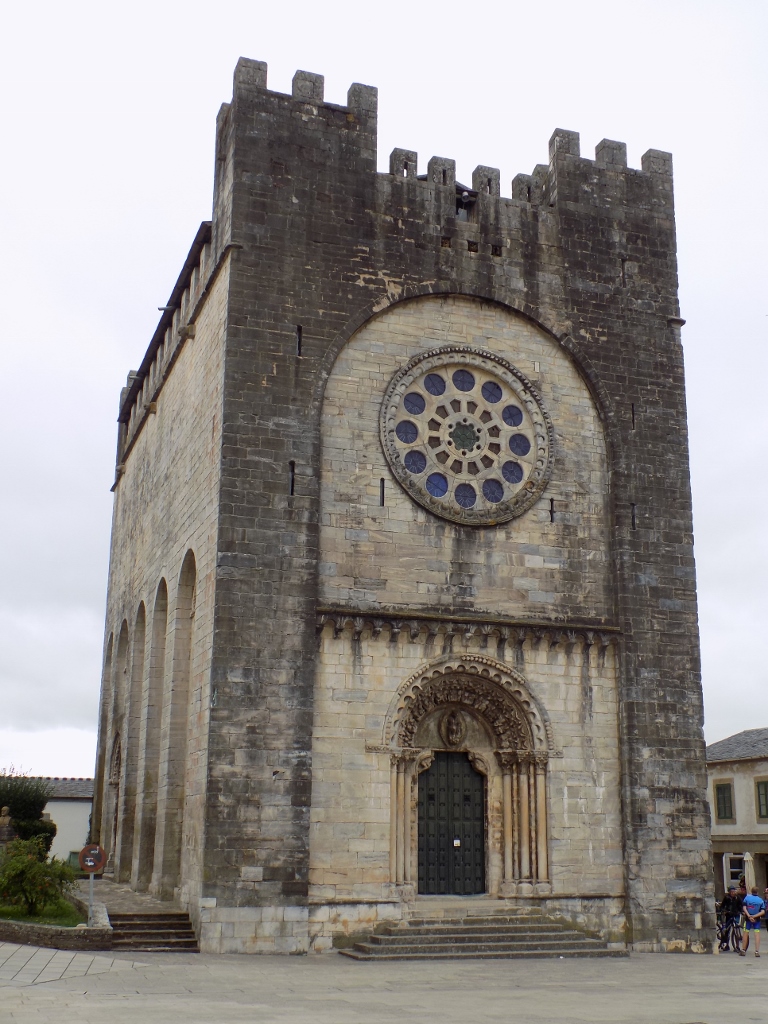 Church of St John
Afterwards we walked around the centre of Portomarín a little more and it was completely clear that this was a more popular part of the pilgrimage route, since there were comparatively much more people, including quite a few groups that probably organised the pilgrimage to Santiago de Compostela through their churches.
Later, at the recommendation of the hostess of our small hotel I went to a local centre for physiotherapy. Taking into consideration the absolutely fantastic experience with the massage session in Terradillos de los Templarios, that had helped me incredibly, I had concluded that it could not be bad at all if I had preventive massage of my legs, especially taking into consideration the problems with a tendon in my right leg that had started to appear occasionally. So, together with a lot of local people, I sat in the waiting room and waited for my turn. Looking at the notes of appreciation displayed on the walls of the place, I came to a conclusion that this was the right place for me. At some point, they called out my name and one girl took me to a table that was separated from the rest of the centre with curtains. She gave me massage there and it really felt good.
Very pleased, I went back to the hotel in order to meet my friends and later I went with Gabriel to have a beer in one of the nearby bars. This one was outside the central square and apart from the two of us there were no other pilgrims. When we returned to our small hotel, we encountered in the dining room a largish group of believers that had obviously come to the pilgrimage in an organised manner and they all seemed lost in their fervour while signing religious songs accompanied by a guitar. We did not want to bother them, so we quietly went up to our room where we found Francesco and then the three of us started to get ready to go to sleep.
Before actually going to sleep, Gabriel teased Francesco and while looking at them and listening to them I laughed so hard that my eyes were full of tears. At the same time I also felt immeasurable gratefulness and happiness that I had had this enormous luck on my Way to meet precisely the two of them and to have the honour to walk and spend my time with them.
The next morning we got up again while it was still completely dark outside and after putting my walking clothes on I took my big backpack to the place where it had waited for me the day before and, as usual, I tied to it a special envelope with my name on it, as well as my phone number and email, while the money was put inside of it. Starting from Sarria, the price for the transportation of luggage dropped, probably because of the large numbers of pilgrims, and it was now 3 euros instead of 5.
Gabriel and Francesco were waiting for me at the exit from the hotel and then, walking briskly, we headed towards the end of the town. Since we started in pitch dark, there was no point in going to a place from which in the daylight it was possible to see the top of the submerged Roman bridge.
There are a lot of settlements along this section of the Way, but although we were ready to have a break and breakfast already after the first 8 km, this was still too early for the bars to be open.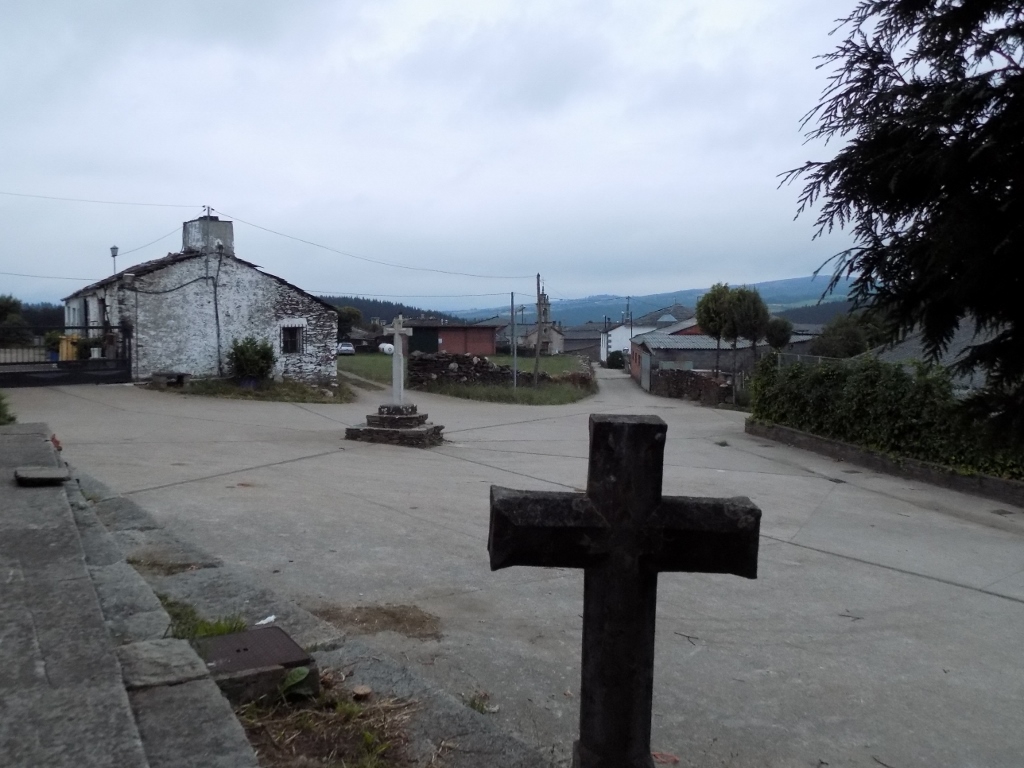 A square in the village of Gonzar very early in the morning – apart from us there is nobody else outside
We went on and after a slope, the Way continued as if across a plateau. The sky was covered in clouds, but it seemed that the darkest ones, ready to pour rain, were far from us. Again, I kept making stops in order to take photos, so my co-pilgrims went ahead of me and from time to time I would lose a sight of them. Such moments were very interesting and almost mystical – only the powerful Nature around me and I, but a negligible point within the whole picture. Still, I pressed on in order to catch up with Francesco and Gabriel.

Walking under the cloudy sky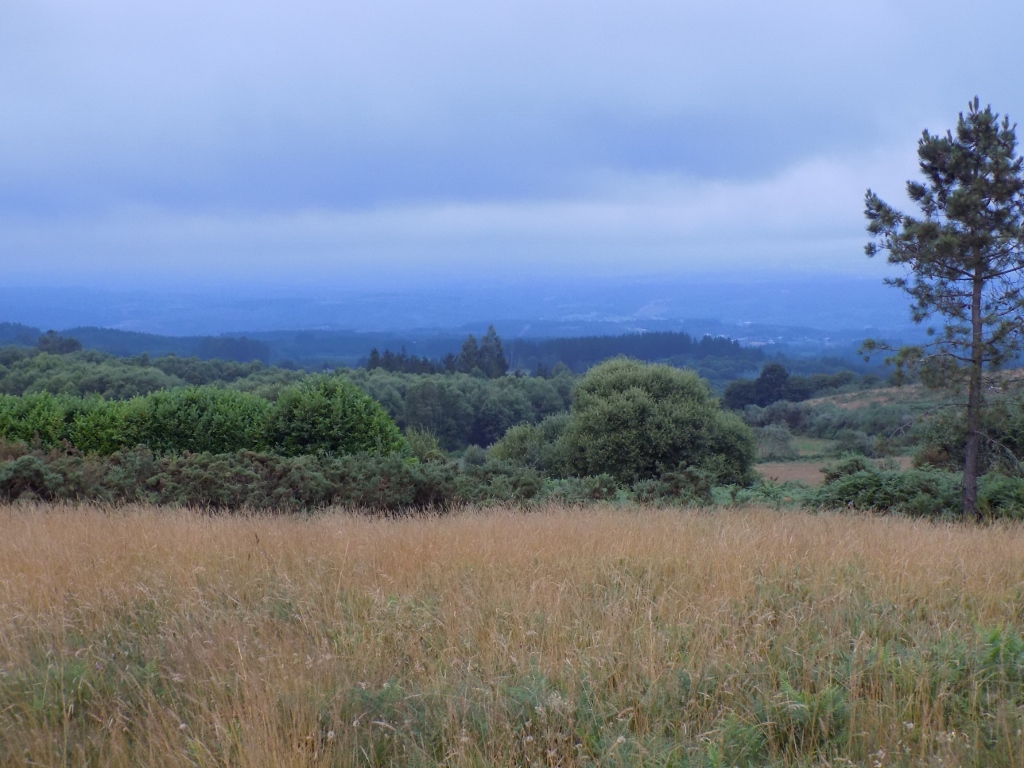 It is getting ready to rain over there
Like in many other places, the Way here leads across an asphalt road a couple of times. At such spots, there are special traffic signs for drivers warning them that there are potentially people crossing the road, but there is also a special sign for the walkers showing them the right direction.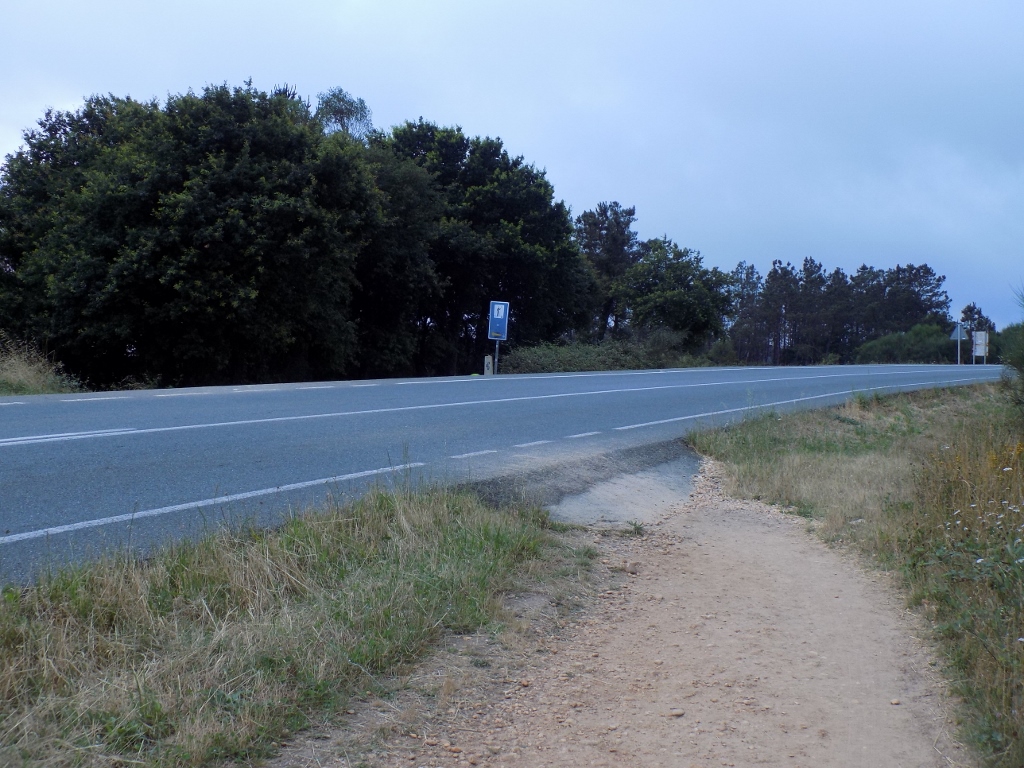 Crossing an asphalt road
Having succeeded in catching up with Francesco and Gabriel, at some point in the village of Portos we came across an albergue with large sculptures of ants in its yard! We found this interesting, so we took some photos and then went into the bar belonging to the albergue in order to make a break and refresh ourselves.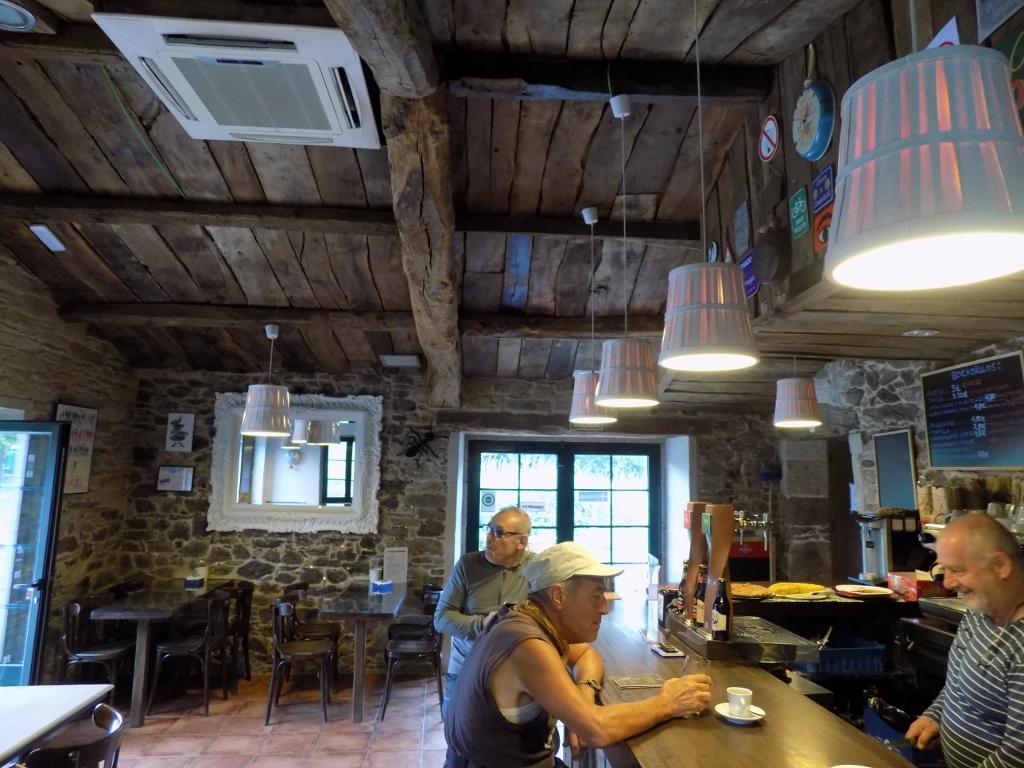 In the bar of an albergue in Portos
The owner explained to us where these large ant sculptures came from and why the albergue itself has ants in its name. He said that he worked there and every day he kept seeing an almost incessant file of pilgrims pressing on like ants, one after another. We found this cute. A little later, when we were going through a forest, I thought at some point that the three of us were not actually quite like ants – we were too scattered, together, and yet each one for his own account and walking his own Way.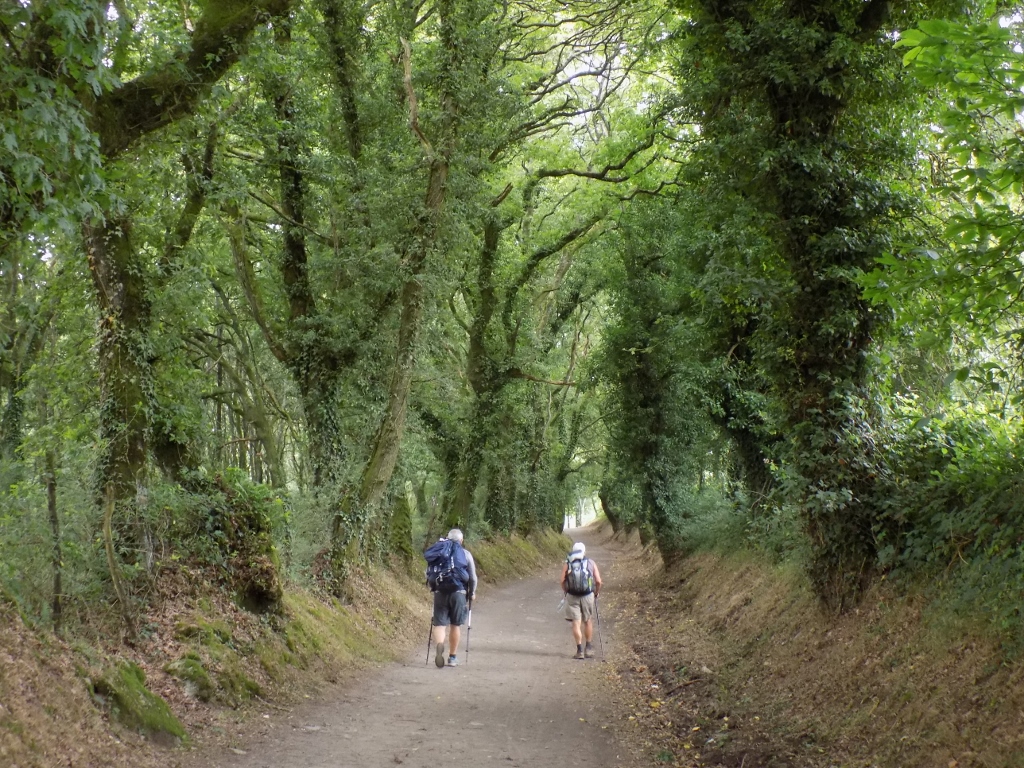 Scattered ants
Going through the town of Palas de Rei, I saw the Spanish woman I had first met in Sarria and then bumped into the day before. This time, too, the meeting was very cordial, but she told me she had to stop with her pilgrimage, since her leg was hurting her too much and it was not good for her to continue walking. I genuinely felt sorry she had to cut her Way short, but on the other hand this was a prudent decisions and when parting we wished each other all the best.
A little farther down the street, Francesco, Gabriel and I made a break at one bar and I could hardly wait to untie my shoes and put my legs up in order for them to recuperate a little before the final effort for the day, since we soon continued walking to the village of San Xulián do Camiño.
When we got to the village and the tourist albergue we had already booked, they gave us a room with four berths, which meant it was only for us. I had a slightly unpleasant surprise, since my big backpack had not arrived yet, but the host kept assuring me saying that it would certainly arrive later and that this happened from time to time.
First we went to the nearby village church in order to get stamps in our pilgrim's passports and then Francesco and Gabriel had a shower and went to bed to have some rest, while I sat at the nice bar-restaurant of the albergue waiting for my backpack with the things to arrive and I took the opportunity to send a text to my friends via Facebook.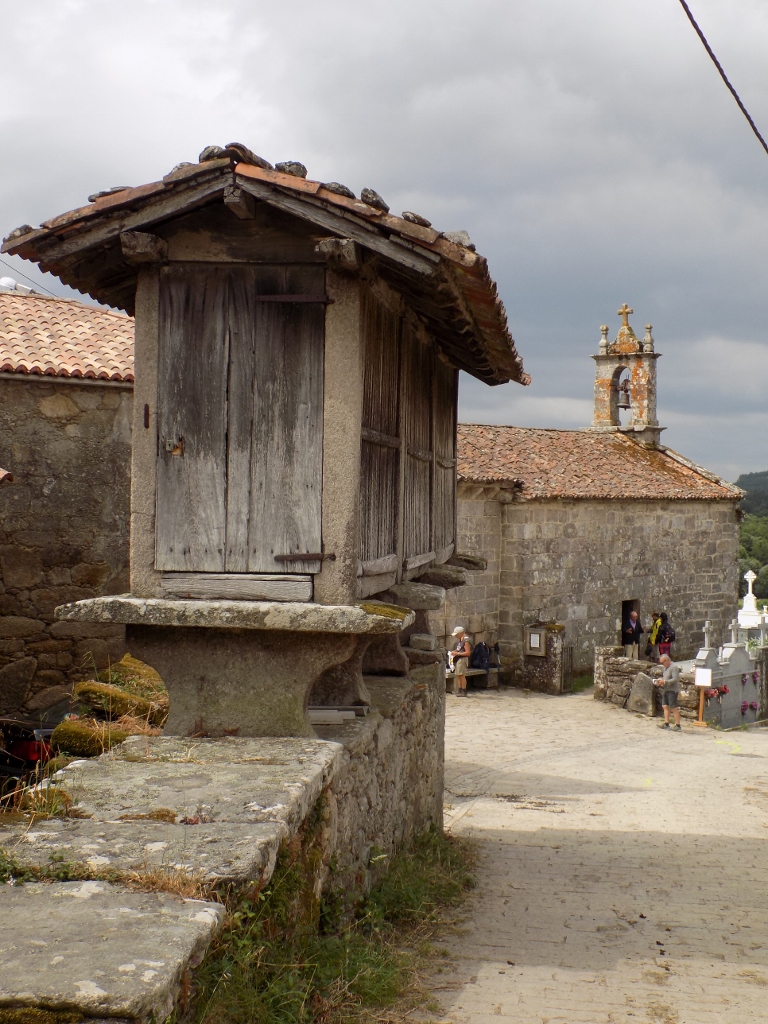 San Xulián do Camiño
Day 33: "A very special day"
Last night I went to sleep with tears in my eyes. But, don't worry. These were the tears of laughter. Namely, the previous night Francesco slept badly since Gabriel was in the berth above him and before he falls asleep, Gabriel is quite restless. He just keeps tossing and turning, thus shaking the whole structure. Once I've experienced it myself, but it was in the afternoon and I also doubled with laughter on the occasion because I asked him what the hell he was doing in this berth of his that was right above me. So, we spent the whole day yesterday joking about how Francesco would sleep and while getting ready to go to bed in the evening he asked me: "What is this brother of Attila going to do tonight?" At some point the "Brother of Attila" comes to the room and first shakes Francesco by the shoulder in order to ask him if he was already asleep and then he climbed into his berth and shook it a little on purpose just to have Francesco grumble benevolently. Of course, I died laughing watching all of this from my own berth. Please remember that these "children" are 62 and 73.
This morning I woke up already at 4 am. I had to go to toilet and I also felt a little cold. Afterwards I tried to fall asleep, but at 4:34 I gave up. Francesco was already awake. We both went out of the room to dress our toes preventively and at some point Gabriel also got up and without uttering a single word this whole time the three of us started to walk already at 5:10. This was the ultimate synchronisation.
We have agreed not to adhere to the standard stage today, but rather to extend it a little. This means that I will not walk as long on any of the remaining few days. In other words, from today everything should be easier and that already makes this day special. But, this day is also special because I have crossed the mental line of 500 km on foot – in other words, half a ton of kilometres! (Or, to be more accurate, half a megametre!) Therefore, regardless of the breaks, buses and taxis, so far I have physically walked over 500 km!
When we reached the town of Palas de Rei, I bumped again into a girl that had been with me on the same bus to Sarria and on that occasion we both walked to our respective hostels that were in the same area. At the time, she had an elastic band around her left ankle and heel, and had to go to see a physiotherapist. Yesterday, I saw her again, she was all smiles and very content because she felt better and was continuing on her Way. She was all smiles today as well and we embraced cordially again, but she told me she had to stop and give up, because she simply could not go on and it could only get worse if she continued. I repeated to her the same words of comfort I had been told before – "The Way is walked by the head, not by the legs" – but I also added that the Way is only a part of our life which is the main way and that there are many more ways (roads) that we need to walk. She was very appreciative and showed me she got goose-skin because she was moved by my words. I wished her all the best and lots of luck, we hugged again and kissed each other on the cheeks and then we parted. I don't even know her name, but this all leads me to a new lesson.
Lesson no. 9: Things do not have to be brought to a closure!
In the recent times it has become like a mantra, yet another one in a long line of phrases that are promoted by some psychologists and the New Age fans, that things have to be seen through, i.e., that they have to be brought to a closure. No, they don't! It is ideal if things are brought to a closure, if icing is put on the cake and a cherry is put on top of the icing, but sometimes, even with all our will and intent, it is not given to us to bring things to a closure. It is very important to recognise this, to accept it and to move on, and not to dig pointlessly and kill ourselves while trying to bring things to a closure when this is not given and/or simply cannot be done. This also includes recognising and accepting our own physical or any other limitations.
As far I'm concerned, I just want to reach Santiago on foot in a couple of days, but if I do my best and it is still not given to me or it is just too hard or whatever, it is perfectly all right for me to stop at any given moment, to get my bearings and see what it is that is best for me at that point in time or what I truly want to do and then to do it, including also an absolute change of the original intention. Whatever happens, the Way of St James ends in Santiago, but I hope this is not the end of my Way.
And since today is a very special day, there are no photos attached to the text since there is a drama currently going on, but I'm fine...
Before me: 66 km
Behind me: 801 km