Some 15 years ago I decided to take my parents around Serbia a little, with a brief visit to our family. They were both in their seventies, but they were also in a reasonably good shape, so I was not worried at all and today I'm very happy I did it. In the meantime, my dad passed away, my mom is no longer in a good shape and on this occasion they both enjoyed immensely this trip, the visits and my company, while I enjoyed being with them. Some things need to be done on time and not be postponed indefinitely in order not to have any regrets later on.
Our trip took four days, but we had sightseeing visits during only three days, since we spent a day with our family in Leskovac. When I was coming up with the plan for this trip I concentrated primarily on the places which in my mind are the most important or most interesting in the parts of Serbia we were planning to go through, plus a few personal wishes of my parents. Of course, all of these parts of Serbia contain much more, whether in the shape of cultural heritage or natural beauty spots, but a more detailed tour would take considerably more time. Something like that had to be left for the proverbial next time.
Here is the map of the visits...
First we left Belgrade by the motorway heading south. At the Markovac motorway junction, i.e., at the turning towards "Stari hrast" motel (formerly our favourite family rest stop on account of fantastic lepinja sa kajmakom (traditional Serbian warm pita bread with kaymak) we left the motorway and continued towards Svilajnac and Despotovac. Once in Despotovac, we turned towards Manasija monastery which is only some 2-3 km away from the centre of this small town.
Looking at the photographs from my different trips around Serbia, I realised I was in Manasija in 2006, with my parents, and then in 2015, with a group of wannabe hikers. In addition to taking more photos in 2015, plus the weather was nicer then, I found it particularly interesting that it was possible to see differences in the photos. Namely, between these two visits of mine to Manasija, the monastery was rehabilitated and restored, and also the space within the monastery was changed in terms of walking paths that one takes in order to get to different parts of the monastery. In this travel story, I will use photographs from both of these visits and that will be stated in the respective photo caption.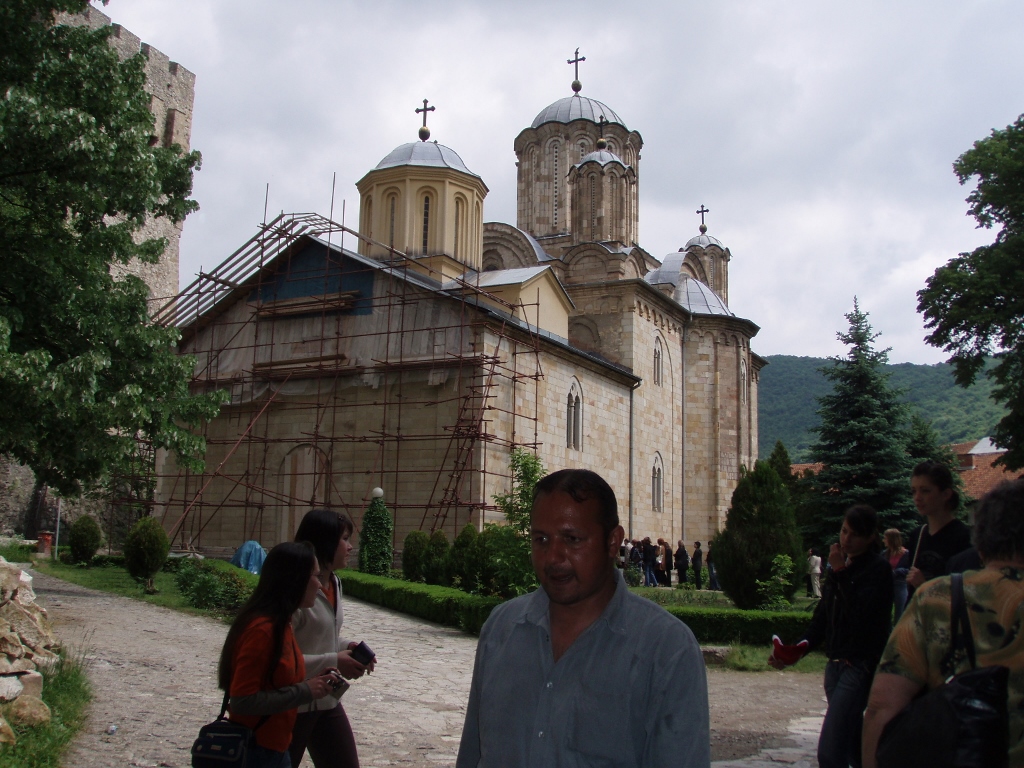 Manasija Monastery's Church: the work on the front façade is going on (2006)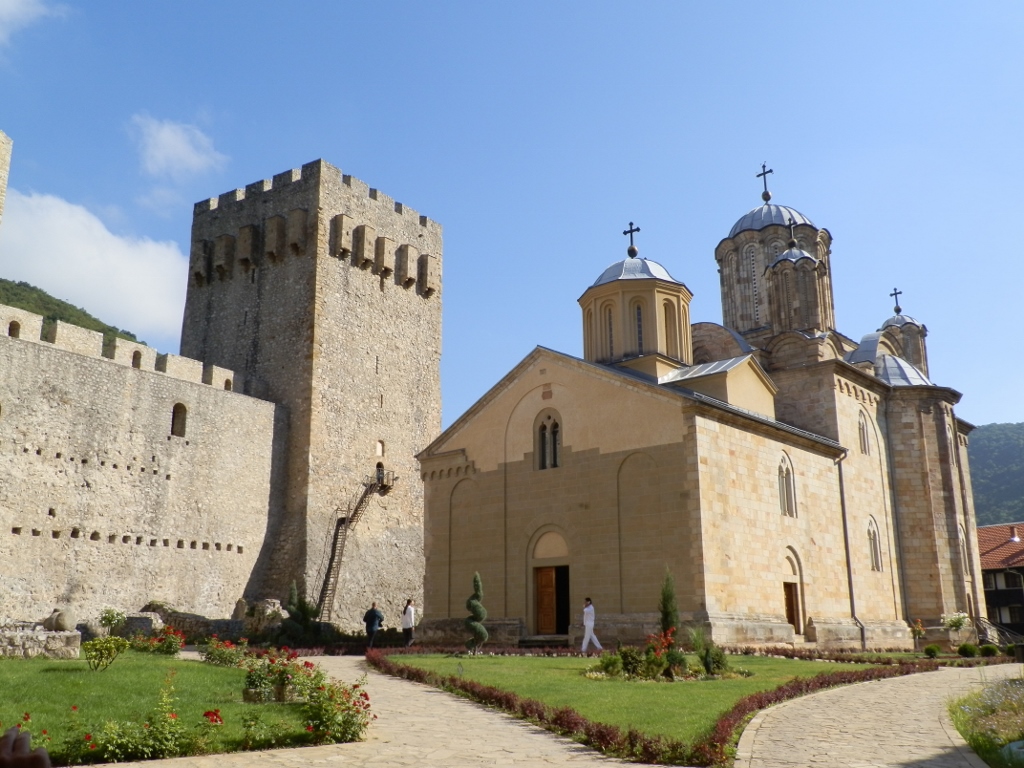 Manasija Monastery's Church (2015)
Manasija Monastery got this name in the relatively recent times, but historically it was known as Resava Monastery. This is an endowment of Despot Stefan Lazarević (1377-1427) and its Church of the Holy Trinity was built with an intention to be the sepulchral temple of this ruler. By the way, Despot Stefan Lazarević was the elder son of Prince Lazar (killed in the Battle of Kosovo in 1389) and Princess Milica who after the death of her husband, until her elder son was old enough, ruled Moravian Serbia. Prince Lazar was buried in his endowment, Ravanica Monastery, while Princess Milica became a nun after Despot Stefan Lazarević had taken over the rule in the country, withdrawing to her own endowment, Ljubostinja Monastery, where she was buried after her death in 1405.
As for Despot Stefan Lazarević, he died suddenly, on 19 July 1427, while hunting on the slopes of mount Kosmaj, south of Belgrade. The place where he took his last breath is marked by a marble monument, a cenotaph, and this can be read about and seen in photos provided in my travel story about a trip in 2019 on: https://www.svudapodji.com/en/south-of-belgrade/. The scientists are divided about the place of burial of Despot Stefan Lazarević though: according to some he was indeed buried where intended, i.e., at Manasija Monastery, while some others believe that his mortal remains are located at Koporin Monastery in Velika Plana.
On the other hand, during his lifetime, Despot Stefan Lazarević was renowned for being one of the best knights and military leaders of his time, as well as one of the greatest medieval Serbian writers – his is Slovo ljubve, a Homage to Love.
Be as it may, the construction of Manasija Monastery started in 1406/1407 and it was finished in 1418. What makes this monastery very special are the large walls that surround it, so that the monastery was practically also a fortress capable of its self-defence.

A part of the monastery's walls and the Church of the Holy Trinity at Manasija Monastery (2015)
The monastery is entered through a gate in the shape of a passage made in the rampart between two towers.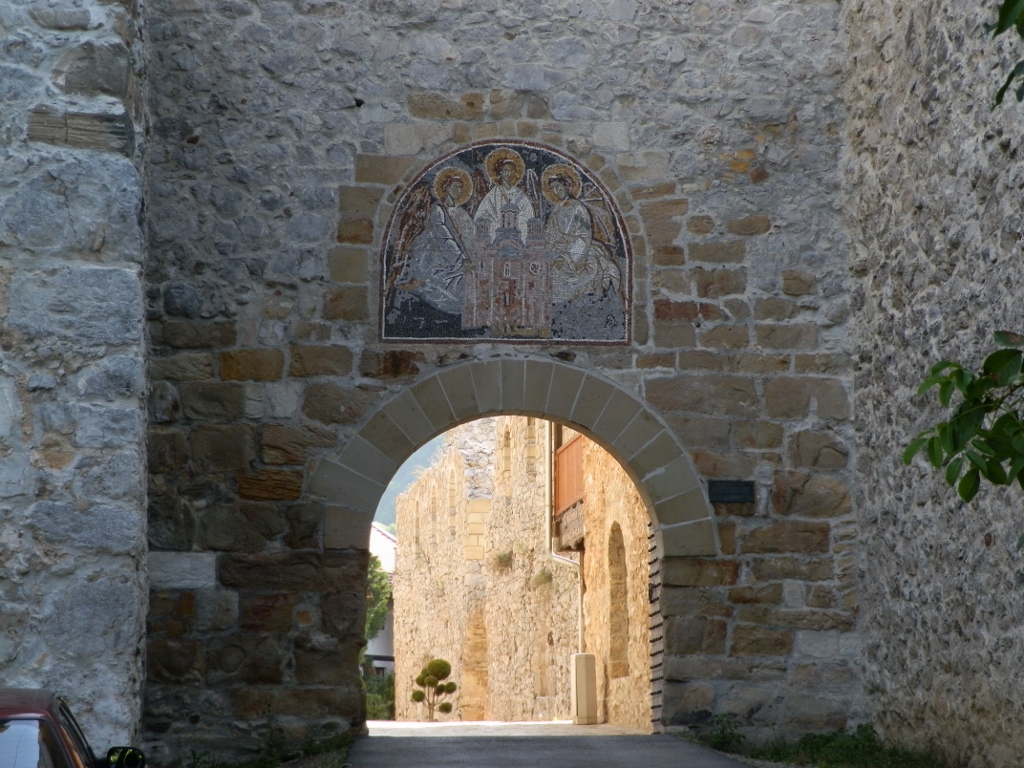 Entrance into Manasija Monastery
It is interesting that I have photos of these two towers taken from within the monastery and in them it can be seen nicely which types of interventions were done during the works carried out on the walls. In 2006, the tops of the walls were crumbly and this was not only a result of the historic damages and the time, but also at the beginning of the 20th century there were some rather unfortunate interventions aimed at "protection." It is obvious that the experts in medieval architecture, archaeologists and historians at the beginning of the 21st century had a completely different approach and thus there was a reconstruction of some parts that had been demolished earlier, such as crenellated parapets and tops of towers.
In addition, there was a lot of vegetation all over the walls back in 2006, which had been removed by 2015.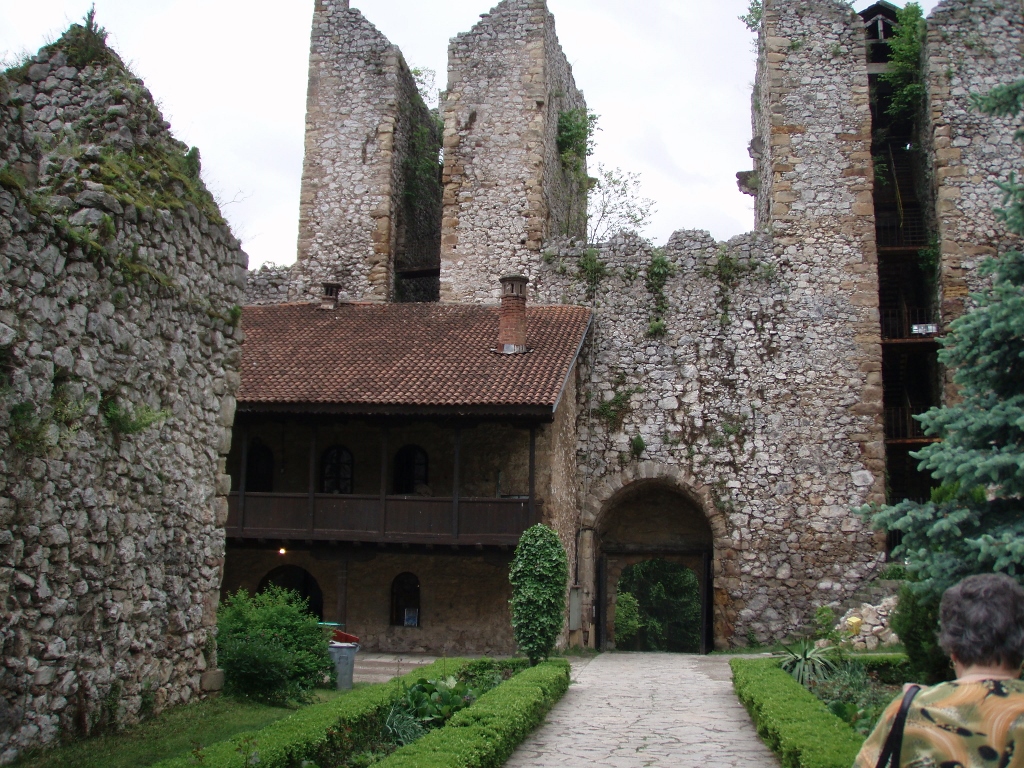 Towers and the gate photographed from within Manasija Monastery (2006)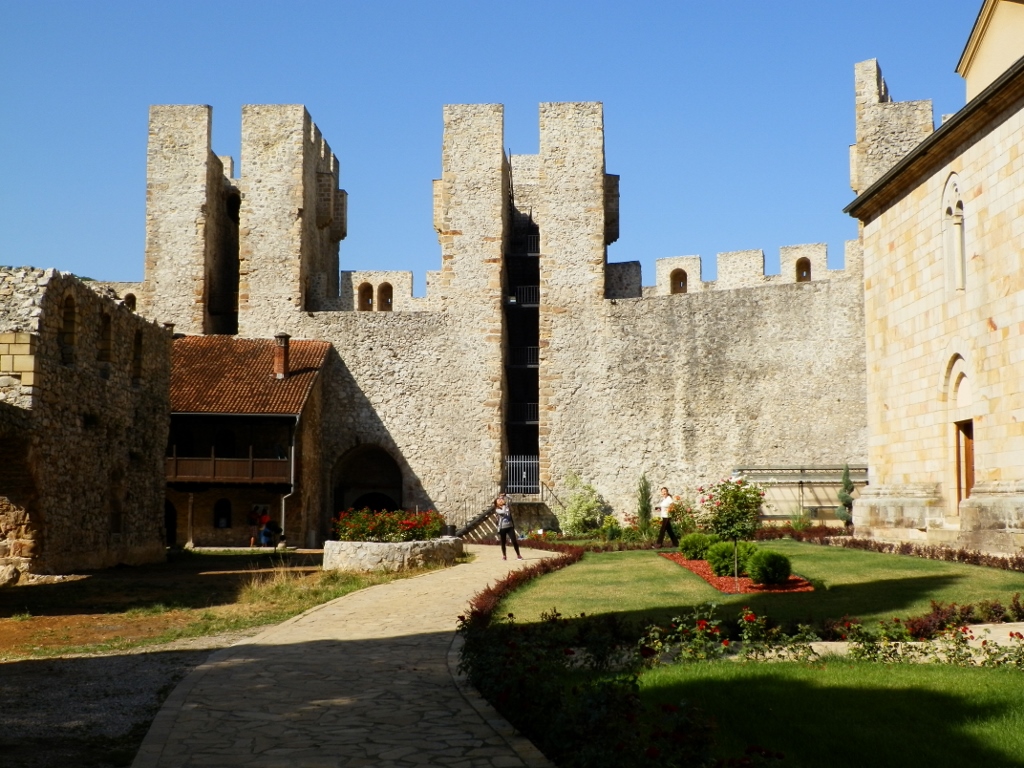 Towers and the gate photographed from within Manasija Monastery (2015)
Although medieval monasteries of Serbia certainly often had enclosure walls or were linked by ramparts with the fortresses in their vicinity, Manasija Monastery was the first monastery that was already initially envisaged as a proper fortress and thus it has all the parts of classic fortifications, including 11 high towers that can be seen today.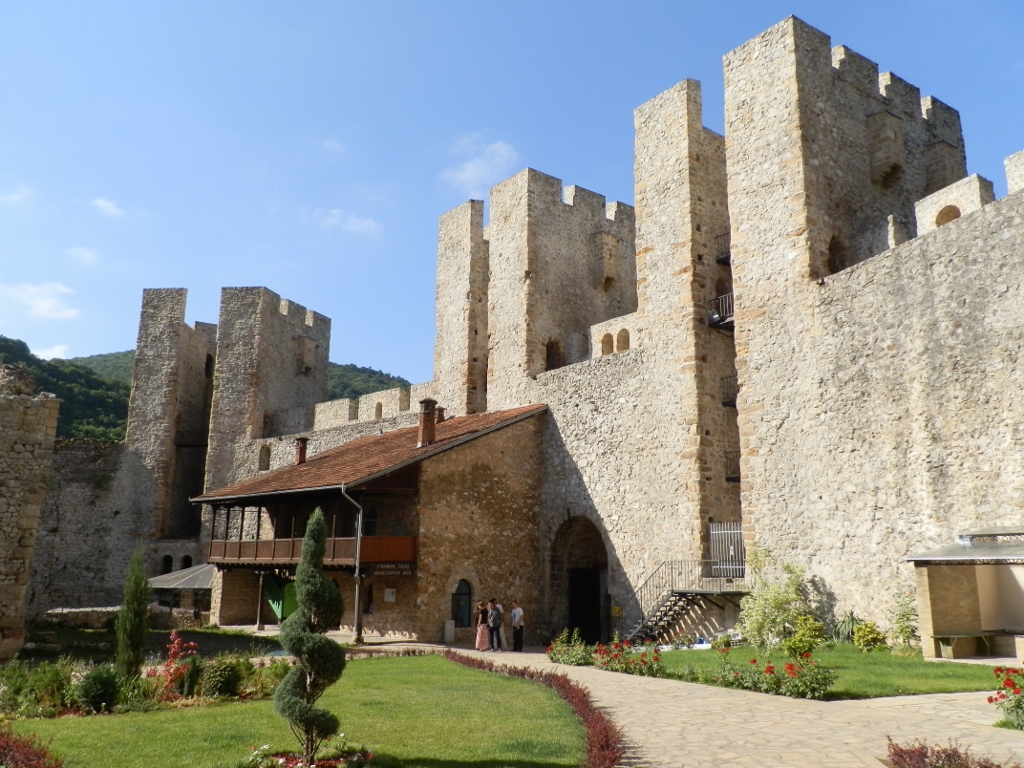 A part of the Manasija Monastery's fortifications (2015)
Within the enclosure walls there are several structures and most of them rest against the walls. In the structure on the right-hand side from the gate, as the inscription says, it is possible to buy "souvenirs, candles and monastery's honey."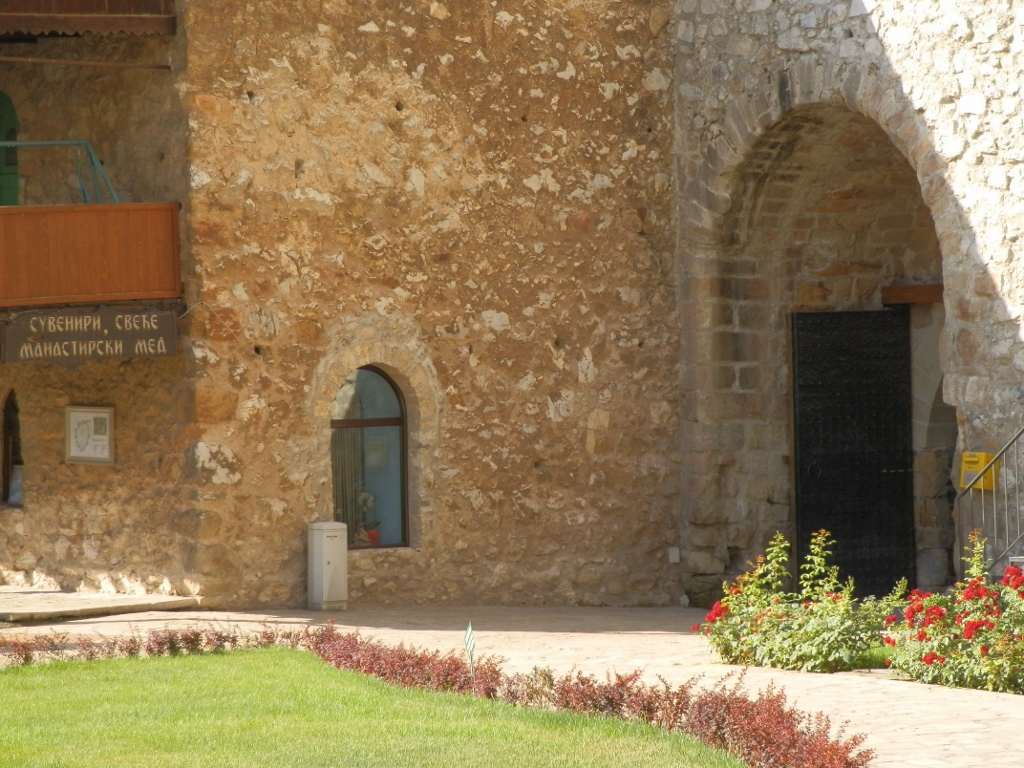 Place for buying monastery's honey, the entrance into the monastery and a post box (2015)
Still, in the middle of the monastery's space, there is the Church of the Holy Trinity and the old refectory, as a very important segment in the life of the monastery.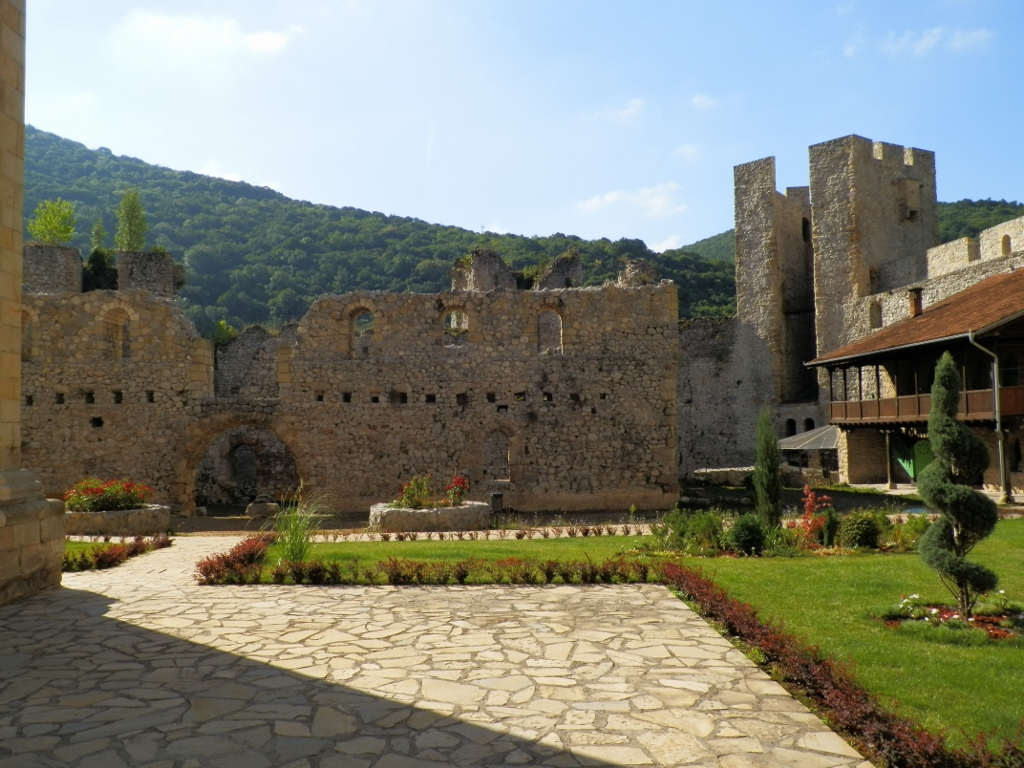 Remains of Manasija Monastery's old refectory (2015)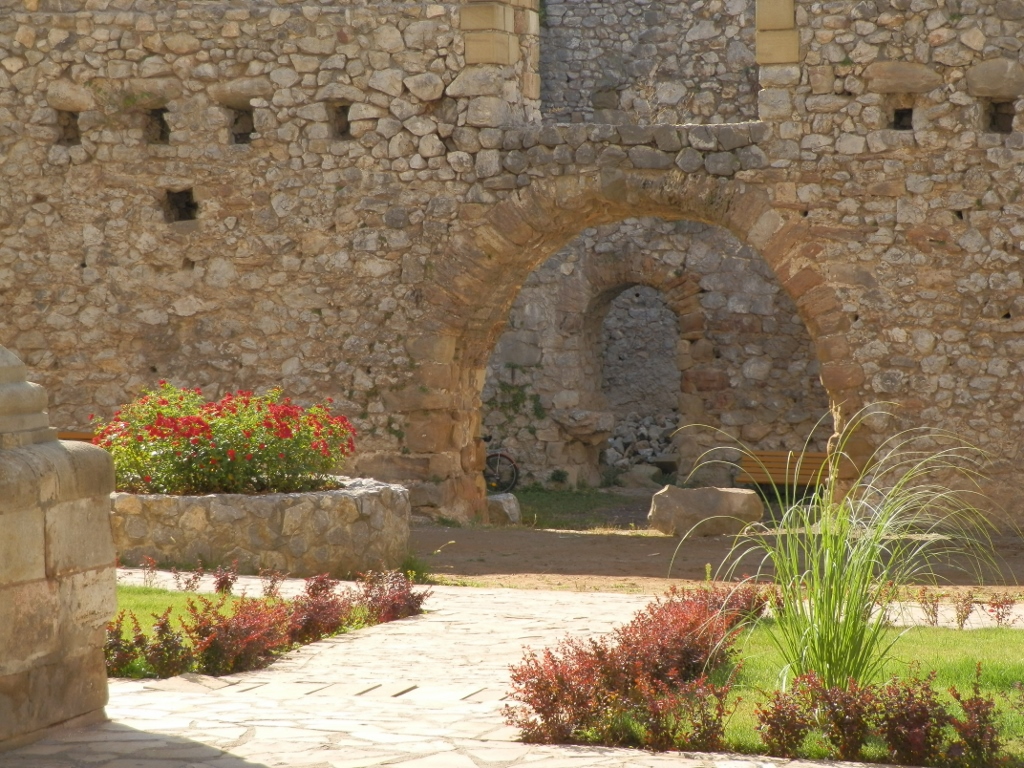 Entrance into Manasija Monastery's old refectory (2015)
In the back section there are the dormitory and other monastery buildings that were constructed in the recent times.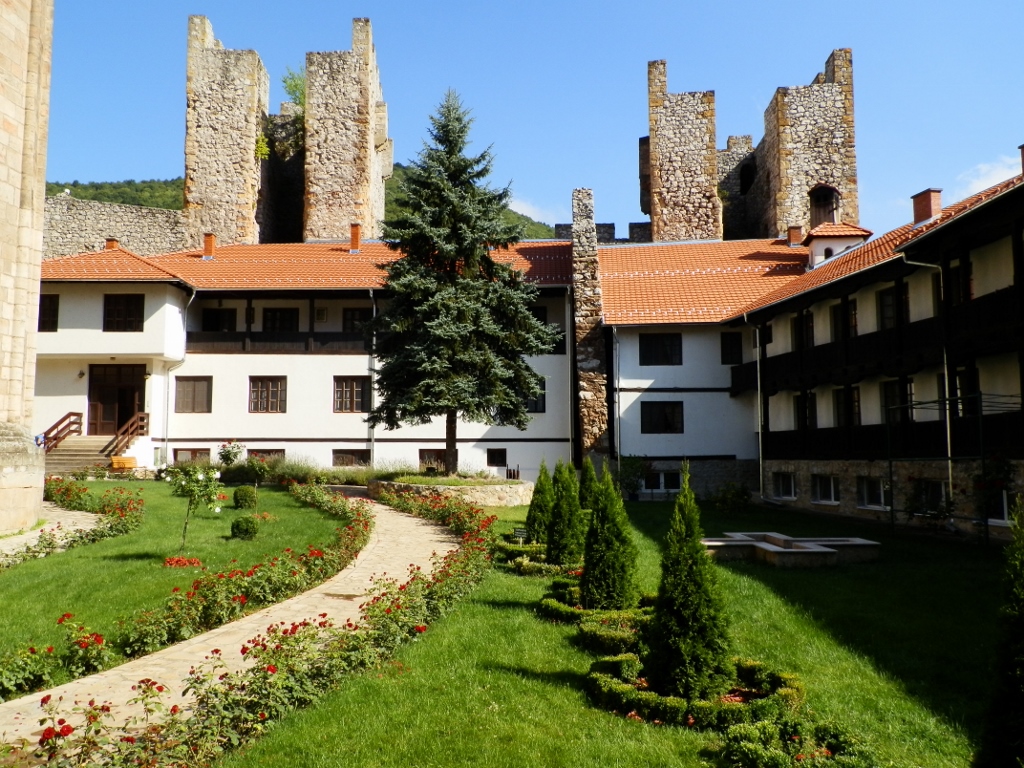 Contemporary dormitory and other monastery's buildings (2015)
There is also the keep, the main defence tower, which is often called the Despot's Tower. This is the highest tower within the fortification.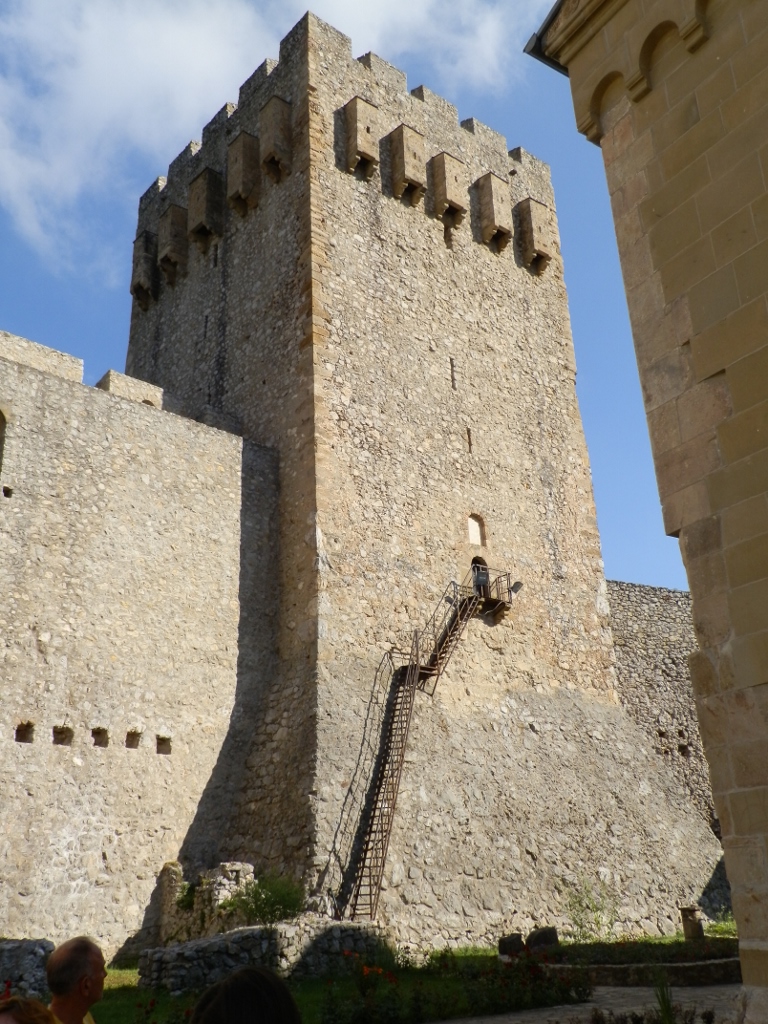 Despot's Tower at Manasija Monastery (2015)
As for the church and its interior, including also remains of some wonderful frescoes, taking photos inside was not permitted, so the best thing is to go there and see it all in person.
After the nice visit to Manasija Monastery in 2006 when I travelled around Serbia with my parents, the three of us continued towards Ravanica Monastery, following a local road for some 35 km.
The ktetor of Ravanica Monastery was Prince Lazar (c. 1329-1389.), the father of Despot Stefan Lazarević who was the ktetor of Manasija Monastery. As I've mentioned, Prince Lazar was killed in the Battle of Kosovo and his mortal remains were transferred precisely here to his endowment, Ravanica Monastery, that is, to the Church of the Ascension of Our Lord where today there is a reliquary with his relics. The church was built between 1375 and 1377.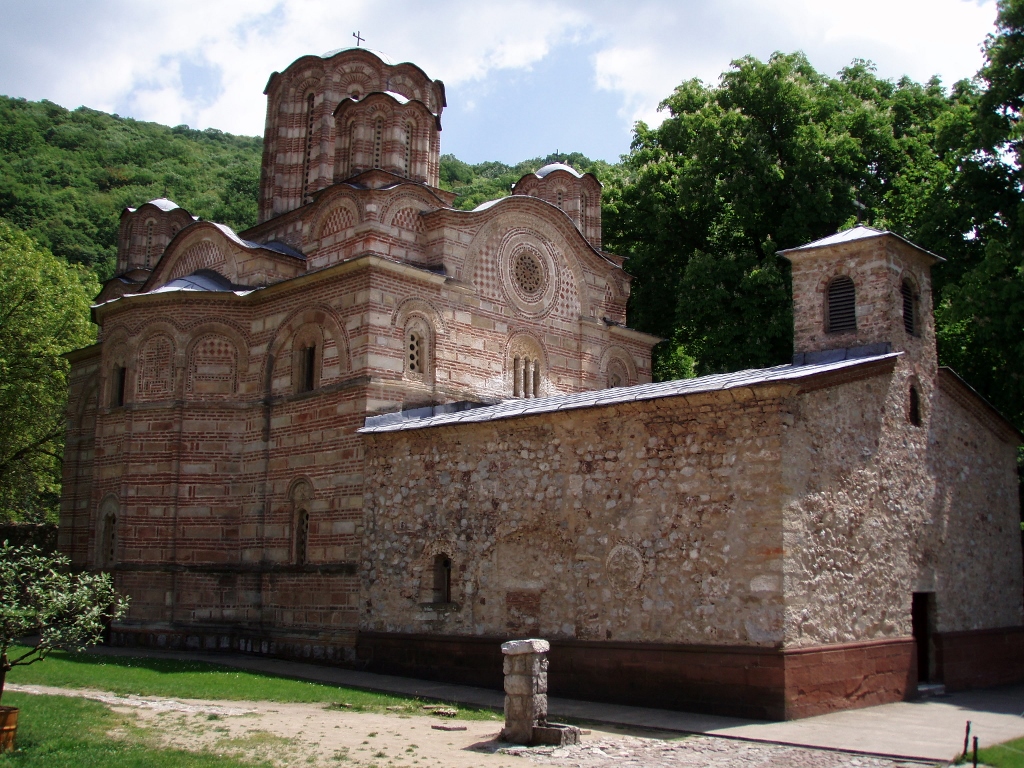 Church of the Ascension of Our Lord at Ravanica Monastery
There are large walls at Ravanica Monastery as well, but they were added after the construction of the original enclosure walls. Today, these walls, as well as the towers belonging to the fortification are in a significantly more crumbly state than those of Manasija.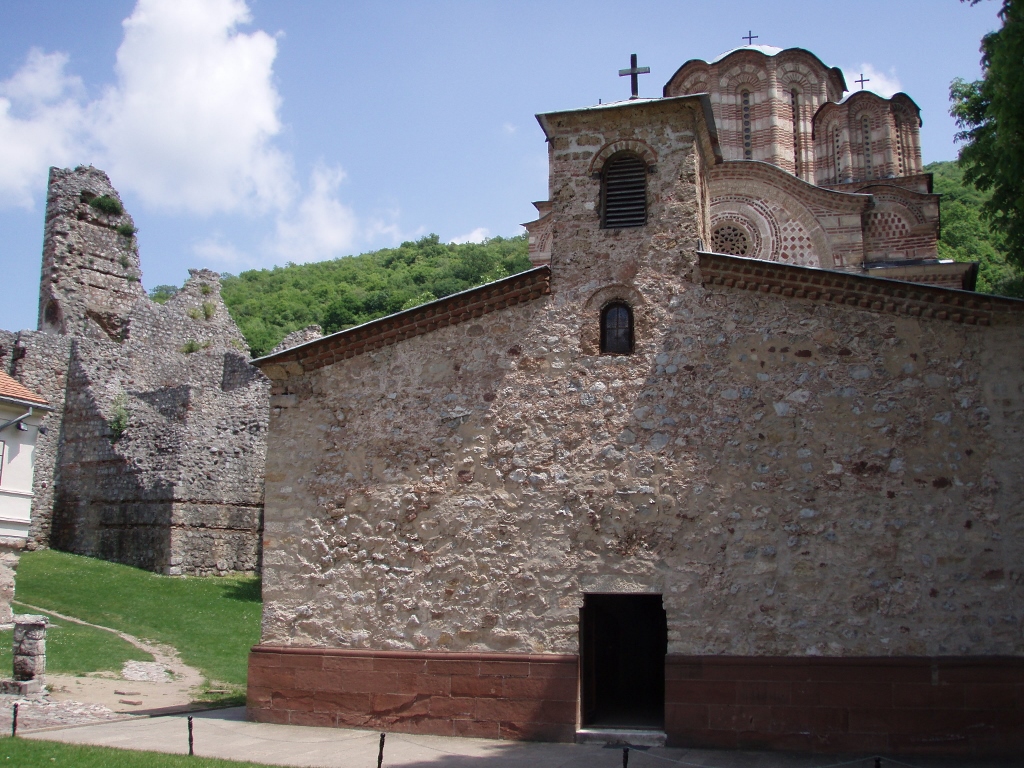 Church of the Ascension of Our Lord and a part of the walls
Here, too, it was not possible to take photos within the church, but there are certainly fewer preserved frescoes anyway. Still, Ravanica is well known for its rich decorative and plastic elements that adorn its exterior.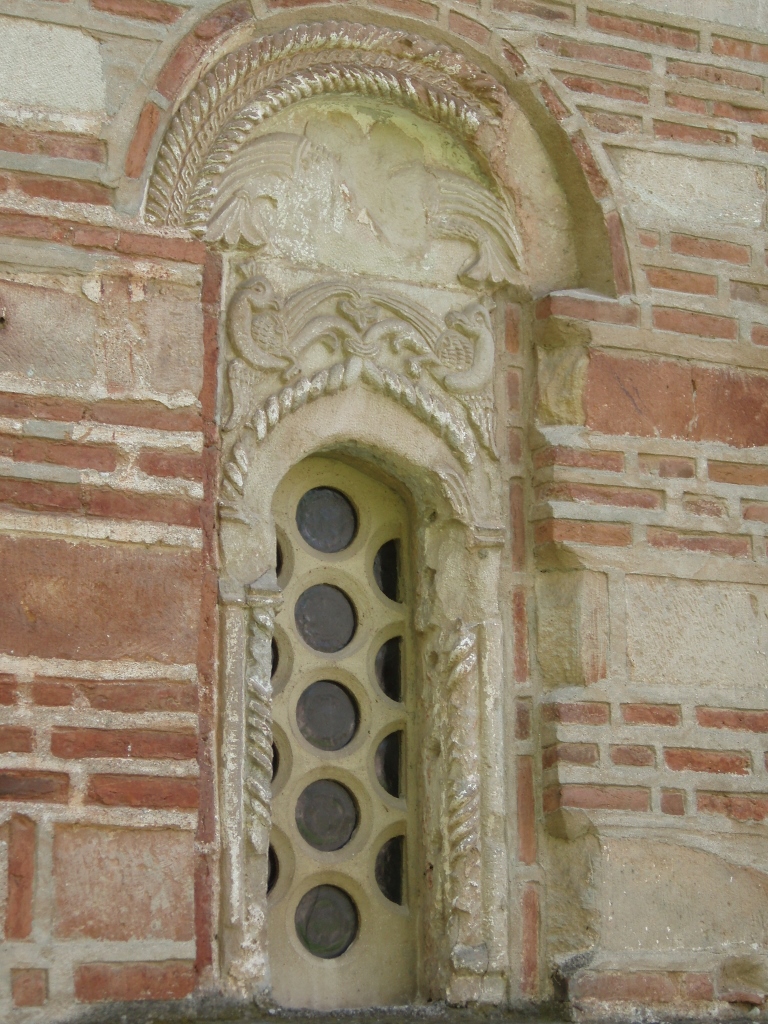 A detail of the Church of the Ascension of Our Lord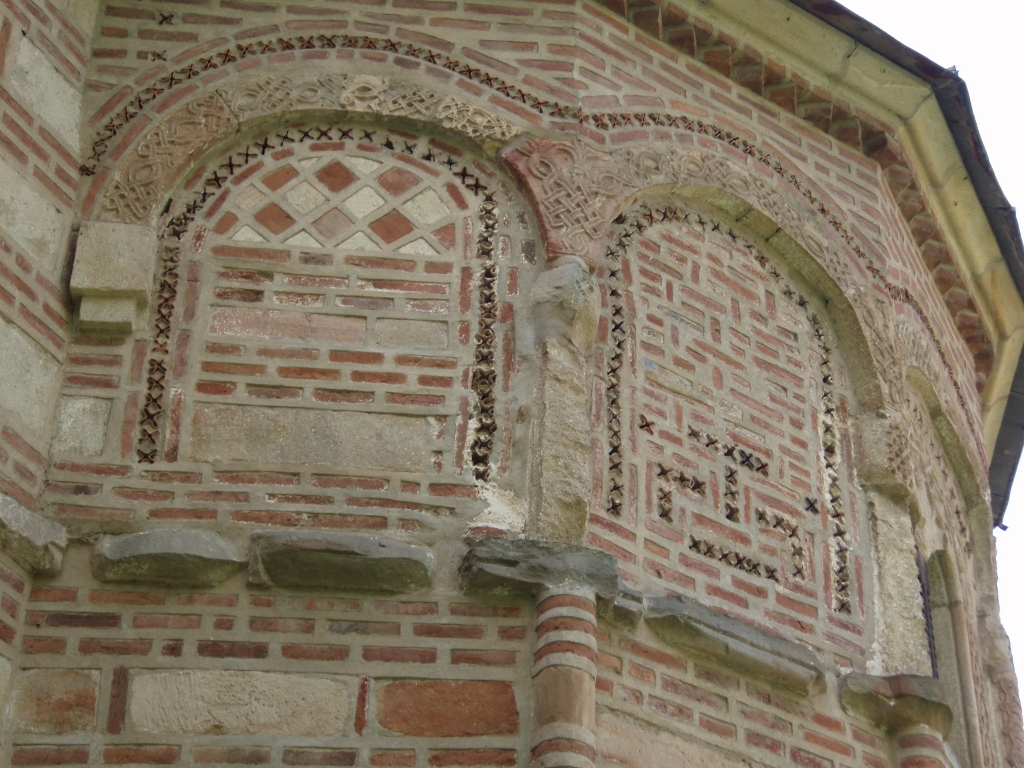 A detail of the Church of the Ascension of Our Lord
One of such ornaments is nowadays used as the emblem and symbol of the Institute for the Protection of Cultural Monuments of Serbia - Belgrade.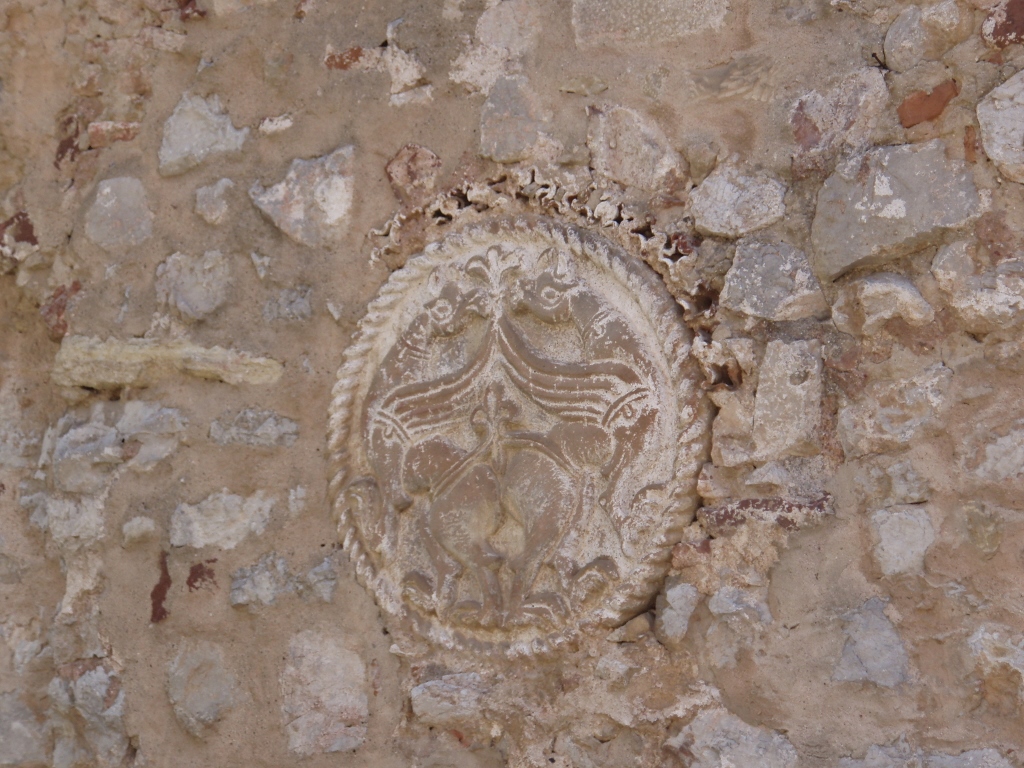 Decorative detail from the facade of the Church of the Ascension of Our Lord used nowadays as the emblem of the Institute for the Protection of Cultural Monuments of Serbia
Before moving on, once again, I looked back towards Ravanica Monastery and its church.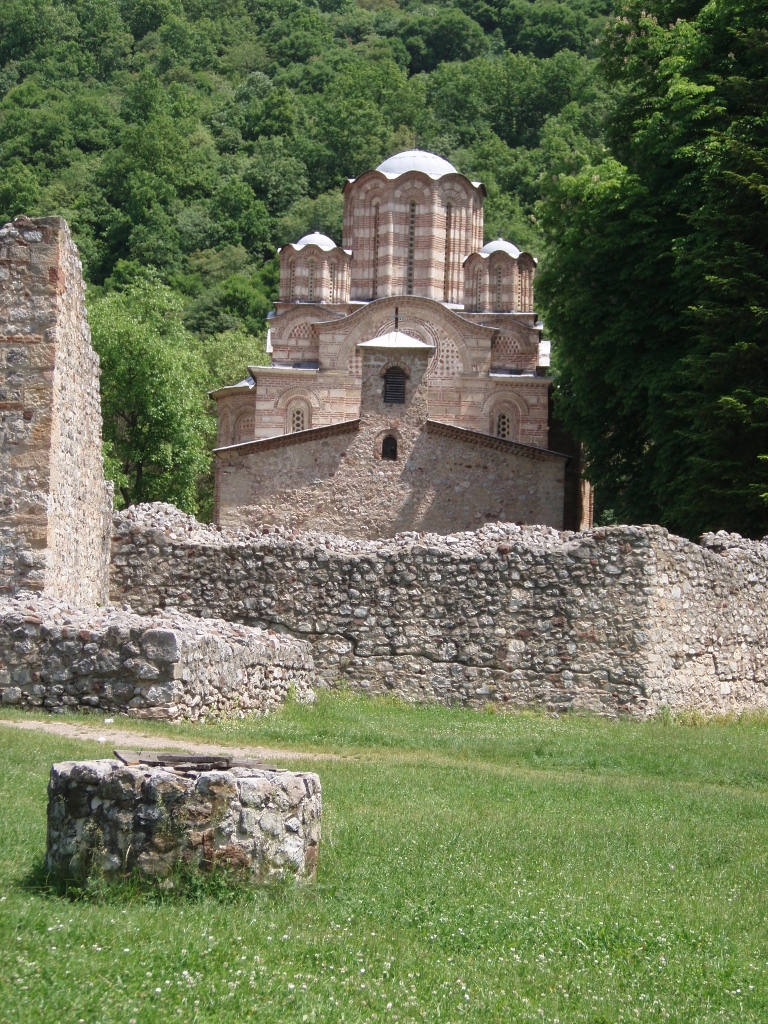 Church of the Ascension of Our Lord at Ravanica Monastery
A dozen of kilometres farther, we returned to the motorway and continued south towards Niš. When one gets to the junction near Aleksinac, it is necessary to leave the motorway and follow a local road towards the village of Žitkovac. Then, one needs to continue along a local road northwards to the village of Donji Adrovac and then turn left and go to Gornji Adrovac. There is something quite interesting in this village in terms of the popular general culture.
Namely, everybody has heard of Tolstoy's novel "Anna Karenina" in which the title character ends her life by throwing herself under a passing train. On the other hand, her love, Count Vronsky in his general despair enlists as a volunteer to go to Serbia and fight the Ottomans there and this is the point at which this famous novel more or less ends. It is said, however, that Tolstoy liked to base his fictional characters on real-life people and thus we come to Count Nikolay Nikolayevich Raevsky who was apparently a distant cousin of Tolstoy and who is believed to have served to Tolstoy as the paragon for Count Vronsky. This Russian count indeed came to Serbia and it was here, more accurately in village Gornji Adrovac, that he was killed in combat in 1876. In the place where he perished, his cousin, Maria Raevska, had a church built which was consecrated in 1903. This is a memorial church of the Holy Trinity and I came with my parents to village Gornji Adrovac precisely to visit this church. It is said that the count's heart was buried here, while his body was returned to Russia and laid to rest there.
The space in which the church is situated, which seems like a park on the top of a mild elevation, was fenced off and the metal gate was locked. For a moment we were disappointed, because we thought we could not approach the church and visit it, but then an elderly man appeared, a local villager, who was in fact in charge of keeping the keys to the gate and who watched if any visitors came. So, he opened the gate for us and we could enter the park and the church.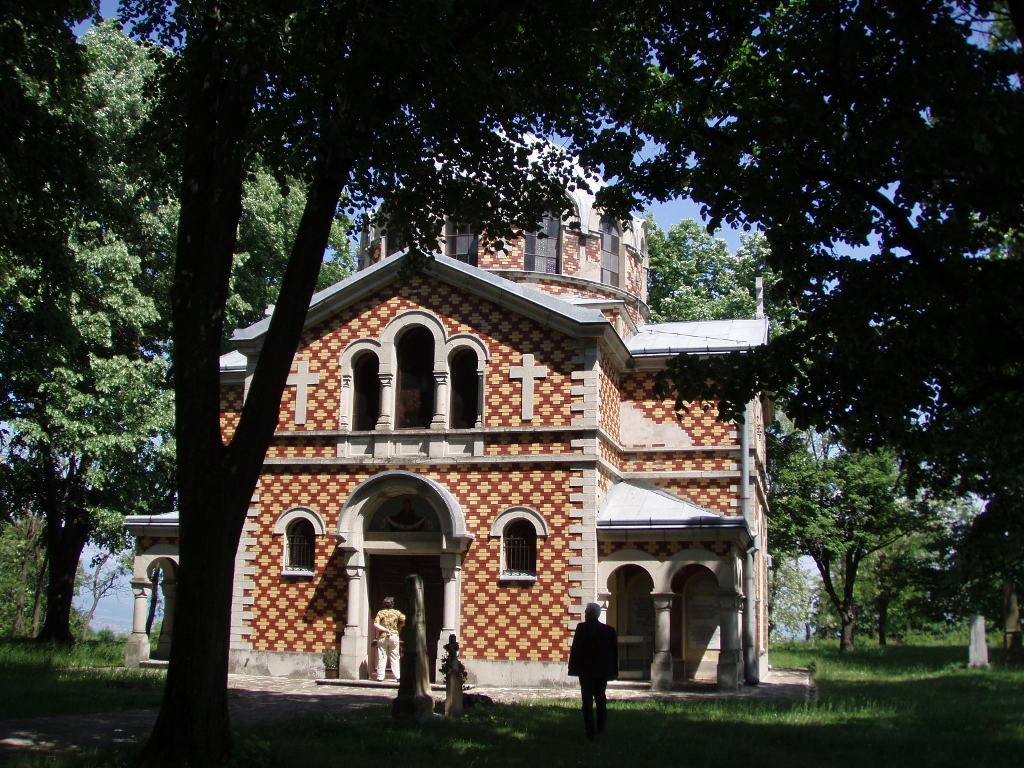 Church of the Holy Trinity in Gornji Adrovac
Although there was a plaque saying that the church had been renovated in 2001, still in places inside it seemed somewhat crumbly. I was not sure if it had any function at all. Still, in addition to this plaque about the restoration, there was also a plaque saying that the ktetor of the church was "noble Madam Maria Raevska" and that the church had been built "through the effort and supervision of the Bishop of Niš, Nikanor Ružičić," while inside the church there was also a painted panel with a portrait of Count Raevsky, i.e., the imaginary Count Vronsky. That would mean that the end of all ends of Tolstoy's "Anna Karenina" is right here, in the little known village Gornji Adrovac, near Aleksinac.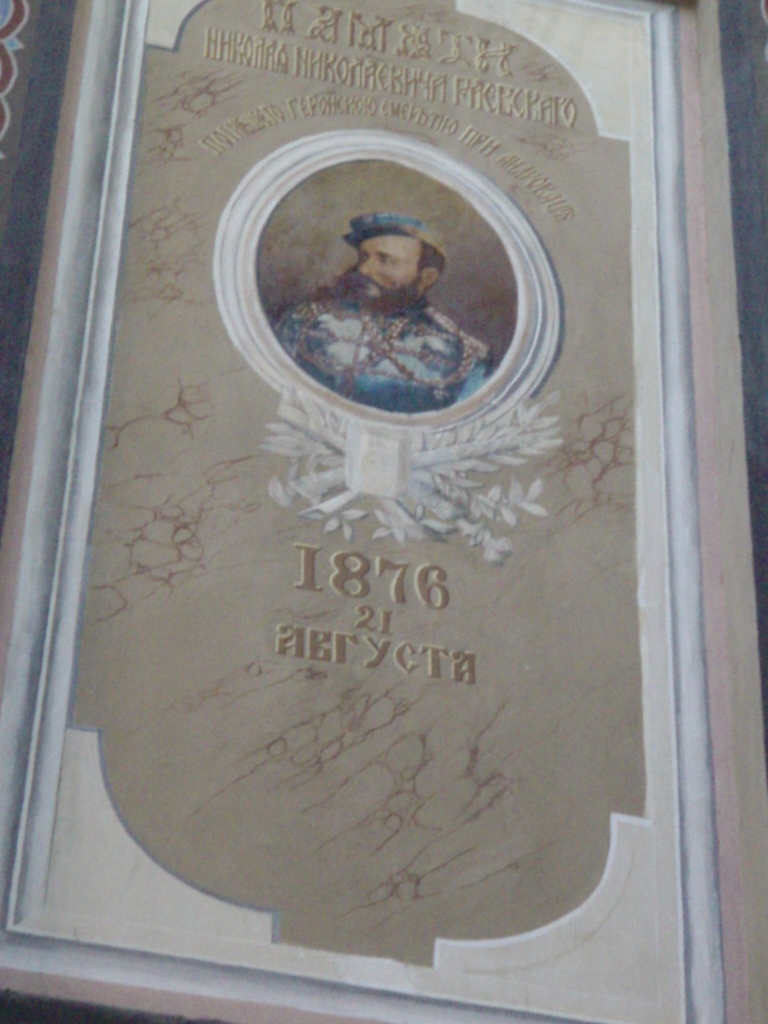 Portrait of Count Raevsky who was killed in action on 21 August 1876
In addition to the fact that Count Raevsky from the portrait is nothing like different Hollywood and other heartthrobs who have played Count Vronsky in film versions of "Anna Karenina," I can also add that we actually do not know if Tolstoy had a real-life paragon for Anna, too, and if so, the question certainly remains whether such a real woman would look anything like some famous actress. In any case, in his novel Tolstoy managed masterfully to show us the way in which the given families were unhappy, since "happy families are all alike" and therefore there is not much to write about that.
What was also located within this park or rather next to it were remains of a building for which our kind host told us that this used to be a "Russian school." In 2006, this was basically a ruin.
Still, while standing under the wonderful big trees that made fine shade and while looking towards Jastrebac mountain, I enjoyed the landscapes that surround this place and was very content for finally coming here.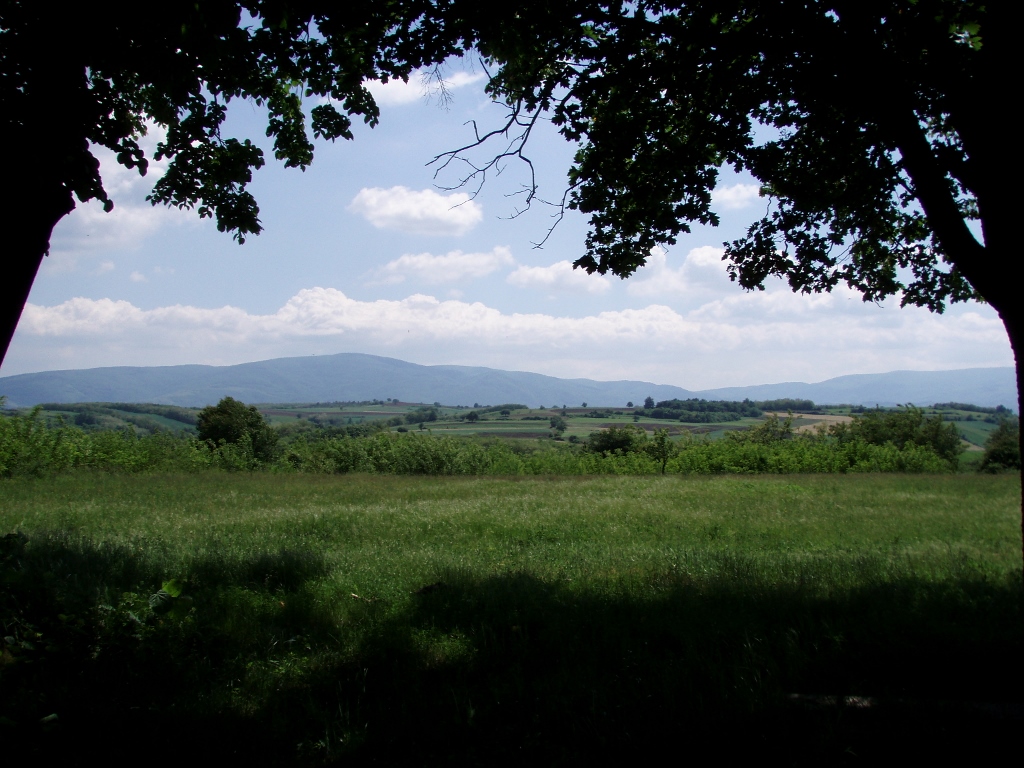 View at Jastrebac mountain
After we parted from our host, we drove back to the motorway and soon we reached Niš. The first place we visited there was the Crveni krst concentration camp, i.e., a memorial complex situated within the scope of the former concentration camp operated here by Germans during WWII.