After a good night's sleep, the following day we started walking around Panaji in order to inquire about some details in connection with Goa, as well as to buy a coach ticket for the continuation of our journey. Within the next couple of days we stayed in the state of Goa and we visited the following:
Once we had bought the tickets for our next major destination, we returned to the hotel and then we decided to take an auto rickshaw in order to go on an excursion. It turned out that two English women also wanted to go to the same place as we, so they proposed we shared an auto rickshaw in order to save some money. They also asked us when we were planning to come back, probably for the same reason, but Sneža and I certainly did not feel like making any commitments, especially since we both thought there was no big price difference anyway.
Our destination for the day was a market – a flea market in Anjuna. Quite by coincidence it was Wednesday and on Wednesdays there is a major market organised here. The market, i.e., the flea market was founded by the hippies in the 1960's and since then people have gathered here on Wednesdays in order to sell all their surplus things and things they don't want to carry with them any longer. This is what all the guidebooks say and perhaps this is what it used to be, but nowadays it's just a common open market. What one sees on the spot is a huge number of stands where local population, as well as visitors from different parts of India, including also the north and possibly even Nepal/Tibet – come to sell their merchandise to tourists. Basically, this has nothing to do with the hippies.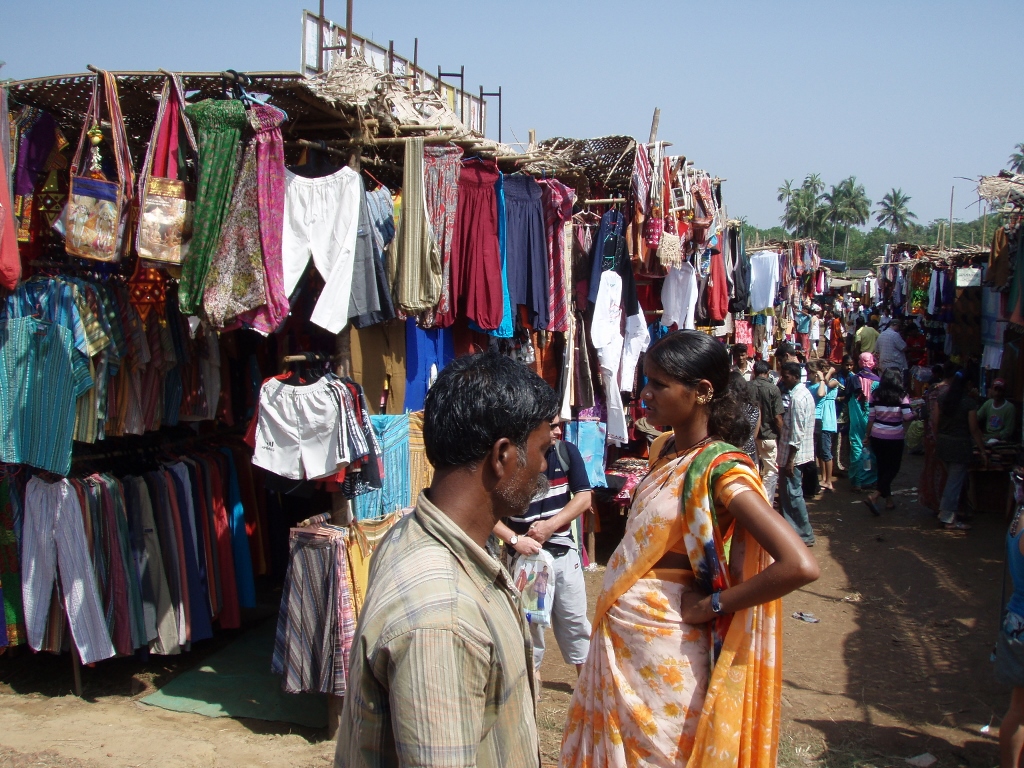 Market in Anjuna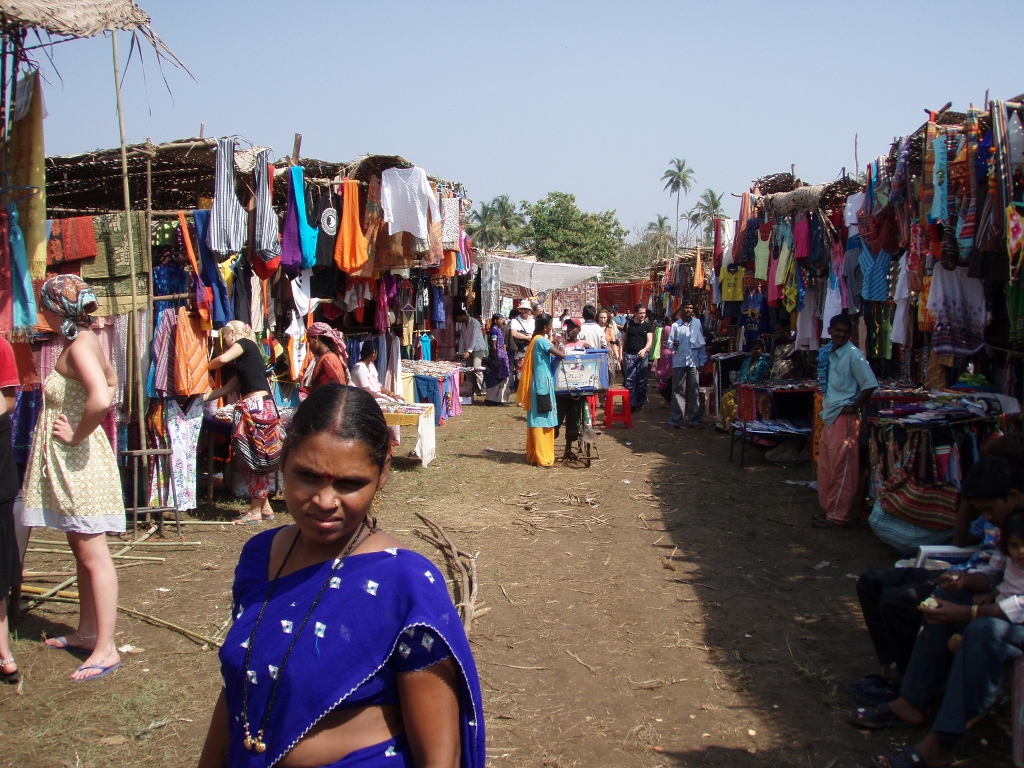 Market in Anjuna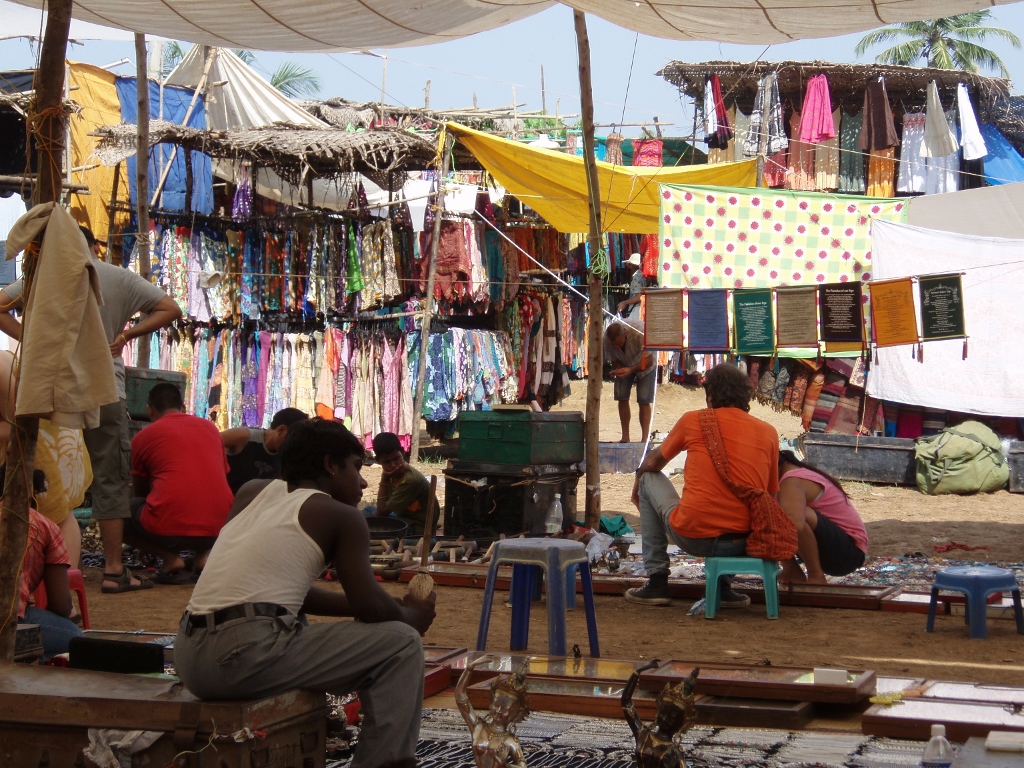 Market in Anjuna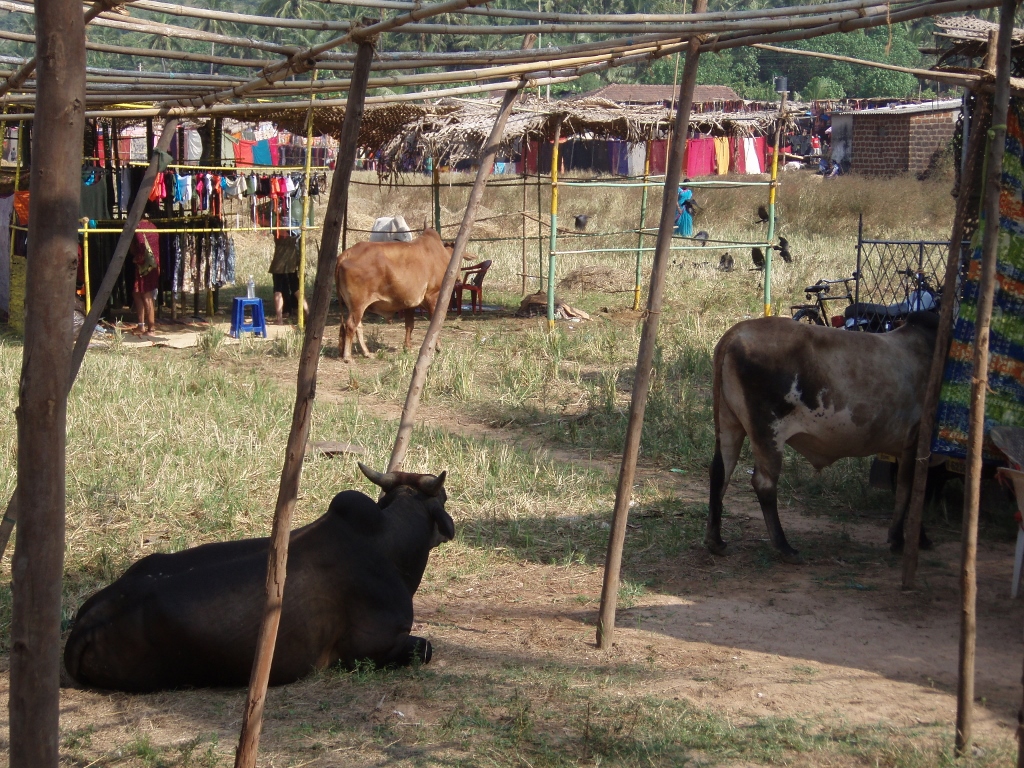 Market in Anjuna, there are also the unavoidable cows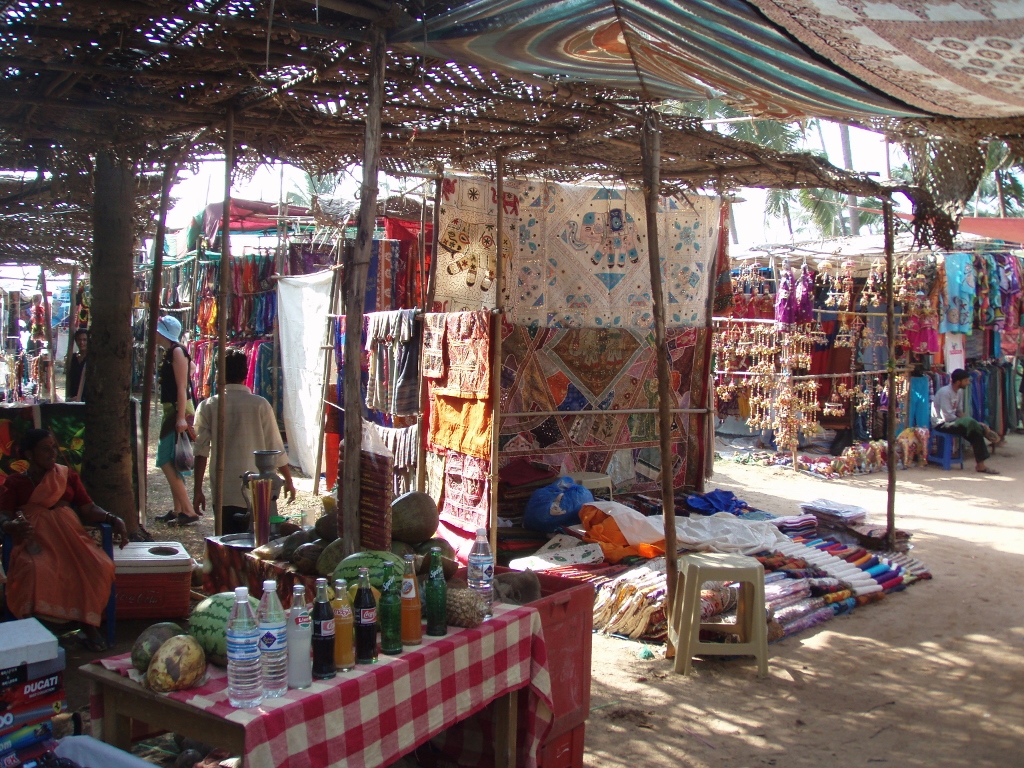 Market in Anjuna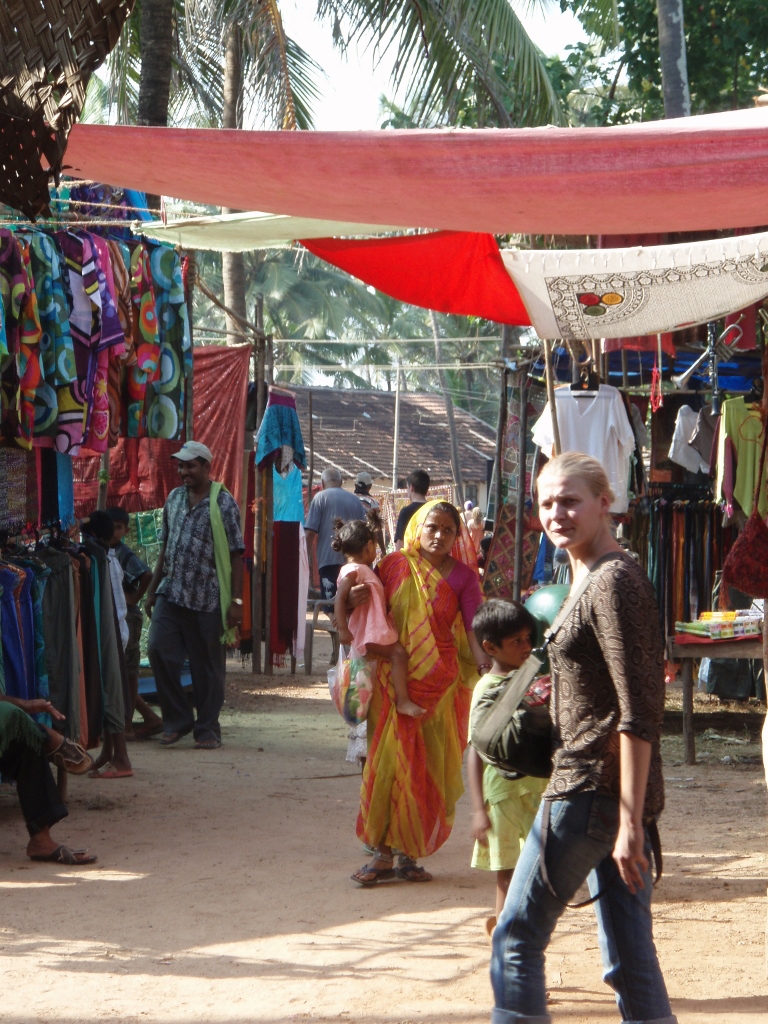 Everybody carries their own
As it may be seen in the photos, there are a lot of foreign tourists, but not that many hippies. Nowadays, the beaches of the federal state of Goa are better known as the place of gathering of new generations where marijuana gave way to ecstasy, while the rock and roll with the presence of the gentle tones of the sitar have been replaced by electronic dance music and raves. Namely, Goa has become one of the world centres of the nightlife and because of the warm climate and numerous long sand beaches, a lot of parties are organised out in the open throughout the entire year.
After visiting the market and my small-scale shopping (Sneža adores shopping and she enjoyed it so much here that she said she was thinking of coming here for a holiday of at least some ten days and stay only here), we went to the beach, which was not far actually, since the market spreads right until the beach itself.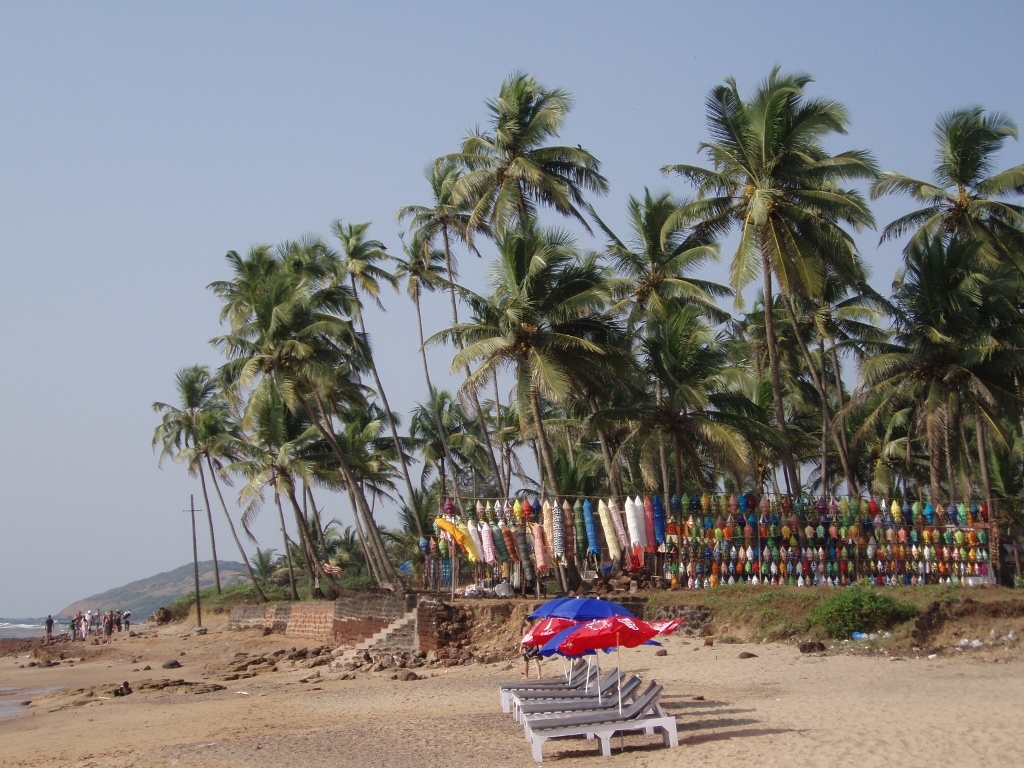 Beach in Anjuna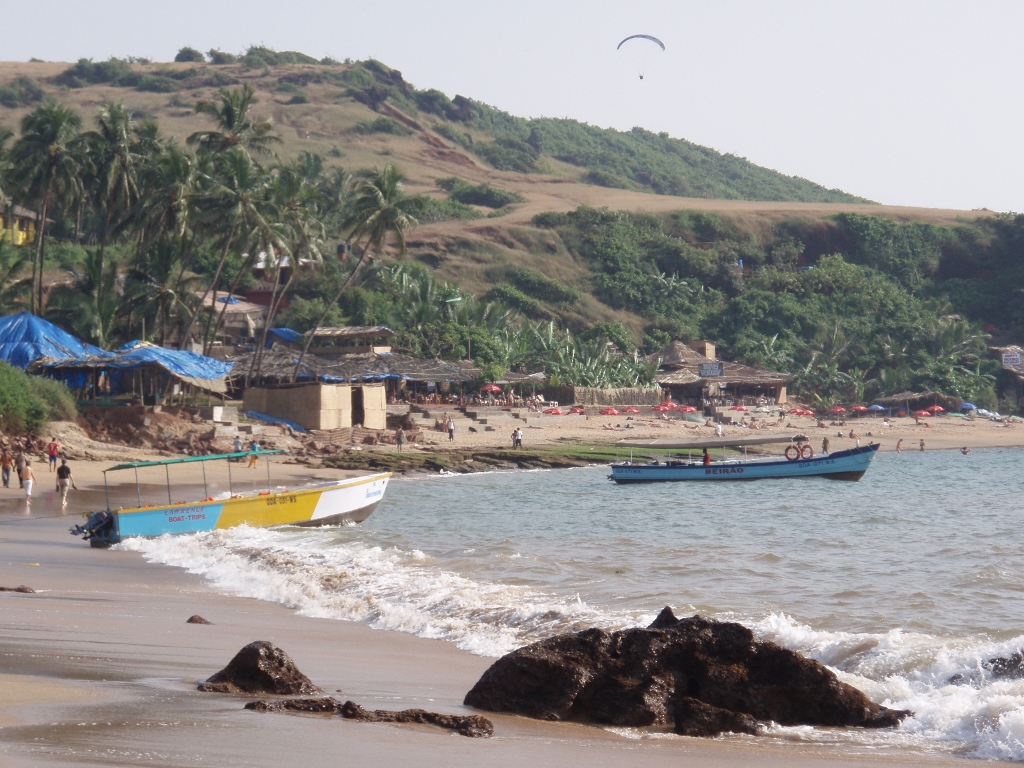 Beach in Anjuna
When we got to the beach, we immediately took our footwear off and thus walked to the end where there was a restaurant with a fine terrace. Along the way, we also watched other visitors.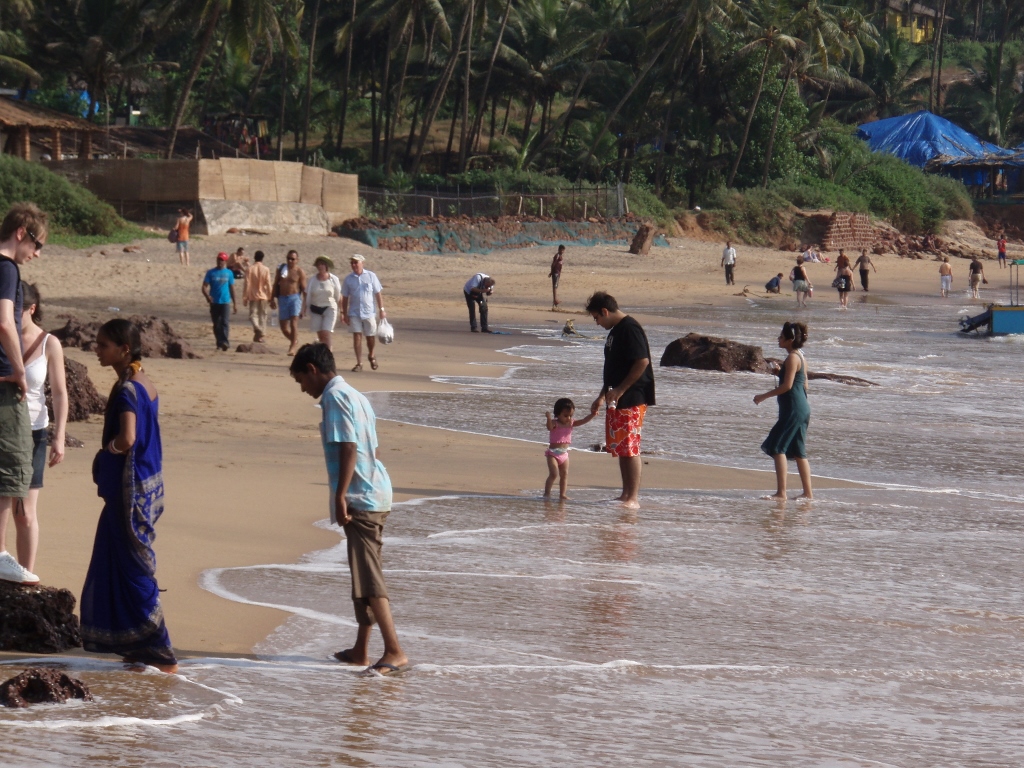 Beach in Anjuna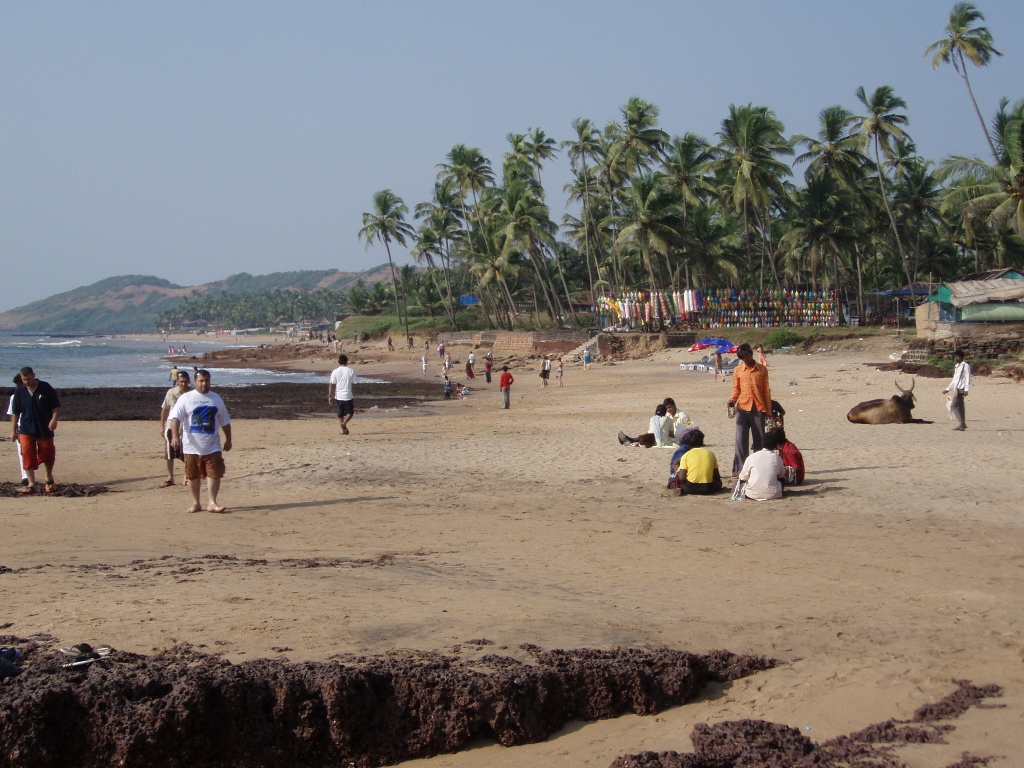 Beach in Anjuna – in addition to the two-legged visitors, there are also four-legged ones, only it is currently lying down and resting
Then we got to that restaurant where we wanted to sit and we even managed to find a nice place in the shade.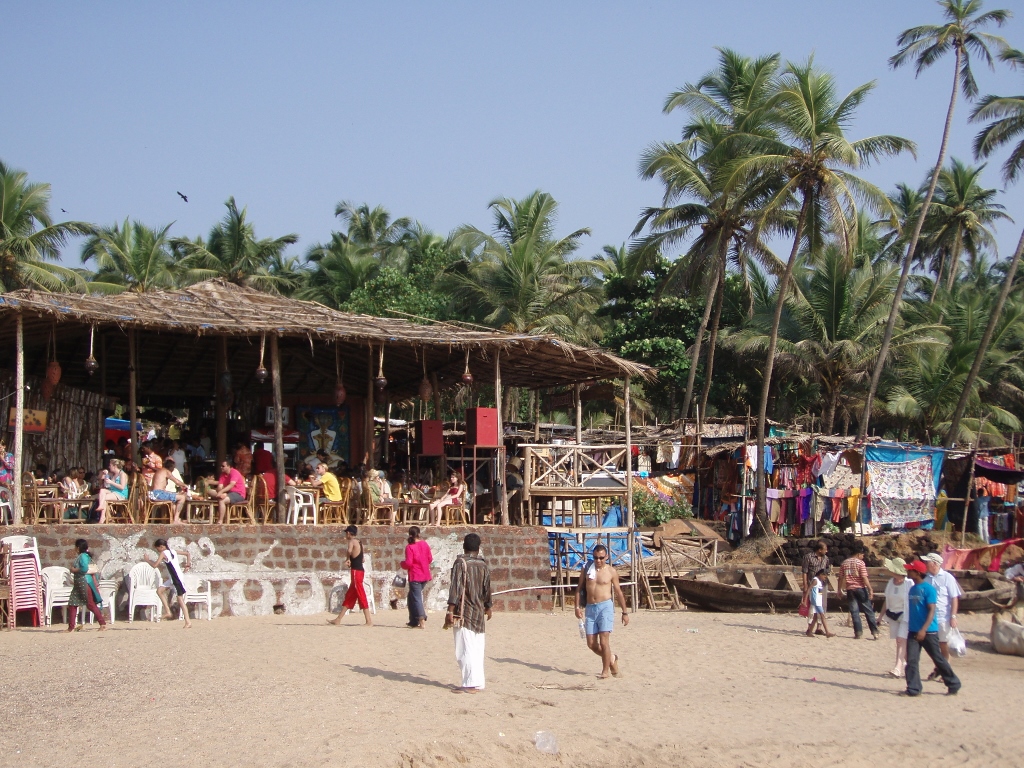 Restaurant on the beach in Anjuna
We both wanted to go for a swim, so we did it, one after the other. I must admit that I did not find the experience to be spectacular, but I did dip myself in for a short while. The water was wet and salty. I did not find anything else to be recommendable. Namely, I have a very clear and particular taste when it comes to beaches. It is not enough for the water to be warm and salty, that the beach is made of sand and surrounded with palm trees. At the time we were there, there were waves, not too big, but strong enough to roll the water and the sand in the shallows, so it was not possible to see where one walked. Additionally, there were some rocks here and there under the surface, so a swimmer could easily bump into such a rock.
After that brief attempt at swimming, I got out and dried myself. Then I also took some more photos on the beach.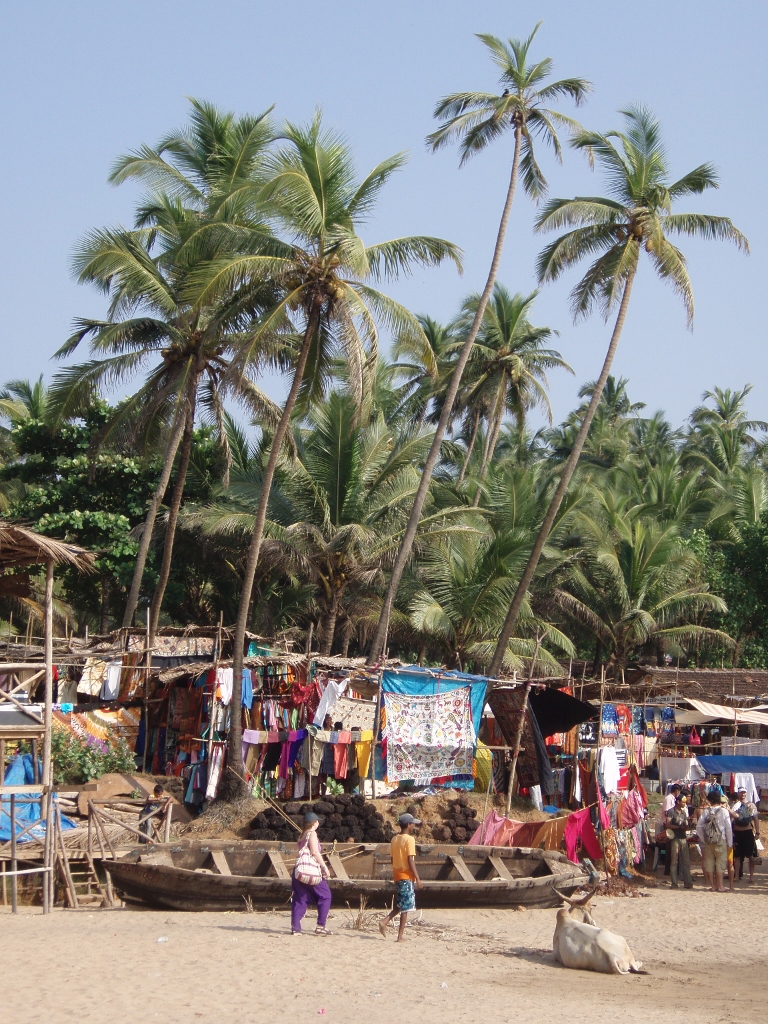 Beach in Anjuna; while yet another cow is resting on the beach, it is possible to see that the market extends all the way to the beach
Later, when we both dried well and decided to return to Panaji, we walked through the market again in order to catch an auto rickshaw afterwards. The sights were still quite picturesque.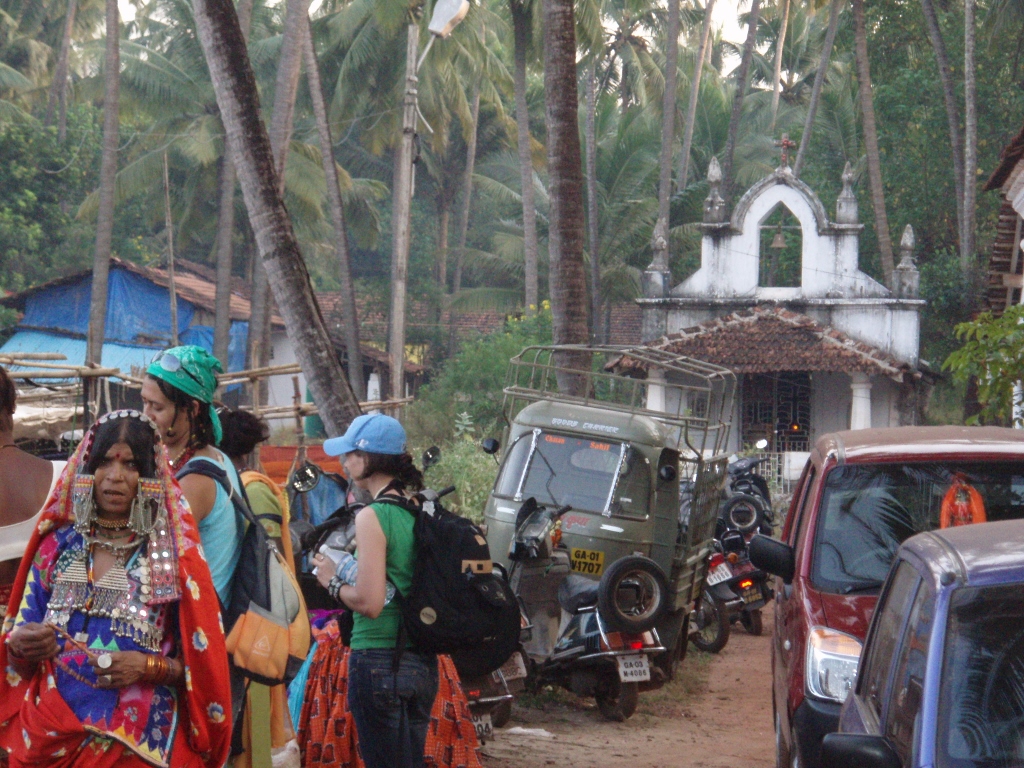 Edge of the market in Anjuna
So, we returned to Panaji where we went to a local green market, bought tangerines (for hygienic and health reasons it was important for us that the fruit was pealed and we did not need to wash it) and we also tried some other fruit as well, but I was not too impressed. It seemed to me that in comparison to some other occasions and destinations where I also ate tropical fruit right there where it grows, this one here was not sufficiently tasty or sweet. Or perhaps this was only the question of a wrong season. Anyway, until the end of our journey the tangerines remained our favourite precisely because it was so easy to eat them.
We also came across a centre for ayurvedic massage where we asked about details, so we set up an appointment for the following day in the evening. After that we walked for a little while and then it was the time for yet another birthday dinner. This time, it was Sneža's turn to give us the treat.
In the morning we got up with an obligation to move to another room since we did not extend the stay in our original room on time. Having finished that, we headed for the centre, while also doing some sightseeing along the way.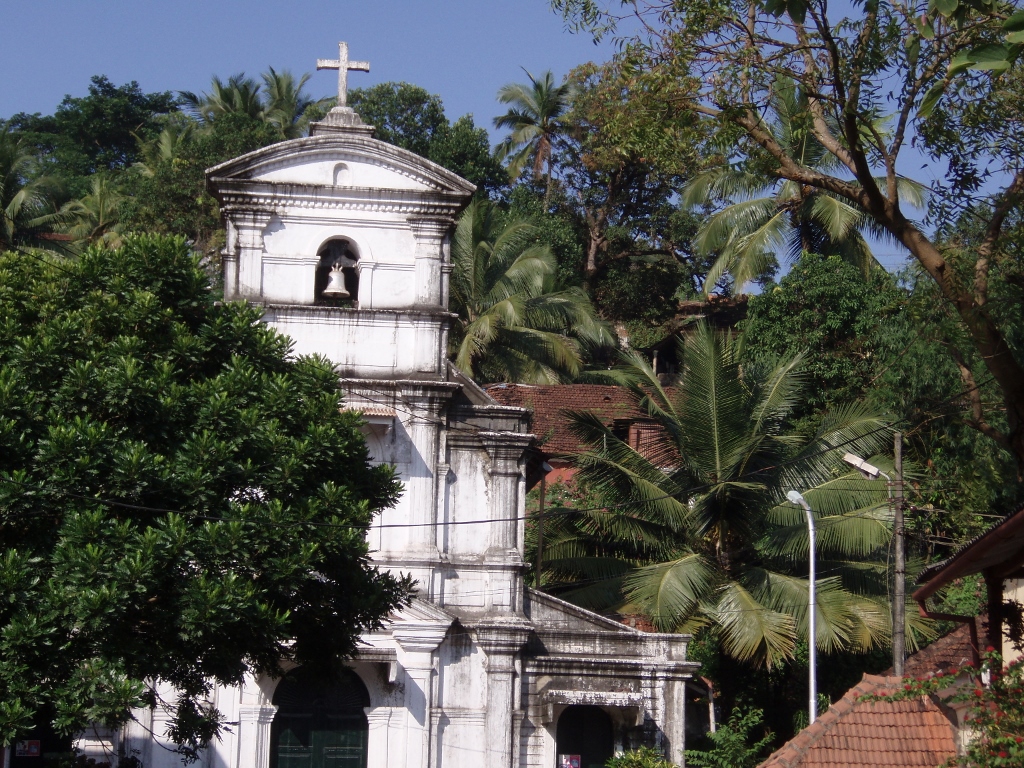 Chapel of St Sebastian in Panaji
In the centre, we first exchanged some money, but also, taking into account our experience when coming to the state of Goa, we also made a reservation at a hotel in Hospet in the state of Karnataka that was our next major destination. Then we decided to take a taxi in order to visit what we had in mind for this day in a better, more efficient and easier way.
To start with, via the town of Margao we went to village Chandor where there is the Braganca House from the 17th century.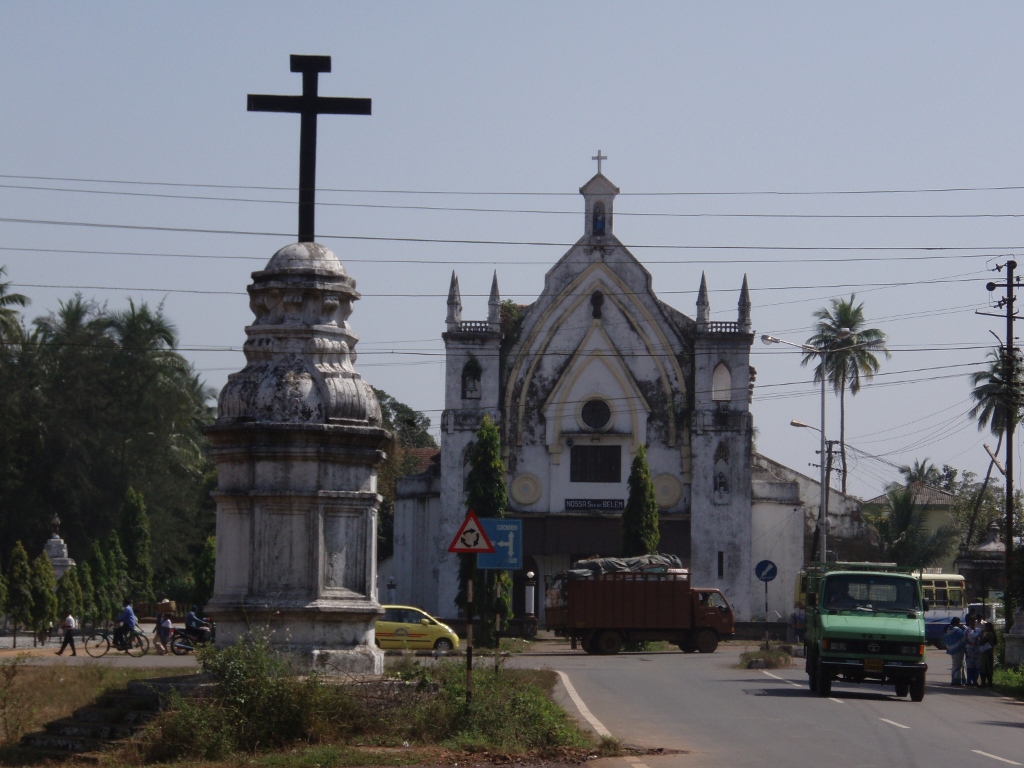 Church in village Chandor in the state of Goa
The Braganca family were large landowners and exceptionally powerful, so that had this big family villa built here. The villa was built in such a way that it has two separate wings and with time these belonged to two family branches. I got an impression that these two family branches were not on the best of terms, but I may also be wrong.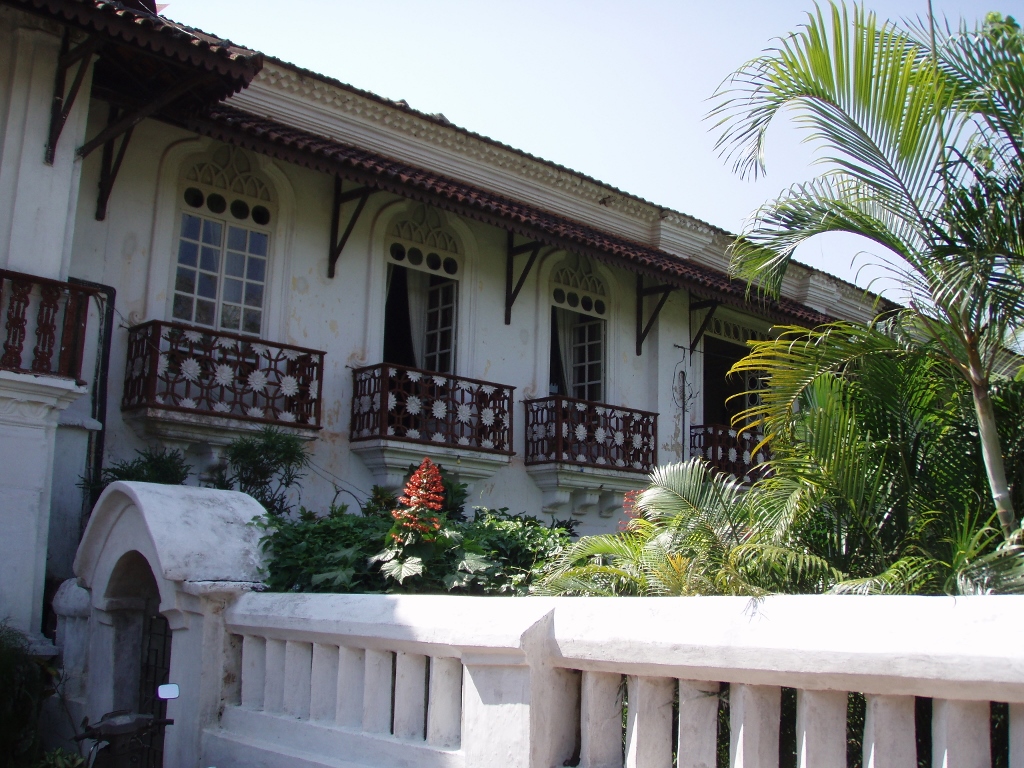 Braganca House, a part of one wing
In any case, nowadays the villa shows how wealthy landowners used to live here. A year after the liberation from Portugal, in 1962, the owners had all their lands nationalised, but they were left with the villa. Today, visitors may see both wings, separately, and in one it is not allowed to take photos. Also, neither of the present-day owners charges any entrance tickets, but they do receive "voluntary donations for the maintenance."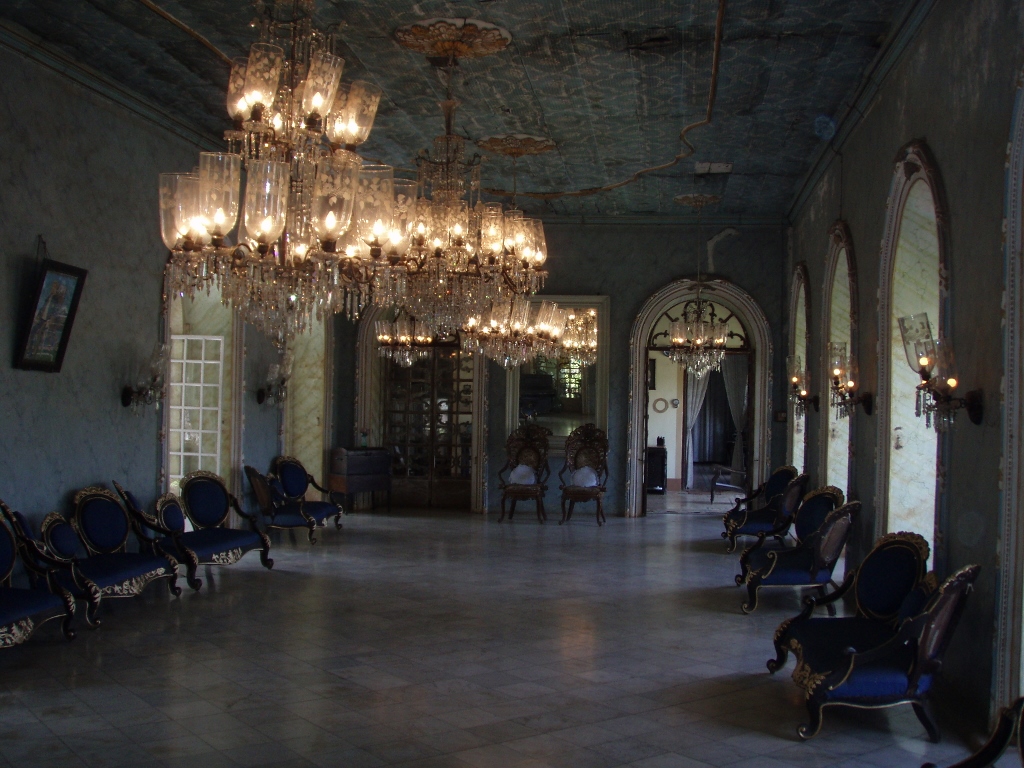 Braganca House, ballroom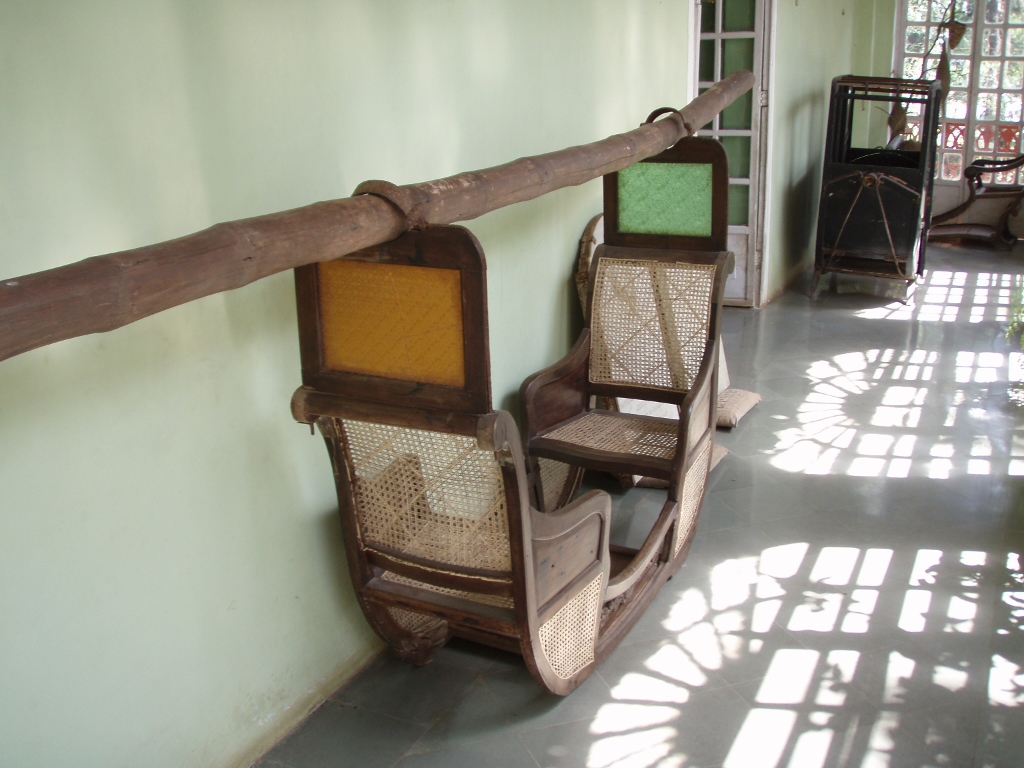 Braganca House, the owners were carried in this by their servants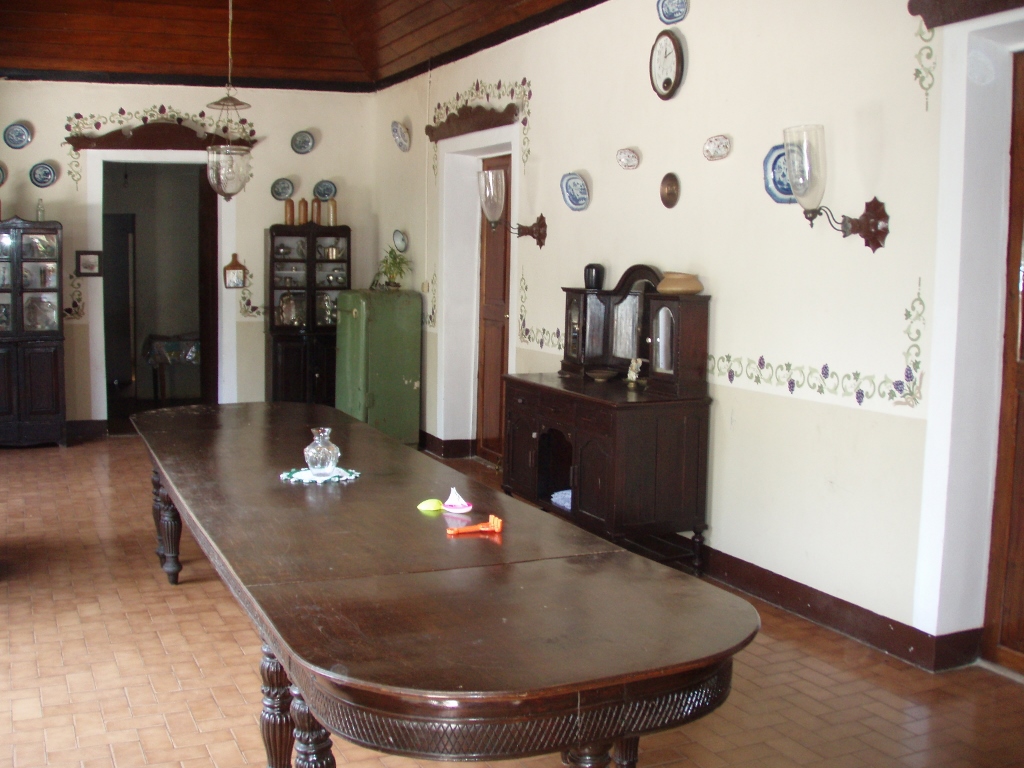 Braganca House, dining-room in one of the wings of the house
Although the villa itself and especially some parts of the furniture and different household items were occasionally truly impressive, I must admit I was not seduced and could not imagine myself living there. Admittedly, nobody offered that either, so the problem was solved quite easily.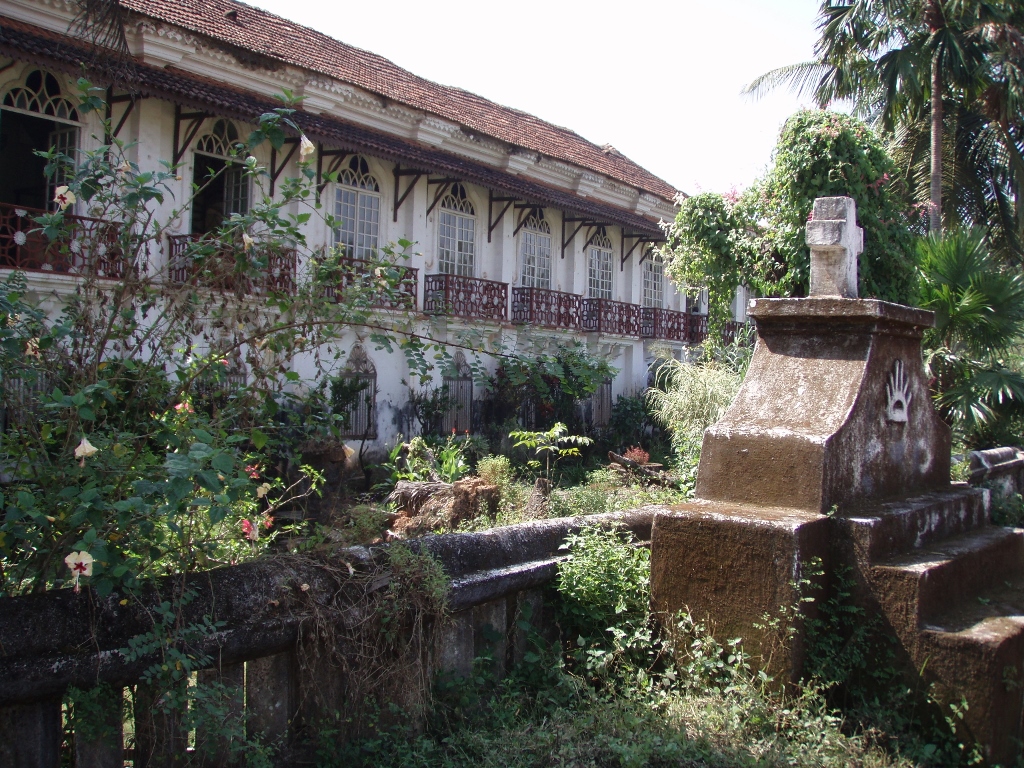 Braganca House, a part of one wing of the villa
After this visit we went to Colva beach. It is located in the south part of Goa and with its approximately 25 km in length it is considered the longest beach in this federal state.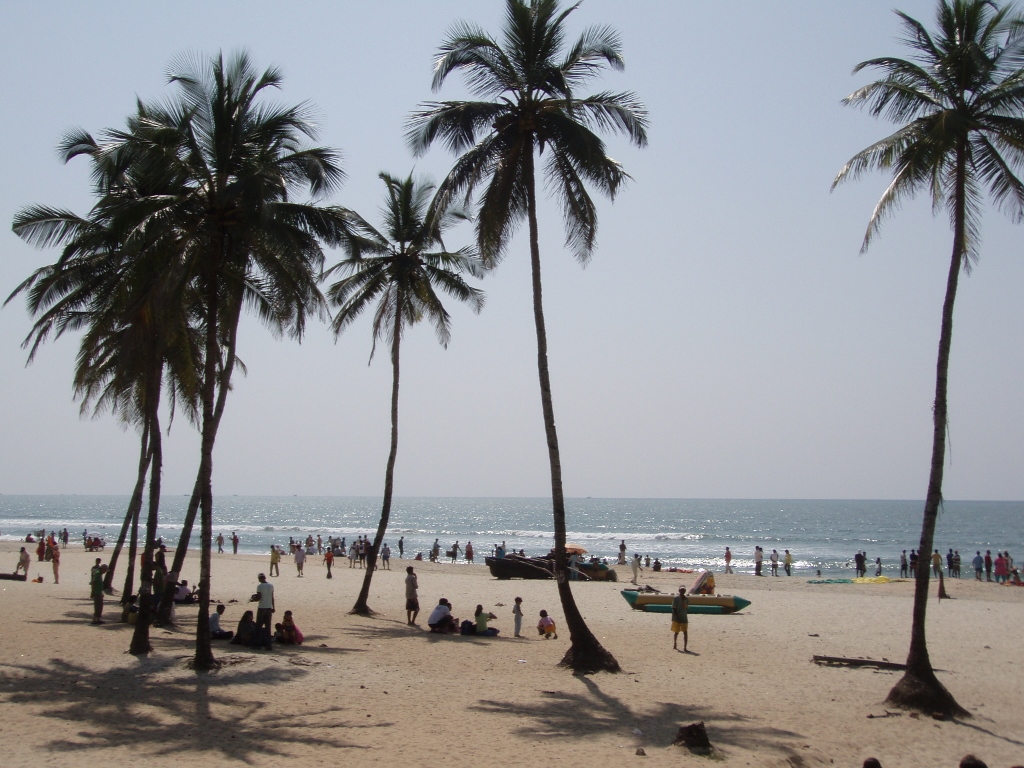 Getting to Colva beach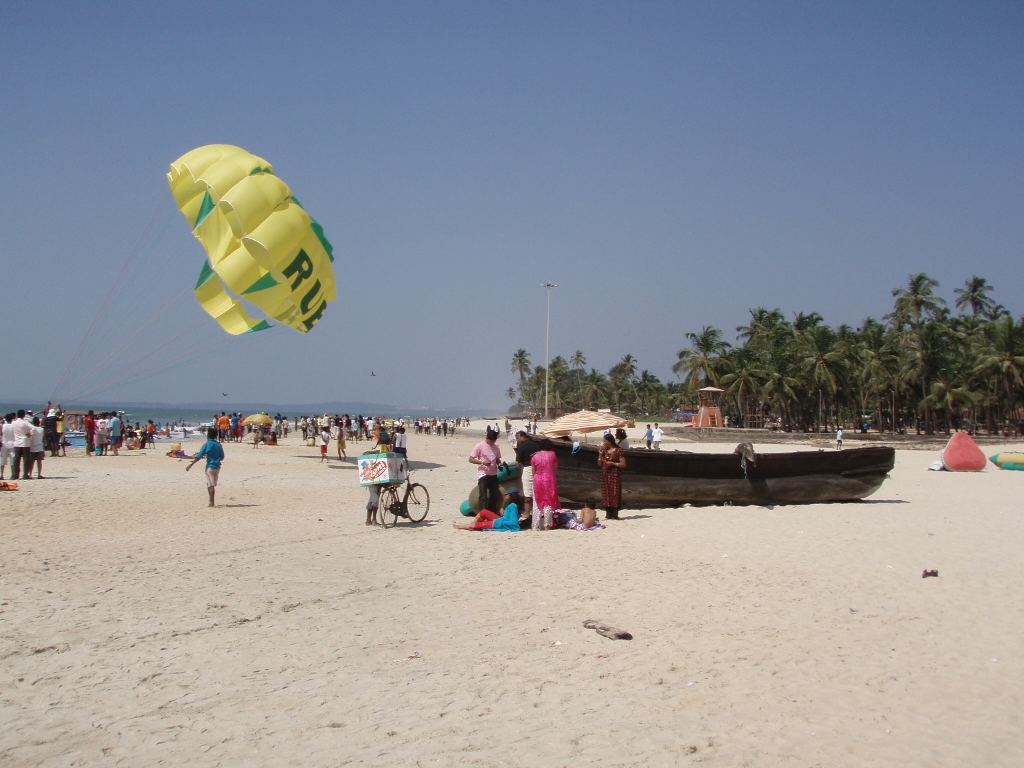 Colva beach
Although I would not like to spend my summer vacation here either, I did prefer Colva beach to Anjuna beach that we had visited the day before. So, we walked a little along the beach and then we came to a restaurant-hotel where we had a nice rest and lunch.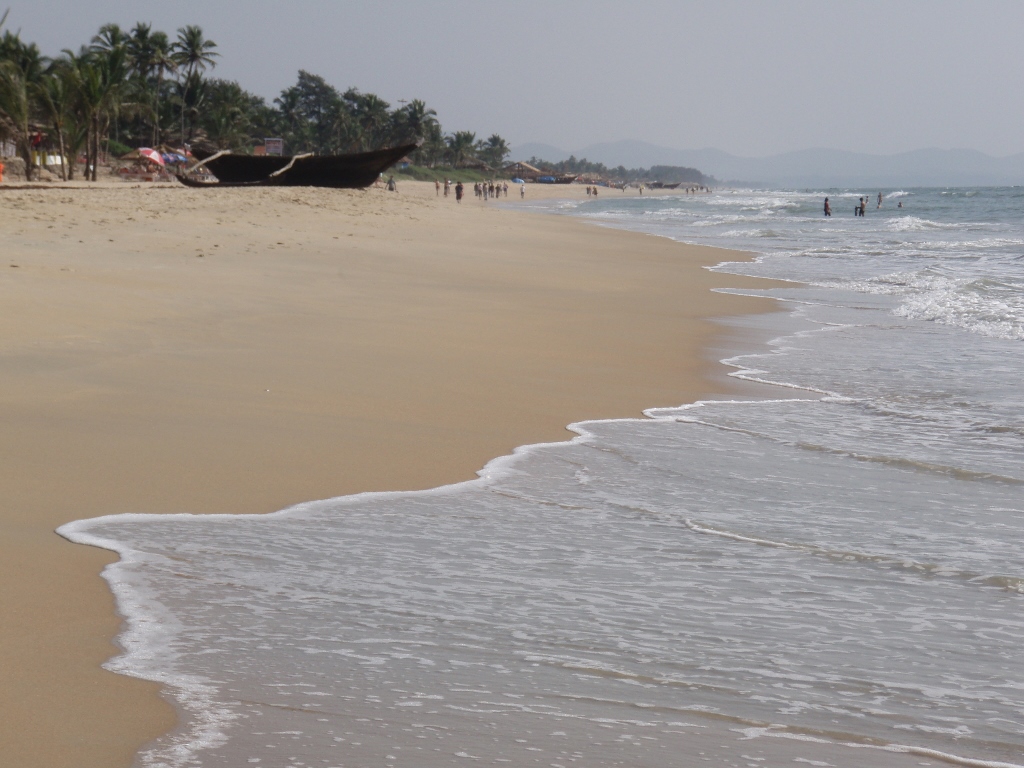 Colva beach; it is nice to walk along soft sand while warm water splashes at your feet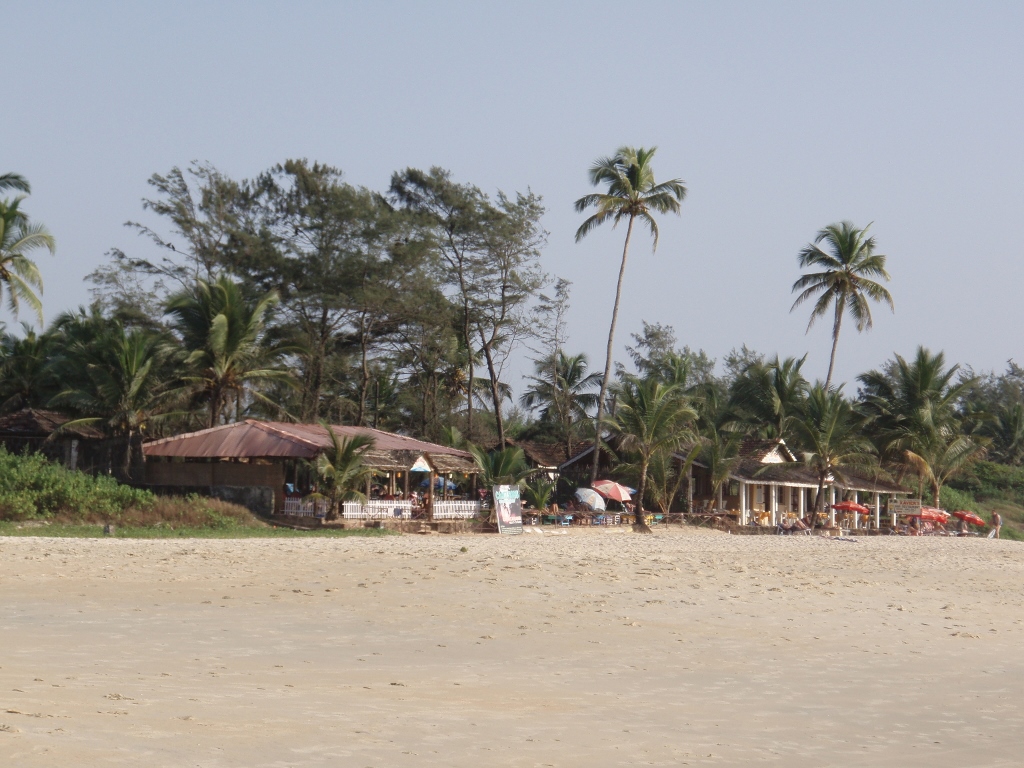 Colva beach; one of the typical hotels-restaurants at the very beach
While we were sitting at that restaurant that belonged to a hotel-resort, we took the opportunity to go to the water, again one at the time and for a short while. We simply could not resist the proximity of the sea. Although the waves were not big, I could not swim properly, so soon I returned to the restaurant in order to dry. Still, I enjoyed the refreshment I had in the waters that belong to Arabian Sea.
Along Colva beach, there are generally a lot of hotels and resorts, but since these are usually used by Indian families or middle-aged foreign tourists, the atmosphere is much calmer here than in Anjuna or some other places frequented by young people – at least this was the case when the two of us were there. If somebody goes to this area, it is certainly worth the while to inquire which place is good for a relaxing holiday and which place is good for partying.
When we both got properly dry, we headed leisurely back towards the place where the taxi was waiting to take us back to Panaji.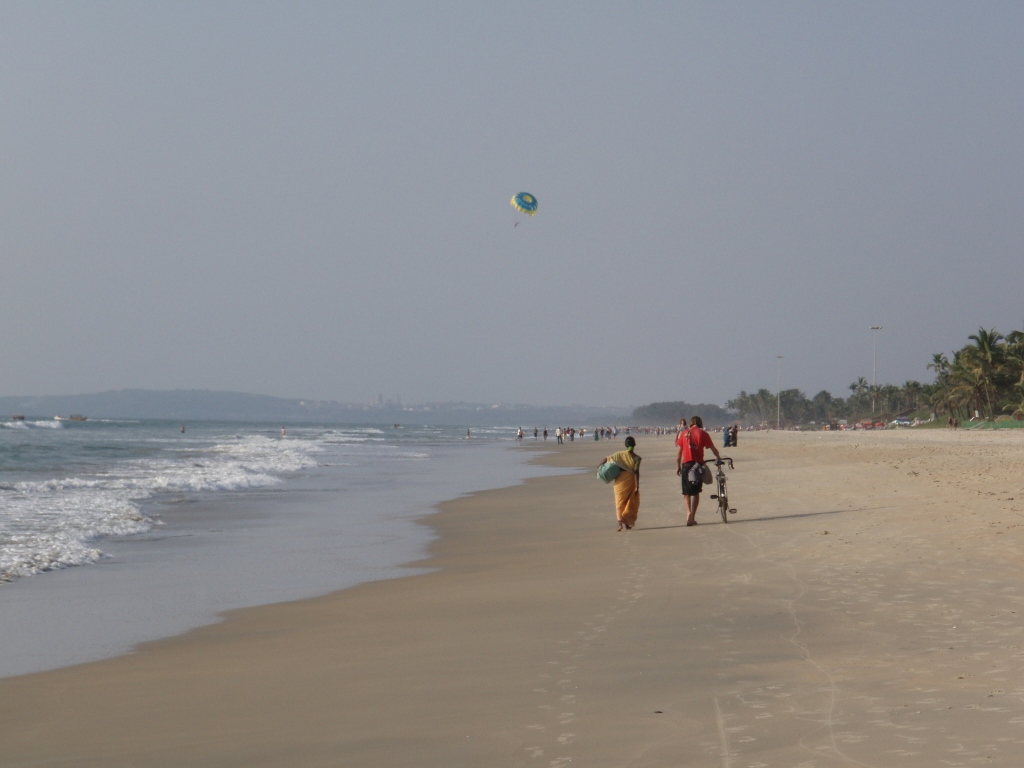 Colva beach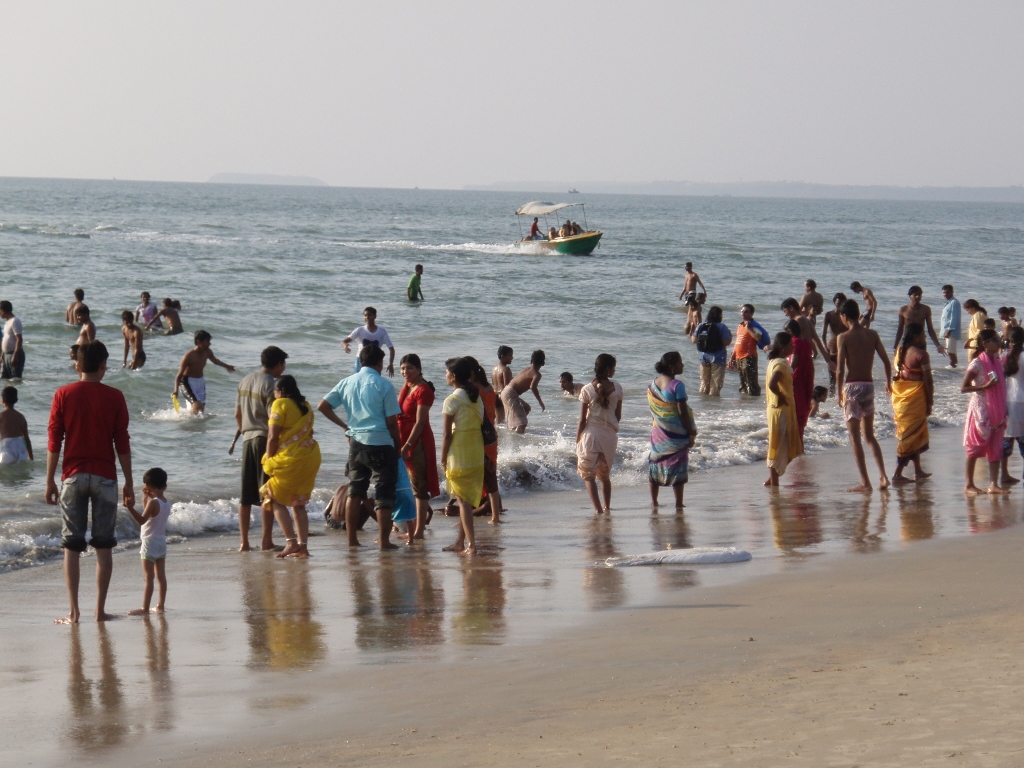 Colva beach
Going back to the place in which we were stationed, from the vehicle I took a photo of a sight that I found very interesting.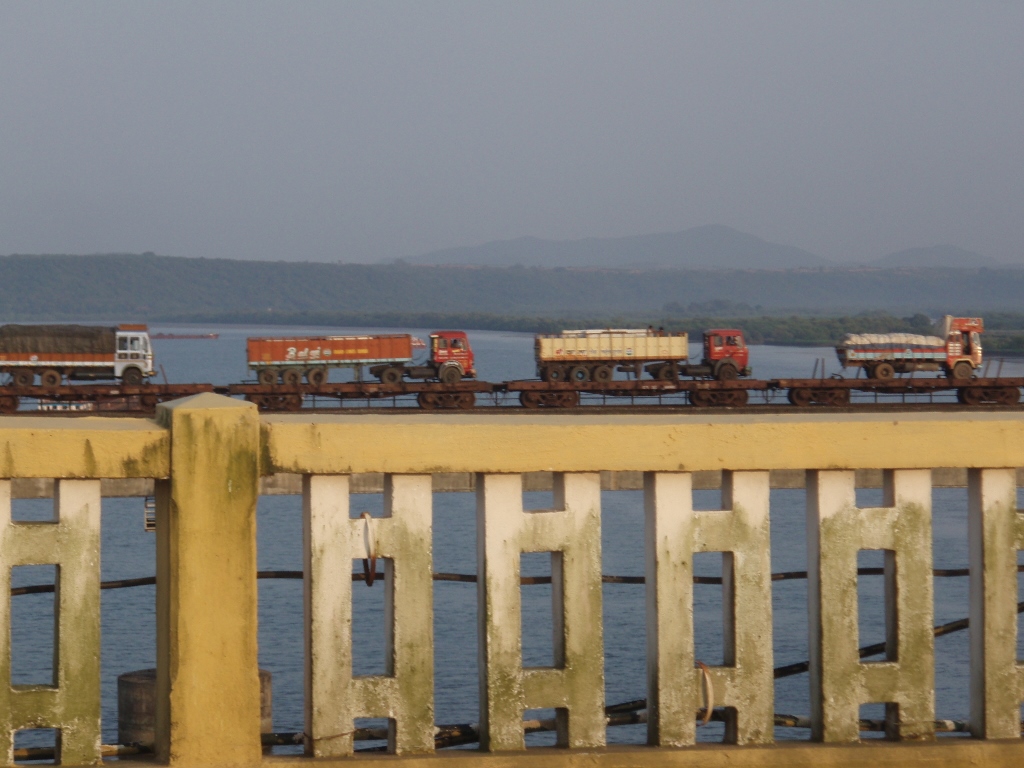 On our way back to Panaji
It just happened that the angle was good and thus I took a photo of the fence of the road bridge that we were moving on that was hiding the railway bridge which was at that moment used by a train transporting trucks. It seems almost as if somebody arranged toy trucks along the fence. Or at least it seems like this to me.
In any case, when we returned to Panaji I started to develop problems with my stomach, in terms that the digestion did not work as it should and I had an acid reflux. Since we had already booked the ayurvedic massage, a complete treatment for the body and the mind (!), we went that way. It occurred to me that it may be good for me to take a Coke or a Pepsi to help me out with the digestion, but in the streets we were taking we did not find any shop that had this type of beverage. By the way, later we developed almost a rule to have a small bottle of this type of soft drinks every day in order to facilitate the digestion and as a possible prevention for stomach problems.
Thus we got to that parlour and each one went to a separate room with her own masseuse. At first, I felt mildly sick in my stomach, but with all the heavy scents, oils and some dark and almost claustrophobic room in which I was with an uncommonly low ceiling, I felt worse and worse and soon I had to stop the massage in order to go to a toilet and throw up there. To this very day I cannot understand why I did not stop it all right there and then, but apparently apart from my stomach that was not working, my brain was out of function as well. Be as it may, I went through this massage for the body and then I even moved to the treatment for the mind (!) with warm sesame oil. That topped the cake, but when they used that warm oil and poured it over my head and my long hair there was no longer any reasonable point in stopping the whole thing. Afterwards, Sneža and I walked to our hotel since I wanted to breathe in as much fresh air as possible, but I did not feel any better, so when we reached our room, I paid a few infamous visits to the toilet and was violently sick there. Eventually I did feel slightly better (I guess I threw out whatever it was that had poisoned me), but I was far from any good shape. On top of that, I had an additional problem because I had to take a shower and wash my hair since I was ALL covered in oil that I wanted to get off me. I was exhausted, without any strength and drowsy, and although I fell asleep immediately, the night was bad since I kept waking up. All in all, I felt horrible the next day – wobbly and down. I could only think about how wonderful it would be if I were at home. Still, we first had to check out of the hotel and we also had an already arranged plan for the day.
But, let me finish this story of mine about the poisoning. When I eventually returned home and arranged my photos more than a month after this event, I came across a couple of shots of the food we ate in that restaurant at Colva beach. There was a curry, two versions of rice, a grilled local fish with vegetables, as well as dessert in the shape of deep-fried pineapple. As soon as I saw that photograph of deep-fried pineapple, I immediately felt nauseous and right there it became clear to me that this was what had poisoned me. My body remembered the culprit. On the other hand, I found it interesting that I had problems eating food that was prepared at a restaurant that belonged to a hotel in which we only saw some Western tourists and not from any food that I ate on the train or at a market. I think that this was also a good lesson for me to relax because poisoning can happen even from food that is prepared in presumably hygienic conditions.
Still, here are a couple of photos of the food that did not make me sick. It was truly tasty indeed.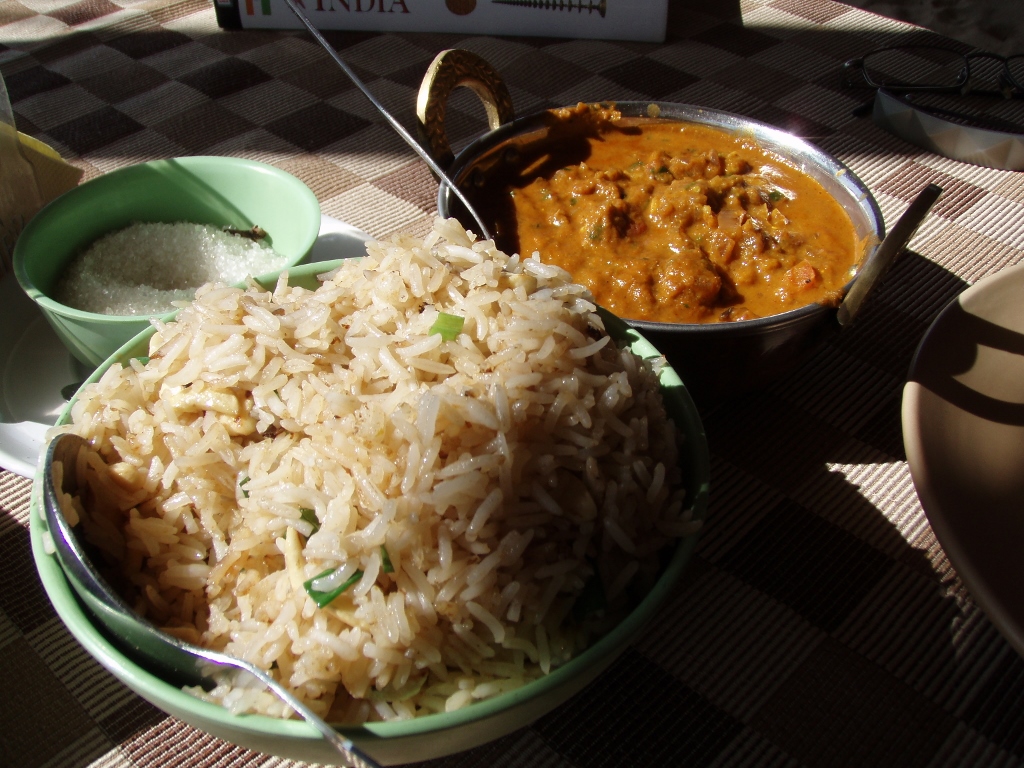 Rice and curry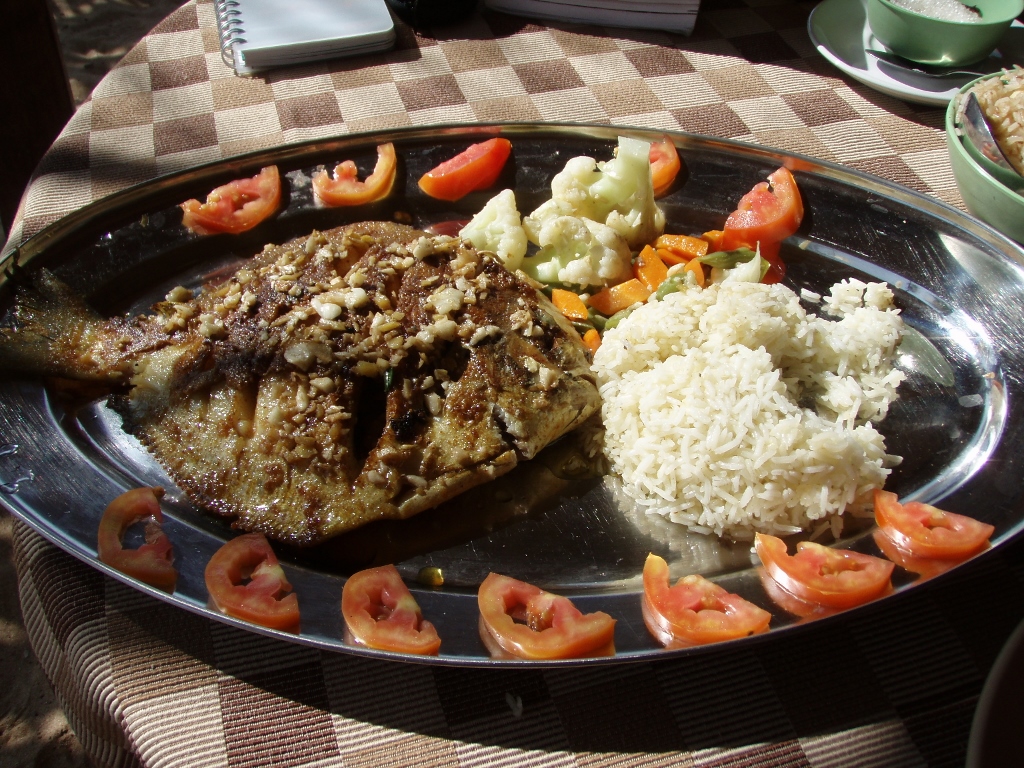 Grilled fish