This evening Sneža and I managed to get to the top of a tourist double-decker bus and from there we watched Mumbai. Admittedly, we understood little of what was coming through the earphones, on account of the noise around us, but this sightseeing tour that took about an hour was still a rather nice thing. However, it felt good to return to the room and try to sleep, since the holiday of the light, Diwali, was still going on and this also included throwing firecrackers in the street all night long.
The next day we first headed from the hotel to the nearby market Mahatma Jyotiba Phule Mandai, much better known under the name of Crawford Market. This is a large building in which there are numerous stalls and shops, but we also went to see its surroundings, since the whole neighbourhood is dedicated to the trading with various goods. Actually, the most important thing for us was to find an electricity adapter and we watched the rest of it just while passing by.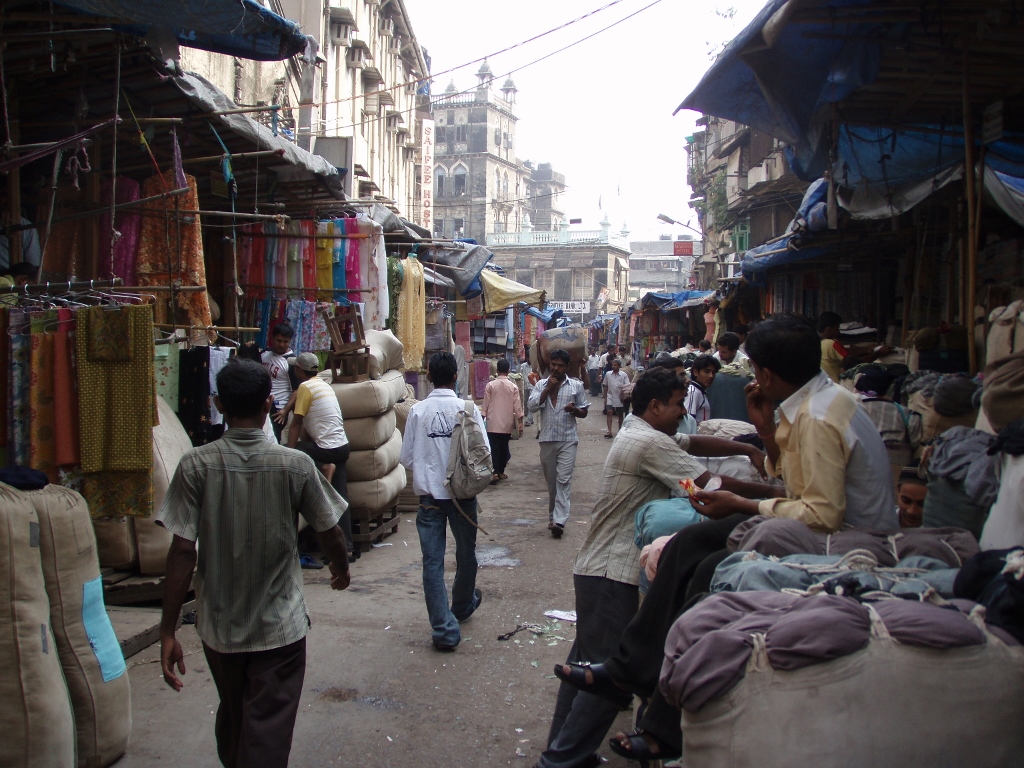 Surroundings of the Crawford Market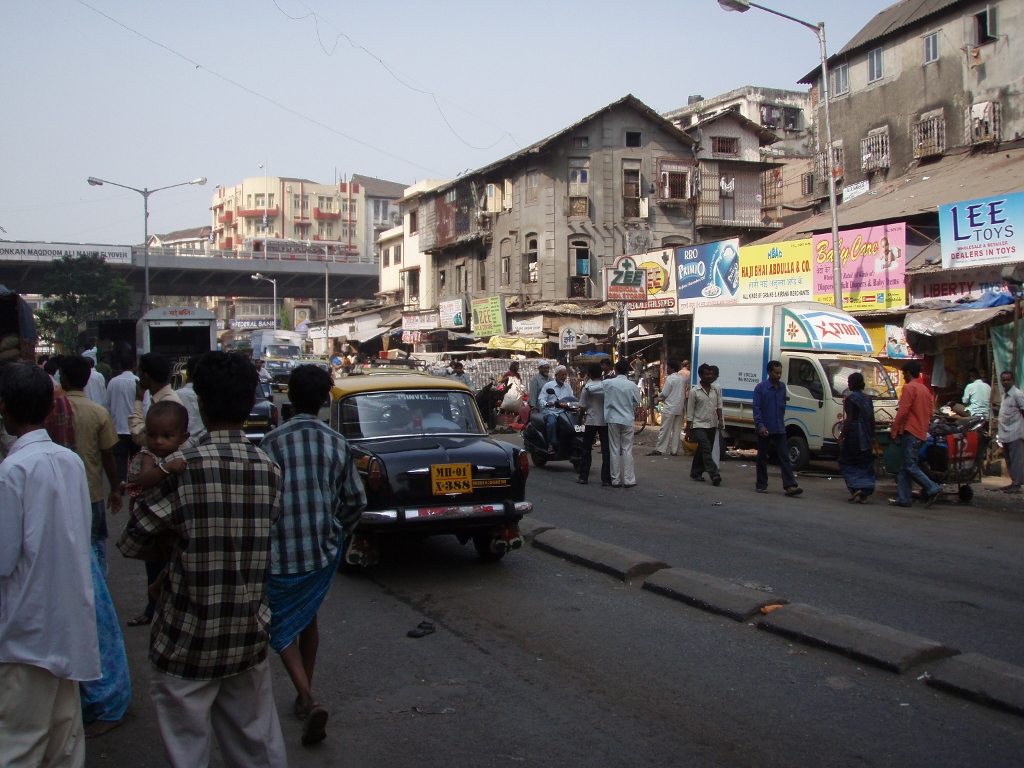 A street by the Crawford Market
We entered the building itself, but there we could mostly see just fruits and vegetables. In addition to the adapter, we were also looking for a place where we could exchange money. After some wandering, we did find such a place and thus we finished that, too.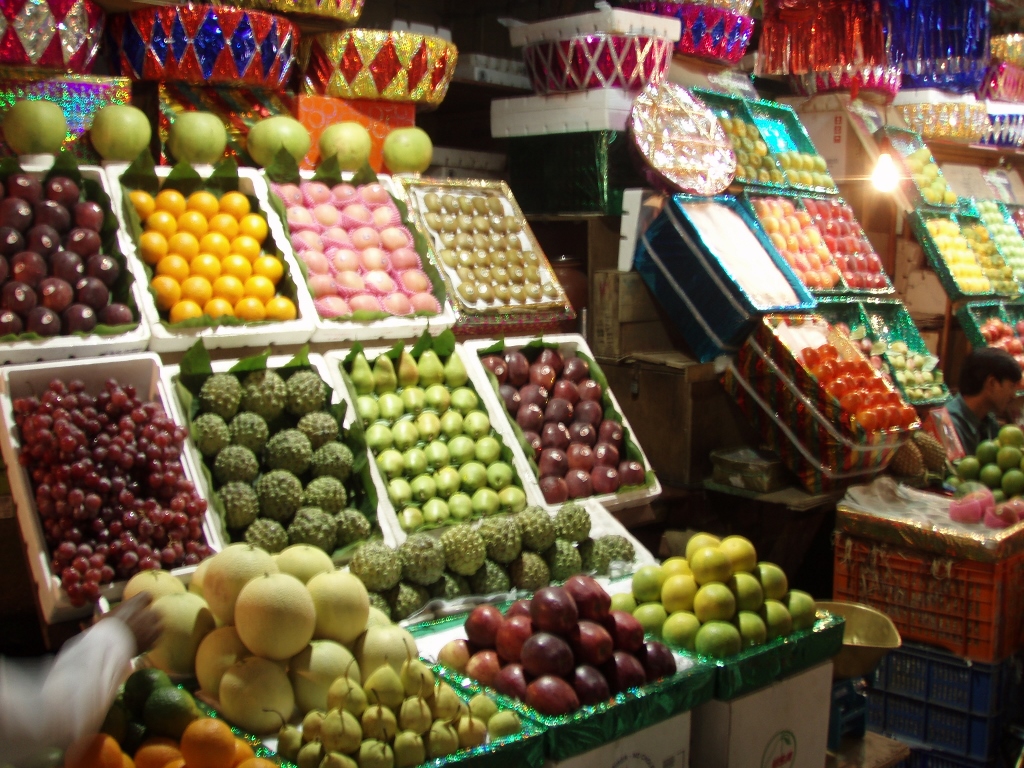 A stand at the Crawford Market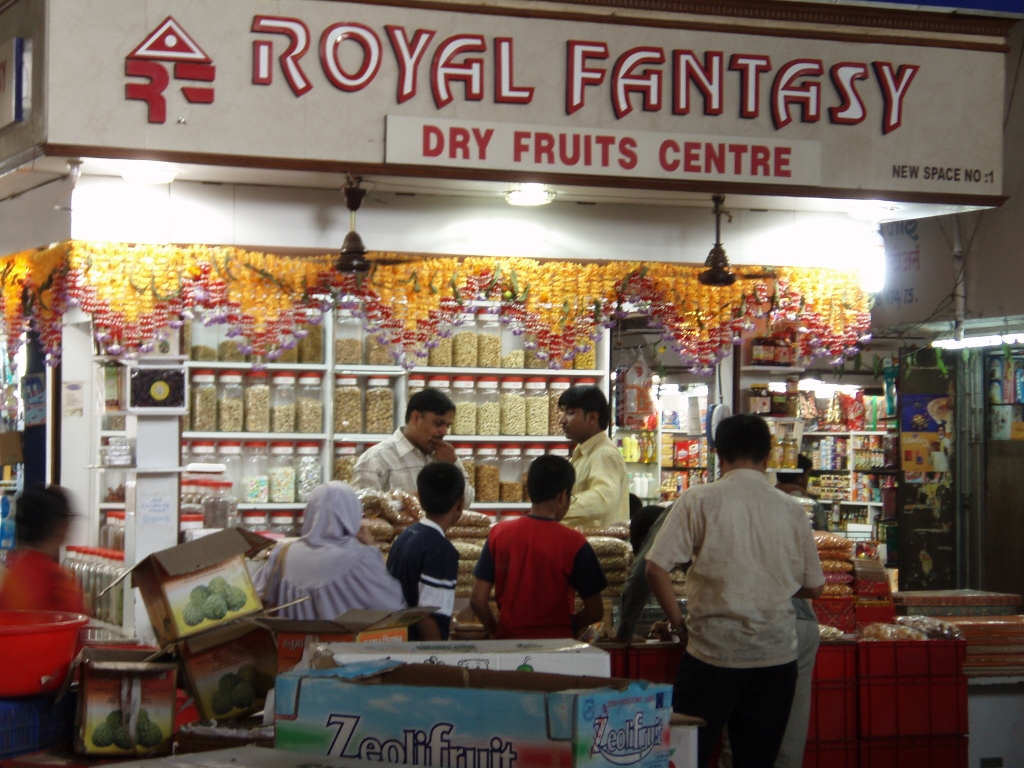 A shop at the Crawford Market
Those markets and sale points, formal and informal ones, which exist in this area may seem to unsuspecting foreign tourists like a huge pandemonium: it was terribly crowded everywhere we looked around us and on top of that there was so much noise! The type of noise that makes it difficult for one to stay normal. Occasionally I would become so nervous from all that noise that I thought I could hardly wait for the two of us to leave Mumbai, since I thought nowhere it would be as noisy as here. Of course, like about so many other things in connection with India, I was wrong about this, too.
In the meantime, while we were walking in this area, we passed by a large number of women who were sitting on pieces of cloth or newspapers spread across dusty street or squatting by their goods, most often selling vegetables and fruits.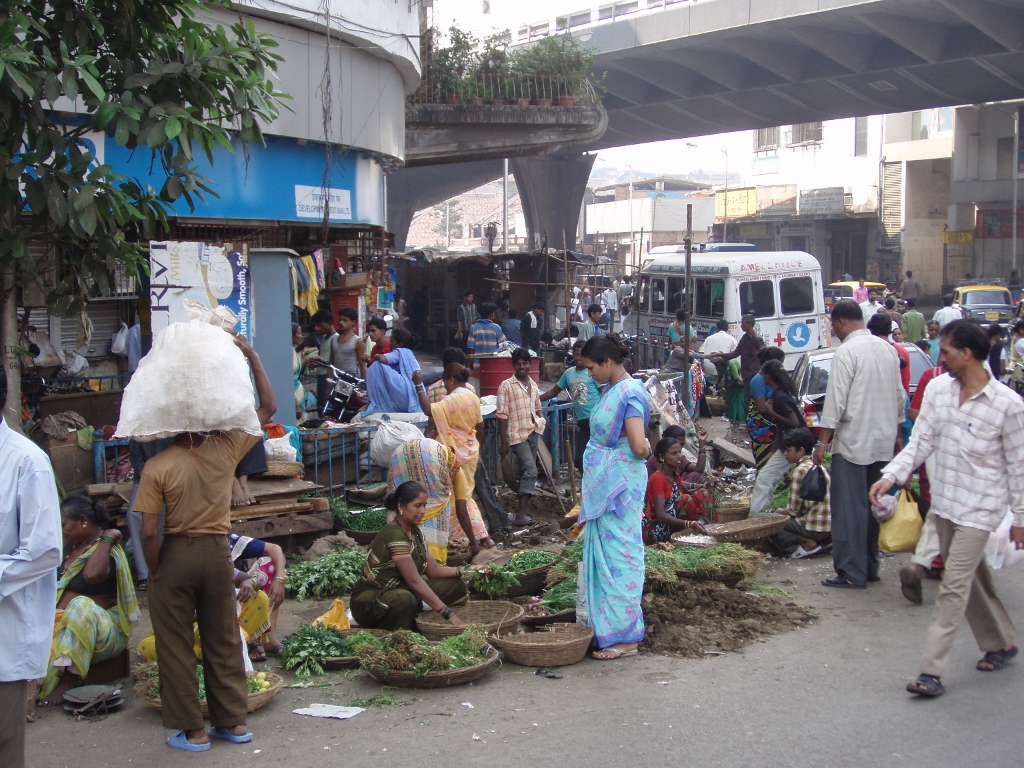 Informal stands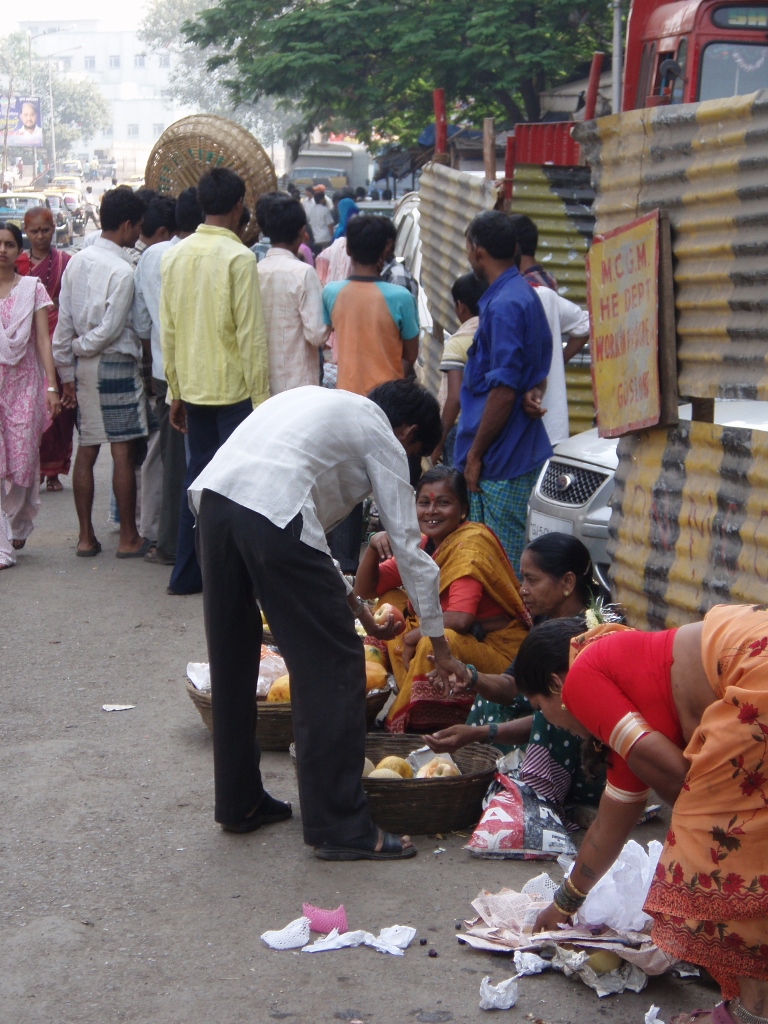 Informal stands
In the streets we often saw big or small piles of garbage and a lot of the area seemed neglected. Most of the garbage came from plastic bottles or newspapers and paper, and in the first text on my story about India I gave my theory about it. But, on the other hand, I must say that never, ever, on any occasion during our stay in India (and we were there twice, both times for about a month) did we feel anybody smelling of sweat or dirt and we always admired how everybody was clean and they had clean clothes on.
This, of course, does not diminish the shock when a visitor first faces India and its streets (and I'm not coming from a country that is known for its cleanliness; quite the contrary), but this all requires some time for one to get used to it. Not in the sense that there would miraculously be less garbage, but simply in order not to bother your eyes. In other words, in order for me to feel at home.
What I could not get used to at all during my first stay in India was the terrible traffic noise. Horns, very powerful ones at that, are used all the time and this bothered me quite a lot, but still it was fascinating seeing some of their trucks. They simply love it when it's colourful.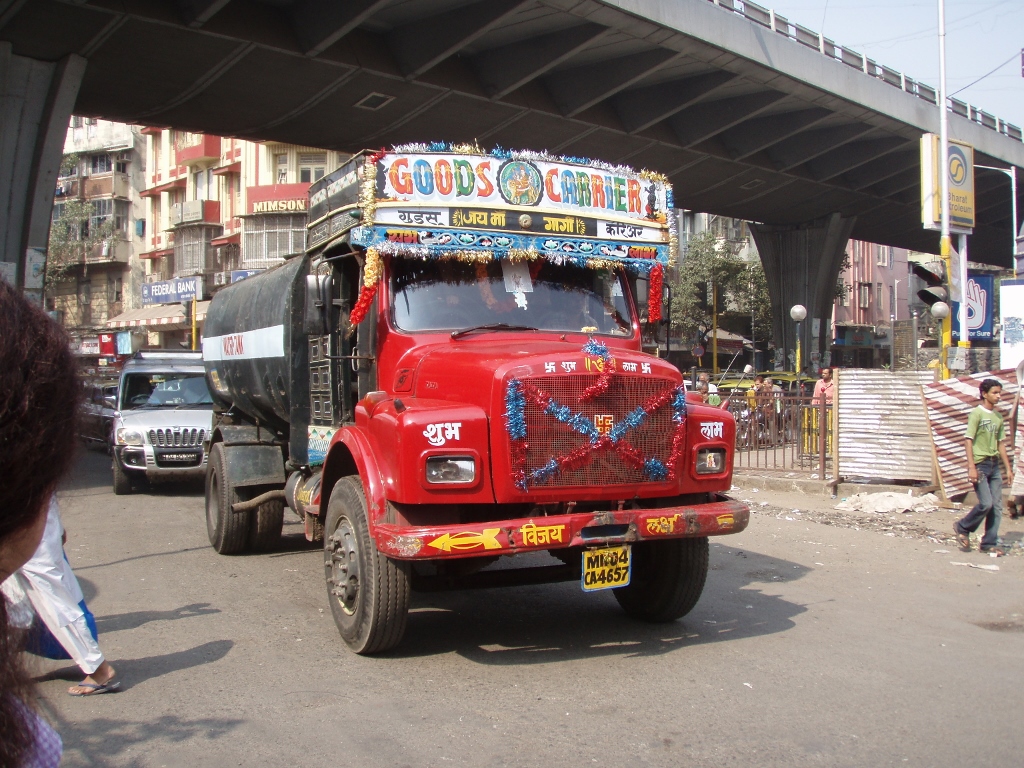 A truck in Mumbai
Then, going through the crowds of the Crawford Market we walked to the Zaveri Bazaar which is famous for its gold and jewellery stores. On our way towards this second market, we passed by an impressive mosque.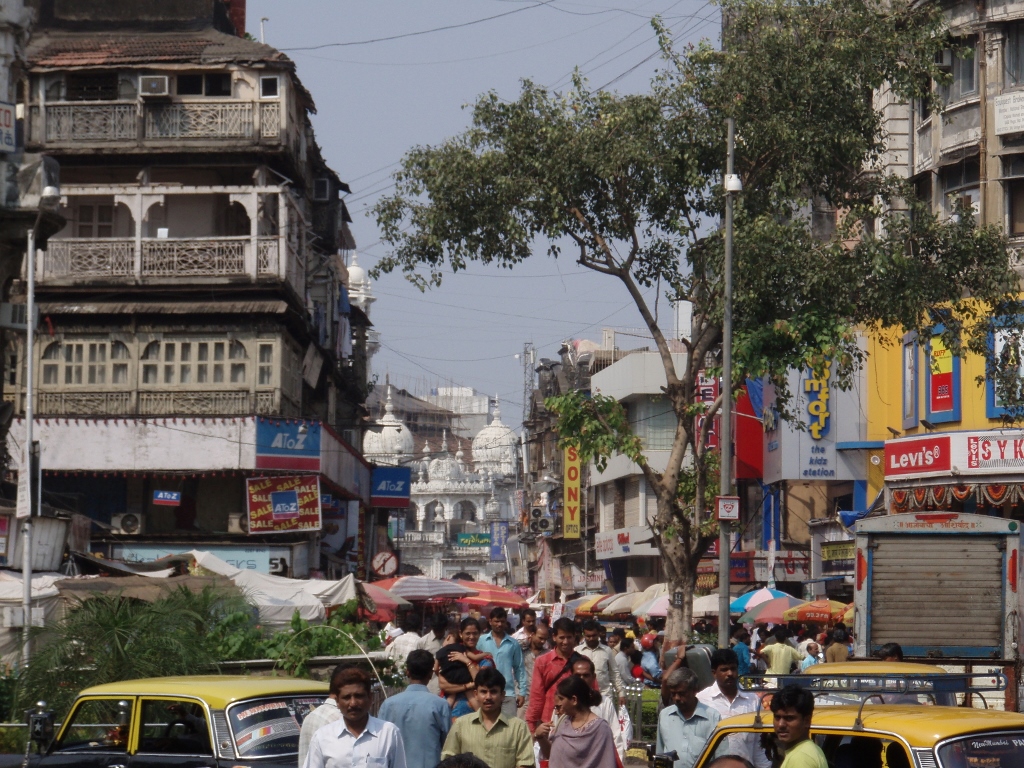 From the Crawford Market to the Zaveri Bazaar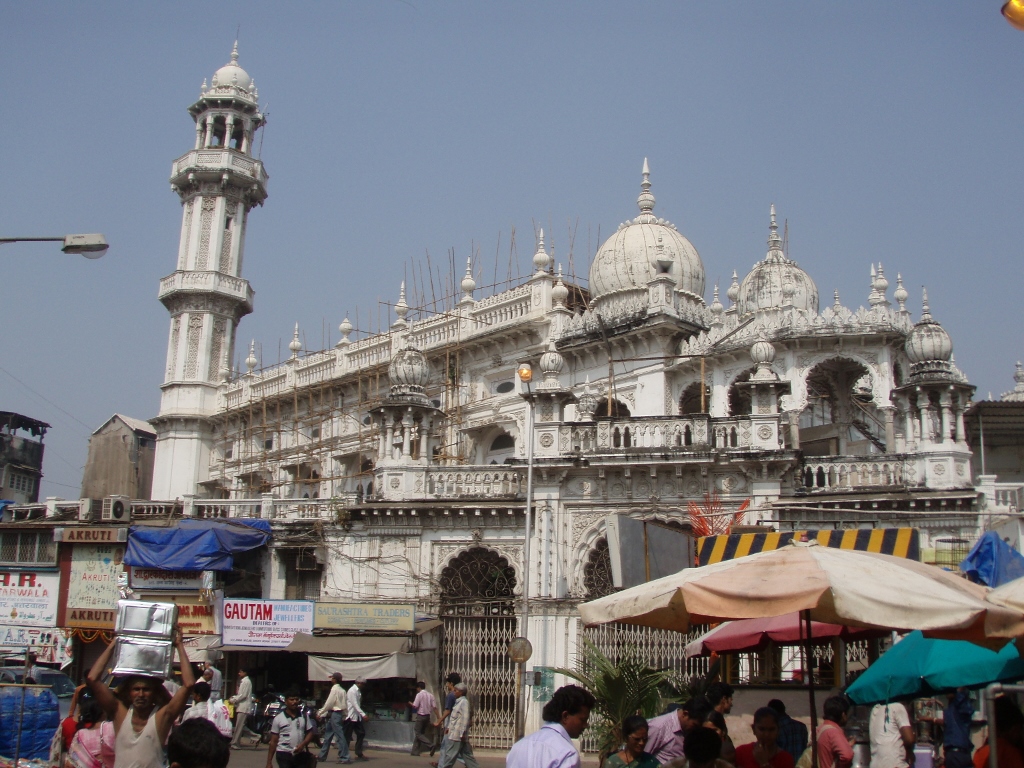 Mosque in the vicinity of the Zaveri Bazaar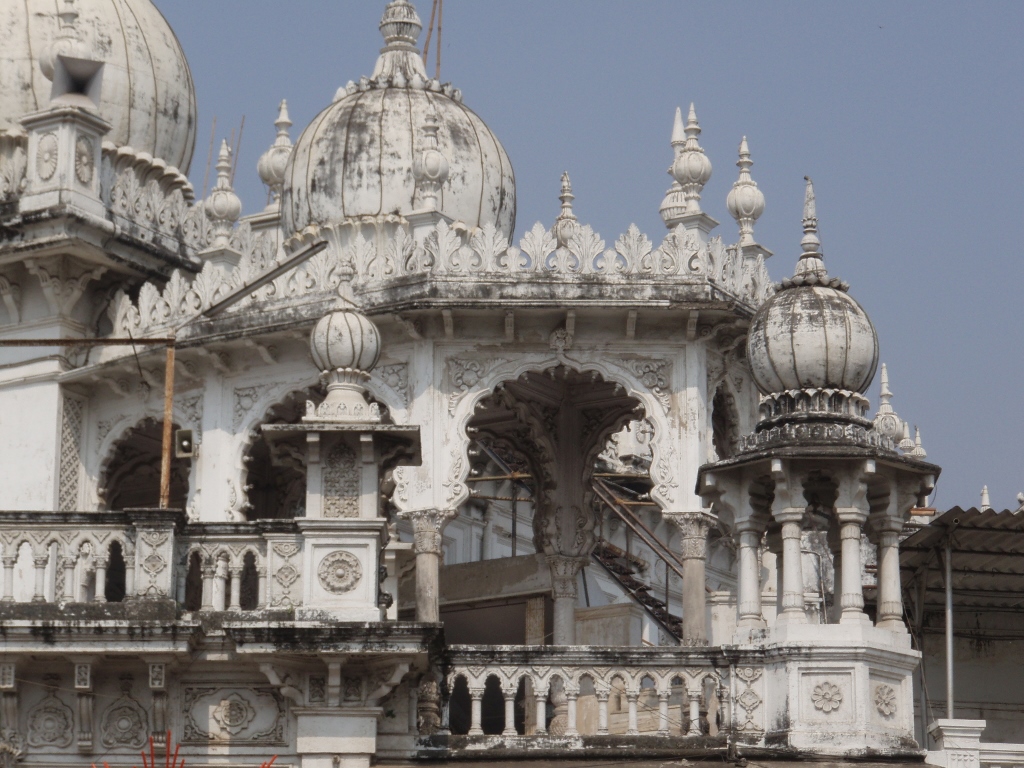 Mosque in the vicinity of the Zaveri Bazaar, a detail
When I say "bazaar" I mean a number of shops on the ground floor of the buildings, as well as a bunch of stands in front of them. And then the same on the other side of the street. My main impression continued to be that it all seemed absolutely neglected, dusty and even dirty here and there, although the question must remain if it is possible for any of that to be clean. On the other hand, it was also clear to me that there I could be very much mistaken on account of some prejudice of mine and not being accustomed to the sights and people, so perhaps everything seemed less attractive than it actually was.
Be as it may, while in the Zaveri Bazaar we spontaneously started to look at rings and jewellery in general, and it was all completely impressive – both the number of shops and the quantity of gold and gems. One should bear in mind that over time Mumbai and India have taken over the lead from Antwerp as far as the processing of diamonds is concerned. Namely, since the 15th century the main world centre for the processing of and trading with diamonds was precisely this city in Belgium. But, in the second half of the 20th century, this specific industry started to develop in India, primarily in Mumbai in which nowadays there is the biggest diamond bourse/exchange, while the diamonds are mostly processed (cut and polished) in the city of Surat some 300 km north of Mumbai.
We made a small circle around the Zaveri Bazaar and then we returned to one of the main streets, for we were still looking for the adapter. By the way, pay attention to the brightly white shirts worn by the men in the photo.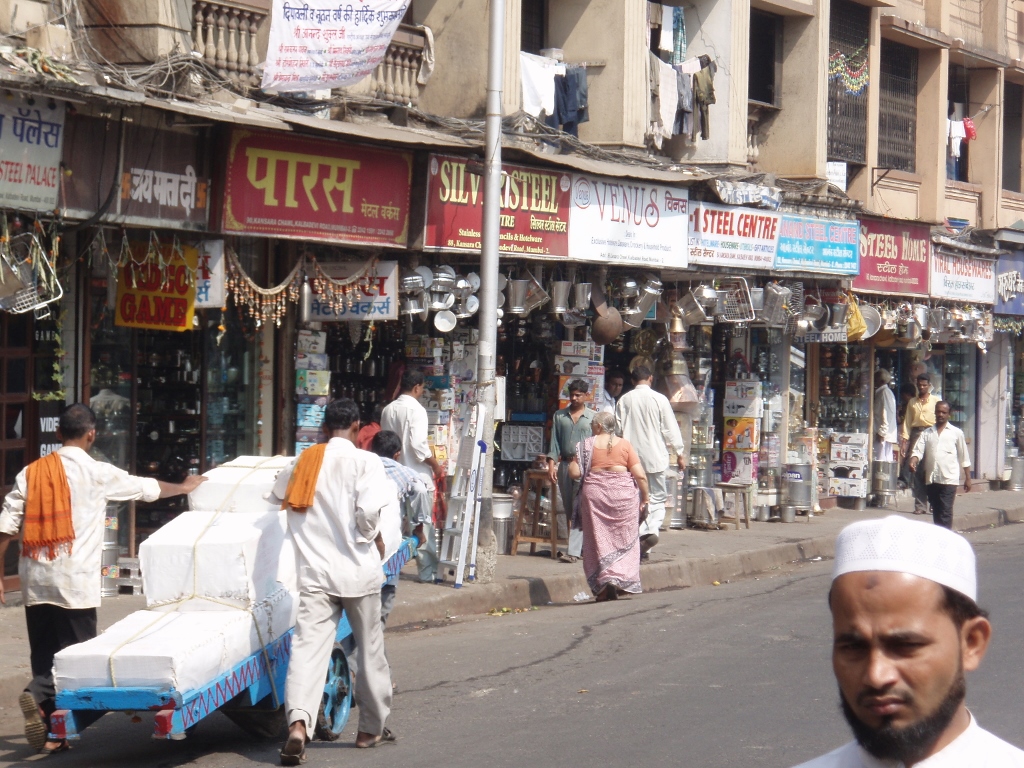 Shops close to the Crawford Market
Needless to say in some other streets it was still crowded. It was important, however, that we eventually managed to find and buy an electricity adapter.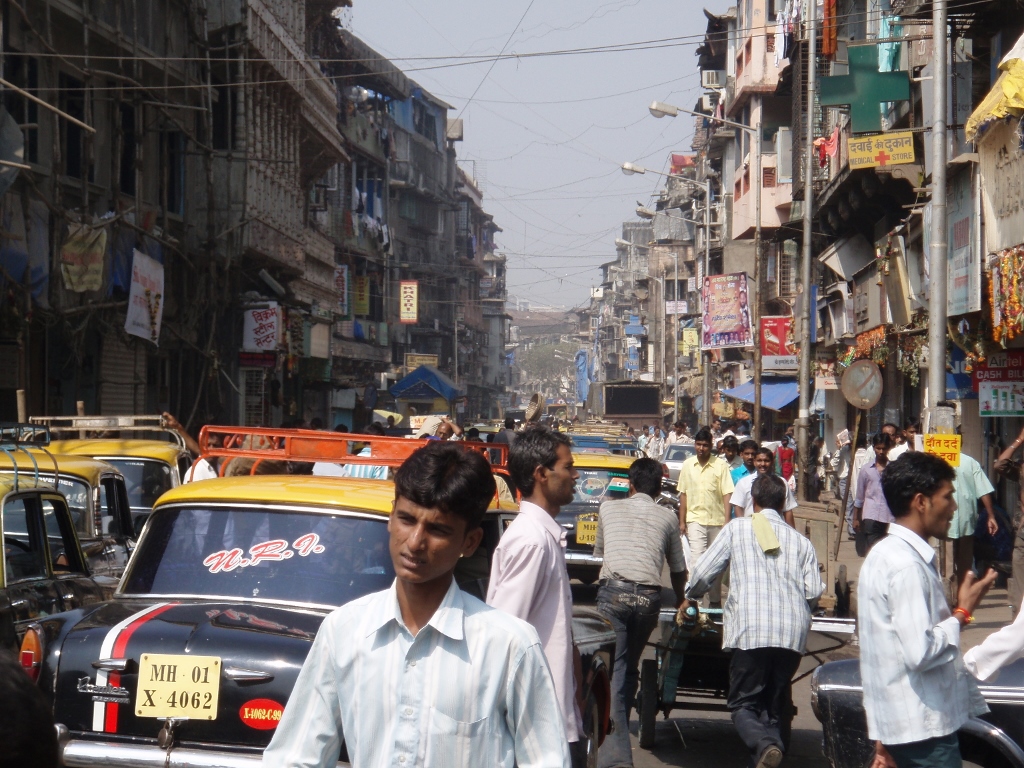 Crowd in a street close to the Crawford Market
Afterwards we made a break by stopping at an internet café in order to get in touch with our dear people and then we also went to the room to leave there whatever we had bought.
Later we went towards the part of the city called Fort. Along the way, we passed by a couple of places where they squeezed juice out of sugarcane, but, the two of us were not in an experimenting mood, so we did not even try it. Sneža had been spooked out by her then boyfriend who had already been in India and he almost provided her with a list of things that she should be careful about and where some hygienic hazard was lurking, so the two of us were very cautious in connection with what we ate and drank, and where.
There were also some very special things taking place in the streets, such as an open-air barber – a shop made of wooden planks, while the shaving of customers was being done on the street pavement.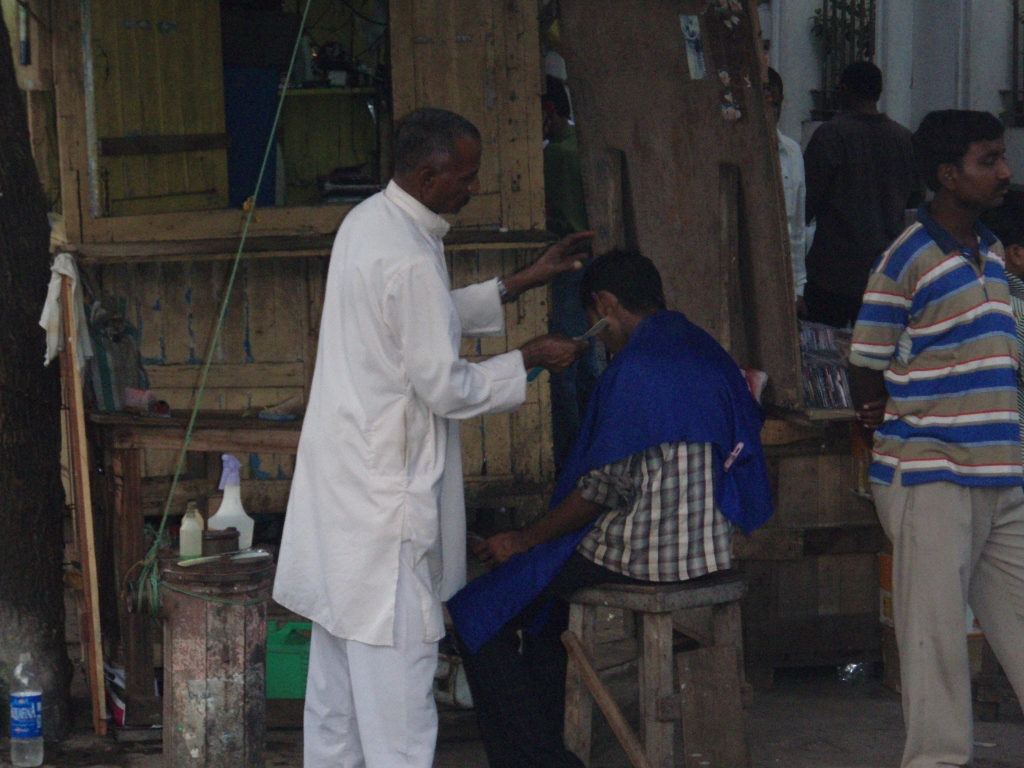 It is important to work (note the barber's white clothes)
Walking in this area, we passed by a house that had an inscription on the fence around it saying that it used to belong to the Tata family who at some point in time sold it to a foreign bank. The Tata family is a famous and very wealthy family of industrials whose seat is precisely here in Mumbai. I have already mentioned one of their members who had the Taj Mahal hotel built, while paintings from their private collection may be found at the Chhatrapati Shivaji Maharaj Vastu Sangrahalaya museum.
Then we entered the afternoon rush-hour and we almost could not walk on the pavement since there were so many people. At the time we were close to the Chhatrapati Shivaji Maharaj Terminus and people were walking towards the train station or from it to the other side, but in any case it was to our mind incredibly crowded. No wonder, in 2007, there were 1.18 billion Indians (only by around 150 million fewer than the Chinese). In 2007, Mumbai itself had over 18 million inhabitants.
When we somehow managed to get out of the crowd, we went again to the Gateway of India and that part of the city and then we went in the completely opposite direction in order to get to the shore on the other side of the peninsula on which Mumbai is located. We also took the opportunity to stop at a very nice restaurant for an early dinner.
Meanwhile, the night had fallen and thus when we got to the Marine Drive street all the lights had already been lit. This was quite appropriate since this arched street that follows the line of the bay shaped up in 1920 has a nickname, Queen's Necklace, on account of the street lights that are arranged in a fine arch. Between the street and the bay there is a wide and very popular walking area, so the two of us strolled there for a while. The edge of the bay which is a part of the Arabian Sea mostly consists of large pieces of stone, but on the north end of the bay there is also a beach. Still, as far as we got it, swimming was prohibited on the beach on account of the pollution.
By the way, since I'm mentioning a bay, let me explain the name of the city. People have lived here since forever, but the Portuguese came up with their formal name for the city when they came here in the 16th century – Bom Bahia, which means "Pretty Bay" (they did not think of the bay by Marine Drive street since it was artificially made in the 20th century). From 1661, the city moved into the hands of the British and then they switched the name into a mixed word Bombay, replacing the Portuguese bahia with its English counterpart – bay. And thus this name remained up until 1996 when the city was officially given back its original name Mumbai. This name comes from the name of goddess Mumba who was worshipped by the people who lived here from the 2nd century BCE.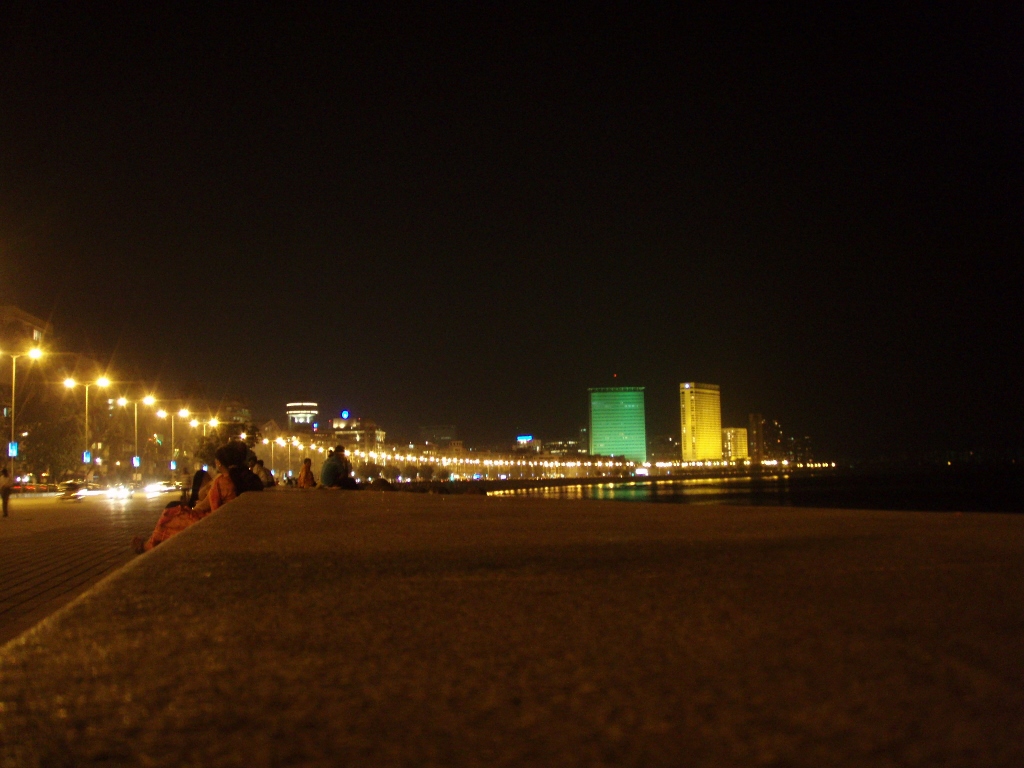 Queen's Necklace
After not too long a walk, we took a taxi and went back to the hotel to pack up and go to bed on time, since we had an early morning train to Goa the following day since our travel around India this time first led as to that side. Here is the map of our journey around India in 2007:
In the morning we got up a little before 6 am, quickly got ready and went to the train station. It was rather early and this was our first train journey in India, so I felt slightly lost and less ready to watch the world and was more concentrated on where we should go in order to find our train. And yet, I did manage to see and notice a huge number of people who were sleeping on the floor of the station, either on newspapers or cardboard – men, women and children. Both young and elderly. I noticed that, but I must say that it did not bother me in any way. I simply noticed it and moved on.
Soon we located our train and seats, so we sat there. More calmly now, since we were where we were supposed to be, I could look through the window at the events and customs at the station, primarily at the people who were waiting in line to get on a train that was parked at the neighbouring track.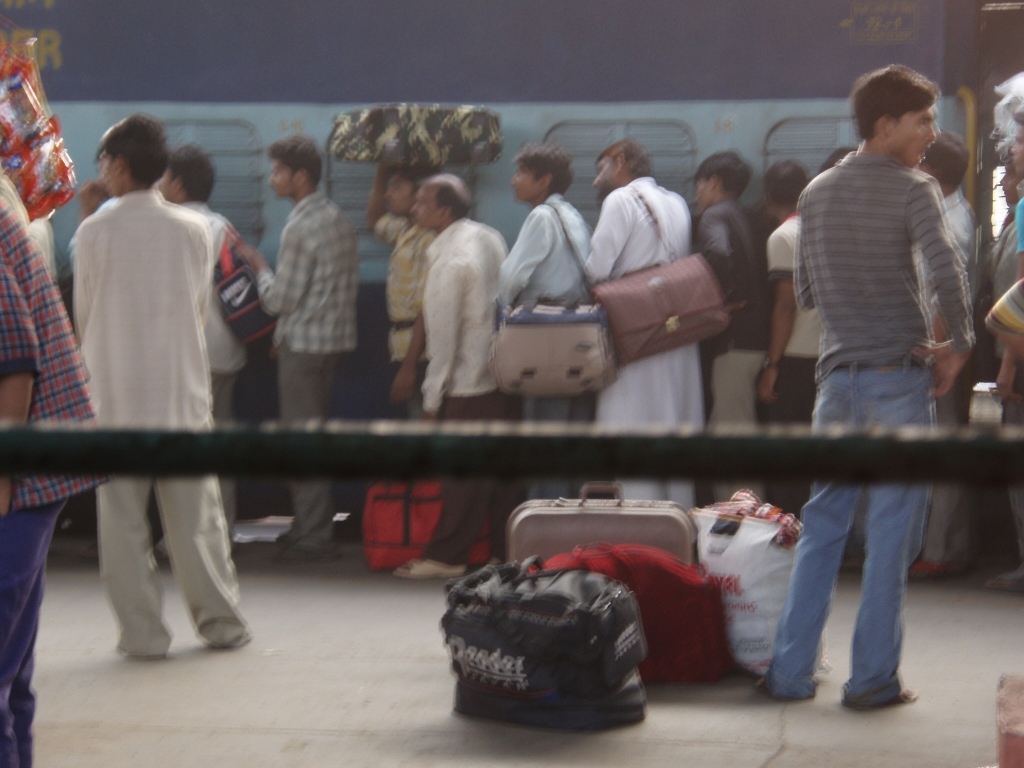 People waiting in order to get on the train
The train was supposed to leave at 06.55, but it was delayed. We had already known that this would be a long day spent in train, since we were supposed to reach Goa, or rather the station where we wanted to get off, around 5 pm, but I comforted myself thinking that it would be interesting to watch India from this perspective as well. To start with, it was nice to see the landscapes through which the train was travelling.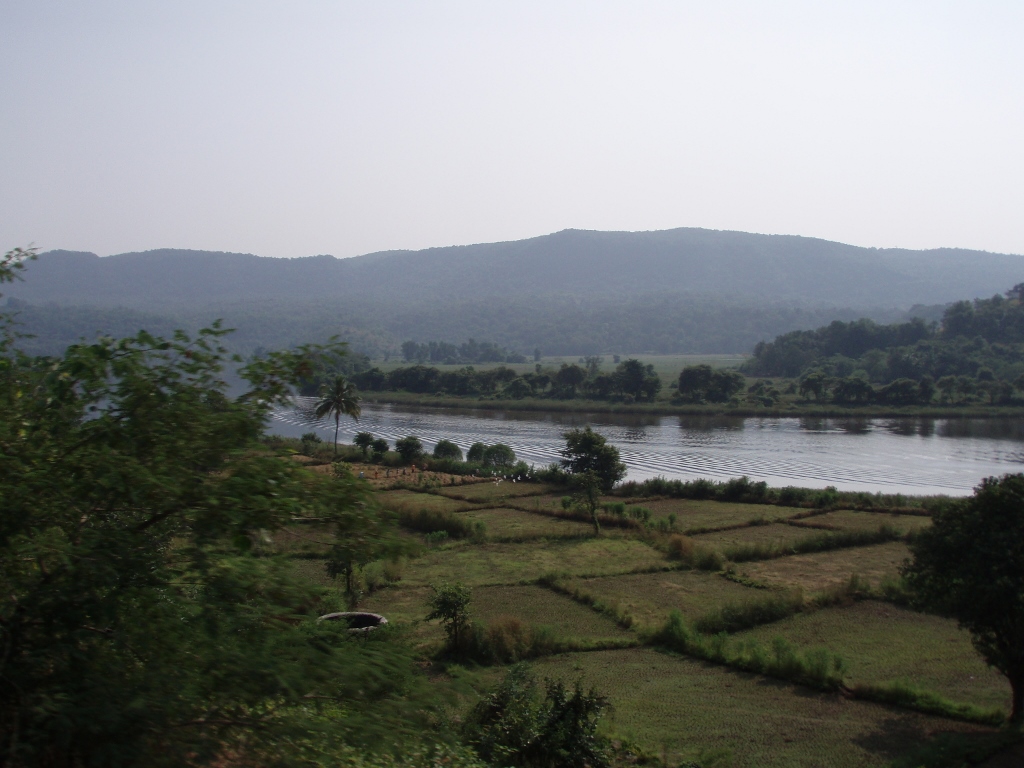 On our way to Goa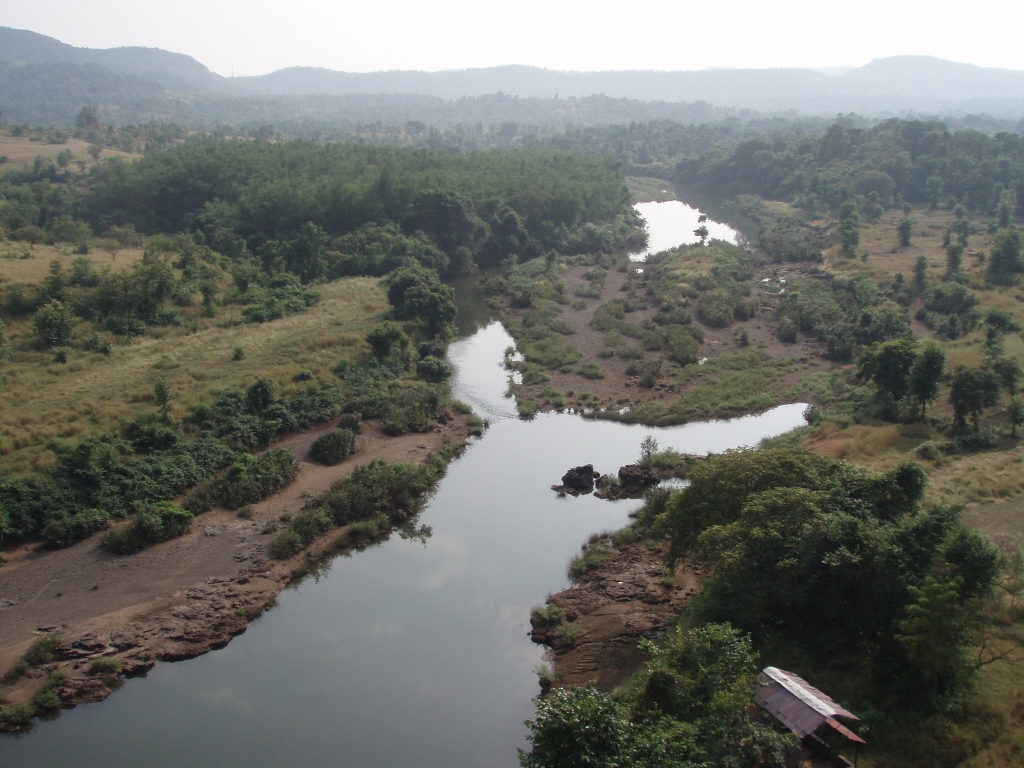 On our way to Goa
Always during our subsequent travels and, of course, every time we mention India, Sneža and I would laughingly make a comment: "Do you remember our first experience with Indian trains?" It was precisely this train that we took to Goa. As we sat on our seats, we practically did not move from them the entire day, as if we had been glued to them. We were sitting on them completely compacted in order to take up as little space as possible and needless to say we did not take any food or drinks regardless of who was offering them. This all started to change over the next few days and with time, especially when we both returned to India five years later, we felt in those trains at home.
We travelled on this day in the so-called "second normal class" – during the day this is the space for sitting, but as the night falls, beds are made as if it were a couchette. Namely, in the space where there would be compartments, and this all practically has an open plan, there are three berths on each side. During the day, the middle berth is turned downwards and then it's used as a backrest of the people sitting on the lower berth. In the evening, the middle berth is positioned in its right place and is fixed with chains so that it gets into a fully horizontal position, which makes it possible to sleep on it. On the other side of the passage, the berths remain in their proper position the whole day. I felt a little more relaxed only later in the evening and this was when I even took photos of the car in which we were sitting.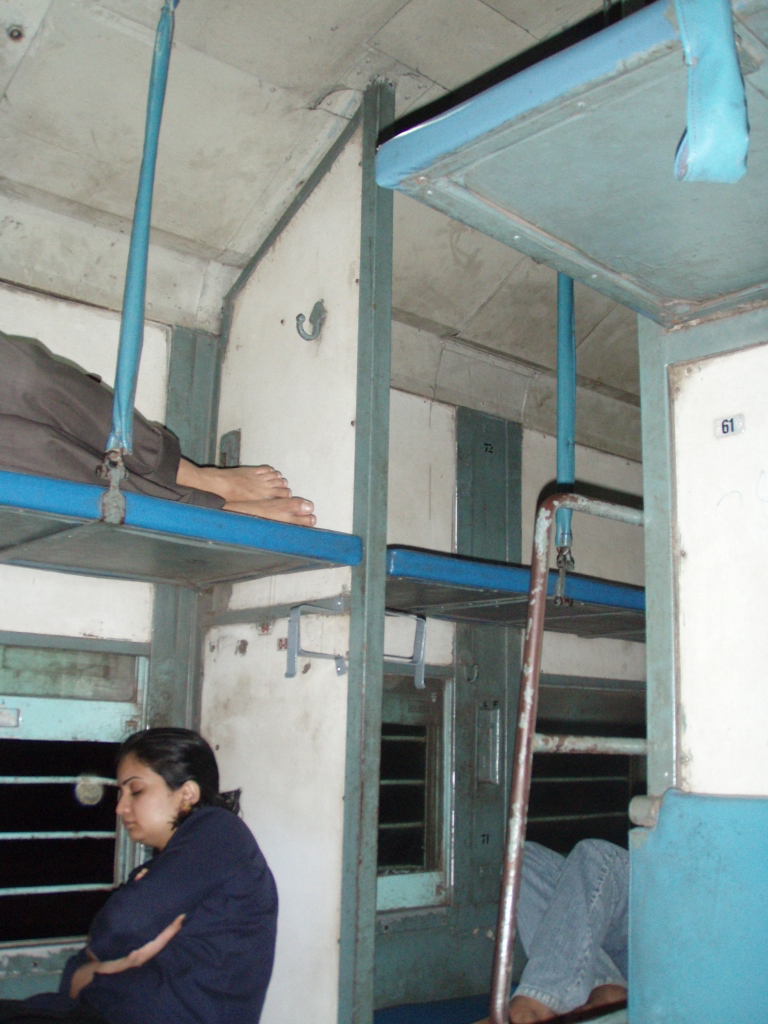 Second normal class on an Indian train when people already start to sleep in the evening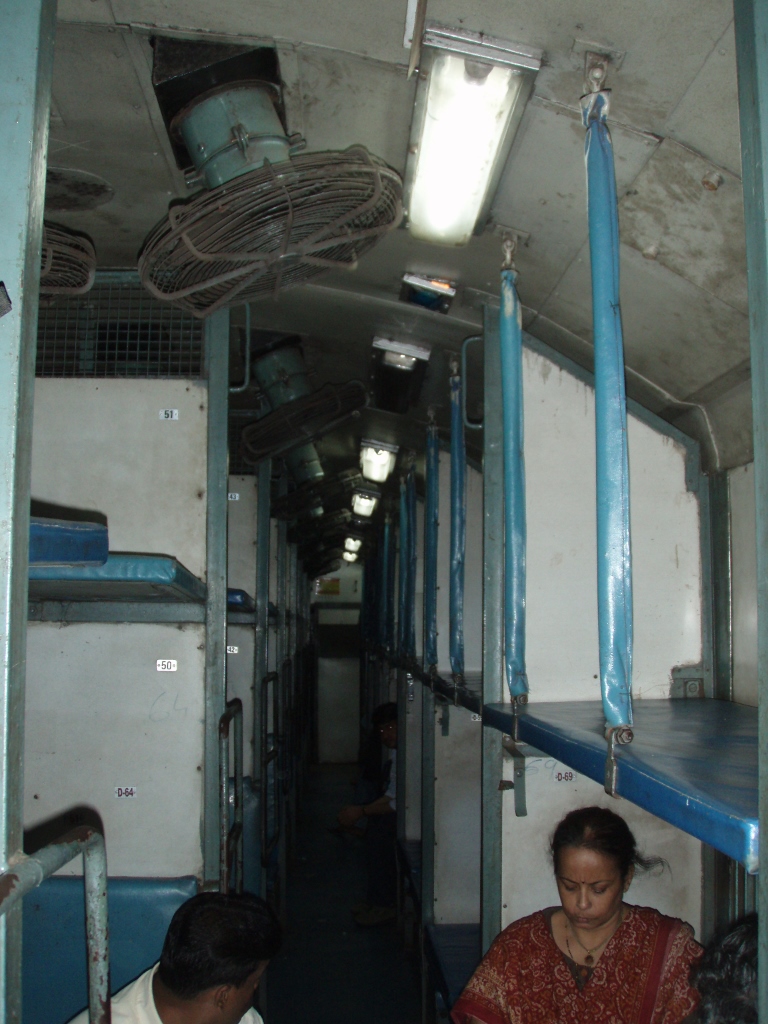 Second normal class; on the left-hand side it is possible to see the middle berth that is still lowered down
Be as it may, our train ride on this day did not take 10, but rather 15 hours. When we got off at Karmali Railway Station, near Velha Goa, it was already 10 at night and it was completely dark. We took a taxi from there to Panaji and there we came practically just like that, with no hotel reservation, so we had to wander a little. In an unknown town, in a realistically speaking unknown country, this was not so simple, especially since they had no vacancy at the bed and breakfast place where we wanted to stay, so we eventually had to stay at a very pretty small hotel. Although it was more expensive that then budget we had foreseen for the accommodation during the journey, we practically had no choice, since it was already very late and the two of us very tired. As soon as we settled, after the minimal preparations for the night, we fell asleep right away.