The next morning I got up very early in order to get ready at leisure before heading for the inter-city coaches' terminal. While I was waiting at a bus stop, I could again watch a large number of Danes whose primary means of transportation was a bicycle.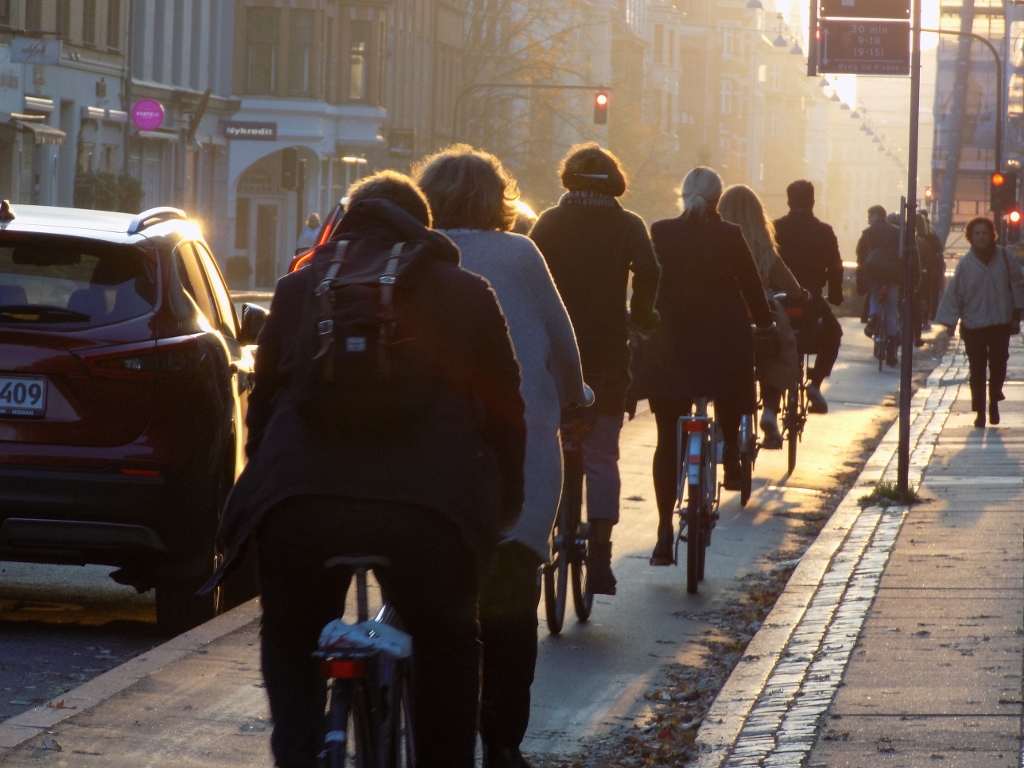 Going to work by bike – it's healthy and does not pollute
My plan for this day meant that I was to go to the town of Vejle on Jutland peninsula. This is the west part of Denmark. There are a lot of interesting things to see on this peninsula and it would certainly be better for one to come here, settle in some place and then go around. I did not do it like this because it was also clear to me that I would not have the time to visit all the interesting sites, so I planned to go twice to some part of Jutland by coach, then visit what I was concretely interested in and then return to Copenhagen in the evening.
So, on this day I went to Vejle from where I transferred by a local bus to the town of Billund.
Billund is a small and seemingly unknown place. And then you say "Lego" and right away everybody knows what this is about. These famous toys were first created precisely in this place. During the 1930's economic crisis, an unemployed joiner from Billund started to produce wooden toys. Since he obviously made them well, he managed to found his own company which he named Lego that comes from Leg godt which in Danish means "play well." In 1947, the factory started to use plastics in its production and soon the first plastic brick by which Lego is so famous appeared on the market.
Of course, I did not come to Billund to go to a shop and buy Lego bricks, this may be done in so many other places around the world, but I came in order to visit the Legoland theme park. It was already after I had arrived in Denmark that I remembered that many years ago, in one of the books with photos which I flipped through as a child daydreaming of some future travels, I saw a photo of this place and then I decided to come here and visit it, as a certain homage to my childhood daydreaming.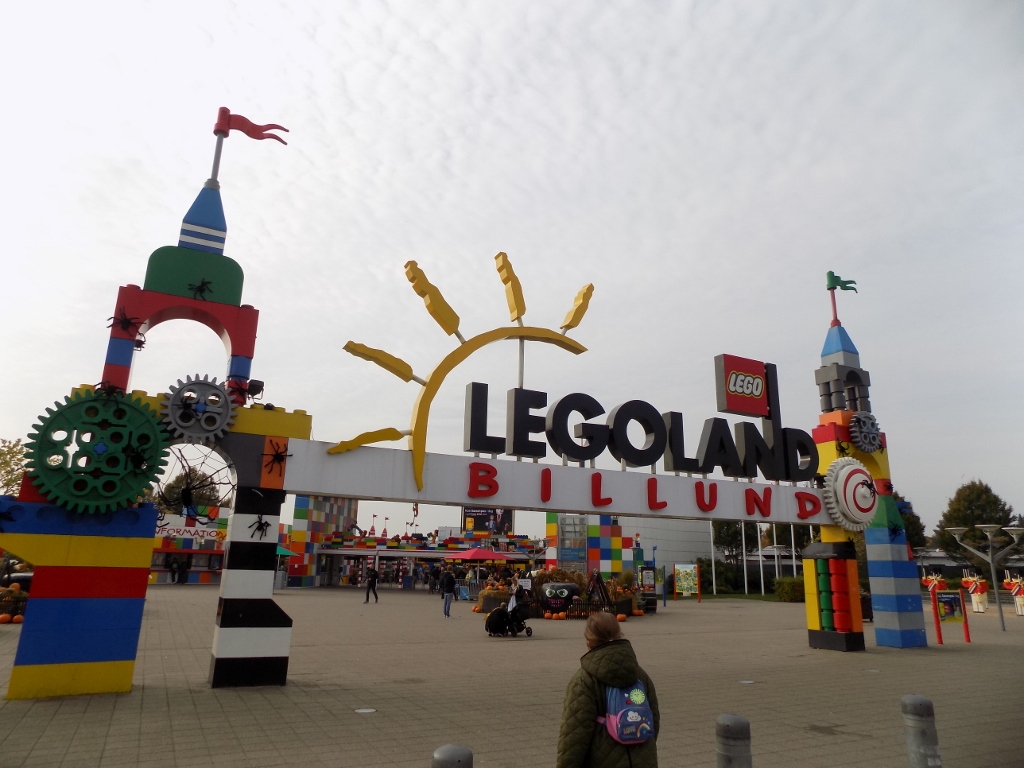 Entrance into the theme park
Namely, at some point the son of the owner came to the idea to found a theme park called the Legoland and even today the first part of the complex that one comes across is Miniland in which the entire quarters of some cities are made of Lego bricks, of course at a smaller scale than the original. There are also an airport with moving airplanes and industrial plants of importance for Denmark, as well as ships that sail along the canals that spread in-between these sets.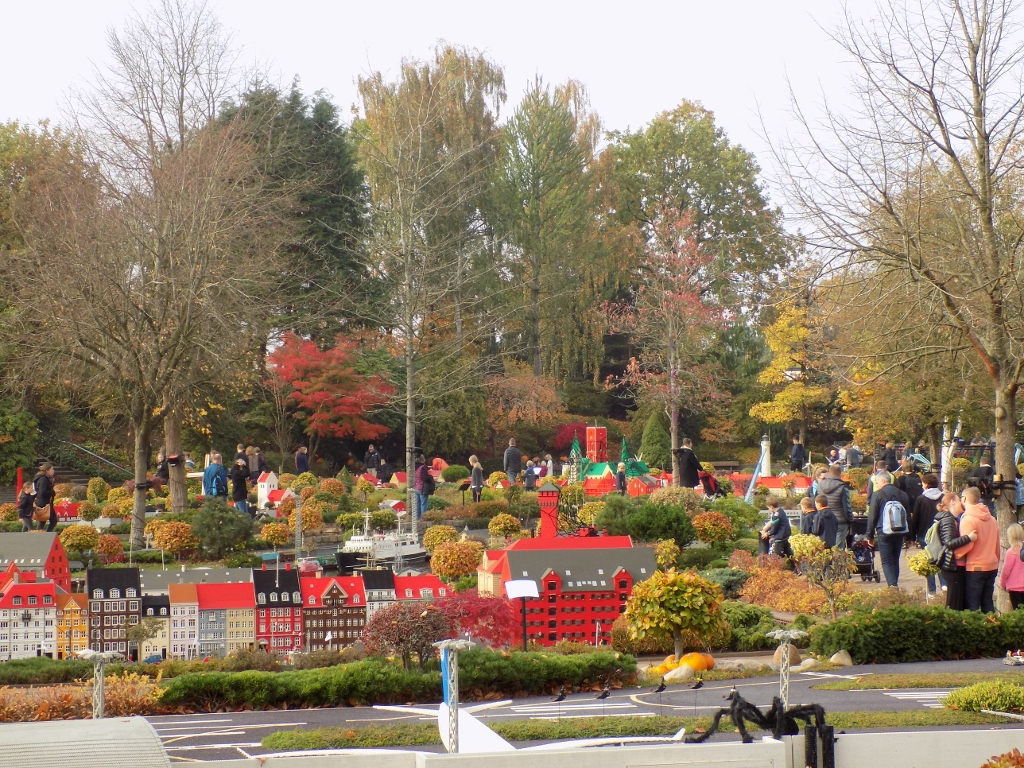 Miniland (in the front, there is a runway along which airplanes made of Lego bricks move)
Still, I must admit I was not at all ready for the whole experience in this theme park. When I bought the entrance ticket, which is quite expensive, I got some brochure in Danish and I just entered the park without any real idea as to what I was doing there in the first place. Admittedly, I knew I wanted to see the models of cities and buildings made of Lego bricks that you can walk around, but there is much more that is offered here. I think the main problem was that I was not ready at all for the huge crowd I entered. And not only the crowd, but also a surplus of impressions – too many details, colours, shops, restaurants,... and I have not even reached any of the thematic parts.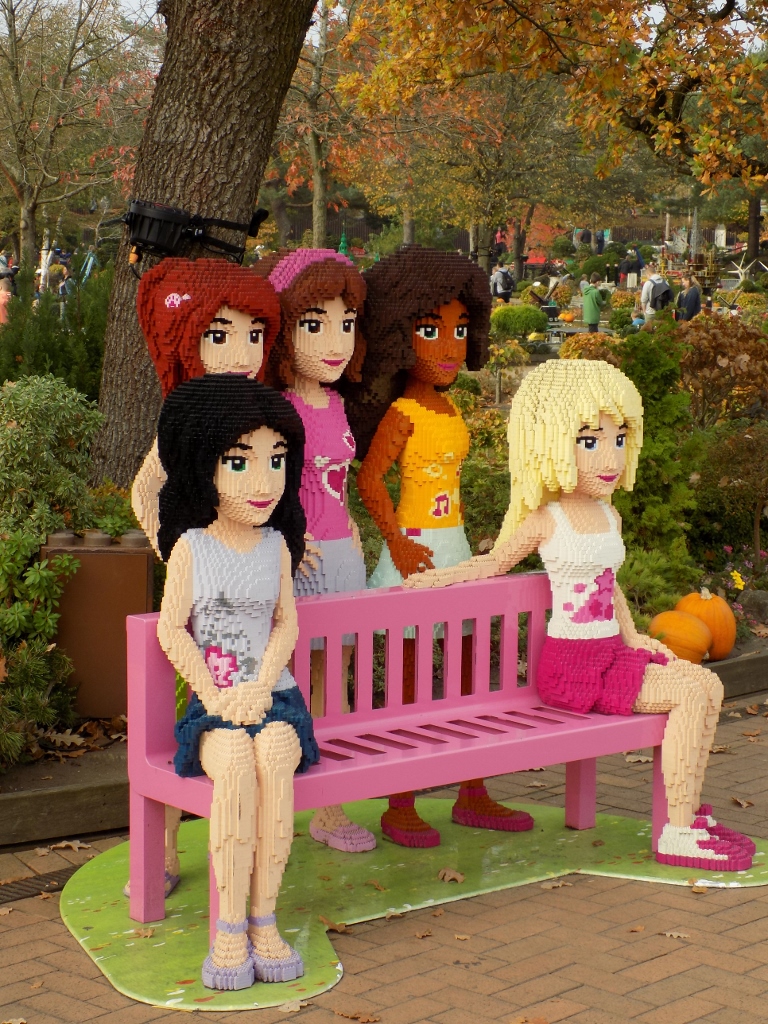 They are made of Lego bricks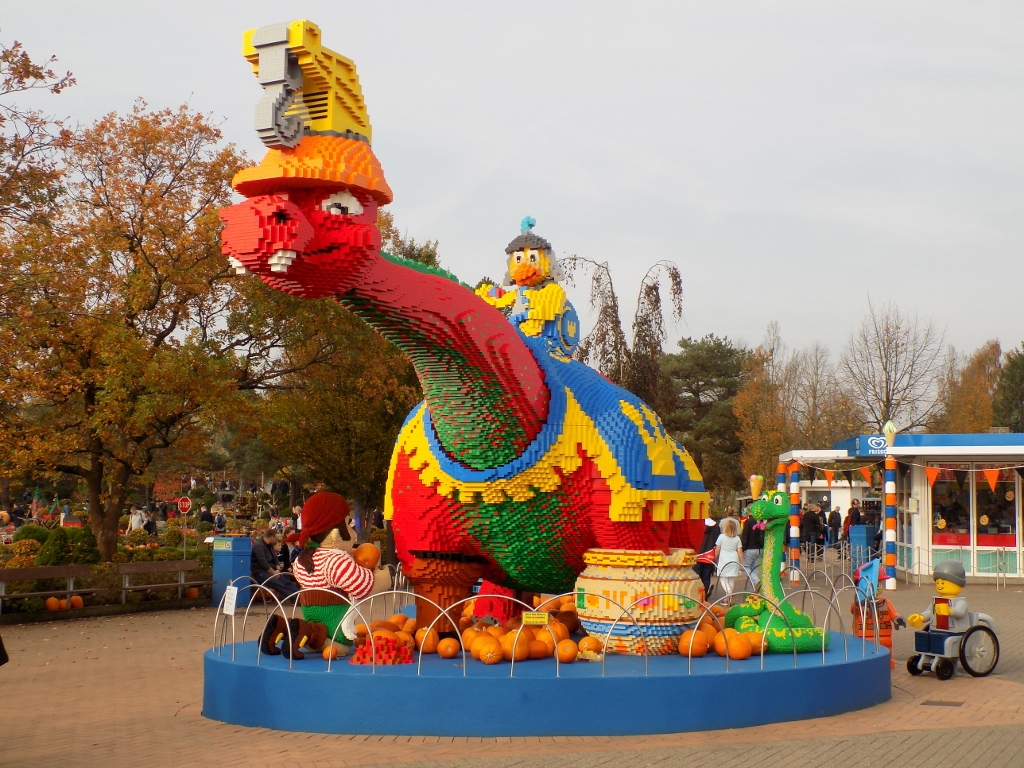 The dinosaur is also made of Lego bricks
That's why I went to the information office and I almost asked them why I was there and what I was doing there in the first place. However, it did help that I got a leaflet in English. There was not much to read there, it was basically a map of the site, but it still helped by not puzzling me.
So, first I went to Miniland. As I've said, within the scope of several ensembles, there are different objects made of Lego bricks – houses, palaces, bridges, airplanes, ships, ... but also cows and pumpkins. Namely, since it was October, everybody was going crazy on account of the Halloween, symbolised through spiders, monsters, skulls, zombies and certainly witches, as well as pumpkins. Especially those orange ones that are so pronounced against the grey and black symbols of the Halloween.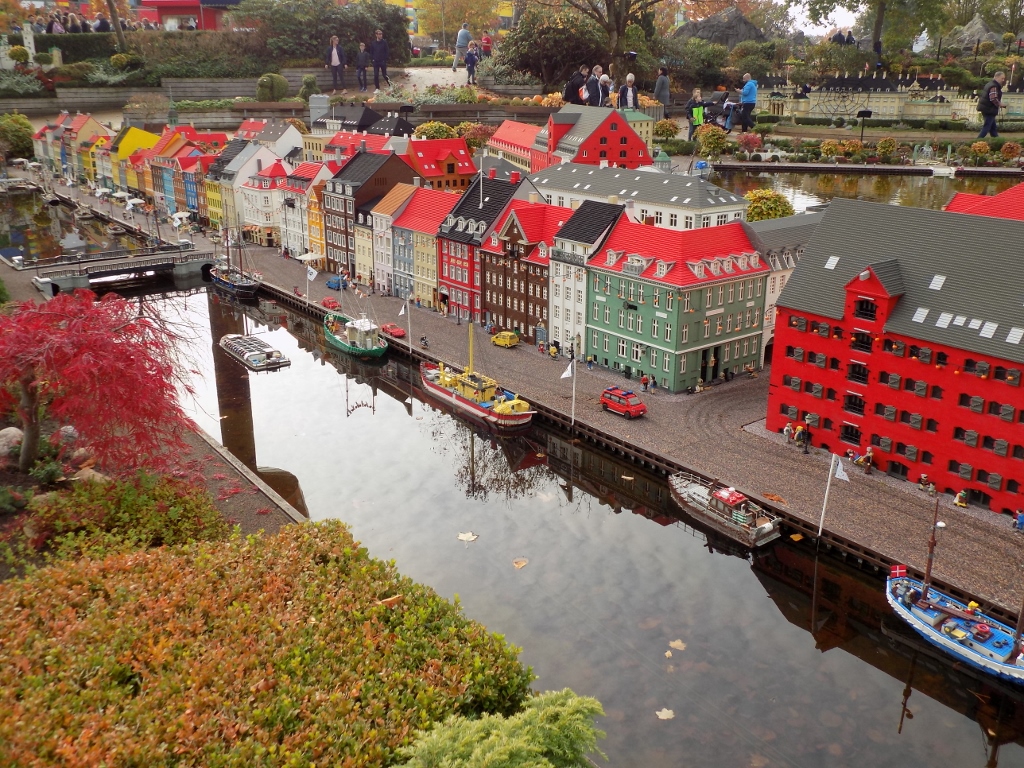 Nyhavn, the new harbour in Copenhagen made of Lego bricks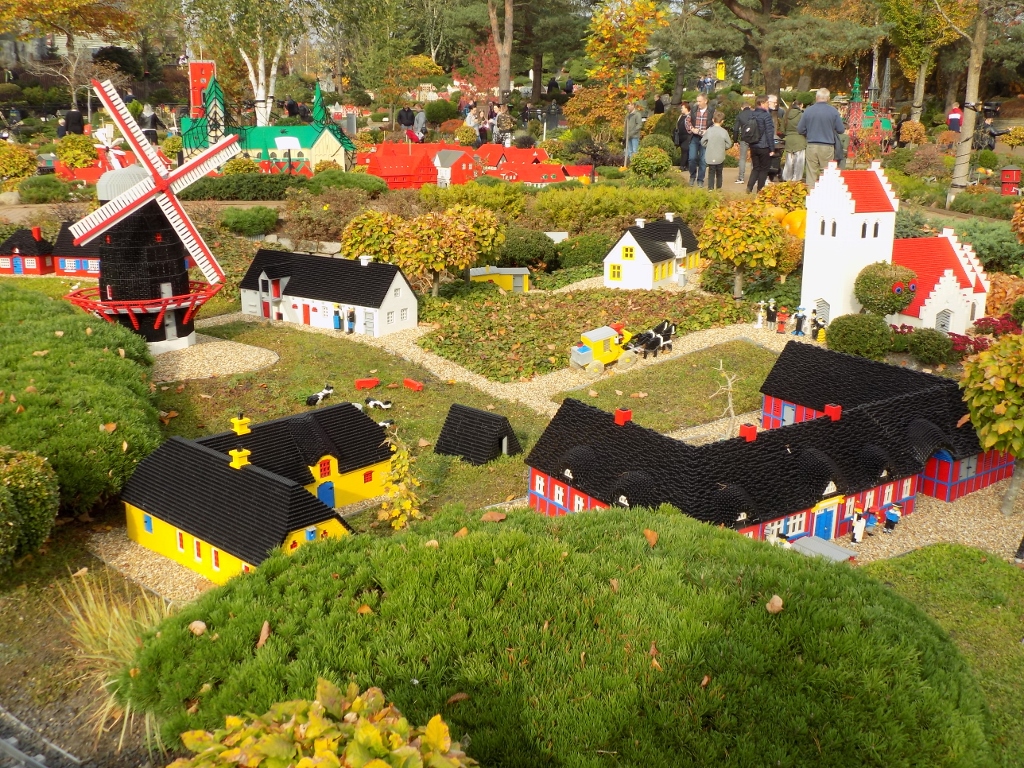 There are even different "bricks" for making an ordinary roof and a thatched roof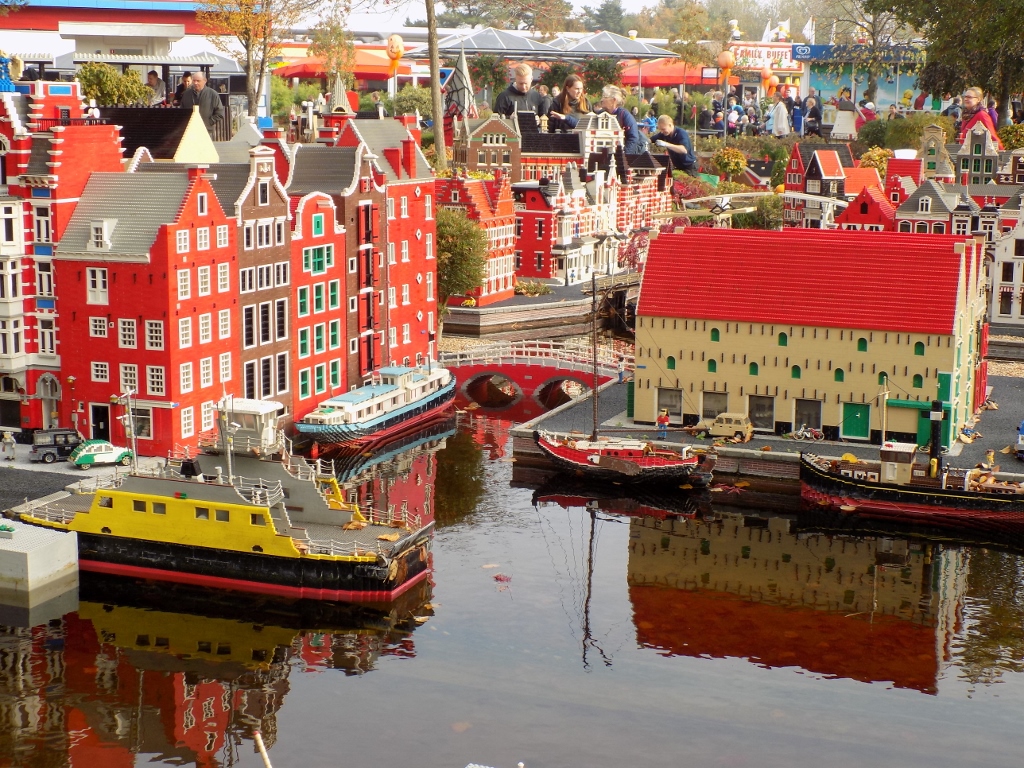 Amsterdam in Miniland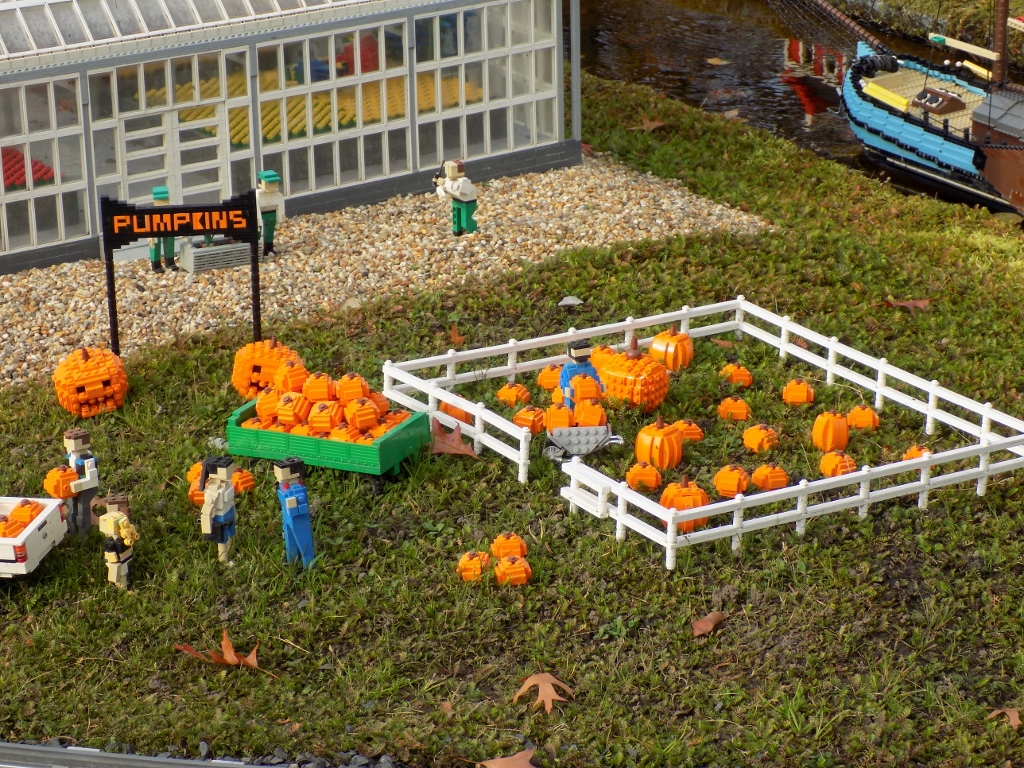 Here are the pumpkins...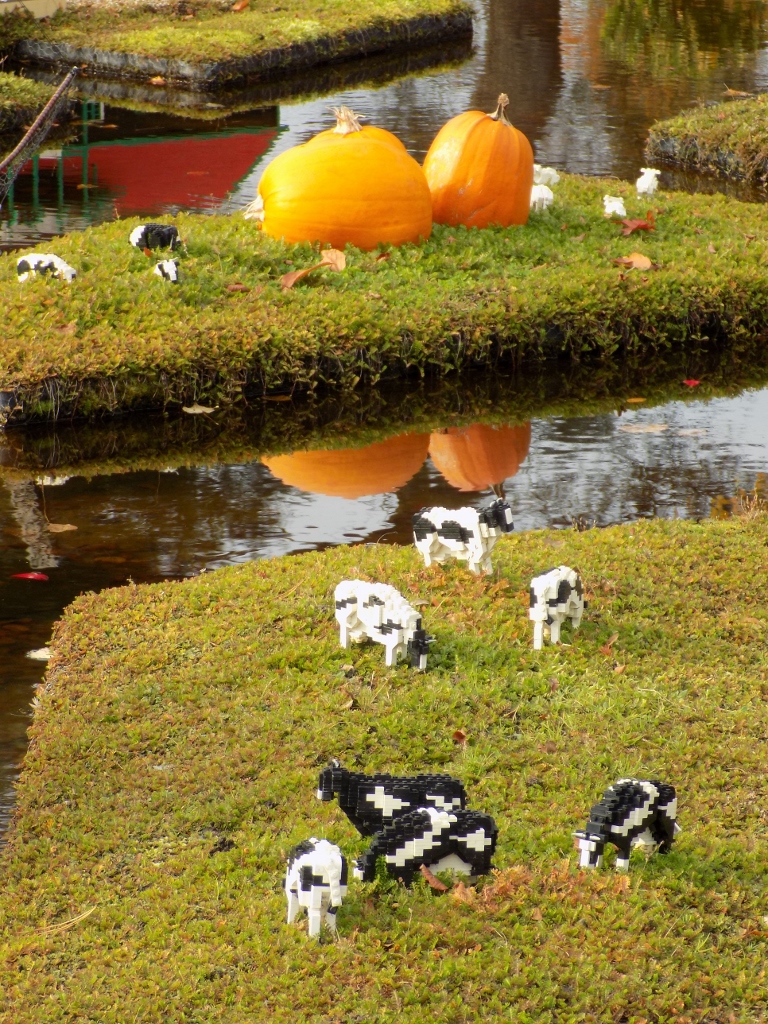 ... and here are the cows
There I visited at ease the entire Miniland and it was really interesting, but even more impressive. Still, when I finished with this I asked myself again what I was to do then. I was not really interested in anything else, but I thought since I was already there and had paid for the entrance ticket so dearly, I could just as well look around.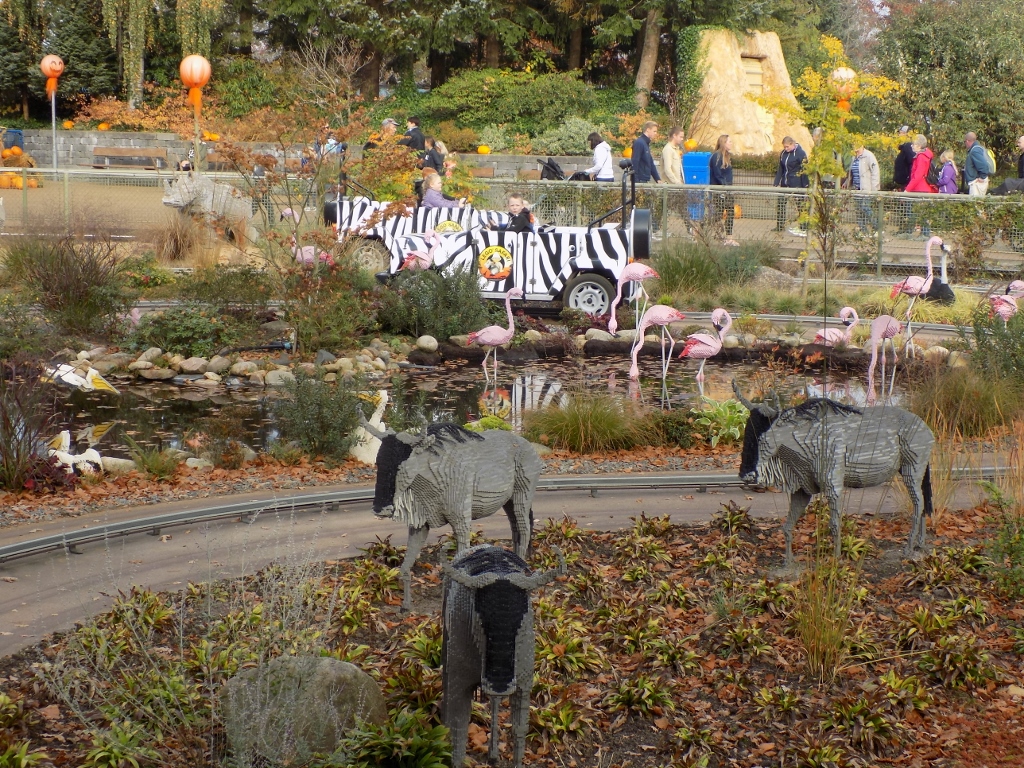 Drive around the "safari park" where the animals are made of Lego bricks
This is basically a large and extremely commercialised fair. After all, like all the theme parks around the world. There are different attractions, i.e., rides that one may go to, but there are also places where one needs to topple something or throw something into a basket or whatever in exchange for a stuffed toy, usually an enormous one. Needless to say, there is also a myriad of restaurants, places that sell ice-cream, souvenirs, etc. And in between all of this, despite the fact that it was not a high season and that this was a working day, a huge quantity of people. In other words – an enormous razzmatazz.
So, I went to the farthest attraction, waited there for a dozen minutes and then took a ride on a not so long rollercoaster. I must admit that I don't remember ever screaming in places like this. I always laugh. I guess my infamous "inner child" enjoys it with all of its might. For a split second, it did occur to me that perhaps this was not good for me, taking into account the dizziness spells of the previous summer, but everything went perfectly well in the end.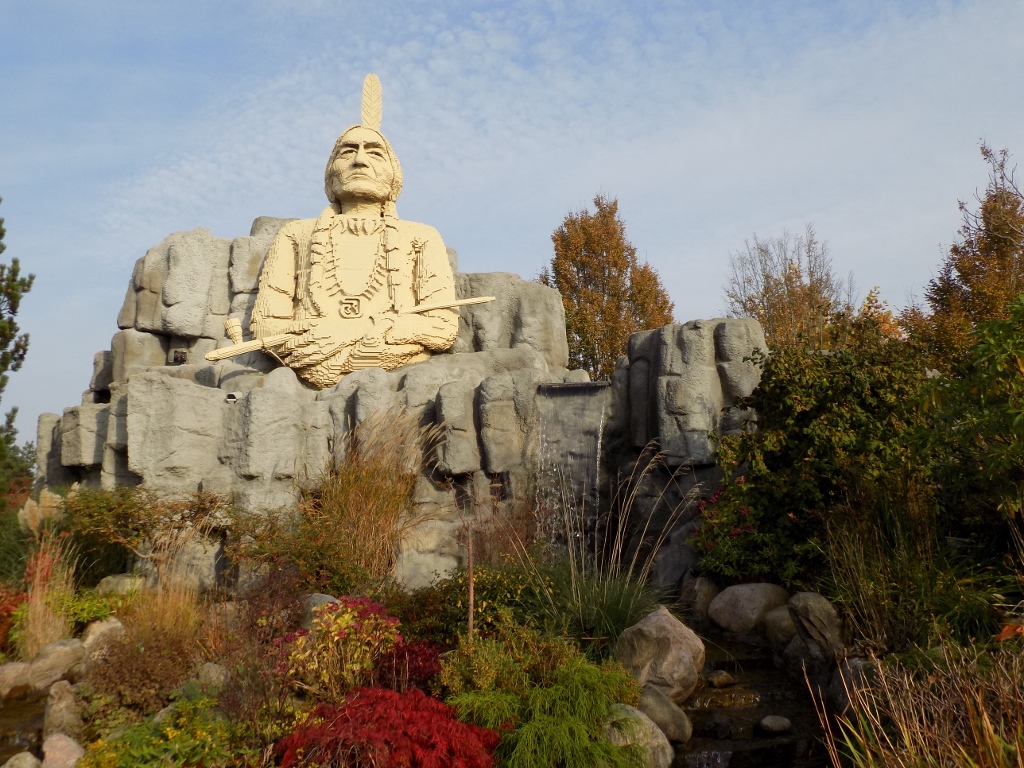 All sorts of things are made of Lego bricks here, including this huge Indian chief
Then I went to one more "attraction," but I did not find it interesting at all. For a moment I wondered why they made such things in the first place, but then I remembered I was not the target group at all. Generally speaking, the absolutely main target group here are children and the wandering adults may only walk around and wonder.
Admittedly, I decided to go to one more attraction and that was a ride in some "floating vessel" of a round base, like a giant swim ring that holds a platform on which 9 individuals may sit. These vessels are guided by a water current, in addition to which they swirled along some canals and also went down with a splash along a large slide. That was indeed more interesting and took a little longer than the previous ones.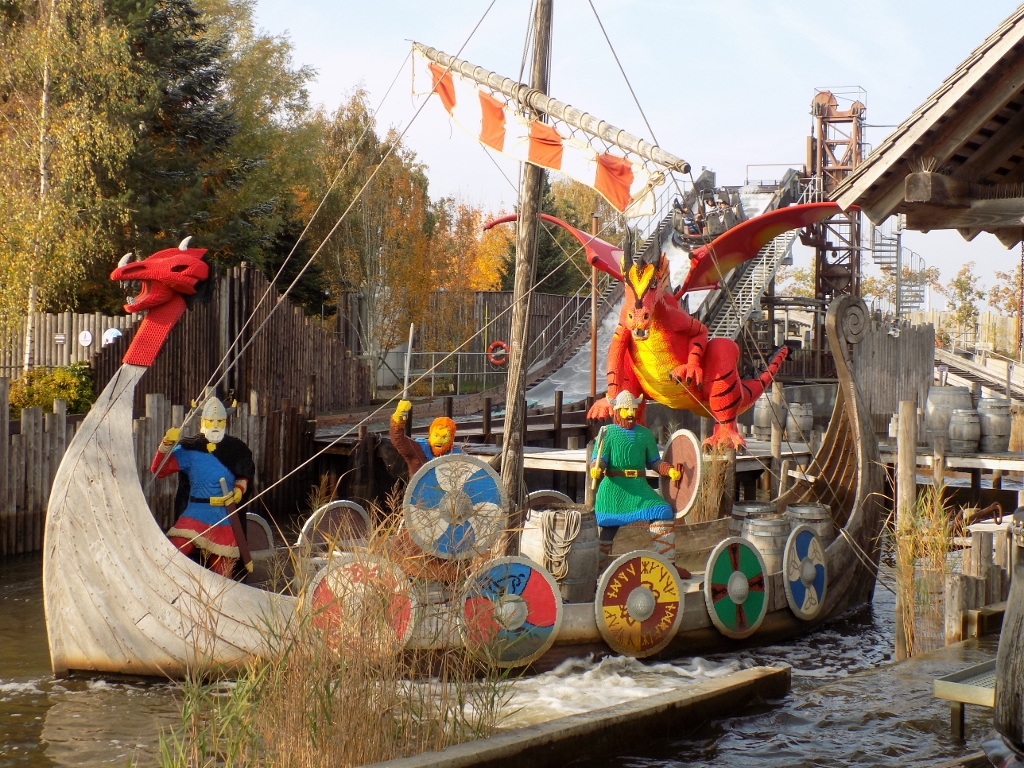 The ship is made of wood, but the Vikings and the dragon are made of Lego bricks (in the background, there is a "floating vessel" coming down a slide)
Still, when I finished with this I realised there was no need for me to hang around any longer, so I headed towards the exit and the bus stop. I was to go back to Vejle and then to go to another place that was completely intended for the adults, since as a complete opposite to the Legoland it would be quite boring for children. Ha! Finally something for us adults.
This concerns a small place called Jelling. By the time I caught local buses from Billund to Vejle and then to Jelling, it was already 5 pm and the Visitor Centre was closed. Still, although the day was getting close to its end, there was still daylight and I could visit it all quite nicely.
What I actually visited are the Jelling Mounds, the Jelling stones with runes and a local church that is located between the mounds.
Jelling is a very important place for the history of Denmark. Namely, during the 10th century, when the Viking period reached its peak, Jelling was the seat of two Viking kings – Gorm the Old and his son, Harald Bluetooth. The latter one is significant, since the Danish royal line started with him.
The central part of the site consists of two large burial mounds between which there is a church and beside it there are two large rocks on which there are carved different depictions, as well as texts written in the runic alphabet.

The north mound, the church and the south mound in Jelling
The runes are an old Germanic alphabet that was used in Scandinavia as well. It consisted of a different number of signs/letters in different places and at different times, but what they all have in common is that they are angular which significantly facilitated their carving into wood or chiselling into stones. Thus, some texts have been chiselled into these two big rocks.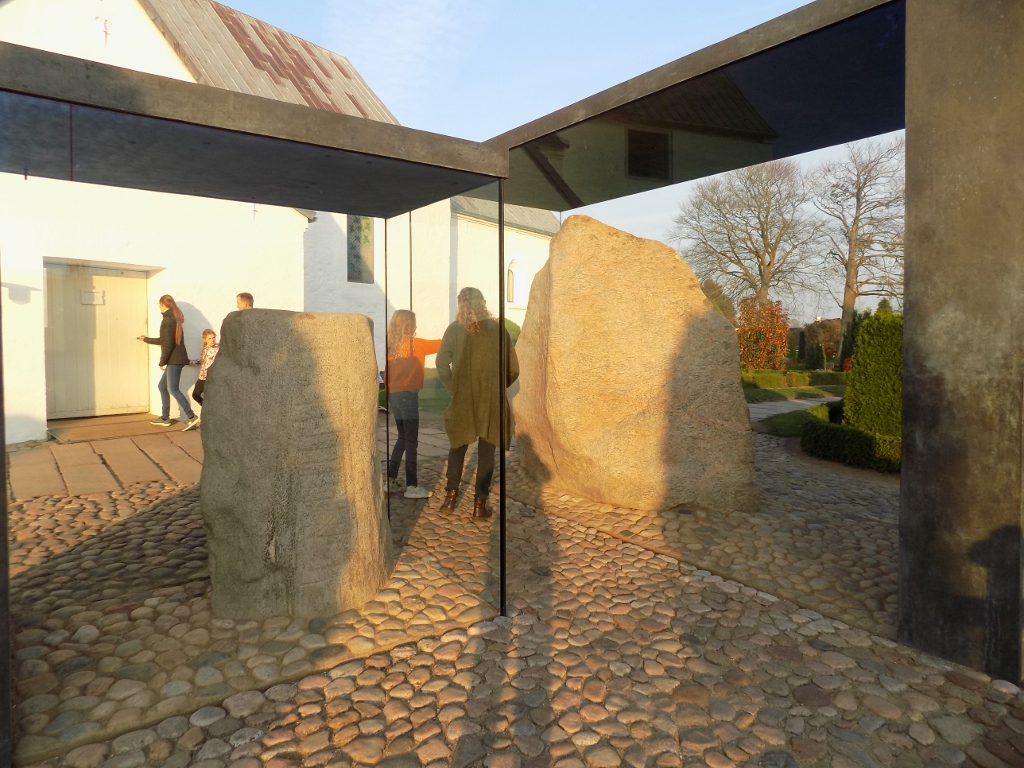 Jelling stones nowadays protected from humans and weather conditions
On the smaller stone (Gorm's runestone), placed around 950, it is written: "King Gorm made this monument in memory of Thyra his wife, the pride of Denmark." This was the first time that the name Denmark was mentioned in the country.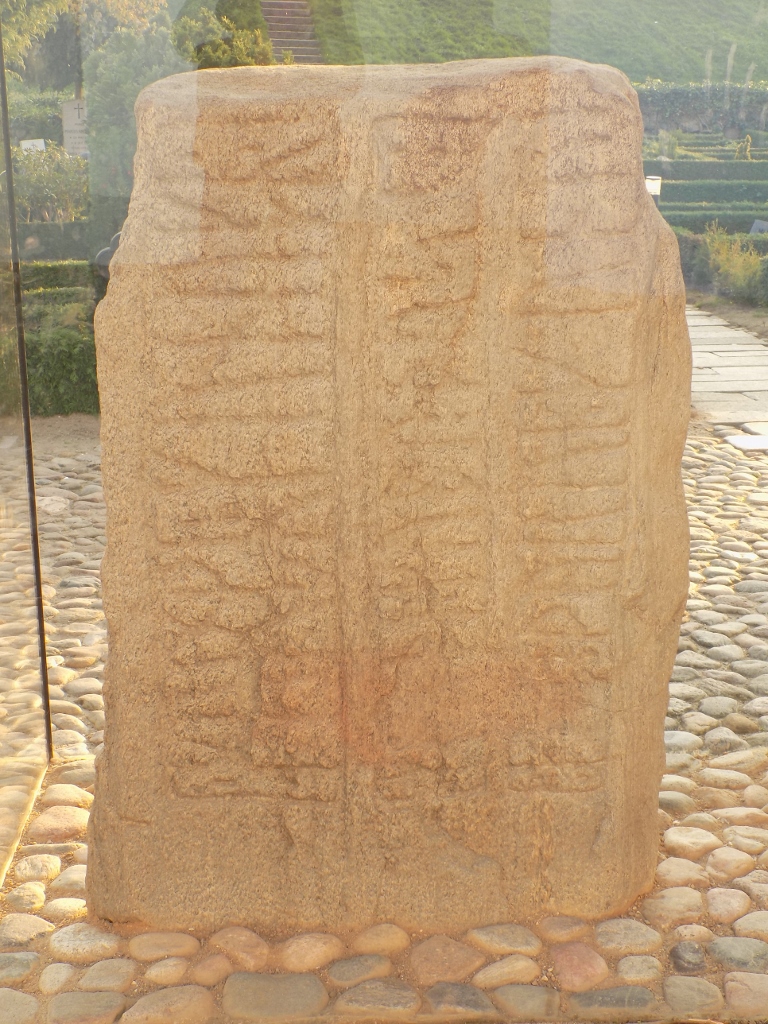 Gorm's runestone
On the bigger stone (Harald's runestone), placed here around 965, it is written: "King Harald had this monument made for Gorm his father and Thyra his mother, this Harald who conquered all Denmark and Norway and made the Danes Christians" and therefore this stone is often called "Denmark's baptismal certificate."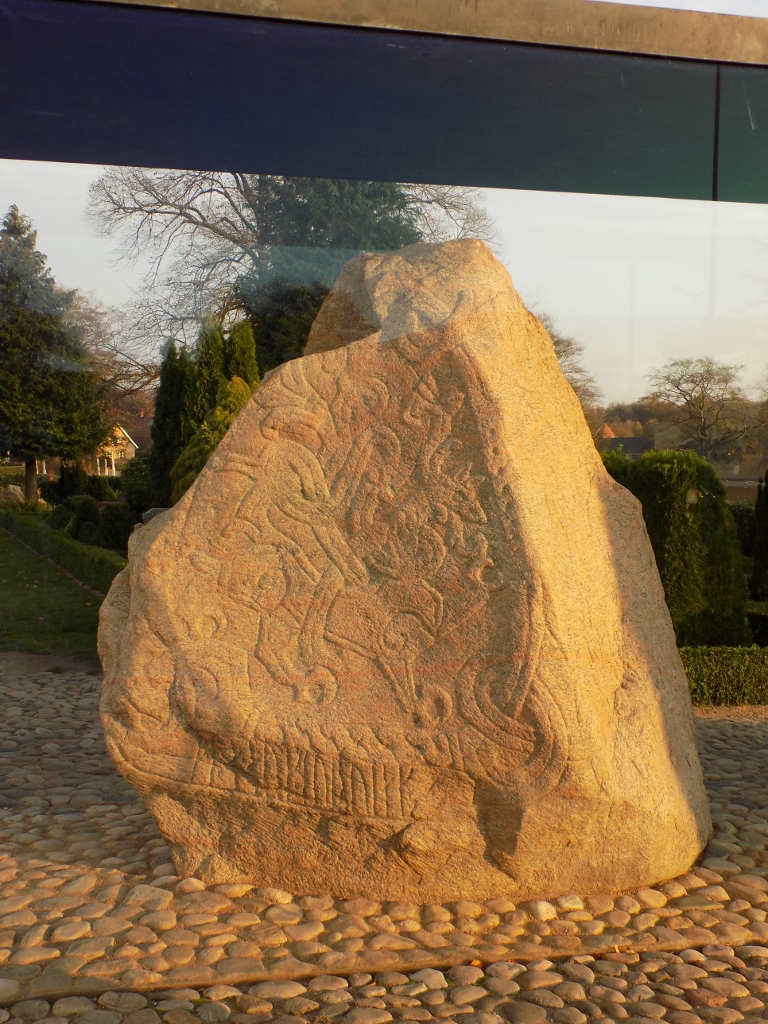 Harald's runestone
This stone is particularly important for the history of Denmark, since Denmark is mentioned for the first time as a united kingdom, while this also establishes the time when the Danes converted to Christianity.
As for the church, it dates back to the 12th century. It is believed that it was built on the spot where Harald Bluetooth may have had his King's Hall.
It used to contain some of the oldest wall paintings in Denmark, but on one occasion they were rather poorly restored. Also, excavations were done in the church in 1978 and some bones were found which are presumed to belong to King Gorm the Old, since it is believed that his mortal remains were moved here from the north mound. After their analysis, the bones were returned and buried under the floor of the church, and that spot is marked by a short silvery line, as a part of the black zigzag lines placed on the church's floor.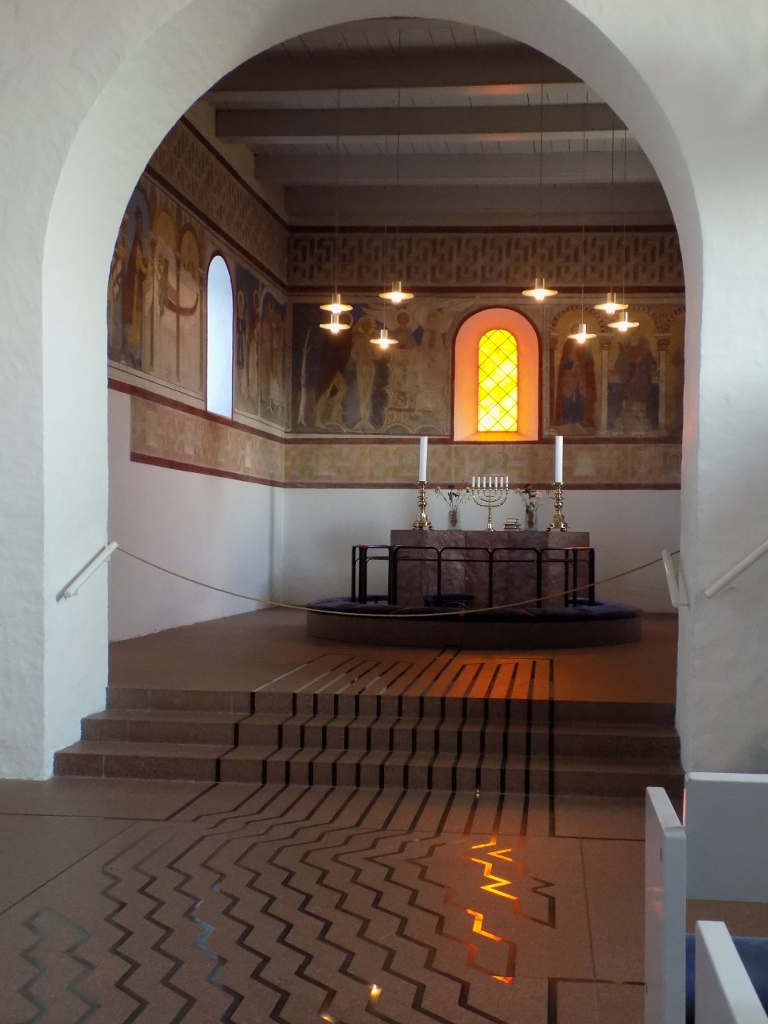 The altar and the zigzag lines on the floor (because of the reflection, it is impossible to discern the place where the human mortal remains have been buried)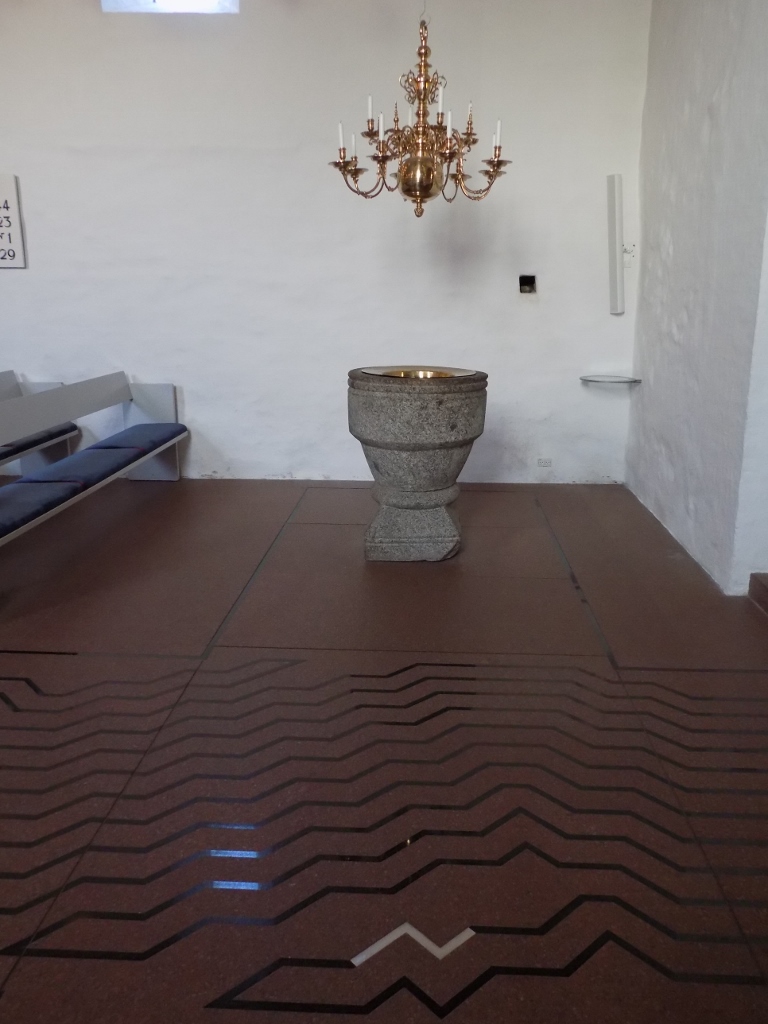 The floor of the church – it is clearly visible now where the human remains have been laid to rest
After I had visited the church, I went to the top of the south mound. It is 10 metres high and has a diameter of 70 m which makes it the largest mound from the Danish Viking era. Regardless of the thorough surveys and excavations, no burial chamber has been found under the south mound and it is believed that the mound itself was made there as a monument.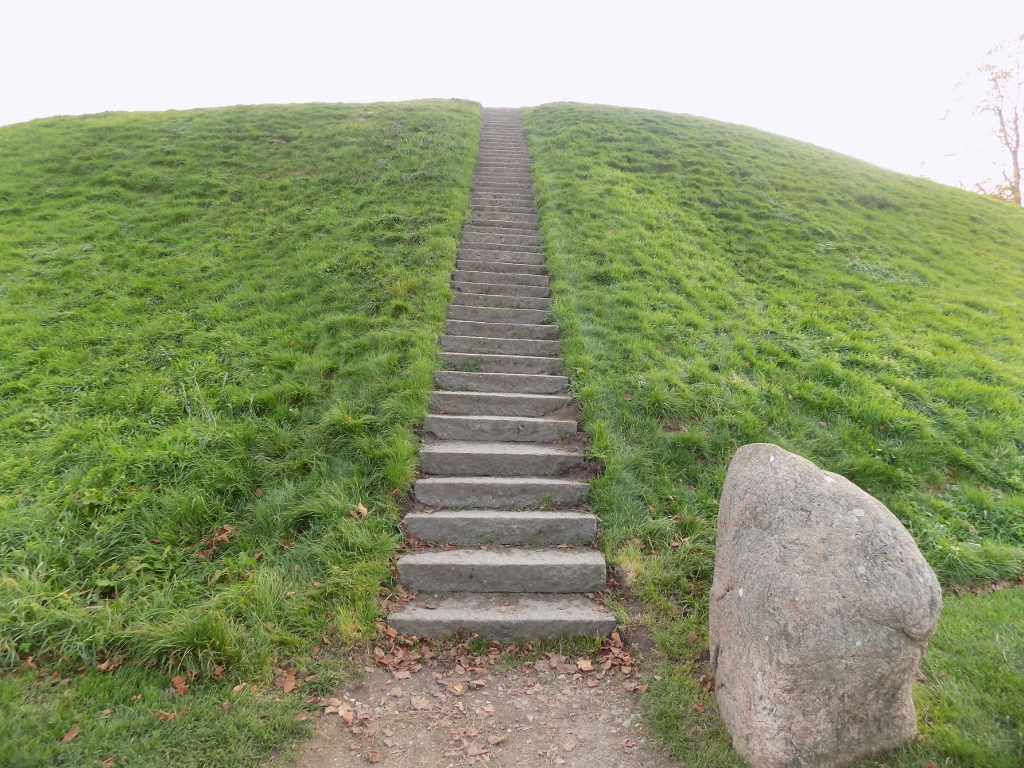 Stairway to the top of the south mound
From the top of the south mound there is a fine view at the church and the stones, as well as the local graveyard that is located there.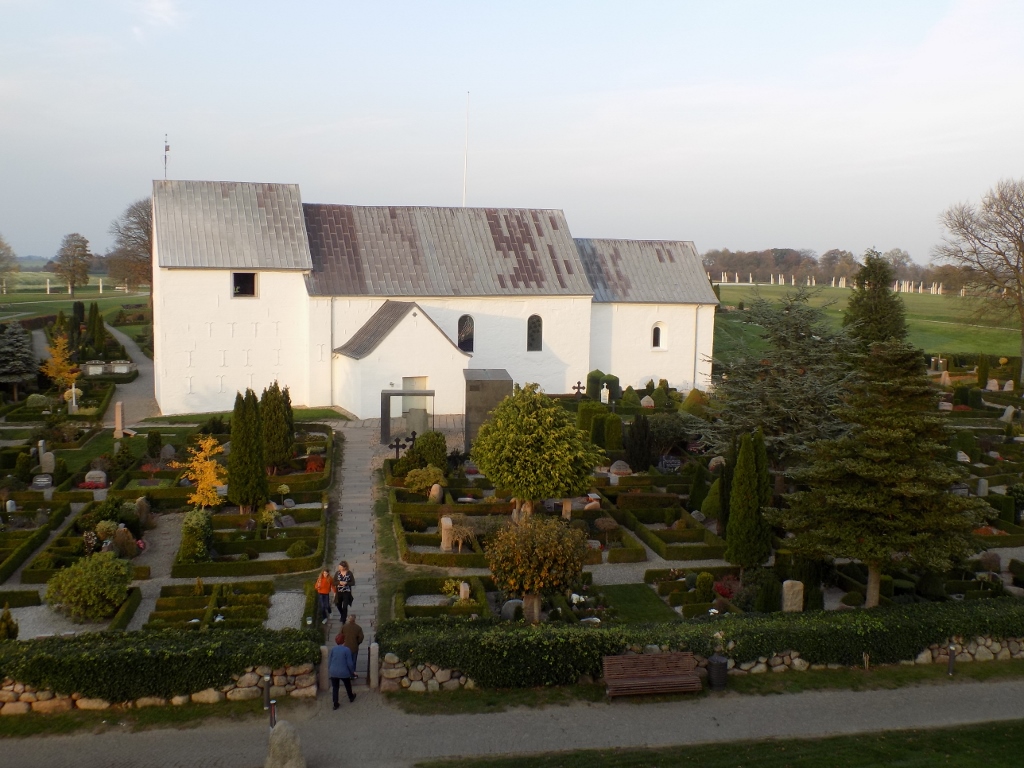 View from the top of the south mound
As for the north mound, a burial chamber was indeed found under it, but no human remains were found there. It is maintained that the remains found under the floor of the church were originally buried precisely here, under the north mound. Still, climbing the top of the north mound was not in vain – there I enjoyed a little more the calm ending of the day.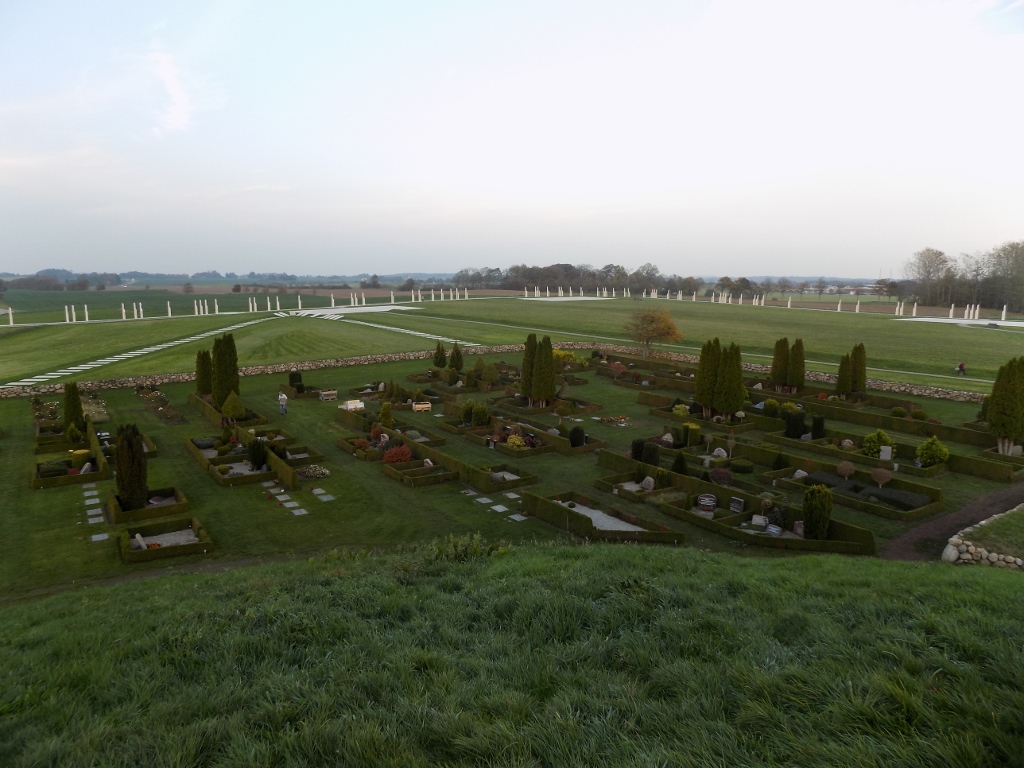 View from the top of the north mound
By the way, around the entire complex there are concrete pillars that symbolically mark the line of the 1.4 km long palisade that surrounded this entire area. Originally, at the time of the Vikings, the palisade consisted of densely arranged oak posts that were 3 to 4 m high.
After this, it was my time to return to Vejle. As I was waiting for my transportation, I could still enjoy the beautiful ending of a very interesting day.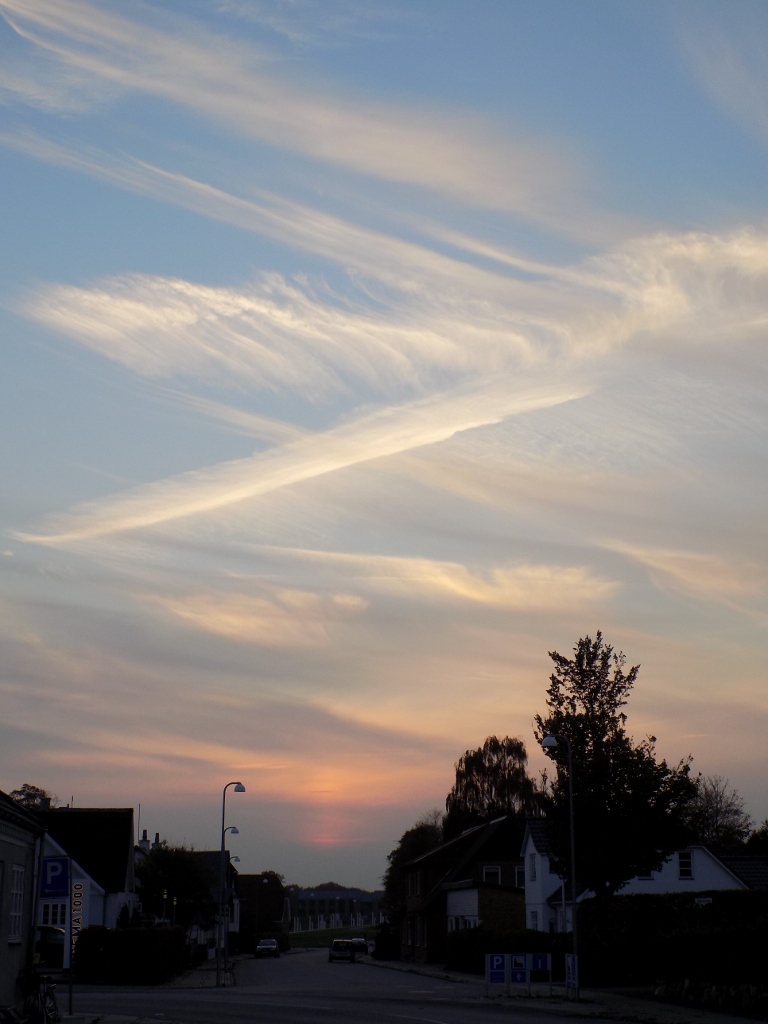 Sky above Jelling
Later that evening, I returned to Copenhagen.