The following day I began with my trips around Denmark. To start with, I decided to leave the island of Zealand and go to the island of Fyn and town Odense. These two islands are connected by a bridge over which there is a motor-way and at some point a railway line comes out to the surface from a tunnel that is made under a part of the water and from there it follows the route of the motor-way. There were also electrical wind turbines built on the water.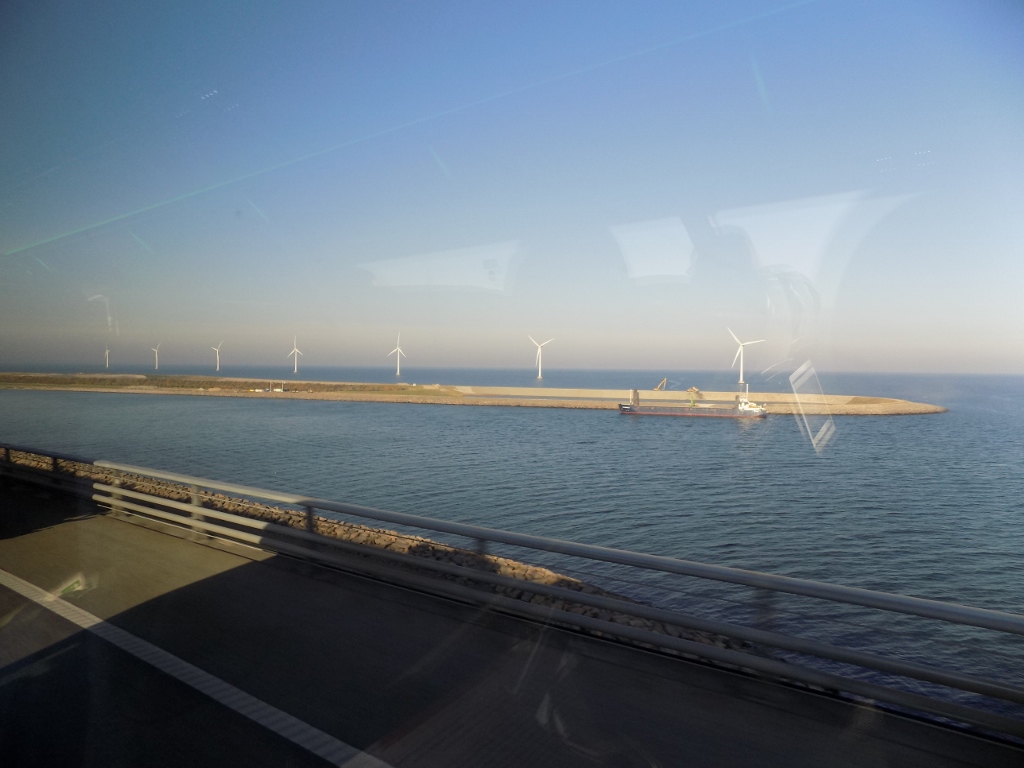 Wind turbines and the place where the railway lines starts to come up to the surface
There were a couple of minor reasons why I went precisely to Odense first, but it is important to say that this is the third-largest city in Denmark certainly best known for Hans Christian Andersen who was born here in 1805. Later, when he was 14, he moved to Copenhagen where he died in 1875 and today there is his birth-house in Odense, as well as another house in which the writer spent his childhood. His fairy-tales are well known around the world, but I don't particularly like him since my first association to his fairy-tales is that they are very sad. I concretely think of The Little Mermaid and The Little Match Girl. But, he also wrote The Emperor's New Clothes, a fairy-tale which to my mind to the present days reflects perfectly a part of the human nature that does not change no matter what. And there are also some that are perfectly acceptable even to me – The Ugly Duckling and The Snow Queen.
One of the reasons why I decided to start from Odense first was that this was a very straightforward trip – a direct link without any transfers. Namely, some of the places I wanted to visit were not directly accessible by train and one has to change a couple of trains and coaches, sometimes interchangeably. I decided to travel around Denmark mostly by inter-city coaches that are generally quite good, in addition to which they are financially the most favourable way to cover larger distances in this well-off and expensive Scandinavian country. Still, when I got to Odense, it turned out that an informal terminal of the transportation company was way out of the centre of the city, i.e., right next to the commercial part of Odense filled with a huge number of big shops and malls.
Since there used to be an important large place of worship here dedicated to Odin, the chief Norse god, hence the name of the city, there also used to be a pilgrimage. Taking into account that the year 2018 was marked by my walking and pilgrimage in Spain, I said to myself that it was quite all right for me to cover those 4-5 km to the centre of the city on foot, occasionally stopping to ask the passers-by about the direction, so that I could be sure I was on the right way.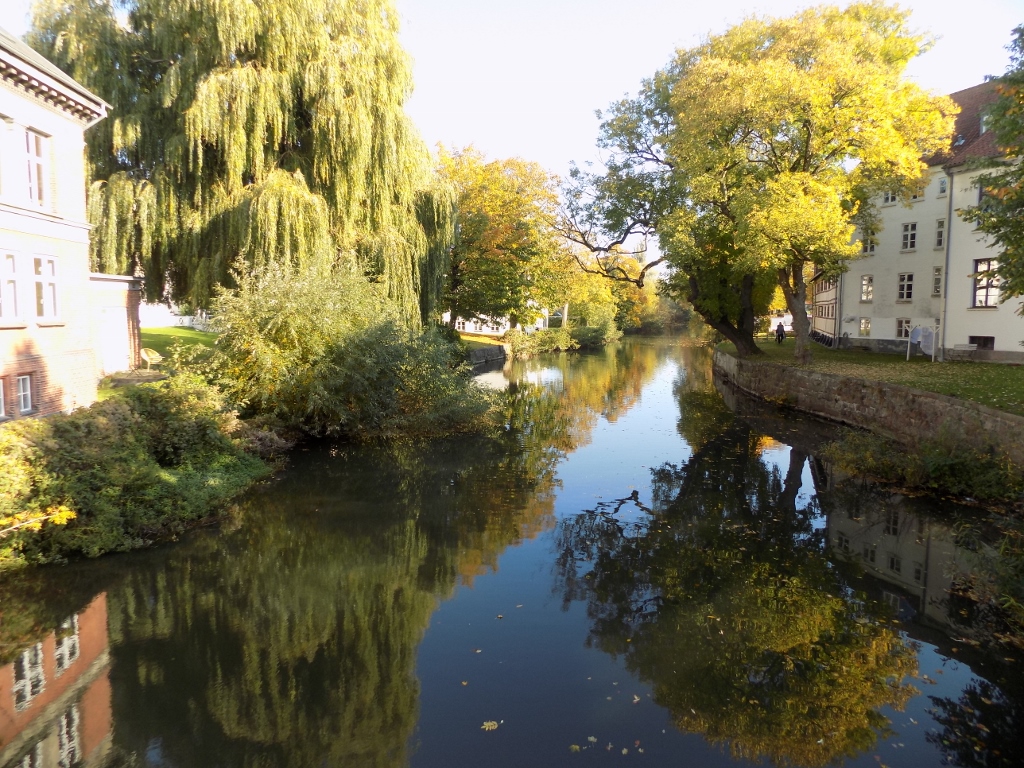 The Odense river flowing through the city
When I got to the centre, it turned out that the tourist office had been closed and moved to another place, so I walked over there because it was important for me to ask them about the bus back to the coach terminal and I had no idea who else I could ask. Be as it may, I got a map there, as well as information about the bus ticket. Later, I found on the internet which bus lines suited me.
To start with, I walked to Flakhaven square in which there is the City Hall, while nearby there is St. Canute's Church which is in fact Odense's Cathedral. Its crypt contains the mortal remains of King Canute IV who was canonised after his death and whom the church was named after.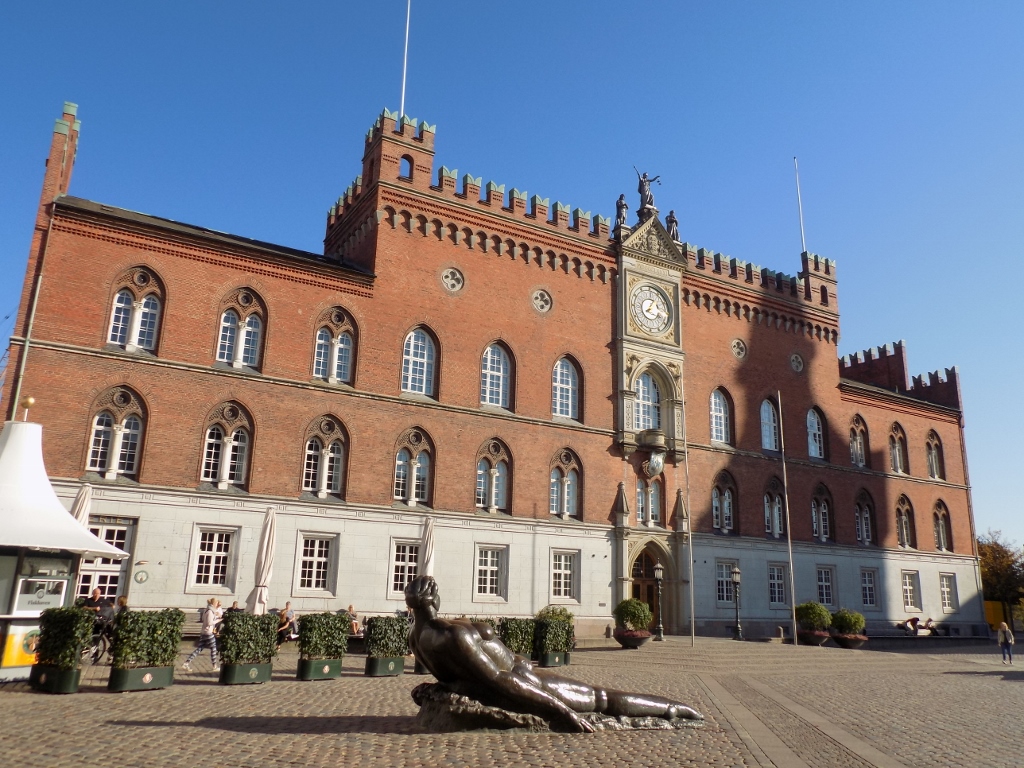 The City Hall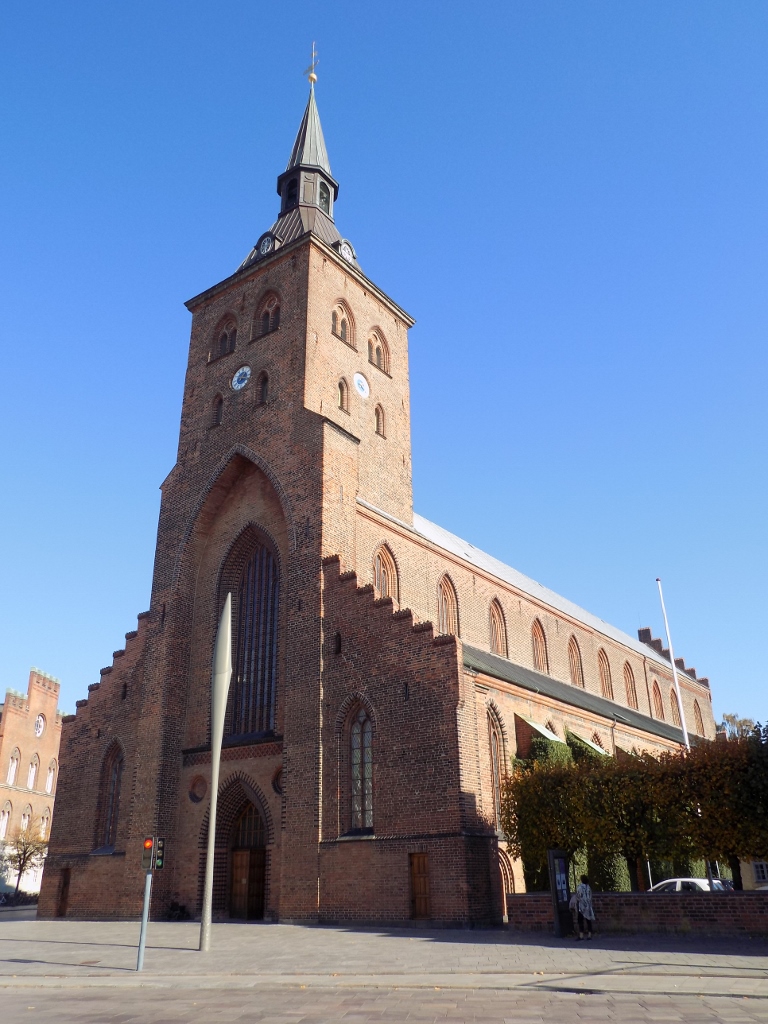 St. Canute's Church
Then I went down a street in the vicinity, followed by a walk through a park. I had a very nice view towards the Cathedral from there.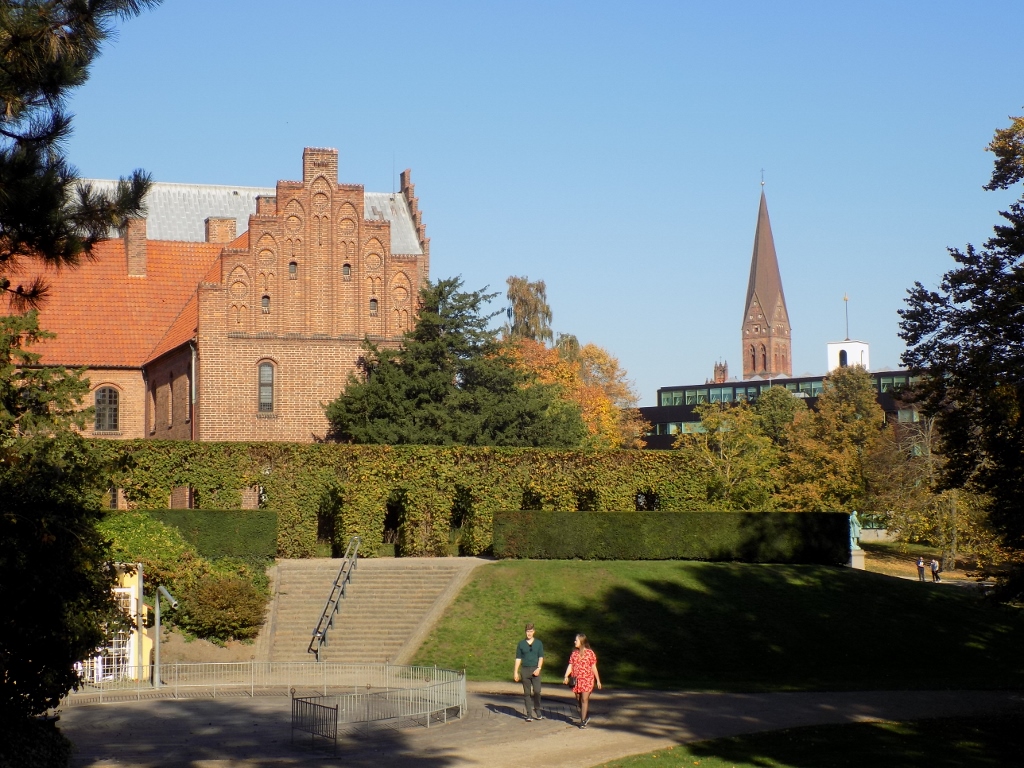 Park, House of History, Cathedral's roof and the tower of St Alban's Church
Walking through the park, I went down to the river and then followed it for a short while before crossing to the other bank. I had a very special mission in Odense this day. Namely, one of five ring Viking fortifications used to be in Odense and they are presumed to have been built by King Harold Bluetooth around 980. Nowadays, there is no fortification left here, but it is known for a fact where it used to be – in Nonnebakken street.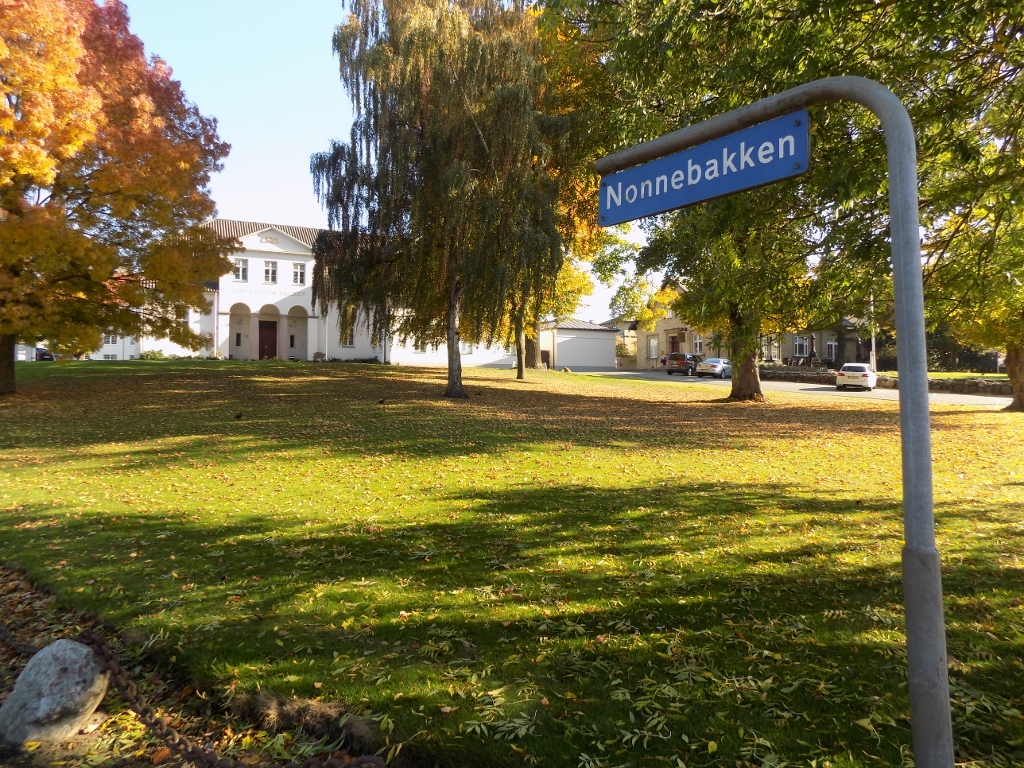 Place where a Viking fortification used to be
After this I returned to the centre of the city, first in order to have lunch and then I headed to the part in which there are still houses built at the end of the 18th century and the beginning of the 19th century and this quarter is very picturesque.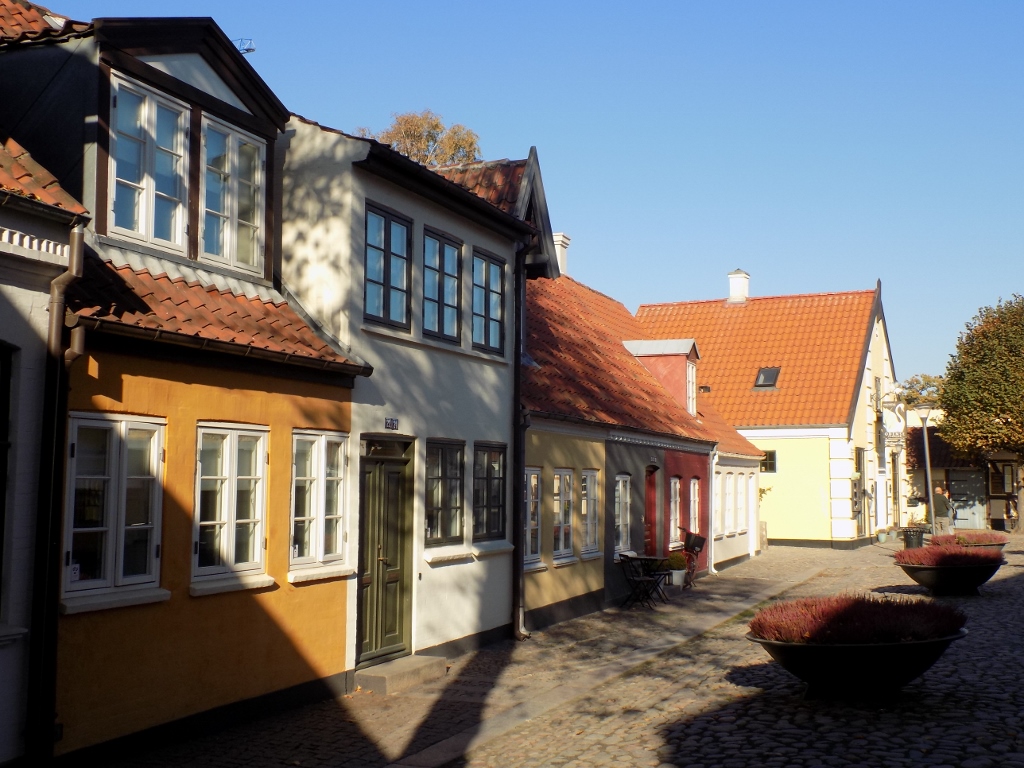 Old quarter in Odense
This is also the place where there is the house in which Hans Christian Andersen was born in 1805, while today it houses a museum dedicated precisely to this writer of fairy-tales.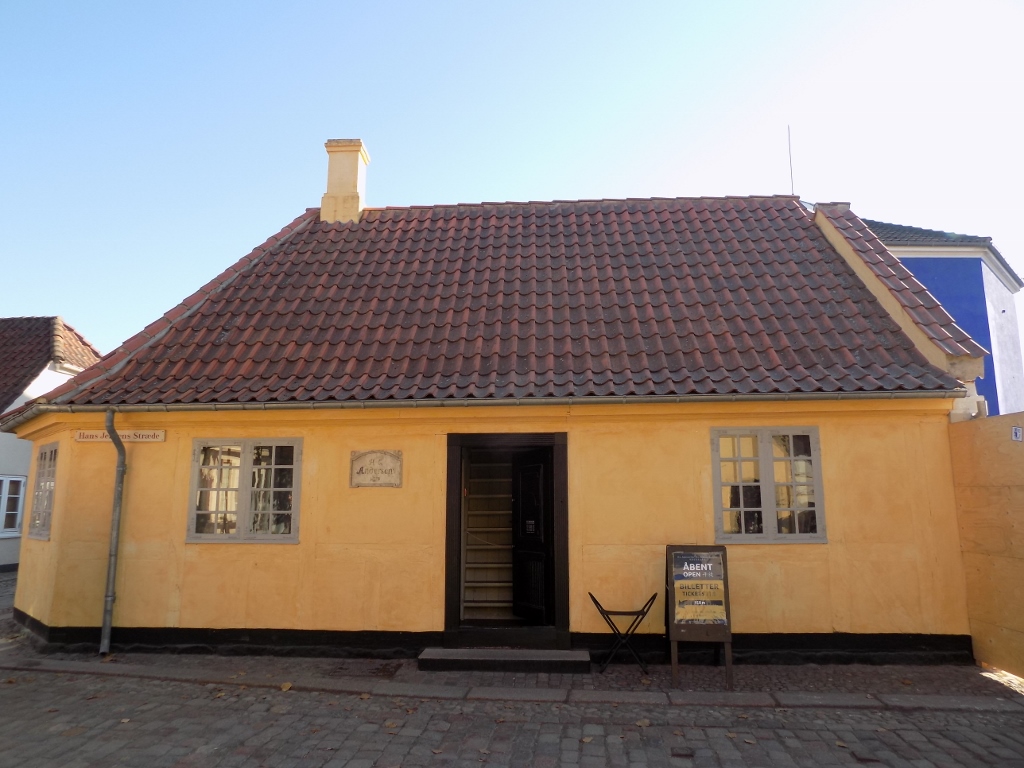 Birth-house of Hans Christian Andersen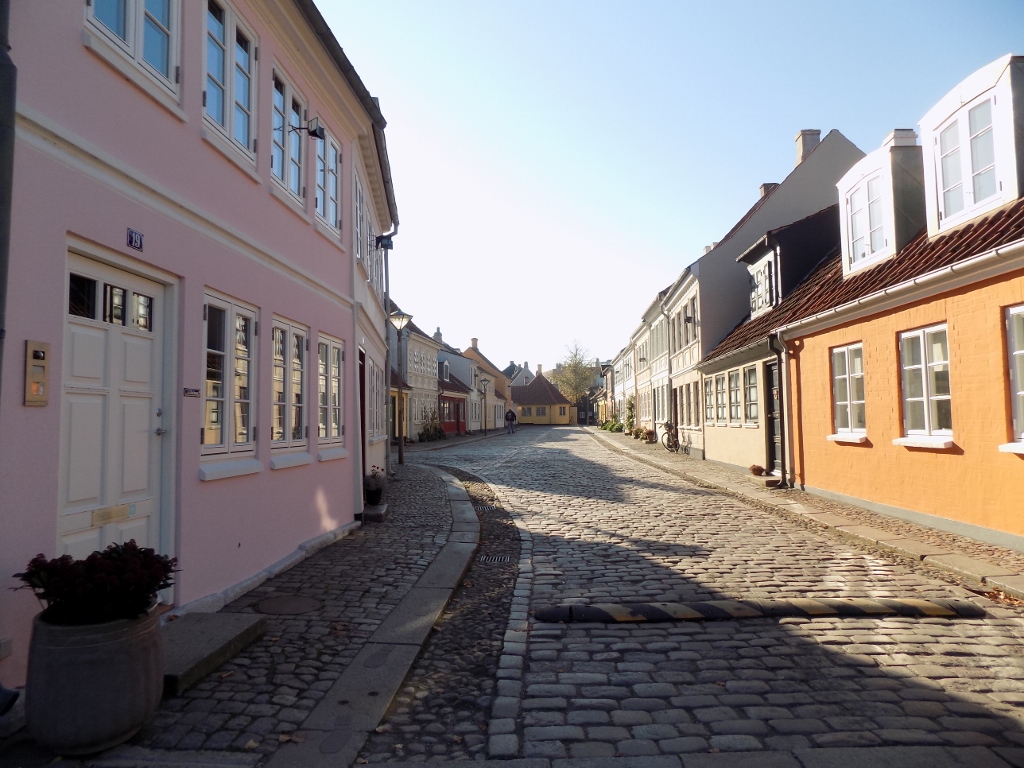 Old quarter in Odense with one of its cobbled streets
I walked for a while around the old quarter of Odense, occasionally peering into some of the courtyards or going through narrow passages, but I also had to go back to Copenhagen, so this time around I took one of the buses in order to get to the place where the inter-city coaches had their stop.
My plan for the following day included something quite unusual. This was a place which is very important in geological sense. Needless to say, I practically know nothing about geology, but this site is in the UNESCO's World Heritage List, as a natural property, and I wanted to visit it. The site is called Stevns Klint and it is a little over 100 km along the coast south of Copenhagen, but is relatively difficult to access when using public transportation, since there are only small villages around it and therefore there are no direct or numerous lines.
In order to get to Stevns Klint by public transportation, it is necessary first to catch the E line of the S-train in Copenhagen. Then one goes to its southern end, which is a town called Køge. There one transfers to a local train and goes to the place called Store Heddinge. And then there, one catches a bus no. 252 and gets off the bus in village Højerup. From there it is necessary to walk a little bit in order to get to Stevns Klint which was my destination for the day.
But, before I say something about Stevns Klint, let me first praise the public transportation system in Denmark, i.e., specifically their travel card (rejsekort). Denmark is generally speaking an expensive country and this also includes its public transportation. This card functions like the prepaid Oyster Card in London – you buy a plastic card and then you top it up. What makes this Danish version fantastic are two things: first, all the rides are practically less expensive than if you buy single tickets. In my experience as much as 30-50% less expensive! This is not negligible at all for Denmark, so it's worth making the initial "investment." Admittedly, I used the card which Rade has for his guests, so I don't know if you can "return" the card at the end of your stay in the country when you get your initial investment back like in the case of the card in London, but even if not, it's absolutely worth buying. Not only because of the savings, but because of the other thing that makes it great – it is used for: city's public transportation in Copenhagen, suburban transportation around Copenhagen, inter-city railway transportation, local inter-city coach transportation outside Copenhagen, as well as the local urban transportation in the places that are not Copenhagen! I know all of this from my own experience and it is not only the question of how much money one can save, it is also important that one saves time as well, without the need to investigate where to buy the tickets in each place, etc.
There is one other thing that I should mention before concentrating on Stevens Klint. The local train which I took from Køge to Store Heddinge went through absolutely stunning landscapes of rural Denmark and I was very glad I had decided to dedicate a whole day to this trip. The railway line runs here beside large fields that were already prepared for the following season, in one spot I saw a dozen of pheasants gathered there for some reason and we also went through a small forest that was no less impressive on account of its size.
In village Store Heddinge it is necessary to catch a local bus and it's a bit tricky that it goes once an hour, but if you miss it you can spend the time by having a coffee and some pastry at a local bakery.
When you get off from the bus in village Højerup, it is necessary to walk a little in order to get to the coast, but I rather enjoyed this walk since it took me through a Danish village and that was for me interesting to see. Especially the very cute houses with thatched roof that seemed to come straight out from a fairy-tale.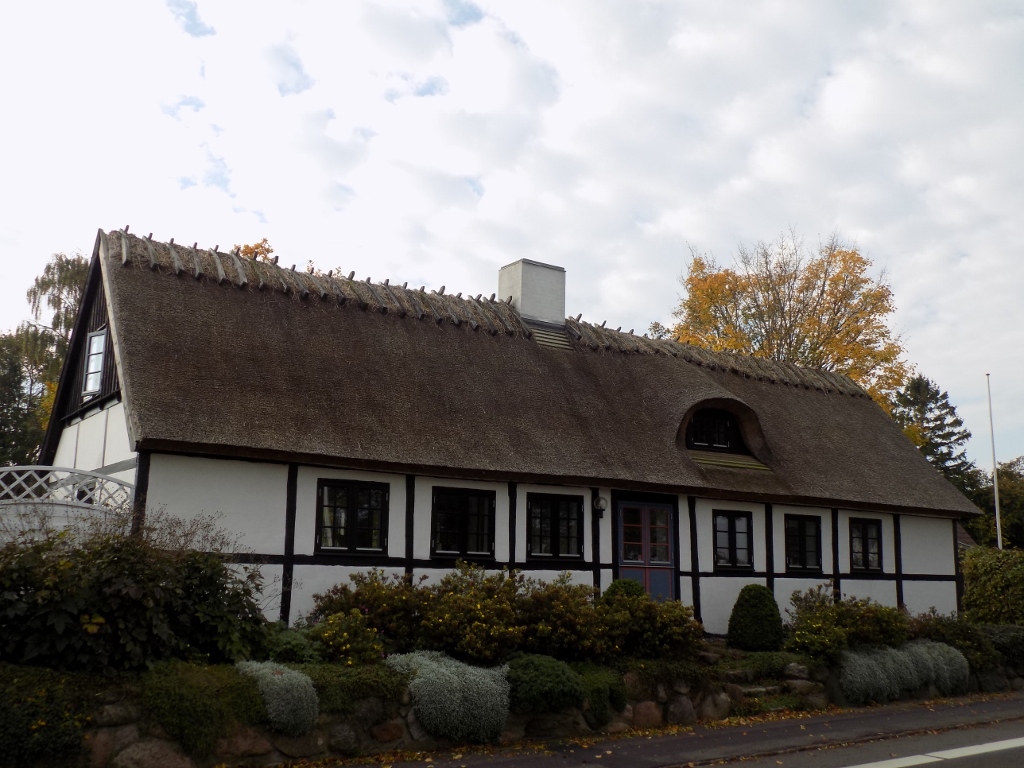 One of the houses with a thatched roof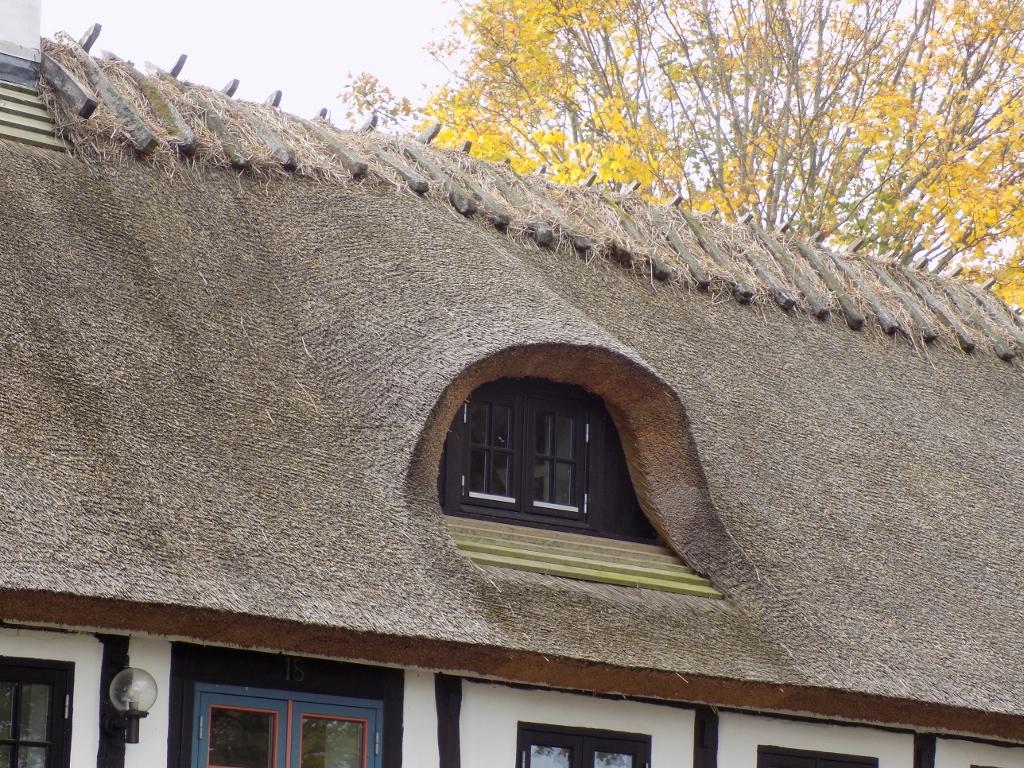 A thatched roof
The first thing I saw near the coast was a church surrounded by a graveyard with perfectly maintained hedges that go around the graves. That is a new village church, since the old one is on the very cliff and is not quite suitable for use any longer, but it is used for visitors.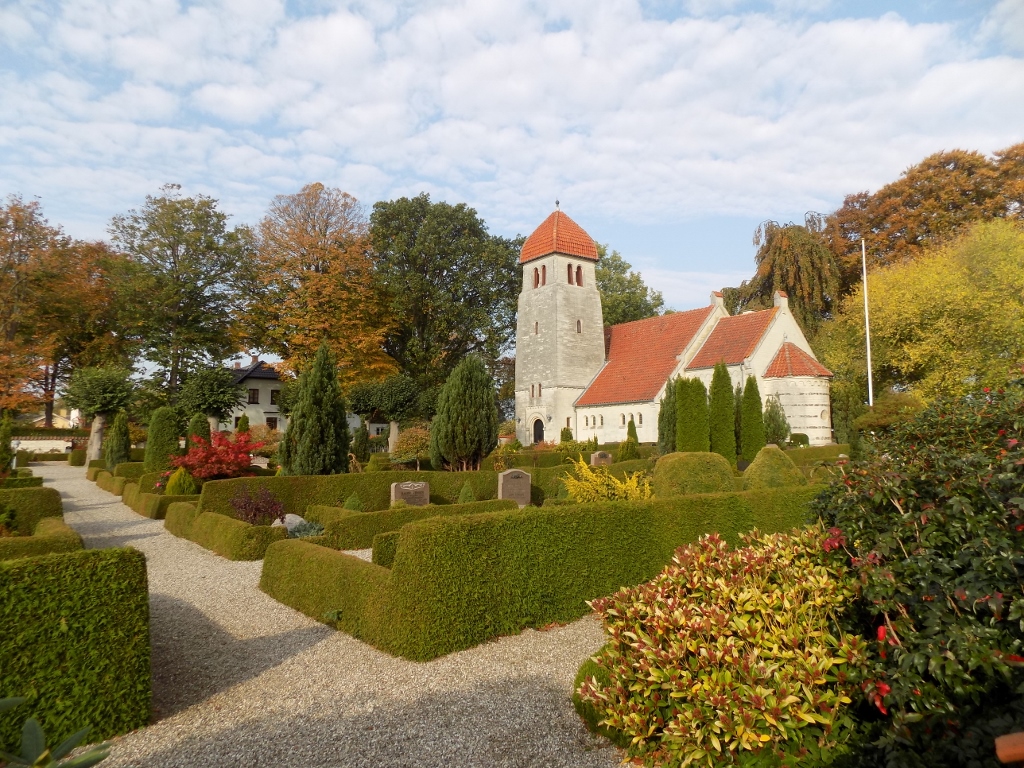 New church in village Højerup
And now finally – Stevns Klint. These are in fact cliffs on the coast of the Baltic Sea. But not just any cliffs. These are particularly important. The reason lies in an event that took place 65.5 million years ago (!!!). Now I will try to explain in layman's terms what happened here. At the time (65.5 million years ago), it was the dinosaurs that ruled the Earth. Then a meteorite hit our dear planet and the exact place of the impact is on the bottom of the ocean close to Yucatán Peninsula in Mexico. It is believed that over 50 per cent of the animal and plant world got extinct on the occasion, while the event itself made the dust fly (literally). Well, now, that dust fell down again and the layer can be seen very well, although it is rather thin. Since that thin layer of clay contains huge quantities of iridium which is mostly found in the material coming from the space, the scientists have on the basis of all of this come up with a hypothesis (the Alvarez hypothesis), while the cliff of Stevns Klint are one of the best places in the world where the so-called Cretaceous–Tertiary (K–T) extinction may be seen.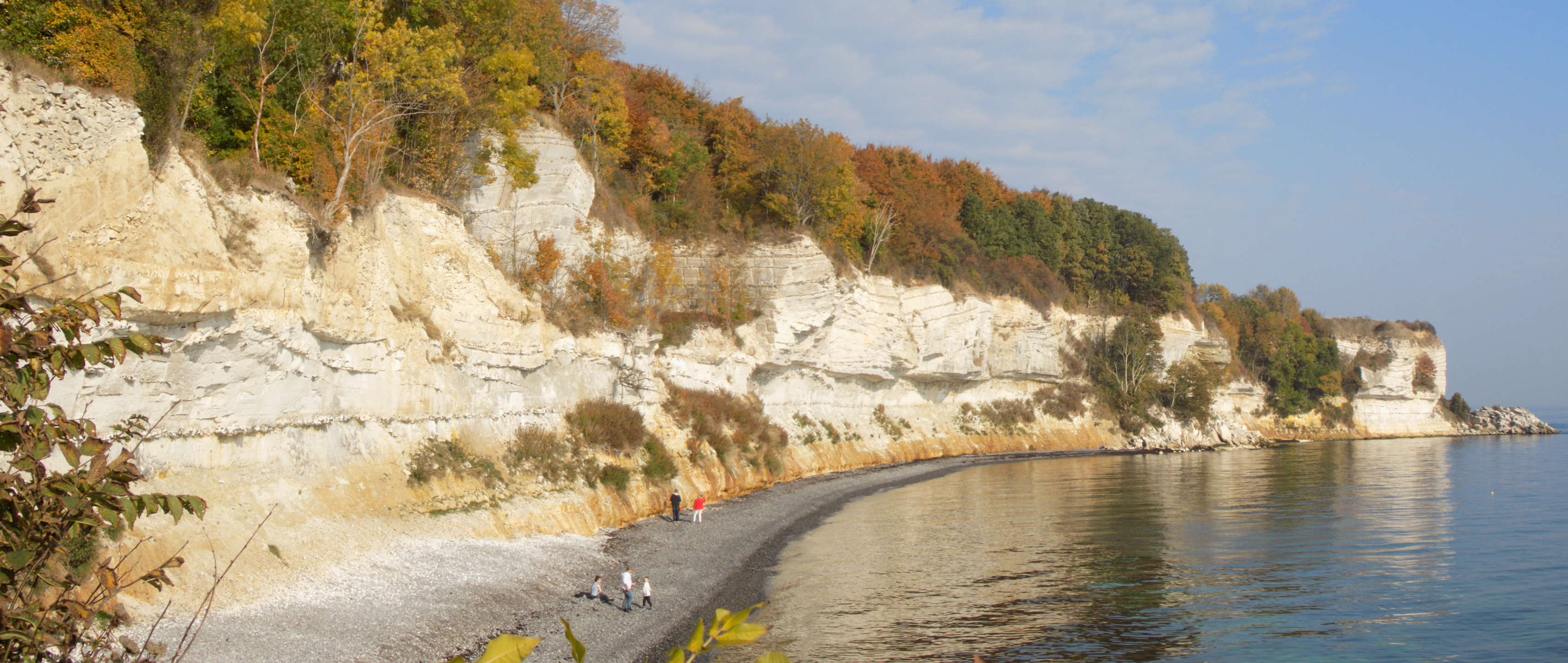 A part of the Stevns Klint cliffs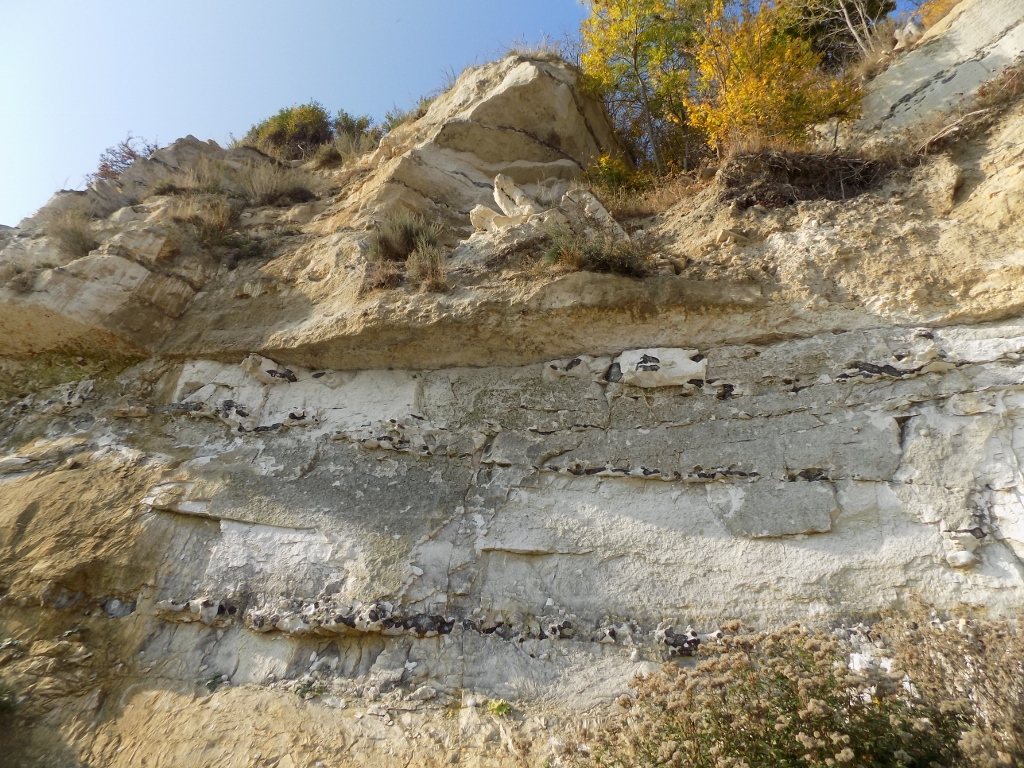 A part of the Stevns Klint cliffs, geologists' heaven
Of course, this is best understood by geologists, but I still wanted to come here on this day in order to visit at least one of the natural properties that are included in the above-mentioned UNESCO's list.
In order for the cliffs to be seen well, you first have to go down a wooden staircase in order to get to the shore, i.e., to the beach. In one section it is necessary to go up and down some rocks, but it was no big deal. The cliffs spread over a total length of around 20 km, but they are most accessible here. You don't have to know anything about geology to see that there are completely segmented layers. These are the layers of limestone and chalk, while in between there is this very special and important type of clay (fish clay) in a very thin layer.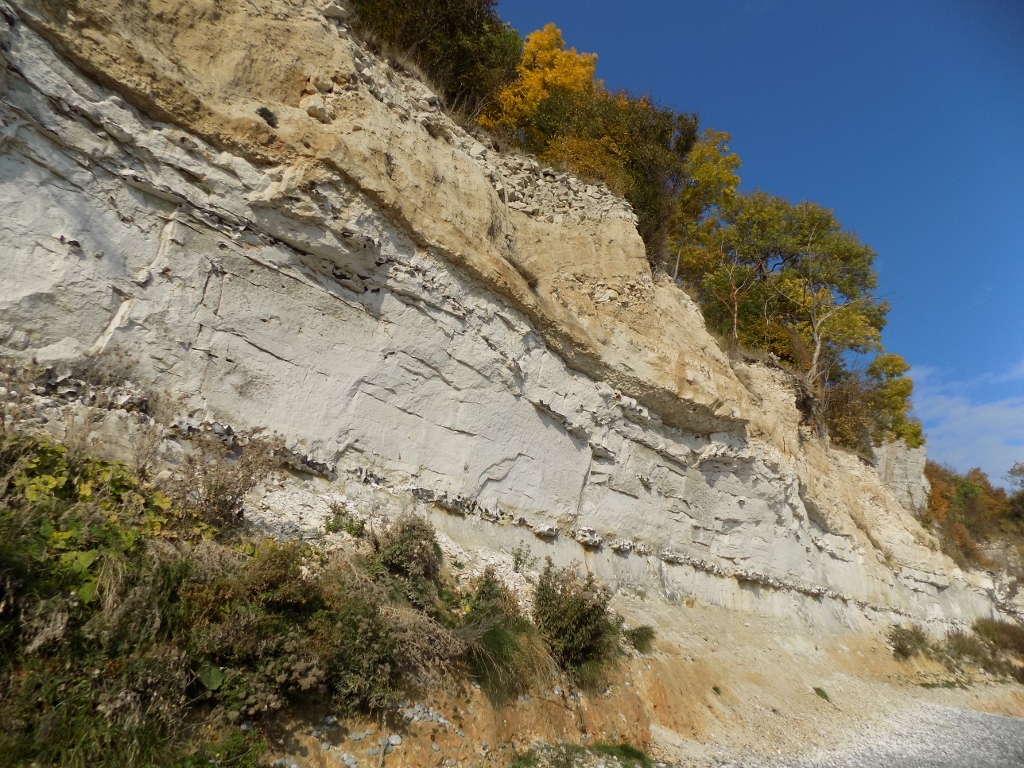 A part of the Stevns Klint cliffs, geologists' heaven
I stayed there for a little while and then I climbed back up in order to visit the old church. It is in a rather crumbly state, which comes as no surprise taking into account its position on the very edge above the sea and as I've said it is no longer used except for tourist visits.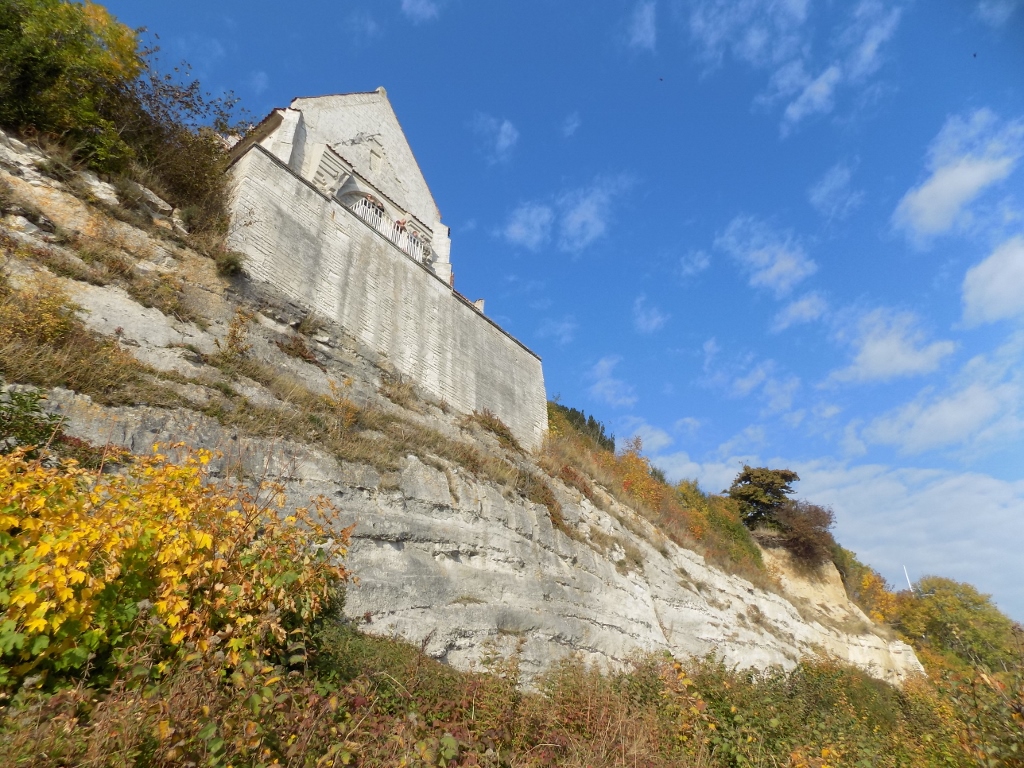 The old church in village Højerup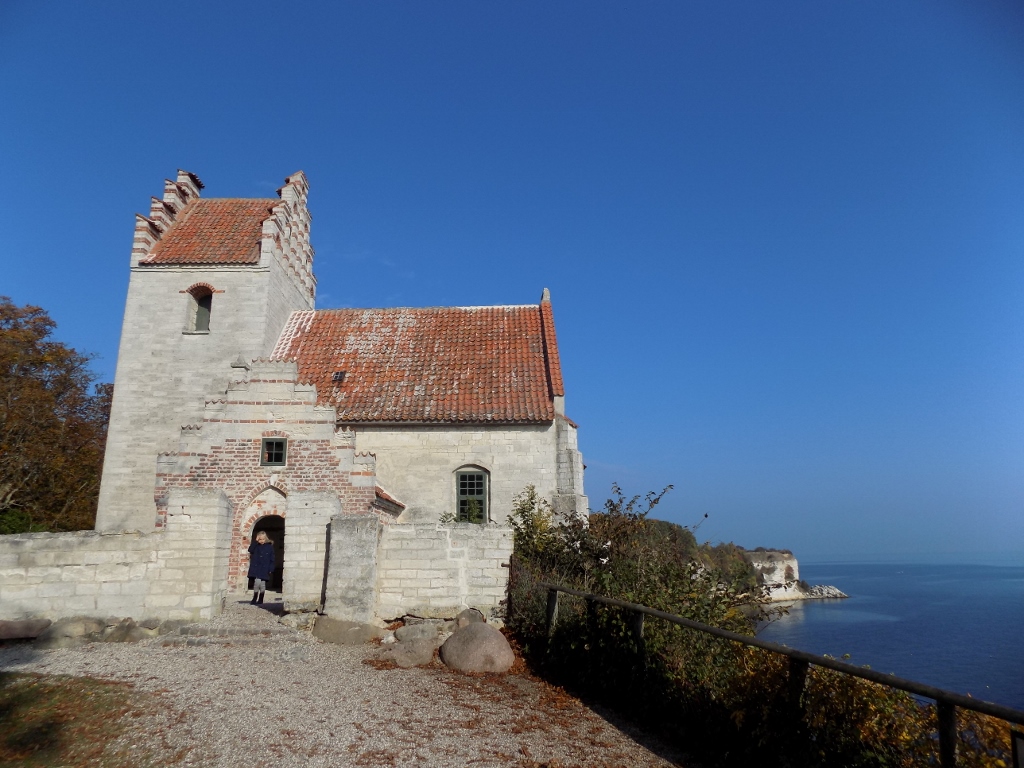 The old church in village Højerup
Still, regardless to its exposure to weather conditions, even today it is possible to see inside of it remains of the wall paintings from the past. However, for me, the most impressive was the view at the cliffs and the beach that may be enjoyed from its balcony.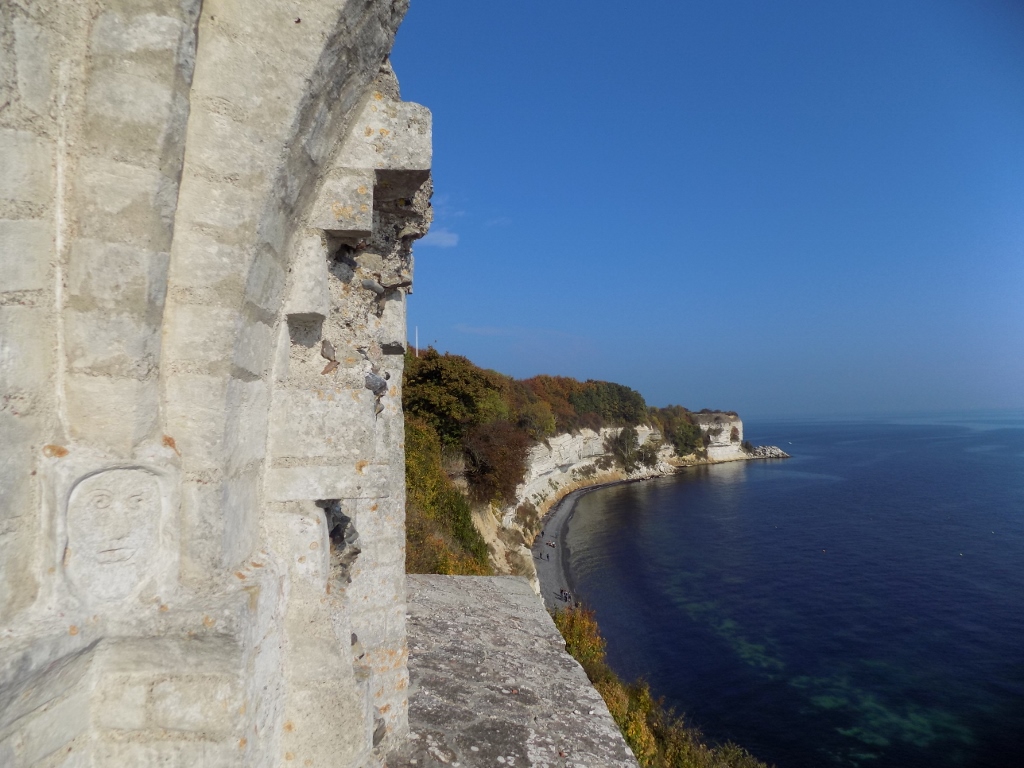 View from the balcony of the old church in village Højerup
Since the weather was perfect, I did not stay for long at the church either, but rather I went out and for a walk along a path that goes parallel to the cliffs. The day was sunny and pleasantly warm, while I was still very fit from the extensive walking in Spain during the previous summer. On the other hand, there is not much to write about this now. I just walked and enjoyed the activity, the weather and the views I had.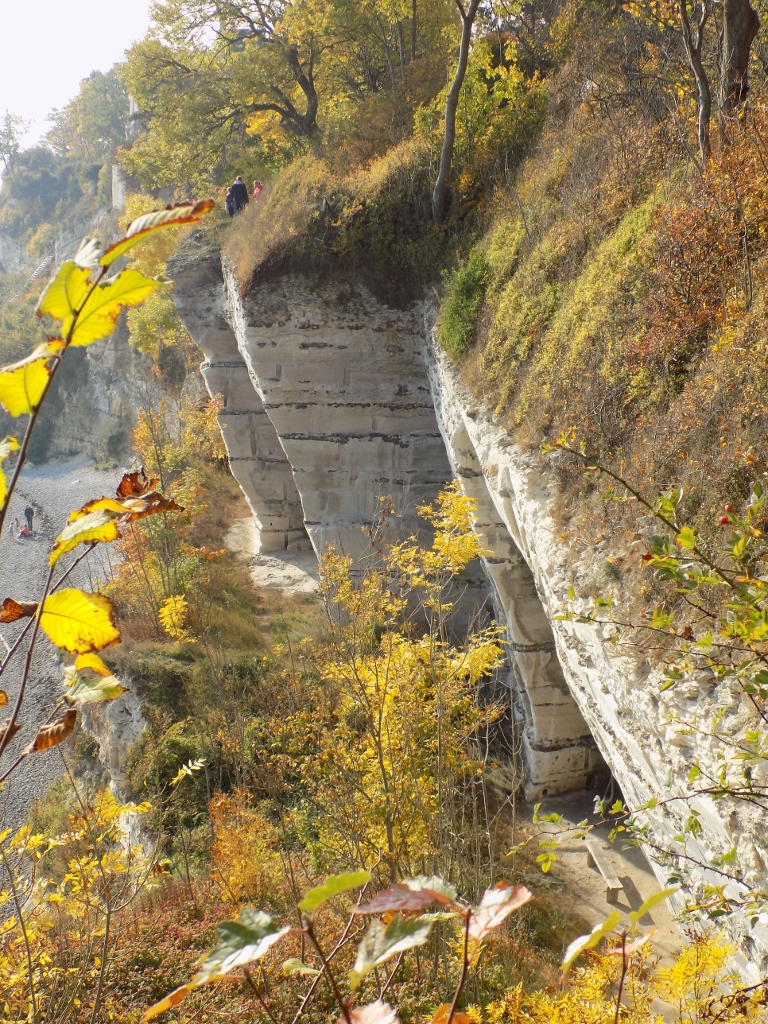 In the past, the rocks were used as a quarry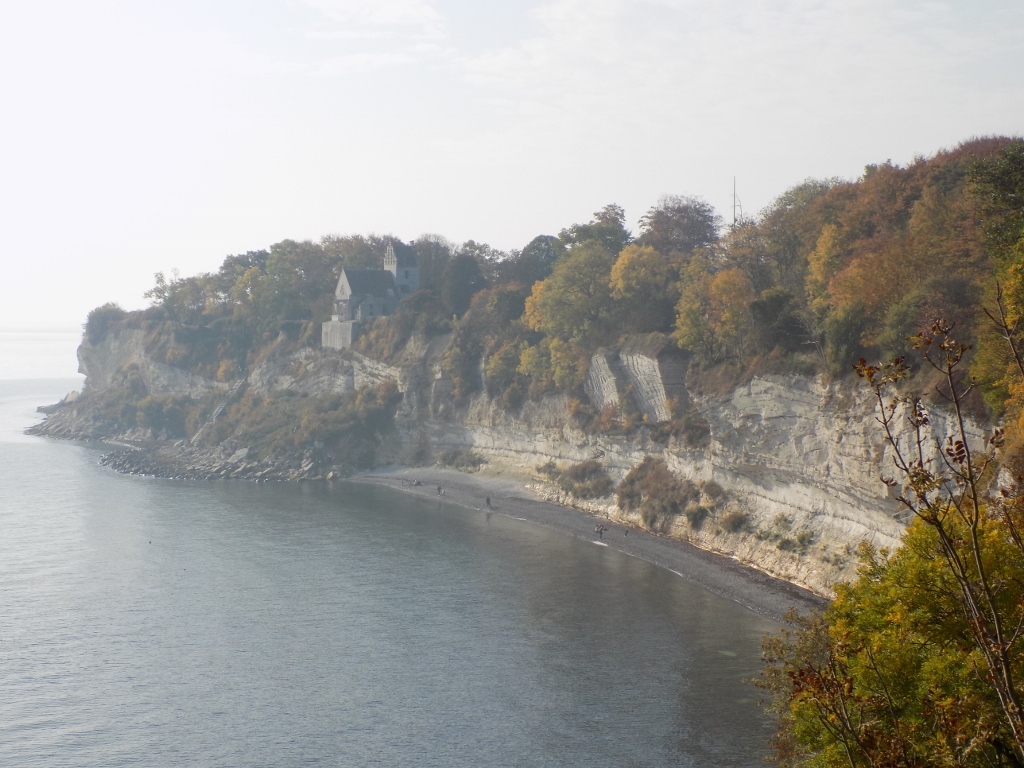 View at the beach and the old church
Apparently, around the cliffs there are a lot of rare plants and animals because of the high concentration of chalky soil, which attracts specific flora and consequently fauna. But, when you walk along the path, you primarily see the large fields of agricultural land.

The landscapes above the cliffs (to the left, in the distance, you can see the old church)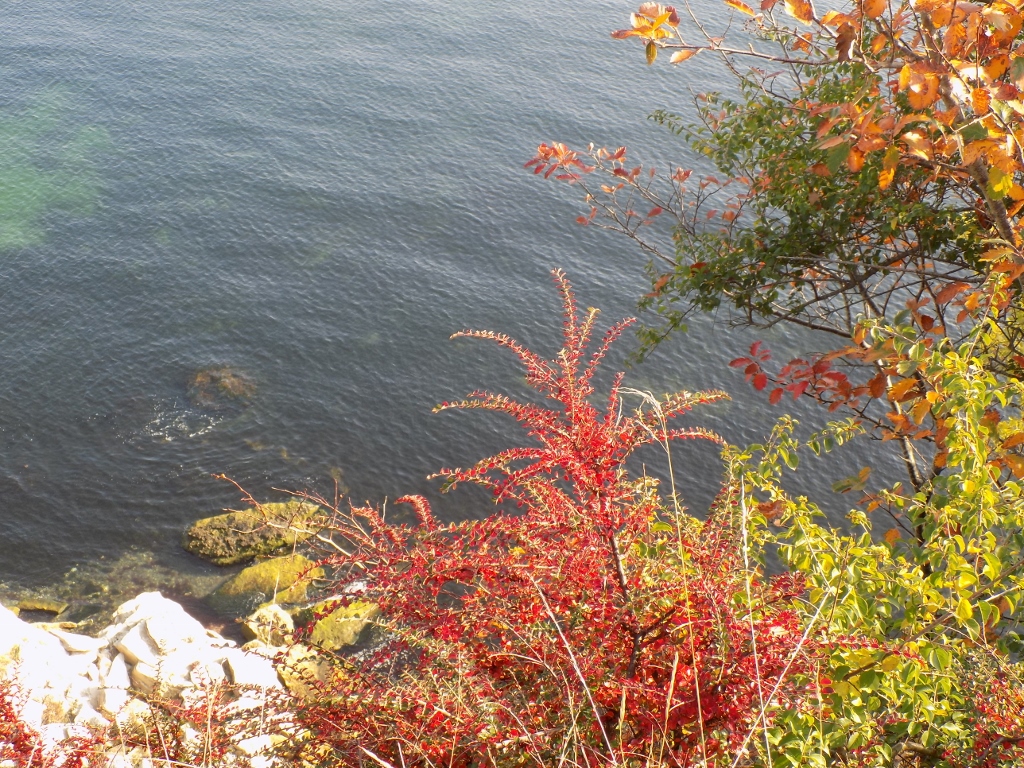 View at the waters of the Baltic Sea and the autumn colours of the foliage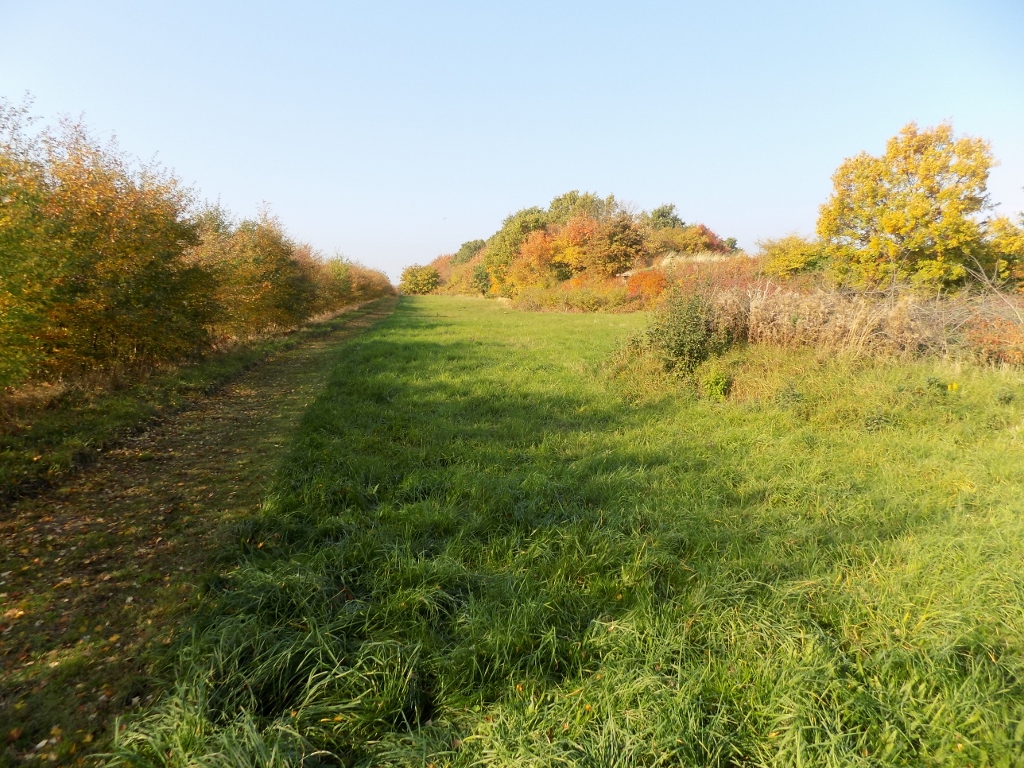 Walking path above the cliffs
I also went to a lighthouse. The original lighthouse was built here in 1818 and at the time it was one of the most modern ones. As the number of ships that passed from the Baltic Sea to the North Sea went up, it was necessary to build a new lighthouse and this happened in 1878.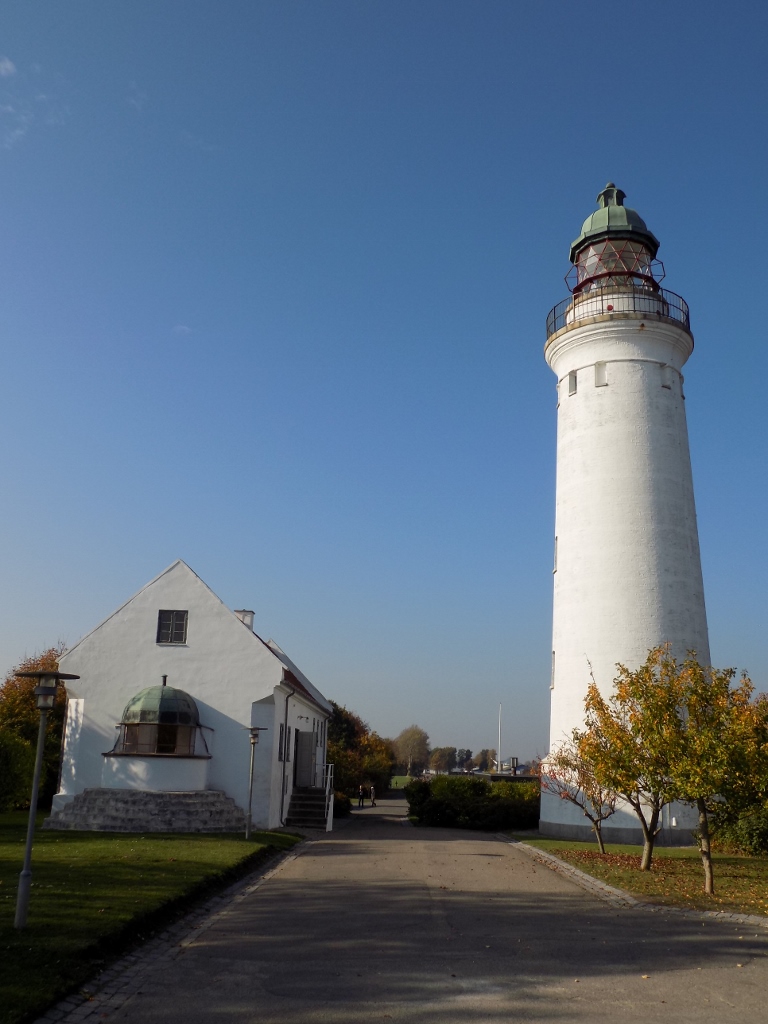 Lighthouse
After the lighthouse I moved on, still enjoying the experience to the fullest. And yet, it was clear to me that I would have to turn back at some point because of the transportation and the need to go back to Copenhagen, so eventually I decided to stop and just head back in the opposite direction. Still, before that I got to yet another viewpoint from where I could take a great glimpse at these whitish cliffs made of chalk and limestone.

Stevns Klint cliffs
On the other hand, on the dry land, the autumn was in its full swing.

The colours of autumn in Denmark
On my way back, I met again a Danish man with whom I had exchanged a few brief sentences earlier, so now we both stopped and chatted for a while. He was walking there with a backpack in which he had a tent and a sleeping bag, so he was planning to find some place to spend the night, while he would continue with his walk the following morning. He also told me that there are shelters throughout Denmark where it is possible to make a stop and spend the night, provided you have a sleeping bag, so that you can be sure not to spend the night outside. There is even an app that shows where there are such shelters around the place in which you are at the given moment. Eventually, we wished each other all the best and went our separate ways.
Having returned to the part from where I started my walk, I stopped at a restaurant where it was still pleasant to sit outside, although it was already getting chilly, especially on my back, since I was facing the Sun. I put on my jacket, just in case, and then I had a light meal that consisted of fish and sea food. It was quite nice and tasty, so I enjoyed it.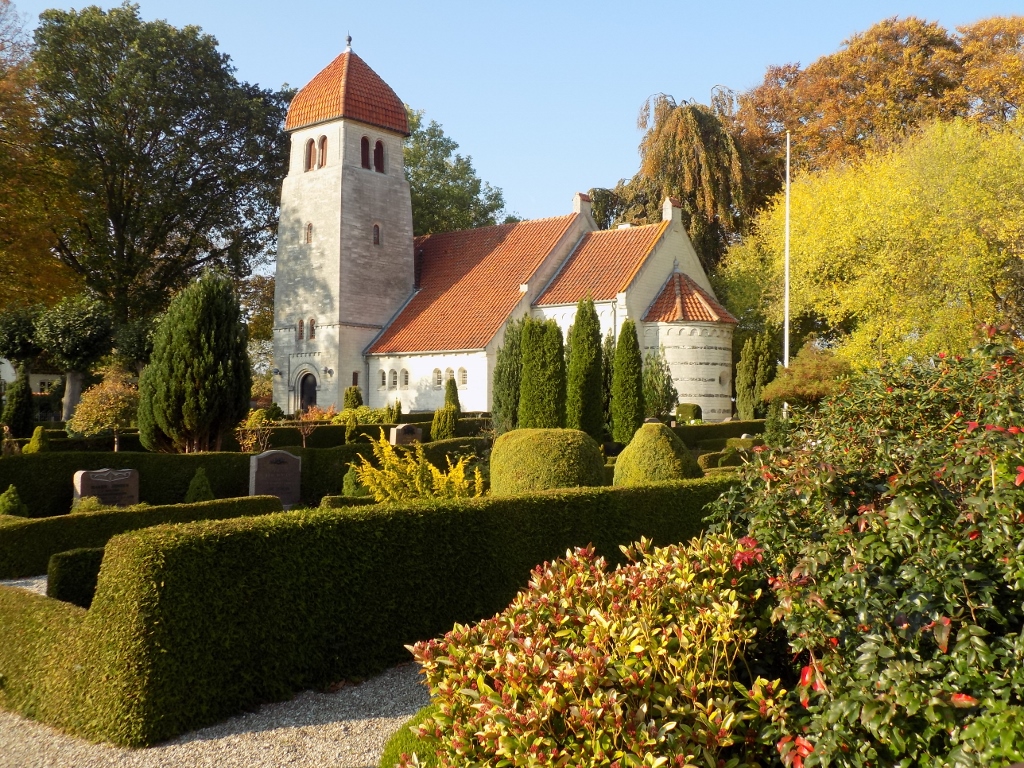 Yet another view at the new church in Højerup
When I returned to Copenhagen, I first went to a supermarket to buy what we needed and then I went to the flat where I found Rade who had just come back from work.