So, despite the limited number of visitors to the archipelago that is named after its biggest and the only inhabited island Fernando de Noronha, we had bought the plane tickets in time and thus we thought we also had the "ticket" to enter this place which is inscribed in the UNESCO's World Heritage List on account of its significant biodiversity. Still, when you get to the island, either by plane or by ship, first you have to pay the environment preservation tax that is calculated on the basis of the number of days you are going to spend on the island.
Some time after I had bought the plane tickets, I started to search for the place where we could stay during the time we were to spend on the island and it turned out that accommodation here was not cheap at all and I did wonder for a minute if this was the right choice. Still, I managed eventually to find a modest B&B that turned out to be quite good. The room we had there was even bigger than any other we had had during our travel around Brazil. While we were waiting for our room to get cleaned and ready for us to move in, the owner of the B&B showed us on the map of the island where we were, where the nearest beaches were, what was interesting to see and she also gave us instructions about how to behave in the water at the beaches where there were big waves and where the currents were very strong. In addition, she also shared with us the basics of her life philosophy. All of this within some 15 minutes. We had also booked breakfast at this place. In other words, everything we needed for a pleasant stay was here.
After we had left our things in the room and changed, we headed for village Boldró, which is not a proper village, but rather a concentration of houses and other buildings. There we had to pay for the National Park entrance ticket, since we had already planned to go on a tour around the island the following day. Namely, around 70% of the archipelago belongs to the National park and one has to buy a ticket to enter the park. When you pay for the ticket, you get a plastic card which is read at every important place you want to visit.
Also, if one wants to go to the most important places, i.e., to some special beaches, it is necessary to book the time of the visit. We wanted to go to Atalaia beach, but all the time-slots had already been booked for days in advance. This did not make much sense to me, but later I understood what this was about.
So, we started from the B&B and from there to Boldró, where the NP tickets are bought, there are only 2 km, which is around half an hour walk, but the sunrays were still very strong and the two of us first thought of getting a taxi. Since we could not call one, or rather our host-lady could not reach them on our behalf, the two of us decided to go to the main road that runs around the island and see what we could do there. Thus, we noticed a bus stop, so we went there to wait for a ride. At some point, two young men from the bus stop hitch-hiked a mini-bus and the two of us asked if we could jump in, which the driver agreed to. In no time we were at the NP Visitor Centre where we paid for the NP tickets. In exchange for the money, we got the plastic cards which practically served as our ID cards in the next four days.
Then we could finally head for a beach and this time we opted for the beach closest to the place where we were and that was Boldró Beach (Praia do Boldró).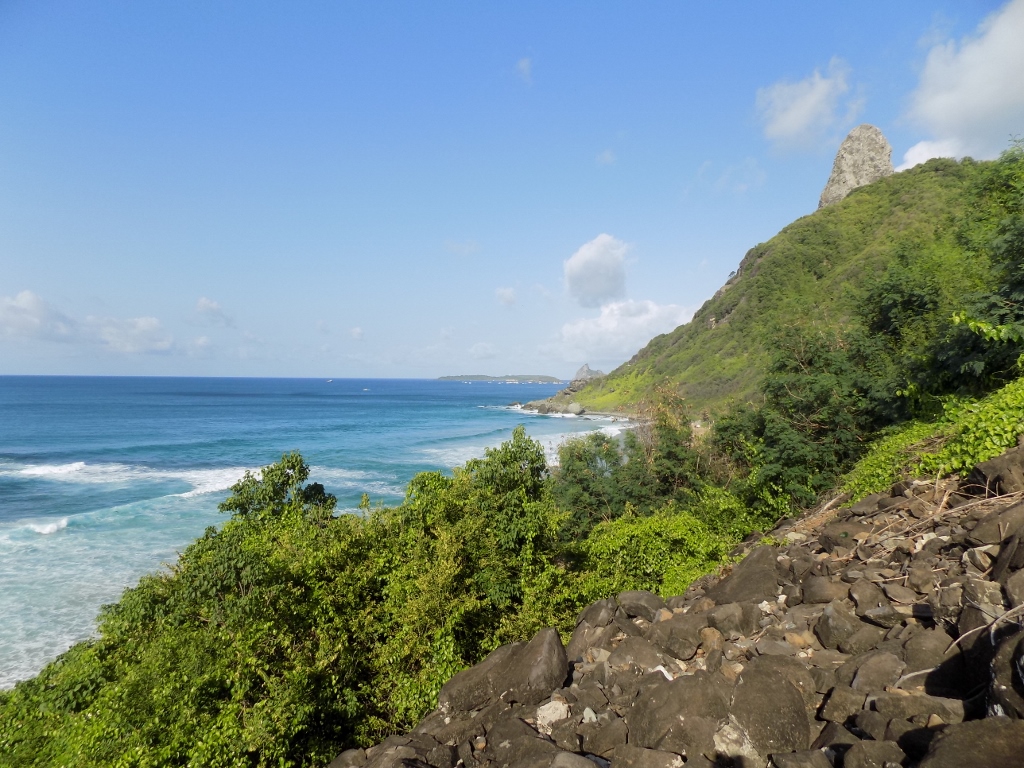 Getting close to the beach
The Fernando de Noronha archipelago is situated around 350 km east of the Brazilian coast. The islands are practically the summits of an underwater mountain range of volcanic origin.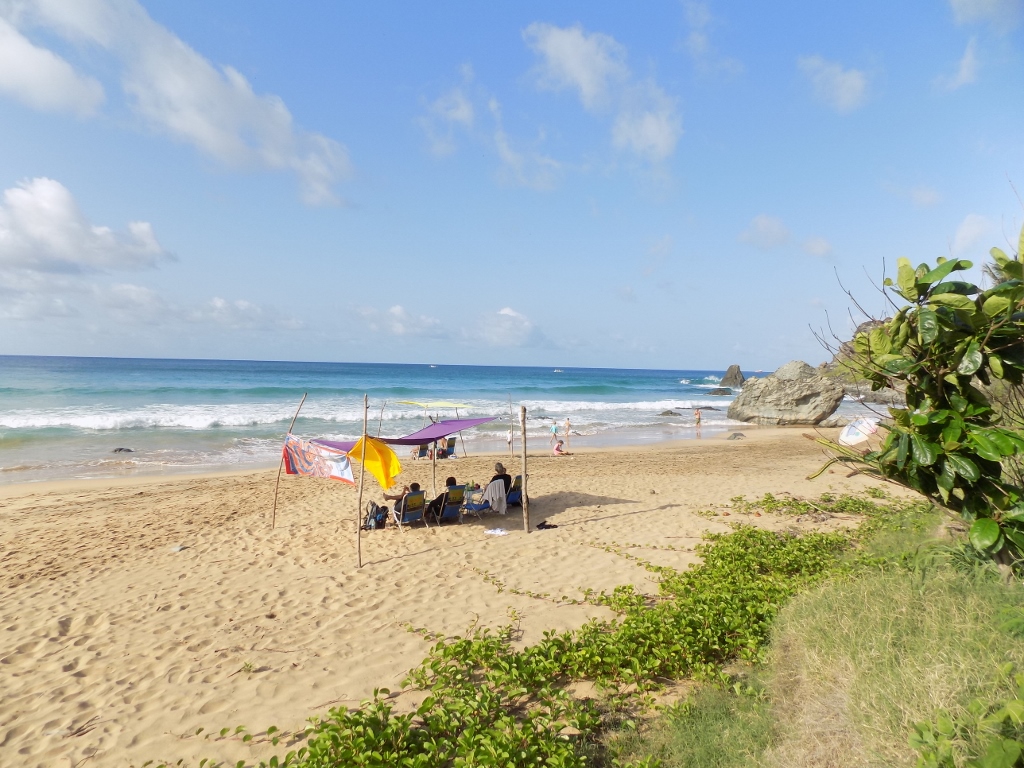 Boldró Beach
Although the impressions about the beach were quite favourable, it was more than obvious that the waves were big and that there would be no swimming there, but still we could not resist and soon Sneža and I were in the water. It was fun, but we certainly both followed one piece of advice given to us by our host-lady and that was to go only waist-deep into the water on account of the strong current. Yet, every now and then the powerful waves threw us around and we were completely immersed and thoroughly soaked. This was quite joyful, at least for the two of us, but soon we got out to the dry land where there was a café and we had a nice rest there. Then I went for a walk along the beach to the other end and that was very pleasant. Still, I mostly enjoyed sitting on the small elevation where the bar was and enjoyed the nice scenery from there while the Sun was slowly setting.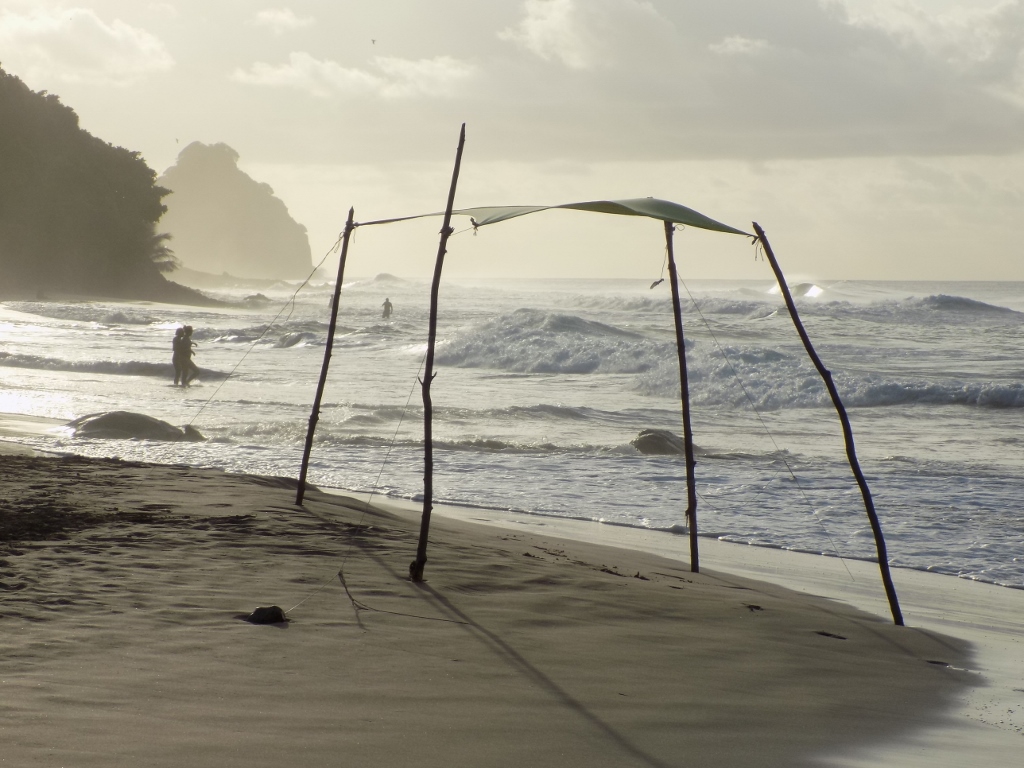 Boldró Beach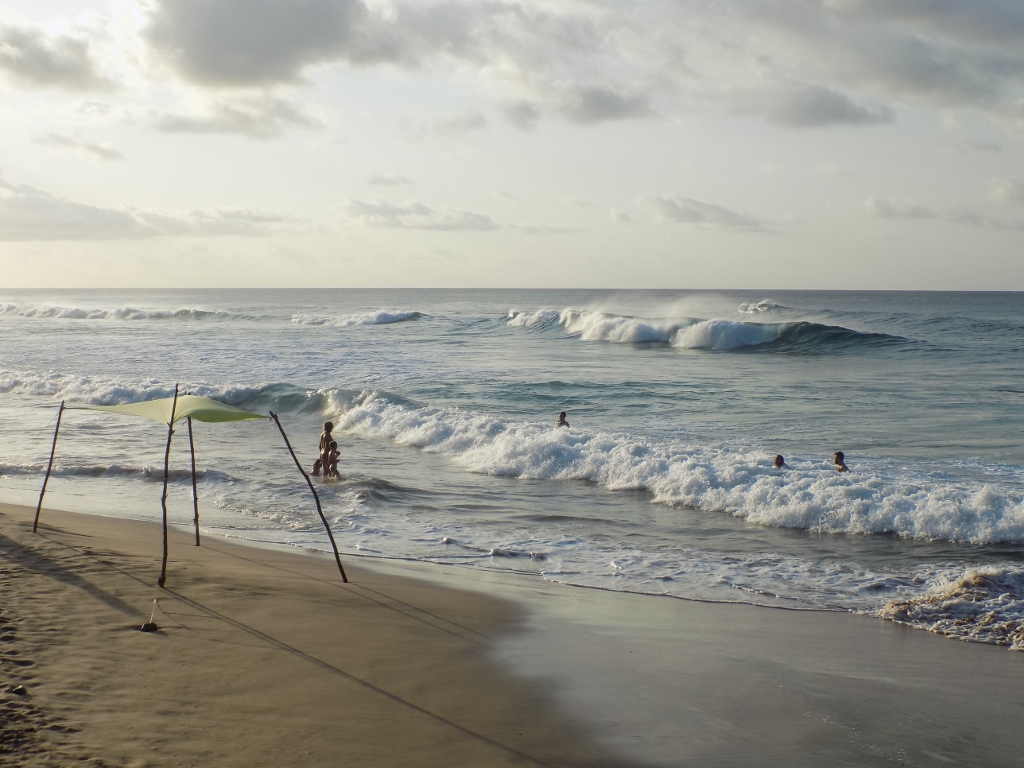 Boldró Beach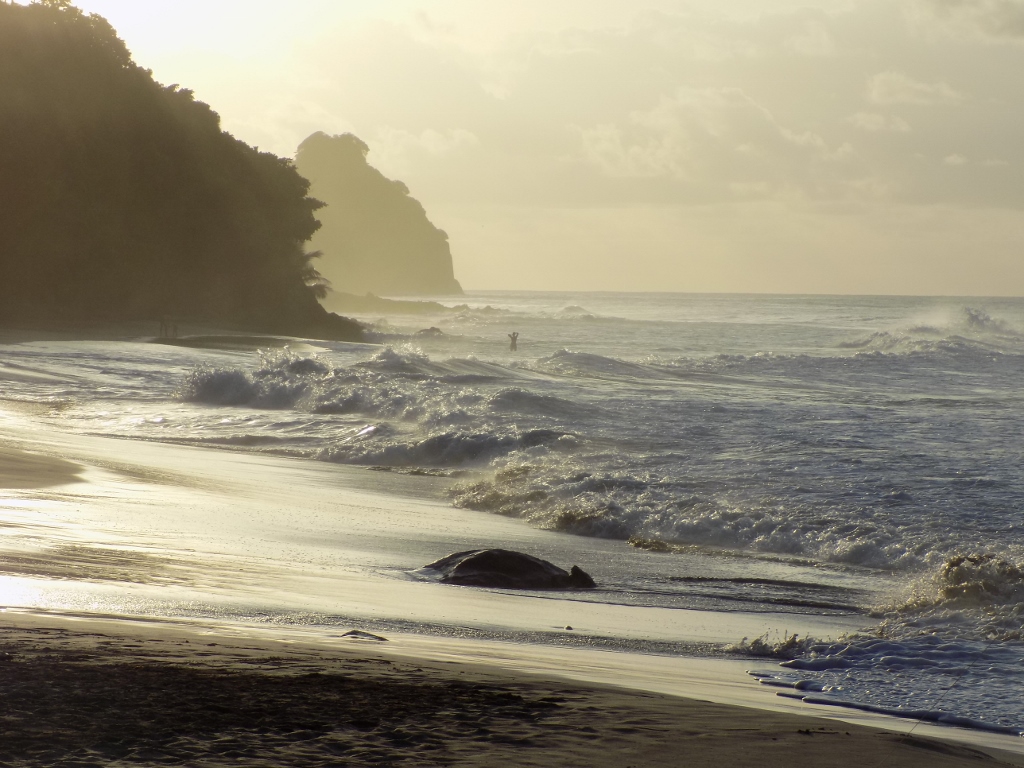 Boldró Beach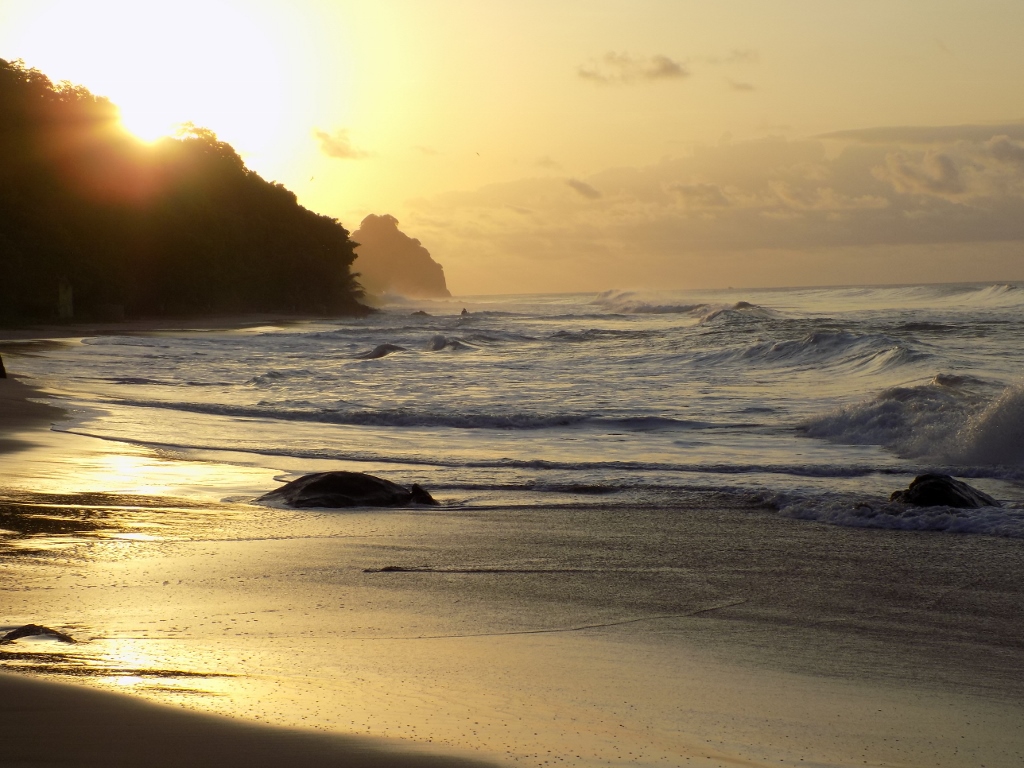 Boldró Beach
Then we returned to "our" part of the island that was more densely populated and that was in the north-east, so we had dinner there, after which we went back to our room in order to get ready for the following day. It was interesting that we were also forced to live without internet, since the internet connections on the island were rather bad. I had already notified all those concerned that I would not be in touch with them over the next four days, so that was all quite fine as far as I was concerned.
For the first whole day on Fernando de Noronha we decided to go on a day's trip around the island. We thought this would give us an idea about the island, the distribution and appearance of the beaches on it, and then it would be easier for us to decide what to do with the remaining couple of days which was the time we had here.
The trip started well, the driver came to collect us and we climbed the back end of one of the numerous pickups. Let me explain – a rather big vehicle that has a cabin with two rows of seats, including the driver's, has an open cargo area in the back. In this case, this cargo section was equipped with three seats on each flank above which there was a canopy. In other words, this was meant for 10 tourists, plus the driver. The two of us immediately opted for the seats in the cargo section since this seemed like more fun for us.
First we stopped by the agency to rent snorkelling equipment there and then we went to Sancho Bay (Baia do Sancho).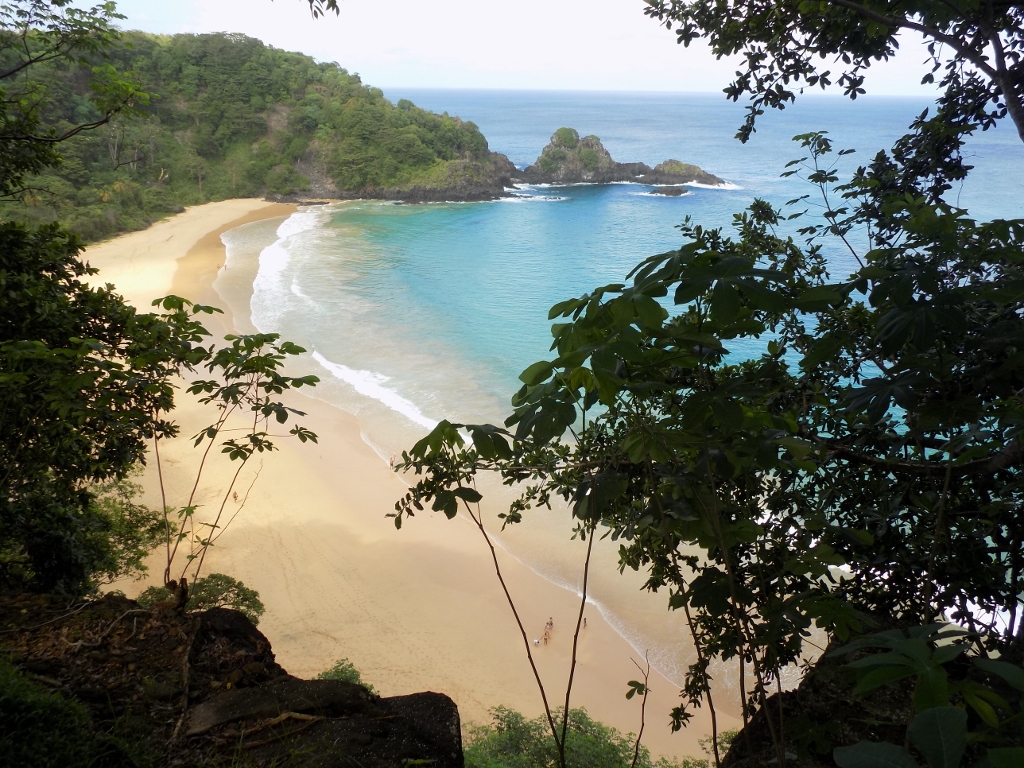 View at Sancho Bay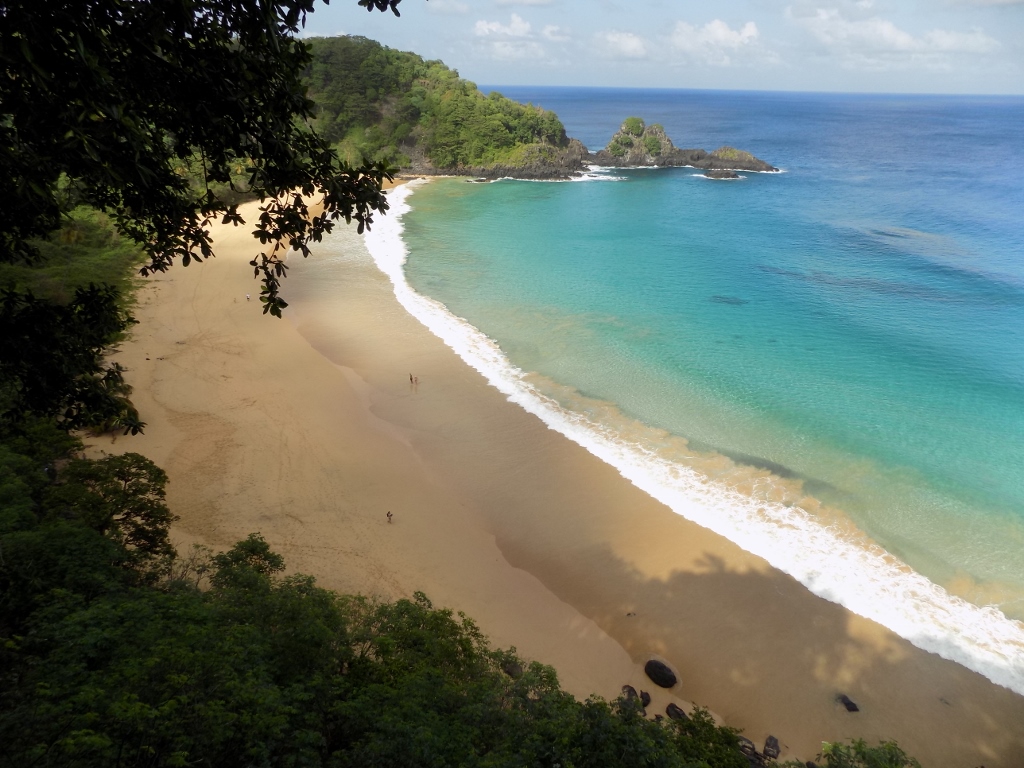 View at Sancho Bay
Our driver did not speak any language other than Portuguese; in fact, he said he spoke Spanish, but then he continued to speak Portuguese and when I addressed him in Spanish, he completely gave up any further communication. Thus, he did not tell us that this was the place to take the rented snorkelling equipment with us, but frankly speaking, we did not regret it in the end. The main reason is that the way to Sancho beach is filled with obstacles or better said – challenges. First you walk along a path in the form of a walking bridge made through the woods. Thus you get to a couple of platforms from which there is a wonderful view at the beach, but you can also see that there is a significant altitude difference.
In order to cover this altitude difference, first you go down two sets of ladders that lead through very narrow crevices between rocks and then come more steep wooden steps with a handrail. Only when you cover all of this you get to the beach. Our squeezing through the crevices with the ladders was tight as it was and I don't know how we would get through if we also had the bag with the snorkelling equipment with us. Probably like all the others who remembered to take the equipment with them or to whom their guide drew their attention saying this would be the moment to do it.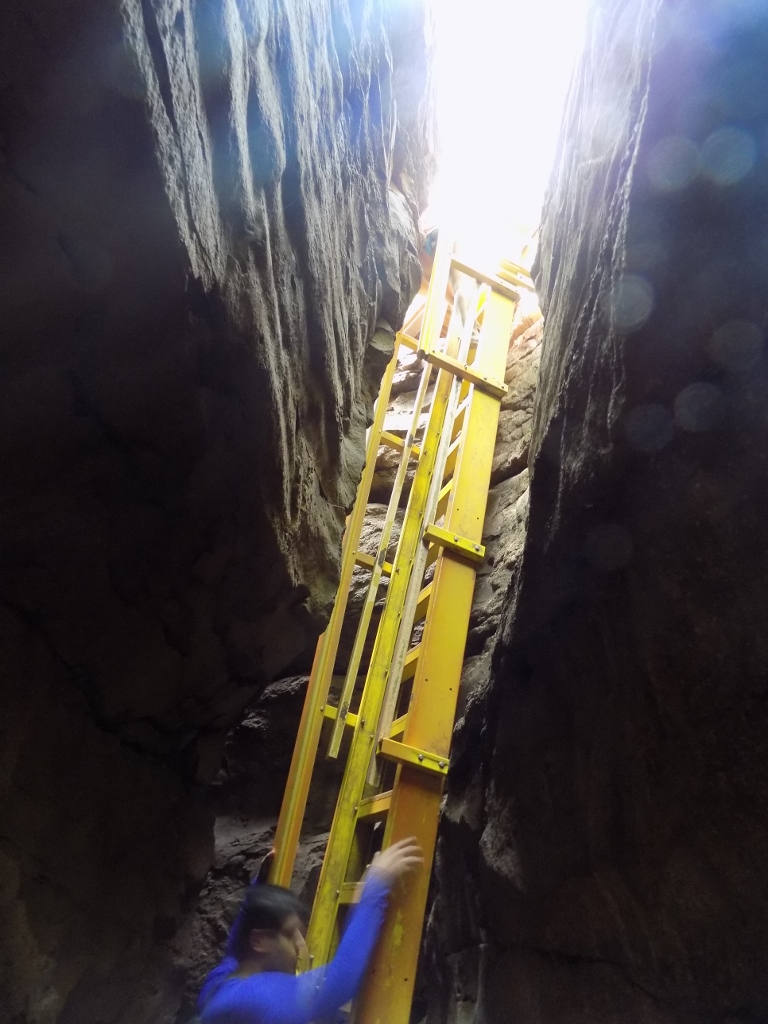 Ladders used to get down to Sancho Bay
Still, while waiting to get down to the beach, there were a couple of interesting things about this platform. To start with, a red-footed booby (Sula sula) was standing on a nearby branch and was mostly grooming itself, pulling its head from its feathers only rarely. I was very content that I managed to take a photo of one such moment.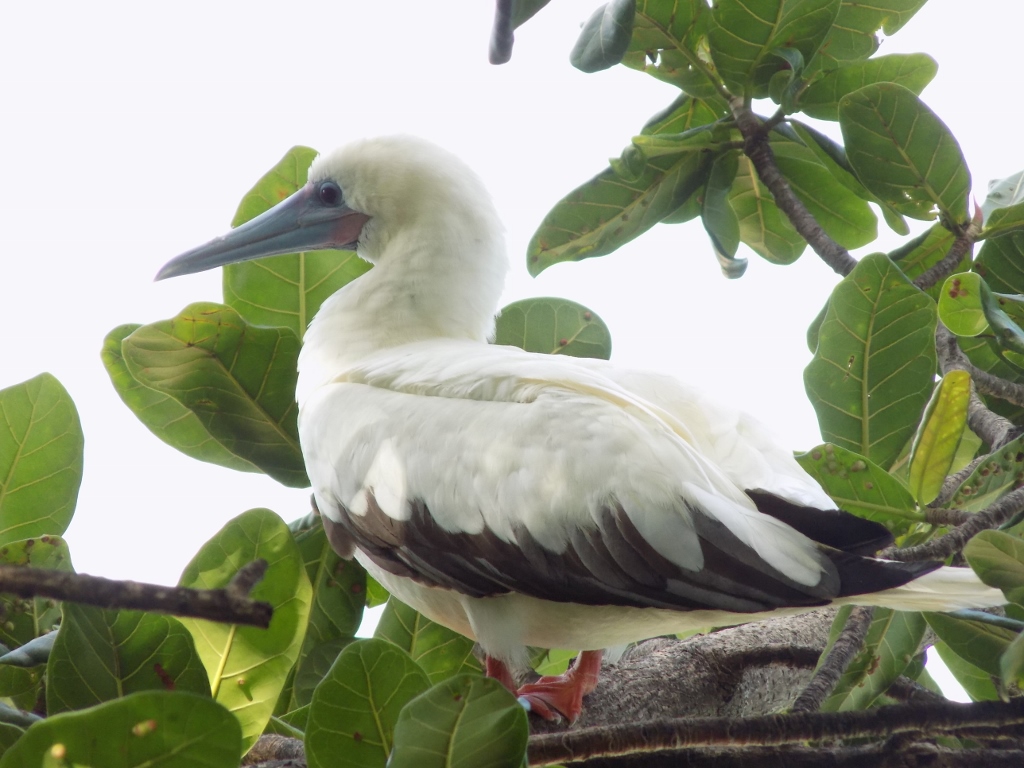 Red-footed booby (Sula sula)
Beside the platform, there was also a welcome sign that showed the whole list of things about which the visitors should take note. After all, this was pure nature.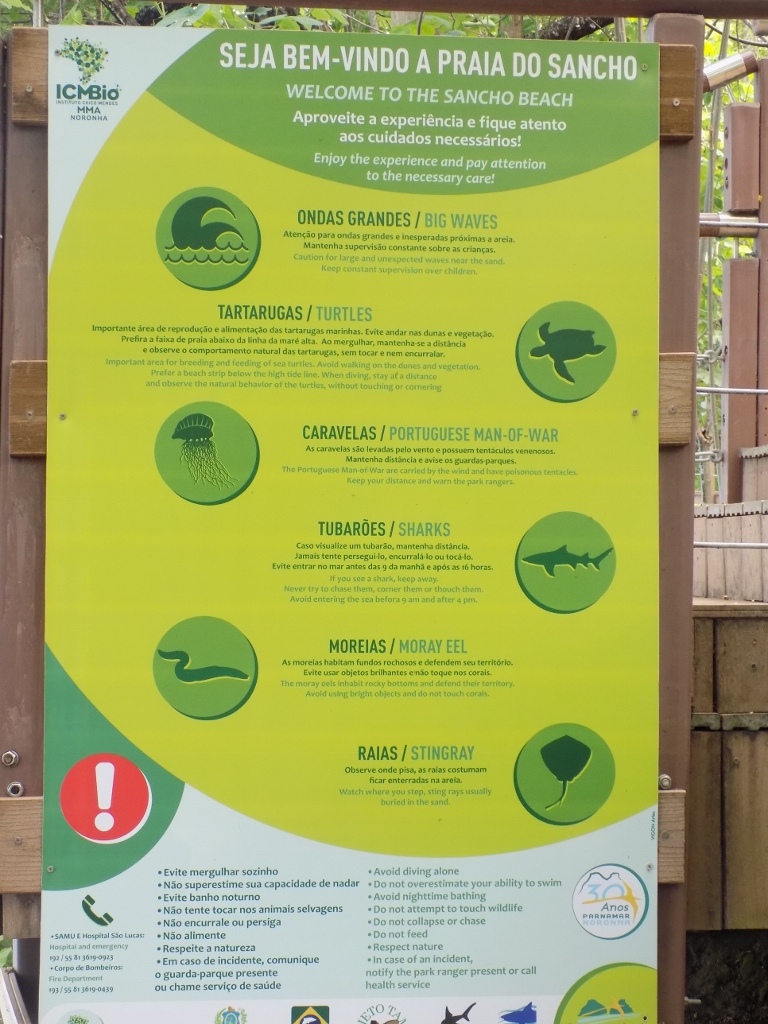 You are welcome, but take care of the following...
This archipelago, together with Rocas Atoll which is the only atoll in the south Atlantic, constitutes a natural property inscribed in the above-mentioned UNESCO's World Heritage List (the list includes both cultural and natural properties). The reason for this is that in the middle of a huge ocean, because of the shallow waters around the island and the atoll, there is an incredible abundance of animals that either permanently dwell here or only come here to breed. This concerns tunas, sharks, sea turtles and water mammals. In addition, here lives the highest concentration of tropical seabirds in the western Atlantic. Of course, there are also numerous invertebrates, land animals and there are endemic species, as well. A little of all of this we saw here at Sancho Beach.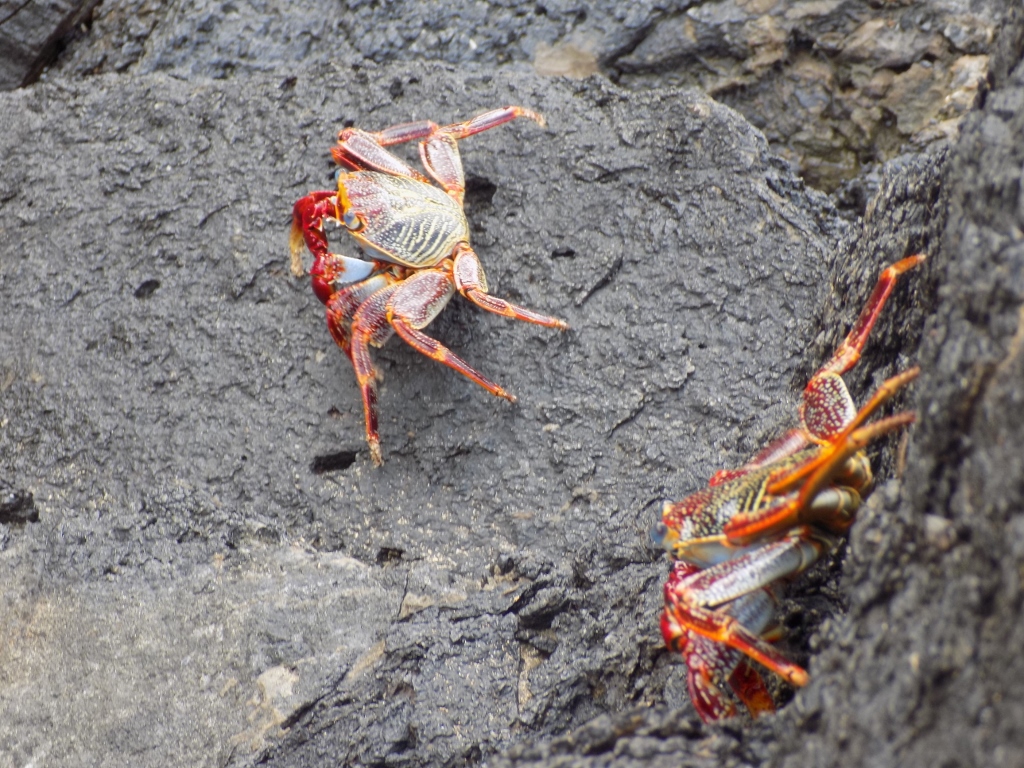 Brave crabs that come out in the open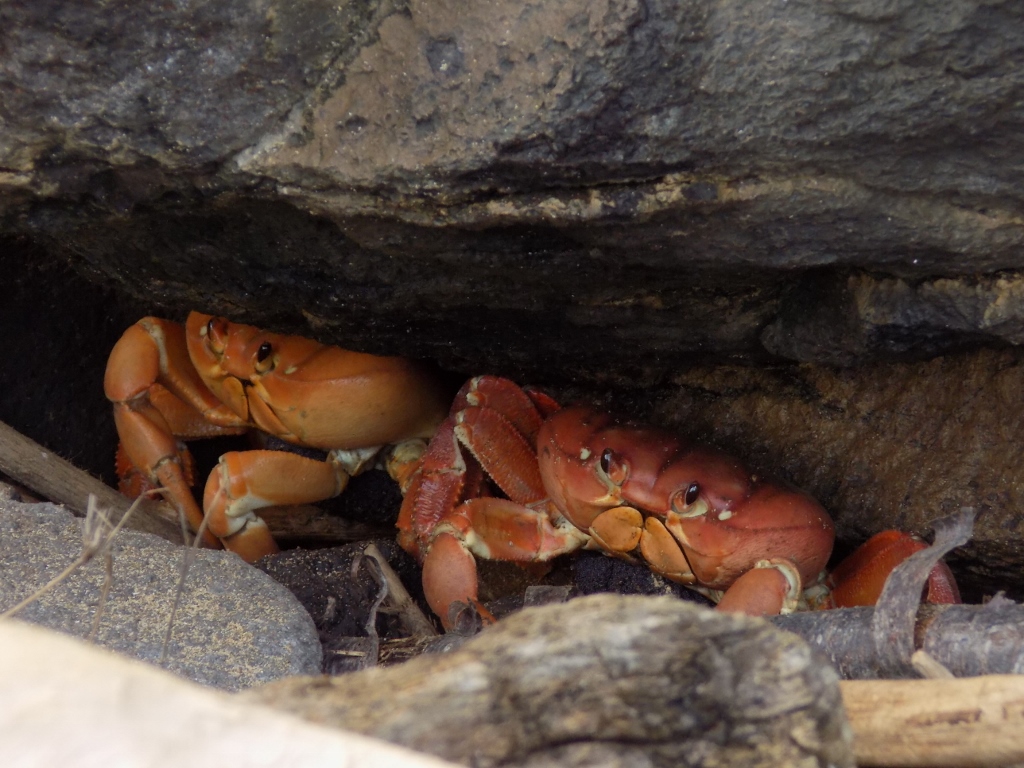 Crabs that are not as courageous
Around Sancho Bay, I also saw a rock cavy or mocó (Kerodon rupestris) which is a type of rodent that belongs to the family Caviidae.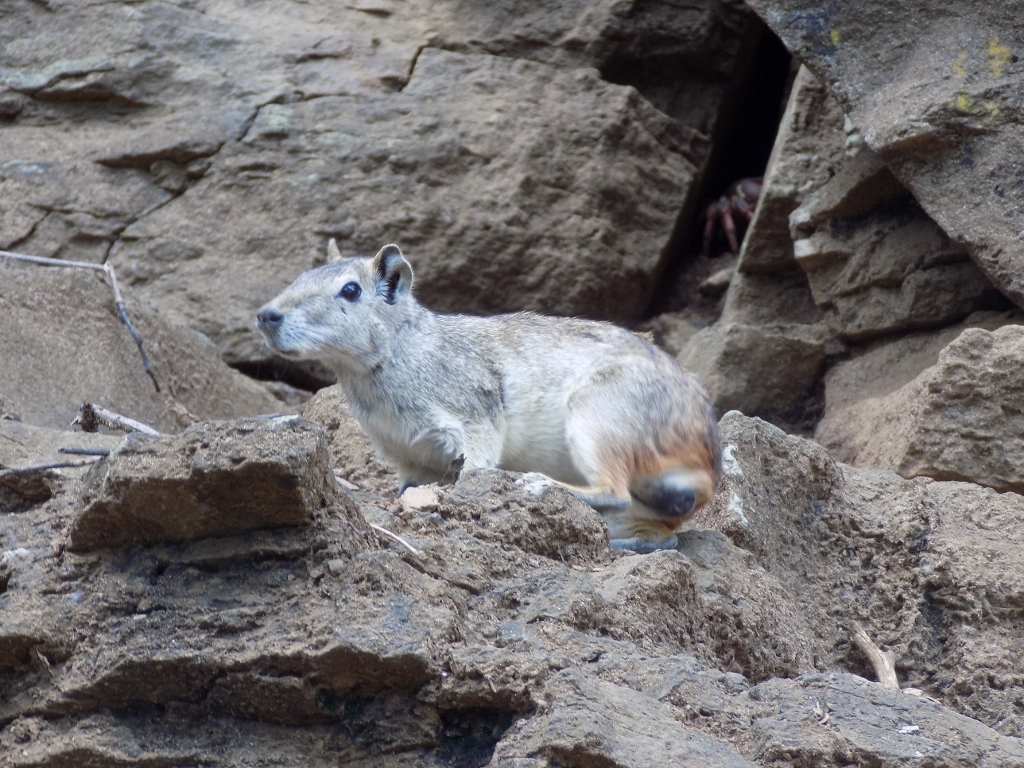 Rock cavy or mocó
There I also took a photo of an endemic type of lizard, the Noronha skink, (Trachylepis atlantica).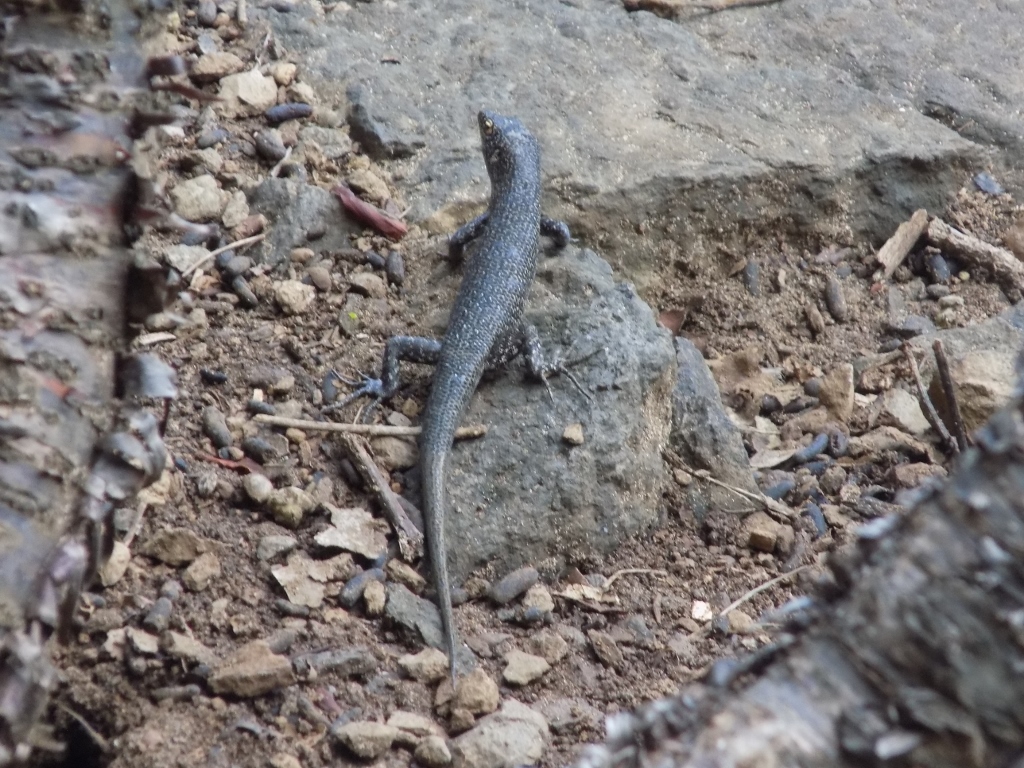 Noronha skink
As I've said, I did not regret too much not having my snorkelling equipment with me, since I was fascinated by quite a particular kind of animals that lived on the beach. Not the fish, but the birds. Practically all the trees on the beach were covered in red-footed boobies and I was delighted. Admittedly, most of them were busy grooming themselves and their heads were either somewhere on their backs, or under the wings, or on the belly, or they used a leg to scratch their head and they rarely posed for a layman photographer such as myself. Needless to say, this did not prevent me from spending quite some time trying to catch them in a good position with a photo-camera in my hands.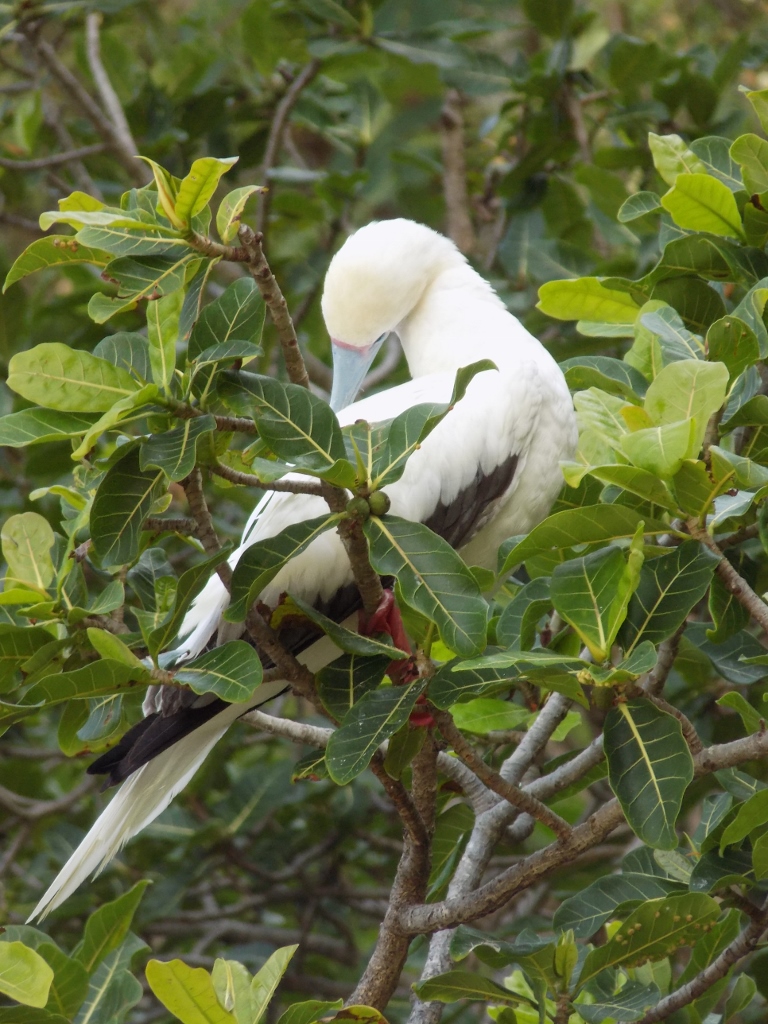 One of the many red-footed boobies that were grooming their feathers in the trees by the beach
Still, at some point I did drag myself away from the filming of the birds and I went into the water to swim a little. Afterwards I got out to dry and then I continued taking photos. It was a pity wasting time and not doing something in such a beautiful place.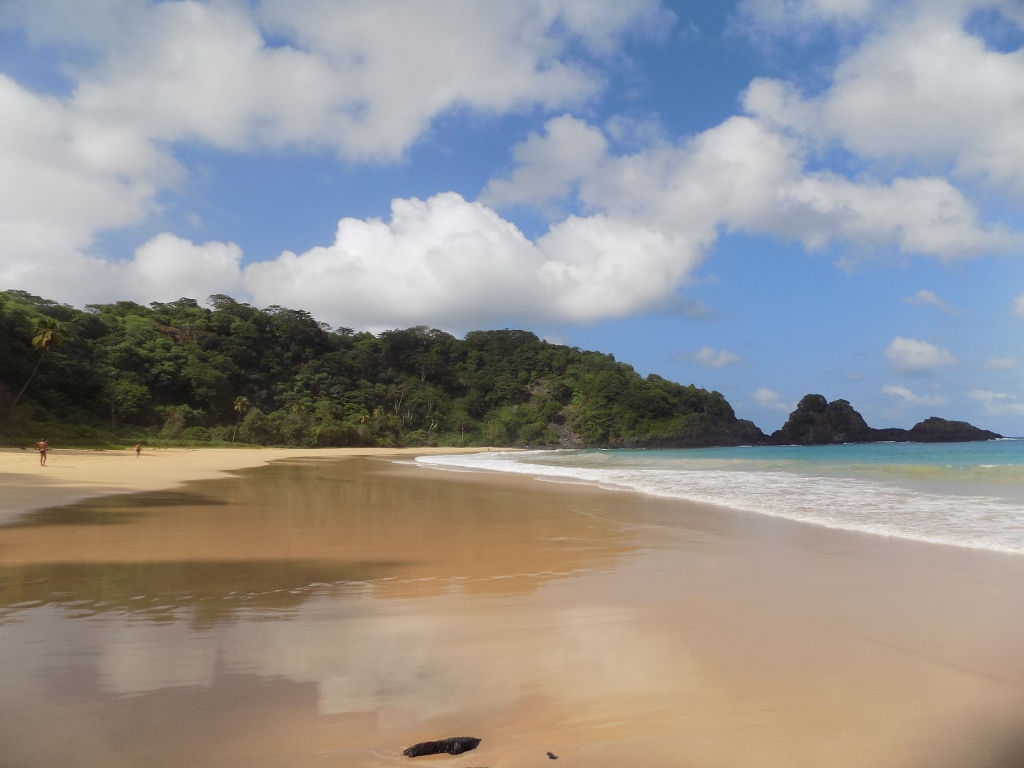 Sancho Beach

Sancho Beach
Then the guide passed near us and told us we were leaving in 10 minutes, which was not difficult to understand even in Portuguese since this was almost the same as in Spanish. As two very conscientious tourists, of the Western inclination, we took this time limitation seriously and soon we were in the line waiting to leave the beach. Namely, because of those narrow crevices and ladders, people are allowed to pass up and down every half an hour. There we also saw our guide walking by.
To get to the ladders, first we had to climb up the steep elevation.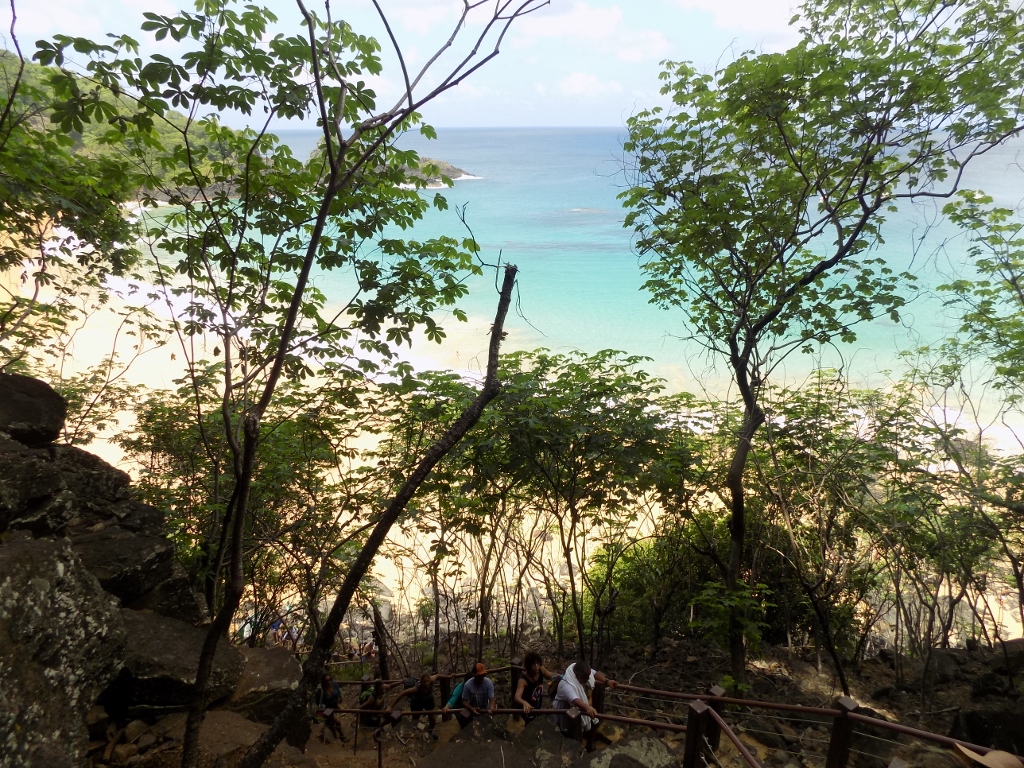 Climbing up a very steep section; Sancho Beach is in the background
When we got to the platform, first I needed to catch my breath and I used this time to take new photos of Sancho Bay. The red-footed bobby from before was still hanging around at the same spot.

Sancho Bay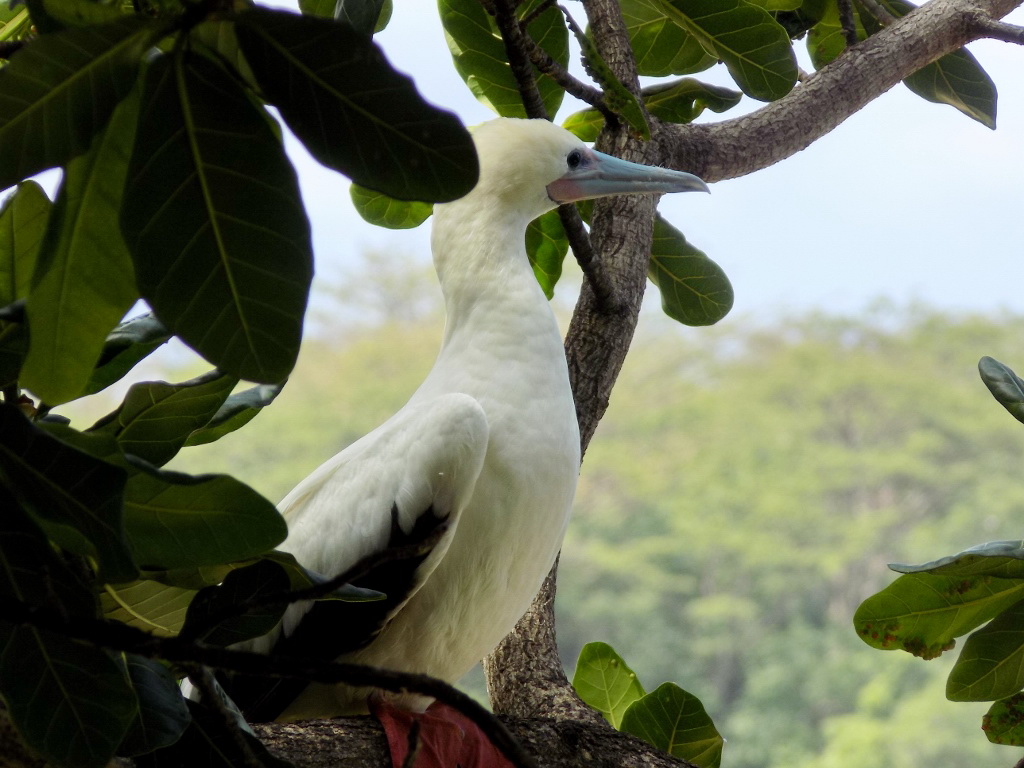 Red-footed booby
And thus the two of us reached a wooden building in which they had read our National Park entry tickets before and there was a bar there as well, so the two of us ordered a refreshing drink. Then we started to wait for the guide and the rest of the group. And we waited, and waited, and more than an hour passed before they showed up. In the meantime, I became very nervous, since in the place like this I would certainly prefer to sit and wait on a wonderful beach and not in an improvised bar in the middle of a forest. Sneža tried to rise above the circumstances, although she also minded that we were just idly sitting there. Be as it may, in this way we learned that we should not separate from the group even in the most obvious places.
The next beach we went to was Cacimba do Padre Beach (Praia da Cacimba do Padre).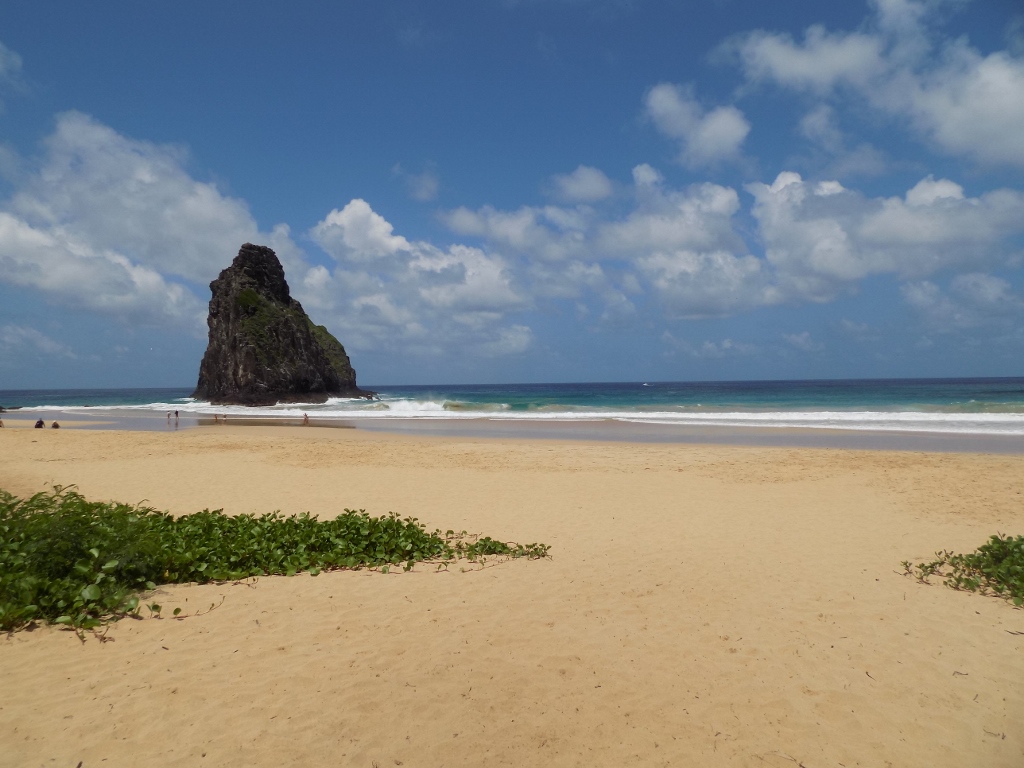 Cacimba do Padre Beach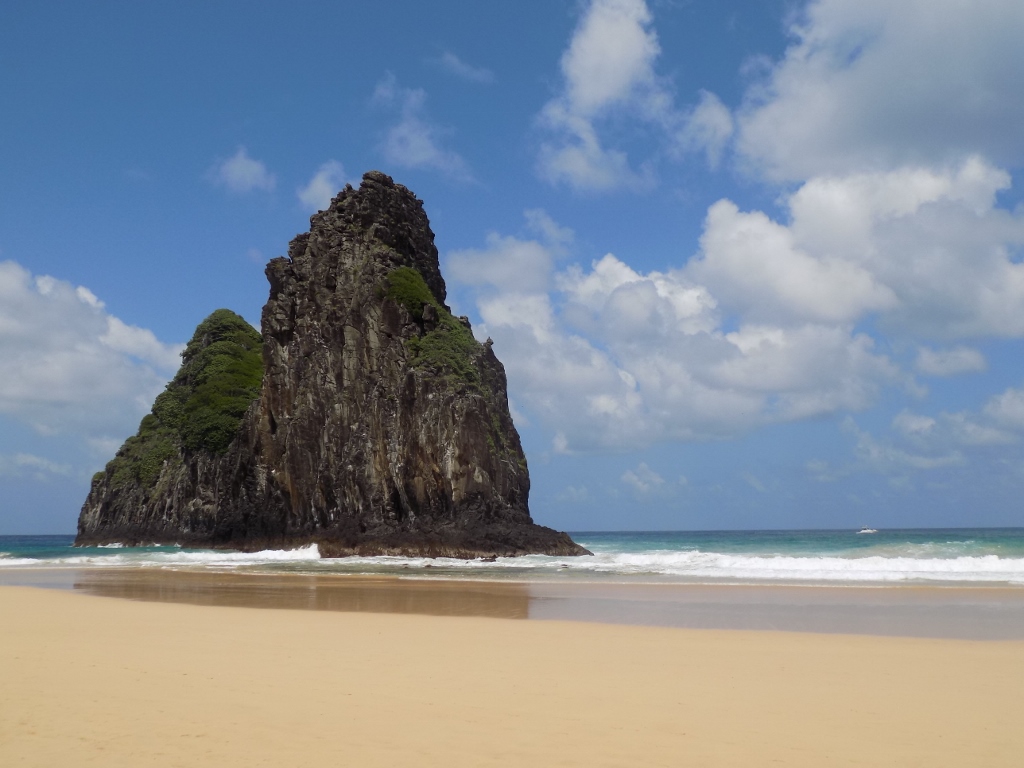 Cacimba do Padre Beach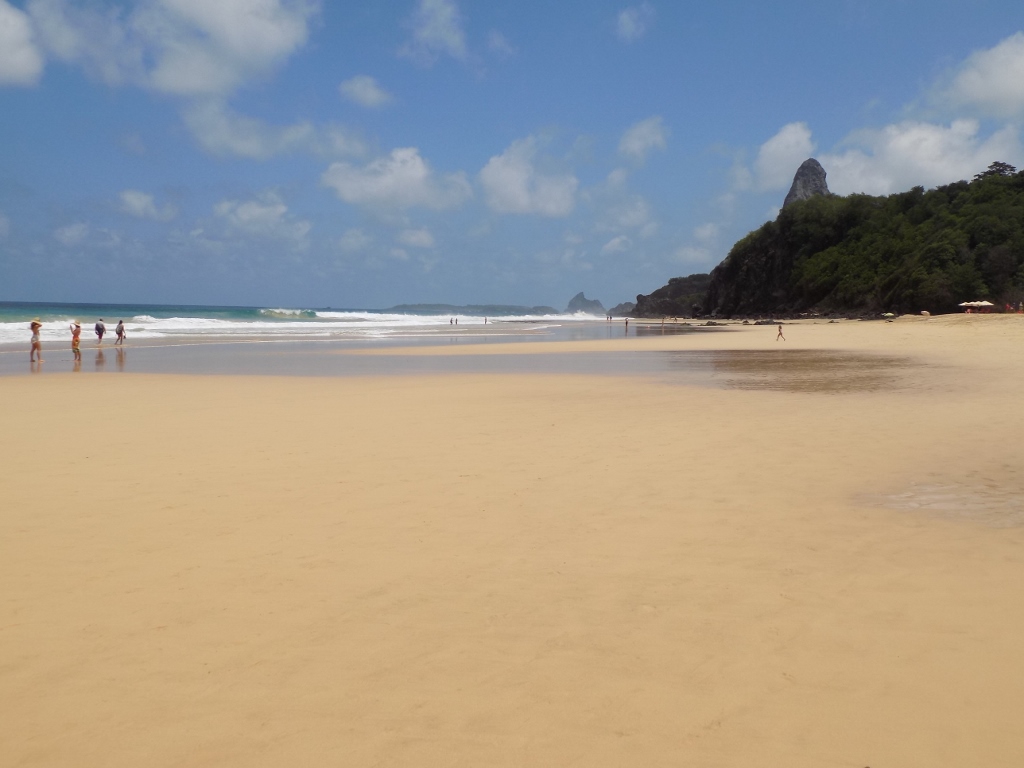 Cacimba do Padre Beach
When the tide is low, from this beach it is easier to get to the Bay of Pigs. Yes, yes, Fernando de Noronha island also has its own Bay of Pigs (Baia des Porcos). This was said to be one of the nicer beaches on the island, but when we barely managed to climb up some big rocks to the point from which we could see the bay, we concluded that getting there would not justify breaking our legs any further, so we simply returned to this large beach where it was not possible to swim on account of the big waves, but at least our legs were safe.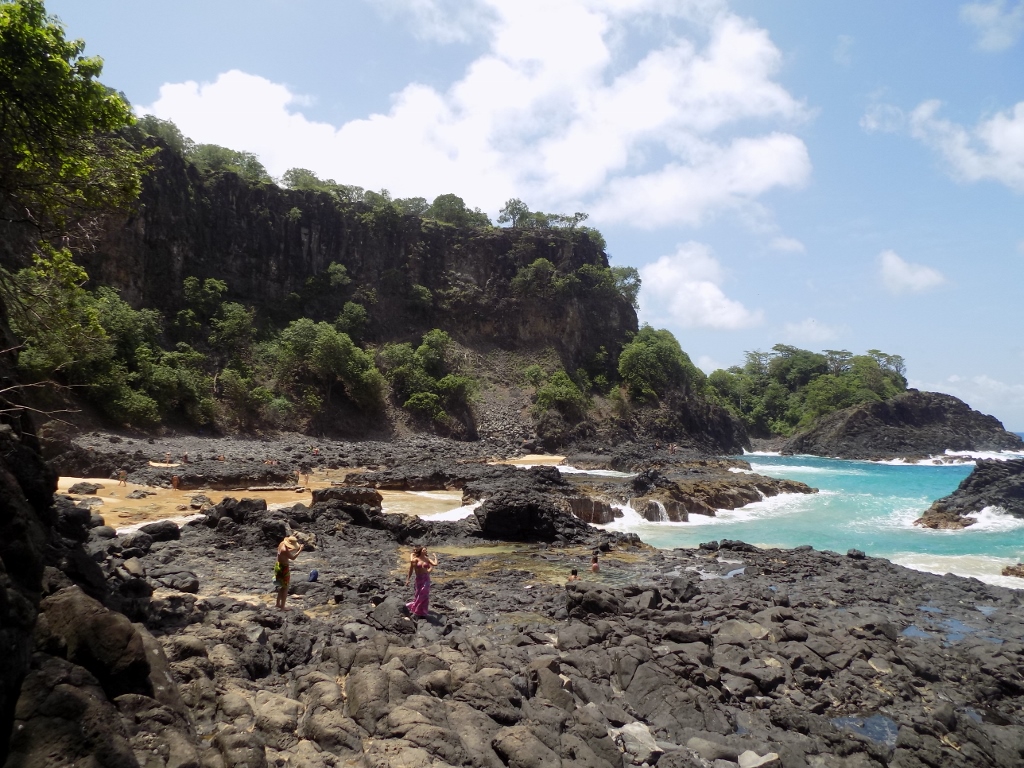 Bay of Pigs