Somehow this trip to Thessaloniki happened by chance and without any major planning. As I was busy organizing my visit to Paris, I got notification from an airline that some miles I had collected would be lost unless I used them by the end of that month. I felt sorry losing something. I generally don't like throwing things away if they can still be used for whatever. And this was a case like that – you've got something and then you let it go to waste. Pity! Then I looked at the bulletin of the airline and noticed Thessaloniki in the list of their destinations and – there was a click! I called their customer service and as it turned out for a round-trip to Thessaloniki I needed exactly the number of miles I had in my account and there it was! I decided to go to Thessaloniki in May.
I'd been to Thessaloniki on a couple of occasions, but always very briefly, a day or two. The last time I was there I wanted to go to the Archaeological Museum, but it was winter, the days were short, no tourists around and thus the museum closed earlier and I couldn't get to visit it. And that is a museum which is said to be an excellent place not to be missed. After all, Thessaloniki itself is in the UNESCO's World Heritage List, so the 4-5 days I dedicated to the city this time was not too much at all. Quite the contrary, in the end I was left with an impression that there is so much more that one may visit, plus it is a great city to enjoy and relax in.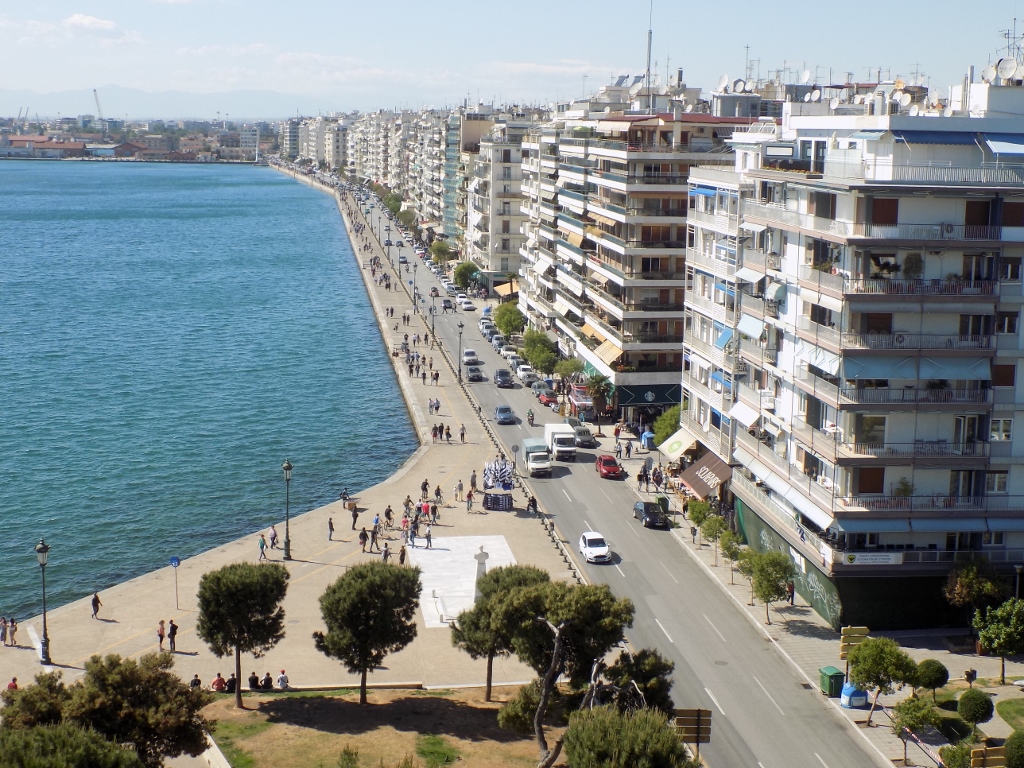 Walking area in the centre by the Aegean Sea
Thessaloniki was founded some 2300 years ago by Cassander, a ruler of Macedonia from the period of Alexander the Great. Although he was taught by Aristotle at the same time as Alexander, Cassander did not join the campaigns across Asia, but rather stayed back to solidify his position in Macedonia where he declared himself the king (ruling from 305 to 297 BC). He was a ruthless ruler who wanted to be "Caliph instead of the Caliph," so he incarcerated and killed Olympias, the mother of Alexander the Great, then Roxana, the wife of Alexander the Great, then Alexander IV, the son of Alexander the Great, and just for a good measure Heracles, an apparent illegitimate son of Alexander the Great. Simply to make sure that nobody would come to his doorstep one day and say: "Hey, it should be actually me who should be the king!" But, in order to make sure in case anybody got impertinent enough to question his legitimacy and especially that of his descendants he married the half-sister of Alexander the Great thus ensuring the "quality" blood for his heirs. It didn't help him much. Very soon, his lineage died out, too.
Still, there is something beautiful that has stayed behind him. It is the city he founded on the coast of the Aegean Sea which he named after his, hopefully, beloved wife, Alexander's half-sister Thessalonica. This is certain as a historic fact, but it is interesting that still no statue and no record have been found that would confirm the actual appearance of this queen, so the mystery about her looks remains. However, as the city bearing her name is a very beautiful one, we may play with the notion and imagine that Thessalonica also used to be a beautiful woman.
During the Roman rule, Thessaloniki used to be one of the most important centres in this part of the world and when Constantine the Great pondered where to establish the capital of the eastern part of the Roman Empire, Thessaloniki was short-listed. Although it was not to become the capital of what would eventually grow into Byzantium over time, Thessaloniki was completely unavoidable throughout the history which is omnipresent here, for many things may still be seen either in its streets or in its museums.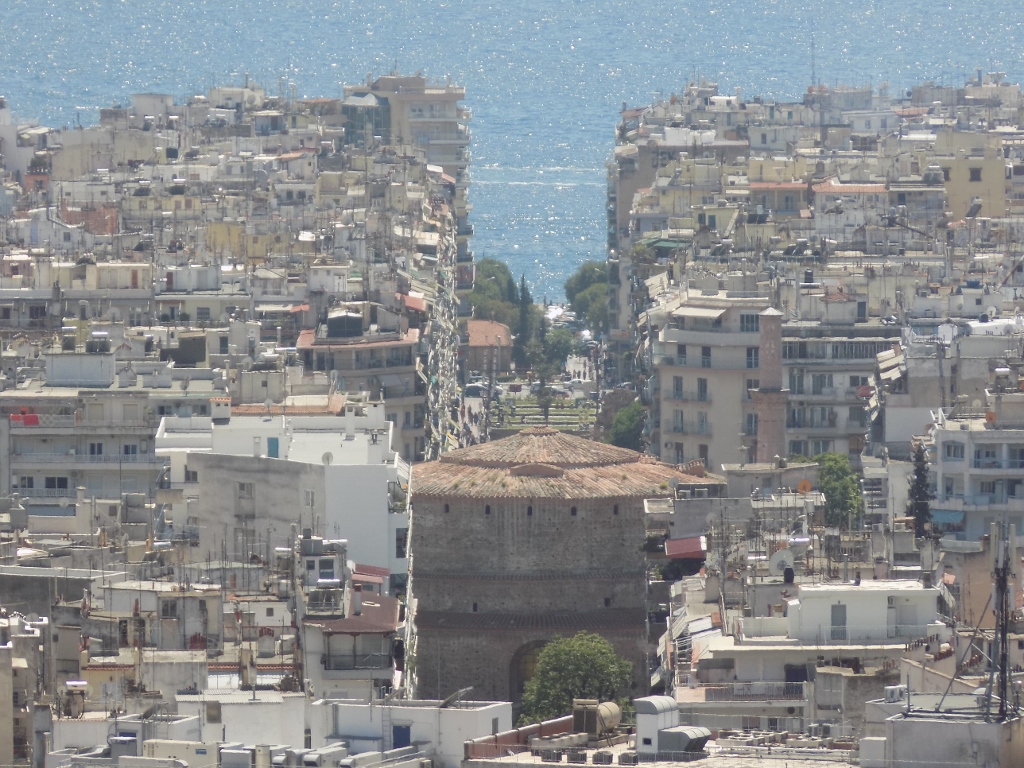 The roofs of Thessaloniki and the Rotunda
The spring of 2017 in Belgrade was quite rainy and often rather chilly. I went to Thessaloniki at the beginning of May and it was ideal. The temperature was around 28 degrees, but there was still no summer heat and I could enjoy the beautiful blue sky and warmth that often required me to make a break in order to get refreshed. It's always handy to have a good excuse.
As for my accommodation, during this visit to Thessaloniki I opted for a flat which I rented in the centre and it was very good. In addition to the fine position, the flat also had a fantastic spacious balcony, so except when I was sleeping I was at this great balcony during the rest of the time I spent in the flat.
As soon as I got to the flat, left my things and refreshed a little, I got out and following the Tsimiski street went to the Aristotle Square, remembering different places and streets along the way. Somehow I believe that one needs to start the visit of the city from this semi-circular and impressive square which meets the sea on the one side and on the other, along a broad walking street of the same name, leads to Egnatia street. Still, I didn't stay here for too long, deciding to make a break in one of the numerous cafes/restaurants surrounding the square and the street some other time.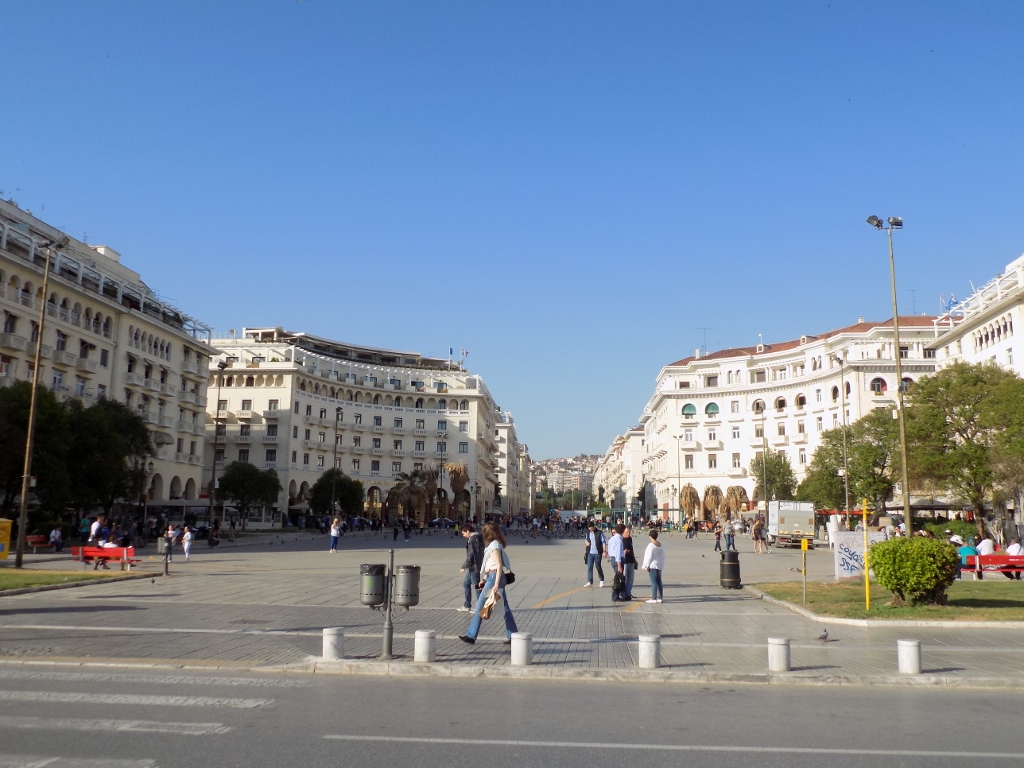 Aristotle Square (Platia Aristotelous)
This time, I got down to the sea which was choppy, as it was windy that day, but it was still wonderful to walk and enjoy the sun, the sea and the idea I was on a mini-vacation. And then I realized I was hungry. Along the sea and the walking area, there is Nikis Avenue which is full of vehicles. On the other side from the sea and the quay, there is pavement and buildings at the ground floors of which there are usually cafes and restaurants and they were all full. One gets an impression that there is a perpetual traffic jam in Nikis Avenue, but it is still worth while sitting in one of these places for a drink or a meal while enjoying the view. When I left Belgrade, I said to myself that the goal of this trip was to go to the Archaeological Museum and to look at the sea. Well, these restaurants and cafes are the perfect spots for the latter.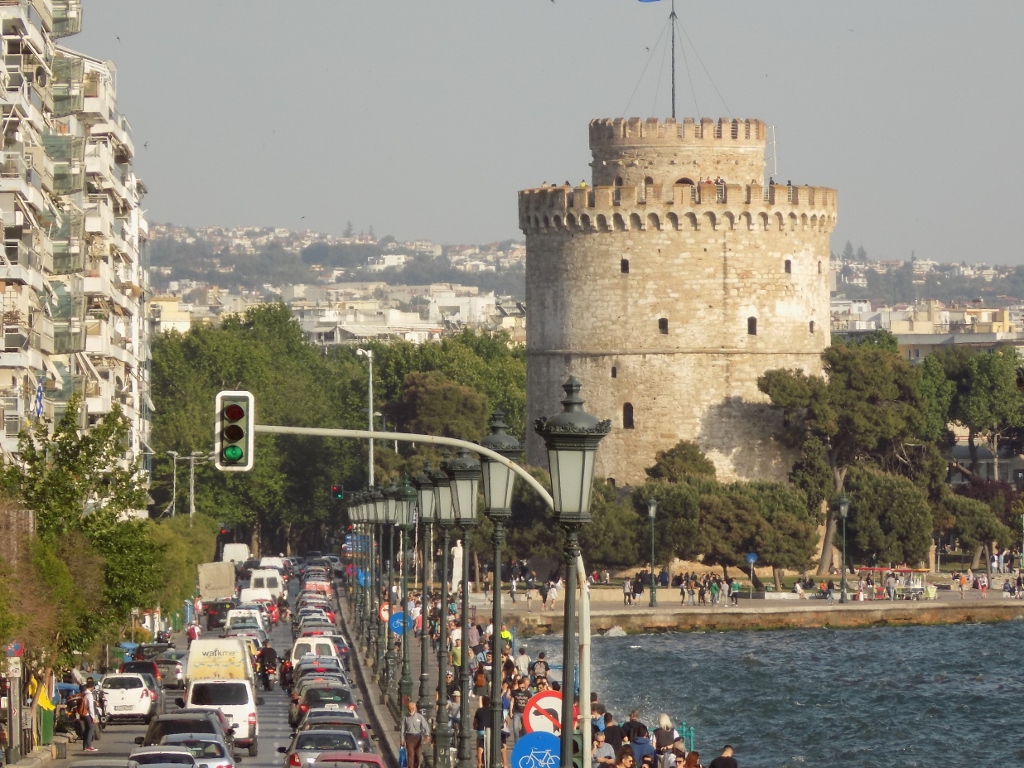 Nikis Avenue and the White Tower
And so I entered one of them and I chose it because it had an upper floor and I wanted to have as best view as I could. I thought I would eat something small and savoury, but I eventually ordered a starter and a salad which turned out to be a huge quantity of food. First I was surprised, especially since both were brought to me at the same time, but then I also realized I was quite hungry and so I dived into the food that was quite good. On the other hand, I think I would have enjoyed food at any other restaurant. Generally speaking, I'm not too obsessed with restaurants, as I actually prefer the food I make myself. I think this may be a "genetic" thing in my case. Namely, my dad was a top-class caterer/restaurant manager and although he had regular access to the food prepared by some of the best chefs of the former Yugoslavia, he absolutely always preferred the food prepared by my mom. I don't mean to say that my mom was at the level of a great professional chef, but rather that my father had enough of restaurants and preferred to eat at home in a family atmosphere. Well, I'm sort of like that. Restaurants were for me something quite normal and ordinary already at my earliest age and going to a restaurant has never been a priority for me. I'm almost always more impressed by the place in which I am, by the people I'm with, the moment in my life, the events... But, then again, I haven't had meals prepared by the best chefs in the world, so who knows, I may even change up my mind.
After this early dinner, I walked along the sea for a little while yet, walked to the White Tower and then in a broad circle returned to the flat to have a good rest.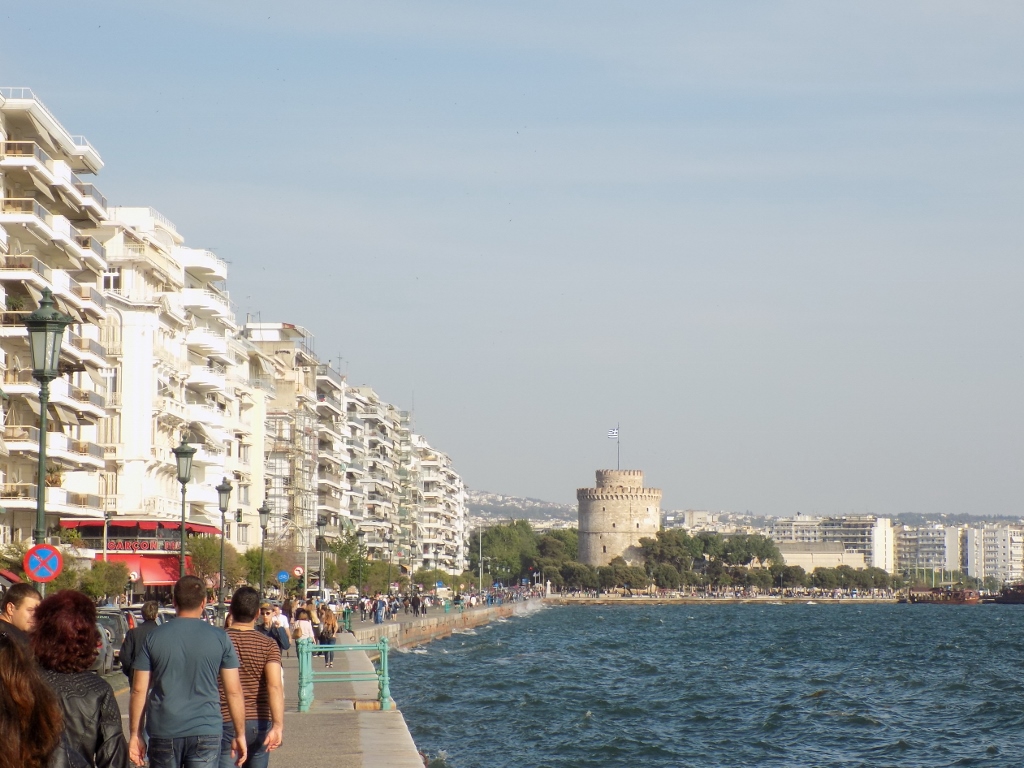 Walking area in the centre along the Aegean Sea
The plan for the next day included a visit to the Archaeological Museum. It is one of the places that deserve a mandatory visit when coming to Thessaloniki. Throughout history, great civilizations have replaced one another in the broad region around Thessaloniki and they have all left their traces. Some of those traces may be found at the Archaeological Museum and they are exhibited there in order for their beauty to continue to delight people with their antique splendour.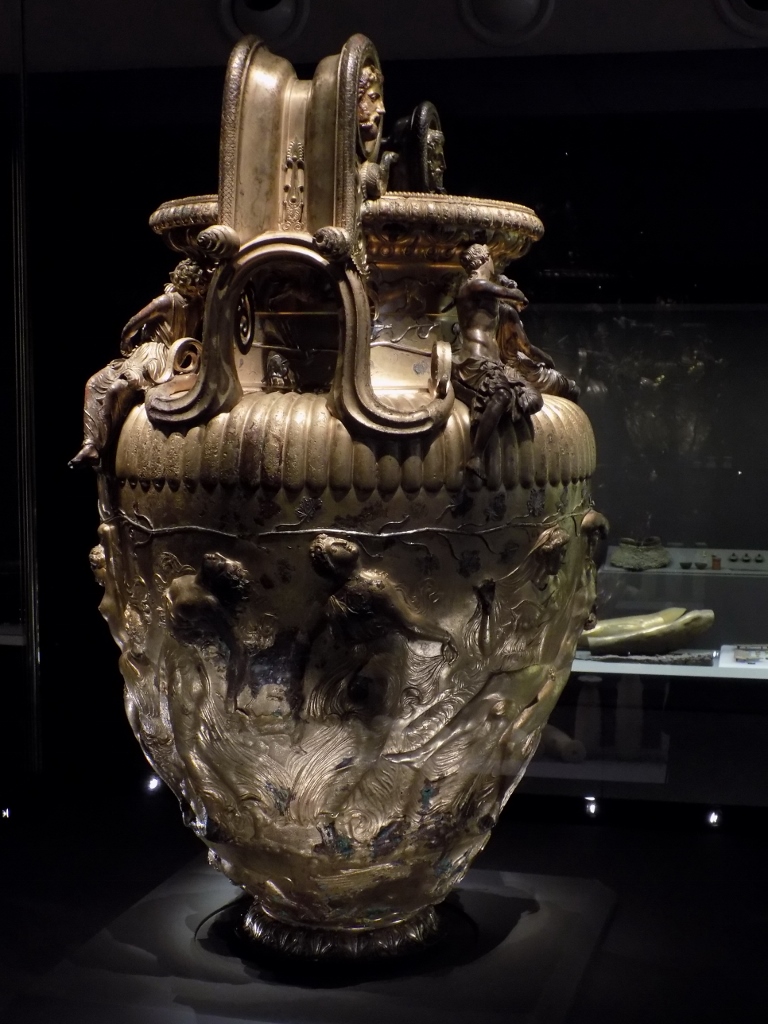 Derveni Crater, Archaeological Museum of Thessaloniki
I think it is good to know that when buying a ticket for the museum it is possible to get a combined ticket. It costs 15 euros (May 2017) and it also includes a visit to the Museum of Byzantine Culture, White Tower, Roman Forum and Galerius Palace. Admittedly, this last bit I didn't manage to visit, so I'm talking in rough terms. I did wander a lot trying to find the exact place I could enter with the ticket and then it turned out it was closed. In connection with this, I did find it a bit problematic and strange that there was no proper tourist information office in Thessaloniki, the second largest city in the touristy Greece, that provides tourists with information and maps. I love such places because, as a rule, I may go there with a clear question and get a clear answer. Looking for some things through internet may often turn into a search for a needle in a haystack.
Still, I was very content with my visit to the Archaeological Museum in Thessaloniki which is not very large, but is very interesting. There it is possible to see exhibits from prehistory, wonderful ceramics, impressive gold jewellery, fantastic mosaics, the famous Derveni Crater (Derveni is an archaeological site near Thessaloniki), as well as the Derveni Papyrus which is considered to be the oldest European "book," and there are also numerous stone sarcophagi displayed in the alley around the museum.
A particularly interesting element for visitors from Serbia lies in the fact that at the Archaeological Museum in Thessaloniki it is possible to get the museum brochure in Serbian! Needless to say, there are brochures in other languages as well, but it is quite rare to find them in Serbian outside our small country.
Very close to the Archaeological Museum, there is the fantastic Museum of Byzantine Culture. It has exquisitely well organized displays and it is absolutely worth a visit. Although Thessaloniki was not selected for the capital of a large empire in making, it was still a very important centre of this region and therefore it has been possible to find very important historical and artistic objects from the Byzantine period in it. A good selection of these exhibits may be seen in this museum.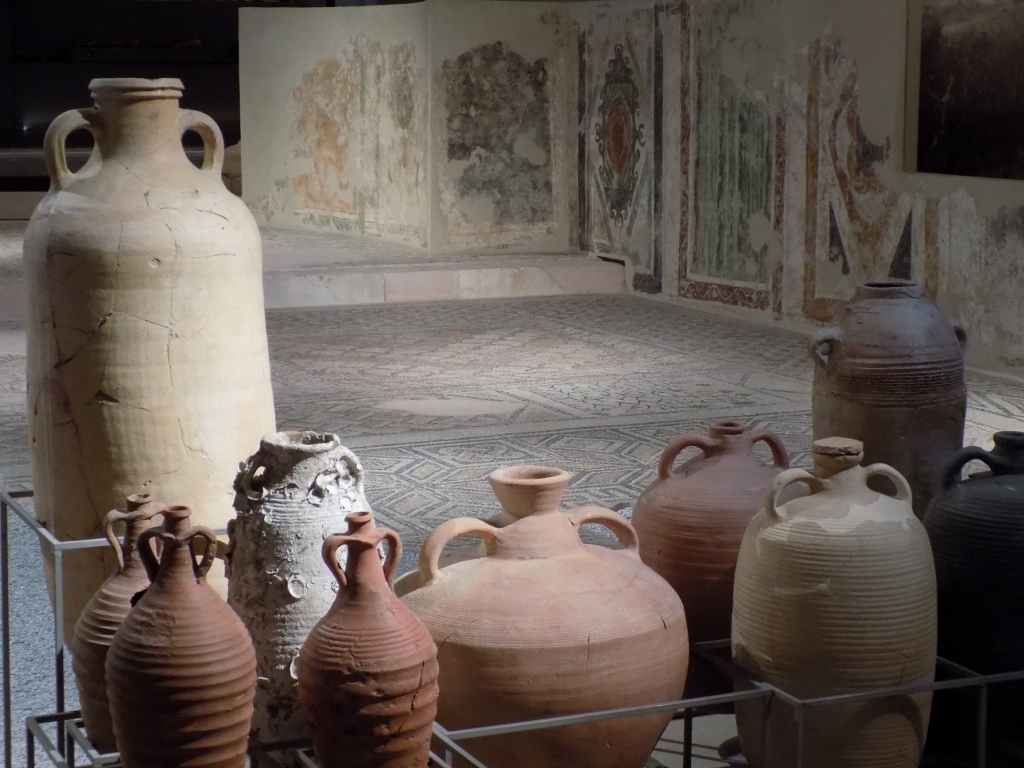 Detail from the Museum of Byzantine Culture in Thessaloniki
After my visits to the museums, I decided to have a walk. The plan was to go all the way up to the old ramparts, but on my way I passed by a colourful flower and plant seedlings fair. As I arrived in Thessaloniki by plane, I certainly had no intention of buying any of the exhibits, but it was nonetheless wonderful to enjoy the colours accentuated by the bright sunlight.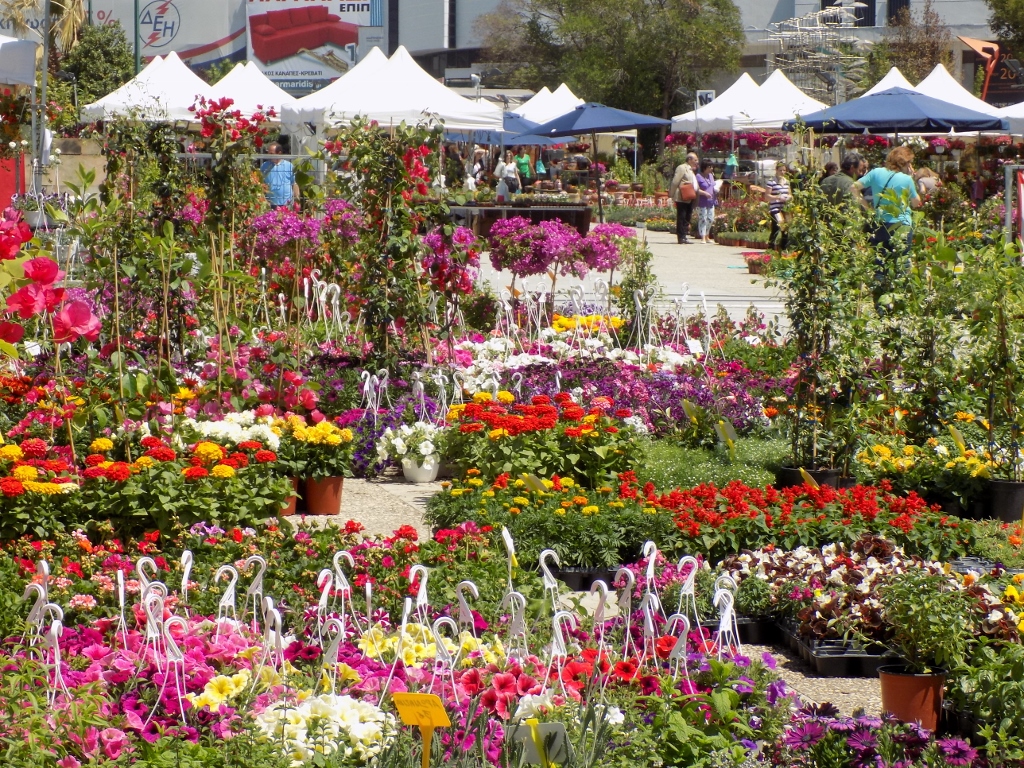 Flower fair
The route I have selected was not an easy one at all, since I went directly uphill to the ramparts. The first walls at the elevation above the city originate from the Hellenistic period, but they had additions done later during the Byzantine period and under the Ottomans. As I went up, it was becoming significantly warmer and I got quite tired by the end of my hike, but it was worth it on account of the beautiful view one can enjoy from up there. On the other hand, there is bus no. 23 that takes people from the coastal area to the top of the elevation.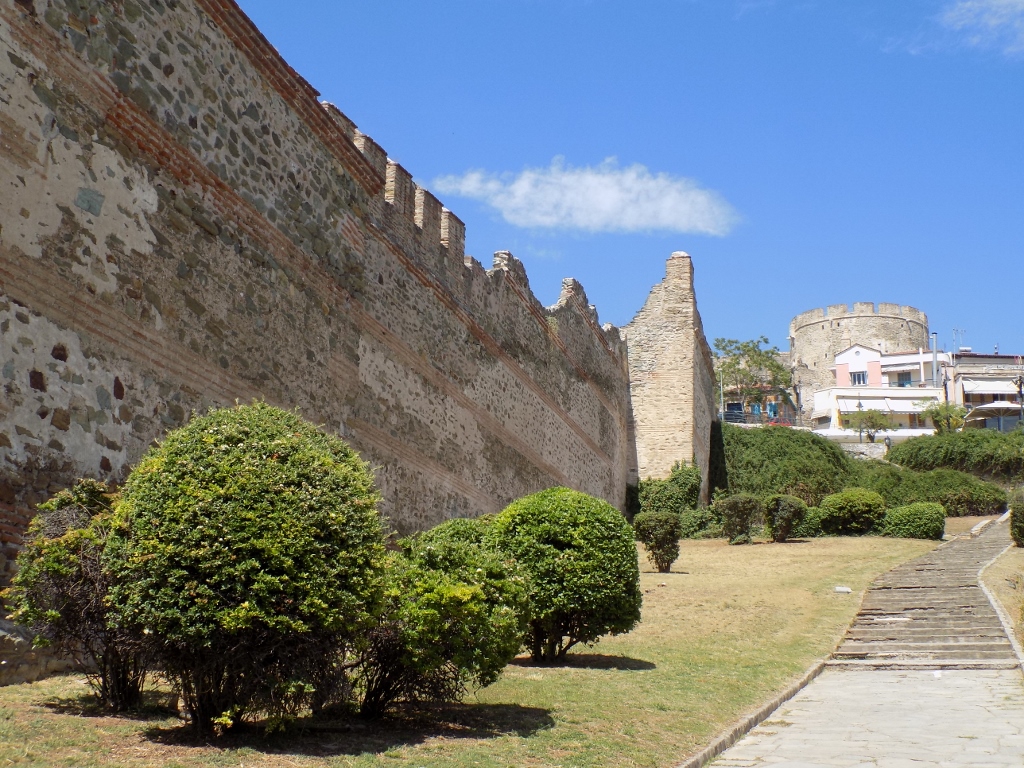 The ramparts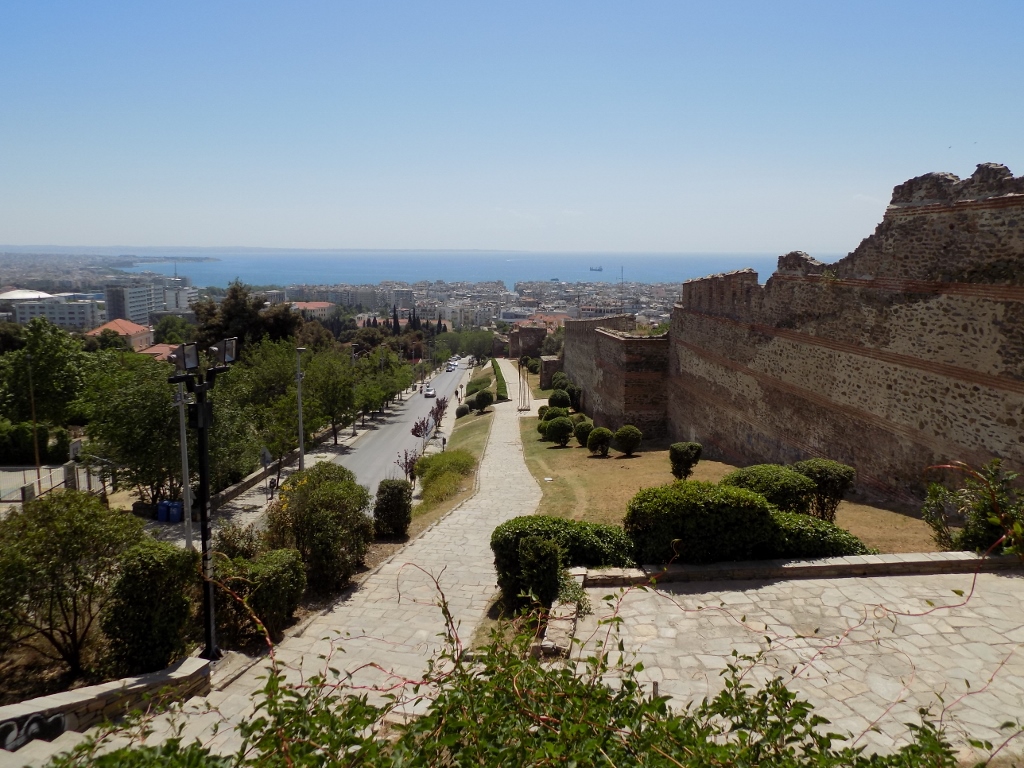 View at the Aegean Sea
When I reached the top, I first made a nice break in one of the restaurants from which there is a truly fine view of the city and the sea. On the highest floor of the restaurant, there is a large terrace with a canopy and it was an ideal place to have a proper rest. After the refreshment there, I continued walking parallel to the upper ramparts, but in a zigzag fashion, a little in front of them, a little behind them, using as passages different gates I encountered on my way. In some parts next to the ramparts there are only grass patches or small parks, but there are also some residential buildings leaning against them.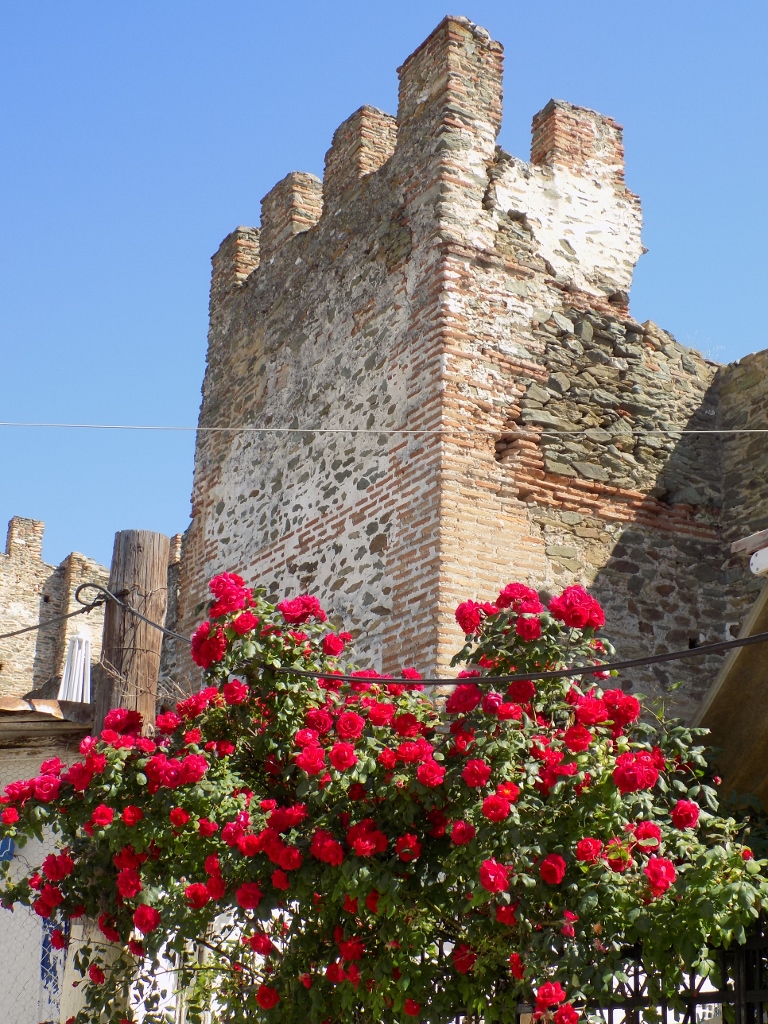 Symbiosis between the ramparts and new residential buildings
At some point I left the ramparts and started to descent roughly in the direction of Holy David's Church which houses a very important mosaic from the 5th century AD. These small streets I was passing through were absolutely divine. In some sections I descended the hill using stairs and in some others going down very steep streets. The houses I passed by were often exceptionally beautiful, the sun was shining, the sky was fantastically blue, it was pleasantly warm and it was all perfumed by wonderful scents I could feel occasionally and it was quite clear that they came from the blossoming vegetation that grows in abundance in these streets. I couldn't recognize most of them, but every now and then I would come across jasmine and that is a particularly fine scent. It almost cannot get better than that.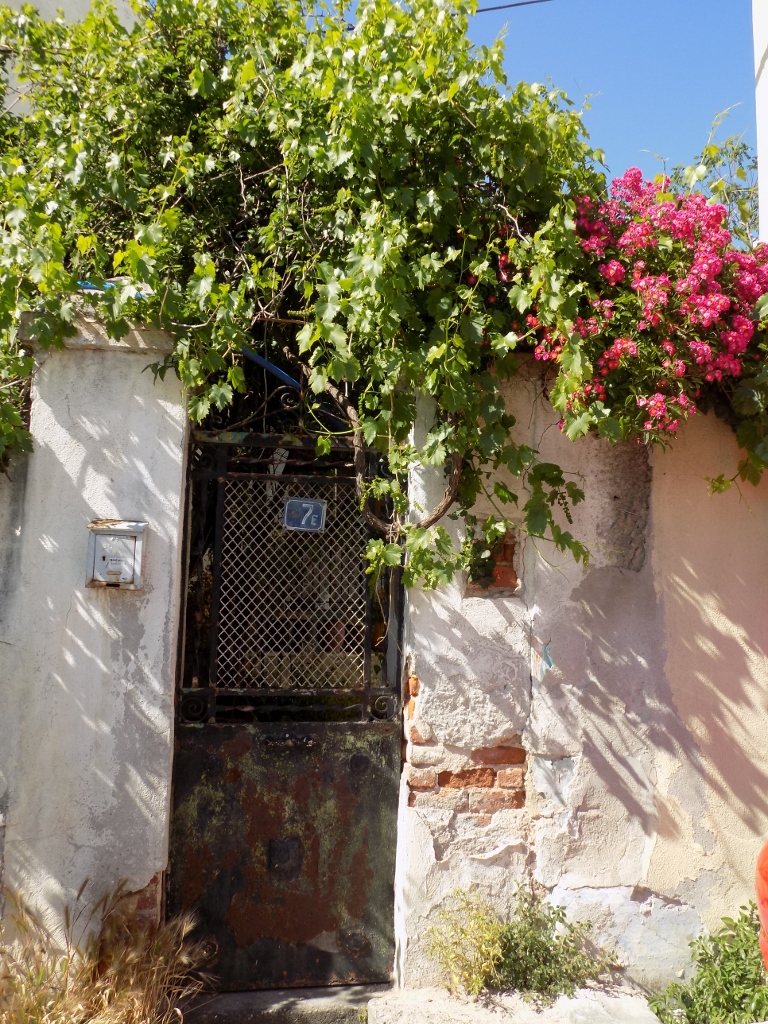 Vegetation on the hills of Thessaloniki
The small streets leading to Holy David's Church are completely intertwined and when I finally reached the church, it was closed. All the signs were in Greek. I can read Greek relatively easily (although I don't understand a word), since to me it seems like a combination of Cyrillic and Latin alphabets with some specific signs, some of which I remember from my school math. When you put it all together, I can recognize names of streets, churches, etc. It helps a lot, but here, at the Holy David's Church, I couldn't not decipher anything, especially as there were no numbers that would suggest the opening hours.
By the way, I know of the English expression "it's all Greek to me," but for me this is obviously not a problem. As a Serb, I would be actually lost in rural Spain, since the literal translation of the Serbian phrase meaning the same is "it's all Spanish villages to me." Not having a clue is obviously geography-related.
Since I was adamant about visiting the church, I first thought that it would have to be open on Sunday morning, thus solving the question when. As for the question where, as I descended from the church towards the centre, I kept looking back in order to memorize the scenes and find it more easily when I return to it from below. And then I realized along the way that it is actually very easy to find.