It is not difficult for one to wish to go to Mauritius – a tropical island in the middle of the Indian Ocean. Enough. And yet, I went there in order to recuperate and get back to my senses.
In my life it all somehow started to go along a downward spiral back in 2010, with different quite personal problems – health, love... Well, the work was fine, so I should not complain too much. Then on top of her chronic diseases my mother had additional health problems, breaking of bones, two surgeries, recovery... Then my father was diagnosed – Alzheimer, with everything that comes along... Then my brother quite unexpectedly and seemingly overnight got divorced and although I don't live with any of them, taking into account that we are a very closely-bound family that was additional shock to all of us... And then, in the autumn of 2013, almost from one day to the next, so suddenly that we could not find assistance, my father started not to get out of bed (with all that this entails), my mom had her advanced age and chronic health issues and although she tried her best, it was me who visited them a couple of times every day, helping and doing all that was necessary. At the same time, my brother had a traffic accident while riding a motorbike in which he broke his leg, so he was in a hospital until he was well enough after the surgery (although he was dating his current wife at the time, I was still very much involved in the whole story about him and I went to the hospital every day). Then my father died and soon after the funeral my mom got a horrible pneumonia, so bad that the doctors worried it could be tuberculosis. Luckily it wasn't, but I clearly remember the moment when, after having left my mom with her latest medicines and nicely settled at her home, I came back to my home, sat at my working desk, rested my head on my hands and said: "I can't do it any more!" The Universe and my body heard me and within a couple of days obliged, so I got one of the worse colds/flus in my life and for three weeks I was forced to rest, was utterly exhausted, could not stop coughing and at night had to sleep while sitting in my bed because that was the only way to cough less.
By the way, I'm saying all of this also in case somebody thinks it's all smooth sailing in my life. Admittedly, I have been very lucky in my life and for that I am eternally grateful to all the higher instances, but like everybody I also go through my own temptations and I carry my own cross.
Be as it may, when I finally started to recuperate from my cold, I began talking with Sneža about what we may do in January 2014 (for those who have not "met" her already, this is a friend of mine with whom I often travel and who is therefore mentioned in some of my travel stories). Since all of this was taking place at the end of November, we had very little time to prepare, but we opted for a quiet "summer vacation" and somehow, without too many complications, we chose Mauritius.
Before the trip I spoke with Marko, my former coach, and I complained about my recent experience whining that, there, I had gone through a horrible period and a lot of bad things had happened and now I was terribly tired and exhausted, and I REALLY needed a good, good vacation and recovery, so I was going to Mauritius and he simply said: "And what? You couldn't think of going to a local spa, but rather to Mauritius?" I doubled with laughter at his sincere spontaneity. And he did have a point. However, the tickets had already been bought, the hotel had been paid for and so Sneža and I headed for the tropics at the very beginning of January 2014.
We flew via Paris and had a very good connection, so we left Belgrade earlier in the evening and already early in the afternoon the next day we were on Mauritius. Looking at the time zones, Mauritius is 3 hours ahead of the CET, so it was still morning in most parts of Europe.
I left my home with residues of the cold and from time to time they kept surfacing up. At the very beginning of the travel I felt awful, I was heavy and tired, occasionally with a completely clogged up head and sporadically with a cough. As it was winter, the night fell early in Europe and I had an impression it was very late, while I felt tired and sleep deprived.
Still, during the flight from Paris to Mauritius I didn't have strong cold symptoms and yet the sleeping went on with a lot of interruptions and I felt a little squeezed in my seat. But, since this was an 11-hour flight, I did manage to get a few hours of some kind of sleep.
At the airport on Mauritius that is located at the very southeast of the island we were greeted by 30 degrees C and high humidity. Still, I was ready since I had my clothes in layers, so I could easily adjust to the heat.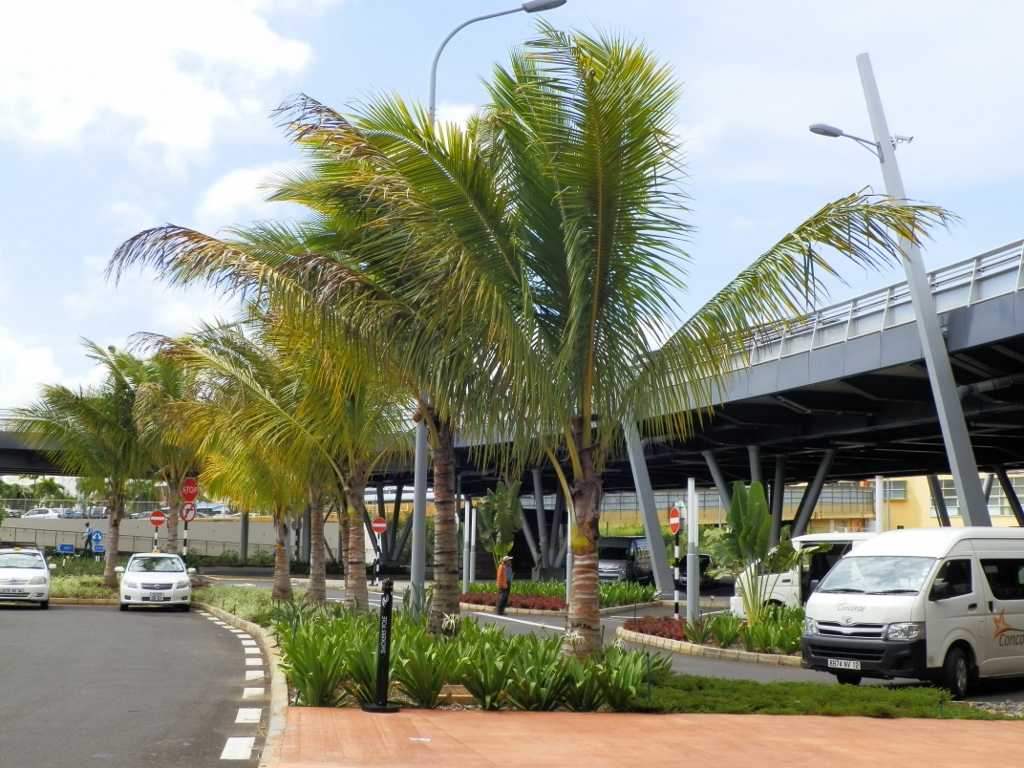 In front of the international airport on Mauritius
We took a taxi from the airport to the hotel and that was a good solution, since even by taxi it took us over an hour to get there. The first impressions when we entered the hotel's courtyard, while we were waiting for the keys to our room, were surprising. Namely, everything seemed much better live than on the website and that was unusual. Most often the photos are enhanced or taken at some unusual, but attractive angles. Be as it may, we got a nice room, so we could change quickly into proper summer clothes and then we went to the hotel's restaurant to have coffee in order to relax a little and start to adjust to the new space, new temperature and new impressions.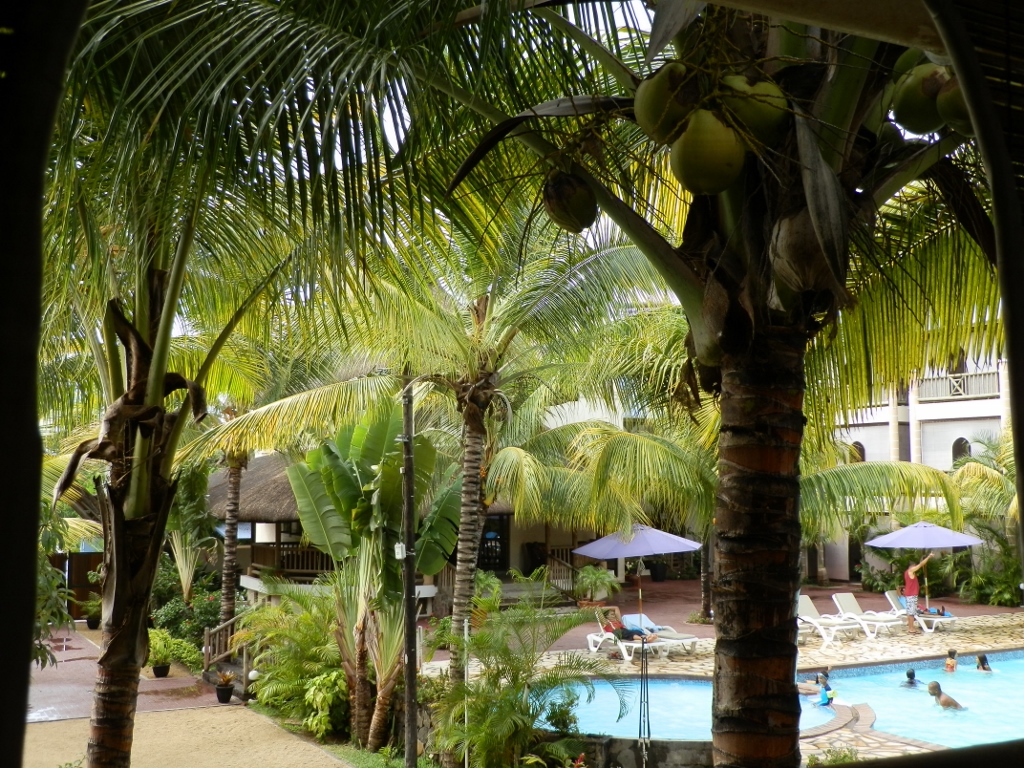 View at the hotel's courtyard as seen from the balcony of our room
Since our room was like an apartment, we also had a kitchenette with a fridge and a kettle, we concluded it would be good to go to a nearby supermarket, primarily to buy water, instant coffee and milk. At the time Sneža was smoking, so she really enjoyed the idea of sipping coffee while smoking on our balcony without bothering anyone.
When we got out of the hotel we could see a lot of private villas in the vicinity and it seemed that they were there mostly to be rented out, but my impression was that during our stay in Mauritius a lot of them were empty. In any case, we soon found the supermarket, bought what we wanted, put the groceries into our small backpacks and then headed for the beach. The street in which the supermarket was went parallel to the beach, so we just needed to find a path that a couple of dozen metres later would lead us to the sandy beach of Trou-aux-Biches.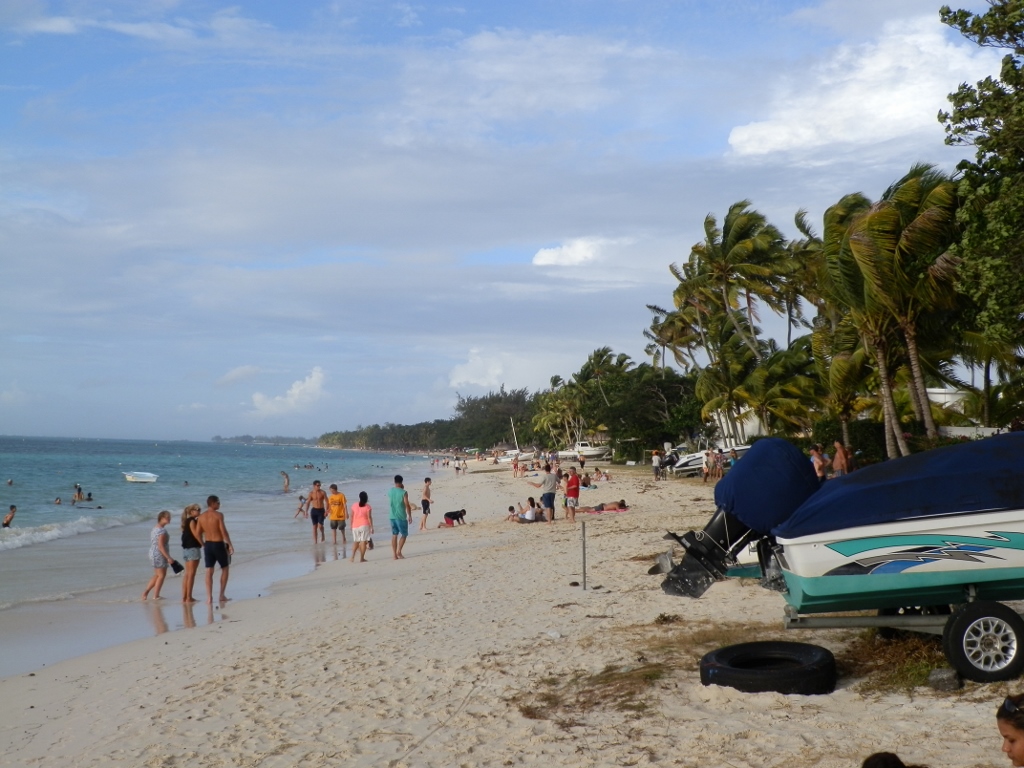 Trou-aux-Biches
At the hotel they had already told us that during the previous days a cyclone had passed over Mauritius, but its remnants were still present. This time this reflected in the wind speed, as well as somewhat bigger waves. However, the temperature was perfect for the beach.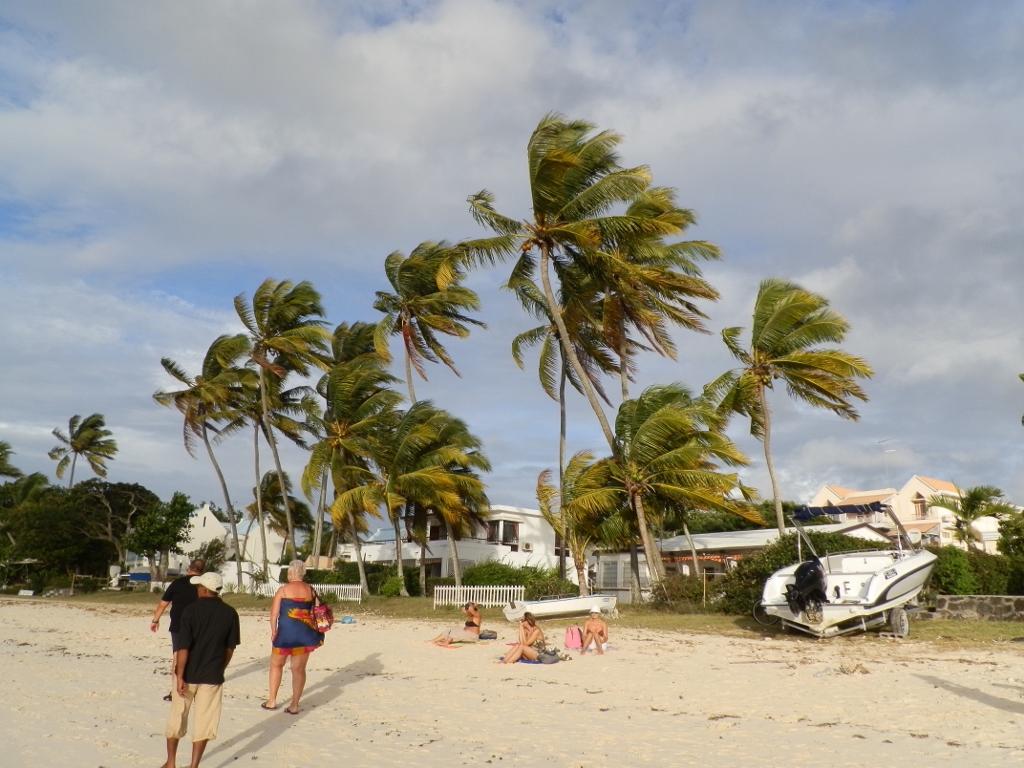 While the palm trees are waving their branches...
The first thing we did when we got to the beach was to take our footwear off and to continue walking barefoot. Also, Sneža actually got into the water right away and swam there a little, but that late afternoon I preferred just to walk in my dry clothes. The beach, around 1.5 km long, was made of white sand that was in places so fine and soft as if it were flour, so I thoroughly enjoyed the walk. Admittedly, I have never walked in flour, but that was my association. I waited for my friend to finish with her swim and then we continued with the walk together.
All the beaches in Mauritius are public, but on some there are hotels built next to the beach and then they have the right to place their sunbeds and parasols there.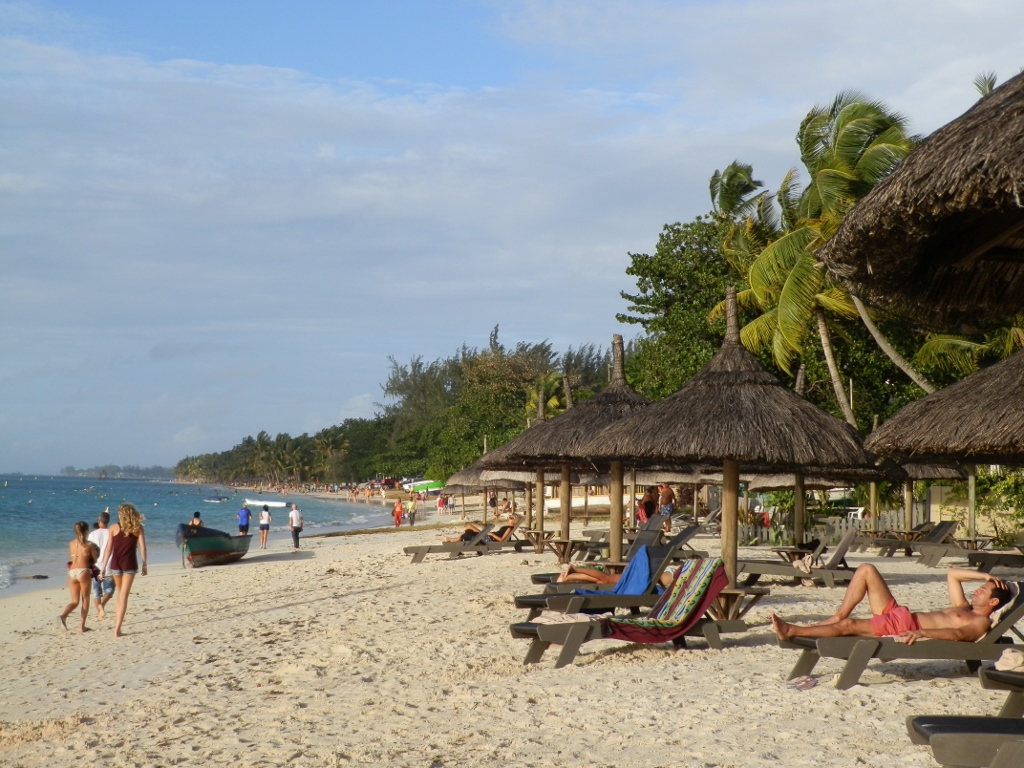 Trou-aux-Biches beach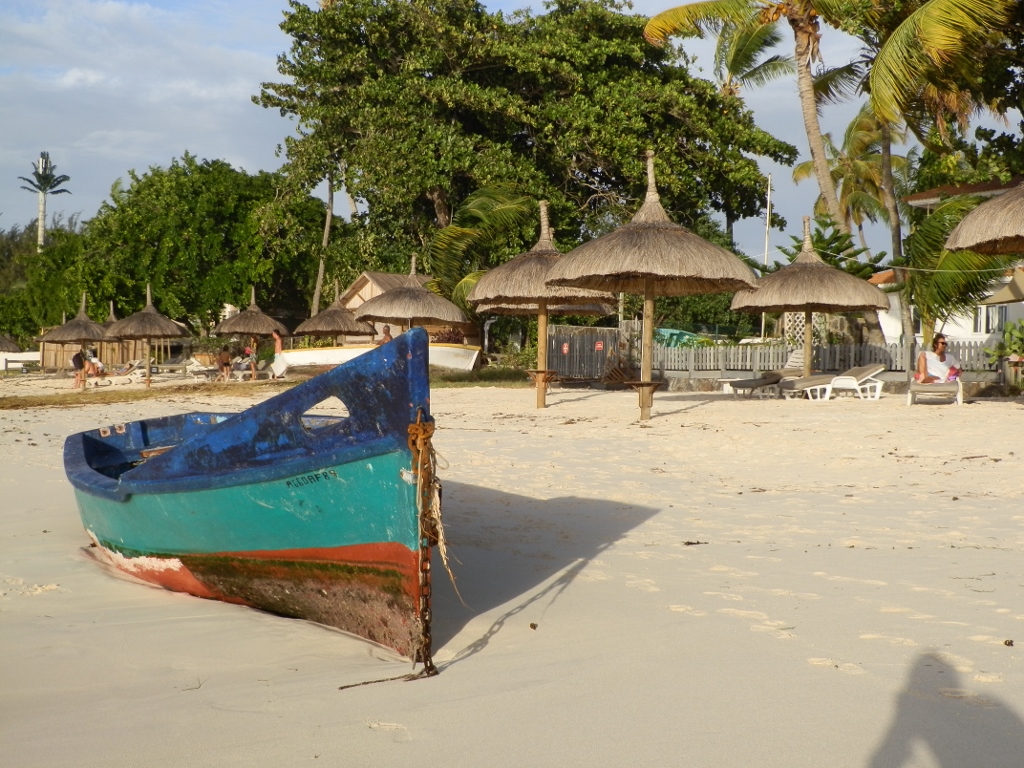 Trou-aux-Biches beach
As I've said, the beach is relatively quite long and this afternoon we went almost to the very end. When we turned to go back we saw even better the consequences of the cyclone that had passed there a few days ago – the beach was all covered in twigs and thin palm leaves.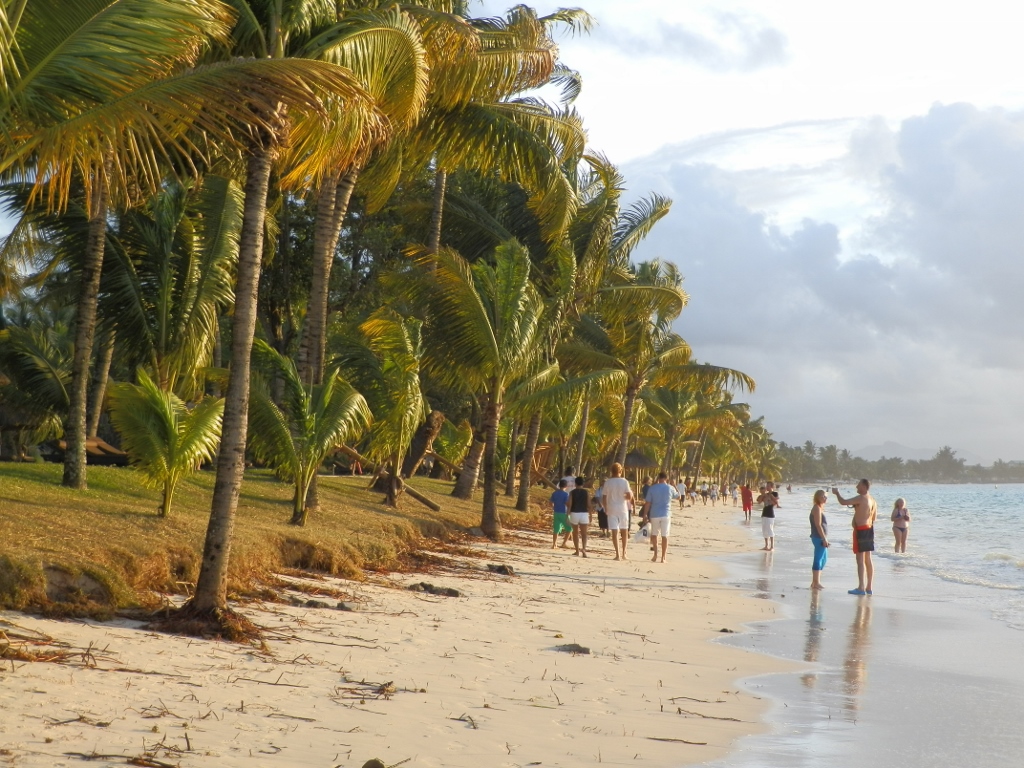 Trou-aux-Biches beach after the cyclone
However, what was particularly impressive was the sky. I was aware of that even at the very beginning of the walk, but as we were going down the beach which is situated on the west coast of the island, I could now directly enjoy the sights created by the setting Sun in combination with a myriad of different clouds.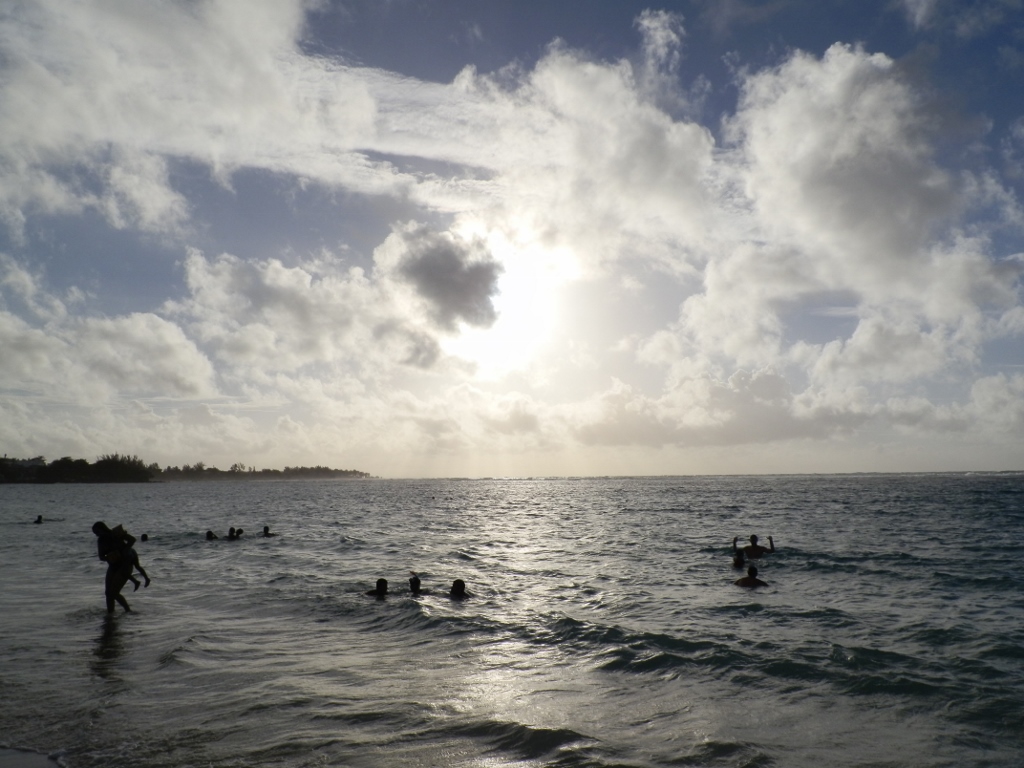 Sky when we got to the beach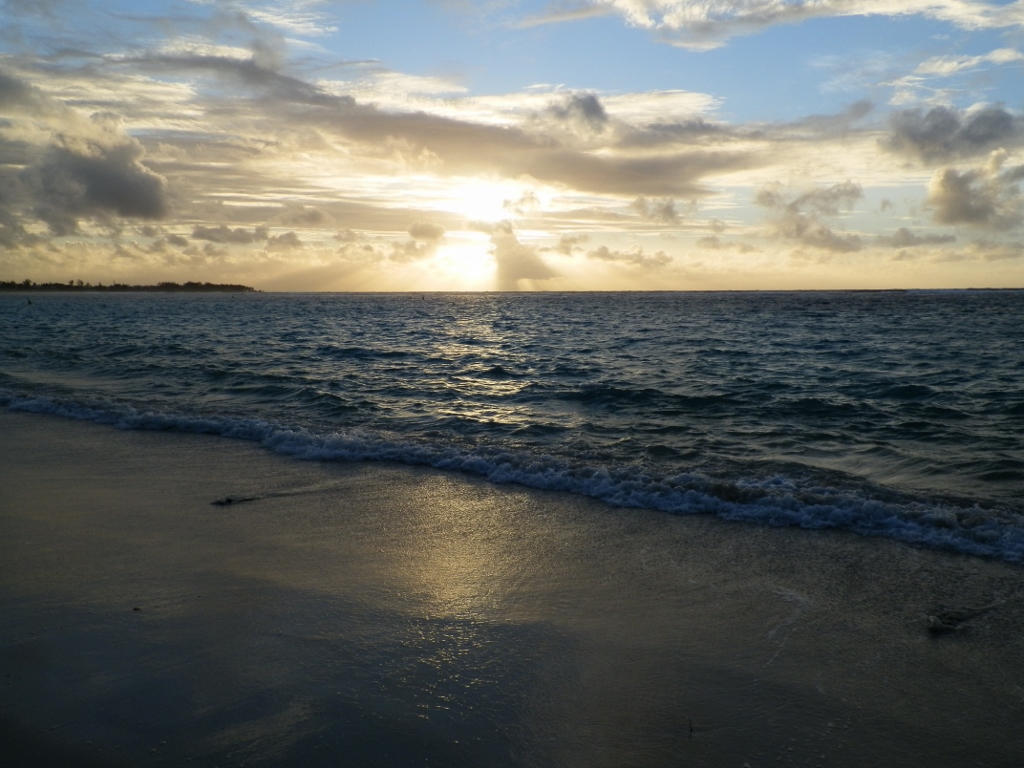 Sky during the walk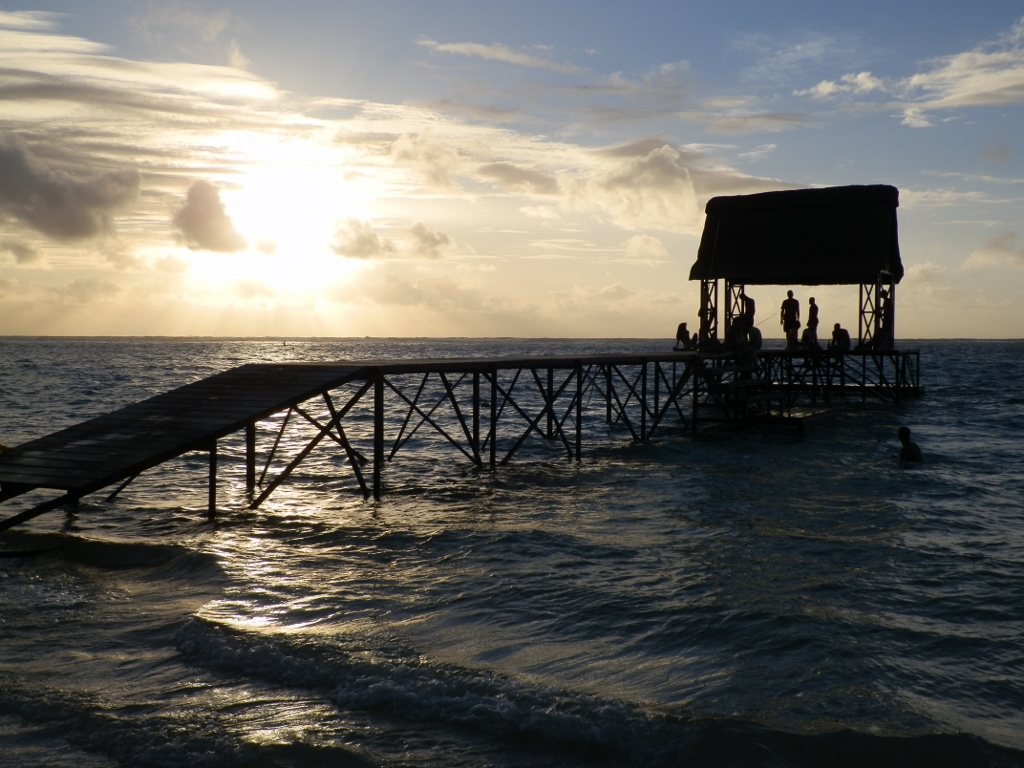 Detail from the Trou-aux-Biches beach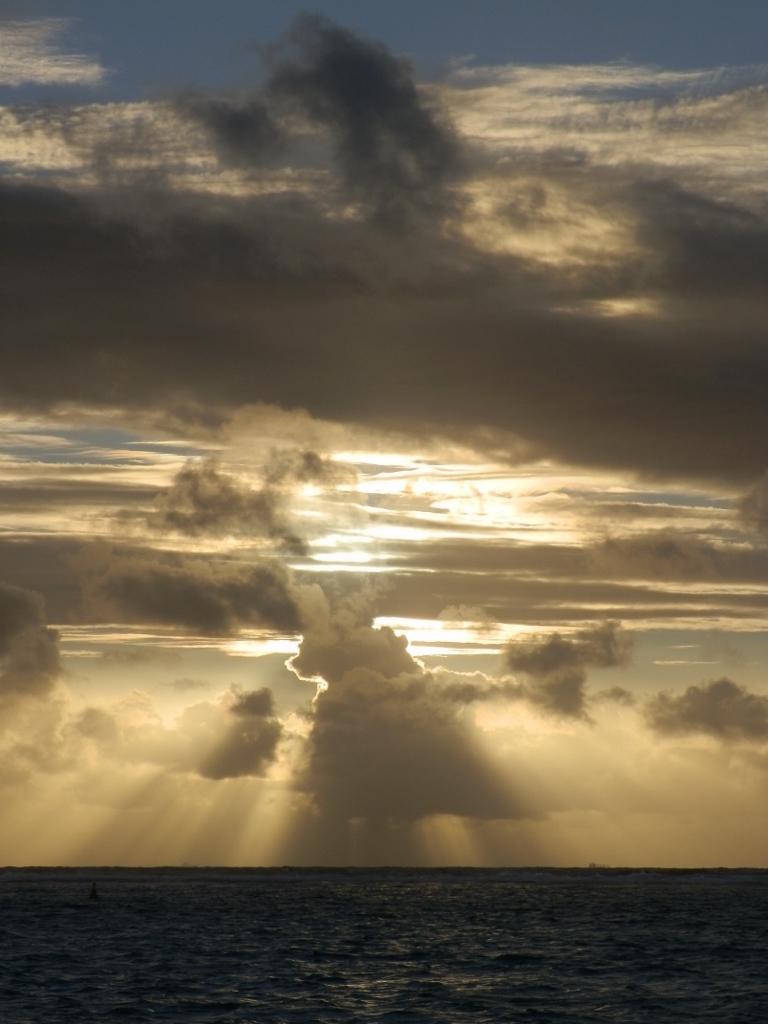 Sky seen from the Trou-aux-Biches beach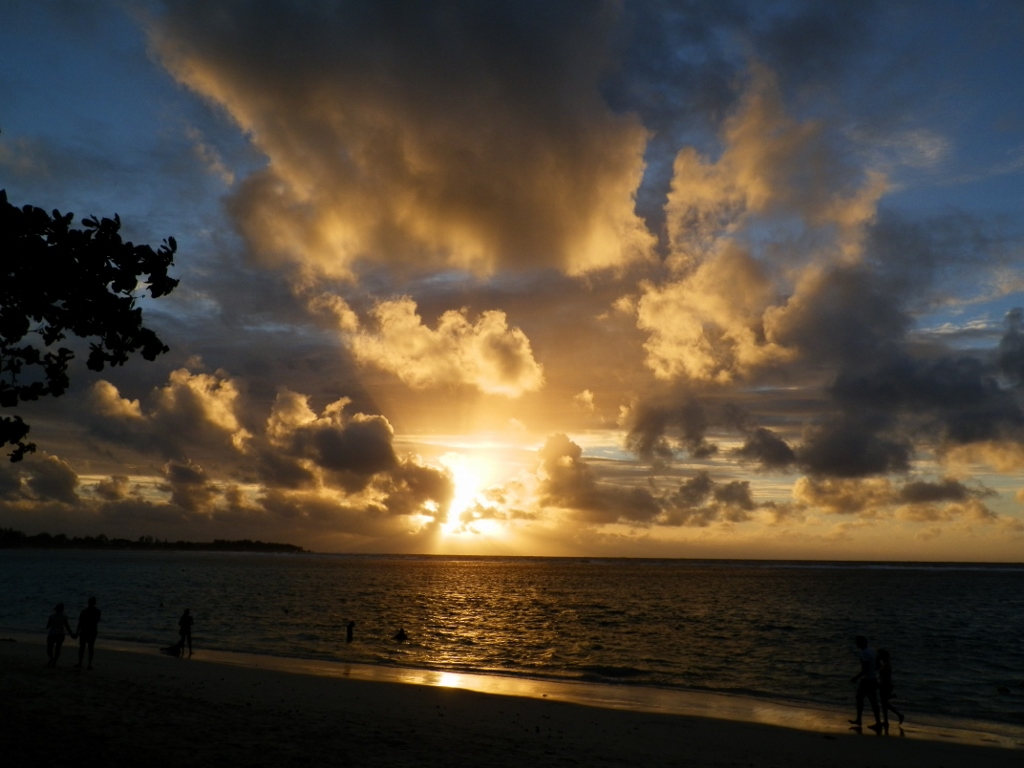 Sky seen from the Trou-aux-Biches beach
We had half-board at the hotel, so at some point we returned there to have a dinner after which we went for a short walk around the neighbourhood. As it turned out, there were not many interesting places to walk around in the evening and my impression was that people did not have such a habit. Everything was generally dark and rather desolate. For this reason we did not stay out for too long, opting rather to go back to the hotel and relatively soon we went to bed.
I slept wonderfully that night and rested really well, but my friend not so much. That's why we went for breakfast together, after which I went to the beach, while she stayed in the room to sleep some more. After all, she prefers significantly more than me to sleep late in the morning. Before going to the beach, I took yet another photo of the hotel's courtyard and that was it as far as taking photos on this day was concerned for I did not want to take any cameras to the beach with me, since I was going there alone and wanted to be able to relax properly.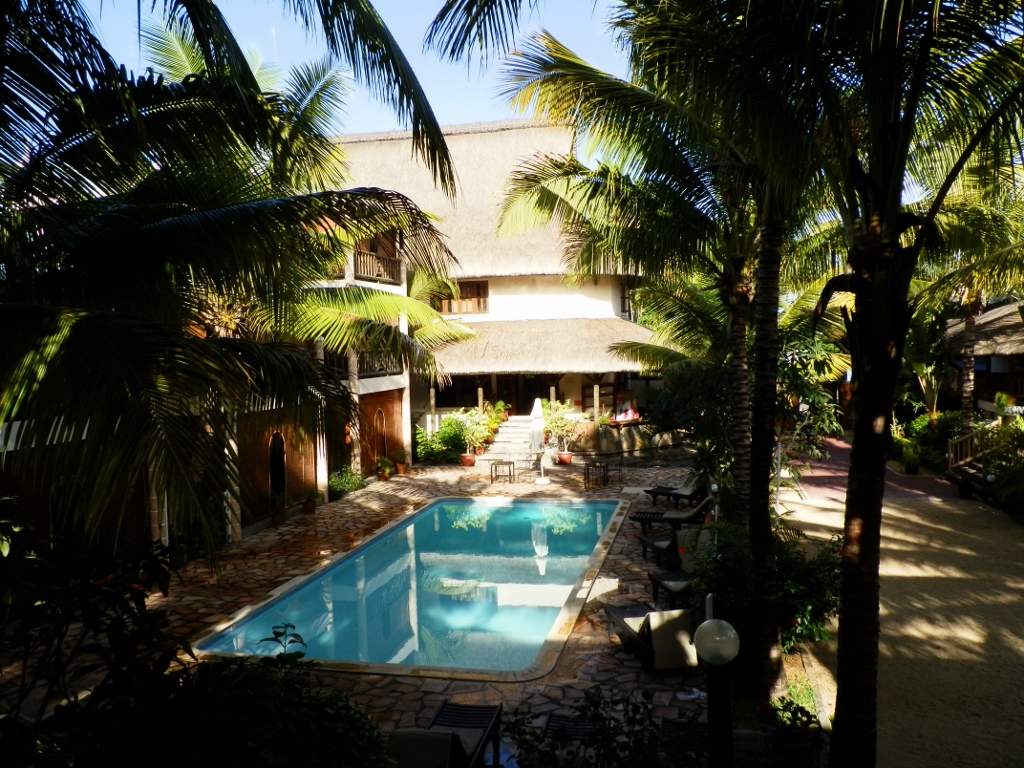 View at the hotel's courtyard from our balcony
The Trou-aux-Biches beach was only a couple of minutes away from our hotel and in order for me to get to the place on the beach that I particularly liked it took me the whole 5 minutes on foot. Needless to say, I did not mind this in the least. Moreover, I was the one who had chosen the hotel, certainly through an agreement with Sneža, but I know that I had told her it was not necessary for us to book a hotel on the beach. On the one hand, those hotels on the beach are by the rule always more expensive than the hotels of the same category that are not on the beach. On the other hand, I had had experience from the Seychelles where I stayed at a hotel on the very shore with a wonderful white-sand beach and yet I did not swim there even once. The reason for this was that the shallows were full of corals and in order for us not to get hurt, we were told at the hotel that we had to have plastic sandals on our feet. There is no way I would go for a swim with plastic sandals on my feet! Luckily, that time I was in a small group that also included a couple who rented a small car for the entire stay there and since we all got along very well, they were quite willing to take the rest of us into their car, so every day we all went to a different beach and that was certainly great.
But, let me go back to Mauritius. The Trou-aux-Biches beach is named after a village situated in the northwest of Mauritius. When I got to the beach and found a nice place in the shade where I could put my towel, I left all my things there and ran into the water right away. It was a wonderful experience and I was delighted and very happy. I thought that I would not mind at all if we were not to move from there over the next two weeks.
Although it was a little windy and the water was wavy when I first got there, with time the water surface calmed down and consequently the sand in the shallows subsided, so the water was very clear. Also, as the Sun was getting up, the colours kept getting nicer and nicer – the blue sky dotted with clouds, the turquoise colour of the water, while I was sitting under fantastic green palm trees.
My original plan was to stay on the beach just for a short while, but since everything was so beautiful and I had an excellent spot in the shade of the palm trees (it was important for me not to be directly in the sunlight, since I was completely white), I stayed there longer than planned.
Before the sunlight became too strong for me, I had gone for a walk on the beach. It was still relatively early and there were not many people there. Along the way I came across a man, as it would turn out an Italian, he greeted me with a "Buon giorno!" and I greeted him back. Later, while I was sitting under the palm trees, he was passing by, so he approached me, for he had rightfully concluded that I spoke Italian. And so we started to chat. His name was Luigi and since he was retired, he had come here for six months. In fact, from spring to autumn he lived in his flat in Rome, while the other half of the year he spent on Mauritius. And he had been doing so for a few years. Like all the Italians, especially of the somewhat older generation, he had almost an instinct to give compliments to women, but in all of that he was quite pleasant and polite. And this woman he was talking with now found it interesting that she had an opportunity to practice her Italian. Then, in the end, when he was leaving, he gave me a peck on the cheek with a justification that this was "the custom" in Italy. I was not convinced, but I did not mind it either.
When the noon passed and the shadow of the palm trees was no longer big enough to protect me from the strong tropical sun, I packed up my things and went back to the hotel. Sneža and I walked a little in the surroundings, went for lunch and then returned for a nice afternoon rest in the room. At home I almost never sleep in the afternoon, but when I go to any seaside I do this regularly; on the one hand in this way I avoid the strongest sun when one easily gets sunburns, while on the other I accentuate the experience of a proper vacation.
Later that afternoon I went back to the beach again, but this time around the colours were not as pretty as earlier in the day. Still, this did not prevent me at all from enjoying the water and swimming.