After the magical experience with the rainbow in village Curral das Freiras in the middle of Madeira ruled by clouds, rain and fog, but with sufficient quantity of sunshine to create the effect, Joao and I returned to the south side of Madeira where the sunshine reigned supreme, while the clouds high in the sky were there merely as a decorative element.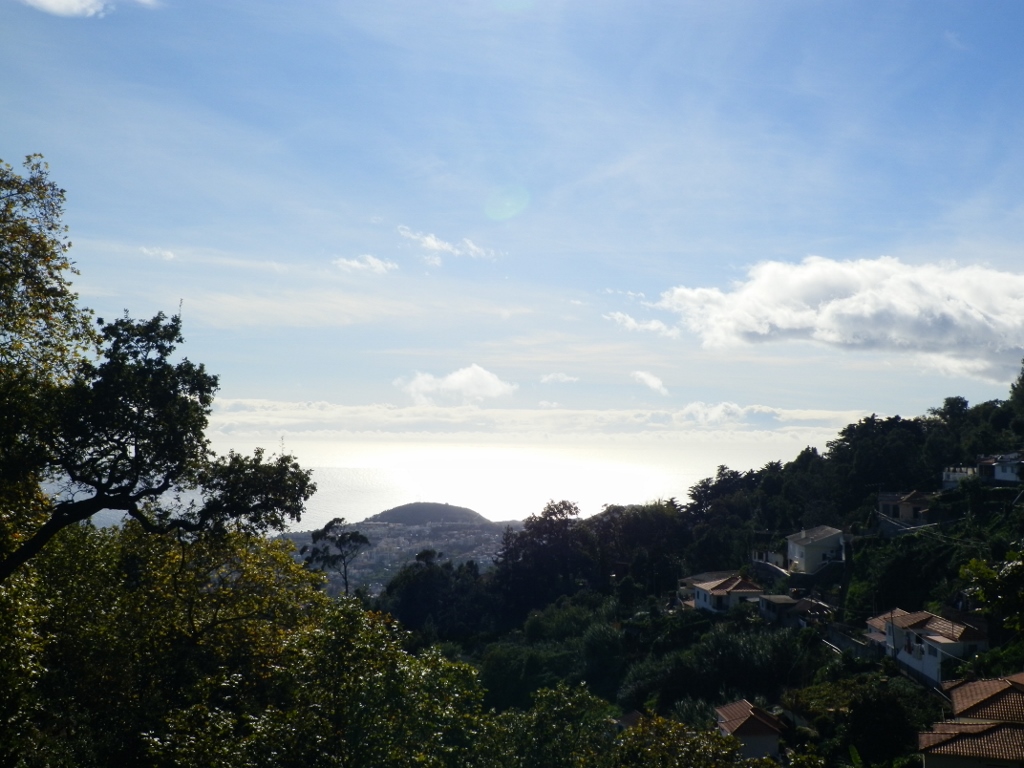 View at the Atlantic Ocean south of Madeira
Via Santo António we went to Monte. Both of these places are suburbs of Funchal. Santo António is nowadays known for being the place in which Cristiano Ronaldo, one of the best footballers in the world, spent his childhood. Since I'm not much into football, Joao told me that Ronaldo had very difficult childhood there because of the poverty and his alcoholic father, and that it was thanks to football that he in a way "saved" himself.
However, Monte is interesting for several reasons. As a parish, it was founded in 1565 and being located high in the hills, the temperature here is more pleasant during summers, so wealthy residents of Funchal used to have their summer villas built here in order to go through hot summers more easily. On the other hand, at the end of the 19th century, a rack railway was built to this place and then tourists could also come here more easily and quickly. The railway was closed down in 1939, but as a reminder there is still a viaduct that passes through a part of the Monte's public municipal park (Parque do Monte).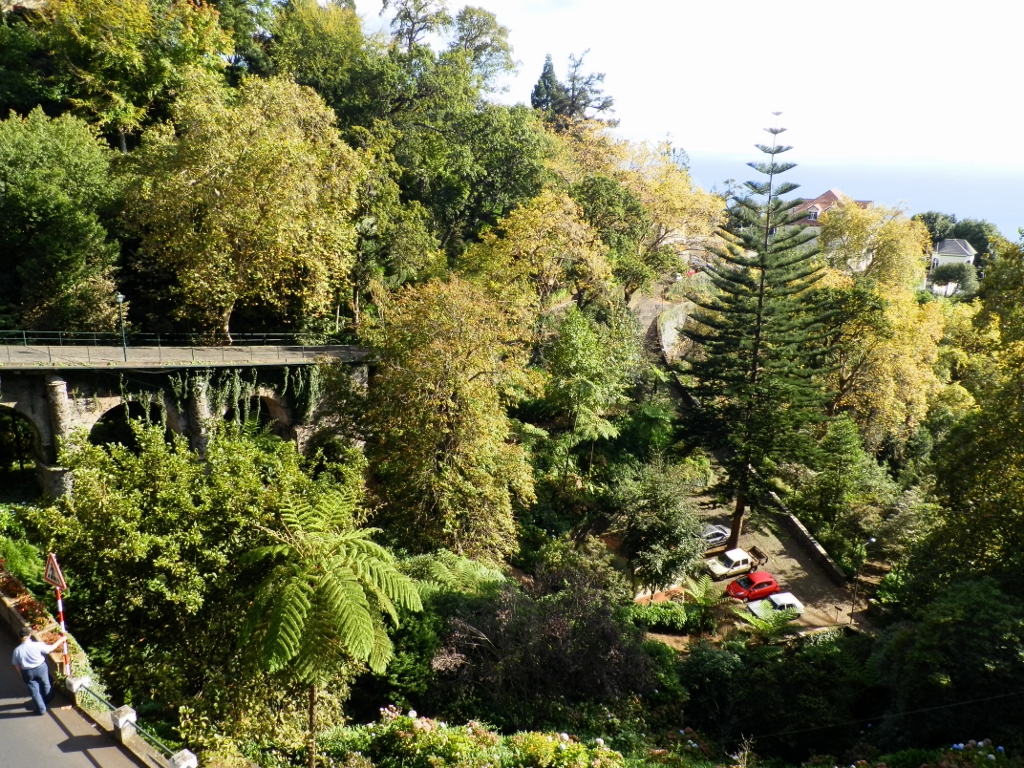 Part of the Monte's public municipal park and a part of the former railway viaduct
Joao and I walked around this park a little later on so that I could see different plants from up close, but already from a spot near our parked car I could see some impressive giant ferns.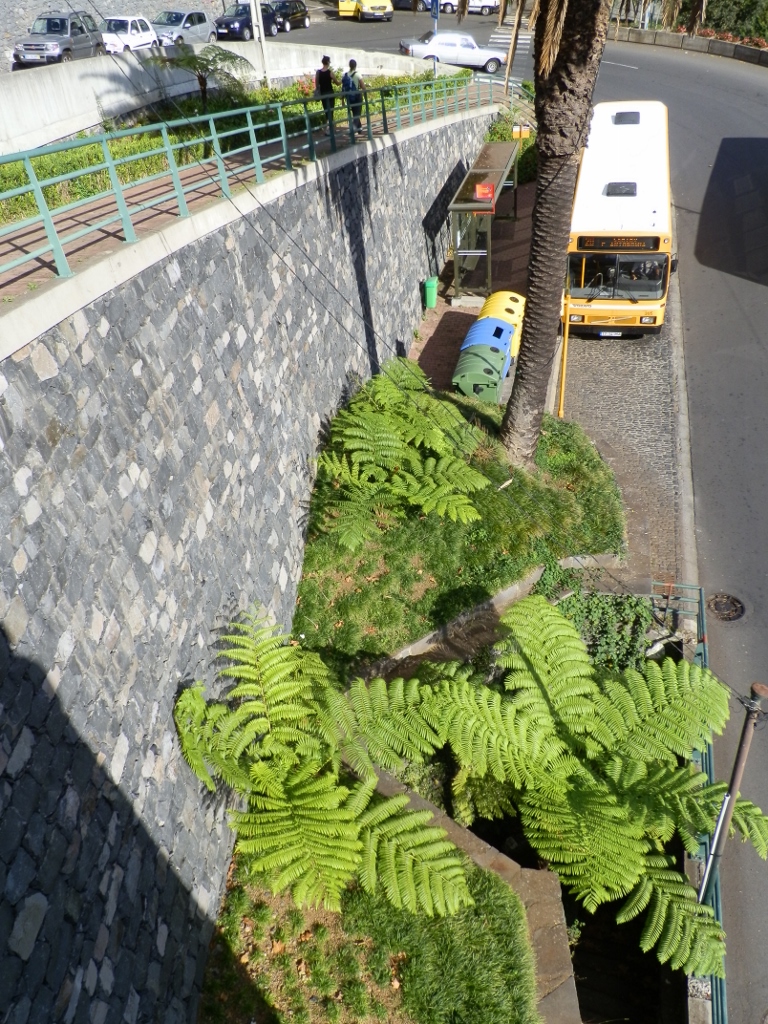 Note the bus and note the ferns
So, the railway was closed down a long time ago, but one form of public transport has survived in Monte and it is still very popular among visitors. This is the Monte Toboggan. As Monte is situated on a steep mountain, this type of transportation that goes only one way – downhill – was invented already around 1850.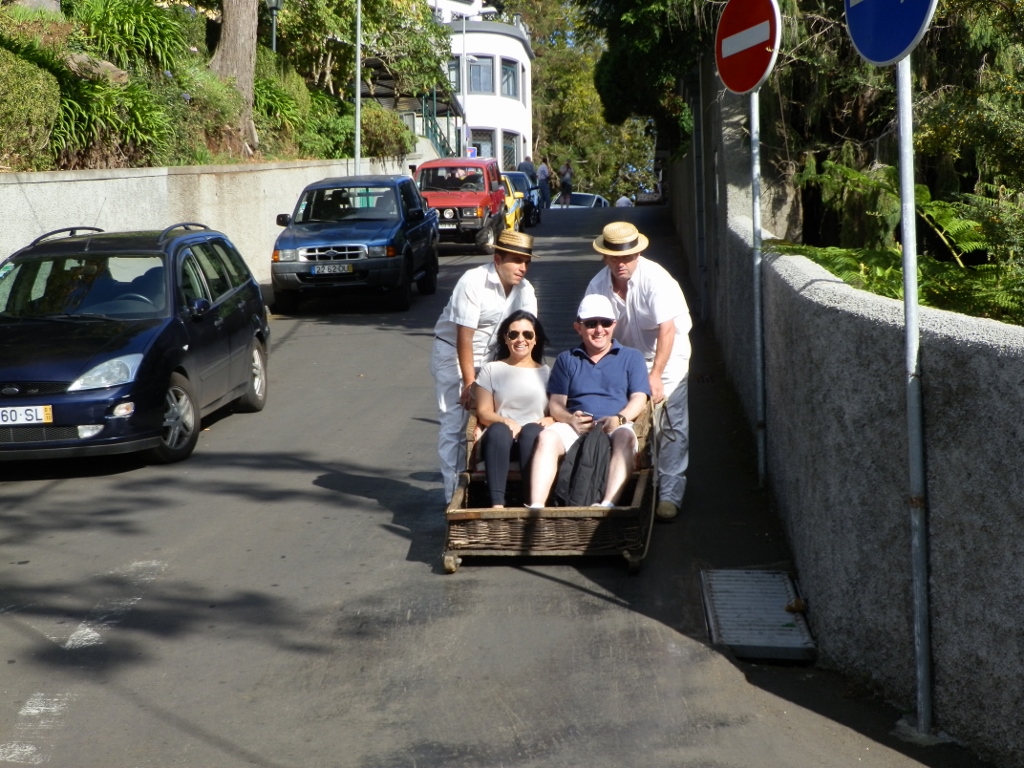 The Monte Toboggan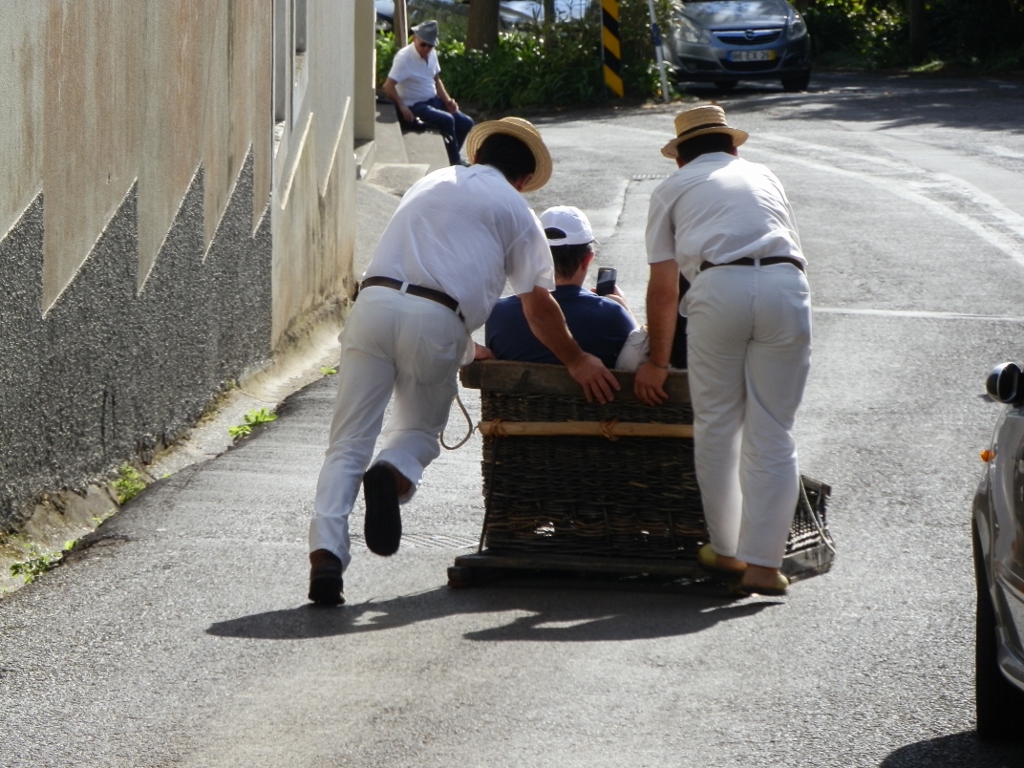 The Monte Toboggan
Sitting in these wicker baskets, the passengers are taken downhill for some 2 km. The baskets are steered by men traditionally dressed in white and they use the soles of their footwear to break when the basket needs to make a sharp turn. Perhaps this can be seen better from the following short video:
Although I love such experiences, this time I did not test the ride, since we would then need to return uphill in order to get to our parked car and in addition we wanted to walk some more around this place.
While we went around I could see parts of the Parish Church of Our Lady of Monte) (Igreja Paroquial de Nossa Senhora do Monte), but I left the visit of this important church for later.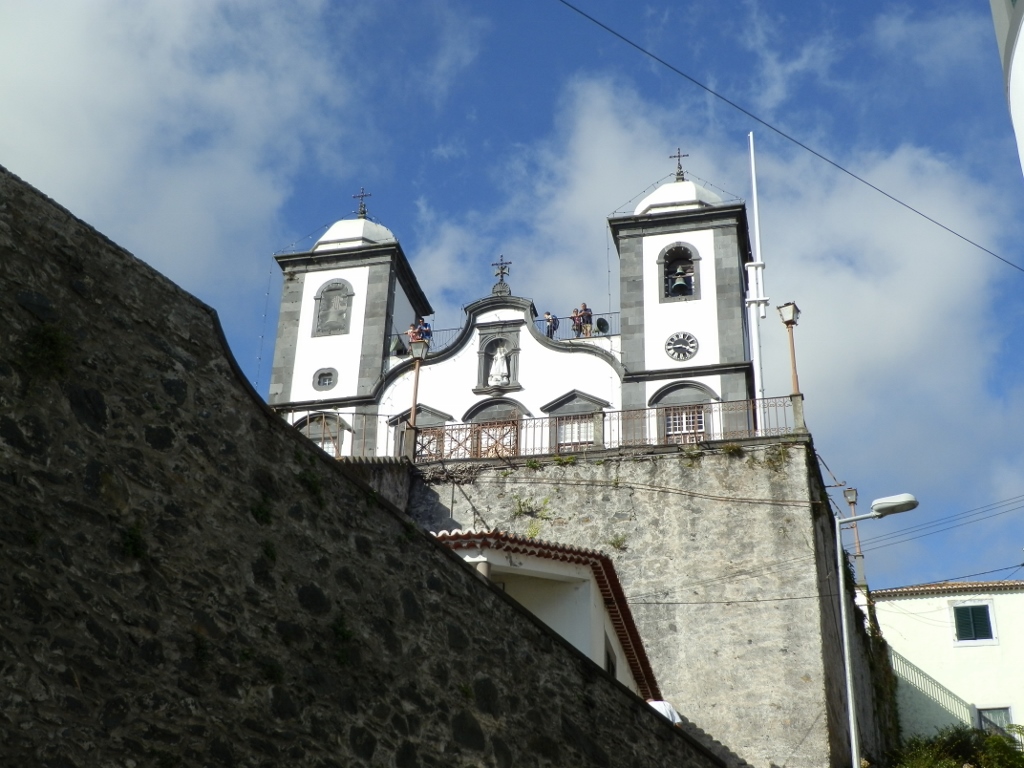 Parish Church of Our Lady of Monte
During this leisurely walk along the perimeter of a large park, the Monte Palace Gardens, I could see yet another form of transport that exists here. This time it was cable transport. It connects the Old Town in Funchal and in 15 minutes it covers the distance of 3200 metres and the altitude difference of 560 metres.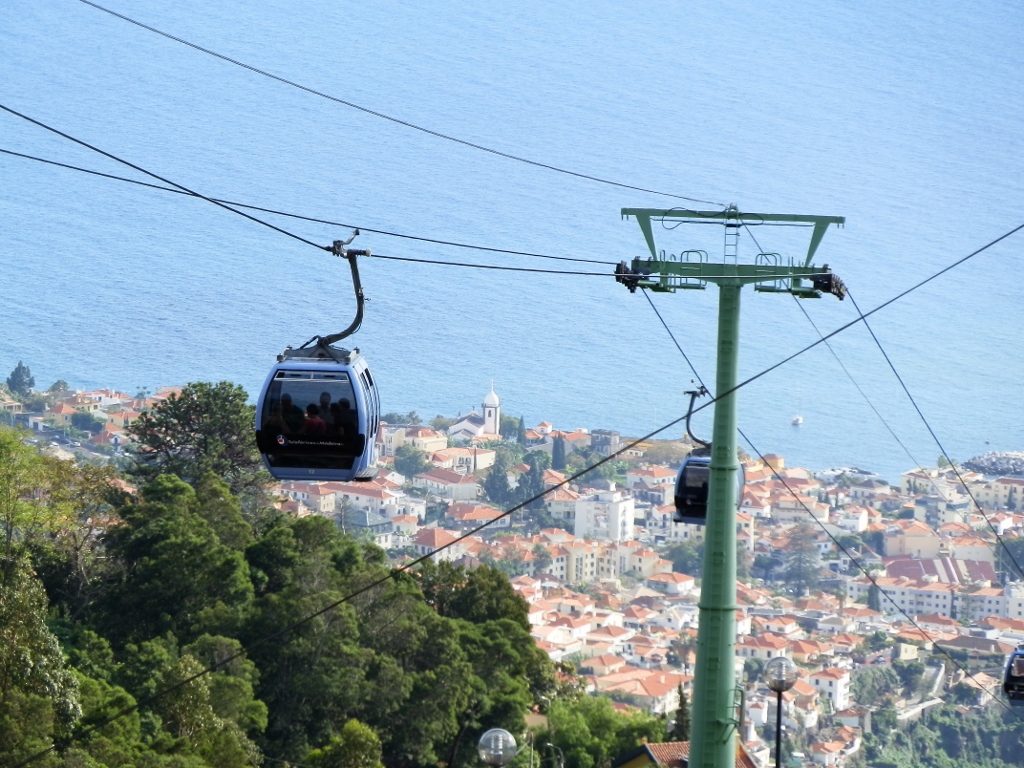 Cable car that leads from the Old Town to Monte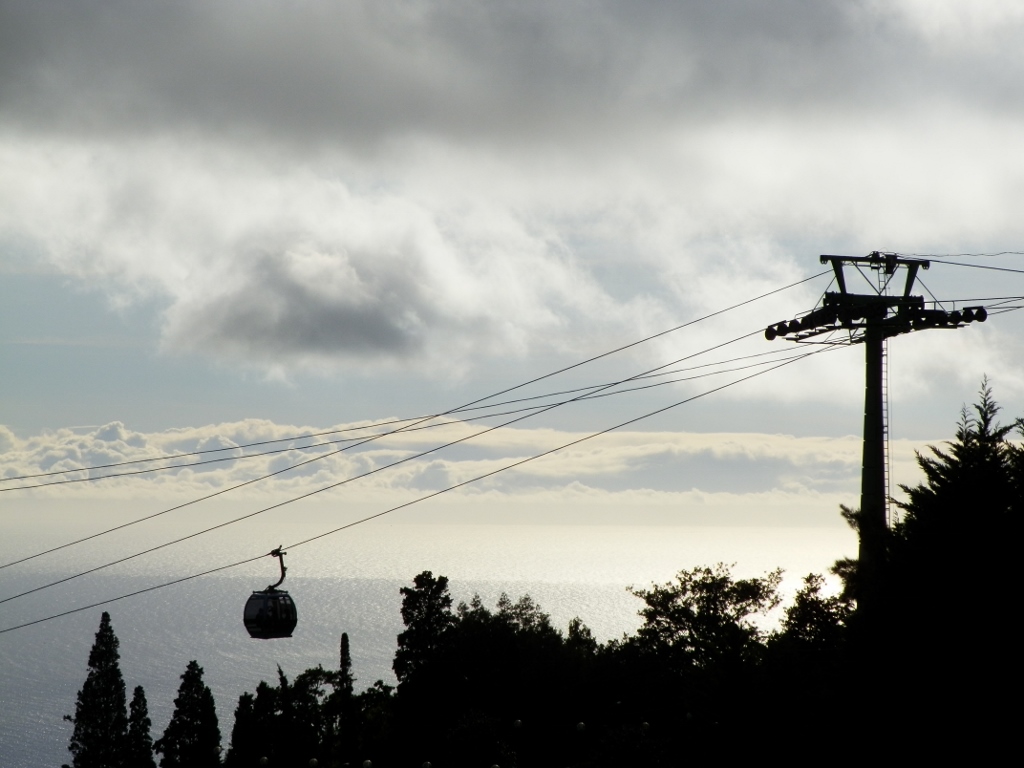 Cable car that leads from the Old Town to Monte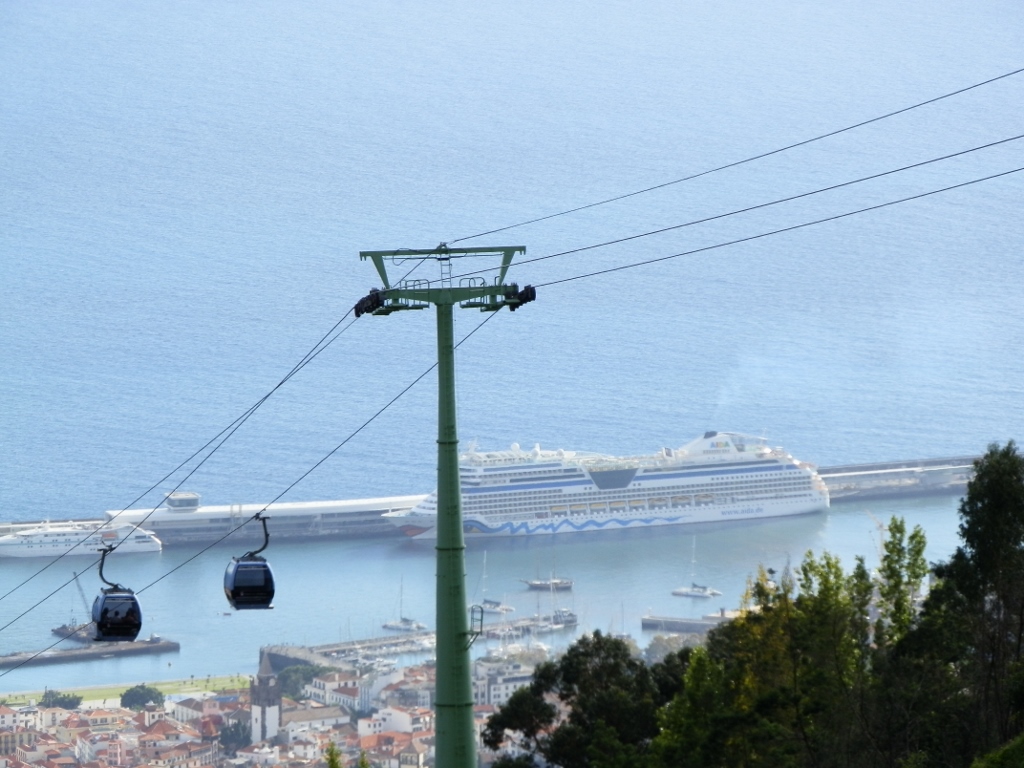 Cable car that leads from the Old Town to Monte
I find it additionally interesting that there is in fact another cable transport in Monte, but this time it leads to the Botanical Gardens and it is 1600 m long. Needless to say, I did not have the time to test all of these cable cars and visit all the places I'm mentioning here, but it is certainly a good thing to have basic information in one place for the next time I go to Madeira, which I would certainly like to do.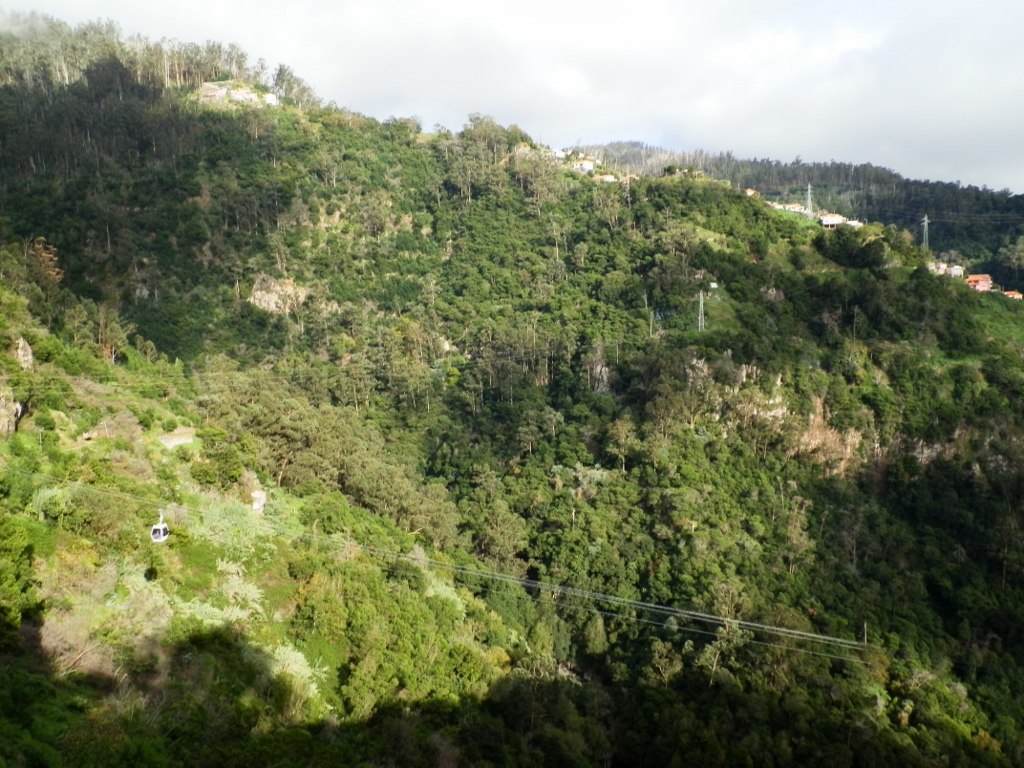 Do you see the cable car leading to the Botanical Gardens?
While we were walking through a tropical garden within the park I could notice a chapel on an elevation above the cable transport station (the one coming from the Old Town). As it would turn out, historically, artistically or architecturally this is apparently not a very important chapel, but it is certainly situated in a lovely place surrounded by lush vegetation.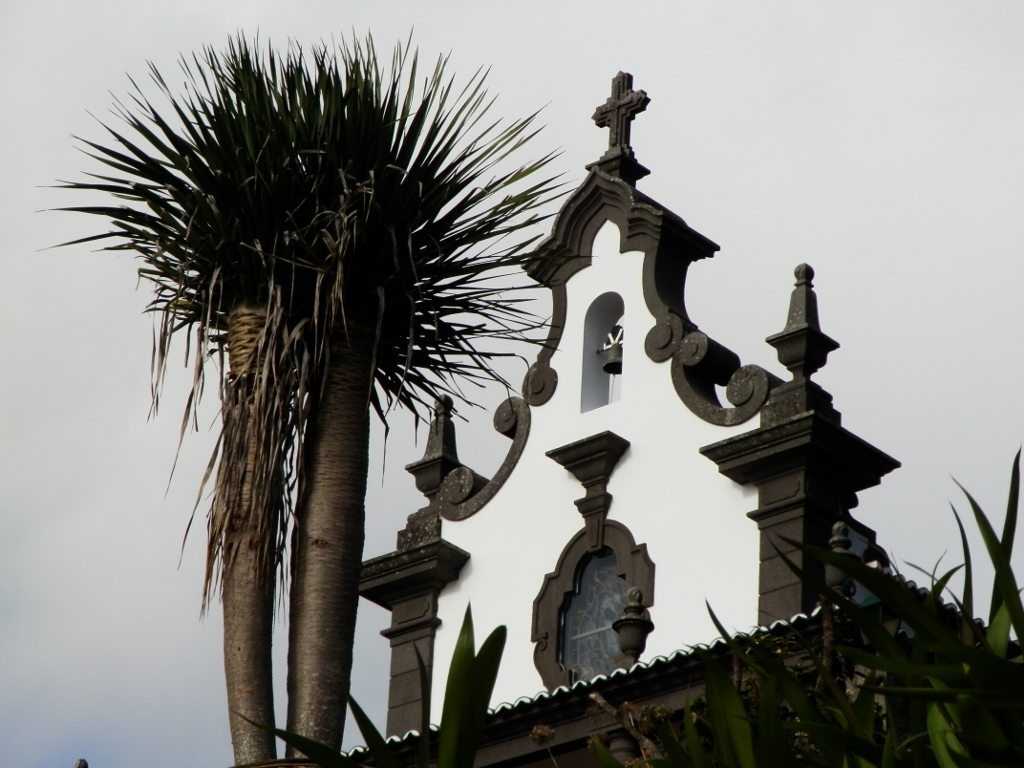 Santa Maria Chapel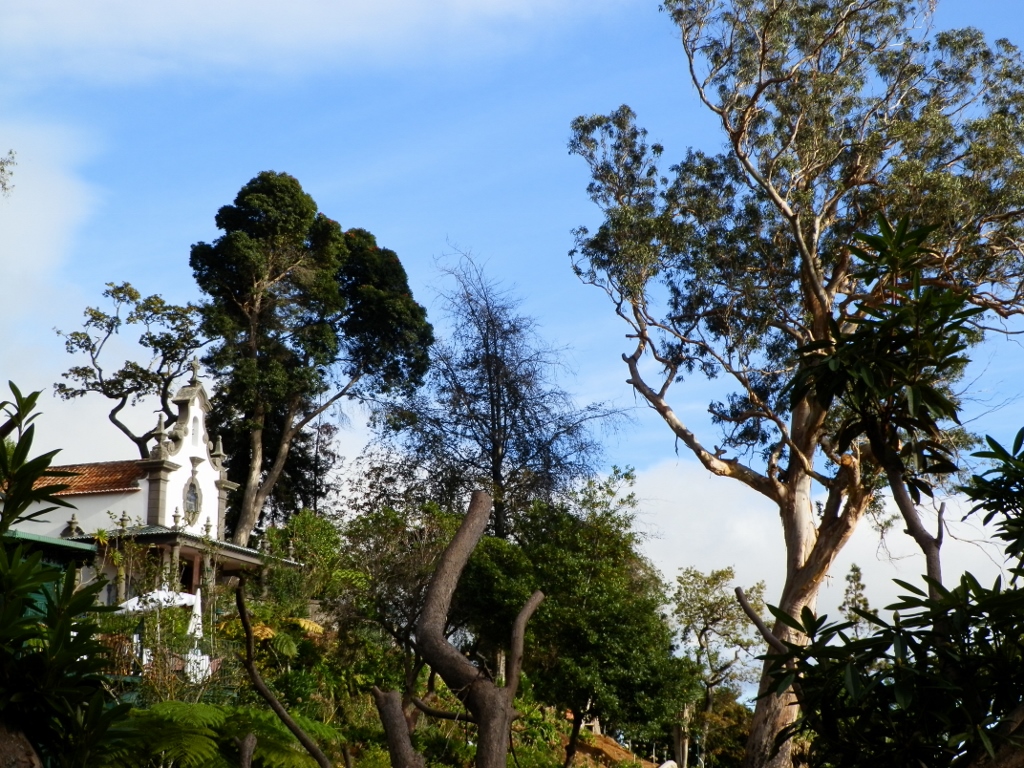 Santa Maria Chapel
The first church was built here in 1935, but in 2013 it burned down, so it was reconstructed. However, regardless of the lack of historical importance, the entire surroundings of the chapel, as well as the chapel itself, are very nicely arranged and maintained.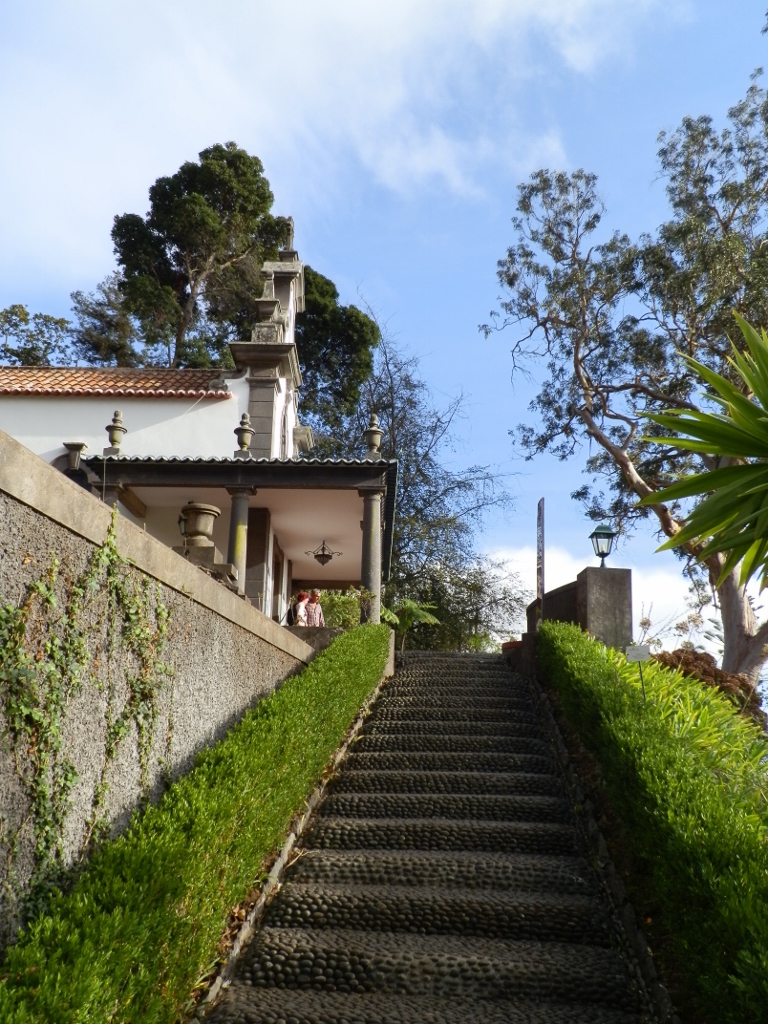 Access to Santa Maria Chapel
As is often the case in Portugal, here, too, the interior was beautifully decorated with traditional blue azulejo tiles.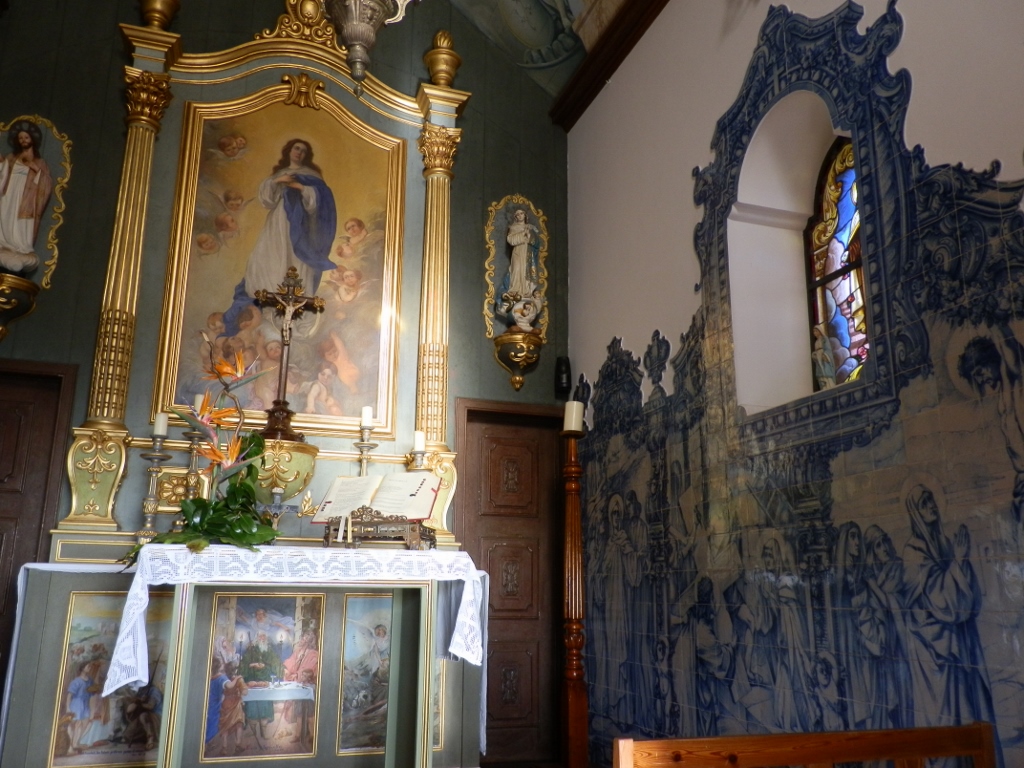 Interior of Santa Maria Chapel
One more photo to take advantage of the impressive contrast between the blue sky and the white facade of this chapel and Joao and I could move on.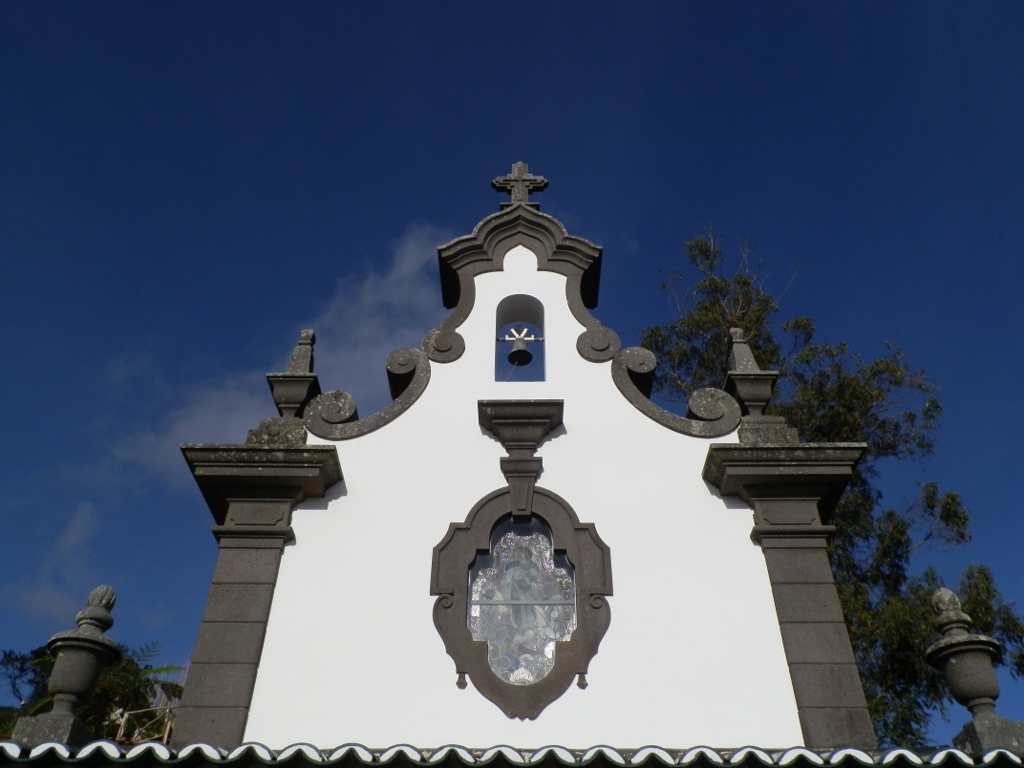 Santa Maria Chapel
At this point we started to go back in the direction of the main church in Monte, but along the way we passed the operators of the Monte Toboggan waiting for new customers.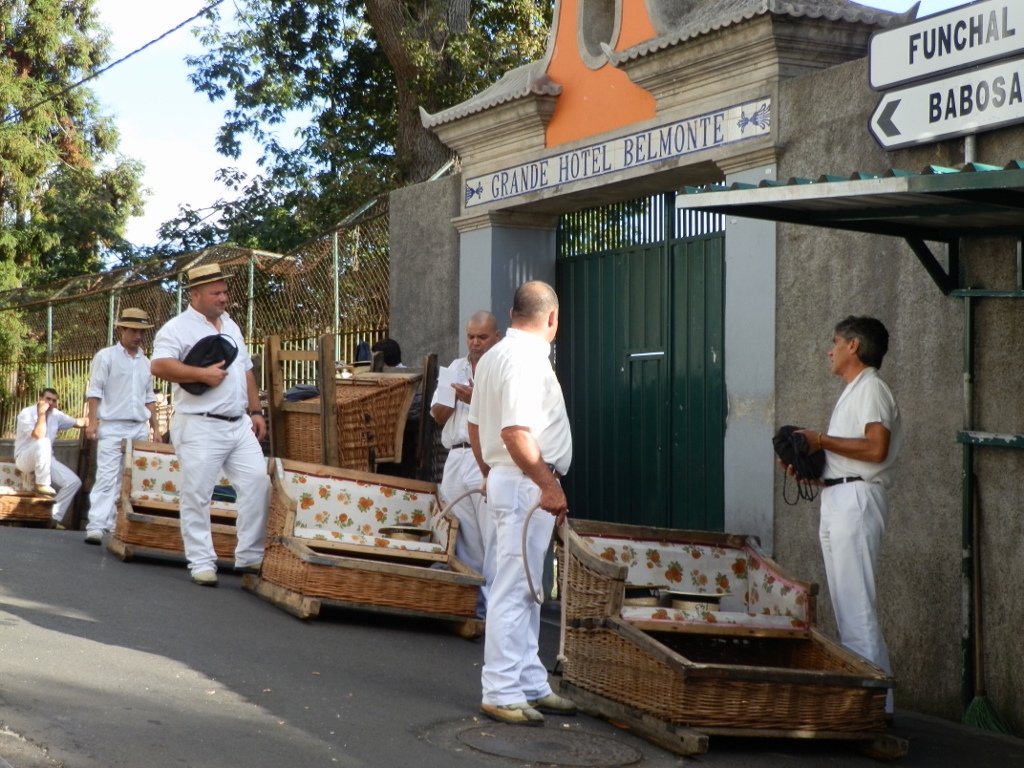 Starting point of the Monte Toboggan
The Parish Church of Our Lady of Monte (Igreja Paroquial de Nossa Senhora do Monte) that can be seen here today was built in 1818 in the place of the original church that was built in 1470. It is interesting that the original church was built by the man who with his twin sister constituted the first children born on Madeira.
The Our Lady of Monte to whom this church was dedicated is the patron saint of Funchal and so this important church is the place of local pilgrimage. Each year on the 15th August, the Feast of the Assumption, the penitents need to climb the 74 access steps by going on their knees.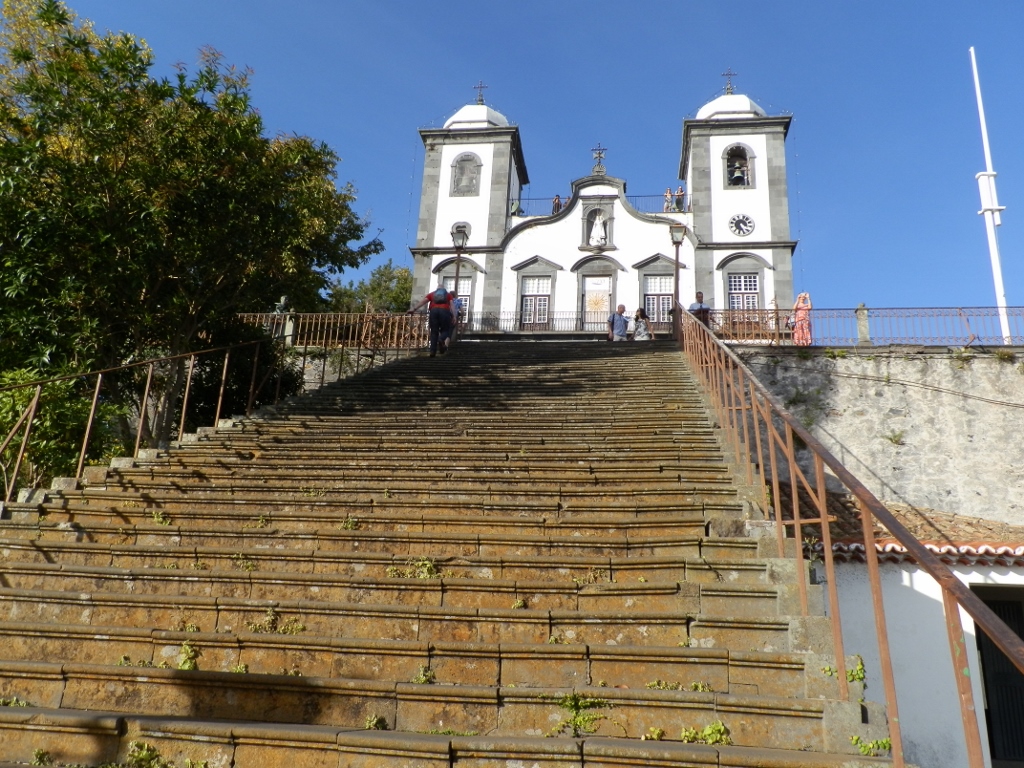 Church of Our Lady of Monte and its access staircase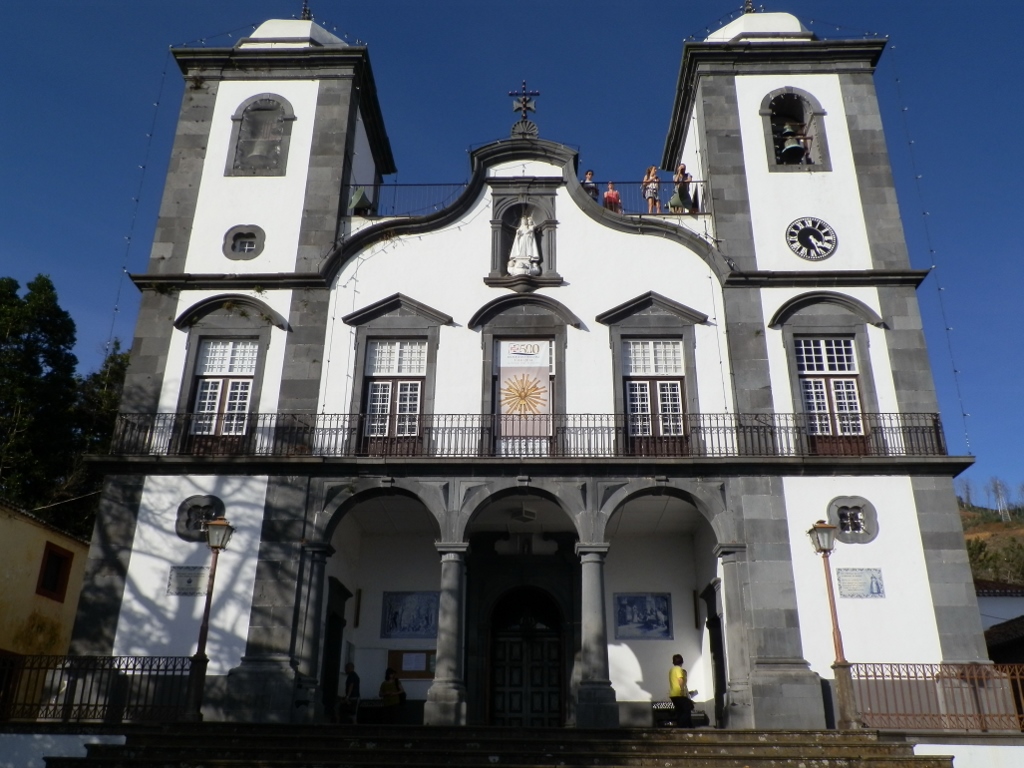 Church of Our Lady of Monte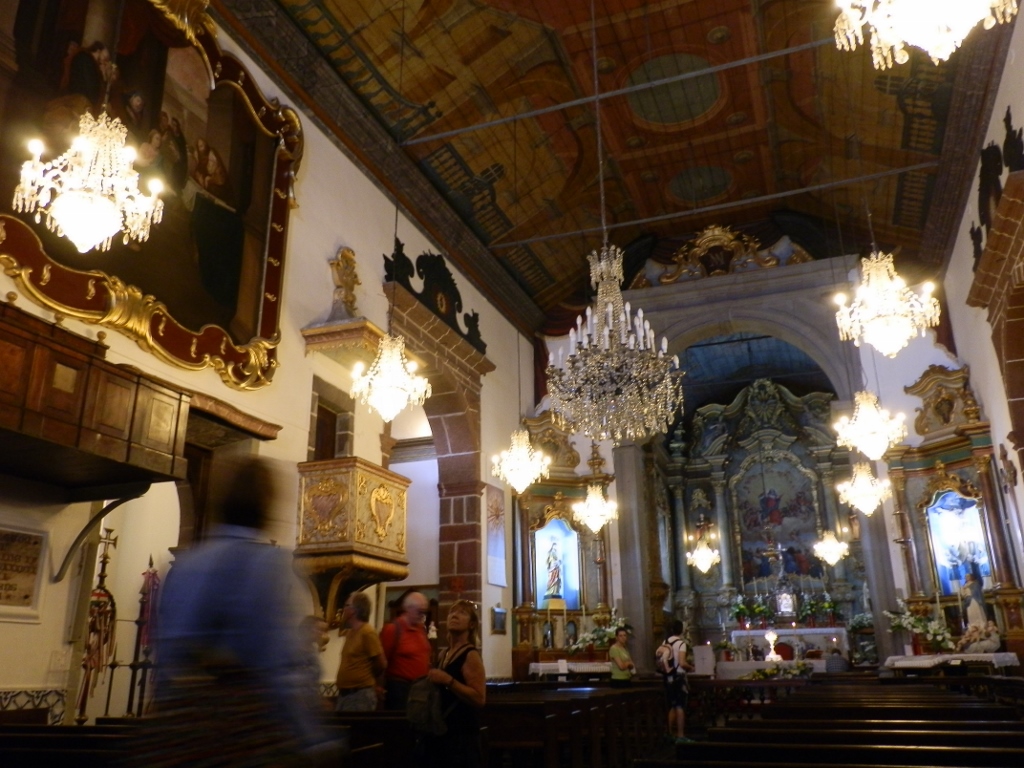 Interior of the Church of Our Lady of Monte
By the way, this is the place where the last emperor of Austria and king of Hungary, Charles I of Austria, was buried. He succeeded to the throne in 1916, but after the defeat at the end of WWI Austria became a republic and that was the end for him. Admittedly, he never formally abdicated and actually wanted to renew the monarchy, but it was not meant to be. He had to go in exile and first he went to Switzerland after which he came here to Madeira. He died in 1922, very young – he was only 35. In 2004, he was beatified by Pope John Paul II and although this led to disputes among historians and angry opposition from the countries that had fought imperial Austro-Hungary in WWI, the canonisation process was set in motion.
Then we walked a little around the municipal park, after which we were ready for a nice break and thus we sat in a café to have some refreshment.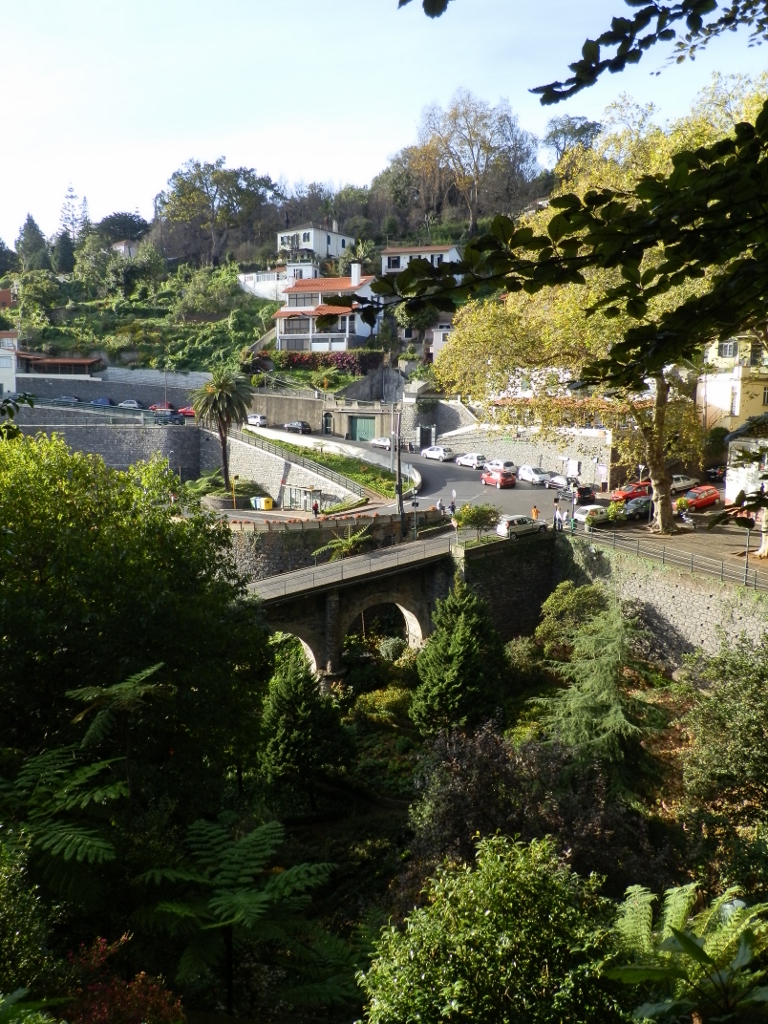 Part of the Monte's public municipal park with a part of the former railway viaduct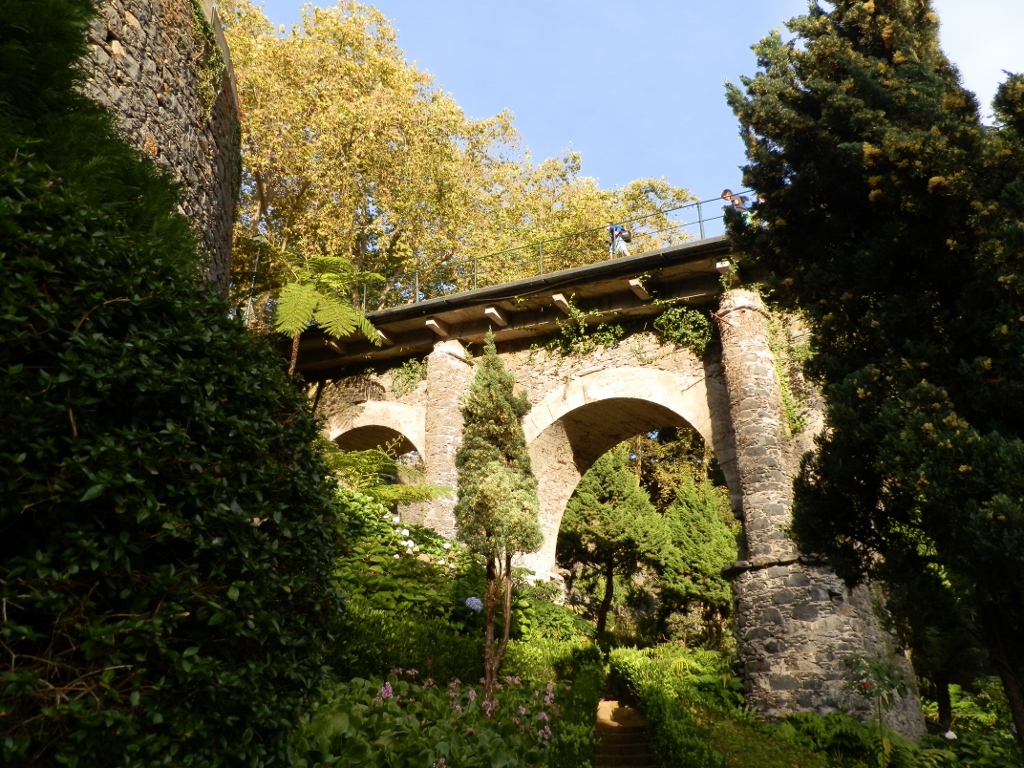 Now we are down in the park, so the view at the viaduct is upwards
As the day was about to be finished, there was a question of dinner and Joao proposed that we went to a restaurant that was close to the tourist part of Funchal, but to my mind quite tucked away. I would certainly NEVER find it myself, but he had heard this restaurant was good, so we went there. Joao is simply a wonderful person who wanted to fulfil my wishes and be a perfect host. Since I said I wanted to eat fish, he took me to a fish restaurant that is apparently quite well known.
There were many things on the menu at the restaurant, but I wanted to try the scary-looking fish that I had seen at the market in Funchal a couple of days earlier. As a reminder, this was black scabbardfish. It was prepared very simply, but it was still quite tasty and juicy. Admittedly, I would have preferred grilled fish, but it was fine like this, too.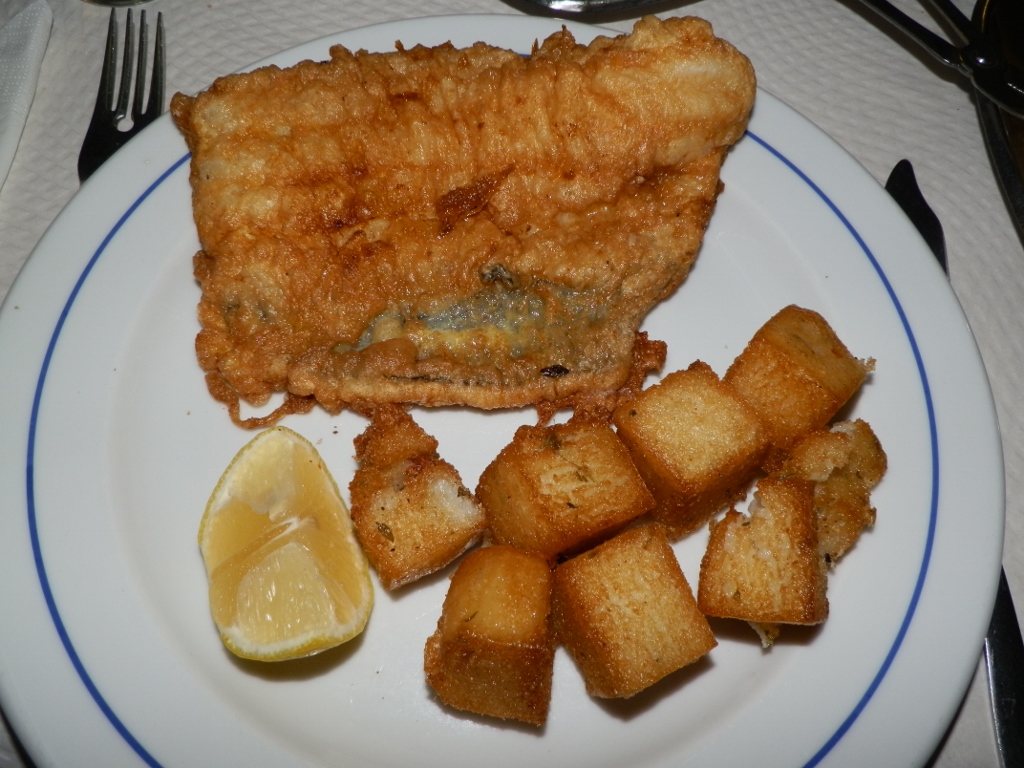 When prepared, the fish does not look scary at all
The next day Joao and I had a day of rest, meaning we did not go on any excursion, but we did meet in the centre of Funchal, near the Bank of Portugal, in the morning. It was Wednesday and every Wednesday on a small plateau opposite the bank's building there is a market of organic products. These were mostly vegetables, but there were also bananas, apples and lemons. Certainly nice, but for me completely unnecessary and impractical at that moment.
Anyway, I met with Joao and first we went together to an internet-café so that I would do my things there. After I had finished that I could enjoy the square at which the internet-café was. This was the Municipal Square (Praça do Município).
Around the nicely paved square there are the Collegiate Church – Church of St. John the Evangelist (Igreja do colégio – Igreja de São João Evangelista), then Funchal City Hall (Paços do Concelho do Funchal), as well as the Sacred Art Museum of Funchal (Museu de Arte Sacra do Funchal).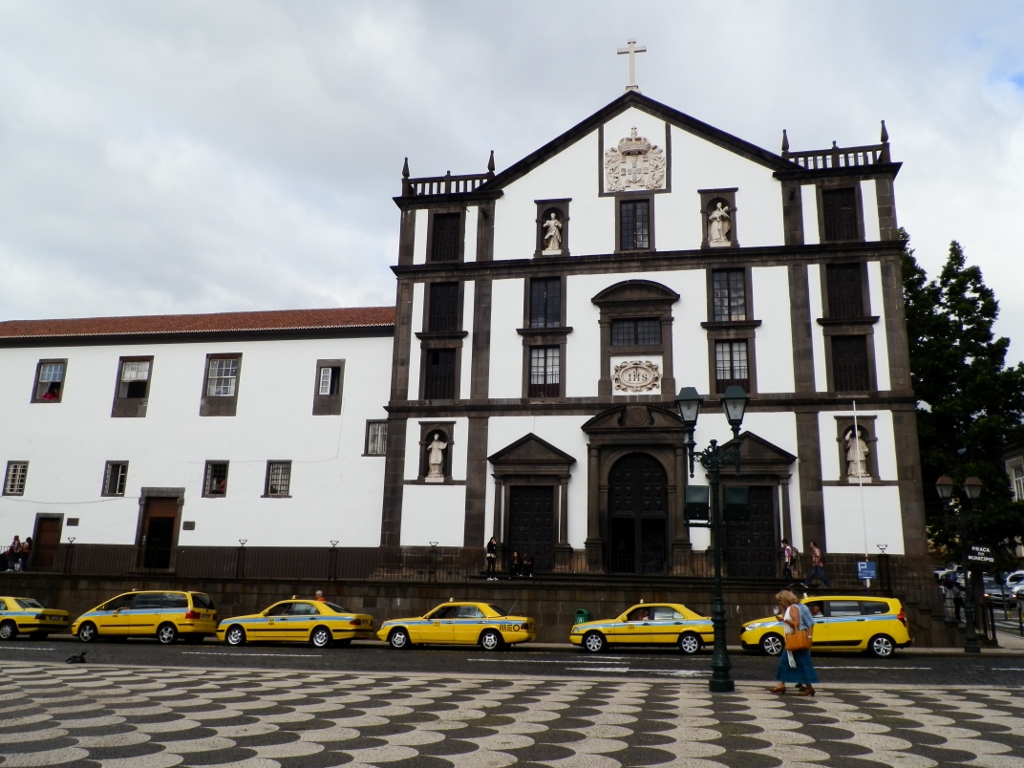 Collegiate Church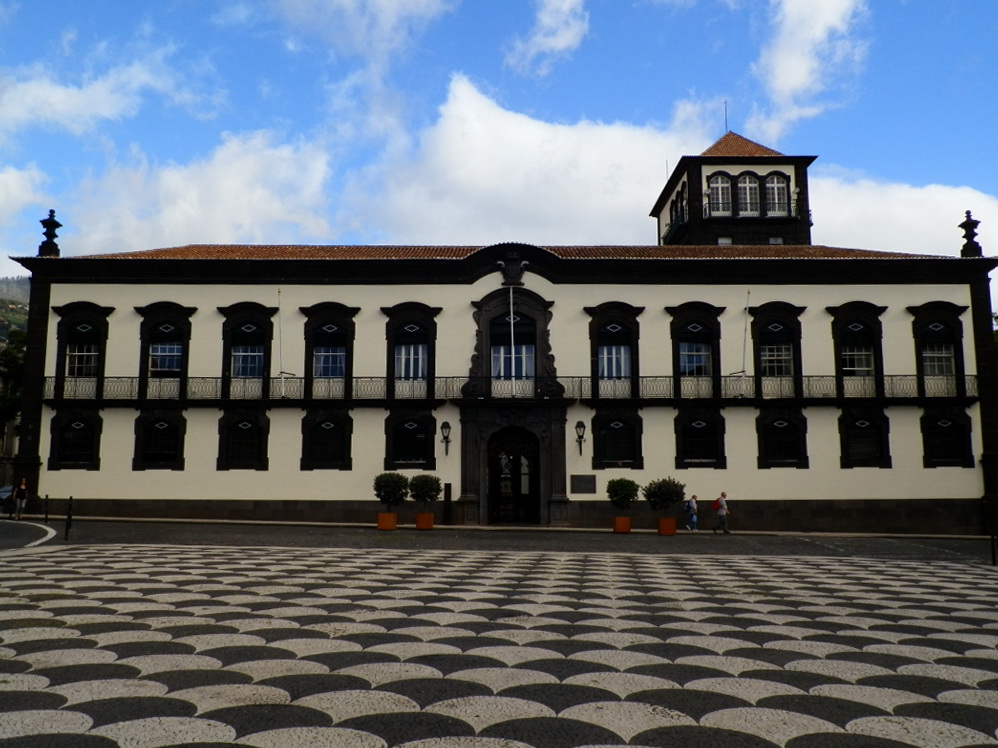 Funchal City Hall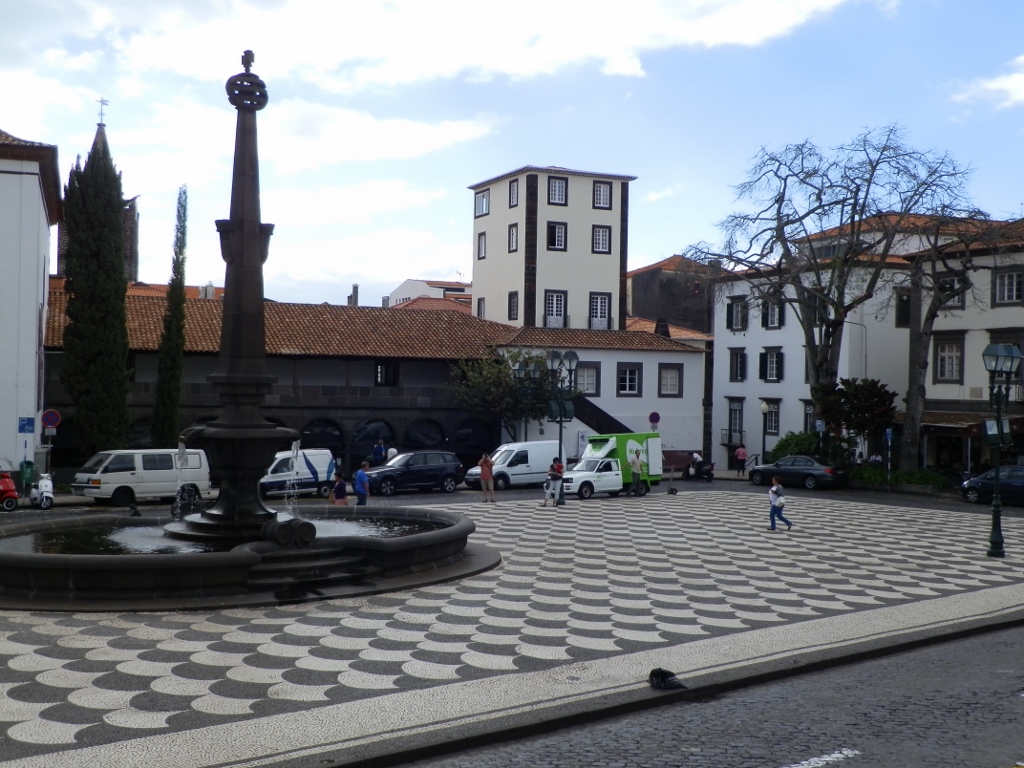 Sacred Art Museum of Funchal
First I dealt with Funchal City Hall.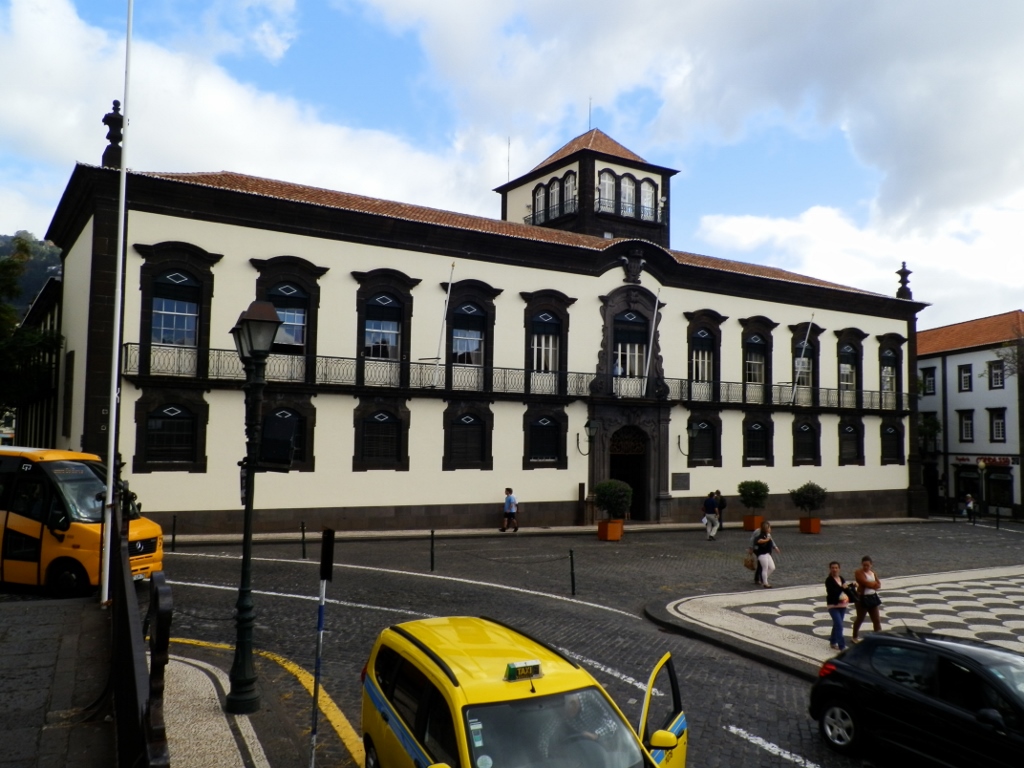 Funchal City Hall
I was not interested in any major visit to this building constructed in 1758, I don't even know if it was possible, but I gladly entered the inner courtyard and so I could see some exceptionally beautiful architectural and artistic details.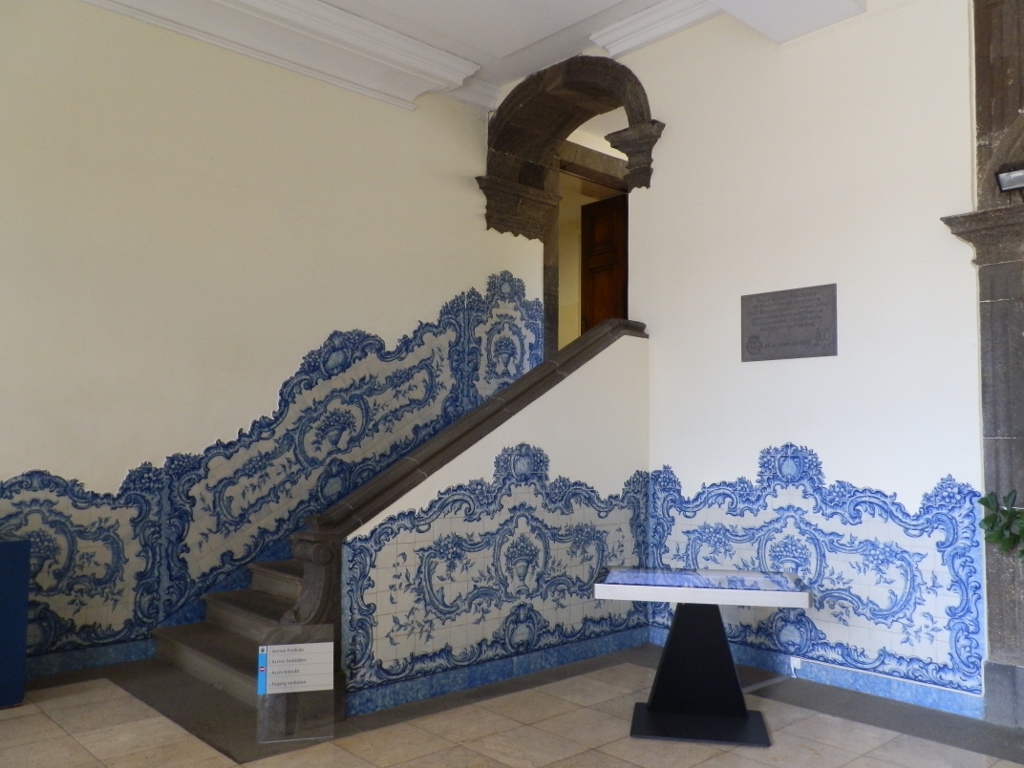 Funchal City Hall, details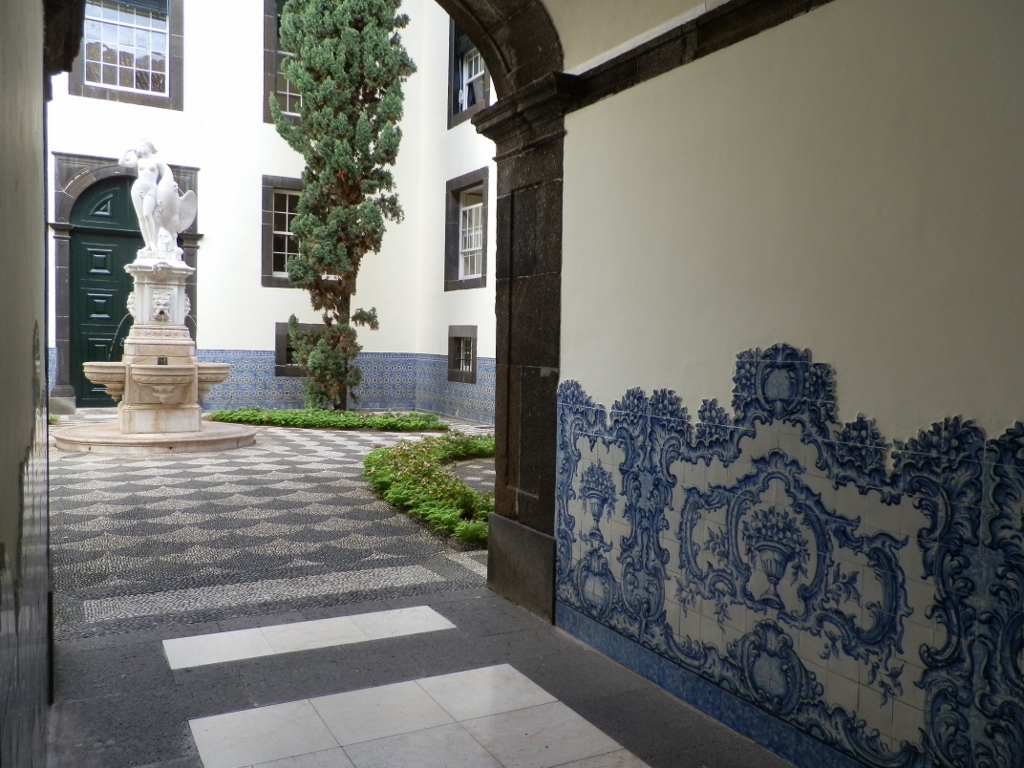 Funchal City Hall, inner courtyard and passage leading to it
Then I started with a short visit to the Collegiate Church dedicated to St. John the Evangelist.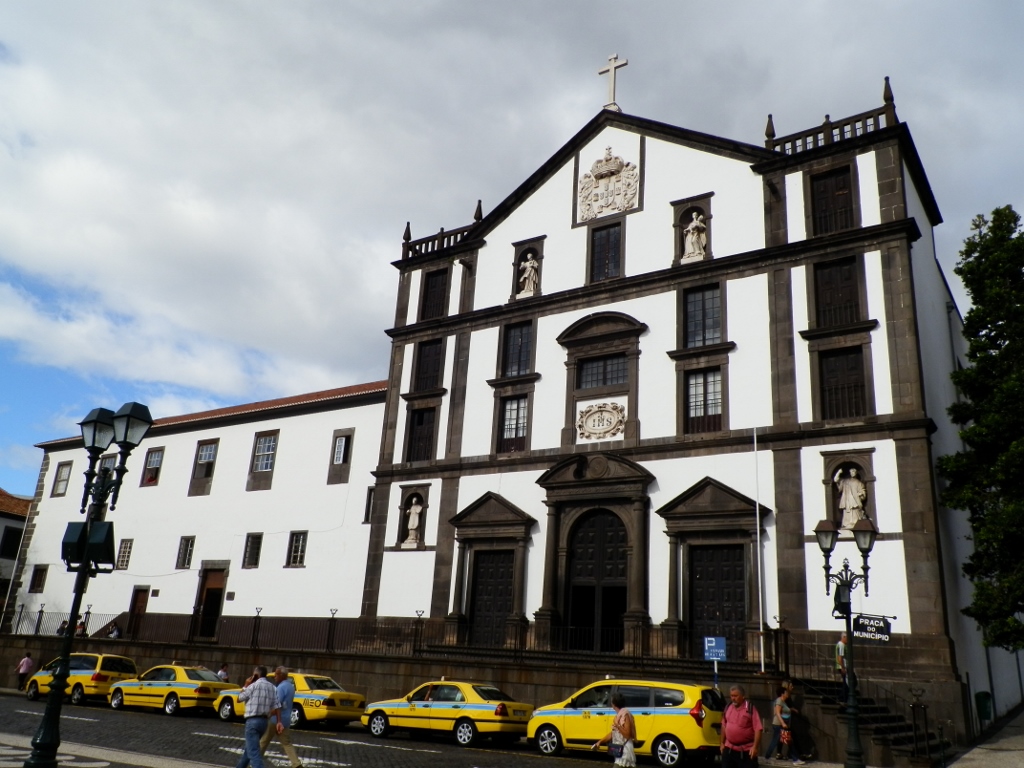 Collegiate Church
This church was built in the 17th century and until the 19th century it was the biggest edifice in the city. It belongs to an old Jesuit college, hence the name, and it is used by the University of Madeira and the Catholic University.
The interior is very nicely and intensively decorated. There are wall paintings, azulejo and other tiles, a lot of gold, the ceiling is impressive, etc.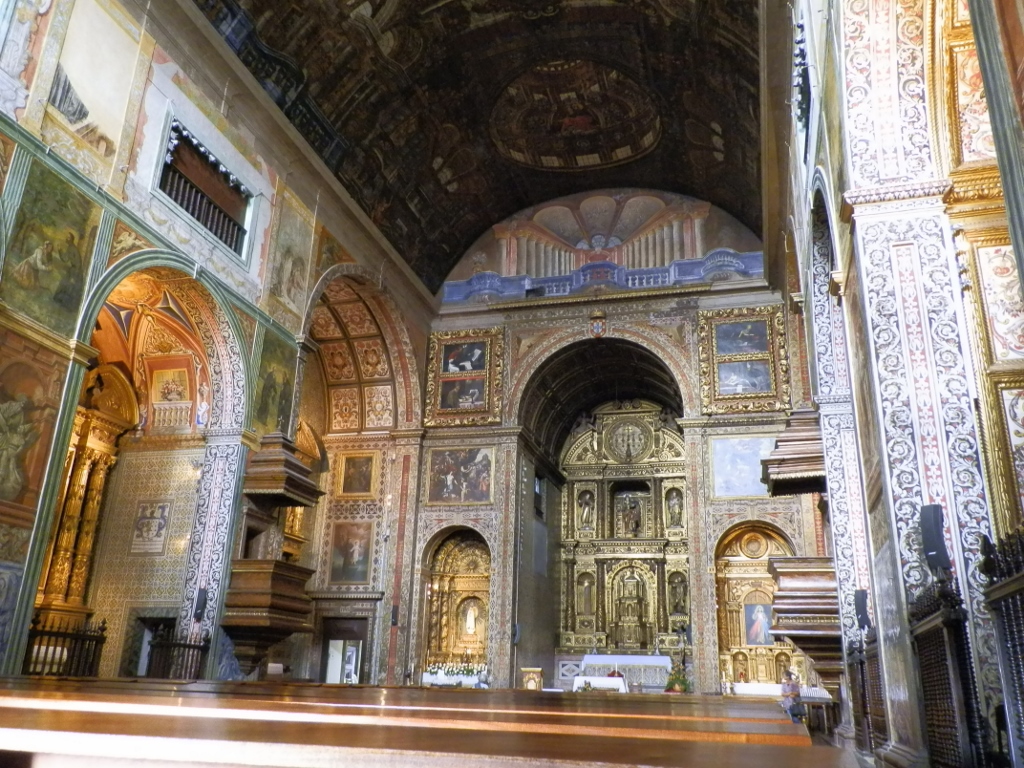 Collegiate Church, the interior
Still, a detail caught my eye at the time and I took a photo of it, and now when I'm writing this I know that through a symbol of the Way in the shape of a specific shell it has links with the pilgrimage Way of St. James which I, with so much joy, love, as well as challenges and endurance, completed in 2018 (see my stories from my travel in Spain in 2018).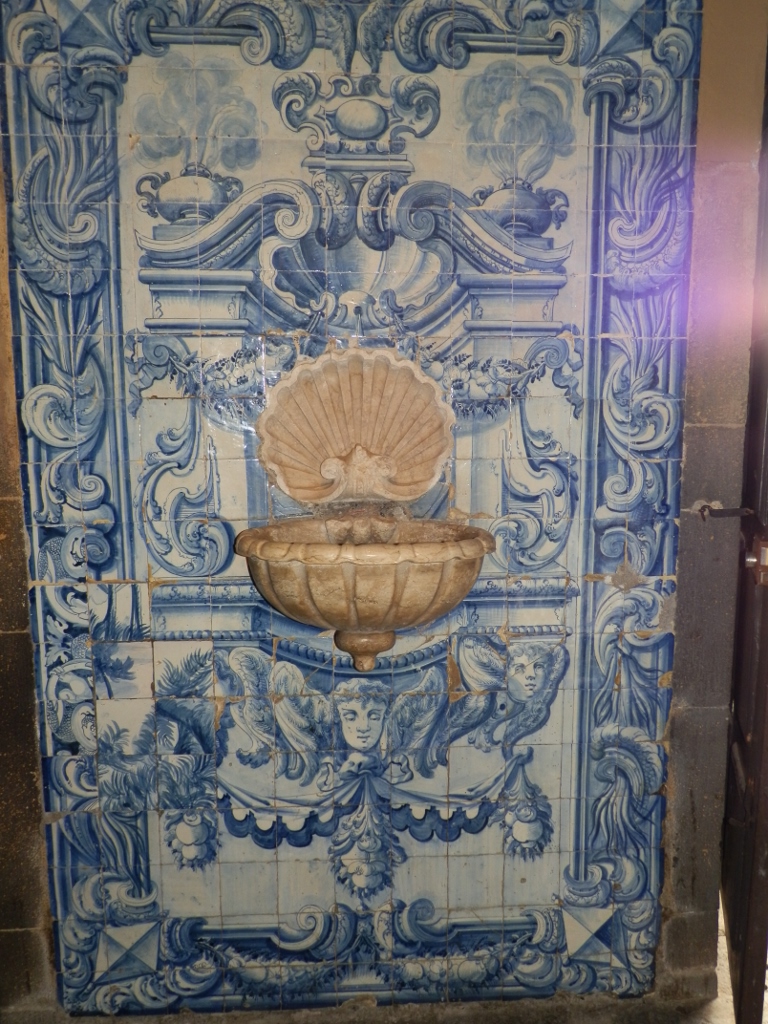 Collegiate Church, a detail
When Joao and I left the church, the only institution in the Municipal Square left to be visited was the Sacred Art Museum of Funchal located in an episcopal palace, but I did not feel like going there. At this point, my plans were quite different. Namely, the following day I wanted to go by ship to another island that belongs to the Autonomous Region Madeira and that is Porto Santo. In order to do that I needed to buy the ticket. Joao and I headed for the port, but I looked back once again enjoying the beauty of the Municipal Square in Funchal.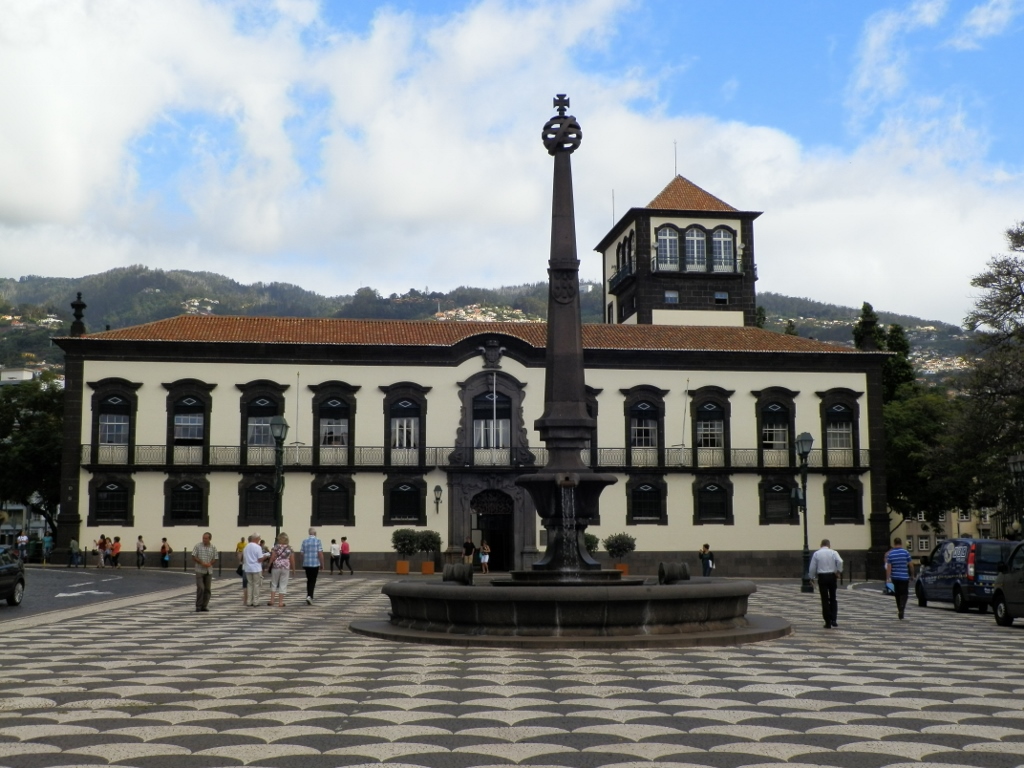 Municipal Square with the City Hall
While I was still just talking with Joao about my wish to go to Porto Santo and that I should go to the port to buy the ticket, he asked bashfully if he could join me. But, of course! Not only that he could, but it would be my great pleasure since we had really hit it off. He is exceptionally nice and kind, we constantly had some interesting stories to share and we often giggled, so to this very day his company is one of the most impressive and dearest memories from Madeira. As a matter of pure chance, he was in-between jobs at the time of my visit and thus he had all the free time of this world, so I guess it was also nice for him to have a distraction and new company.
So, we first got to the broad Avenide do Mar that runs between the shore and Saint Lawrence Palace (Palácio de São Lourenço).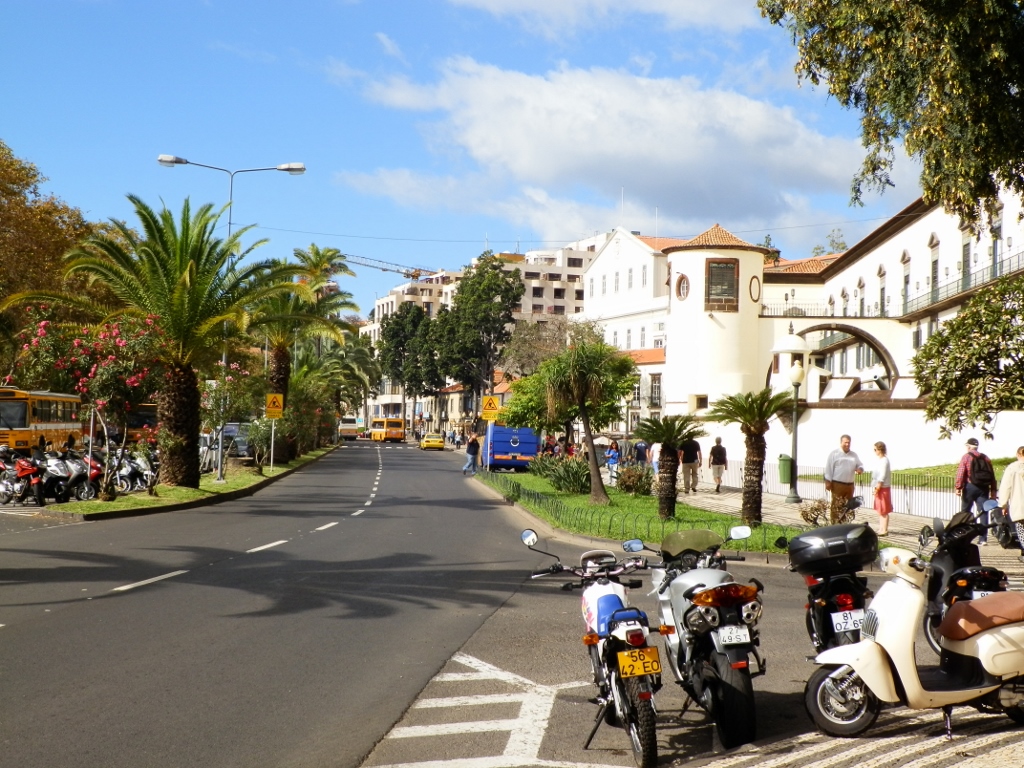 Avenue that follows the shoreline
As it can be seen in the photo above, the day was exquisite – sunny, with perfect temperature and a breeze... In other words, ideal to make another break for a coffee, garoto to be exact, in one of the numerous cafés next to the marina.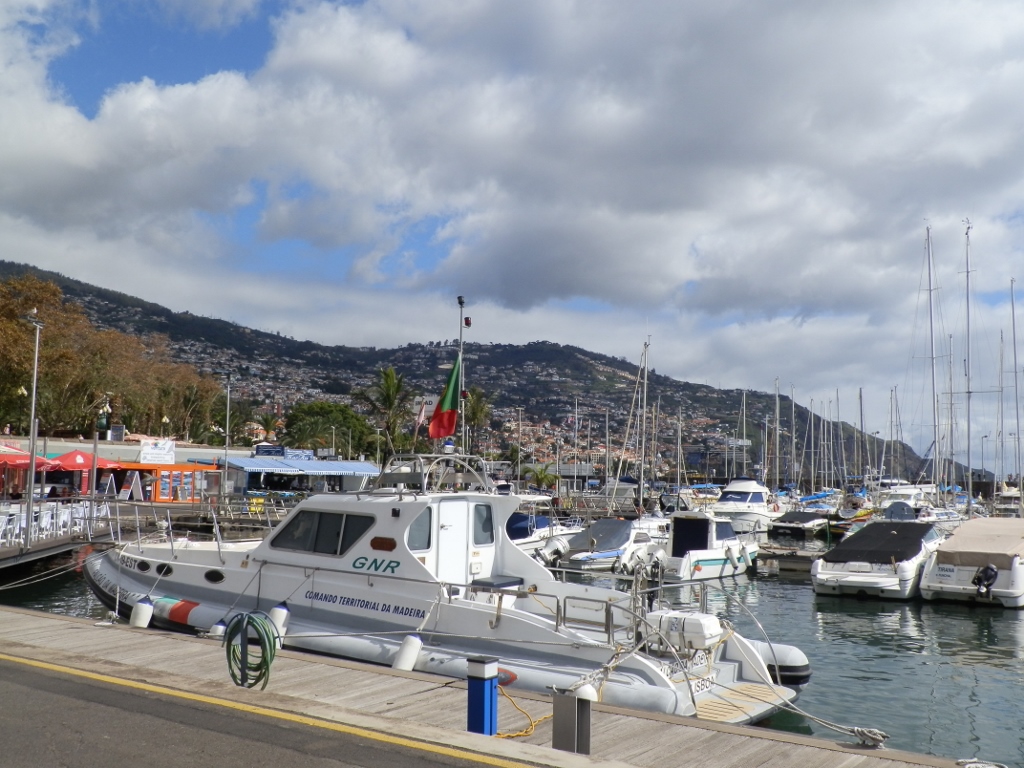 Marina in Funchal
After this nice and relaxing break, we walked to the ticket office in the port and bought tickets for tomorrow's trip to Porto Santo and then we went back a little in order to visit there, as is claimed, "the smallest country in the world according to the Guinness World Records – the Principality of Pontinha.