As a matter of pure coincidence, my friend Sneža and I happened to be on Andilana beach on a Sunday and it turned out that the beach restaurant where we rented the beds and the parasol offered a traditional Sunday buffet for lunch with apparently a lot of dishes made of sea food. We had booked a table the day before and by this time we were just waiting for the lunch to begin. Meanwhile, with occasional visits to the water in order to get refreshed I just kept looking idly to my left and to my right.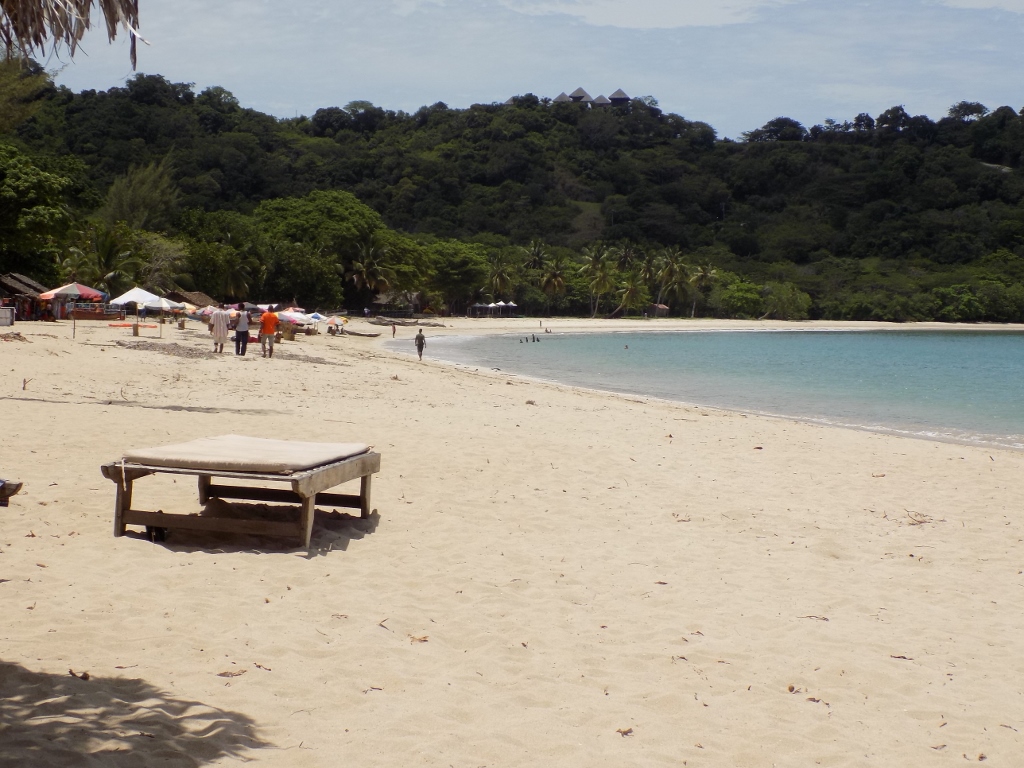 Andilana beach – my view to the left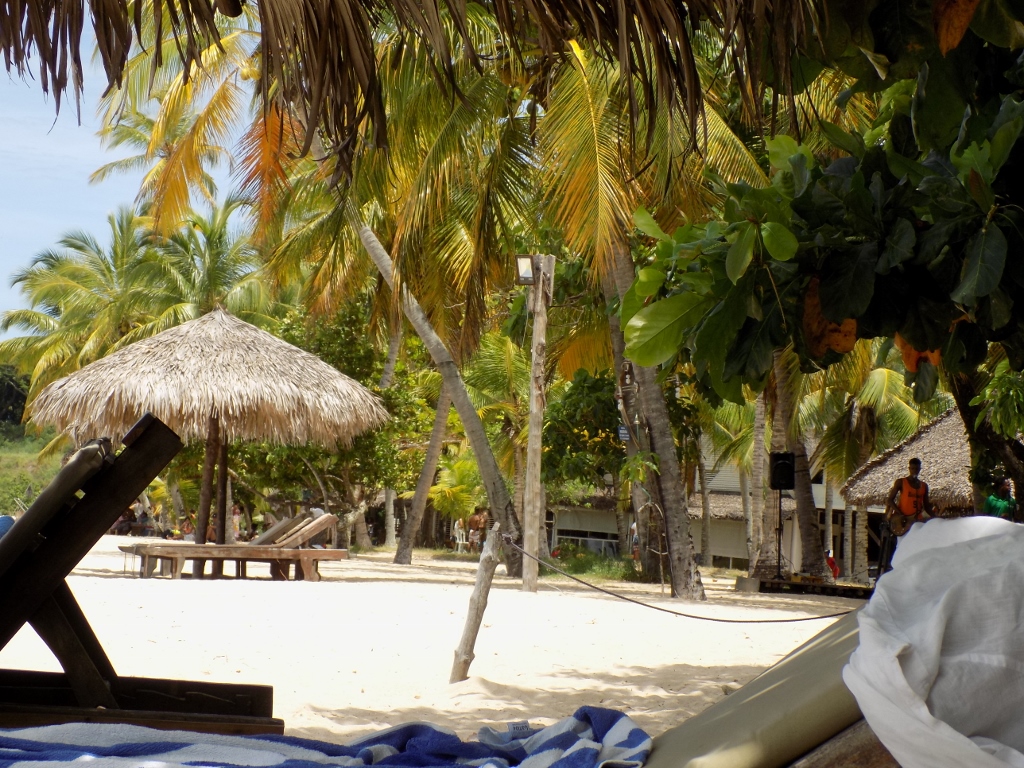 Andilana beach – my view to the right
As it turned out, the lunch was not as spectacular as it was being advertised, but the fact is that there was plenty of food and in the end the two of us were nicely full. Another good thing was that we had a table at the very end of the restaurant, so we could continue enjoying in the direct view of the beach, as well as in the music organised for the occasion.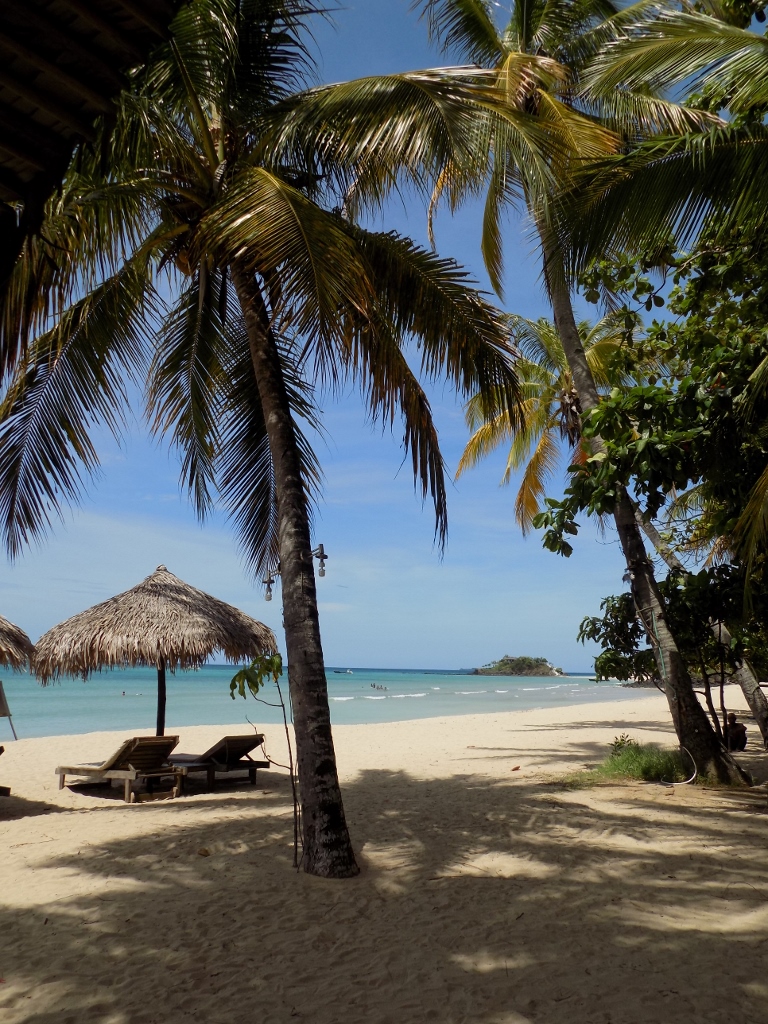 Andilana beach
Still, the next couple of days we had our lunches in a significantly smaller restaurant, a place that was less advertised and was tucked in between some shops that sold touristy stuff.
After the afternoon lying on the beach, we started to head back to our hotel before it was dark because we did not want to be stuck again in pitch black as the night before. Needless to say, along the way we passed by the same fields as earlier in the day, but the light was different now and I took photos again.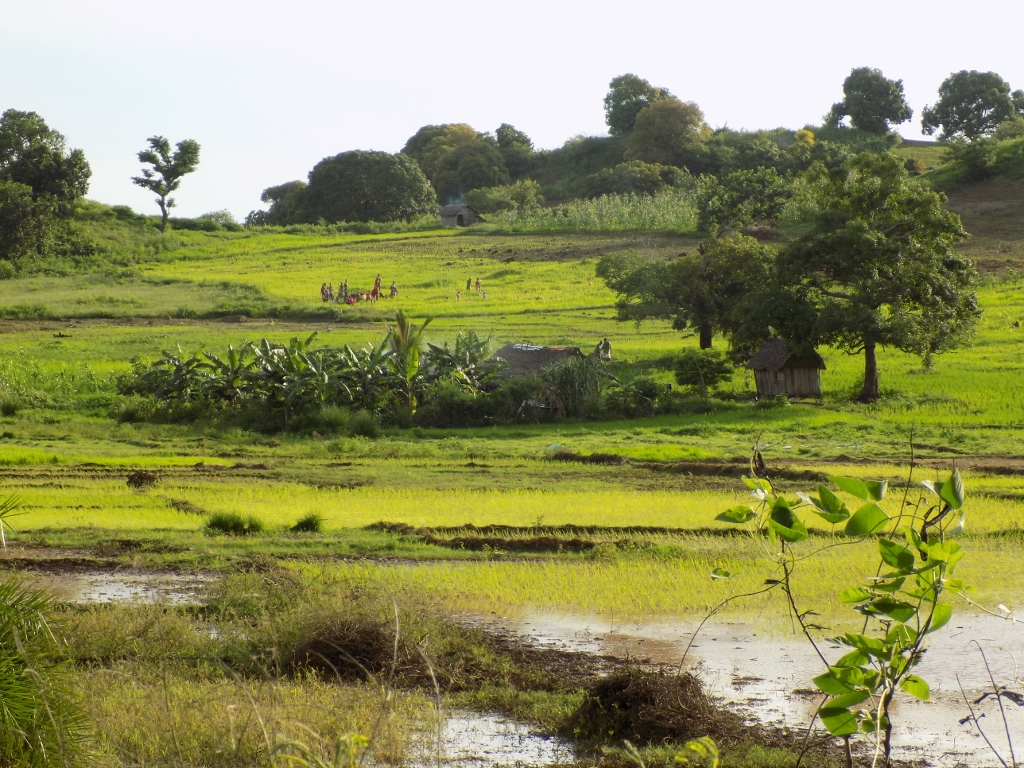 Fields on the way to our hotel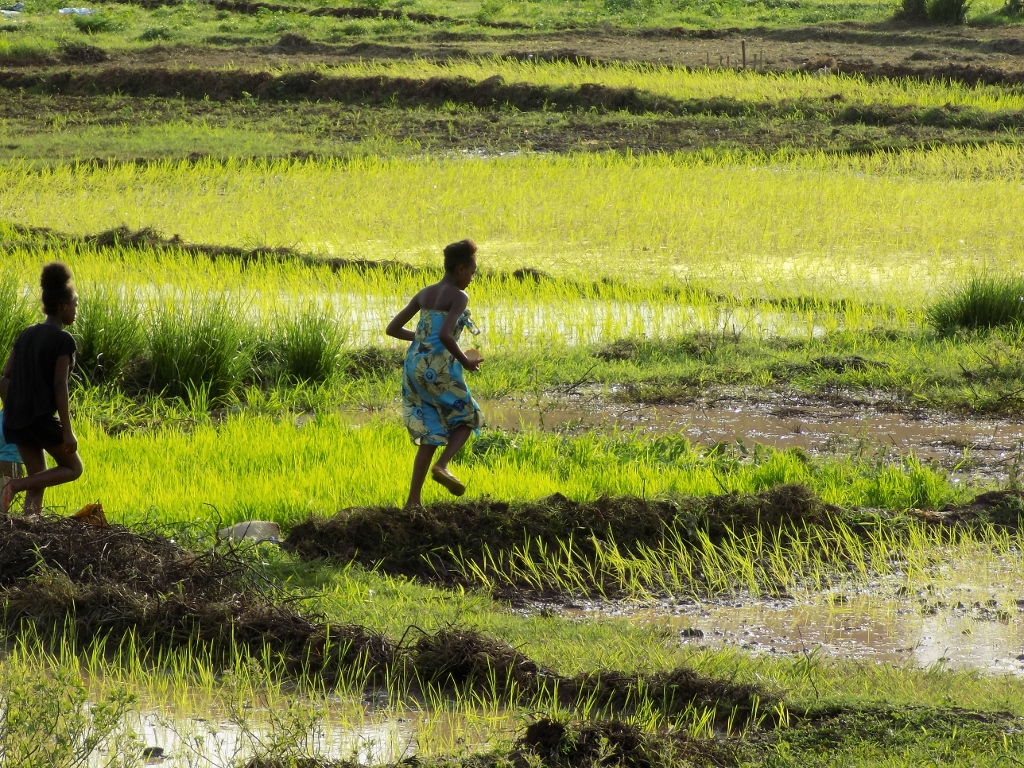 Walking along the paths in between rice paddies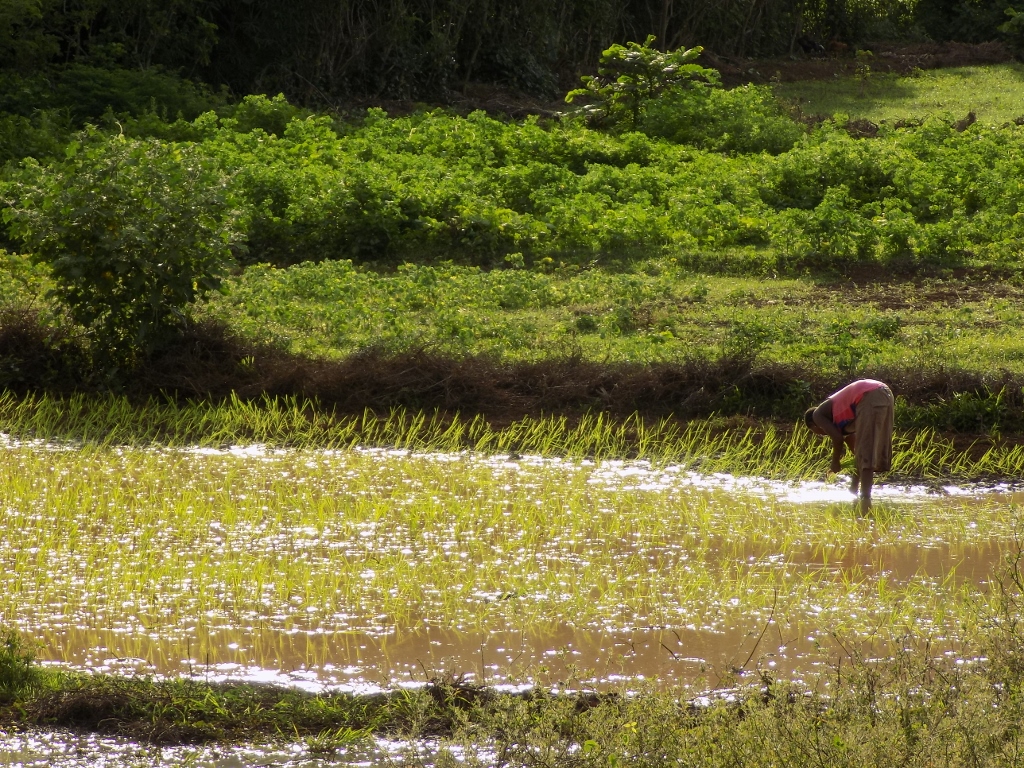 Work in rice paddies is very hard
As it may be seen in the photos above, the rice had already been planted or was being planted, but these were all rice fields filled with water. However, on our way to the hotel I noticed another type of rice that was growing on a slope and thus the plants were not submerged in water all the time. This confused both of us and we found it a little odd, but later we found out that this was the type of rice that is grown on slopes (upland rice) and then its irrigation depends on the rainfall.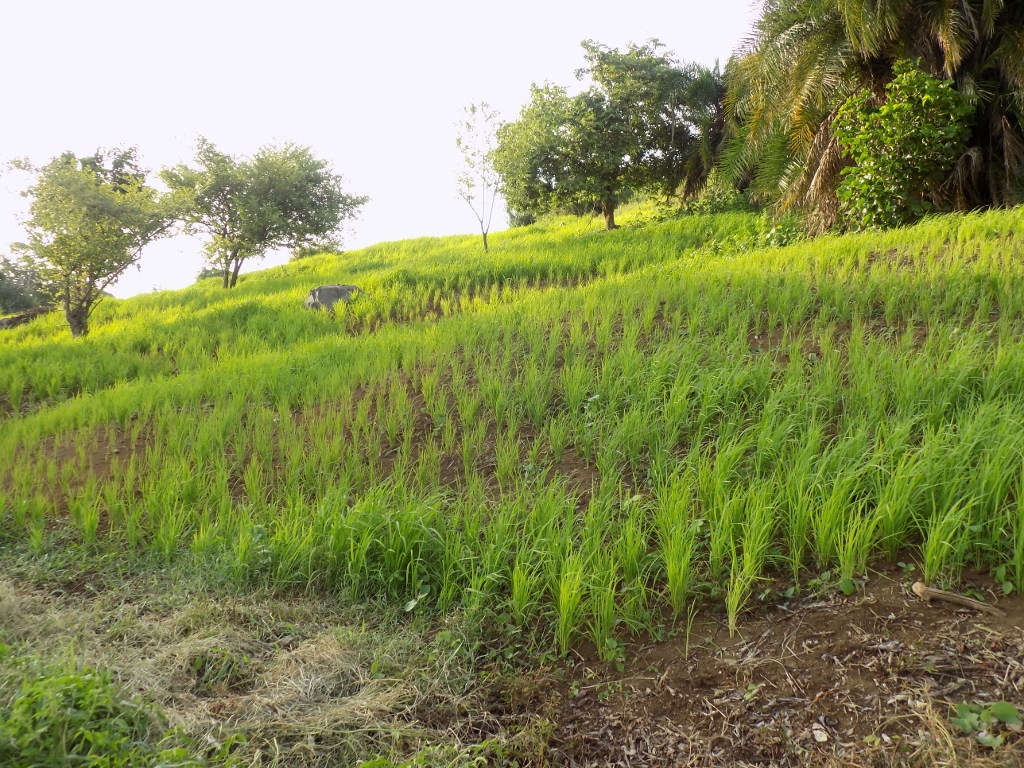 A slope covered in rice
We reached our room in time to enjoy a wonderful sight created by the setting Sun.

View from our terrace
The following day was rather lazy – simply, after the breakfast we walked to Andilana beach, spent the entire day there, had lunch in that other restaurant where we truly enjoyed the food and then towards the evening we returned to our room in time to witness yet another spectacular sunset.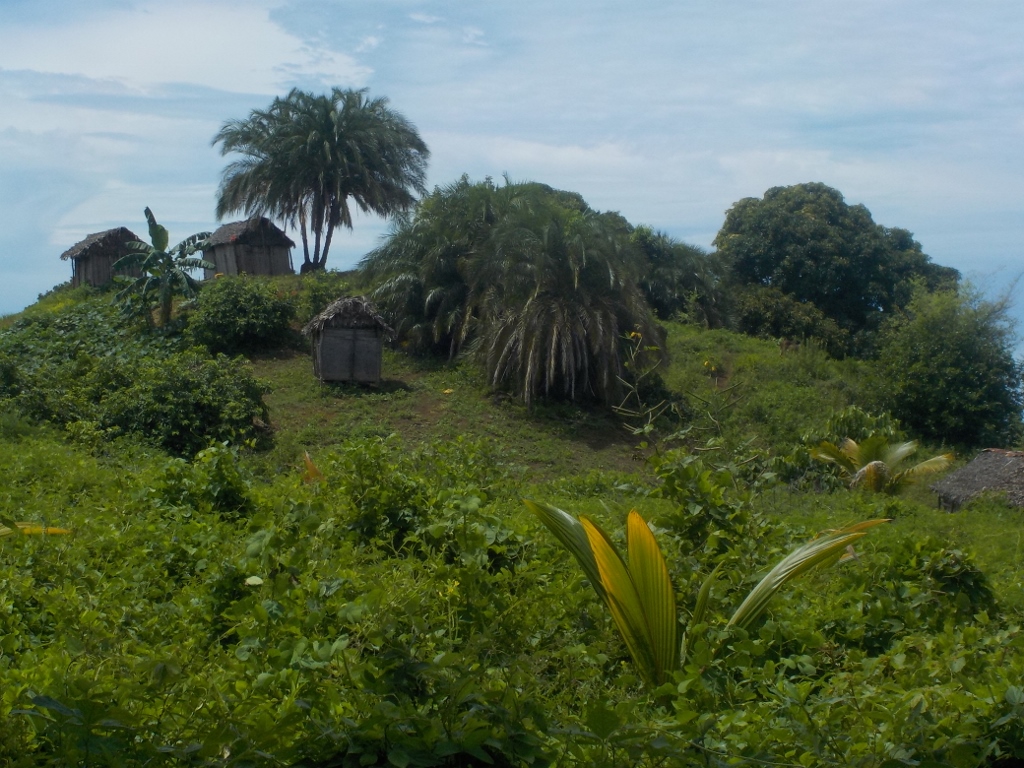 Houses of local dwellers near our hotel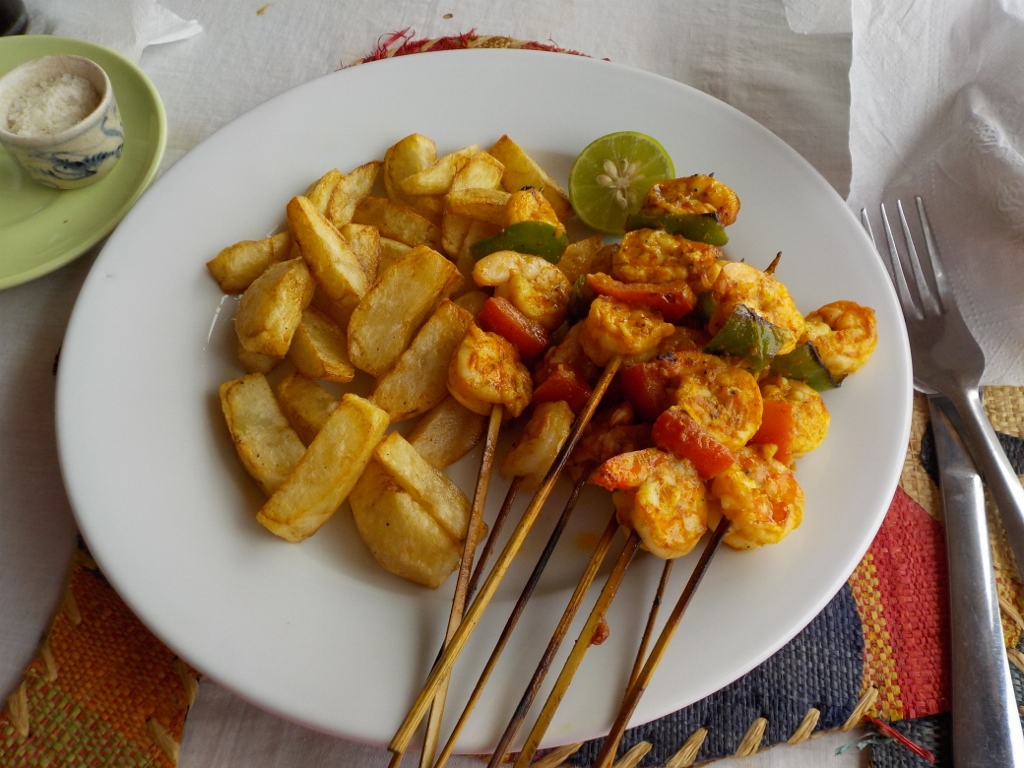 Lunch at the modest restaurant on the beach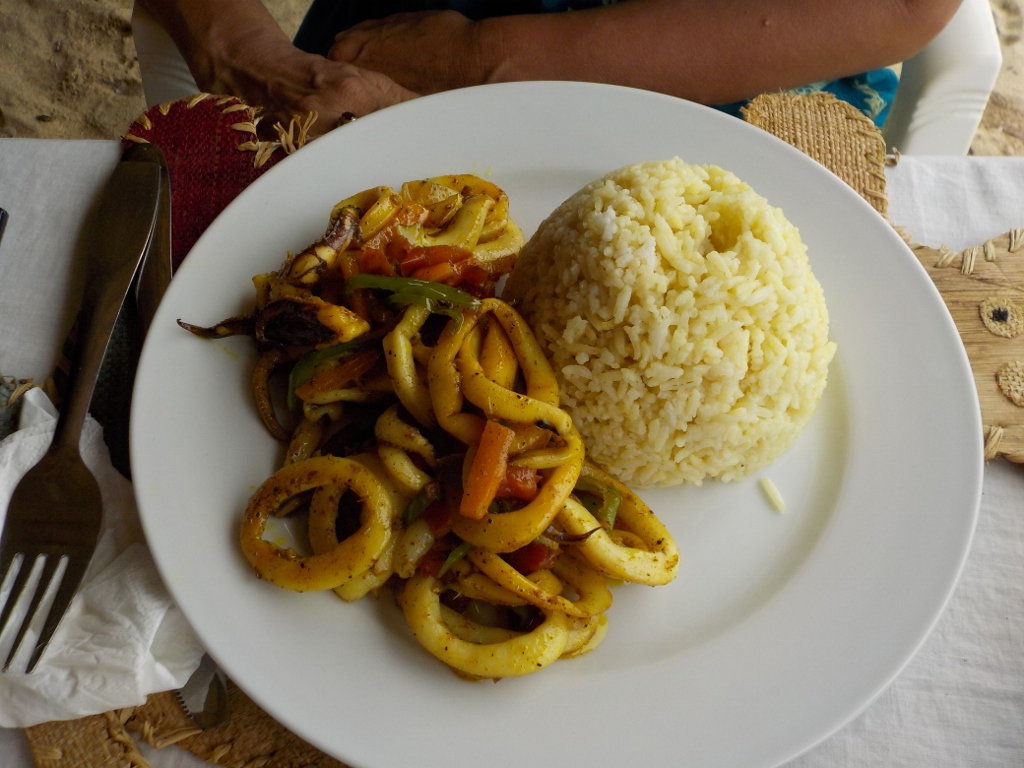 Lunch at the modest restaurant on the beach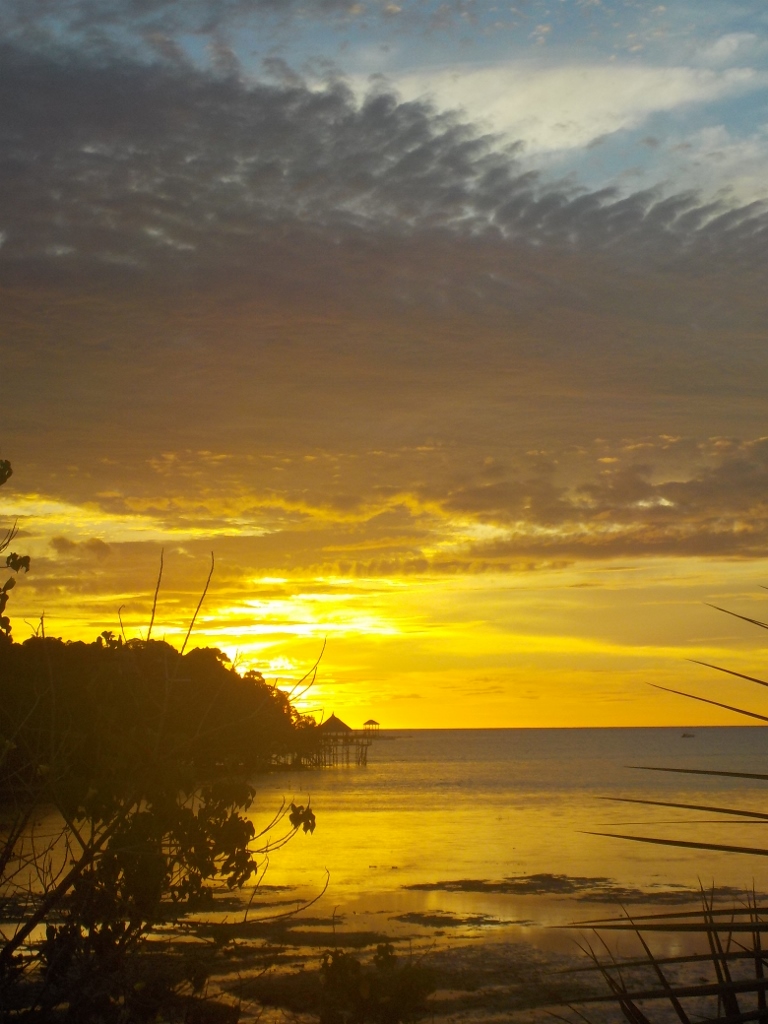 Sunset we could enjoy from the comfort of our terrace
After a couple of comparatively lazy days where our only activity was to go to the beach, swim there and eat, we finally decided to change it a little. And that was a great decision. Admittedly, we also considered the possibility of going on a boat trip to one of the nearby islands in order to snorkel there, but we gave up because the trip seemed just far too expensive. In addition, the internet meteorologists threatened us every day with clouds and rain, so we thought it would be silly to sort of snorkel, without sunrays going into the water and with everything gray around us. This was also an easy decision for us, having in mind that our plan involved another couple of days on a beach towards the end of stay in Madagascar, but this was to be all the way in the south where it was supposed to be sunny.
By the way, since I'm mentioning weather and forecast, I must reiterate that it turned out we were very lucky. Namely, January is one of the rainiest months in Madagascar, being in the middle of the rainy season. After I had already made the itinerary, I occasionally started to check on internet what the weather was like. I was appalled when I regularly saw clouds and rain with or without thunder! Then I said to myself: "Well, ok. You'll go to the other part of the world in order to stay in a room while it's pouring outside, but at least you will have a proper rest and will be able to sleep the whole day." One has to know ways how to comfort oneself.
However, it turned out that rain, as well as clouds, did threaten us, but it was still rather sunny during the day. Over the period of five days in Nosy Be, we were never caught in the rain, although I duly carried an umbrella with me every day. Admittedly, it rained regularly and abundantly at night, but I really did not care about this at all.
On the other hand, what was present constantly was very high air humidity. As we had the air conditioner in the room on during the night, this meant that everything that was in the room was relatively cold in comparison to the outside temperature. When I would wake up in the morning and peer through a large French window, I always got inspired to grab my photo-camera immediately and get out in order to take photos of the beach which I kept watching every day. However, since my photo-camera was cooler than the air temperature outside, plus there was incredibly high humidity outside as well, the camera's lenses fogged regularly, at least in the beginning.

When the lens is partially fogged

When the lens is defogged
Still, every time I would look at the beach, especially during a low tide, I could not believe where we went in for a swim the first day. Then I also thought how lucky we were that we did not hurt ourselves, i.e., that we did not scratch our limbs against some of those mangroves that came up from the ground.
So, on the penultimate day of our stay in Nosy Be, we decided to go on a small tour, since the forecast for the day said the probability of rain was 80%! That meant no beach, so, we thought, let's see something else. Thus, we followed the dirt road that led from our hotel to the main asphalt road and there we stopped and waited for an auto rickshaw to catch.
Eventually one stopped and we started with the negotiations about the price, practically testing the "market" since we had no idea how much it could really cost. It was clear to us that he would ask significantly more than what was charged to the locals and that was fine with us, but we were actually bargaining about that "significantly." I presume that I am like most other people by not liking to throw my money around and to feel like being cheated out of my money. It all comes down only to that. So, it took us three attempts to get an auto rickshaw and the price that felt reasonably fair. Our logic was the following: the price was not too high for us and on the other hand if the driver had a ride such as ours every day, on a monthly basis he would earn significantly more than the average income for that line of work in Madagascar. I think it was fair from us.
Thus we first went to crater lakes. These are several lakes that were created in the craters of volcanoes, since Nosy Be has volcanic origin. However, no eruption has been recorded here, so we felt fine. Our driver first stopped by Lake Andjavibe in order for us to be able to see it from a relatively low position. An advantage of visiting Madagascar during the low season is that, although present, the number of local vendors of souvenirs is significantly smaller than during the high season and consequently a visitor has more peace and quiet when watching the landscape which was the main reason for coming here in the first place.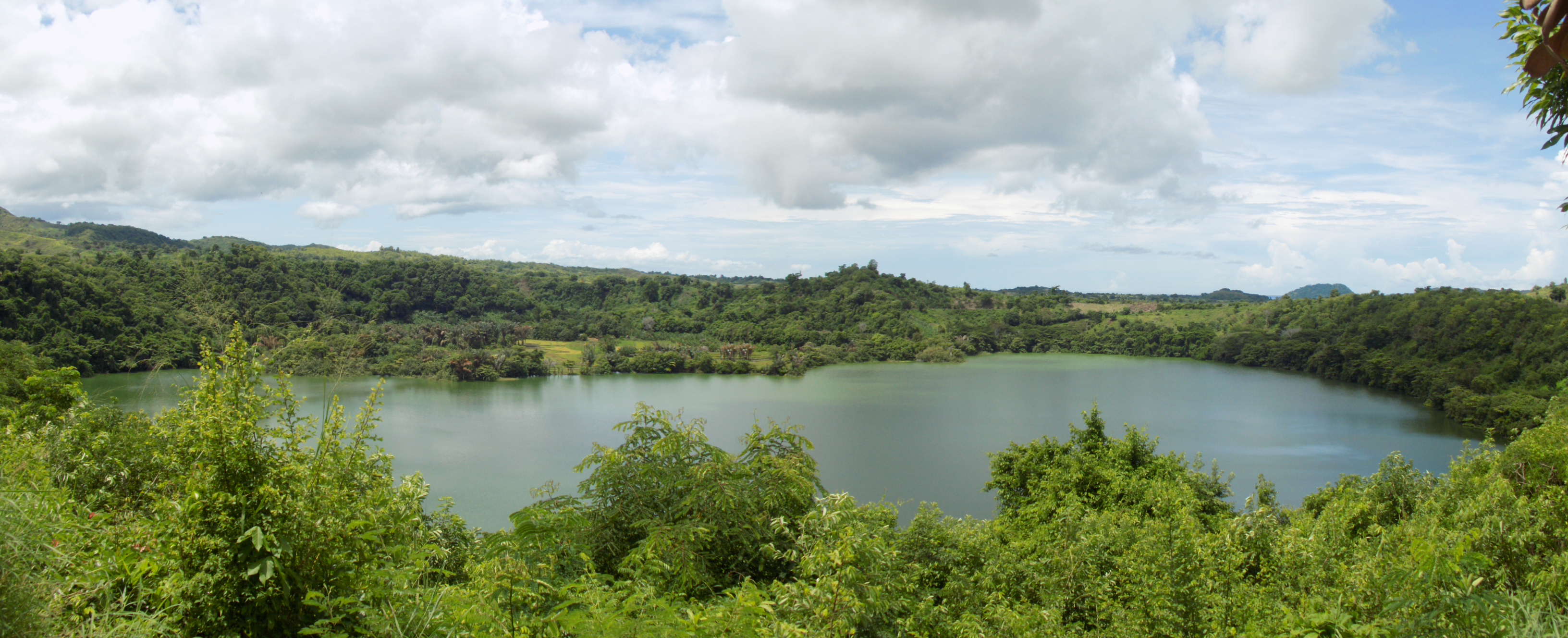 Lake Andjavibe
Then we also went close to the peak of a hill called Mont Passot where there was a parking lot. There we found an office to buy entrance tickets, after which we had a short walk in order to get to the peak itself. On the peak there was a repeater, as well as a couple of platforms from which there were some fine views at the lakes, Nosy Be, as well as the nearby Madagascar. There were also numerous souvenir shops, but as it was the low season, most of them were closed and we did not have to bother with persistent vendors. A simple "Non, merci!" (No, thank you!) was enough.

Lake Amparihibe is in the middle and a little farther away is the islet of Nosy Sakatia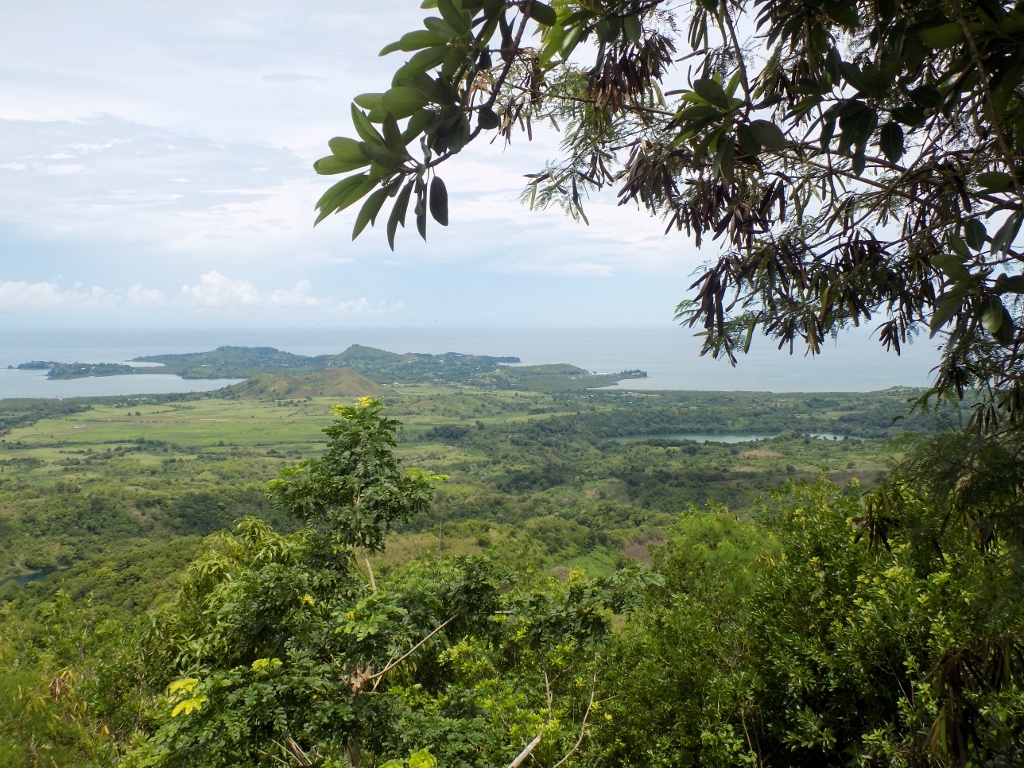 View at the northwest of Nosy Be where there is Andilana beach – with lush vegetation in-between
By the way, for those who like it, it is possible to go hiking and walking around since there are numerous trails and there are also places for those who love to watch birds and/or orchids. In addition, there are options to have a picnic here as well, or to splash in some cascades, or there is also a lake where one can watch crocodiles, but swimming is not recommended there.
Since the two of us were not interested in any of the above, we simply went back to the area where we had bought the tickets, so we first went for a drink, inviting also the driver to join us. There we also agreed to have him drive us almost the entire day, since our original arrangement involved only a one-way ride.
During these "negotiations" we faced something that happened to us later as well, but which did not fit at all into our logic. Namely, we first agreed to have the driver take us to the very south end of the island, to an ylang-ylang distillery that is located there, while also bringing us to these lakes that involved a relatively significant detour from the main road. The price we agreed was 50,000 ariaries. When we asked him how much it would be if he drove us directly back to the place where he had picked us up (in other words, with no detours whatsoever), he first asked for 140,000 at which we merely looked at him disbelievingly. Then he immediately dropped the price down to 100,000 and when we said it made no sense, he lowered it down even more to 80,000, which was acceptable to us, since it was around 20 euros. We wondered how ever he came up with the first figure which was almost three times the price agreed for one way, but we could not come up with any answer that made any sense to us.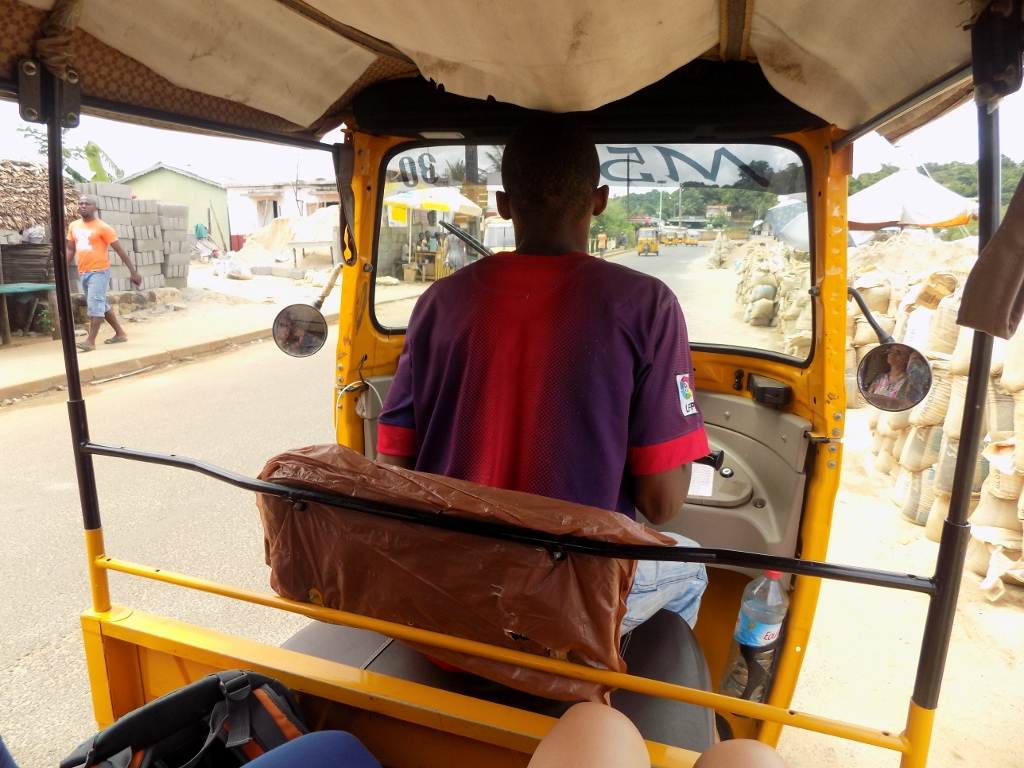 View from the back seat of the auto rickshaw
After that break and the "business negotiations," we got into the auto rickshaw again and headed south towards the small town of Hell Ville, which is nowadays officially called Andoany and has nothing to do with any kind of hell, but rather it has been named like that after some French admiral. In fact, this town was not too interesting for us, we just wanted to go to a nearby distillery of essential oils, primarily made of ylang-ylang plant, but it turned out that they also had a small zoo there. By the way, those interested in seeing lemurs in the truly natural surroundings may go a few kilometres farther to the Natural Reserve Lokobe. We actually only wanted to go to the distillery and not to look at animals, since we thought we would have more opportunities for that later on. Still, some animals we saw here were exceptional and in the end we were glad that we had this opportunity since the distillery itself and the story about it were rather meagre and relatively boring.
To start with, the local guide took us through a part where they had some interesting specimens of vegetation, but also where the tortoises they kept and bred walked along some flat pieces of land surrounded by stones over which these animals limited by their shells could not escape.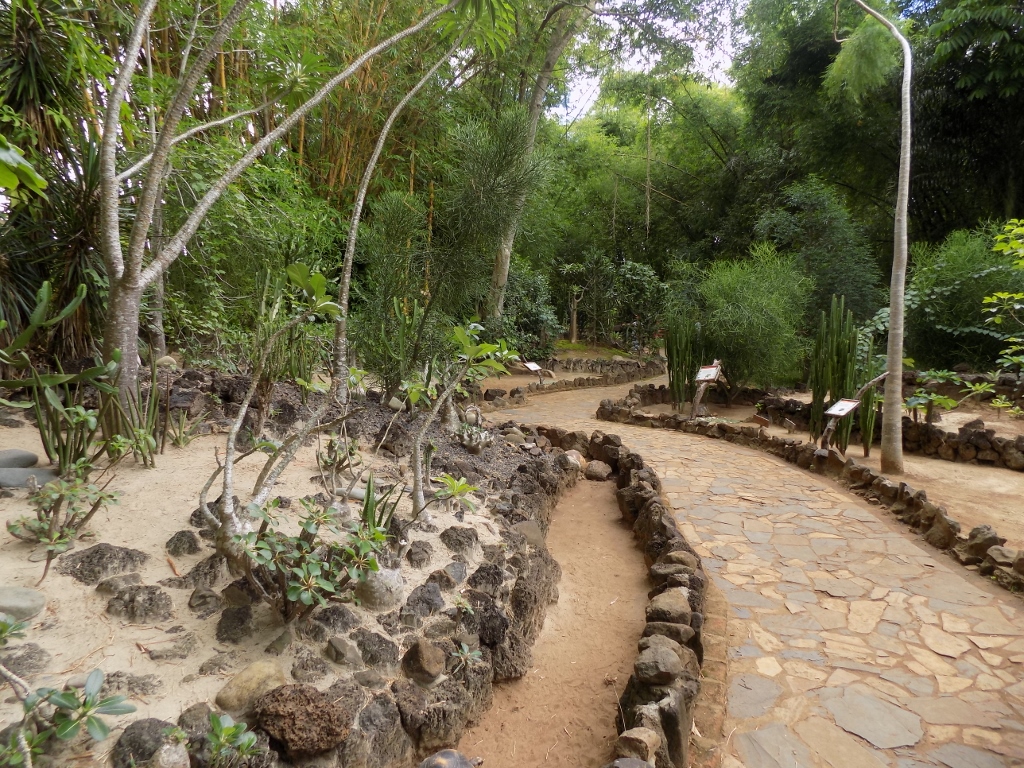 From left to right: botanical section, a path for tortoises and a path for visitors
Then we went to a feeding place for lemurs and there we found a couple of black lemurs (Eulemur macaco). In this species there is sexual dimorphism, which means that the male and the female look differently, i.e., they are of different colours. In the following photo it is possible to see a female still standing by the bowl with food, while the male (completely black) is leaving the feeding place and is starting to climb the surrounding trees.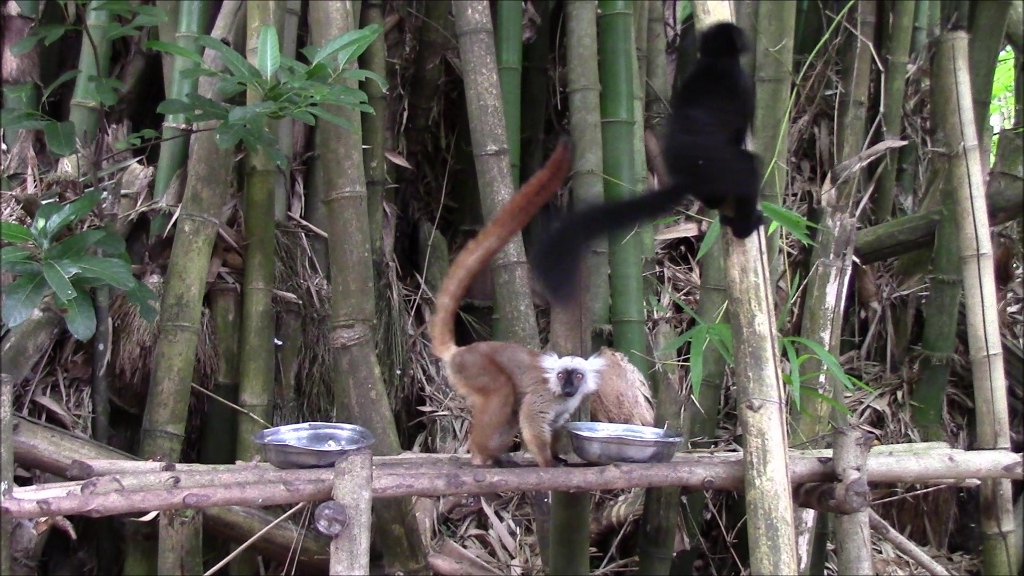 A black lemur couple
Black lemurs live in the northwest of Madagascar, so it was good that we saw them here since, with the exception of Nosy Be, we did not visit this region.
By the way, it is almost vital to pay attention to an important warning: when you watch lemurs climbing treetops above you, make sure you are very careful because from time to time they do their number one and number two. In Serbia, people say that when a pigeon poops on you this brings luck. I'm not sure what happens if the same thing occurs with lemurs or if they pee on you. This black one certainly started with this liquid release at some point while being somewhere above us, but we were careful enough not to find ourselves under such a "shower."
On this occasion the female was striking better poses than the male.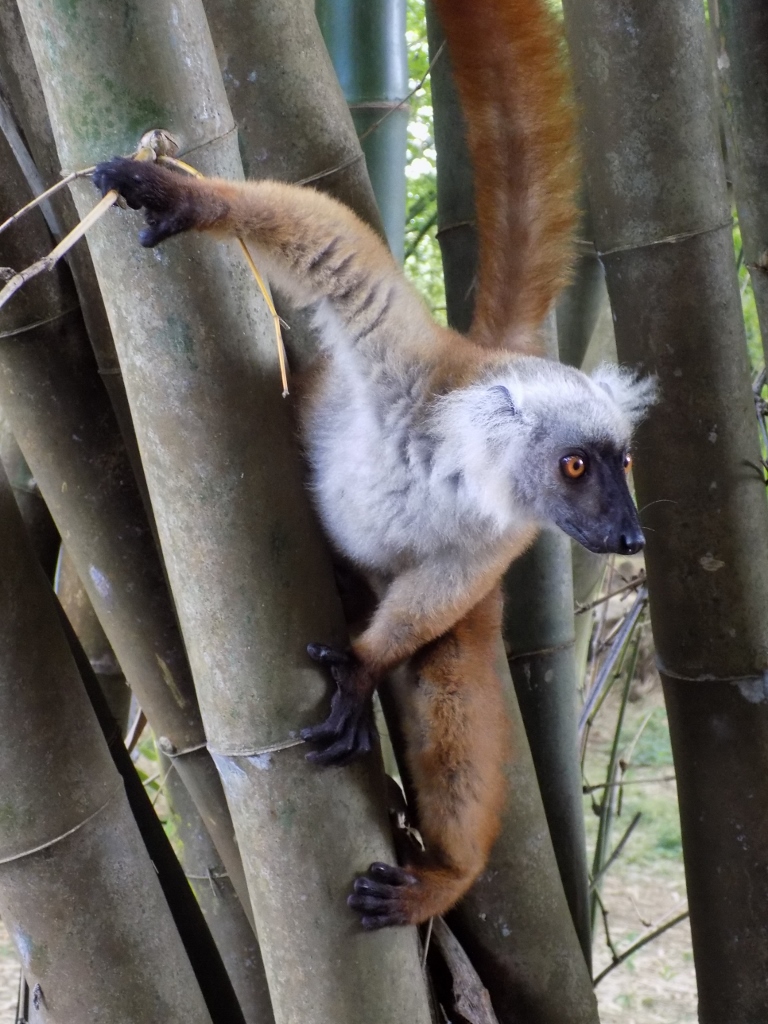 Black lemur female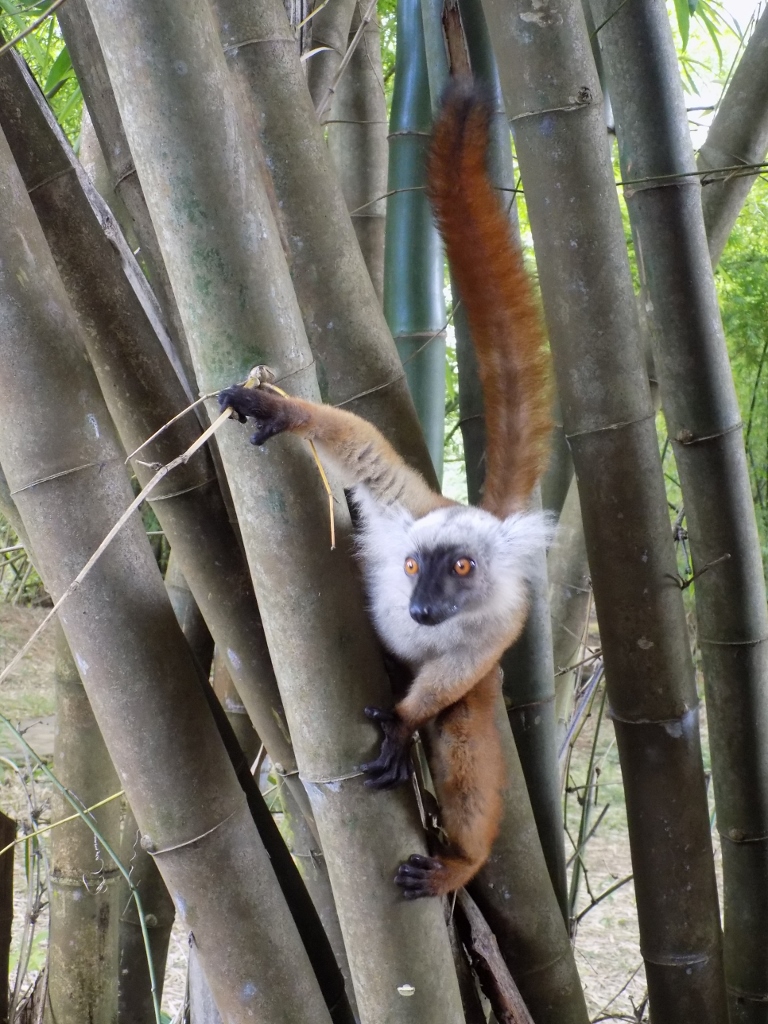 Black lemur female
While we were walking, the guide told us that in addition to snakes and a couple of lemurs which, apparently, had come there recently and were now adjusting, therefore being kept in cages, all other animals were out in the open and in the middle of a forest. But... Although rather open, it was still a zoo of a kind, because the animals were prevented in different ways from moving freely. Crocodiles were in a section surrounded by a high wall covered in polished concrete and so were tortoises. The only difference was that the latter had a significantly lower wall and you could even touch them with your hand if you wanted to, which would not be recommendable in the case of the crocodiles. The ring-tailed lemurs were kept on a tiny islet surrounded by water and since they are afraid of water and the surrounding vegetation was far enough for them to jump to it, there was no danger of them escaping. The chameleons we saw were on trees which was certainly fine for them, but the trees were surrounded by a wall covered in polished concrete so that the chameleons could not hold on to that surface and there were certainly no other trees which these animals could reach.
On the other hand, I would be lying if I said I was not glad I could see these animals from up close.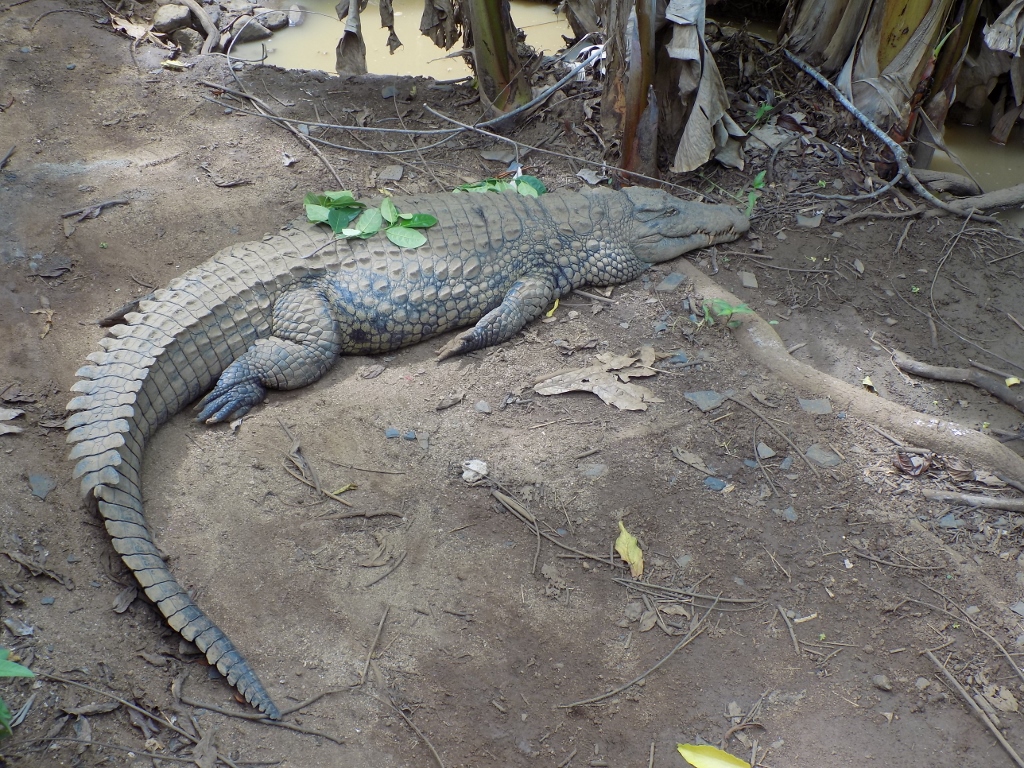 A crocodile in its enclosure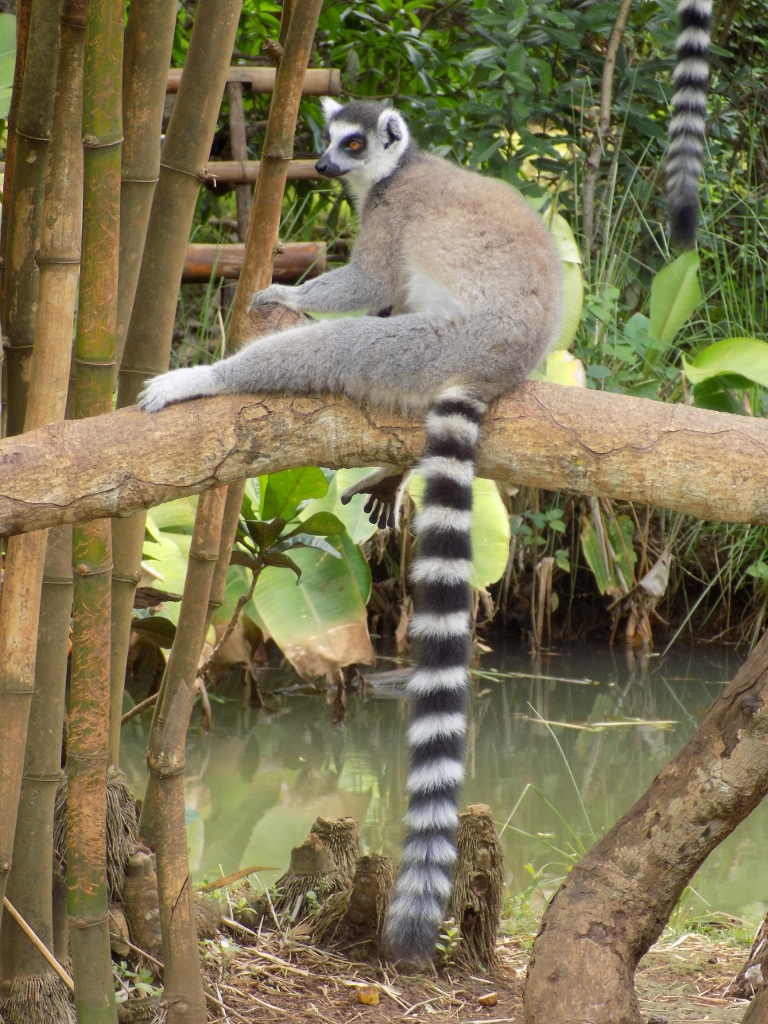 A ring-tailed lemur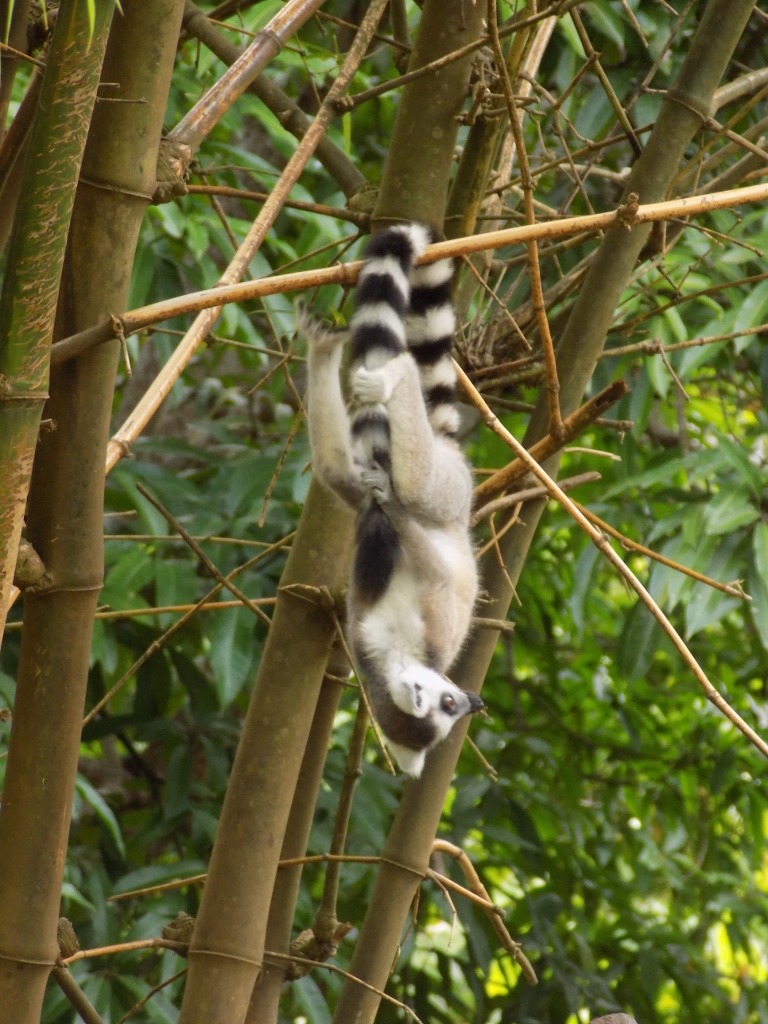 A ring-tailed lemur
As for the chameleons, almost a half of all chameleon species live in Madagascar, so they can regularly be seen here. Needless to say, it would be too much for me to go into any details linked to the subspecies of chameleons, suffice to say that not all the chameleons change their colour, but they are certainly all, more or less, fantastic.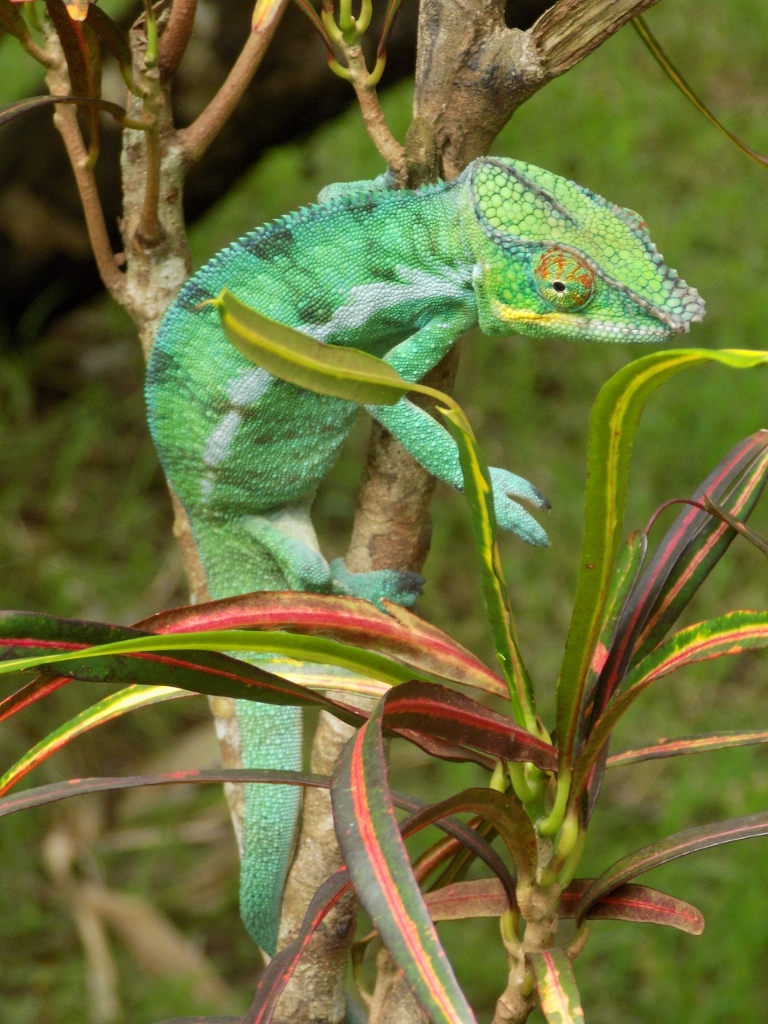 A chameleon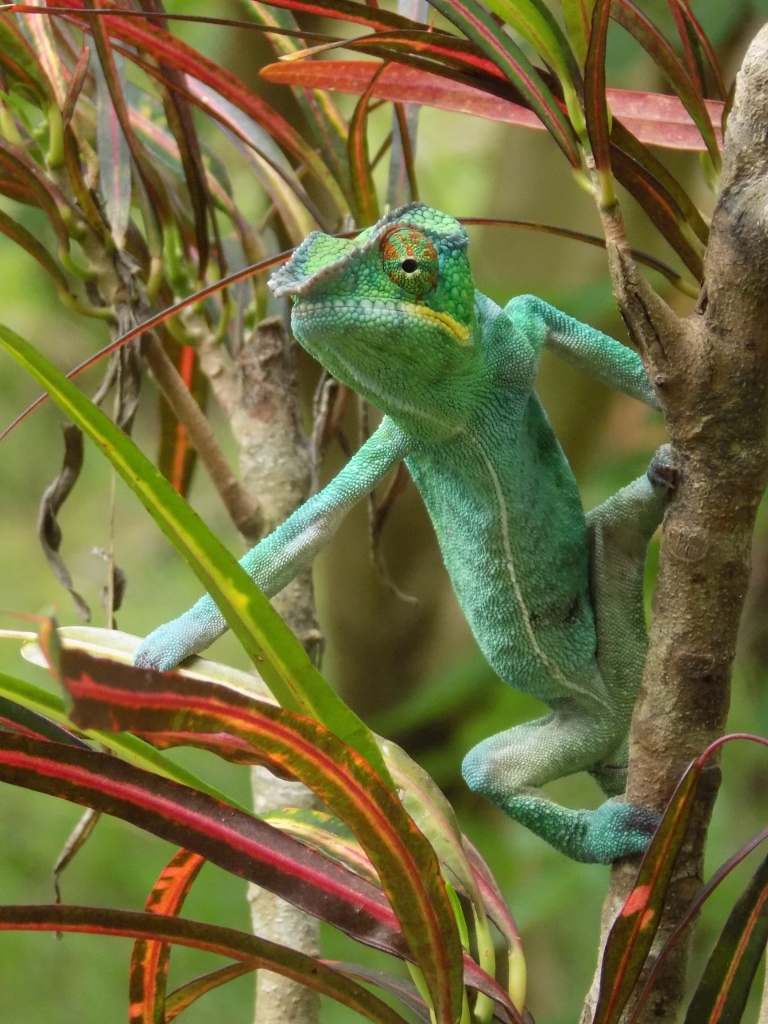 Well ... Is there something you want to say to me?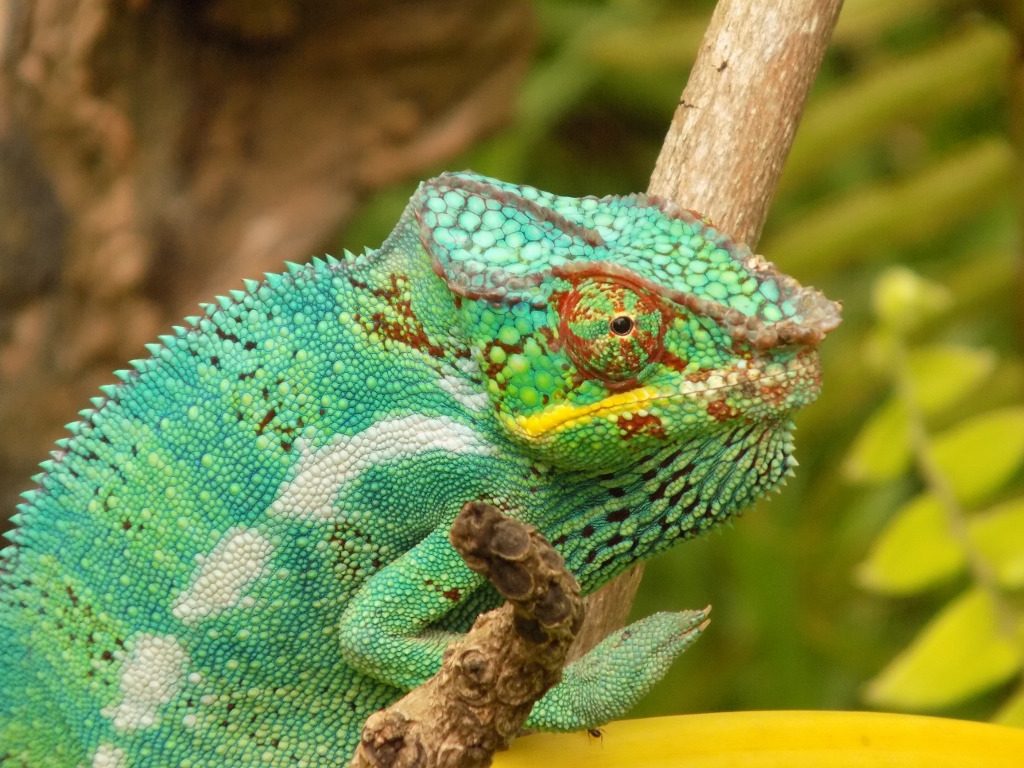 A chameleon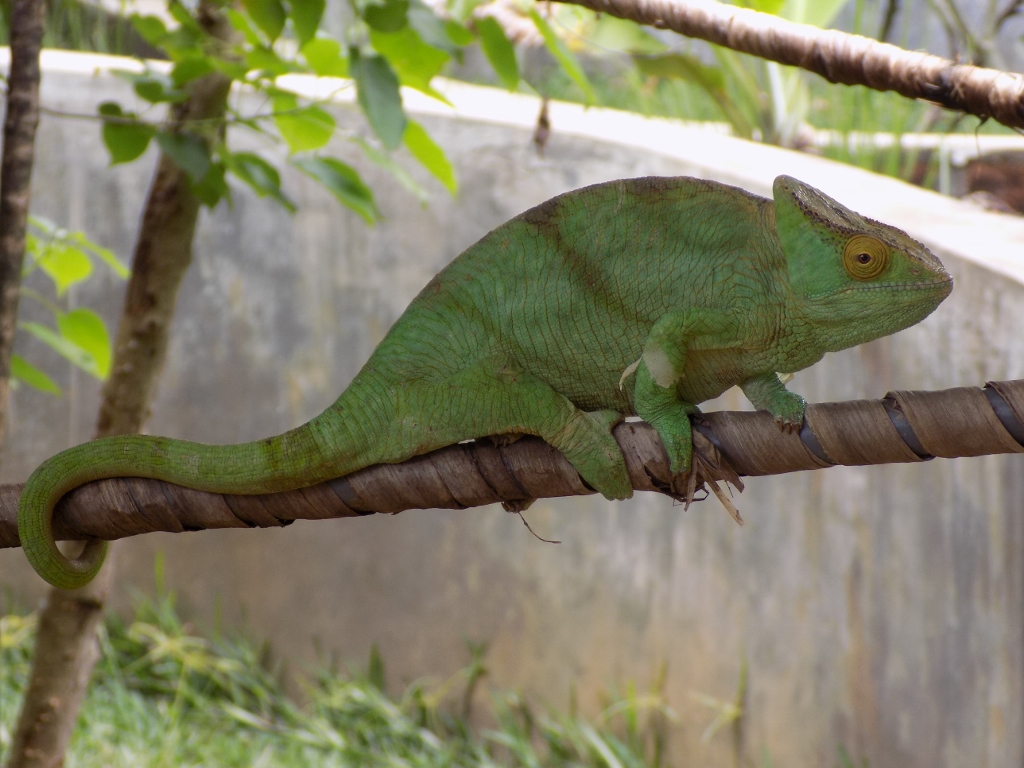 Behind this chameleon you can see the smooth wall which is low, but still prevents chameleons from leaving their enclosure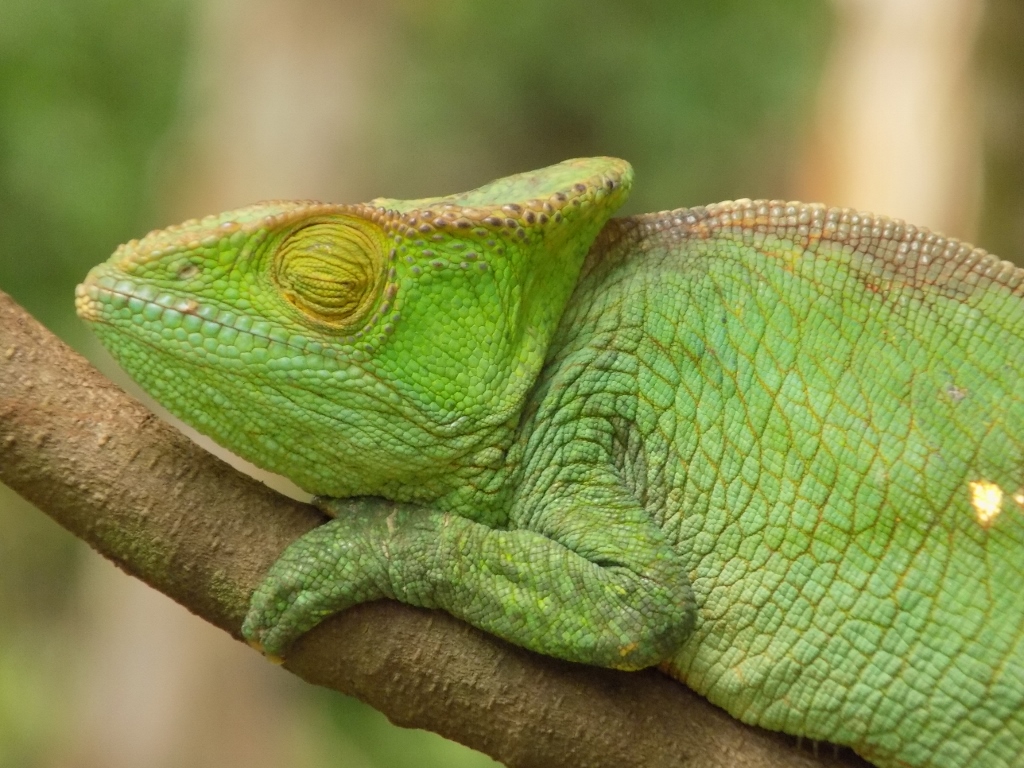 Is it asleep?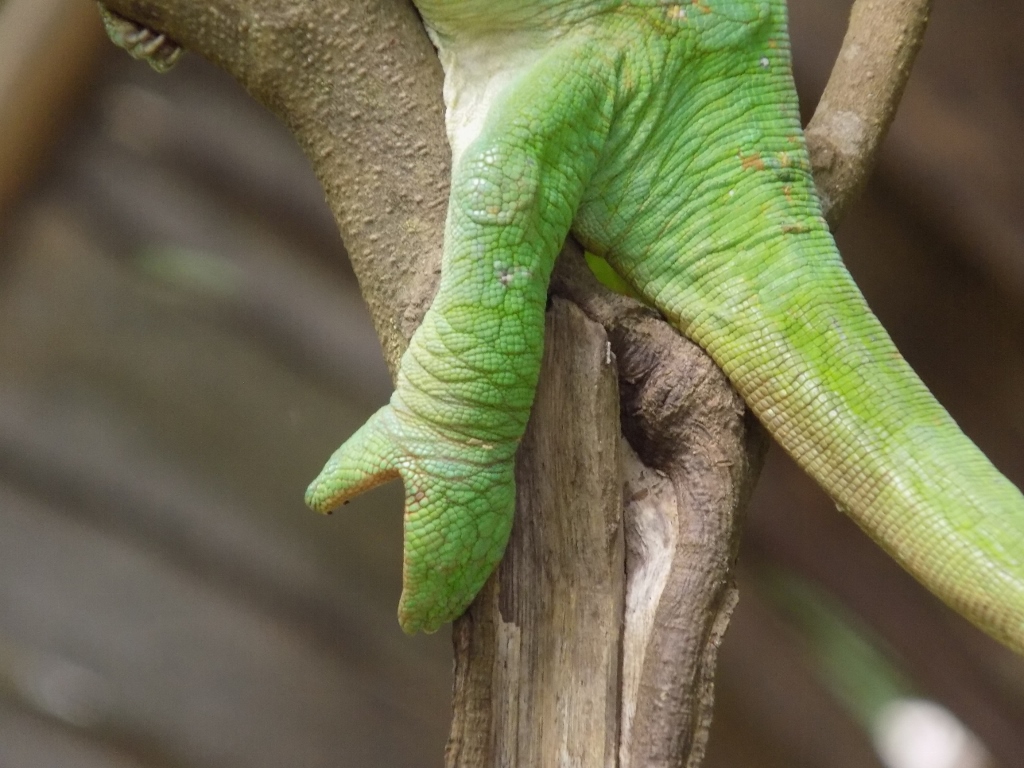 Cute hind leg of the sleepy chameleon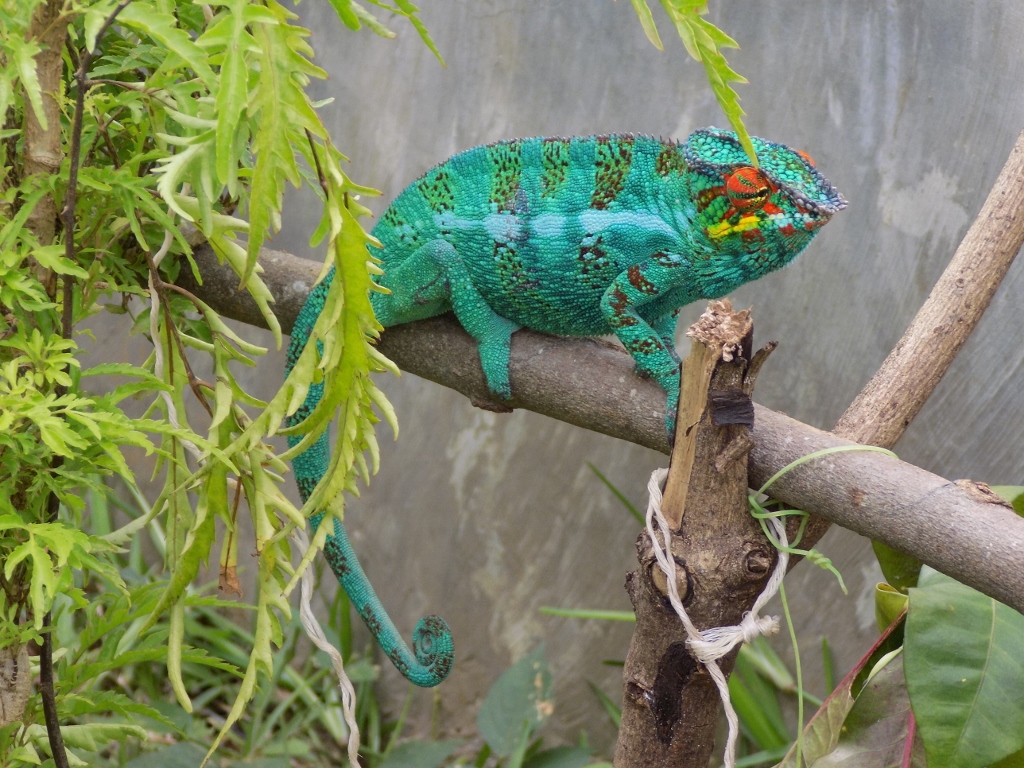 A particularly colourful specimen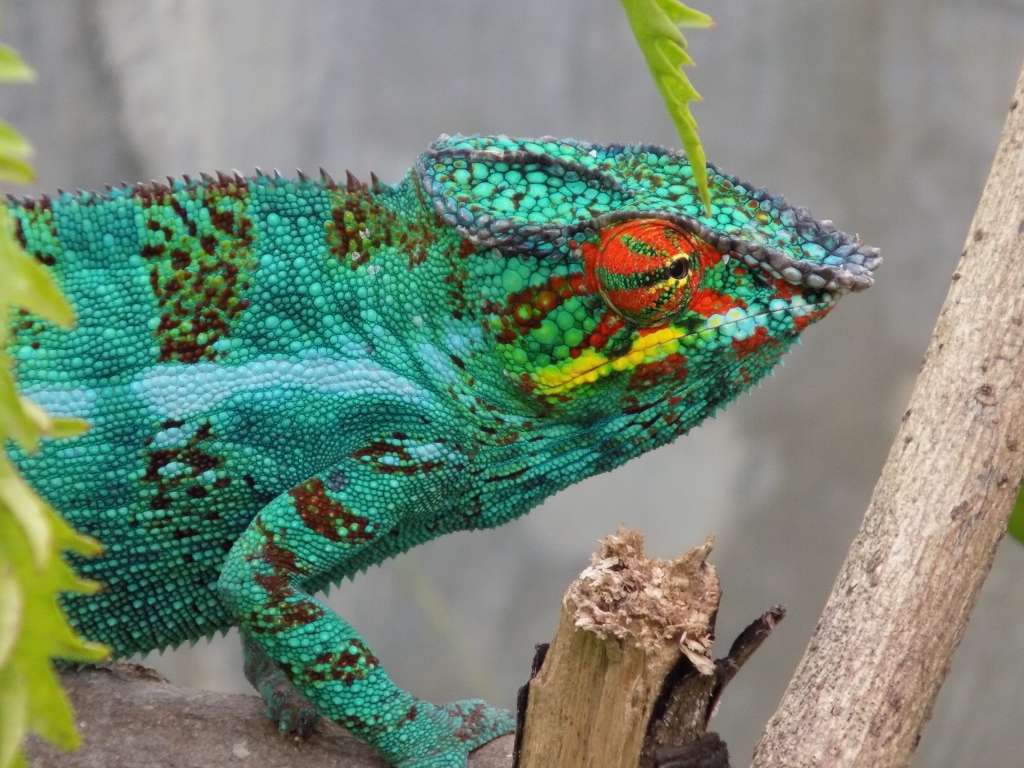 Aren't I fabulous?
The only one who managed to move around truly freely was a collared iguanid lizard (Oplurus cuvieri) which in addition to the black collar also has a very interesting tail covered in spiny scales.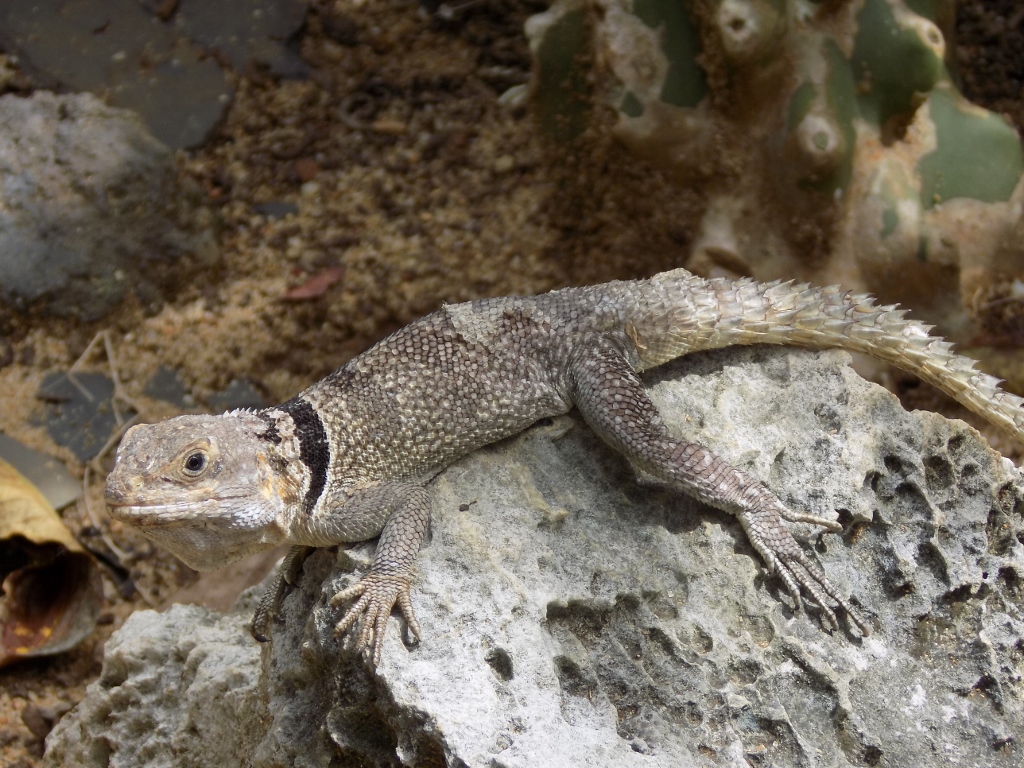 Collared iguanid lizard