While we were walking around Kailasa Temple within Ellora Caves, Sneža and I decided to visit one of the side niches that surround the central temple for which we had to climb up a flight of stairs since the niche is on the upper floor. This is the so-called Hall of Sacrifice that contains different carved deities. First of all, on one side there are goddesses Durga, Chamunda and Kali, followed by sculptures of Ganesha and Parvati, as well as a group called Saptamatrika, which means "Seven Mothers" and which represents seven so-called mother-goddesses, each one of which is a shakti, that is, the female counterpart of some of the gods.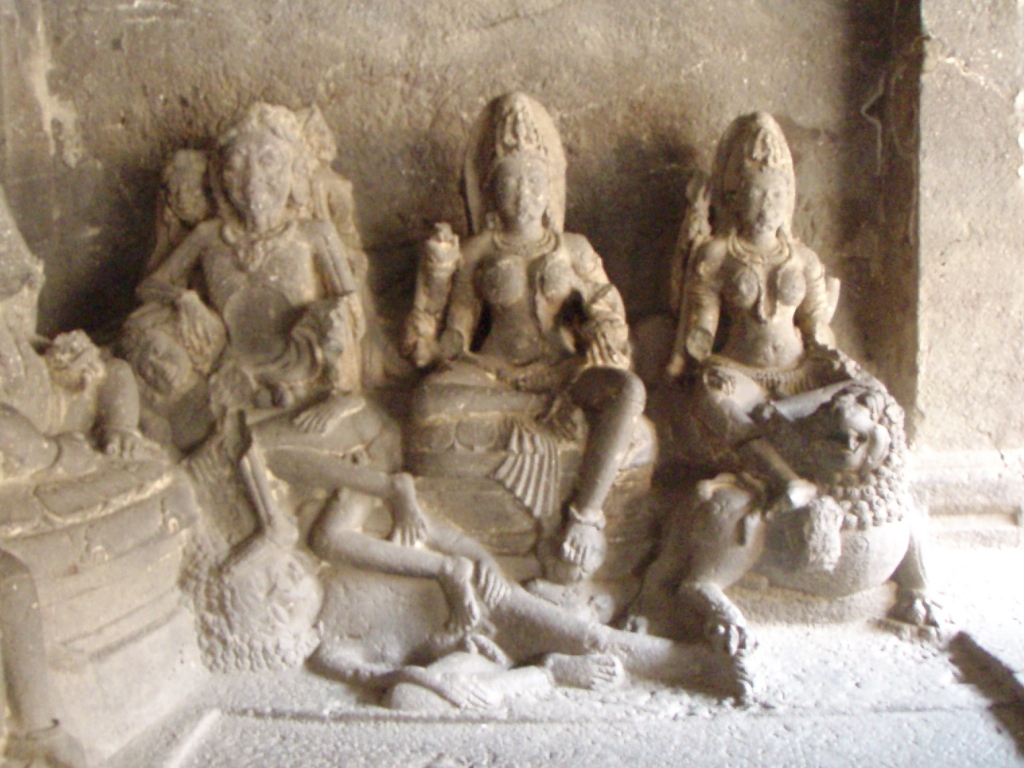 Durga, Chamunda and Kali
Climbing up to the Hall of Sacrifice was a good thing to do since it also allowed us to look at the temple from another angle.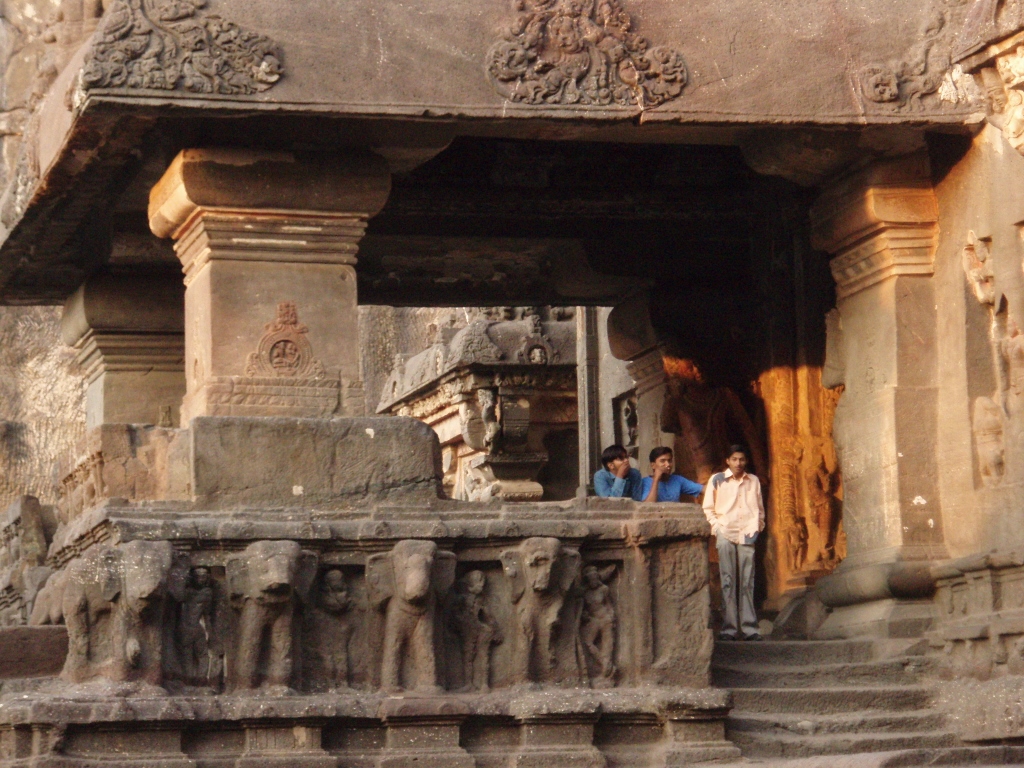 Front veranda of the Kailasa Temple
From there we could also have a better look at the vimana, the pyramidal tower that rises above the central shrine within the temple which is called garbhagriha.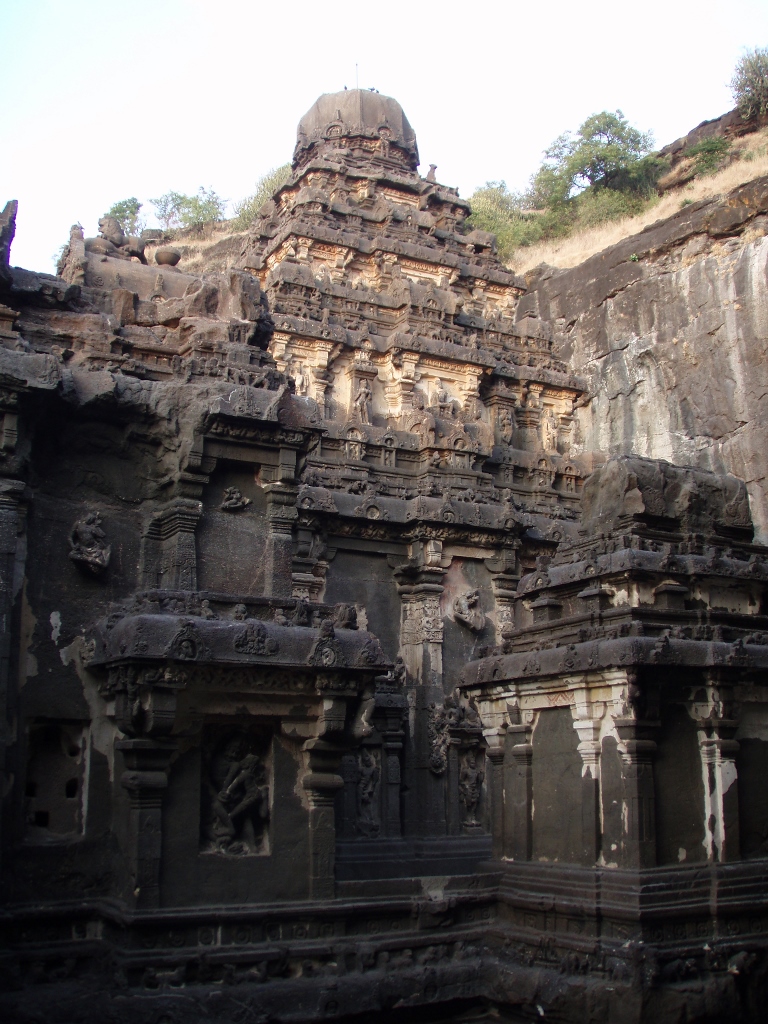 Vimana at the Kailasa Temple
The tower of the temple is 32.6 m high. Back in the past it used to be completely covered in white plaster with the aim to imitate the snowy peaks of mountain Kailasa.
Together with all of what may be seen here, that level of details, that level of artistic and spiritual vision transferred into carved rock and its decoration led me to the conclusion that the creators were completely "mad." This was absolutely and by far the most amazing place I saw during this visit to India.
Then we went back down to the space that goes around the temple and we simply continued with our circling.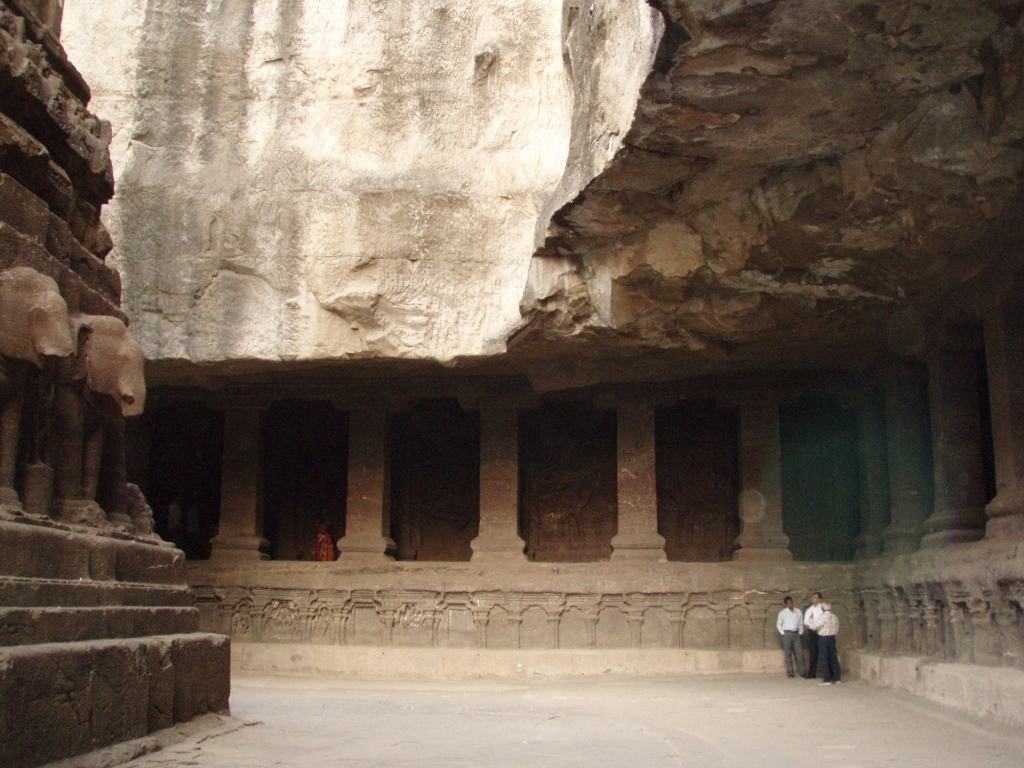 Temple's courtyard by the back right-hand corner of the temple
Since this courtyard of the temple does not constitute the spiritual space, it was allowed to walk in shoes.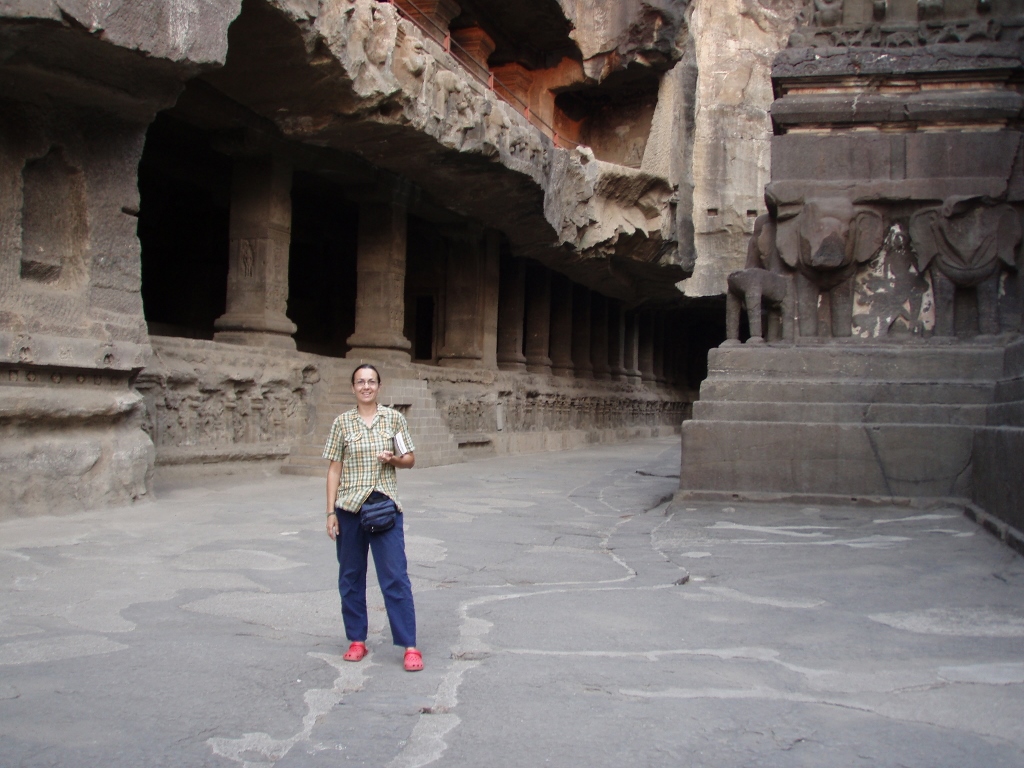 Part of the courtyard by the front left-hand section of the temple
From the spot where I was standing when the photo above was taken, I had a nice view at one of the two free-standing victory pillars that were also carved out and that stand one on each side. They are 15 m high and between them there is Nandi Mandapa.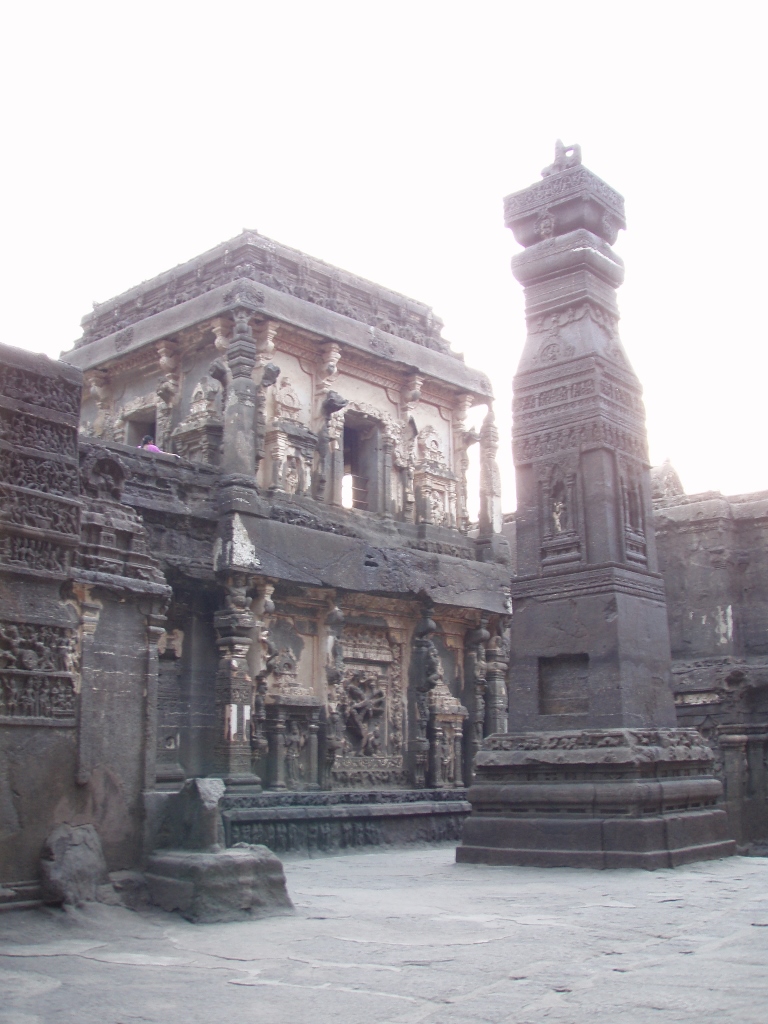 Nandi Mandapa on the upper floor (left) and the victory pillar (right)
When we finished with the circle around the temple, we started with our visit to the temple itself and that required first that we take off our shoes and second that we climb up to the upper floor.
As I've mentioned, Kailasa Temple was made with Virupaksha Temple in Pattadakal as the paragon. When the ground plans of these two temples are compared, it may be seen that they are almost identical, with a note that this one here is significantly bigger and that the main parts of the temple here are located on the upper floor. There is the mandapa, a hall filled with pillars, and there is also the garbhagriha, the central sanctum in which there is a lingam since the temple is dedicated to Shiva. As is tradition in the temples dedicated to Shiva, opposite the entrance into the hall, there is a pavilion with Nandi, the sacred bull that guards Kailasa and that is also Shiva's mount. The central mandapa and Nandi mandapa are linked by the front veranda of the temple and a stone bridge.
As the day was getting close to its end, there was less and less light, and Sneža and I did not stay in all the parts of the temple for too long. But, we did enjoy in what could be seen outside.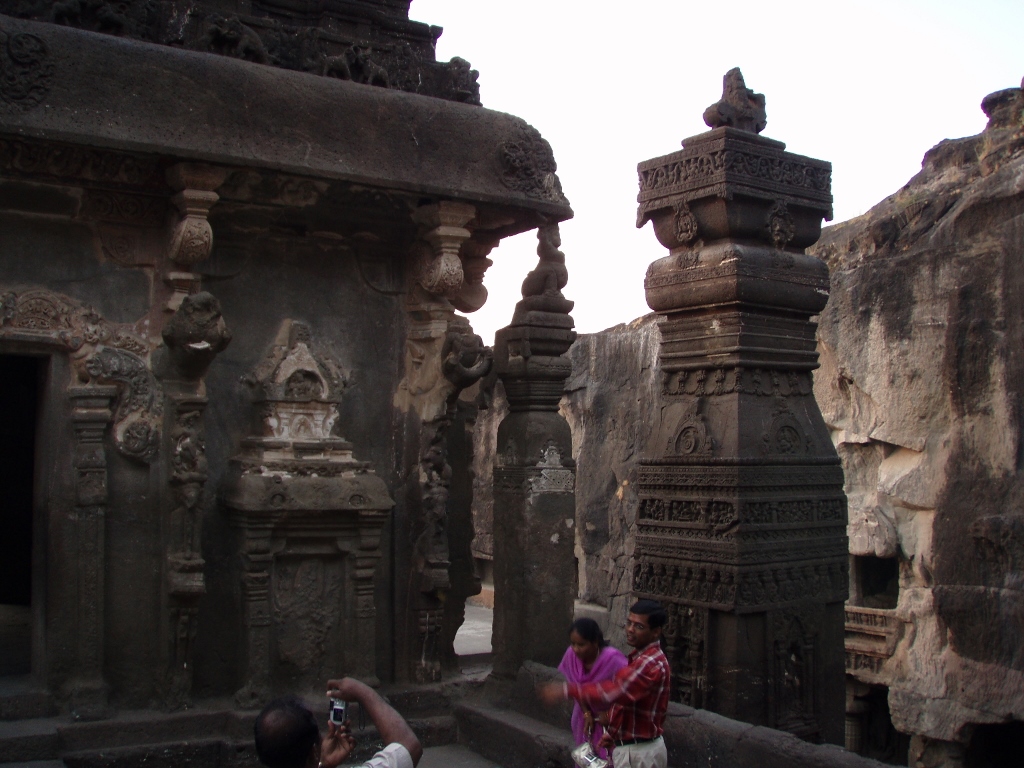 A part of Nandi Mandapa, as well as the view at one of the two victory pillars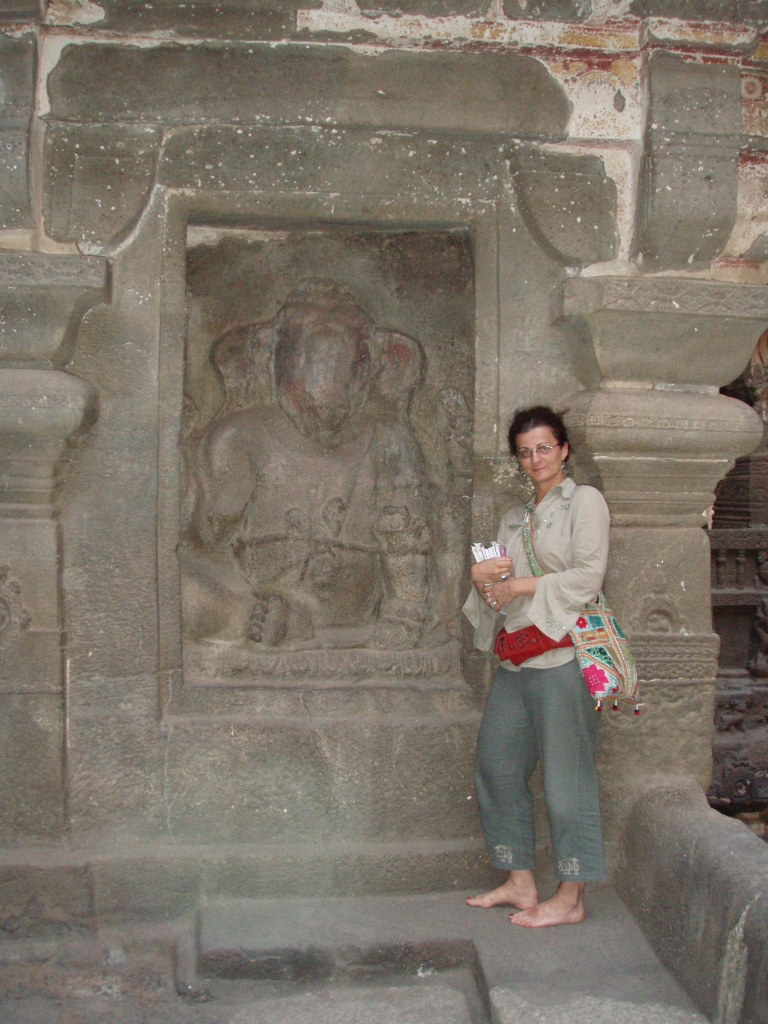 Sneža next to Ganesha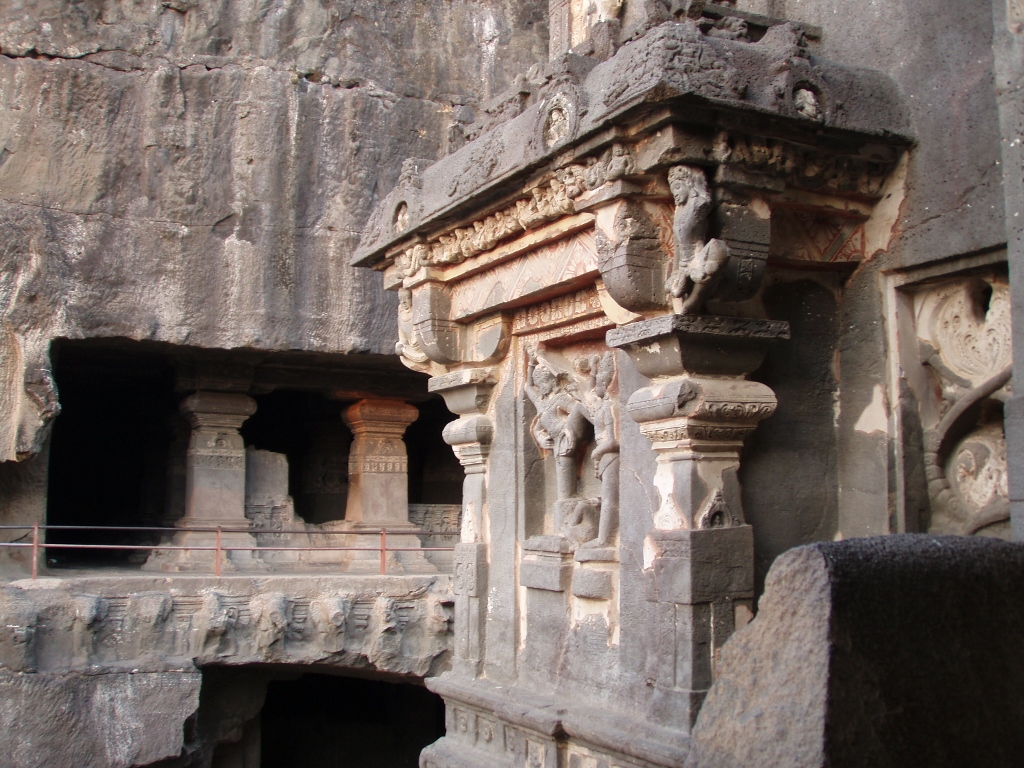 View at the left-hand side of the temple and on the niches and pillars in the stone wall
We also went to see the back section of the temple, behind the garbhagriha with the lingam, where there is a terrace from which one can enter a couple of smaller shrines, but then we sped up in order to see at least something else here, since the Sun was getting close to the horizon and the moment of the setting would also mark the closing of the site.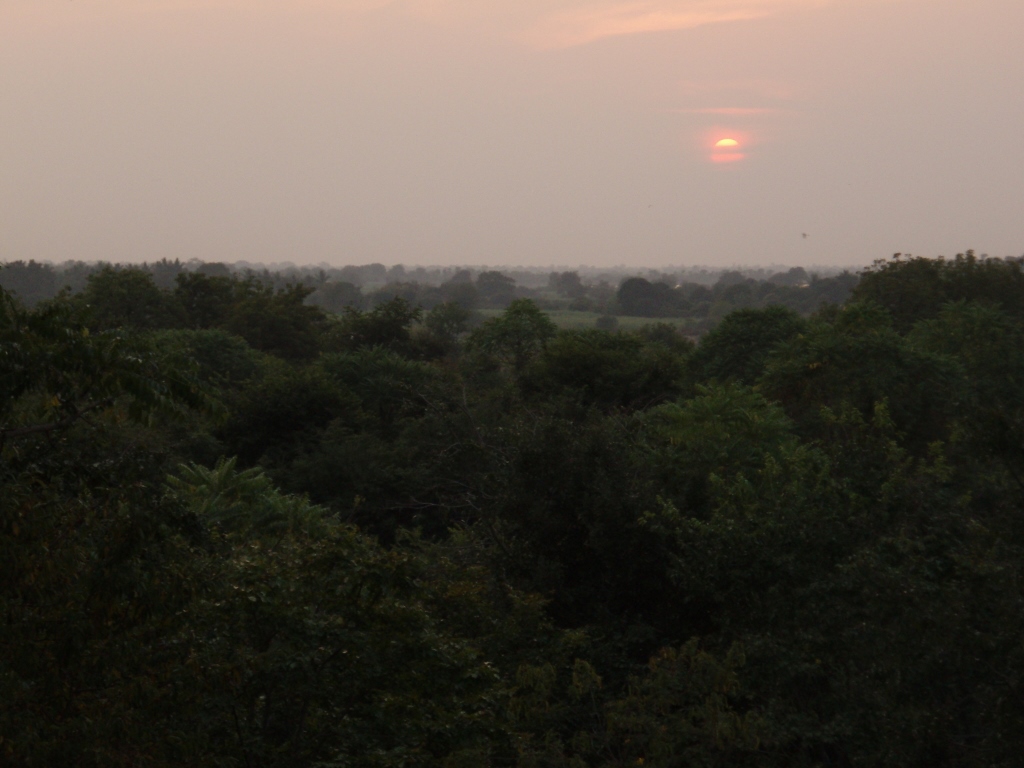 The Sun is getting ready to go to sleep
We headed in the direction of Cave no. 1, but we did not even get to it. We actually cut our visit extremely short and went instead to visit only Cave no. 10.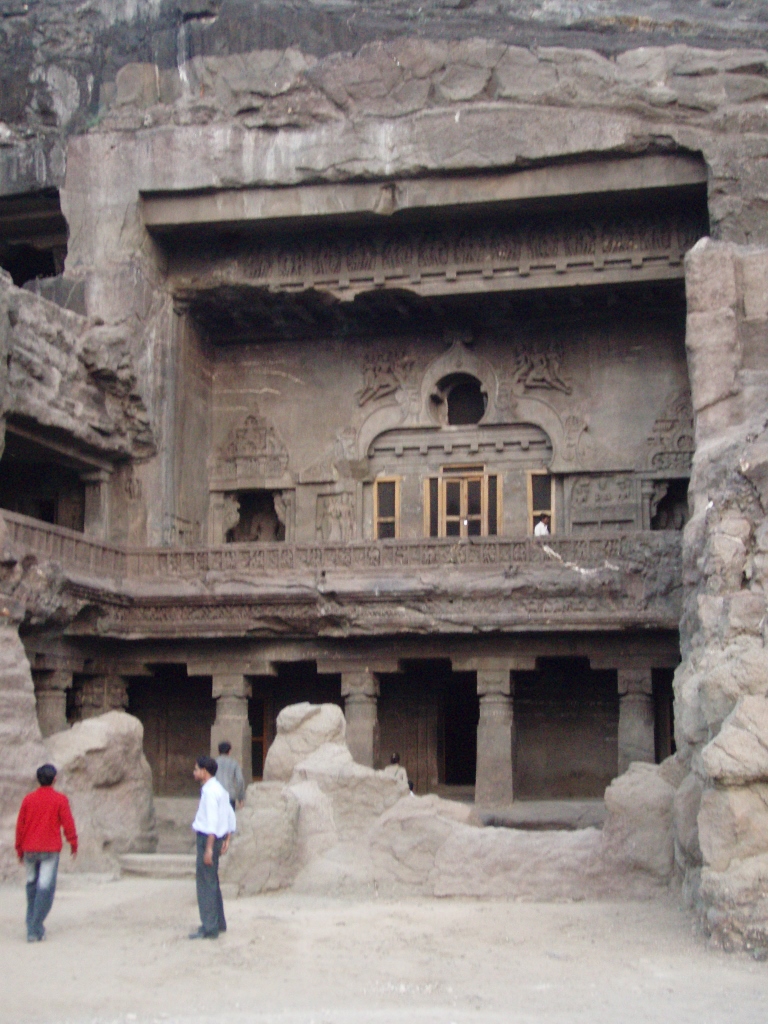 Ellora – entrance into Cave no. 10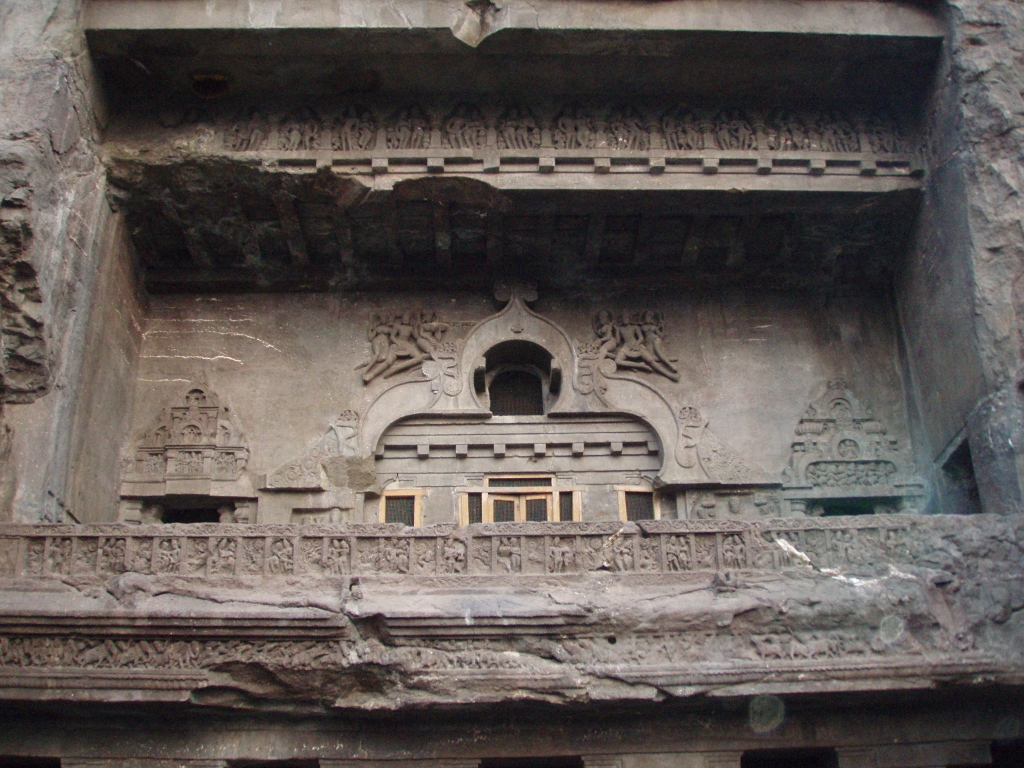 Balcony on the front facade of Cave no. 10
Cave no. 10 belongs to the group of Buddhist caves in Ellora (from 1 to 12) and it is the only one made in the shape of a chaitya-griha, i.e., there is a votive stupa and a semi-circular apse in the back of it, opposite the entrance, and there is also a vaulted ceiling, in addition to which it is considered to be one of the best in all of India.
It was completely incredible just to see it from the outside and as for the inside – to see what its creators did in the stone: what fabulous precision, what art, what inspiration... Unfortunately, since it was the end of the day, it was just too dark inside to take photos, so after my return home I applied some digital artificial light onto my photograph of the stupa with Teaching Buddha; not too successfully, but sufficiently well to get an impression about the inside appearance of the cave.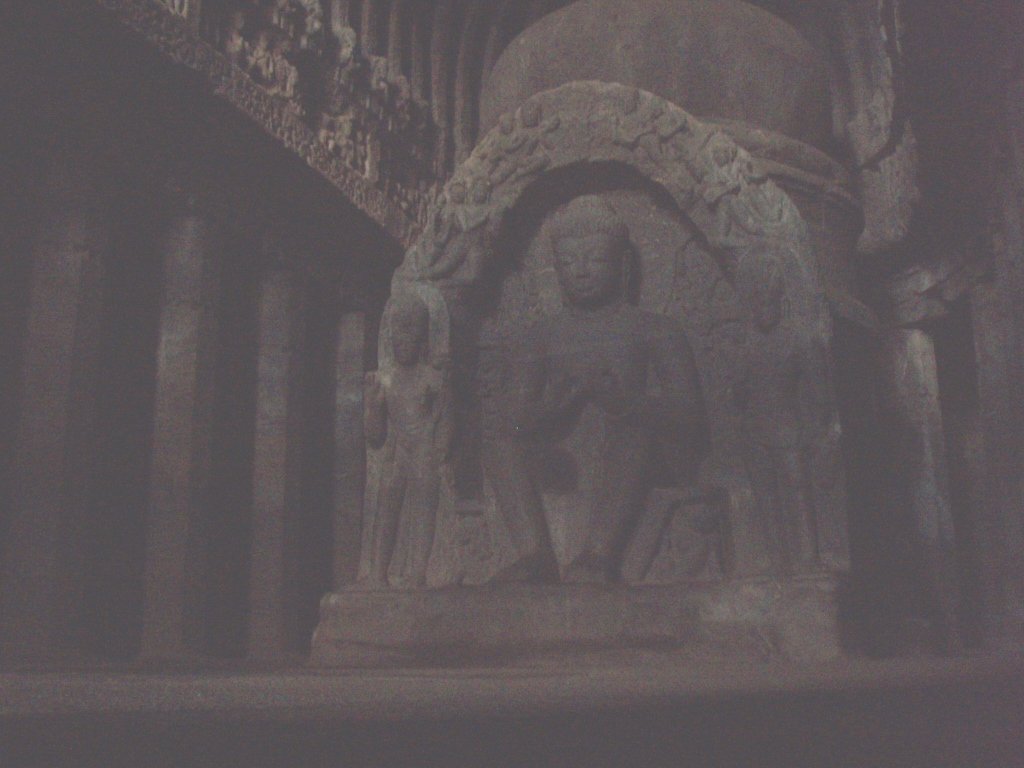 Stupa with Teaching Buddha in Cave no. 10
What is additionally specific for this cave is its fantastic acoustics.
After we had left Cave no. 10, we just stopped in the clearing in front of it and from there we glanced over the caves that preceded Cave no. 10 by their numbers. While I was filming them, Sneža was reading aloud the information on those caves.
Group of Buddhist caves in Ellora
No. 1 – the simplest vihara (cave "monastery"), no. 2 – known for its pillars and imposing Sitting Buddha, no. 3 and 4 – unfinished, no. 5 – the biggest vihara (18 m x 36 m) and judging by some stone benches it may be presumed it used to serve as some kind of assembly hall, ...
Since the Sun had formally set, the keepers of the site started to blow whistles, thus informing the visitors it was the time to leave Ellora Caves and we had to follow suit.
The next video shows details of the Kailasa Temple and in the end you may also hear my sort of singing and much more importantly the acoustics of Cave no. 10.
On the one hand very disappointed we could not see more and on the other hand exceptionally content and filled with impressions of the whole day, we returned to the hotel in Aurangabad and went for dinner there.
This evening we again had great communication with the fantastically kind and helpful maitre d' who recommended different dishes to us and we opted for some type of curry and chicken kebab.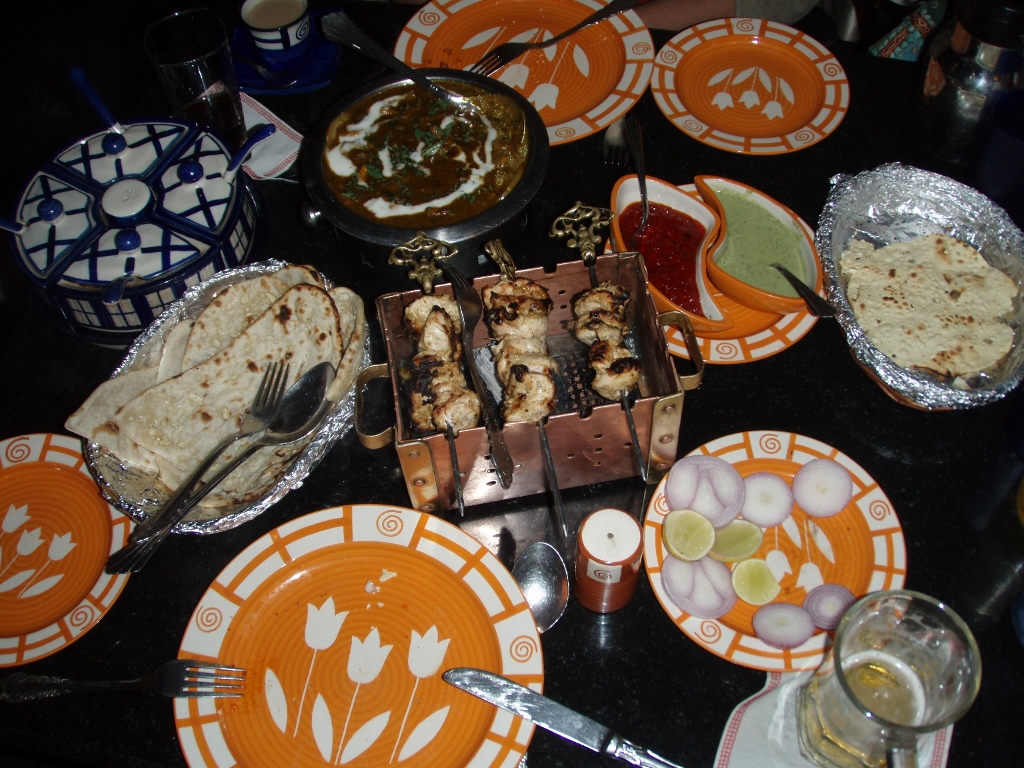 Dinner in Aurangabad
The point was that this chicken kebab involved the softest meat I had ever eaten in my life. I asked our host how this softness was achieved and he said that they marinated it in yogurt, salt and some Indian spices.
As it may be seen in the photo above, my drink for the evening was beer. After all, I drank it often enough while in India, but I did not take any particular photo of it this evening, so here is a photo of one of the Indian beer brands that I made earlier during this journey.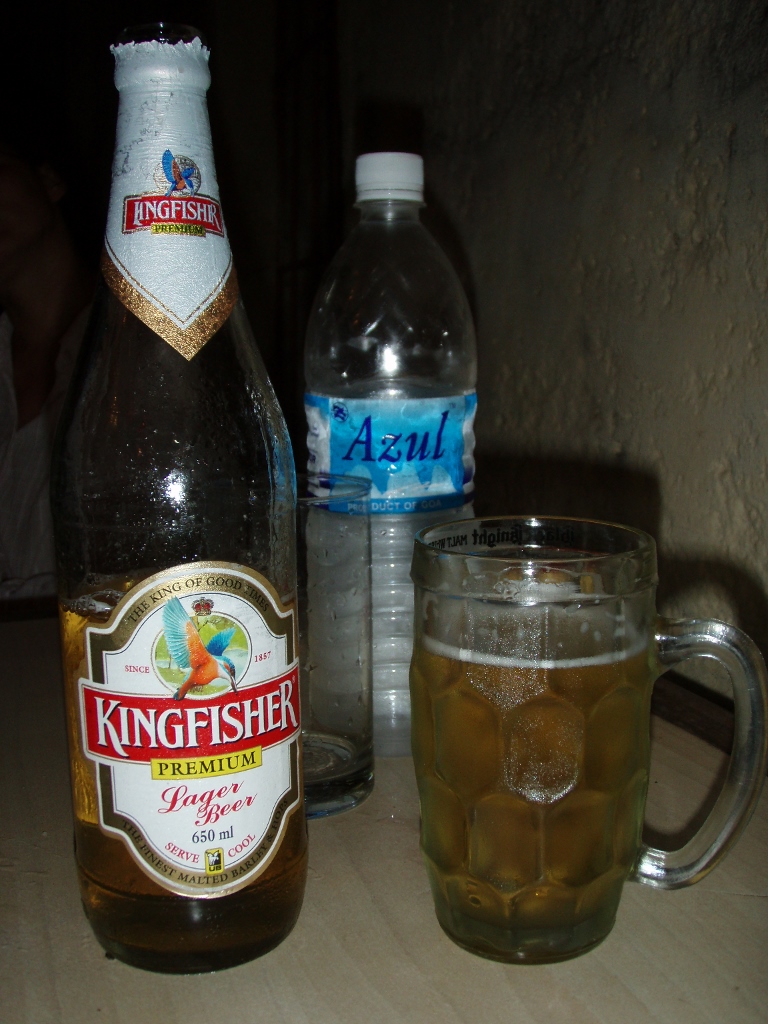 Beer and water in India
The next day we had a free morning and we used this time to go to the most important monument of culture in Aurangabad. This is Bibi Ka Maqbara, often called "poor man's Taj" since it is in fact an Islamic-style tomb that resembles the famous Taj Mahal, but smaller and less imposing. Still, it was nice and interesting to see it.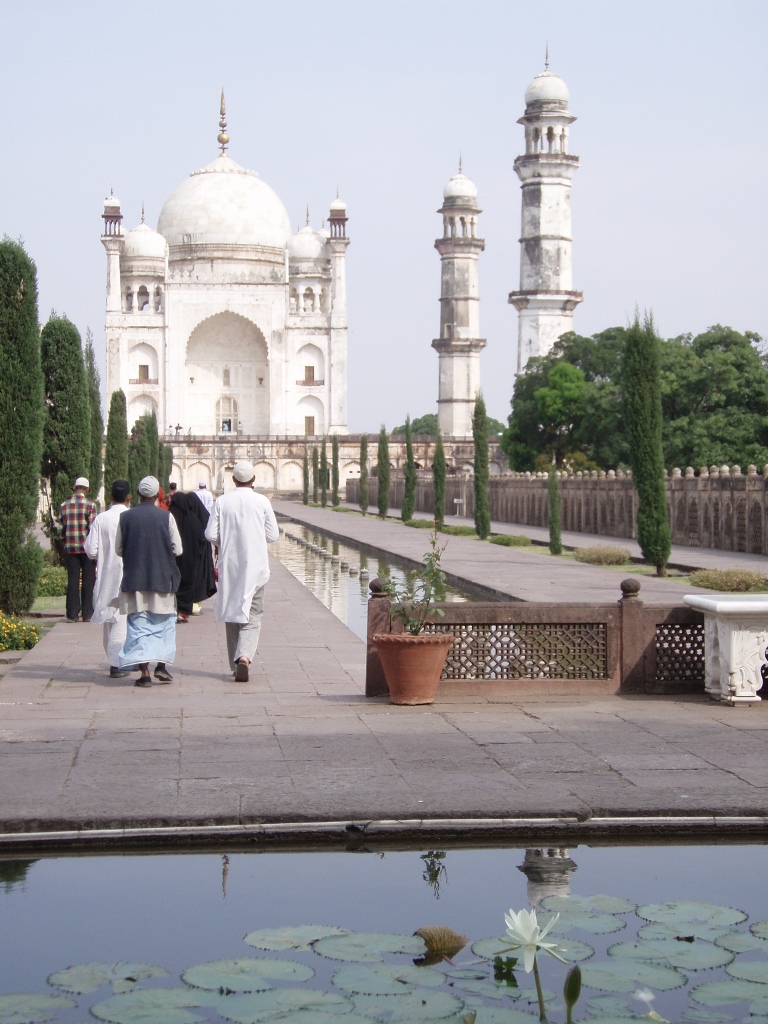 Bibi Ka Maqbara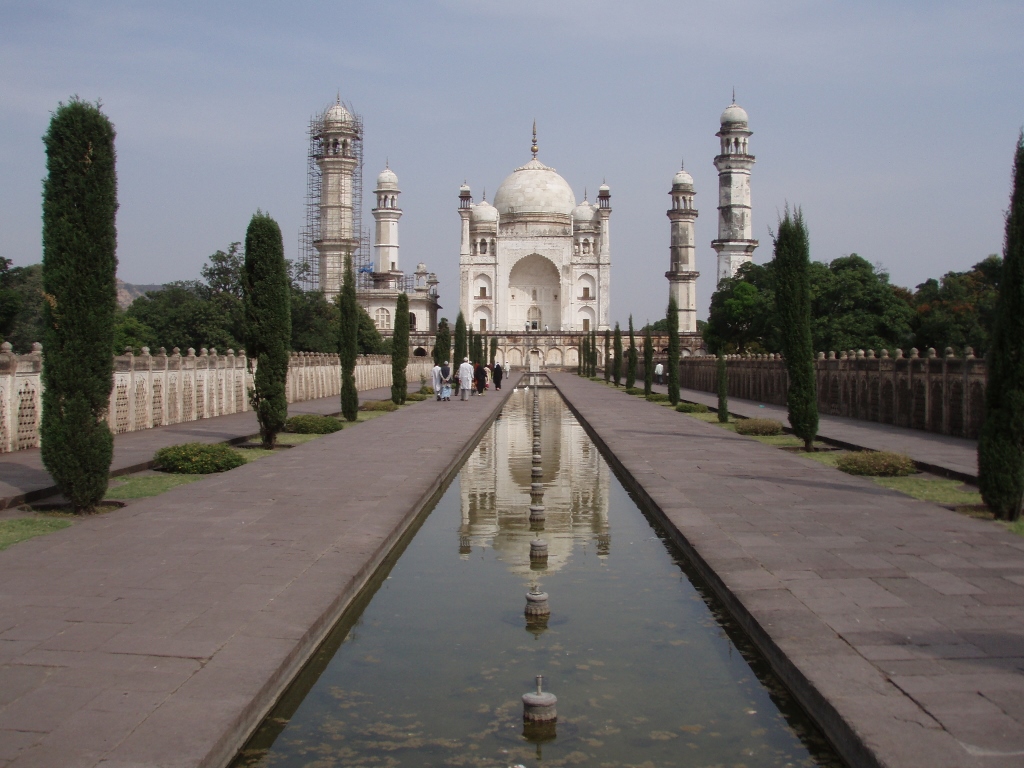 Bibi Ka Maqbara
There is different information as to who commissioned this mausoleum, but judging by the years of its construction (it was ordered in 1660 and according to the estimates it was finished in 1669, it is completely clear that it was built during the reign of the practically last Mughal emperor Aurangzeb who ruled from 1658 until 1707.
No wonder that this ruler wanted to have precisely this kind of mausoleum built for his deceased first and main wife Rabia-ud-Daurani. He learned from the best. Namely, it was precisely his father, Shah Jahan, who had Taj Mahal built for his beloved wife, who was also the mother of this Emperor Aurangzeb, Mumtaz Mahal.
Because of all of this, Bibi Ka Maqbara, almost like a poor cousin, stands in the shadow of the famous, grandiose and truly sublime Taj Mahal. But, this mausoleum, too, has its own beauty and it certainly merits a visit.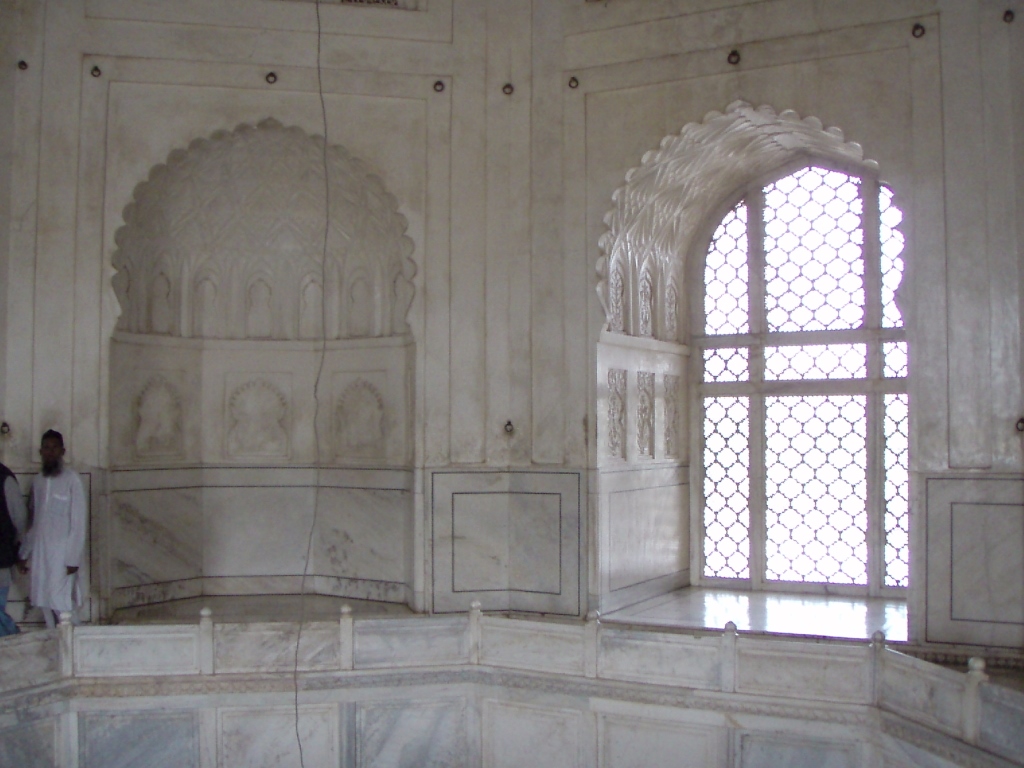 Interior of the mausoleum
In addition to the fine reliefs on the walls, you can also see a "net" on the doors all made of stone which was processed so well and delicately that it resembles lace.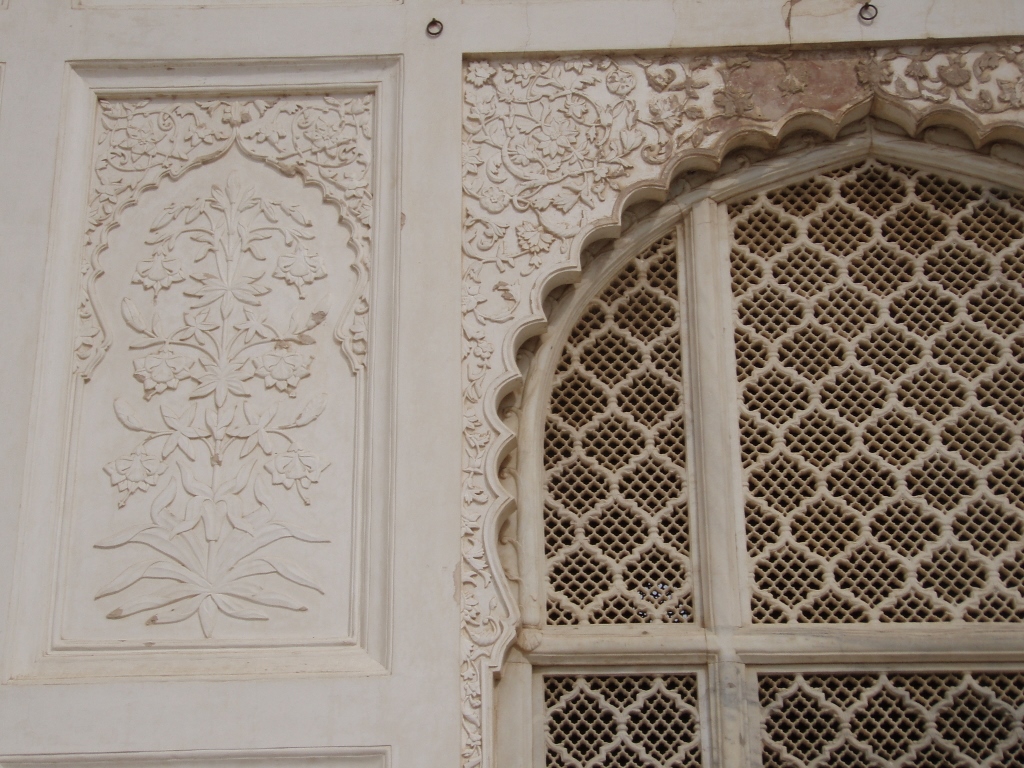 Decorations on the exterior side of the mausoleum
There is, of course, other ornamentation, too.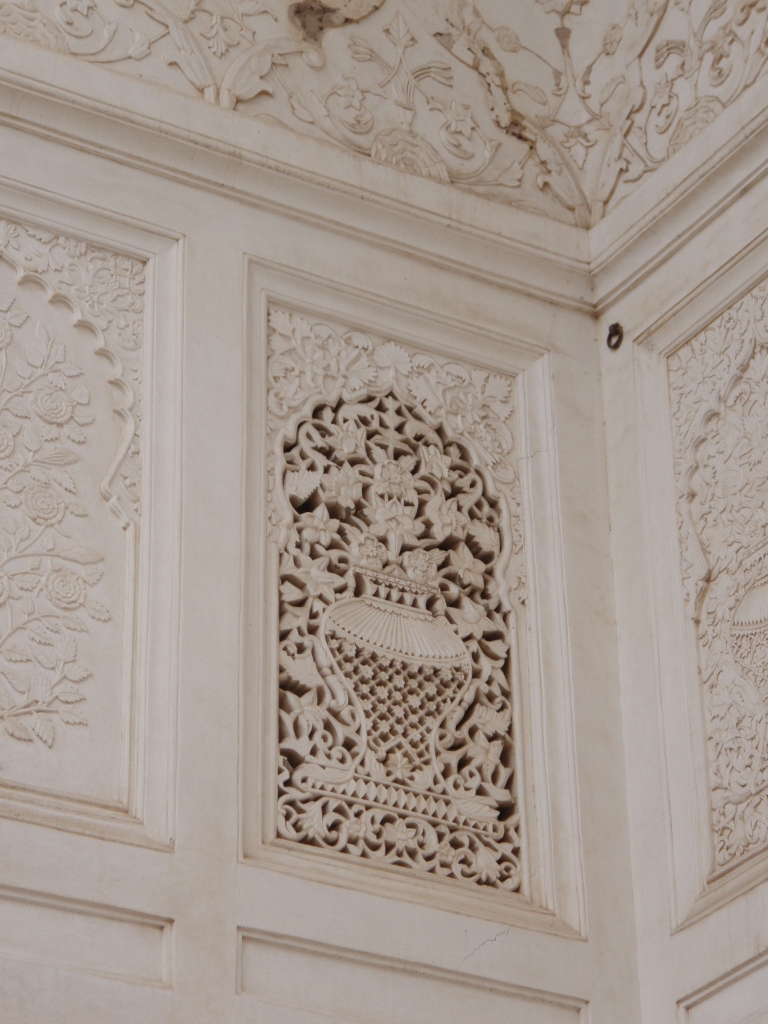 Another of the exceptional and delicate works on Bibi Ka Maqbara monument
While we were visiting the mausoleum, two women appeared there and they wanted dearly to have photos with us, so we felt it would be a real pity to disappoint them.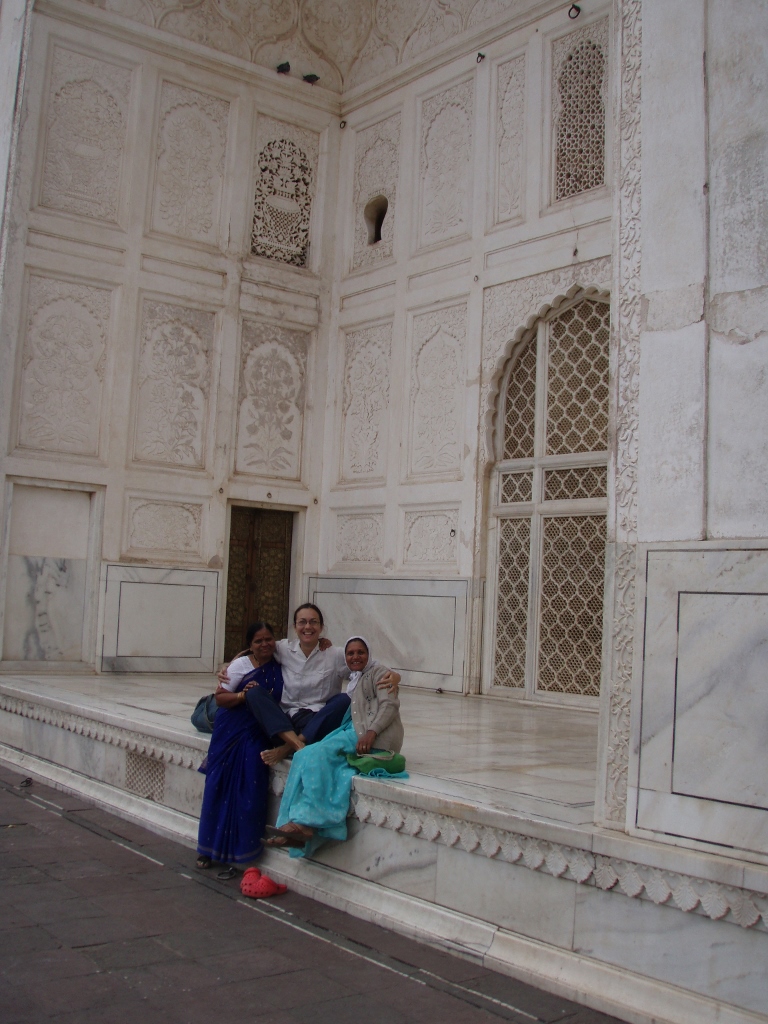 Visitors of Bibi Ka Maqbara mausoleum
And here we finished with our visit to the mausoleum, heading back to the hotel, but not before we looked back once again at this monument of culture that besides being called the "poor man's Taj" is impressive after all.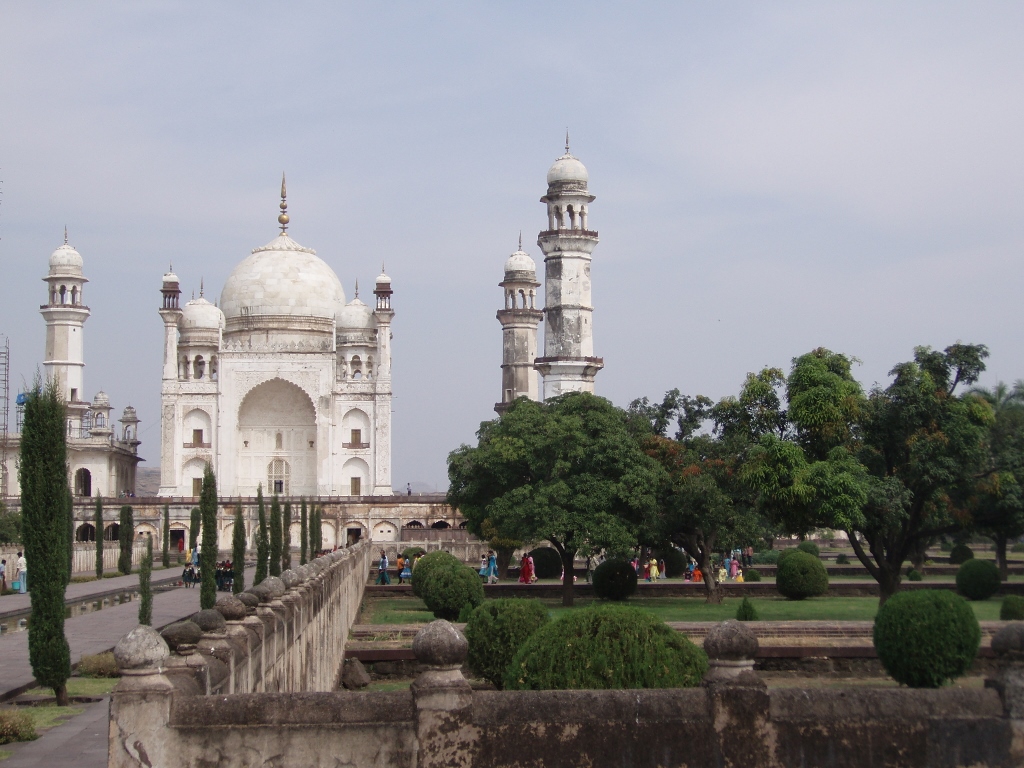 Bibi Ka Maqbara and the gardens
After we had taken our luggage and left the room, we had only little time left which was enough, however, to have lunch at the hotel and that was yet another great experience. Around the middle of the afternoon we caught a coach to the city of Pune where we arrived in the evening, but since we had already booked a hotel, there was nothing to worry about.
The next day was also the last day of this journey around India. After a good night's sleep and breakfast, we went to a very special place and that was the Osho International Meditation Resort.
A lot of people who come to India include in their stay a visit to one of the numerous ashrams, i.e., the centres in which some of many Indian spiritual methods or religions are practiced. In Part 13 of my stories from India, I have already mentioned one of the ashrams in the state of Kerala. This one here was the ashram of guru Rajneesh, much better known under the name of Osho (1931 – 1990).
During his life Osho was a rather controversial individual. One of the things that contributed to that was his very liberal position concerning sex and the use of sex as a vehicle to enlightenment. In 1981, he moved to the USA, where he founded an ashram in the state of Oregon. With some added controversies, he remained there until 1985 when he was deported for violating some immigration laws. Then for more than a year, he roamed around the world and in this period 21 countries refused to accept him. Finally, he returned to Pune and three years later passed away there.
During this journey around India I started reading some of the numerous books that have been compiled as collections of Osho's discourses and I must admit that even to this very day I do enjoy reading them – simply they inspire me to think about different aspects of (my) existence. I first heard of Osho much earlier, precisely around the time he was being deported from the USA, for there is a (in)famous, albeit very trivial and very attractive for the media, controversy and that was that during his stay in the USA he amassed a personal collection of 93 Rolls-Royces. While reading his discourses, I did come across his position which more or less may be interpreted as if saying that only the wealthy people can practice spiritual work. Although this may seem at first as a very ugly position, I must admit that in a way it makes sense also to me. The logic behind this position is that the poor people are often hungry, either literally or hungry for material possessions. When one is hungry, it is then very difficult to practice spiritual work, since it is that sensation of hunger that keeps tackling one from within all the time. Makes sense, doesn't it? And yet, he could have shown his wealth and the dedication to his spiritual work even with one or two Rolls-Royces and not with 93. 93 of them, I would say, suggest lack of spirituality, haughtiness and ostentatiousness.
When we first decided to come to India, both Sneža and I wanted to spend a couple of days at an ashram, so we thought that it would be most suitable to do it precisely here in Pune, at Osho's ashram. However, in the end we did not have the time and the only thing left for us to do was to go there for a brief fact-finding visit. The visit included half an hour of watching a promotional video and a 10-minute walk "in silence" around the ashram. Within the ashram that is practically located in a park and that takes up an area of around 13 hectares it was strictly forbidden to take any photos.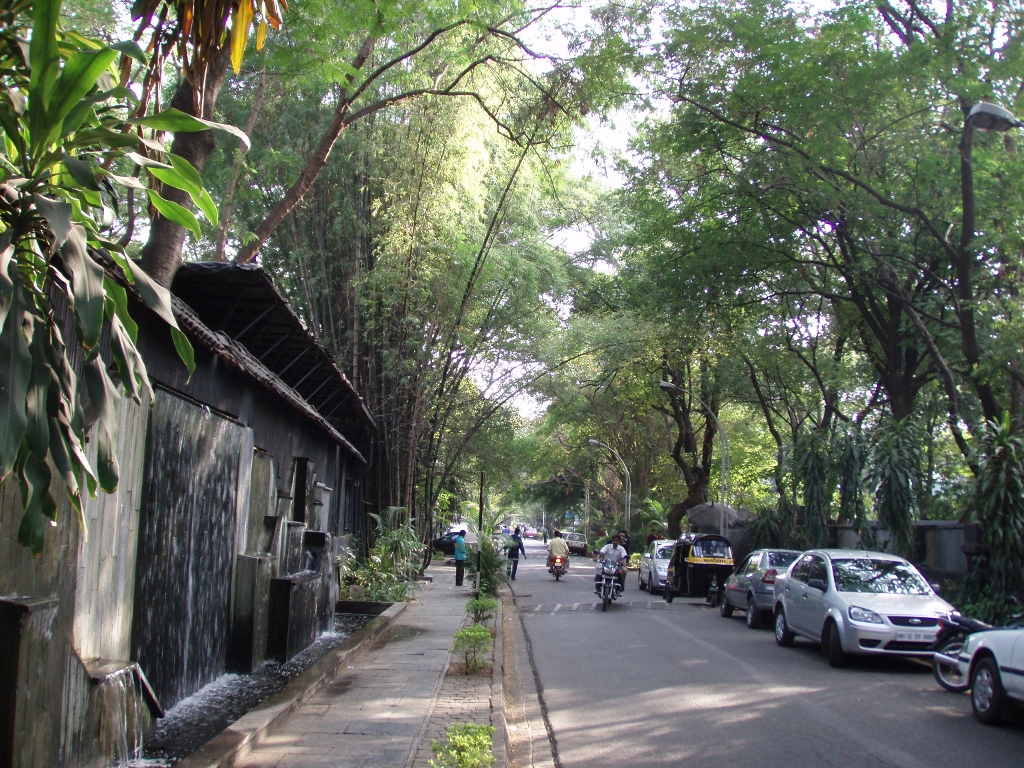 Street passing by the entrance into Osho's ashram
In the end I was absolutely delighted that we did not have the time to stay here. Namely, I found the promotional film with a blondie speaking in the overemphasised calm voice full of pathetic tones, the showing of a swimming pool with heated water, as well as the lights of a disco club for the evening relaxation following the day filled with meditations and walking around the park more like a commercial for, e.g., Club Med that remembered to include a meditation or two into its offer. Even the smiling faces of the people who were doing some meditation in motion while we, as a small group of visitors were passing by "in silence," which seemed more to me like rhythmic exercises at physical education classes, could not convince me that this would be the right place for me. I know that this is all a part of Osho's concept "Zorba the Buddha" because in his own words "Zorba can always become the Buddha, but the Buddha becomes confined to his holiness. He cannot go to the disco and become the Zorba." Still, I'm afraid that the Buddha is quite content being a Buddha and does not mind in the least not going to a disco, while I'm not quite sure that the Zorba is in the end quite happy and content by having the door to any disco or a pub in the area open to him.
Be as it may, I was eventually very happy when the visit was over and we could go back to our hotel, since we had to check out.
Namely, we had already agreed a taxi to come and pick us up at 9.30 pm in order to take us to the airport in Mumbai since we had a night flight. Later that afternoon we went to one of the main streets in the city which was closed to the traffic probably because it was Sunday.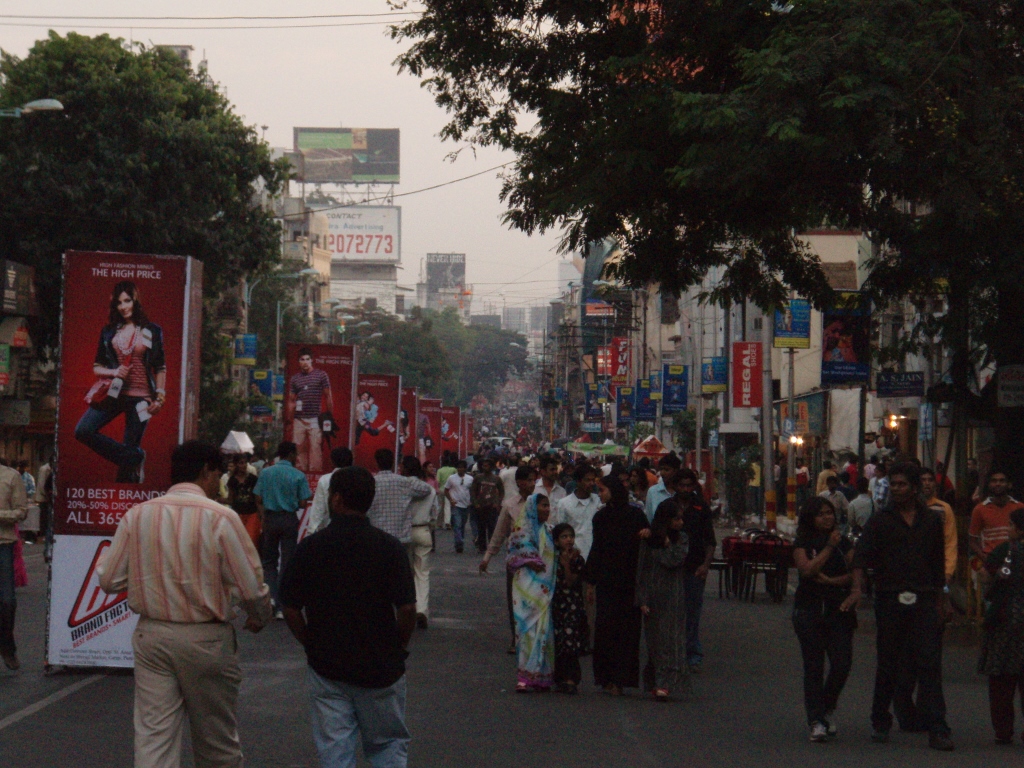 Crowds in a street in the city of Pune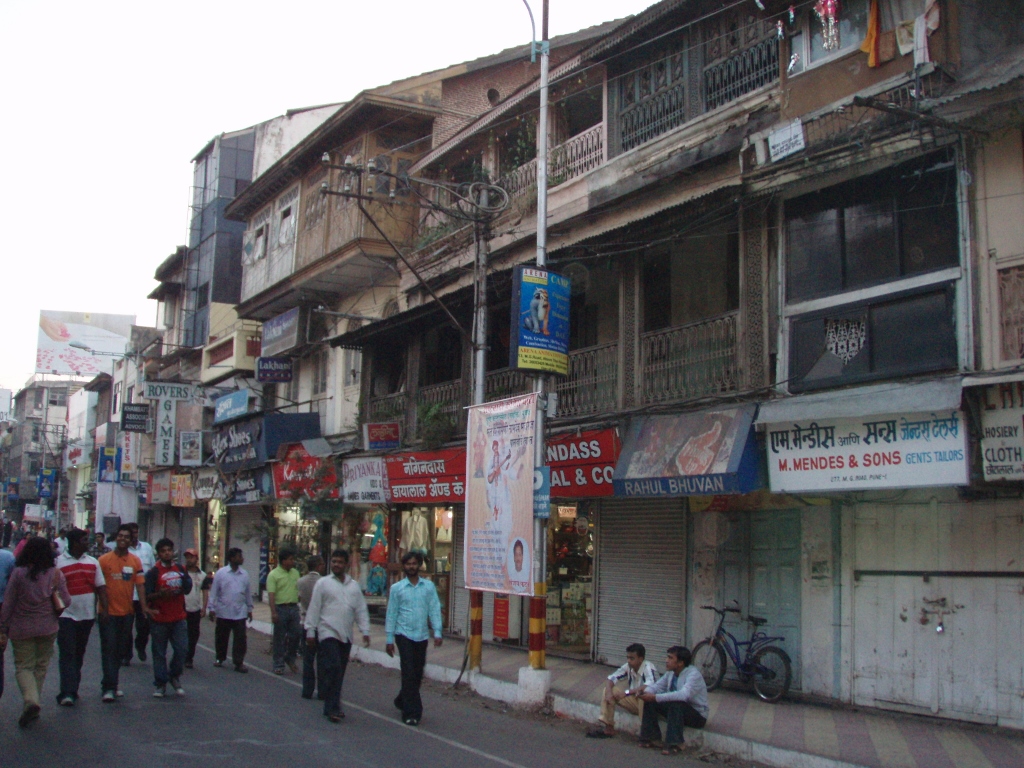 Another detail from the street in Pune
That day, my body finally refused any further cooperation and I got high fever, but there was practically nothing I could really do about it. In such a state I did walk a little with Sneža and then we returned to the hotel where I snoozed on some sofas and thus the evening came and the time for our departure to the airport.
Very tired because of the constant moving, exhausted because of the cold that dragged for more than ten days and that culminated with high temperature on the last day, psychologically fatigued with all the impressions, as well as the huge noise and chaos in the traffic, I returned home fully convinced that I would not think of going back there any time soon. I had enough!
And yet, thanks to some slightly unusual and now I must add very fortunate circumstances, around the middle of February 2012 Sneža and I returned to this incredible country. It was a magical love at second sight and ever since both Sneža and I always say that India is our favourite country and we always ask ourselves when we are going to go there again. This second time we visited, among other places Udaipur, Jaipur, Fatehpur Sikri, Agra and Taj Mahal, Khajuraho and Bhimbetka, we slept in a palace made for maharajas, and we also saw one of the handsomest men that ever walked this earth... But, these stories have to remain untold until the next literary journey around India.