When I think about it, it seems that my friend Sneža and I headed for India by chance. Taking into account the time of the year when I planned to be away on some journey (November/December), India came to my mind just like that and then I convinced Sneža seemingly quite easily. Still, this was all taking place very little time before the trip itself and the two of us started with a month-long journey having only a reservation at some purported hotel for the first couple of nights. We were so much unprepared that we had just some completely impractical guide to India. On the basis of it I came up with a rough plan as to which parts of the country we could visit. And that was it. Although I would say that the two of us were extremely unprepared on this occasion, now I think that until getting there nobody can actually be prepared for India.
Eventually, we did manage to visit what I had originally planned (we bought the practical guide already during the first day in Mumbai), but because of the continuous movement and the intensity of it all, I got extremely tired towards the end of the period, on top of which I caught cold around the middle of the journey which could not calm down and on the last day I also had fever which I endured while walking around. This meant that I had it and it seemed to me I had seen enough of India to last me the lifetime and that I would never come back or at least not for a long number of years. And then, again seemingly accidentally (or was it indeed???), it happened that less than five years later I returned, again with Sneža and again for a month. This time around, however, we both fell in love durably with this fantastic and incredible country and ever since we have been thinking of going back there again, since there is so much to be seen there, and we always refer to India as "our favourite country."
But, it all started quite differently...
Rough route of the journey around India in 2007
We arrived at Mumbai airport around 4 am local time and it is interesting that the time in India is set in such a way that the difference in comparison to the other countries and zones includes a half of an hour. In other words, when it is noon in Belgrade, it is 4.30 pm in India.
In line with the advice we had received from the hotel, after we had collected our luggage at the airport, we went to a counter for pre-paid taxi. There you pay for the ride in advance and then the taxi should take you to the agreed address, with no extra charge, which some taxi drivers like to request. So, we left the airport around 5 o'clock in the morning and thus we could see this huge city waking up. Already during this first "encounter" with India it showed us what it got. Thus from this first dawn I remember a family – mom, dad and two children – just waking up and getting ready for the new day. How do I know this? Very simply: while our taxi was standing at the traffic light, I could see them getting up from some newspaper sheets spread across the pavement where they had obviously slept the night before.
In a few places I felt some unpleasant smell, but occasionally I also felt the exotic scent of incense. At some points we drove through open-air markets that were already full of life this early in the morning. There we could see not only adults who took out their goods for sale, but there were also children around who were already immersed in some games of theirs and/or were throwing firecrackers in the street we were passing through.
Namely, we had arrived in India at the time of a great Hindu festival Diwali. This is a festival of lights and in addition to lighting lanterns and turning on lamps and lights, the festival is celebrated with a large number of fireworks including also an incredible quantity of firecrackers thrown around the entire day and seemingly mostly at night.
The taxi brought us to the hotel we had found through internet where it seemed decent enough, but in its live version and at 6 o'clock in the morning, that hotel did not appear attractive at all. Still, we did not have any options. On the side of the building facing a busy street there was an open hallway/balcony and the rooms were entered from there. In order to have ventilation and some form of natural light in the room, there was an opening above the door to the room where something that served as a window of a sort revolved around its horizontal axis. Even if this had been closed entirely, I'm not sure it would have been any less noisy. Namely, terrible noise was coming from the street, but luckily I had my ear-plugs with me, so I could manage some sleep. Eventually we got up around noon and went out for a walk.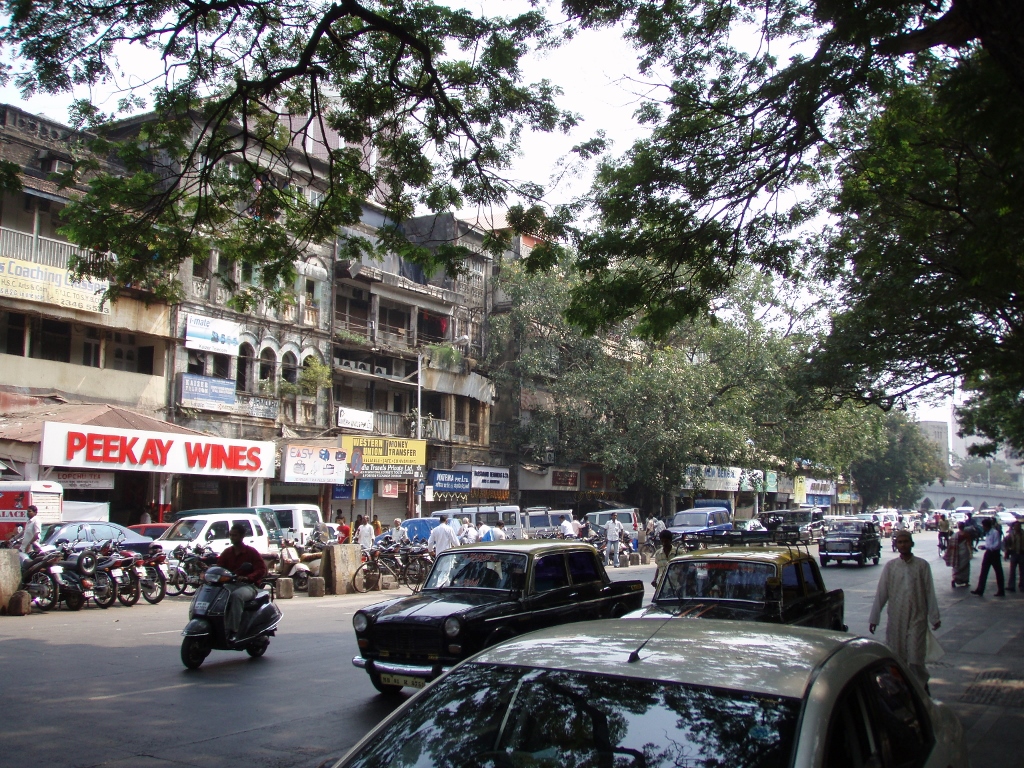 The street in which we had our hotel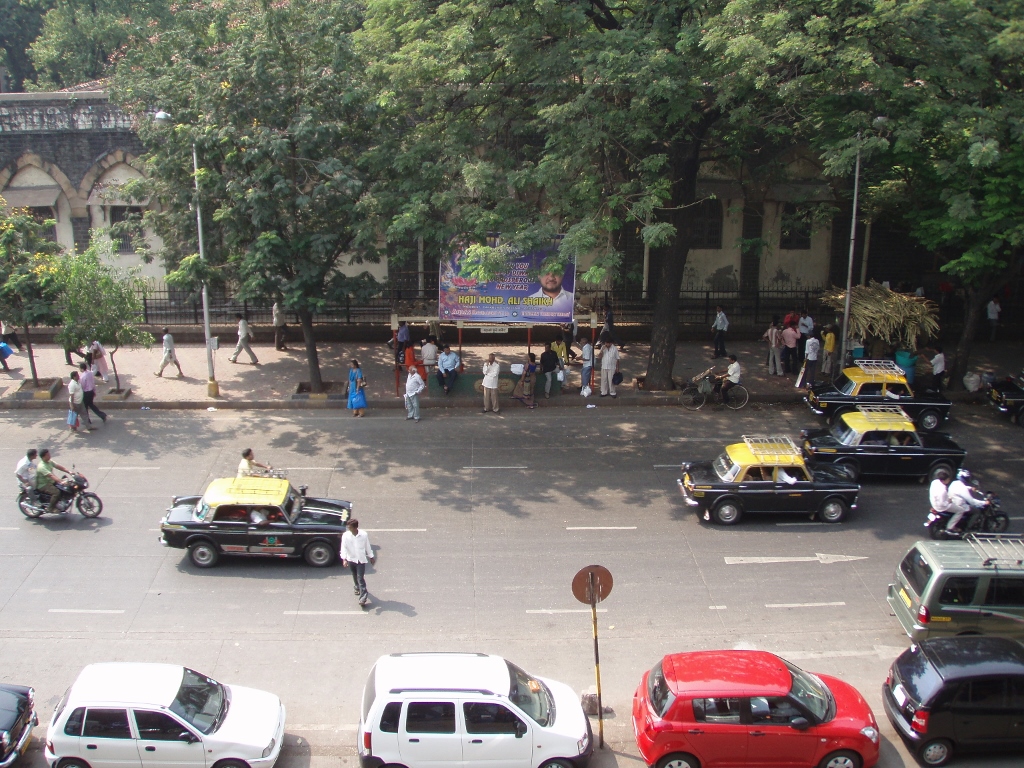 A room with a view
As we were leaving our small hotel which by the way did not cost next to nothing, we could also have a better look at it. This is what one of its interior sections looked like: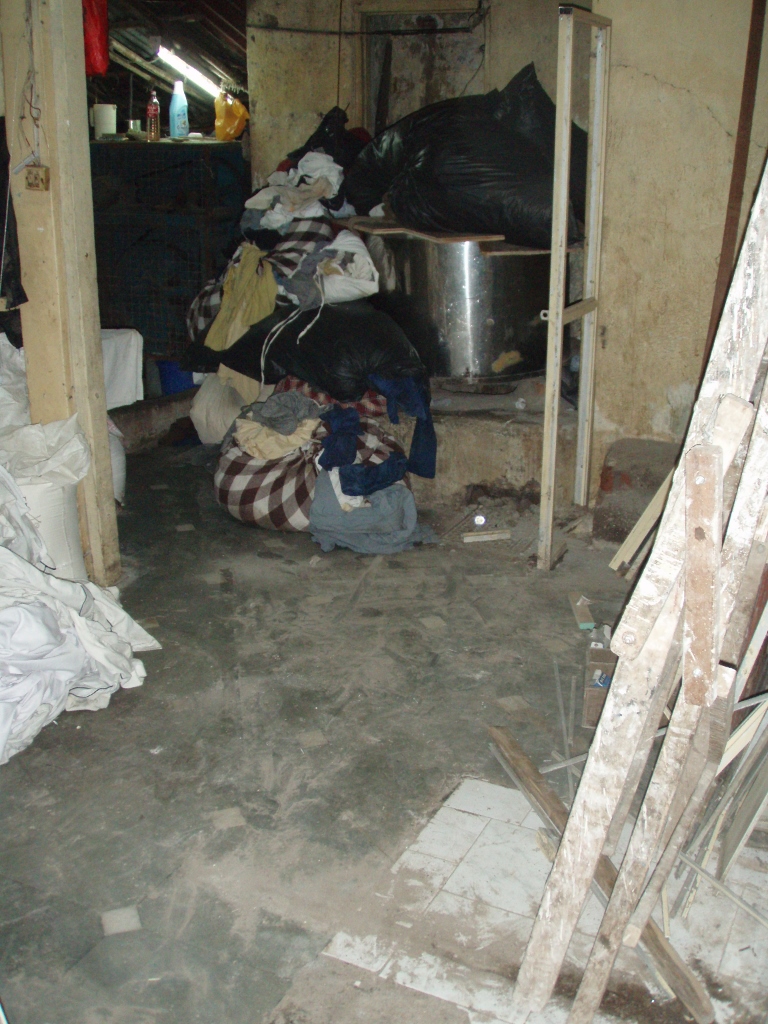 A room by the elevator and stairs used to go to the upper floors
As soon as we got out, it was clear that pedestrians walked in and crossed the streets irrespective of the vehicles, wherever they felt like it and it also became quite clear that the first and the most important lesson in any driving school here was how to use the siren. In addition, there was no doubt that we had arrived to the tropics. By the middle of November, the monsoon season was well behind us, but the high temperature and air humidity were still very much present. Such climate favours the growth of vegetation even in such odd places as the top of a building's façade.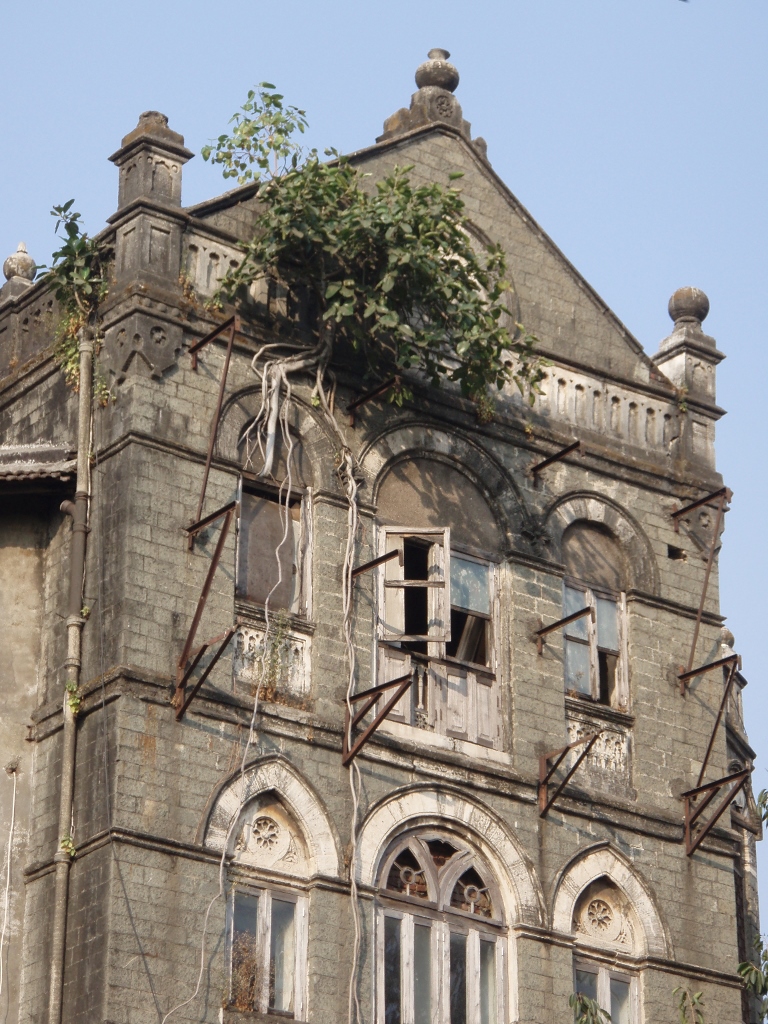 There is vegetation all around the city
Since I'm talking about my first impressions, let me also mention one more detail. Although I've come to love India very much, I don't want to sugar coat things now, so I have to report that one can't help being aware of the enormous quantity of garbage that one encounters every now and then. For instance, not far from our hotel, we came by a faculty. As we passed by, we could not believe how much trash there was in something that ought to be a lawn or at least a clear piece of ground between the surrounding trees. I must admit that in a way I can understand such an occurrence. As I've said, the climate here is such that it is constantly warm and humid (on this particular day it was 33 degrees centigrade with 70% of air humidity). Apart from helping with the vegetation, this also helps with the decomposition of organic matters, so I presume that in the past any possible throwing out of the litter would not create any real problem, since it would disintegrate soon. The serious problem started with contemporary materials that are primarily used for the packaging (for instance, something as mundane as a thin plastic box or a cellophane bag used to pack up a sandwich or a plastic water bottle), made usually just for one single use, and then they decompose for centuries (this is all a laboratory assumption, since such packaging has not existed for centuries in order for us to have the exact evidence). If you already have a habit to throw away your litter wherever you like, then in combination with the materials that do not decompose quickly this creates a rather ugly problem.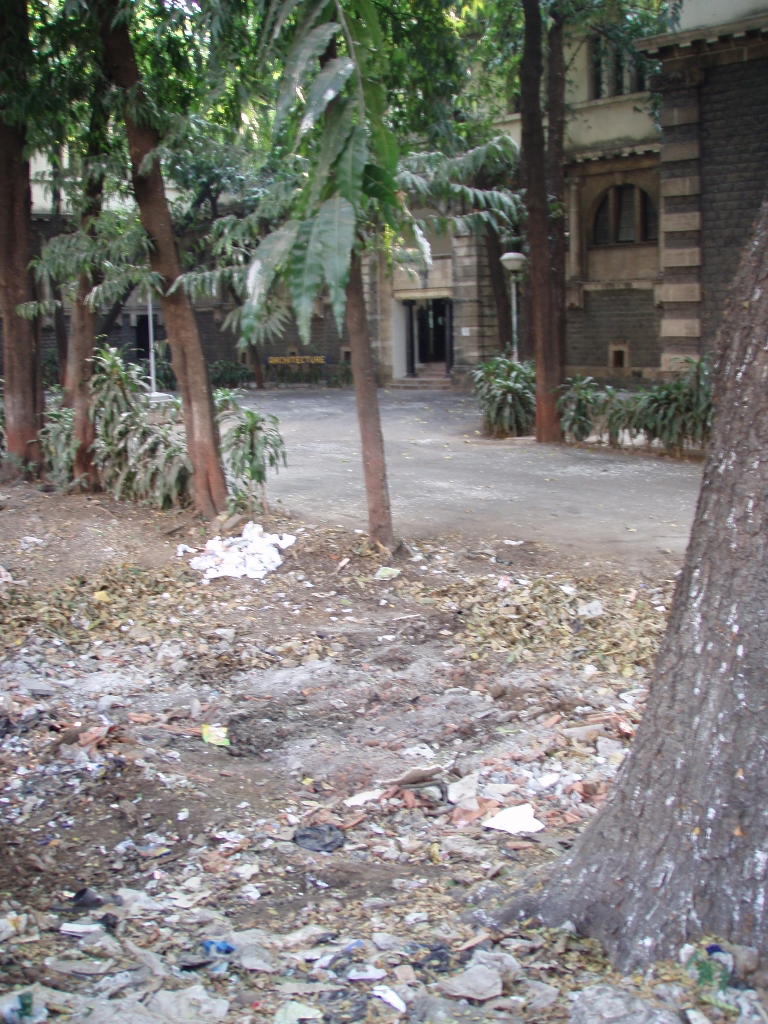 Courtyard of a college
But, let me go back to our stroll that afternoon. Soon we arrived to one of the main railway stations in Mumbai which used to be called Victoria Terminus, but is called Chhatrapati Shivaji Maharaj Terminus today, meaning King Shivaji Terminus. This is after a 17th-century ruler from the Maratha dynasty, whose coronation formally marked the foundation of the Maratha Empire which used to cover most of the territory of the Indian subcontinent until the end of its existence in 1818. The historic building which is in the UNESCO's World Heritage List indeed looks very pretty. It is all covered in plastic decorations and constitutes some Victorian version of the Venetian gothic that was very popular at the time when the station was first built (1888).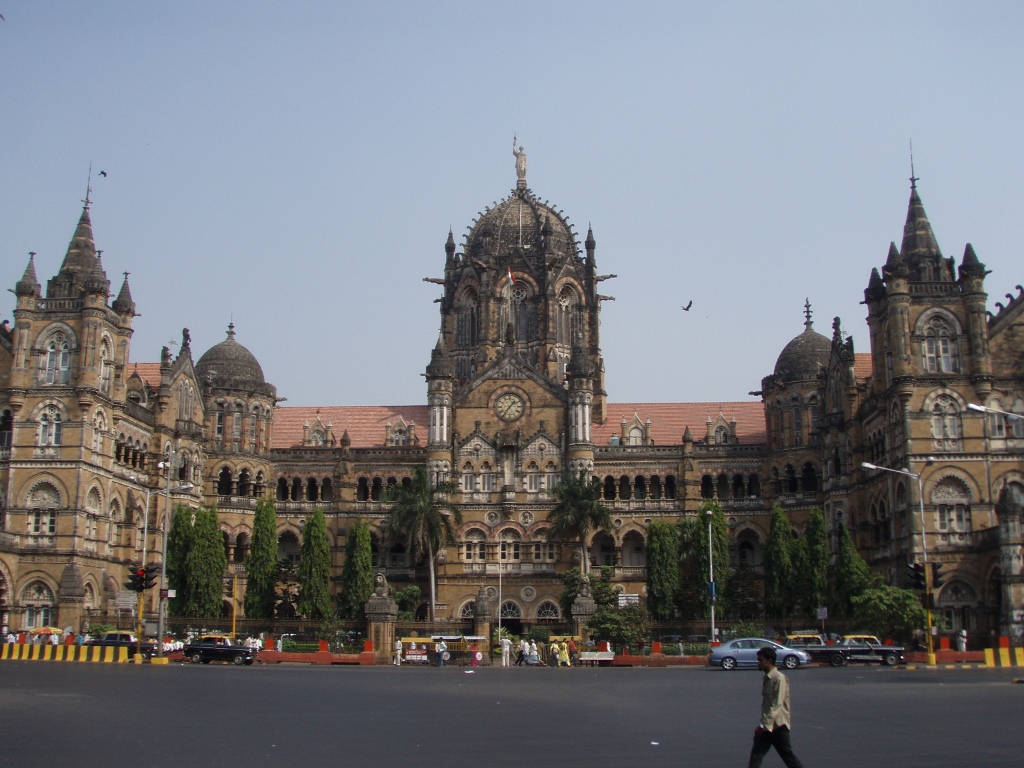 Chhatrapati Shivaji Terminus
This railway station designed by an English architect was exquisitely decorated by local artists and craftsmen and was originally named Victoria Terminus in the honour of the golden jubilee of the British queen who ruled India at the time. In 1996, the name of the station was changed, although its old name is often used colloquially even today.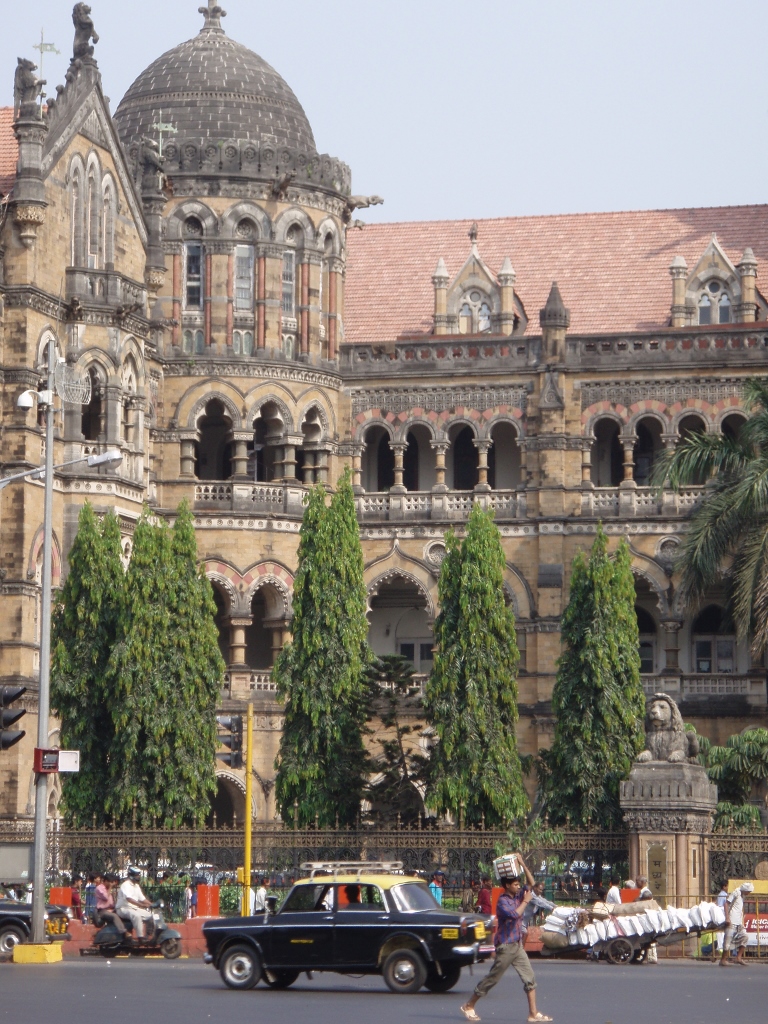 Chhatrapati Shivaji Terminus, a detail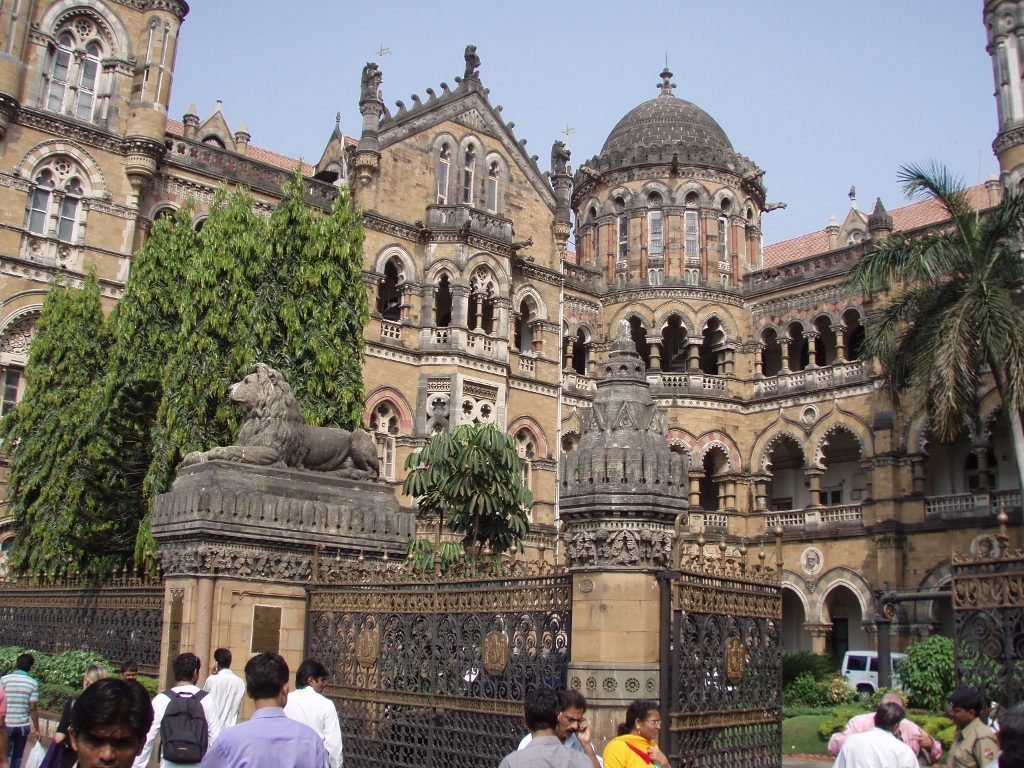 Chhatrapati Shivaji Terminus, a detail
When we came to the station, we also ventured in and walked around a little. It was extremely crowded. Mumbai is one of the world's mega-cities and has over 20 million inhabitants, so it is quite normal that there are huge crowds in the hubs of the human movement.
After our short stay in and around the station, we moved on. Soon we crossed the Hutatma Chowk square in which there is Flora fountain, thus named after a Roman goddess, and this fountain represents one of the better known sights in Mumbai. The square also holds a Monument to Martyrs and its name actually means "Martyrs' Square." This name was given to the square in 1960.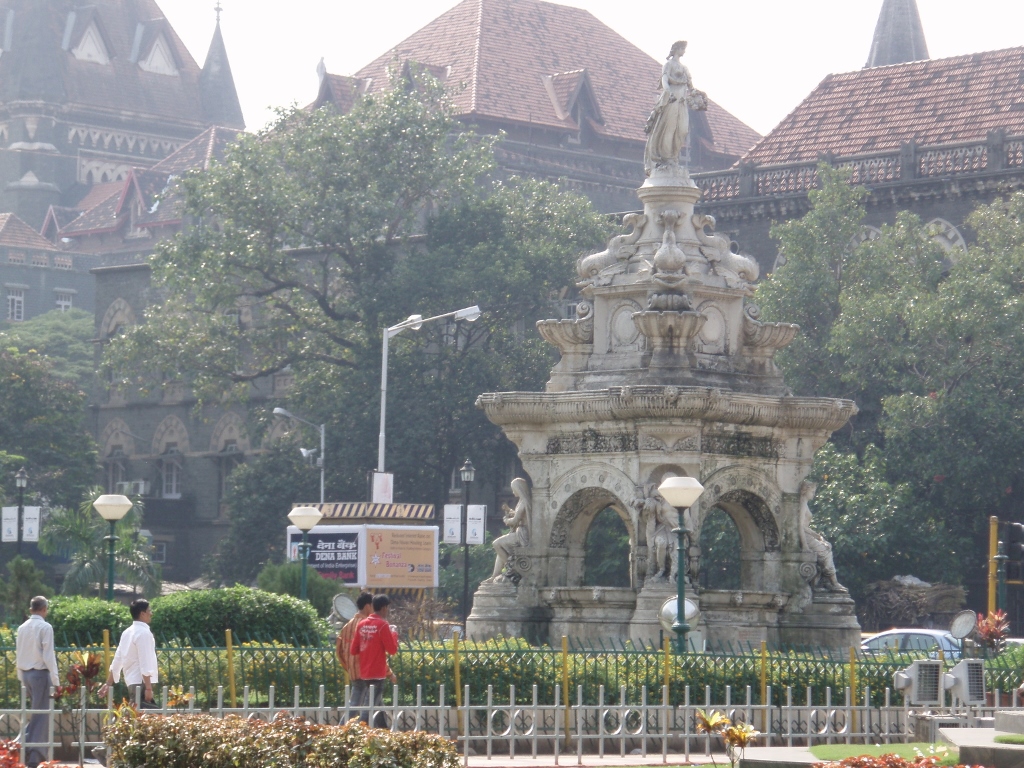 Flora fountain
In this neighbourhood we also started to come across a stronger impact of the colonial architecture in the form of larger and more imposing buildings. Some of them, such as the Bombay High Court, a part of Mumbai University with the Rajabai Clock Tower, the State Bank of India, as well as the Mumbai City Court may be seen from a large lawn called the Oval Maidan.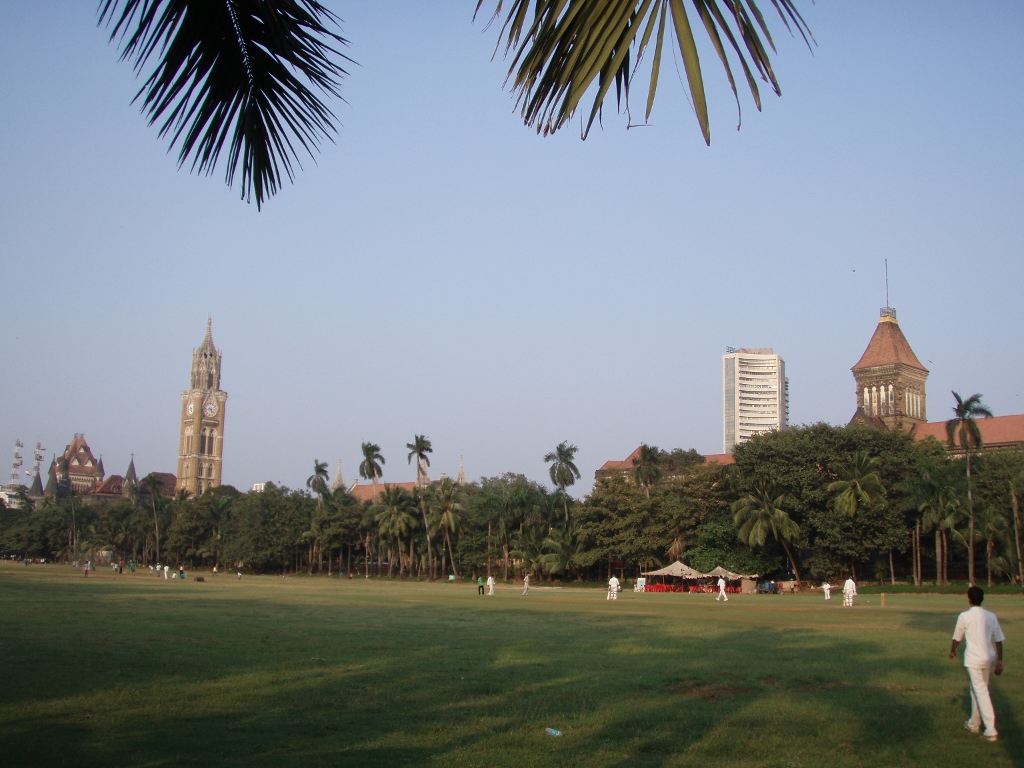 Oval Maidan with the roofs of the 19th-century buildings that surround it
Of course, because of the strong influence of the British, including also their habits and interests, one of the most popular sports in India today is cricket, while the Oval Maidan constitutes an ideal place for practicing this sport.
As we continued our walk we also reached the Chhatrapati Shivaji Maharaj Vastu Sangrahalaya museum which we visited the following day, but during this informative walk we only entered the museum's courtyard.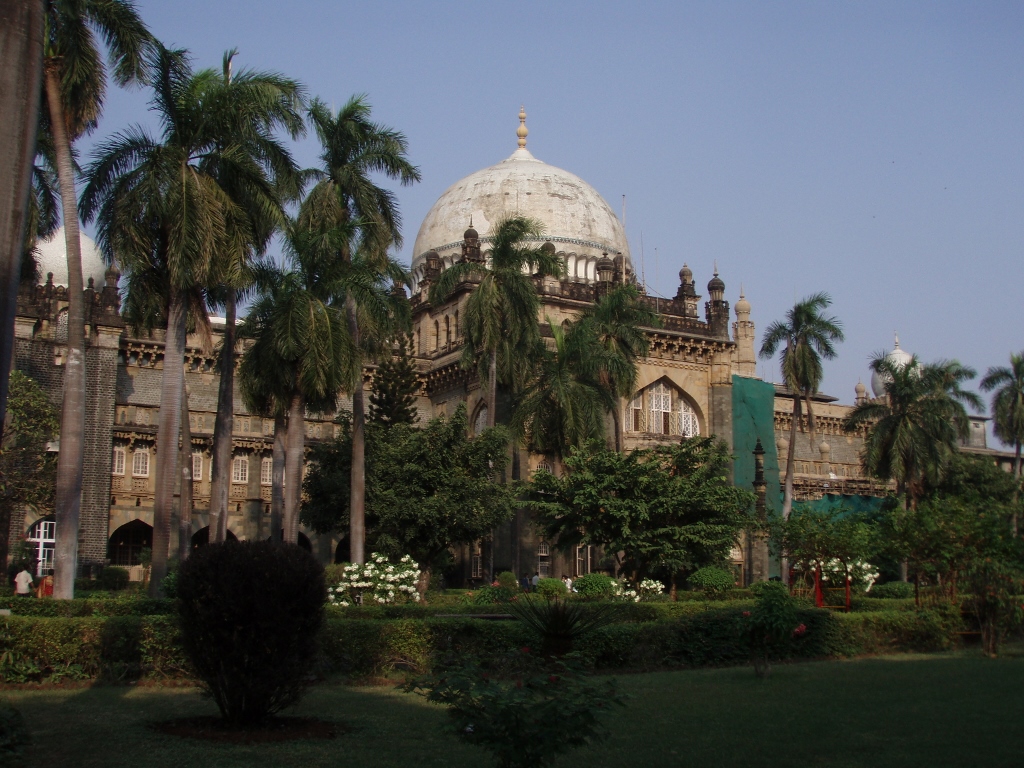 Museum Chhatrapati Shivaji Maharaj Vastu Sangrahalaya
From the museum we followed a street directly towards the Gateway of India. This is a big triumphal arch on the shore of Arabian Sea, by the port of Mumbai, and it was built by the English in order to greet King George V and his wife who came here to visit in 1911. However, since the arch was not ready in time, they made a cardboard model for the king's visit, while the true Gateway of India made of basalt was finished only in 1924. The arch served its symbolical purpose as the ceremonial gate when the British came to their large colony, but it also served its symbolic purpose when it saw the back of the last British military contingent which left ceremoniously precisely from here in February 1948, several months after India regained its independence in August 1947.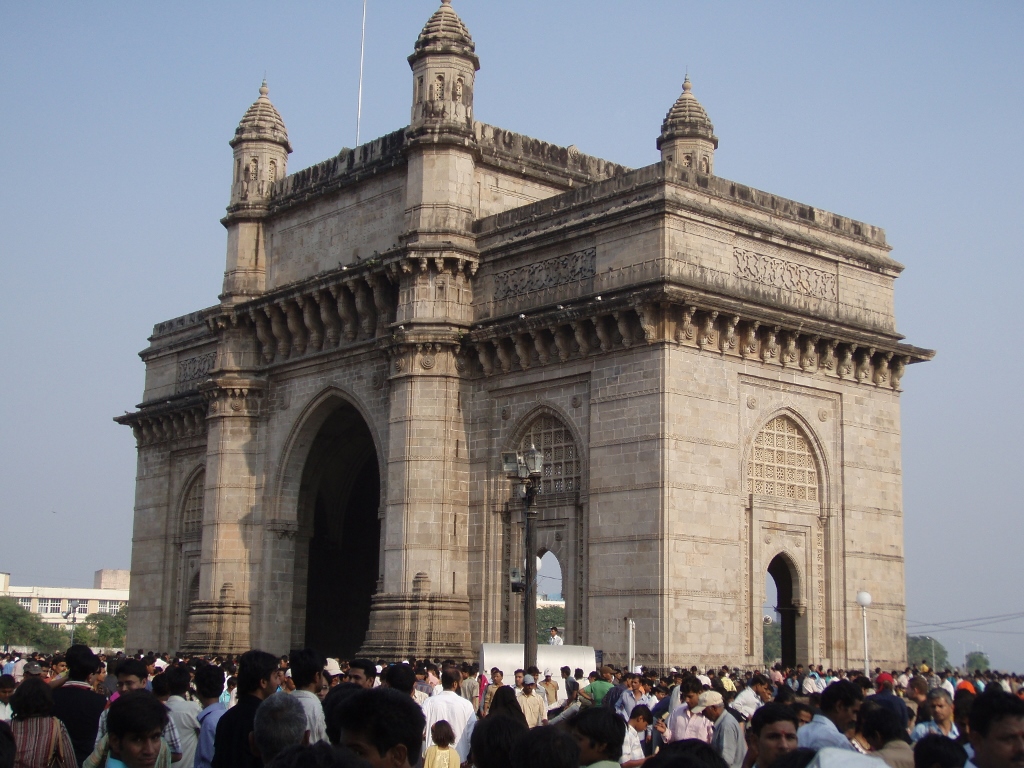 Gateway of India
So, we took a few photos by the Gateway of India where it was very crowded and then we went to the nearby Taj Mahal hotel in order to get some refreshment there, since we felt completely dehydrated, plus we were still jetlagged. This was the right thing to do and although it was too cold inside, the juices, the coffee and the water, as well as the respite felt good.
After this break and a little more walking, we went for an early dinner at the famous bar and restaurant "Leopold." Unfortunately, just a year later, in November 2008, during a terrorist attack a lot of people were killed in this restaurant (the Taj Mahal hotel itself was also attacked and set ablaze on the same occasion). Still, at the time we were there, everything was nice and quiet, and the restaurant was full of tourists and Indians. This was where we started to get acquainted with the Indian food, since neither Sneža nor I knew much about it before this journey. We took a prawn curry and one chicken dish, chicken tikka masala, and they were both very hot, but also very tasty.
This was also the first time that at the neighbouring table we saw the naan – a type of Indian bread that would later become our favourite part of the Indian food.
We went to bed very early this evening, but despite the earplugs I was constantly woken up by the firecrackers and so I struggled quite a lot. Still, at some point I fell asleep.