That day was filled with wonders. Not too big, but sufficient to make the day seem wonderful, to make one feel good, occasionally even special, but also to remind one of its true measure and the place within the Universe.
The first wonder was that the three of us managed at all to make the arrangement and get organised. There were, in fact, supposed to be four of us, but unfortunately Mila had to cancel her attendance, while Sneža, Marijana and I managed to withstand our obligations. However, since we all have very specific jobs, a one-day excursion to a part of the region of Banat was organised for – a Tuesday.
It all actually started when I recently had an opportunity to read about restoration and conservation works that had been done at the Church of the Annunciation in Idvor, as well as on the portrait of Mihajlo Pupin painted by Uroš Predić which is exhibited at the National Museum in Zrenjanin. When I planned this trip, between these two segments linked to Mihajlo Pupin, I put in some nature, as well as some history not linked to this famous Serbian scientist who achieved success and glory while living and working in the USA.
To start with, passing through Zemun (a part of Belgrade) we reached a large bridge across the Danube that was finished in 2014 and that was aptly called the Pupin Bridge. We crossed the bridge in order to get to Banat, a spacious region a large part of which is in Serbia, another large part of which is in Romania, while the third, smallest part belongs to Hungary.
Driving after the bridge in the direction of Zrenjanin, we first turned onto a small side road in order to get to Sefkerin, a village where Sneža's family has an old family house, just in order for her to see it after who knows how long and remember who knows what. That was practically along our way, so it did not disturb our general plan in any way. The next place on our road trip was a rather small village of Baranda that has recently gained local popularity on account of a TV series that is apparently taking place there, as well as being filmed, since there is a film studio in the village! Since I did not watch that TV series, I found the obviously renovated building of the local Voluntary Fire-Fighting Society founded in 1889 much more interesting.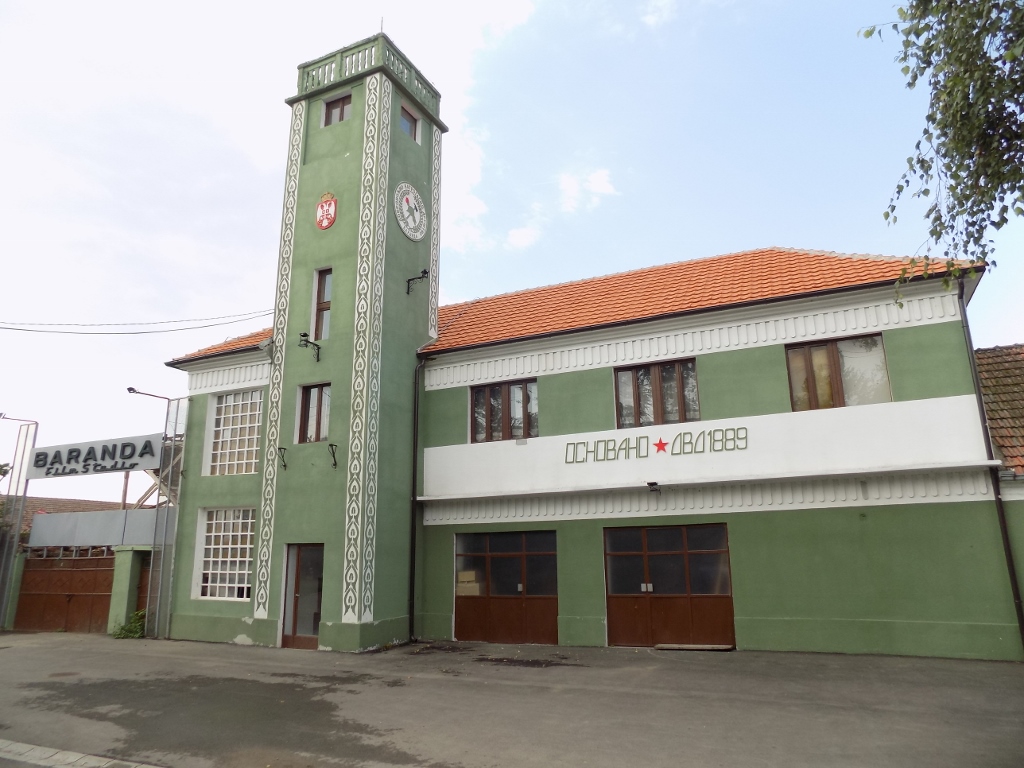 Building of the local Voluntary Fire-Fighting Society
And then soon we reached Idvor. The village is most famous for being the place where Mihajlo Pupin was born in 1854. Mihajlo Pupin was so proud of his place of birth that he added it to his name in its English version – Michael Idvorsky Pupin.
Mihajlo Pupin started his formal education right here in the village where he enrolled the primary school and later he continued his education in Crepaja, Pančevo and Prague. Today Prague is, of course, the capital of Czechia (Czech Republic) and the other three places are in Serbia, but at the time when Mihajlo Pupin was growing up, all these places belonged to Austro-Hungary.
In 1874 Pupin interrupted his studies and went to America where he arrived with only five cents in his pocket. First he worked for a couple of years on farms and then he moved to New York where he continued to work, but also to attend evening courses and then in 1879 he enrolled studies at Columbia College. He was an excellent student and he continued his education at Cambridge University in the UK and in 1889 he defended his PhD thesis in Berlin, Germany. After that he started working at Columbia University in New York where he remained until 1929, working as full professor from 1901.
In addition to being famous as a scientist, it is interesting that in 1924 Mihajlo Pupin received a Pulitzer Prize in the category "Biography or autobiography" for his book "From Immigrant to Inventor."
Still, as far as science is concerned, there are numerous Pupin's protected patents, but he is certainly most famous for loading/Pupin coils by which he enable significant extension of the range of telephone lines. I will not go into details concerning his inventions now, but when reading about this I found it particularly interesting that Pupin actually improved Röntgen's X-ray machine and that it is thanks to Pupin's addition of a fluorescent screen that the time of the exposure was cut down from around one hour to just a couple of seconds. This method is applied even today and what I found particularly fascinating in this is that Pupin, who was a very good businessman and who earned quite well from his patents, refused any profit in this case since he did not want to earn any money from something that was contributing to the health of people.
It is precisely in this that his greatness as a man and a philanthropist can be seen and a part of his readiness to work for the benefit of the others may also be seen in Idvor where, as his endowment, he had a People's House built with an idea to make it an agricultural school.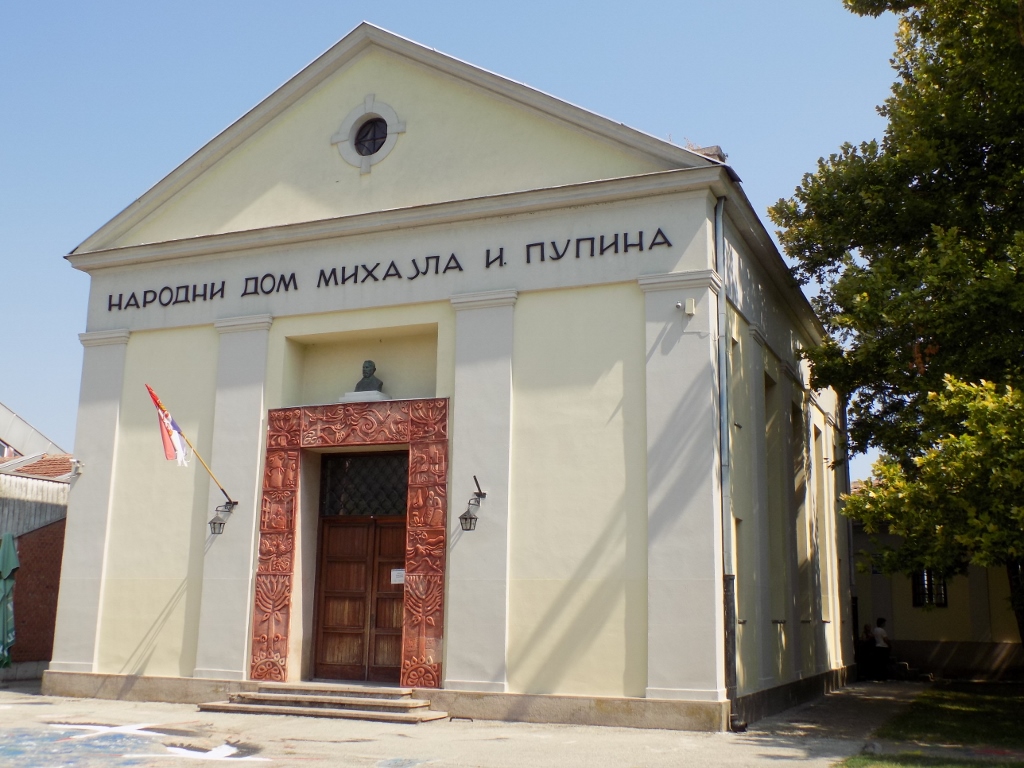 People's House of Mihajlo I. Pupin
It was right here at Pupin's endowment that we started with our visit of the complex in Idvor. A very kind woman, something between a curator and a guide, first let us see a short biographical film, then she told us some additional information and then she took us to see a part of the exhibition displayed on the premises directly adjacent to this building where it is waiting for the building of the old school to be renovated and made ready to host a new and contemporary museum. Meanwhile, the building of the primary school attended by Mihajlo Pupin is standing by, waiting for the works to start.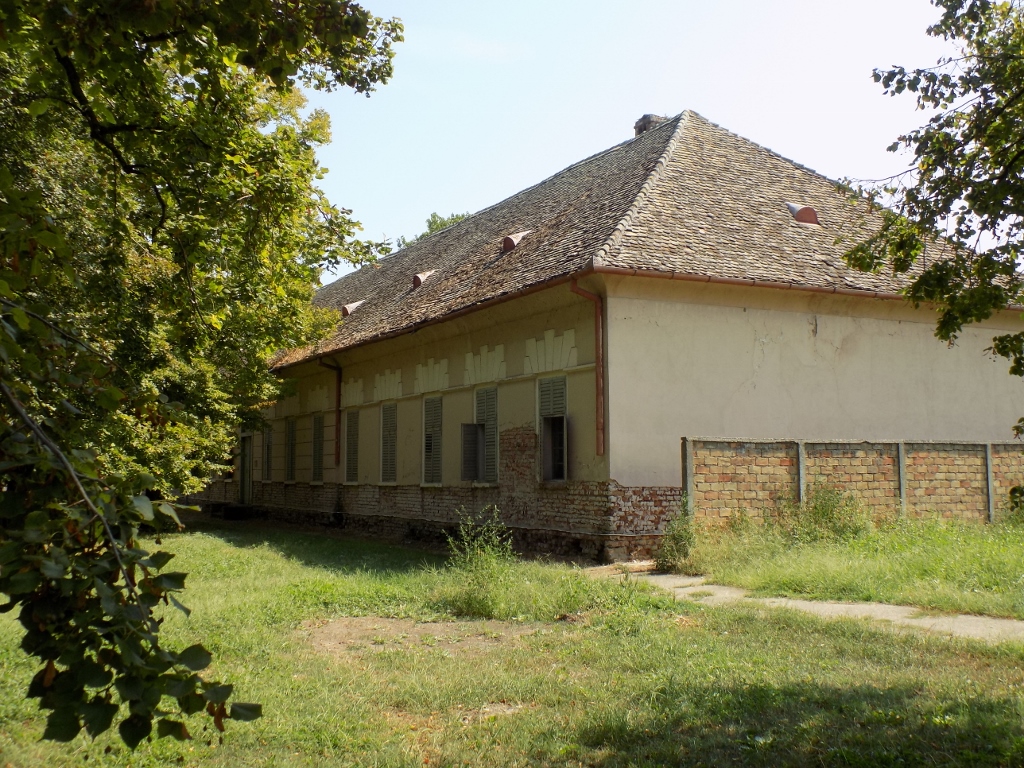 Old primary school
Then together with our hostess we went to the nearby birth house of Mihajlo Pupin. Until 1979 it was used for residential purposes by people who had no ties to the Pupin family and when then moved out, the house was renovated and arranged as a small museum that shows what a typical 19th-century Banat house used to look like. No piece of furniture is the original, although some pieces are very old, but there are also a few things directly linked to Pupin, such as some of his letters or photographs.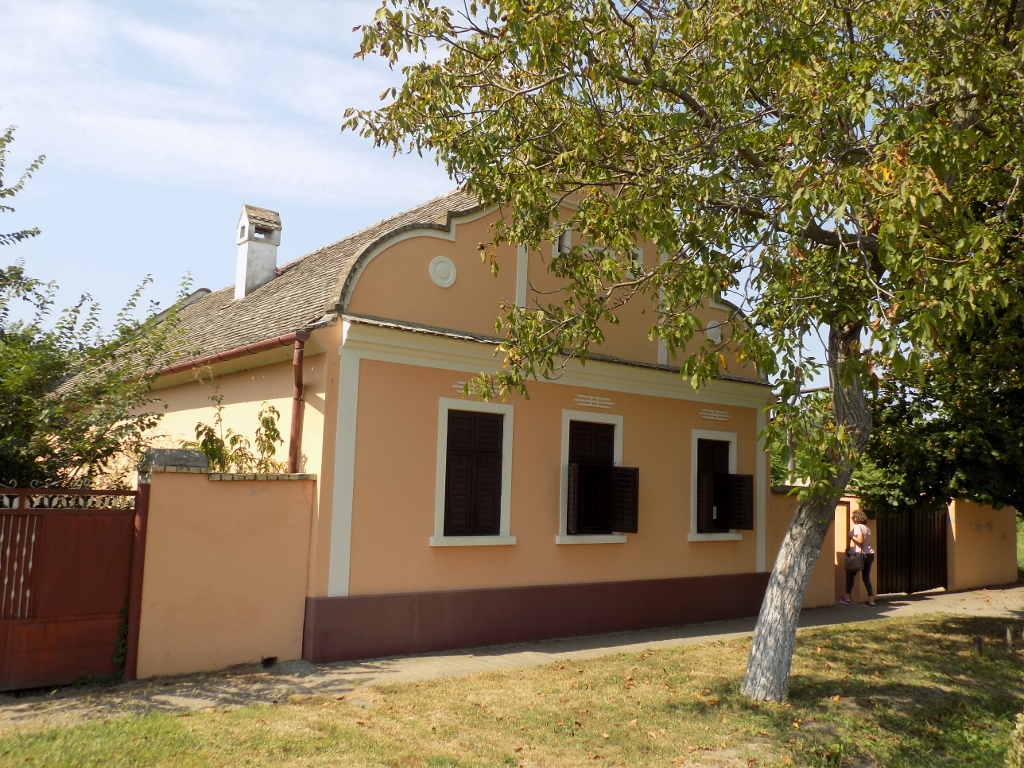 Birth house of Mihajlo I. Pupin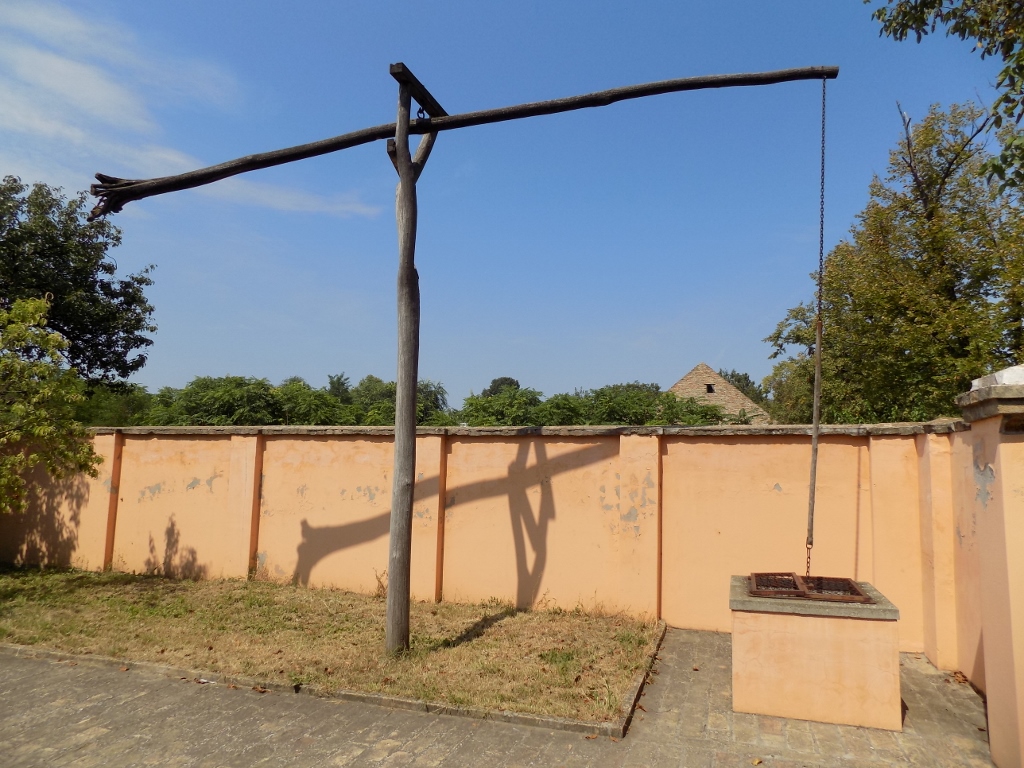 Shaduf in the house's yard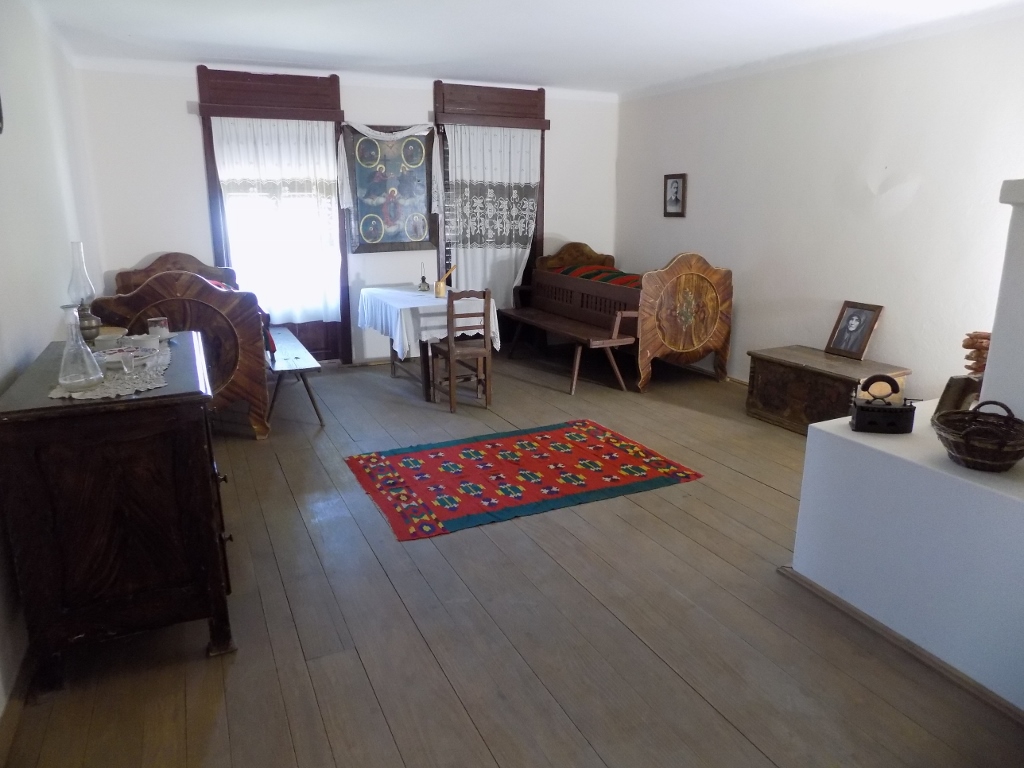 One of the rooms: there is a photo of M. Pupin on the wall towards the corner, while the photo of his mother rests on the chest
As I was looking at some of the letters of Mihajlo Pupin, the printed heading on his personal memorandum caught my eye. When I returned home, I searched to see where exactly in New York Pupin used to live and I was shocked in a way – in the famous Dakota building, right next to the Central Park, in one of the most elite parts of New York, in the same building in which John Lennon used to live and in front of which he was killed!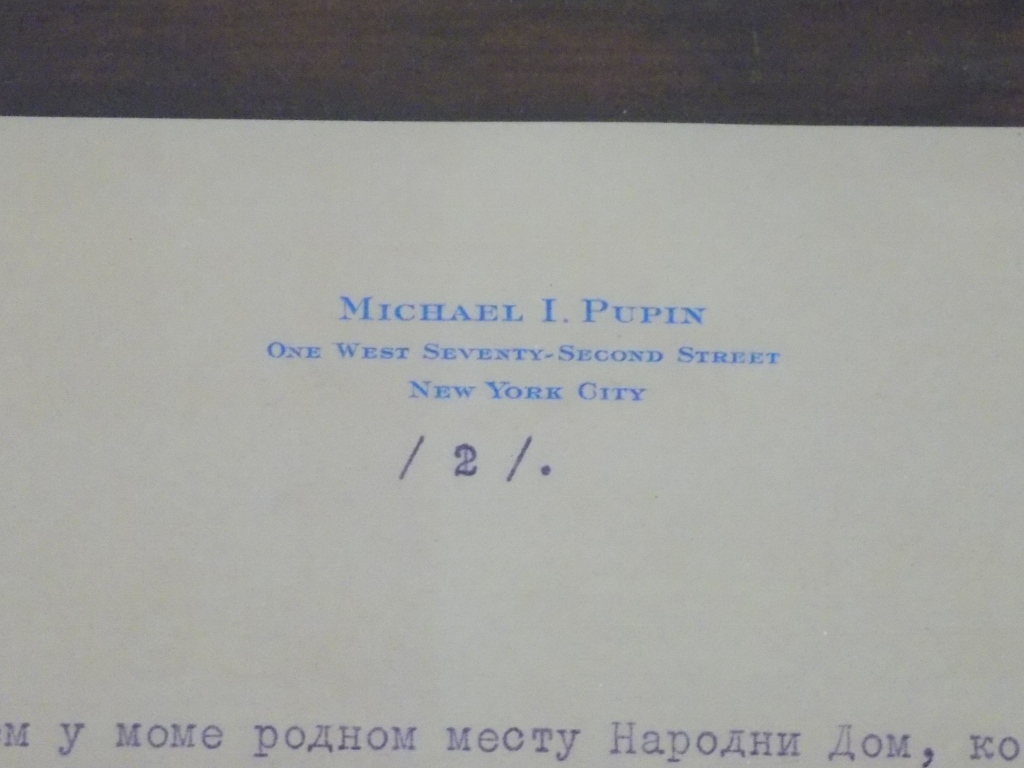 Printed heading of the personal memorandum
Apart from this trivial insight, it is interesting, however, that even in New York Pupin had a Cyrillic typewriter and he often signed his name in Cyrillic script.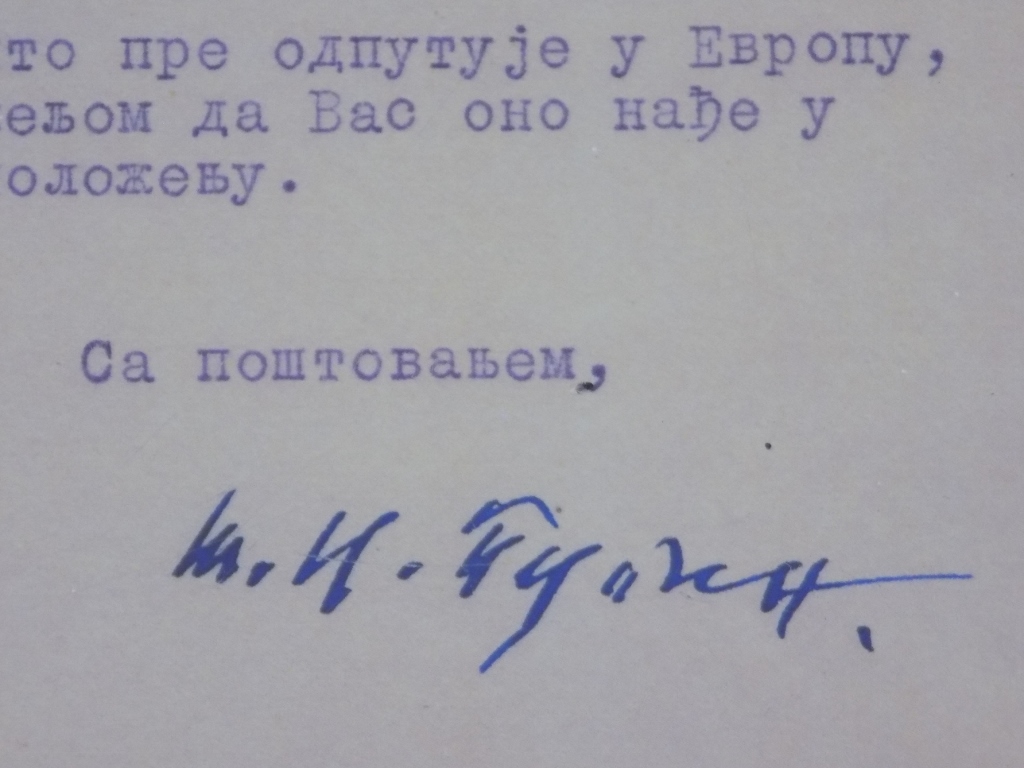 Pupin's signature
Following the visit of the house, Marijana, Sneža and I parted from our kind hostess and headed for the house in which the local priest lives with his family. Namely, we had already noticed that the church was closed, so we were worried we would not see the restored iconostasis. Our guide had just told us that the priest had started to lock up the door to the church since some naughty local children had apparently stolen something and this was a precautionary measure.
When we got to the priest's house and rang the bell at the gate, the door was opened by his wife who told us her husband had gone to Belgrade on an errand. We asked her if there was any way for us to go to the church and she said she could give us the key, but could not come with us since she had a small baby. We even offered to leave some ID or something, but she rightfully saw we were decent people and we did not have to leave any security.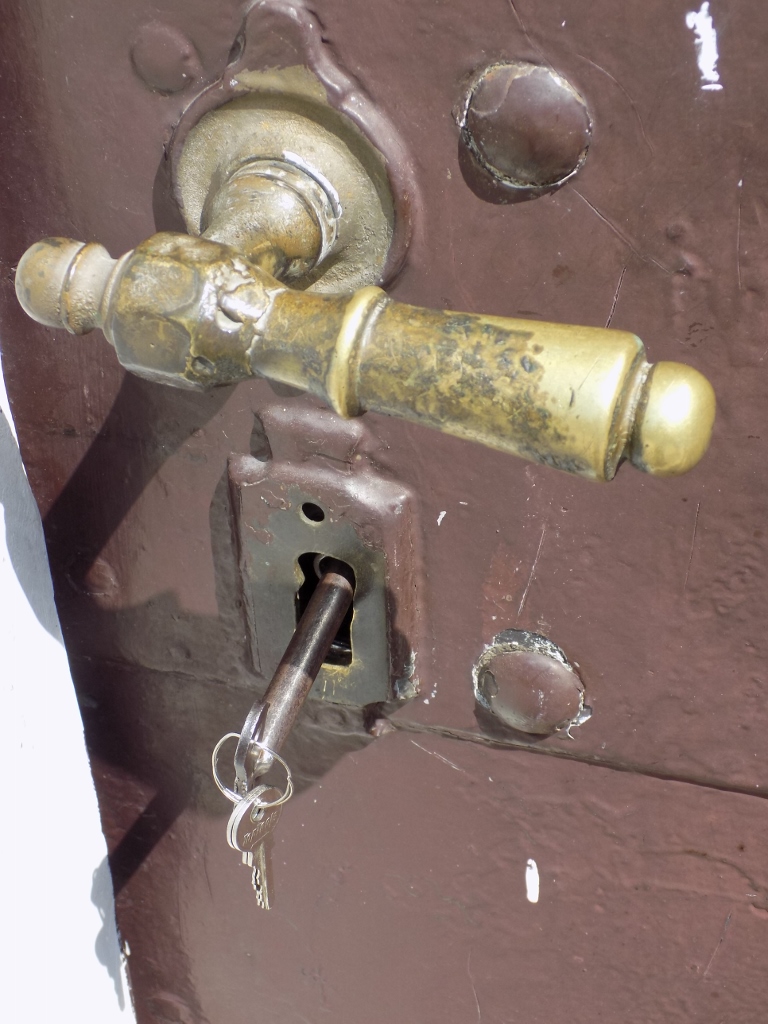 The key and the lock
The Church of the Annunciation was built in 1803 in the Baroque style that was predominant in this region at the time. Today, it is situated within a park where there is also the People's House, as well as the old primary school.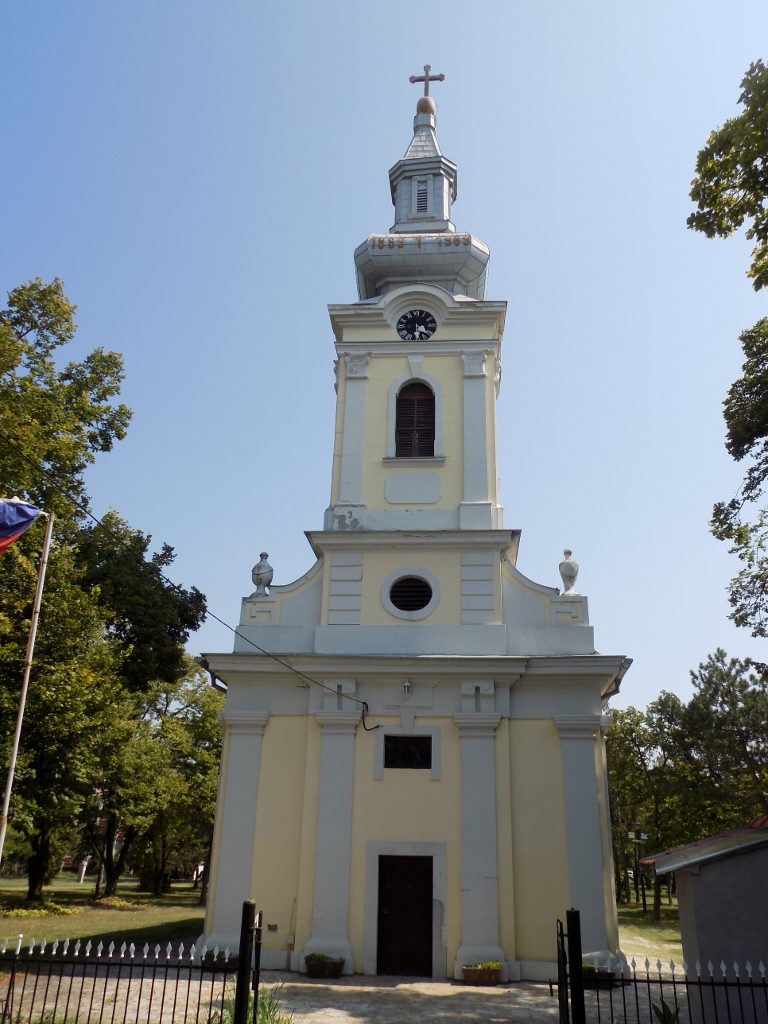 Church of the Annunciation
This is the church in which Mihajlo Pupin was christened and in addition to this data, what is very important as regards the church is that its iconostasis was done in 1877 by Stevan Todorović, one of the greatest Serbian painters from the second half of the 19th century, while some of the icons on the altar partition were done by his wife, Poleksija Todorović.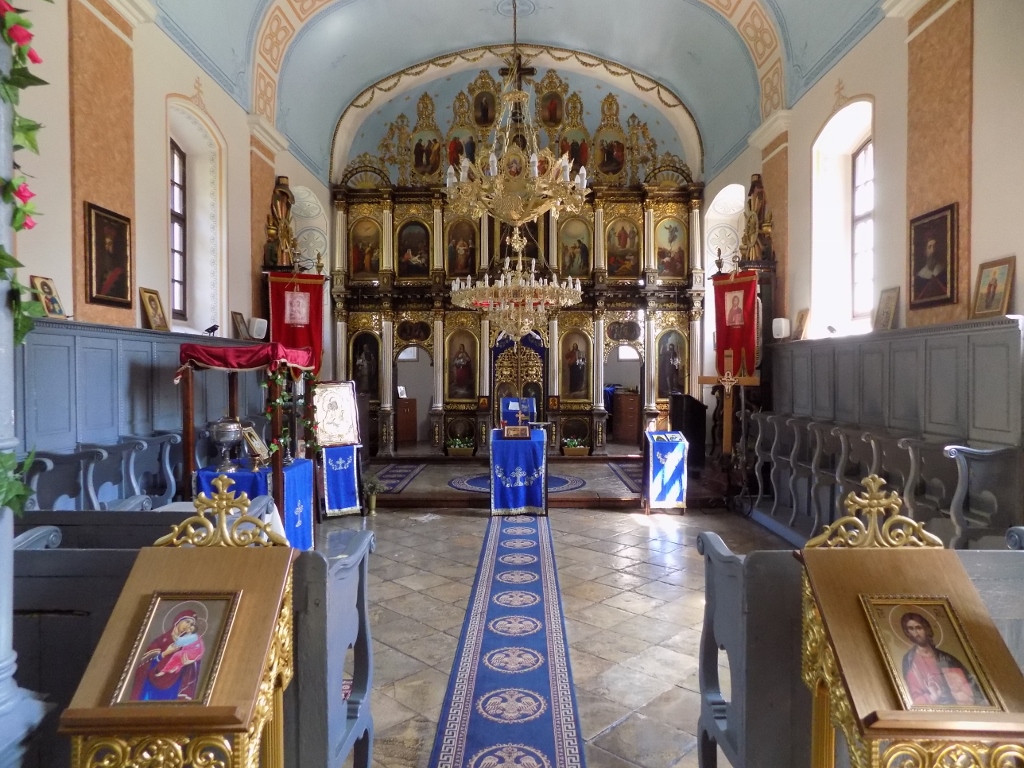 Church of the Annunciation
When I read before this trip about the restoration and conservation works carried out at the church and looking at the photos of those works, all the time I kept remembering the Sistine Chapel and its restoration. I was lucky enough to see the Sistine Chapel (in Rome, Italy) before its restoration, during the restoration and after it. What bothered a large portion of the critics at the time was that after the dark appearance of Michelangelo's frescoes covered by patina, dirt and soot, when all of that was removed, the colours that emerged seemed "too" bright for some people's taste. Here, too, when you see the look of the iconostasis before the restoration and after it was completed, it seems that all the colours and the gilding shine bright now, while in fact it may be reasonably presumed that this was what they used to look like when they were first made.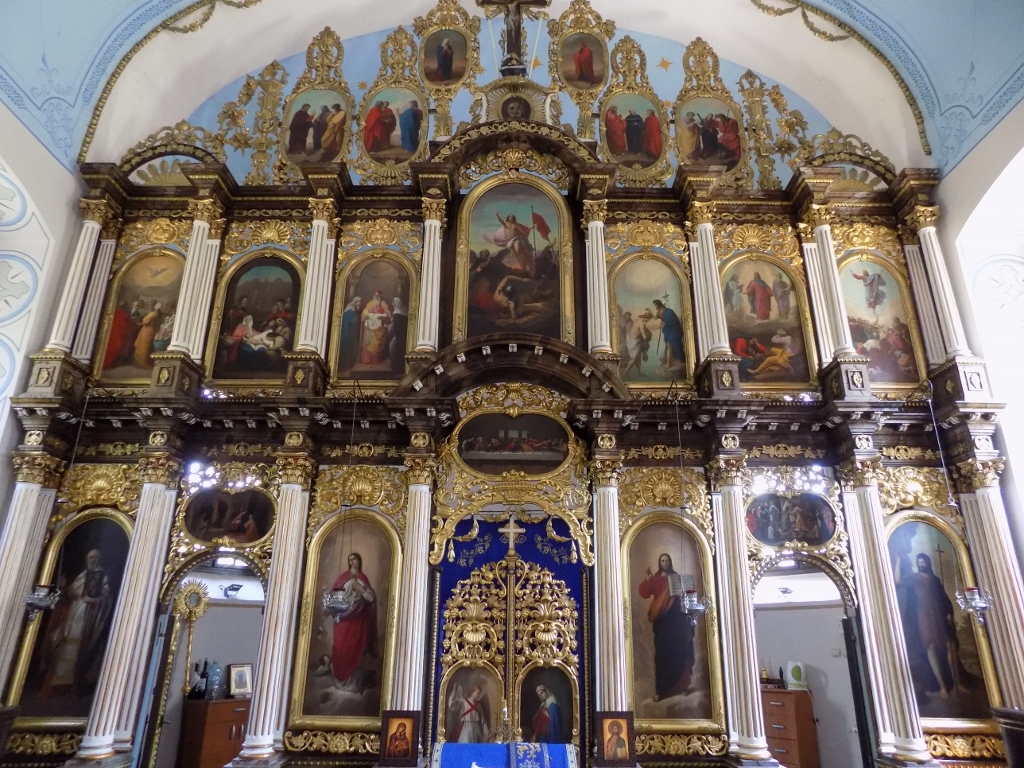 Church of the Annunciation, iconostasis in August 2019
I had some notes on those works prepared for the three of us and since we were alone, we could leisurely and in detail look not only at the icons within the iconostasis, but also some other works that adorn the side parts of the naos. For me, the Throne of St James the Apostle was particularly interesting, as it reminded me of my last year's pilgrimage on the Way of St James.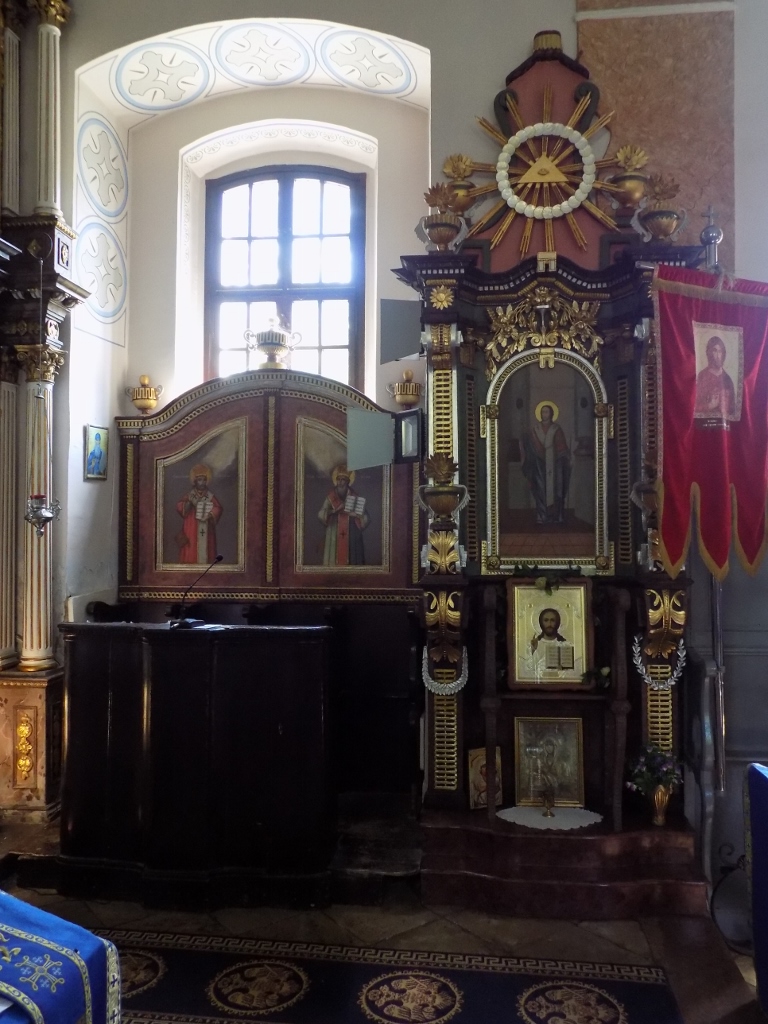 Church of the Annunciation, south choir and the Throne of St James the Apostle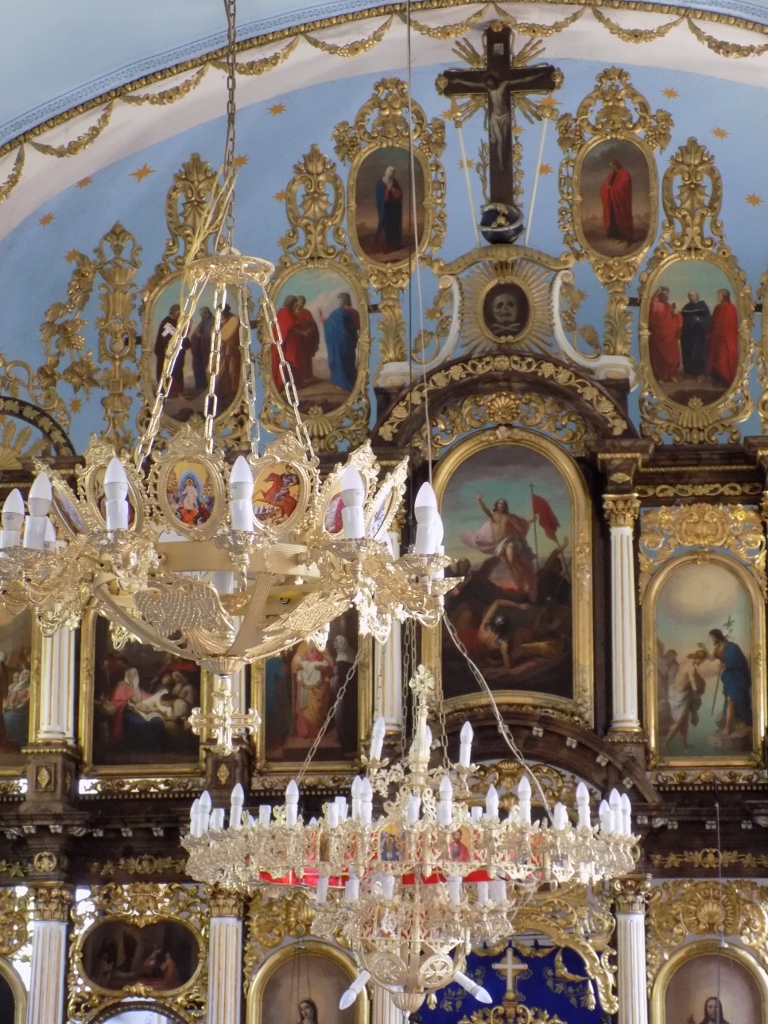 Church of the Annunciation, the chandeliers and parts of the iconostasis
When we finished with the visit to the church, we locked it up again nicely, returned the key where we had taken it and thanked the lady. Looking back at the church once again, we noticed an interesting sight.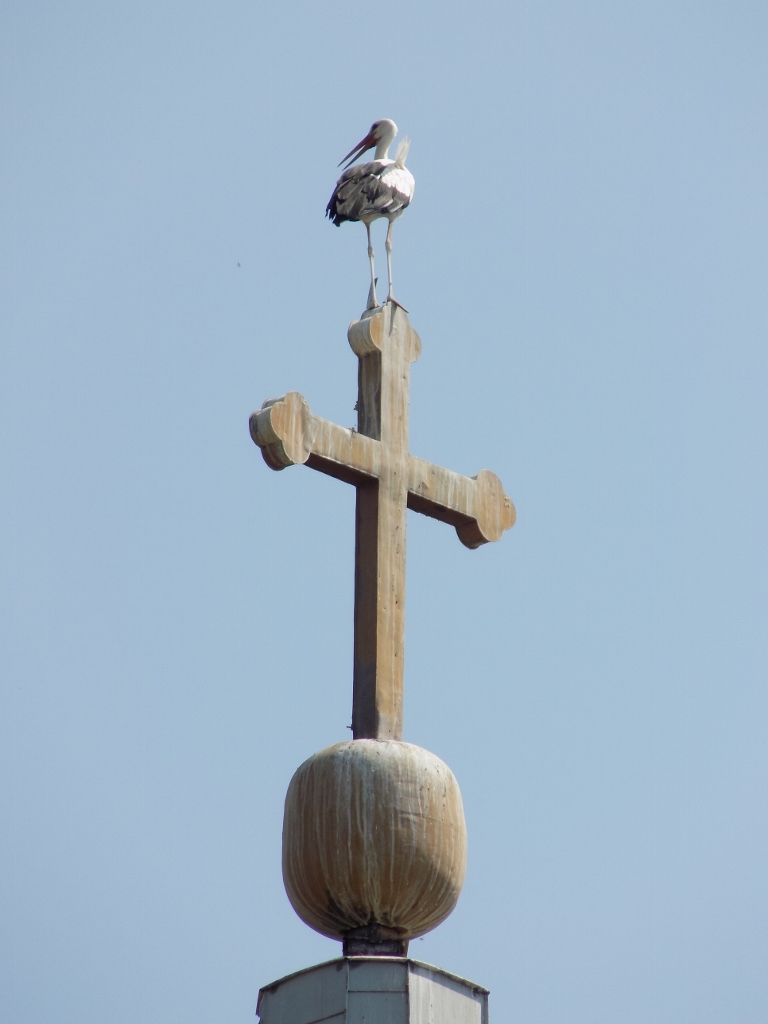 Stork on the top of the church
And then we got into the car and went to the Special Nature Reserve "Carska Bara." My original idea was to go on a boat ride there, but in the meantime I had learnt that this could be done only on weekends. Then I thought we may go for a walk there, but it turned out this was not a great idea either, since it was very hot, realistically speaking we had no clue as to what exactly we were supposed to see there or where we would go, on top of which the lunch time was getting nearer. So, we went out of the car for a short while and took a few photos by a small bog. I must say that I have been left with this yearning to go there again, but properly and as the place really deserves. Namely, Carska Bara (Imperial Bog) is the best place for bird watching in Serbia. Regardless of that, there are certain problems and controversies concerning the maintenance of this entire reserve, but I will not go into that now.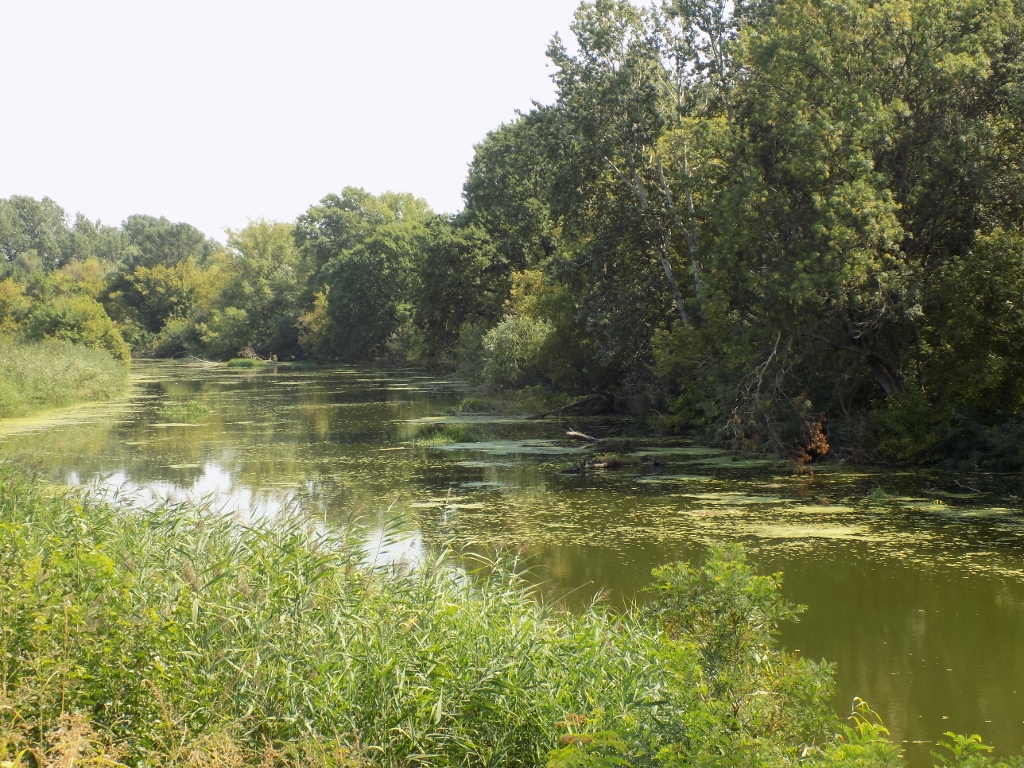 Traktor bara at the edge of the "Carska Bara" Reserve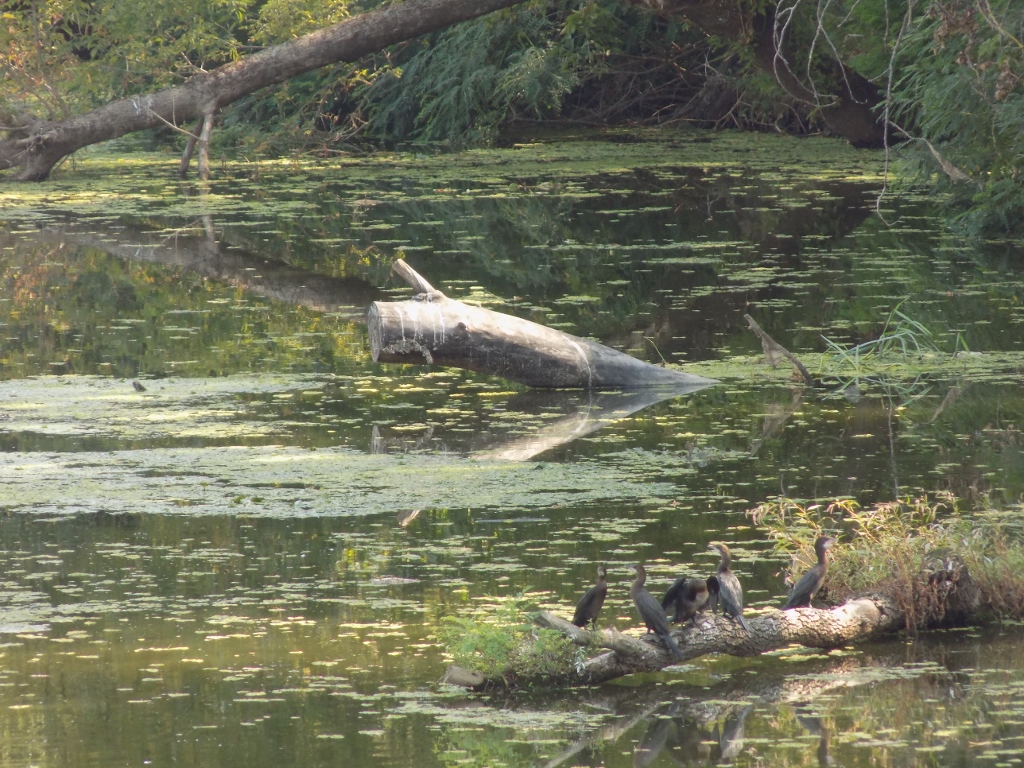 Details from Traktor bara; note the birds in the lower right-hand corner
The next stop was at a nearby restaurant where we went for lunch. Since there is a lot of game in this area, there are also restaurants that serve dishes made of this type of meat.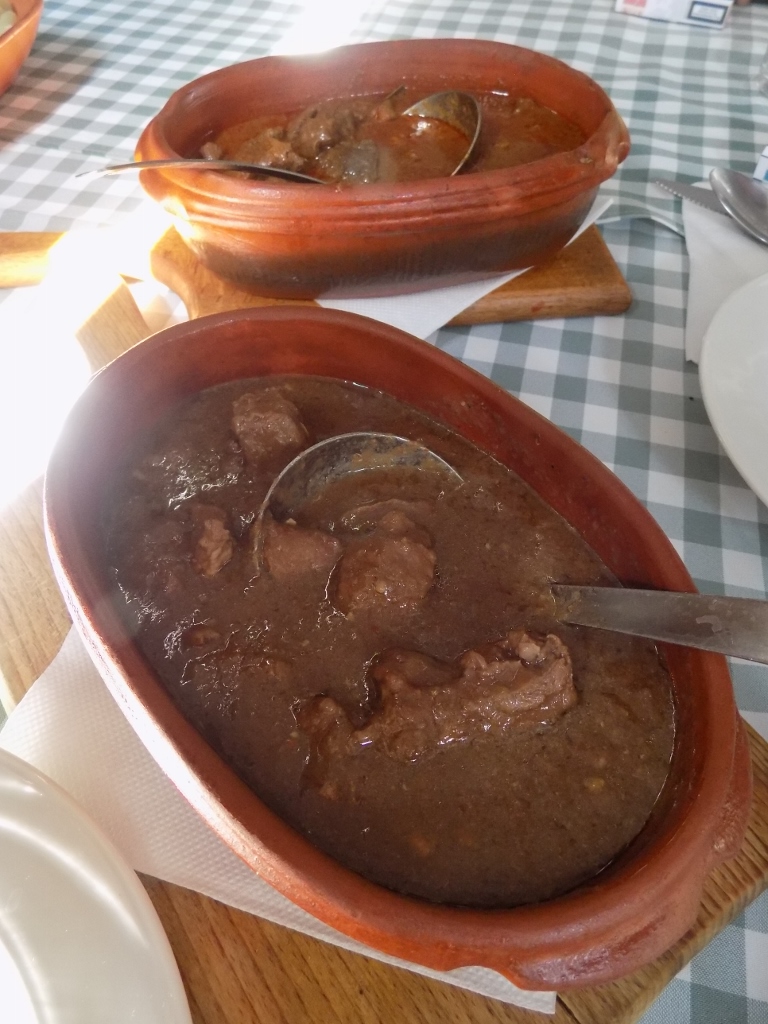 Venison and wild boar stews
After lunch we did not want to stay at the same restaurant in order to have coffee, but rather we transferred for the purpose to Ečka. There is "Kaštel" Castle, a monument of culture, there that has been revitalised recently and nowadays it functions as a hotel. The estate was bought at the end of the 18th century by the Lazar family whose descendents built a castle in the second decade of the 19th century (don't be confused by the name of the structure; this is a castle of a local landowner, not a Versailles). At the opening of the castle, on 28 August 1820, the guests were entertained by Franz Liszt who was nine at the time.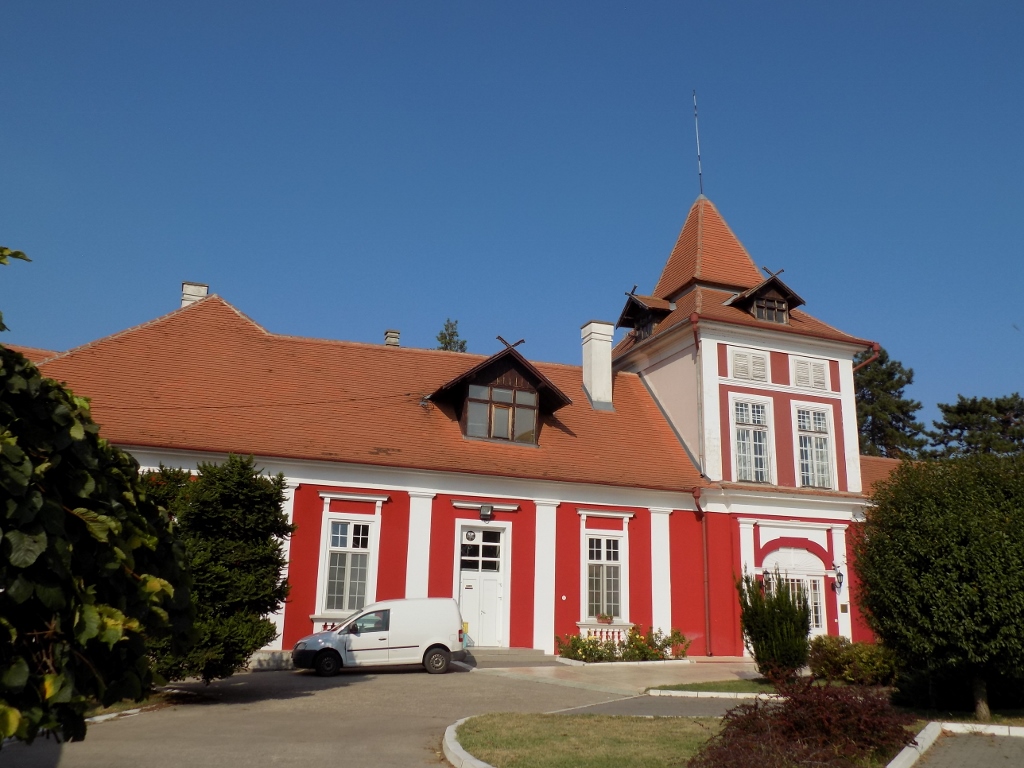 "Kaštel" Castle
The estate was bought in 1870 by Count Harnoncour whose monument is located in the park that belongs to the castle.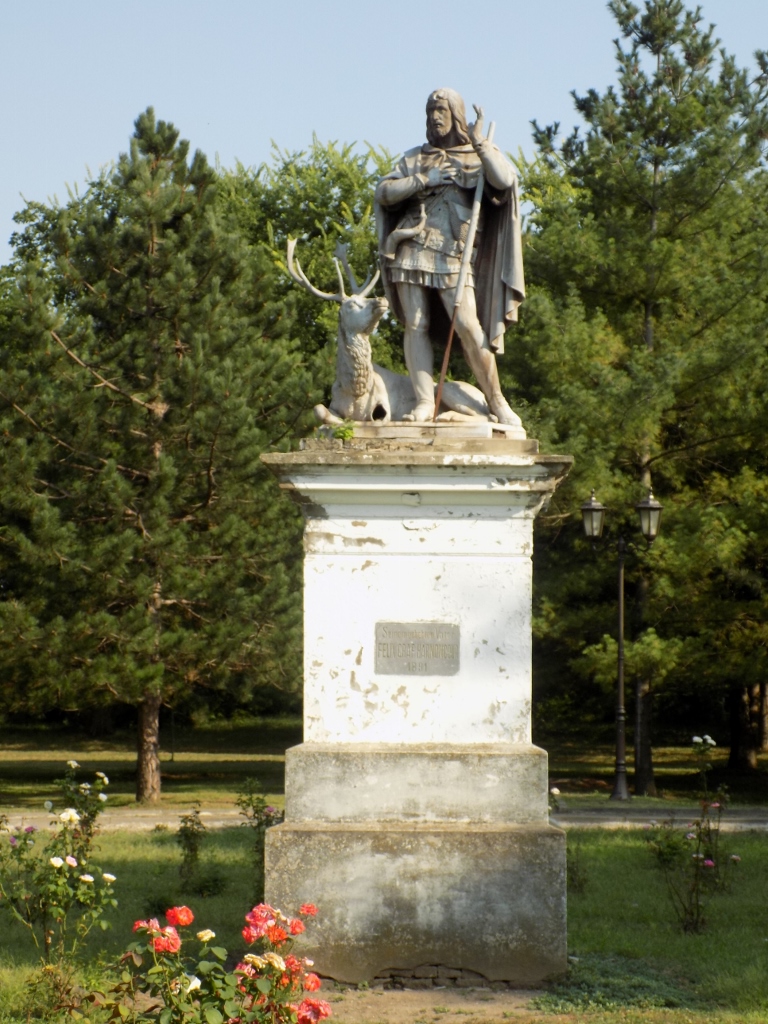 Monument to Count Harnoncour
This former nobleman's estate also included a catholic church that is situated right by the gate to the castle, but at the time we were there it was closed and it was not clear whom we were supposed to look for and where in order to be let in.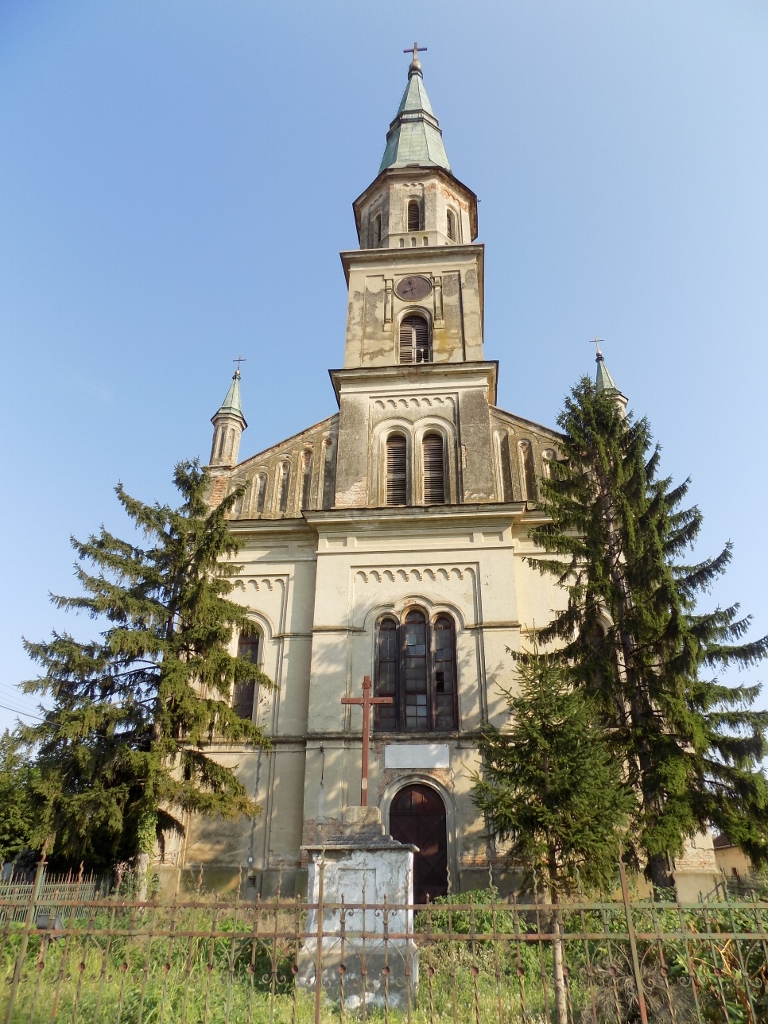 Catholic church in Ečka
The estate also included the water tower which we saw from the road leading in the direction of Zrenjanin.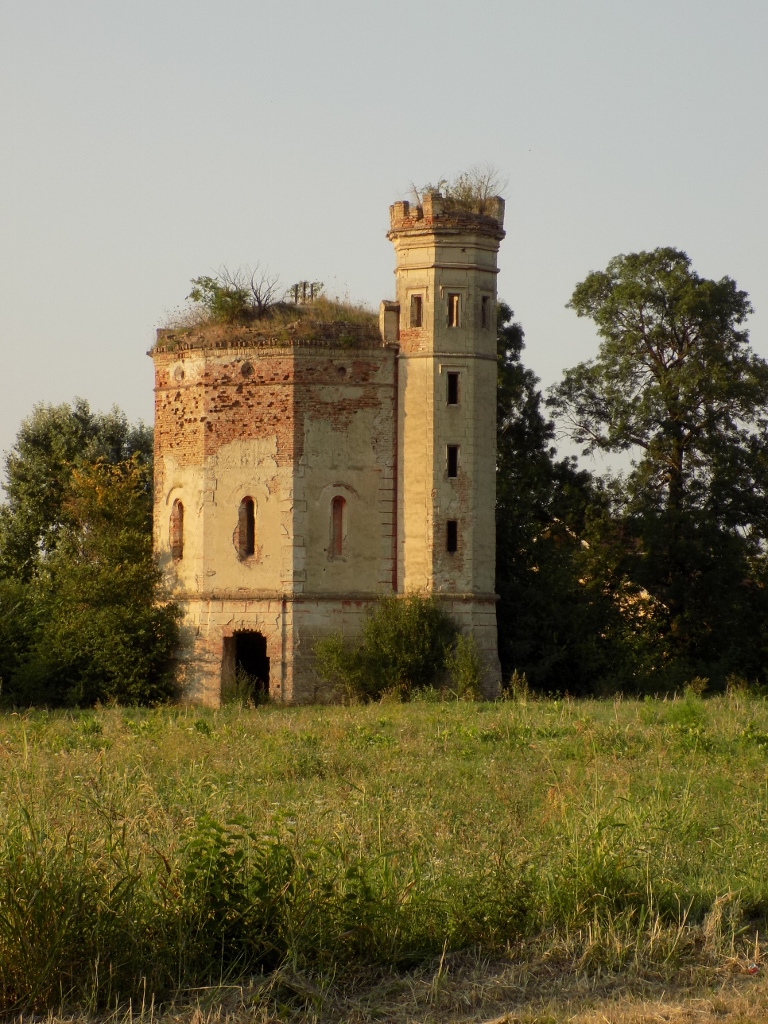 Water tower in Ečka
Still, the most interesting edifice in Ečka, at least for me, was an orthodox church from 1711. When we got there, we saw a man in a t-shirt and Bermuda shorts in front of a house across the road from the church. Sneža asked him if we could leave the car at the access path leading into the house's yard for a couple of minutes, but he told us we could park the car there for as long as we wanted. Thus we started to chat with him telling him that we came there in order to visit the church and then he said that we should do it, but apologised for not being able to join us since he was not decently dressed, telling us then that he was in fact – the priest.
Although it was clear that he was going somewhere, very kindly he stayed with us for some 15-20 minutes telling us a little about the church, its history, the history of this area and the arrival of the Serbs here. All three of us felt extremely fortunate, as well as honoured.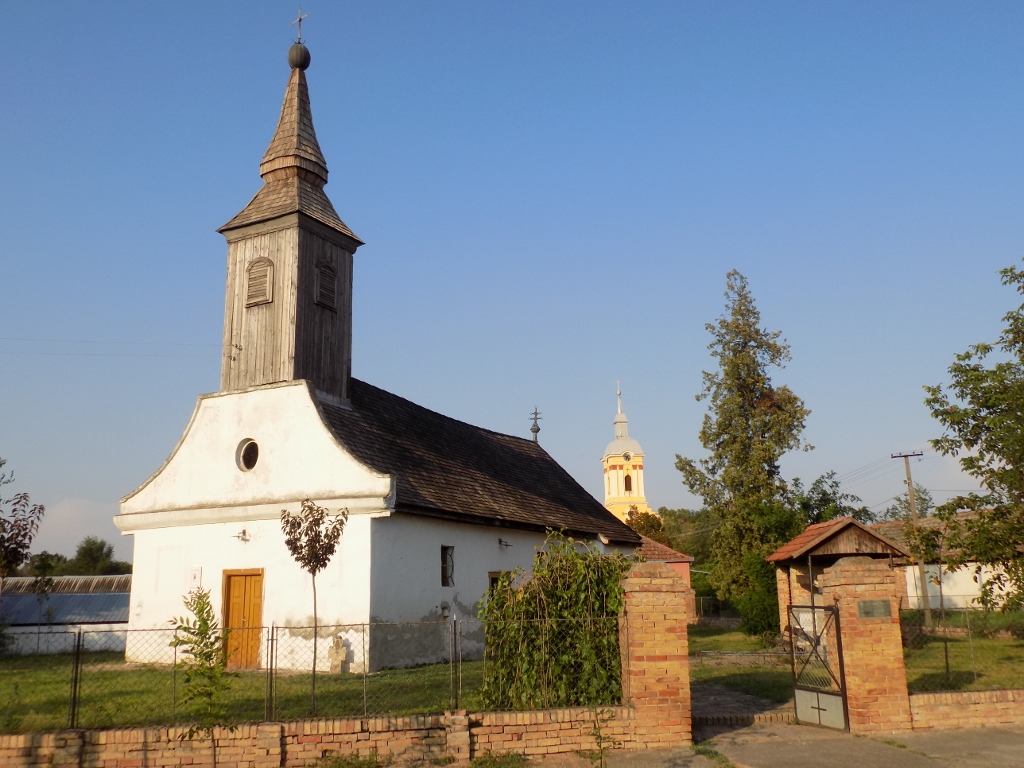 Church of St Nicholas; the Romanian Orthodox Church built around the middle of the 19th century is in the background
The Church of St Nicholas with a wooden tower from 1711 is the oldest orthodox church in Banat region and Vojvodina province. As the priest explained to us, there are monasteries and churches on mount Fruška Gora that are older, but this in fact reflects their duration as "institutions," while the original structures themselves were first destroyed or ruined, after which new ones were built in their place or those old ones were renewed. This one here, however, is the original church.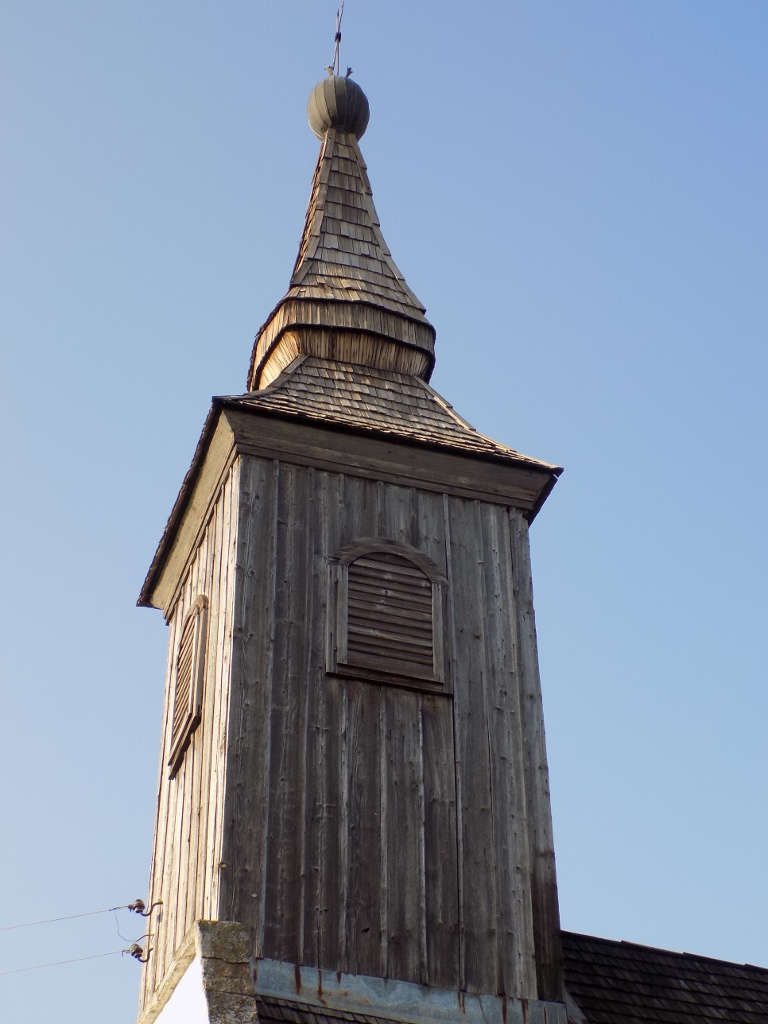 Wooden tower of the Church of St Nicholas
The church was built as a single-nave structure with a roof made of wood shingles. The original iconostasis from 1744 was made by Šerban Popović. Today, a few pieces of that iconostasis may be seen at the church itself, but on the side, while some other parts are exhibited at the National Museum in Zrenjanin. The iconostasis that is in function comes from 1786, but its author is unknown.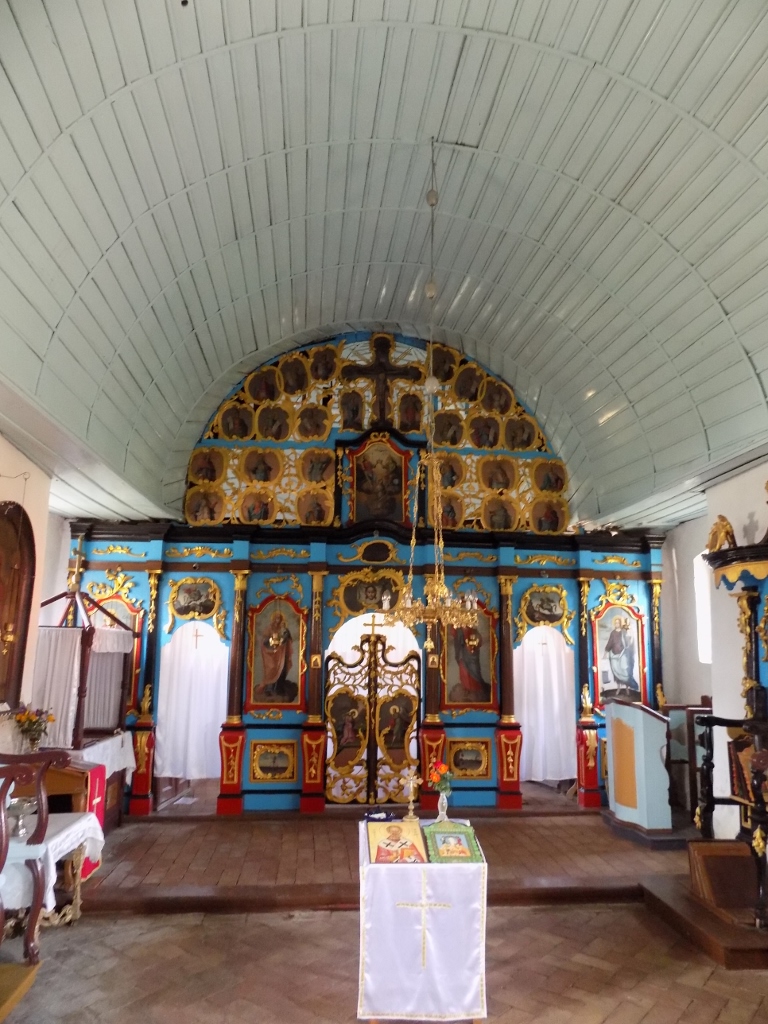 Interior of the Church of St Nicholas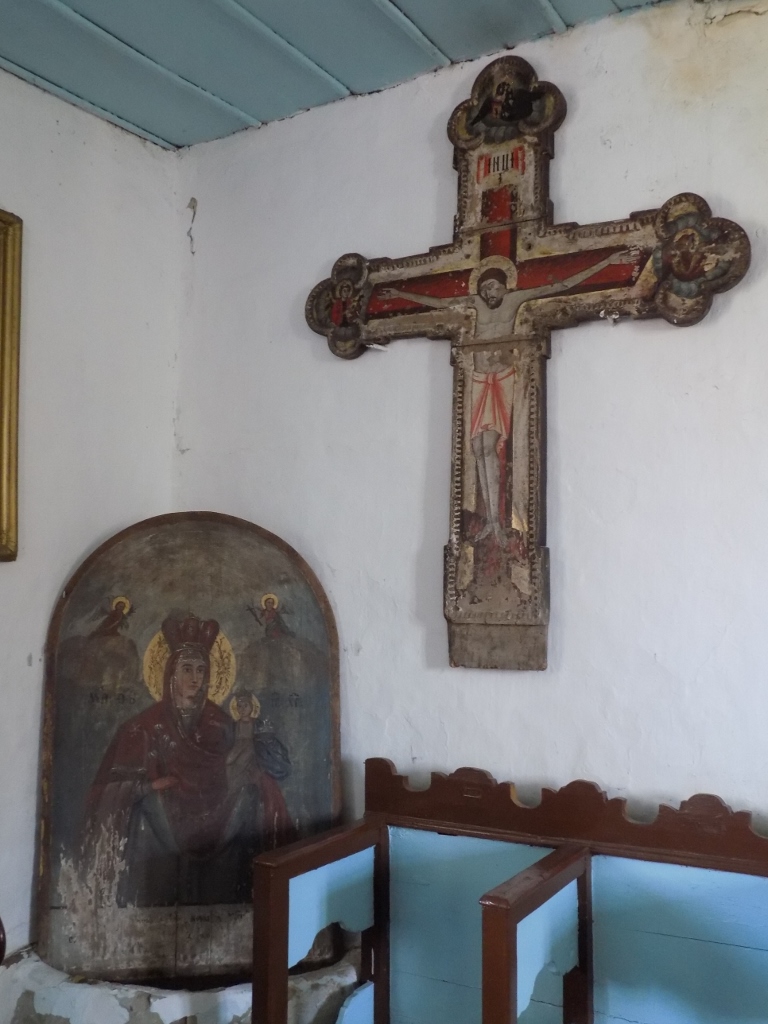 Cross from the original iconostasis at the Church of St Nicholas
Although there are some minor elements on the church made of bricks, its structure is made of rammed earth and, while the church is waiting to be restored, on the outside wall it can be clearly seen what it was made of.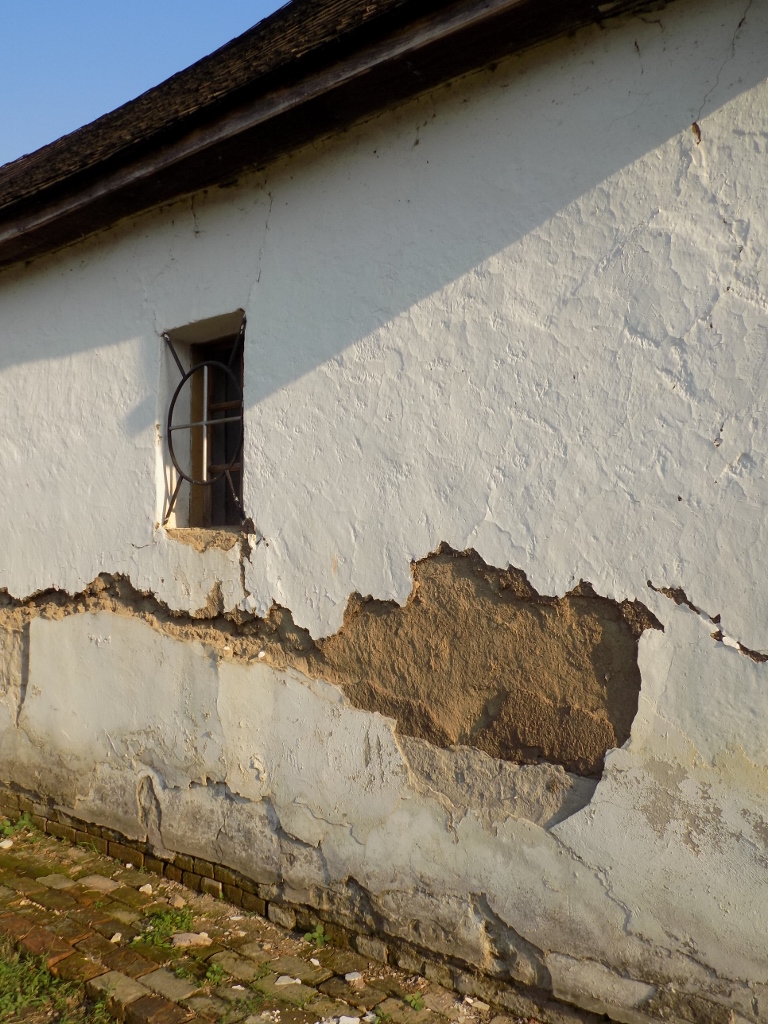 Outside wall of the church
Walking around this tiny church, I also noticed a cross originating back in 1799.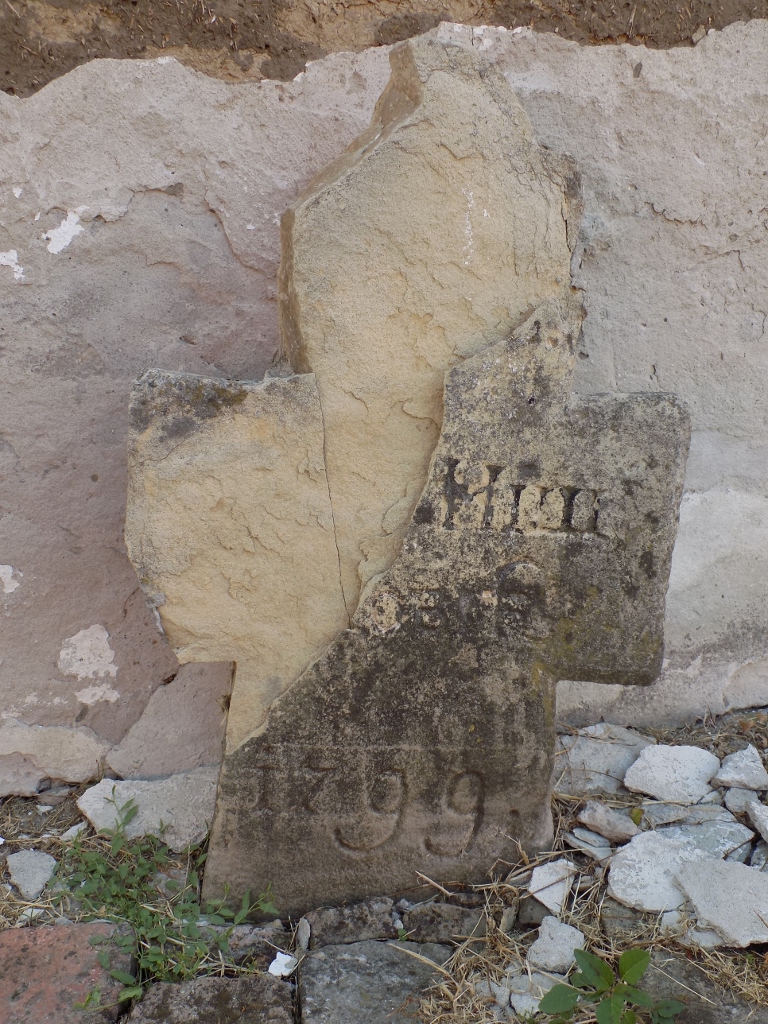 1799 cross leaning against the church's wall
After this came the time to go to nearby Zrenjanin. The main reason for going there for this visit was the portrait of Mihajlo Pupin done by his friend, famous Serbian painter, Uroš Predić, which has also been recently restored and is now displayed at the National Museum in Zrenjanin. By pure coincidence, it turned out that we went on this excursion on the first day of the "Beer Days" organised in Zrenjanin at the end of August. This means that there are concerts organised on two city squares, along with unavoidable stands with sweets, souvenirs, traditional grilled meat, as well as – beer.
To start with, we parked the car near the building of the Ordinary Court and from there we went for a walk that soon brought us to the National Museum.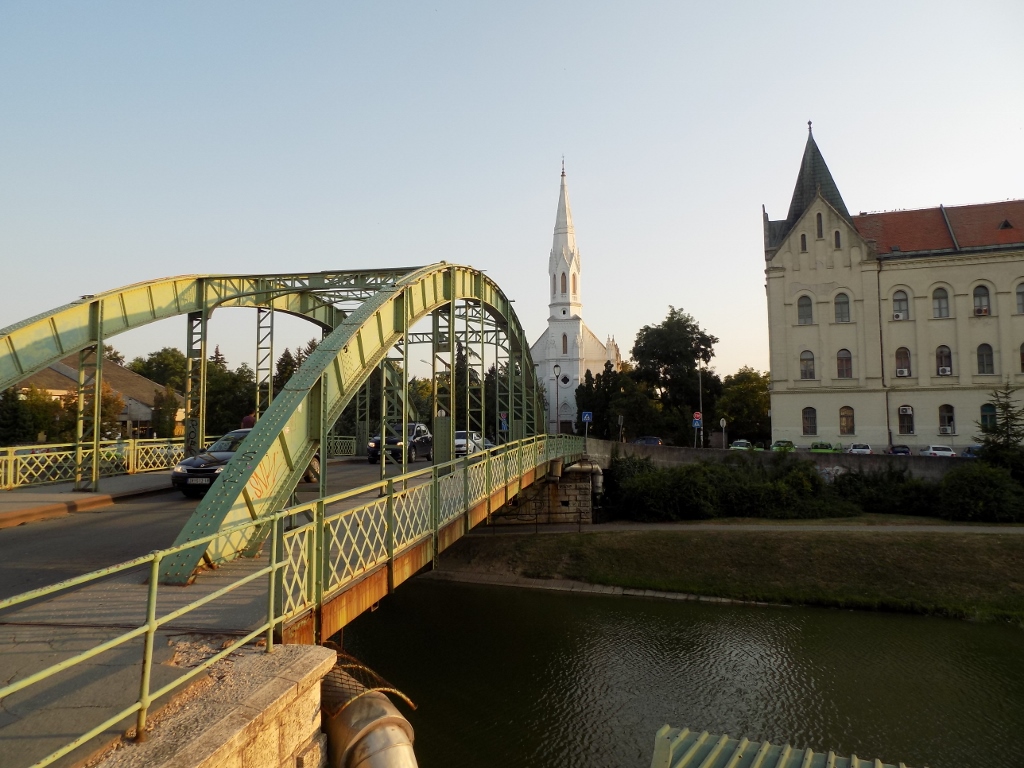 Zrenjanin: the court house is to the right, while in the middle there is the Reformed Christian Church
The National Museum in Zrenjanin is an exceptionally nice place. This is a comparatively small museum, but it houses a very nice and diverse programme – archaeology, natural history, ethnography, arts, military section... I enjoyed intensely, although we had to rush since we came only half an hour before it was to be closed.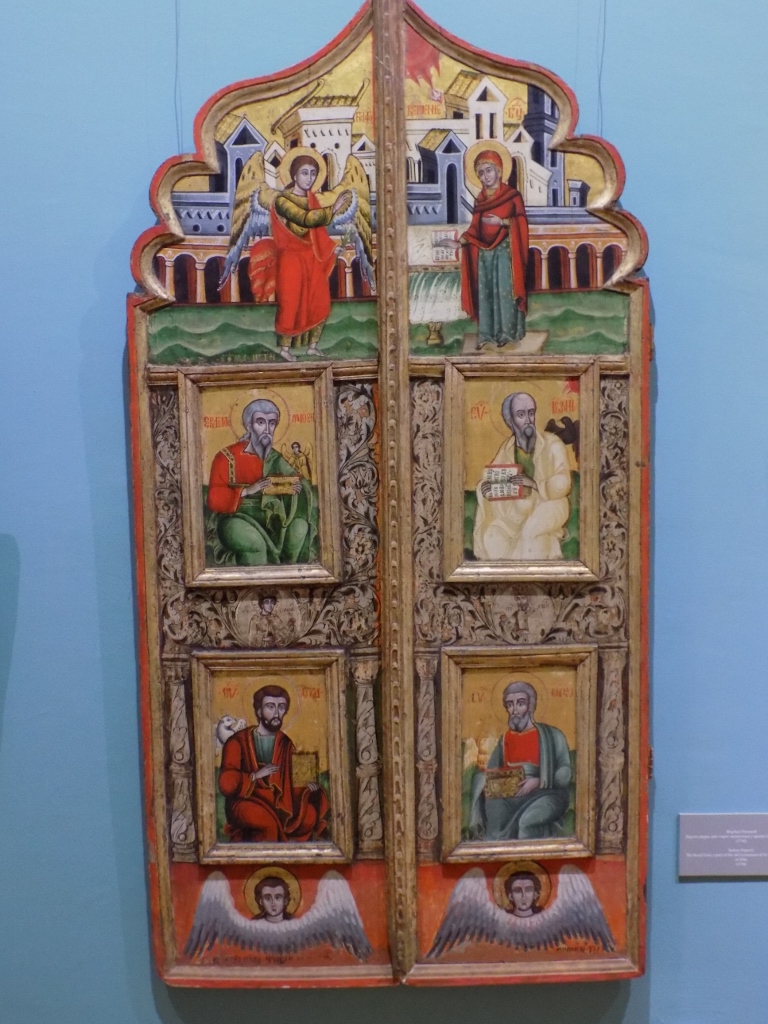 Royal doors from the "old" iconostasis of the Church of St Nicholas in Ečka, made by Šerban Popović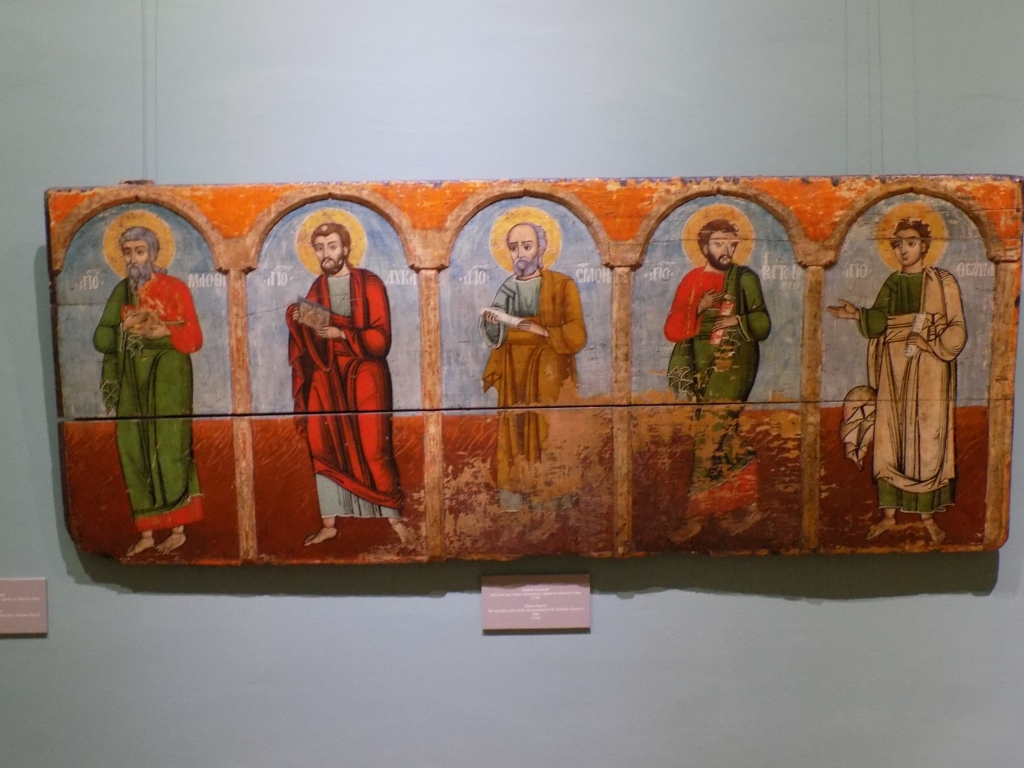 A part of the "old" iconostasis of the Church of St Nicholas in Ečka, made by Šerban Popović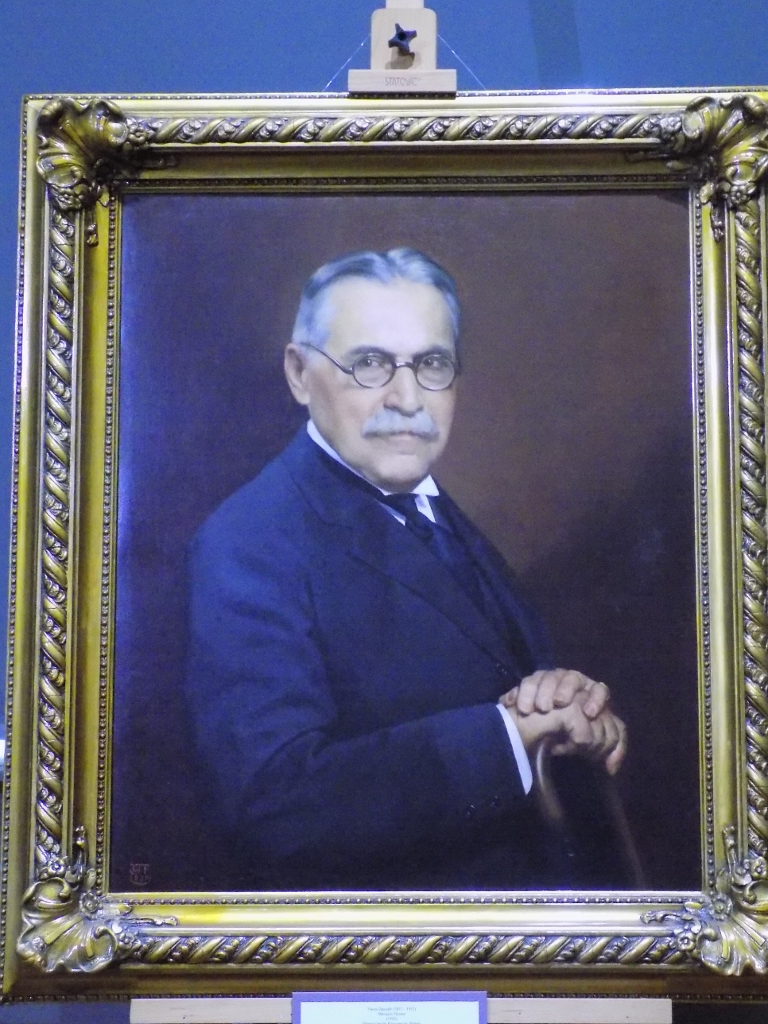 Portrait of Mihajlo Pupin by Uroš Predić
And then came the time for a leisurely walk around the centre of Zrenjanin since the day was coming to its end and everything that could be visited was already closed.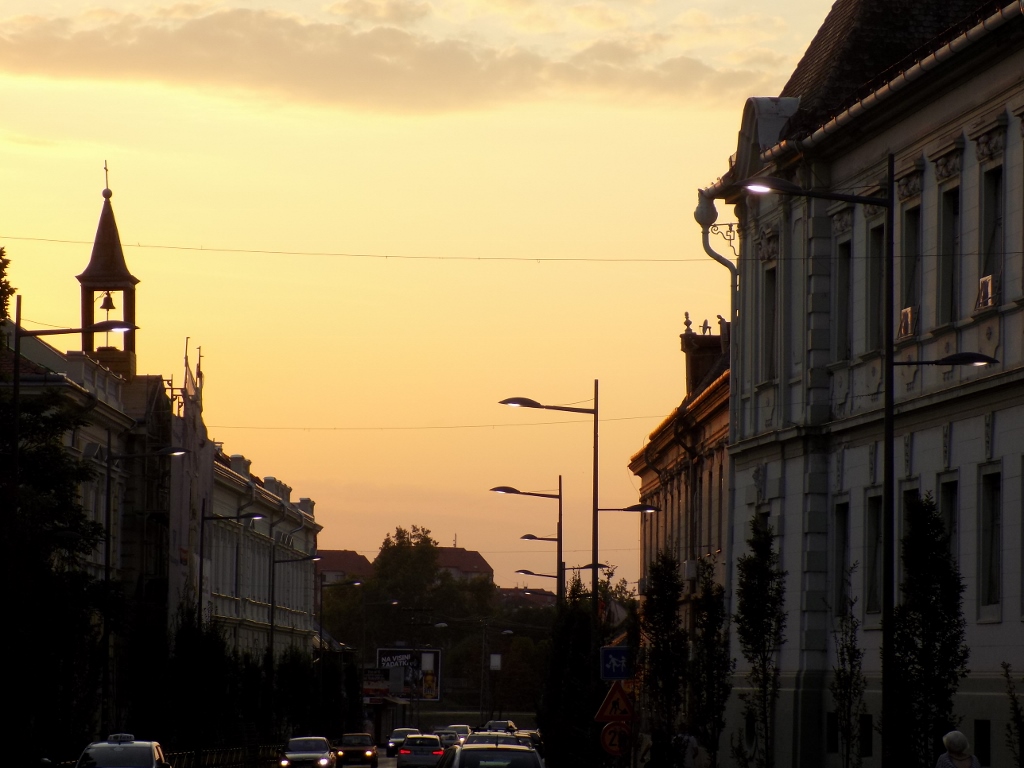 Dusk in Zrenjanin
Zrenjanin is certainly a town that has much more to offer than a portrait and perhaps we were unfair in leaving it until the end of this day's trip. I think that it could be a good idea to go, for instance, to the Carska Bara Special Nature Reserve in the morning and spend the entire afternoon in Zrenjanin visiting its numerous and diverse churches that reflect the national multitude that exists here, as well as other beautiful and important buildings.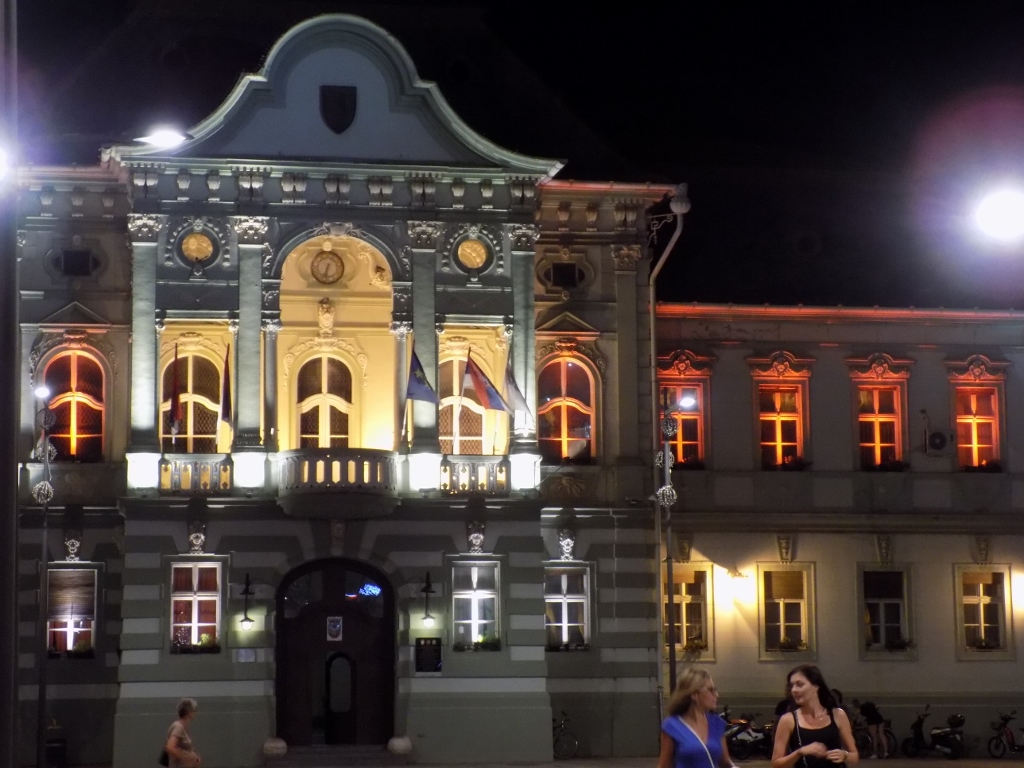 City Hall in the evening
So, we walked a little, bought some souvenirs, skipped buying food since we had already had very good lunch, but we did sit down eventually and had a big local draft beer. Admittedly, only Marijana and I; Sneža took something non-alcoholic, for she was the one driving and needed to take us back home safely.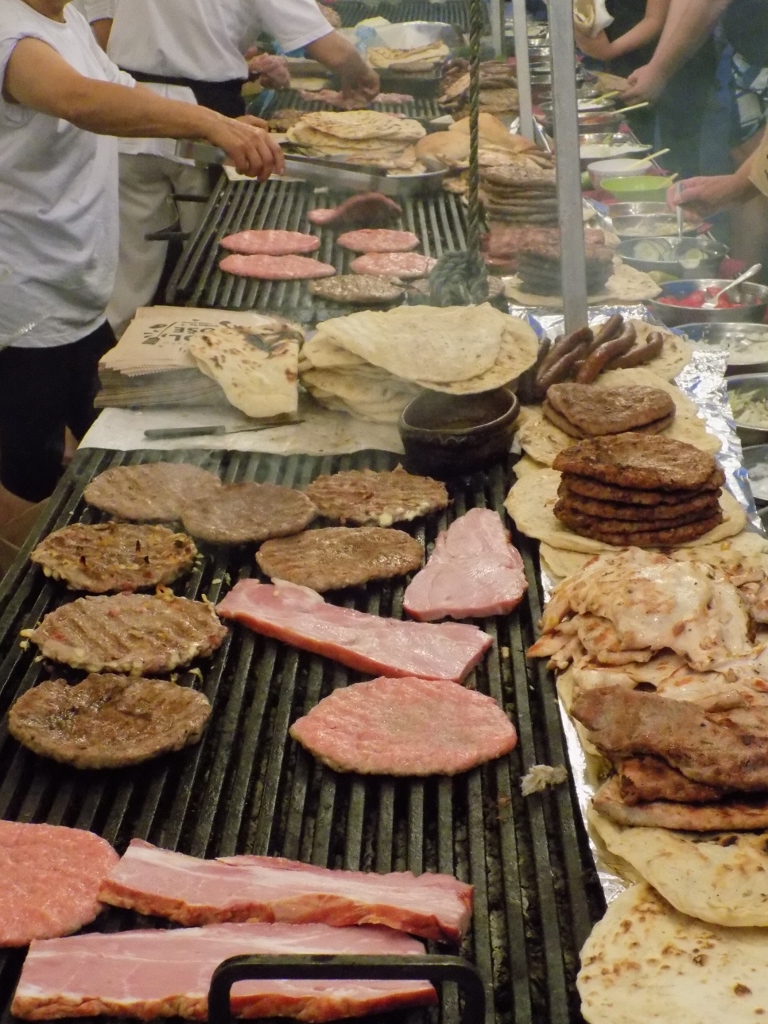 Typical stand with traditional grilled meat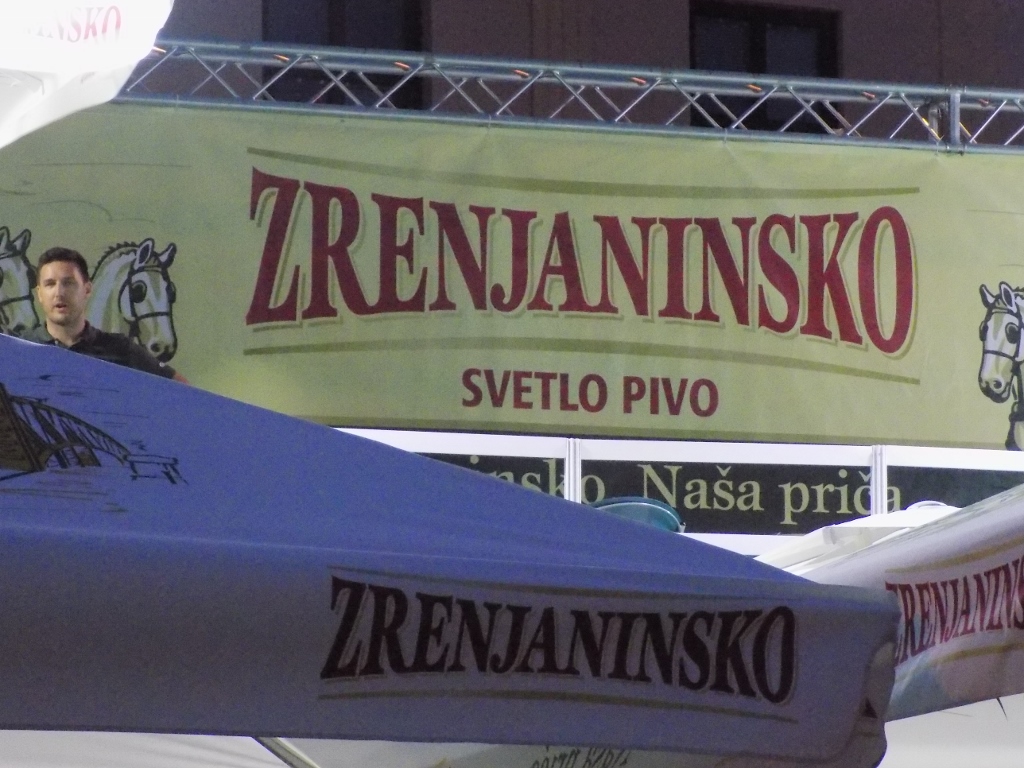 Stand with local beer (Light beer of Zrenjanin)