After we had finished with the sightseeing of the centre of the city, we took an underground to get to Leblon. The part of Rio that is most often referred to as Ipanema actually consists of Ipanema and Leblon. They are separated by a canal that connects the Atlantic Ocean and Rodrigo de Freitas Lagoon. We first walked a little around the commercial part of Leblon and then went to eat something. Afterwards we took a taxi in order to get to a very special place and that was a heliport next to the lagoon.
Namely, one constantly sees some helicopters flying around Rio. I presume that the vast majority, if not all of them, are intended for tourists. I had never flown in a helicopter before and thought that Rio was the perfect place for my first helicopter flight. Admittedly, the pleasure is quite expensive and the flight is measured in minutes, but I said to myself: "You only live once!"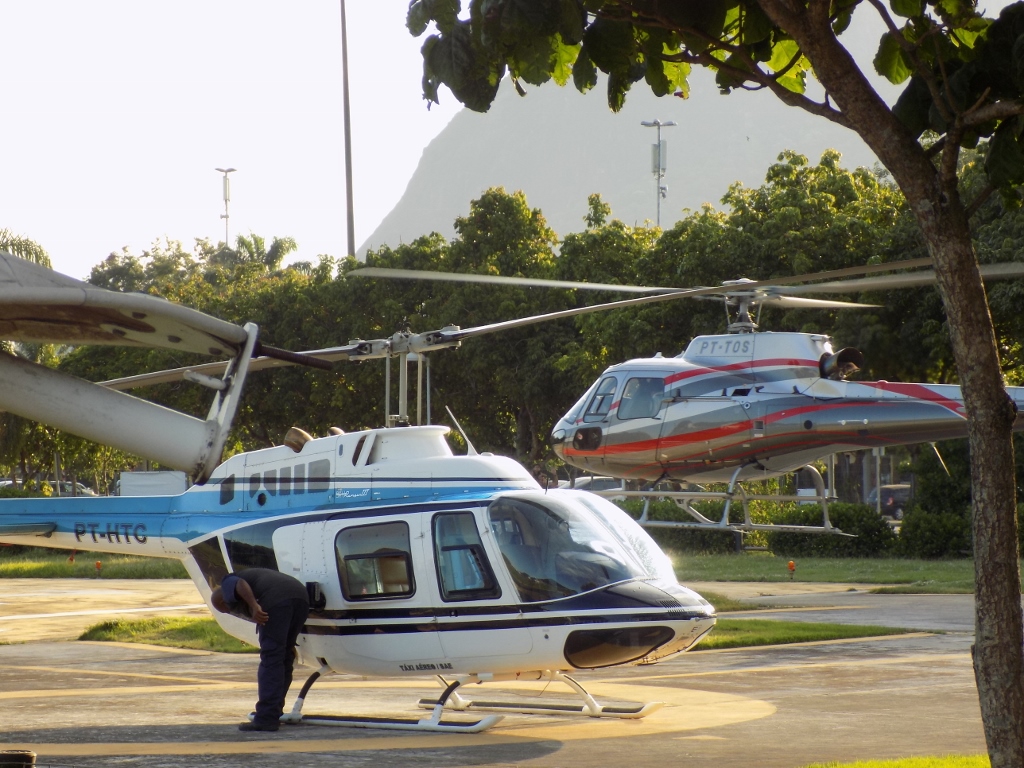 View at the heliport
I decided to go for one of the cheaper versions which takes you above Ipanema and Copacabana for 7 minutes. But, they said, the helicopter would not fly unless there were at least three passengers (one can fly even alone, but it still needs to be paid for three people as a minimum). There was a girl in the lobby that came there with her mum and she also wanted to fly, but her preferred version was to fly around Christ the Redeemer. That was for me unacceptably expensive (hey, you fly for the whole 8 minutes!), so I said I could not do that after all.
Sneza was in two minds, but eventually she also decided to give herself such a treat, plus she helped us by being the third passenger. Then the company that runs this business also decided to rise up to the occasion, giving the girl and us the treat, by saying they would take us around the statue of Christ for the same amount of money we would pay for the Ipanema/Copacabana flight. There, this made everybody content.
Although this was a very short-lived experience, it was still quite interesting and certainly very "exotic." On the other hand, I would lie if I said I was not glad that we made a circle around Corcovado.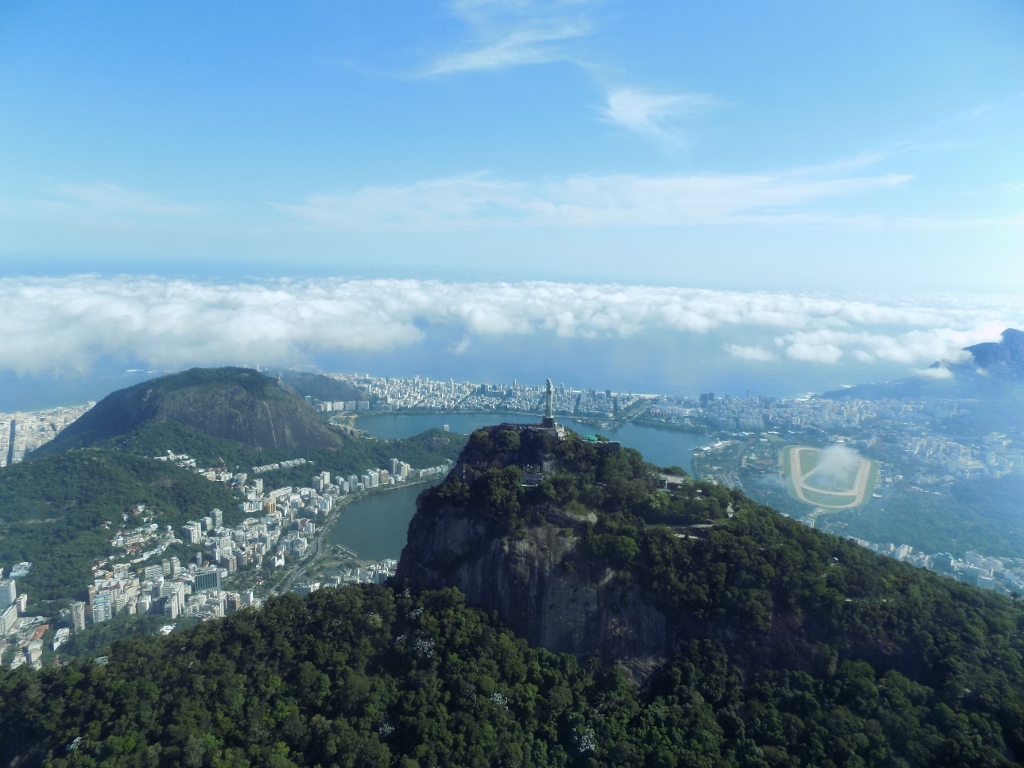 View at Corcovado in the direction of Ipanema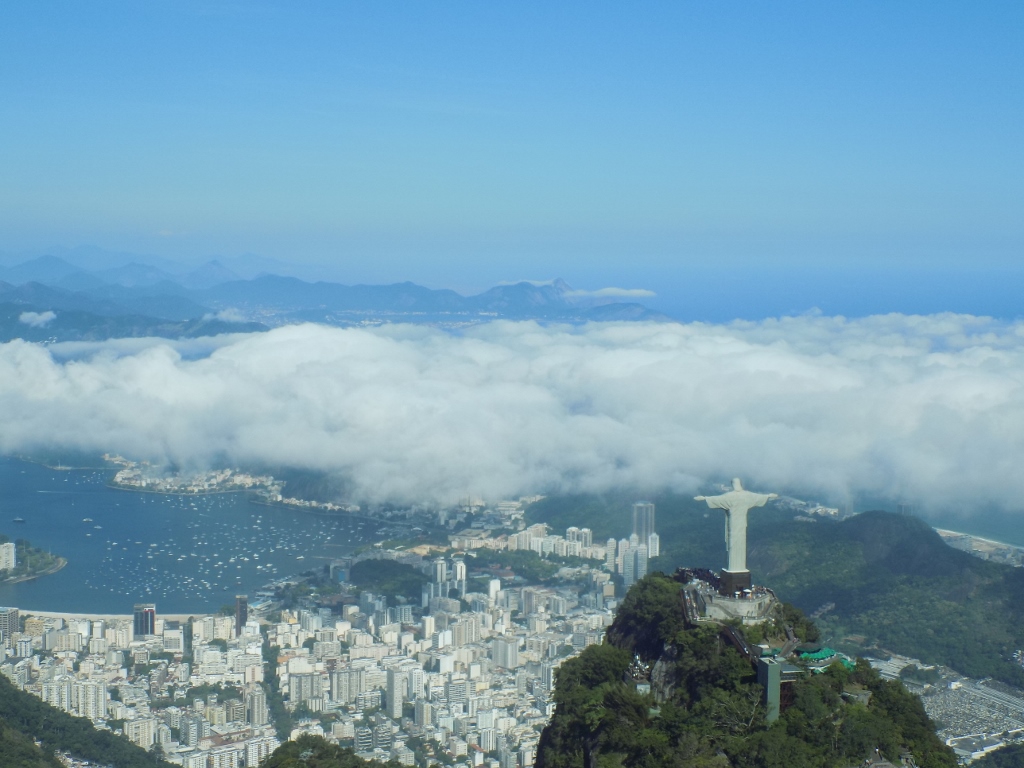 View at Corcovado in the direction of central Rio
At the very beginning I had a slight problem with my video camera, so I did not film the take-off, plus I'm not a professional cameraman, but, I still think you may get an idea about what it all looked like in the following video.
After this whimsical excursion, it was finally time to relax a bit and it seemed to us that the best way to do that was to walk along the beach. So, we went back to Ipanema and there we headed towards Copacabana.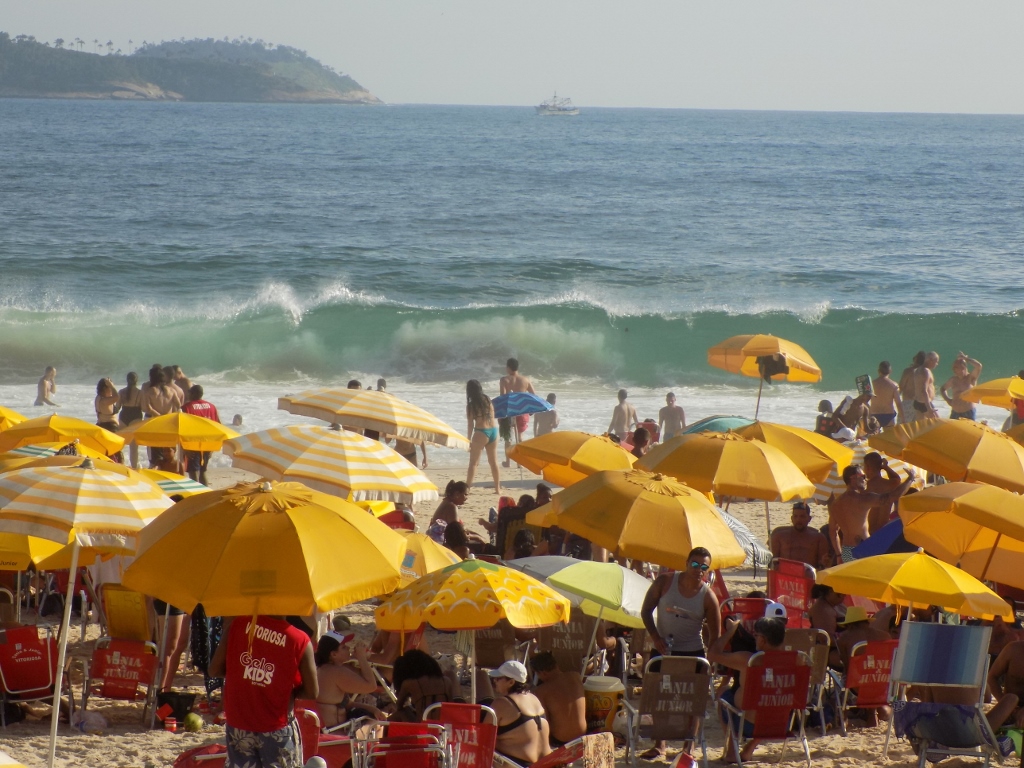 Ipanema Beach
Walking by this famous beach, I could not help but remember the song that made the beach immortal, which is, of course, "The Girl from Ipanema," and thus it occurred to me what I could write about for my friends later when I got back to the hotel.
The Middle-Aged Woman from Ipanema
Once upon a time, at a completely different age and in a completely different country, I went with a friend of mine Vesna to have a drink at some fancy new hotel that had just been opened in Dubrovnik, present-day Croatia. It was summer, a wonderful evening and the music was live – a big band or in other words fantastic jazz. Later we found out that a renowned jazz musician Stjepko Gut, who was also a professor at some jazz academy in Graz, Austria, brought his students to practice here while also spending a part of their summer vacation in a lovely place. At some point, while Vesna and I enjoyed our juices (these were quite different times and we were quite good girls), we were approached by an envoy of the leader of the big band and said that Stjepko Gut asked what I would like them to play for me. An important element to this story, at least I think so, is the fact that I was in my early 20's at the time and I had a mini skirt on. I got a bit puzzled for a moment on account of the honour bestowed upon me, so my mind first went completely blank, but then I remembered and asked for "The Girl from Ipanema." And thus I enjoyed that evening in the music which a big band consisting of great musicians played for me, while in the distance Dubrovnik reflected in the rippling waters of Adriatic Sea.
Now, move the clock some 30 years forward and then you get a middle-aged woman who came to Rio with her friend Sneza. After a couple of days of sightseeing, we finally got to Ipanema. I remembered the song and then I started to go through a check list of sorts:
tall – that's fine,
tanned – I still have some leftovers from the last summer, plus I got some tan these days under the line of my t-shirt's sleeves, so this element was only partially present,
young – this is definitely off,
lovely – I would love to believe I still have this in me, although I'm sure nobody would use this word to describe me.
As for any sighing when I pass by, there's none of that at all, so this is basically where the analysis of the song that covers a span of three decades ends.
Once upon a time, when the big band played "just for me" I may have imagined myself swaying gently on some far away and exotic beach while everybody was sighing after me. Today, there is not even a hint of that, but I have no regrets. In those pictures in my mind from my youth, there were certainly no crowds, noise and commotion that are realistically present here. In order to get to the water, one has to make a way through a jungle of parasols, beach chairs, boxes with drinks on sale, an incredibly huge number of people... In other words, nothing is like I used to image, so why would I be?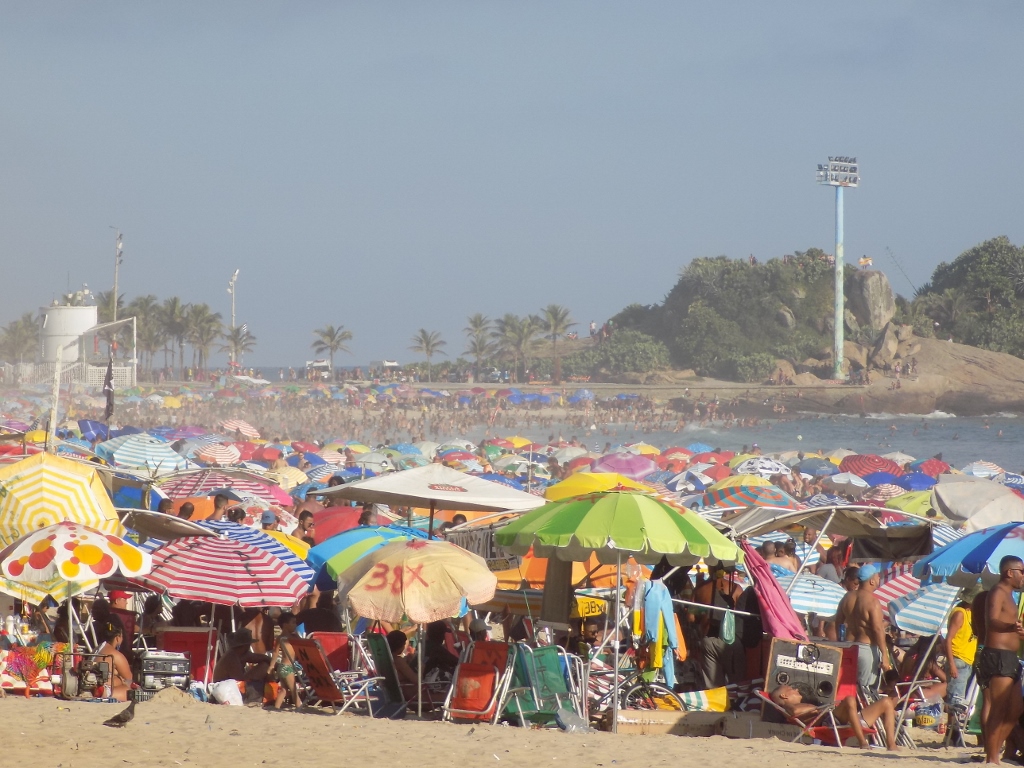 Do you imagine the beach like this while "the girl from Ipanema" swings so cool?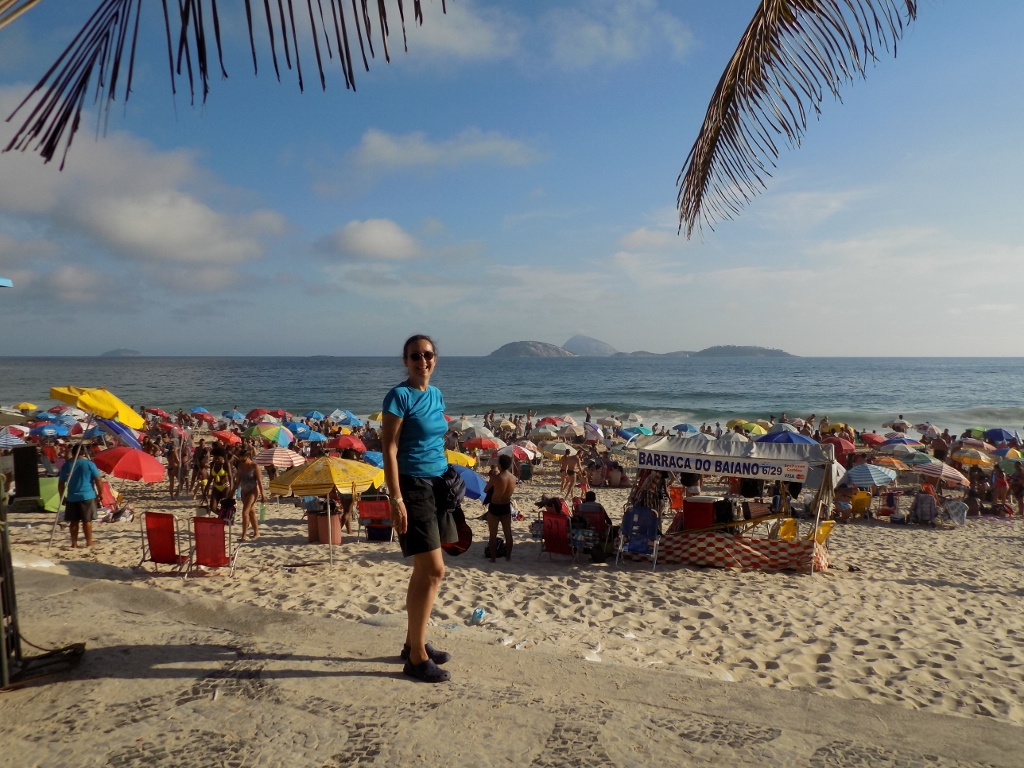 A middle-aged woman by Ipanema
Rio de Janeiro has between 7 and 12.5 million inhabitants depending on which area is taken into consideration. I think that it is normal that when you have a big beach close to your place of residence you head for the beach on a weekend. Although Rio has over 10 beaches, some are still more popular than the others. Ipanema is certainly one of the favourites, so in whichever direction you look, there are crowds.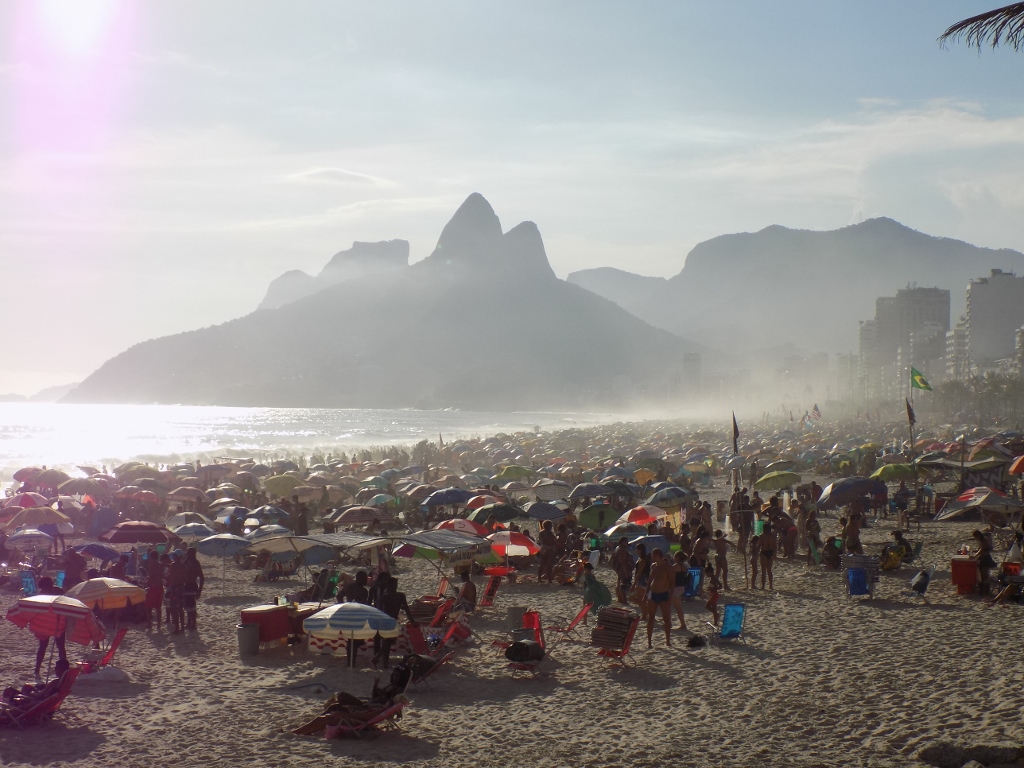 Ipanema and farther down there is Leblon beach

Ipanema and Leblon beaches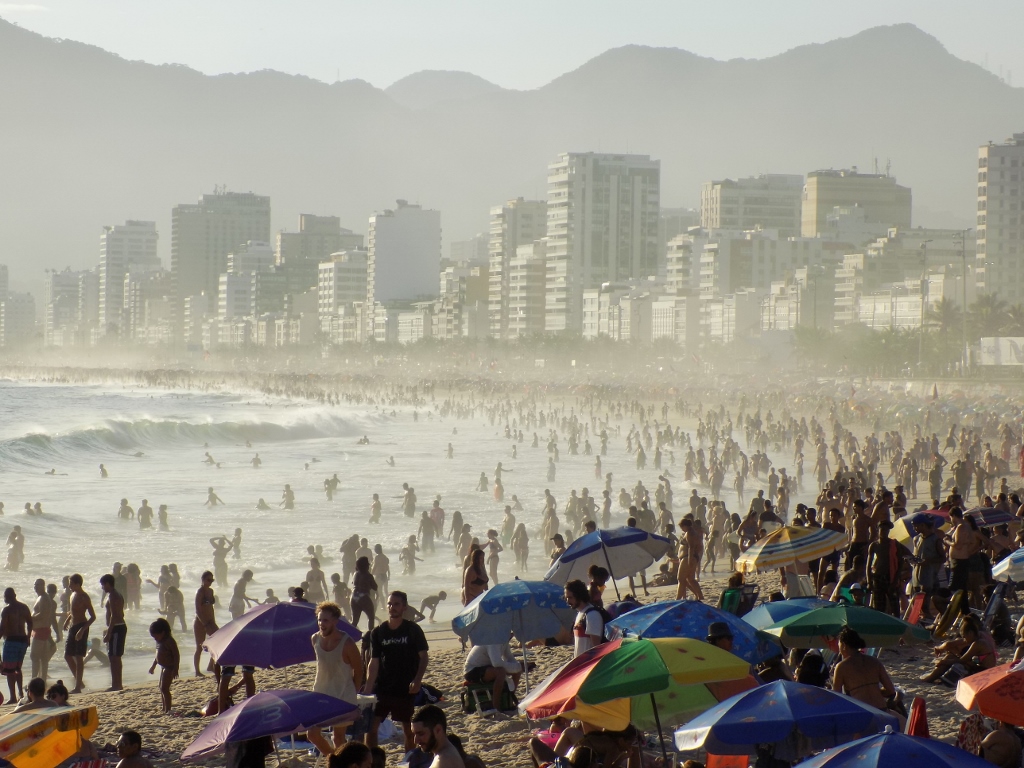 Ipanema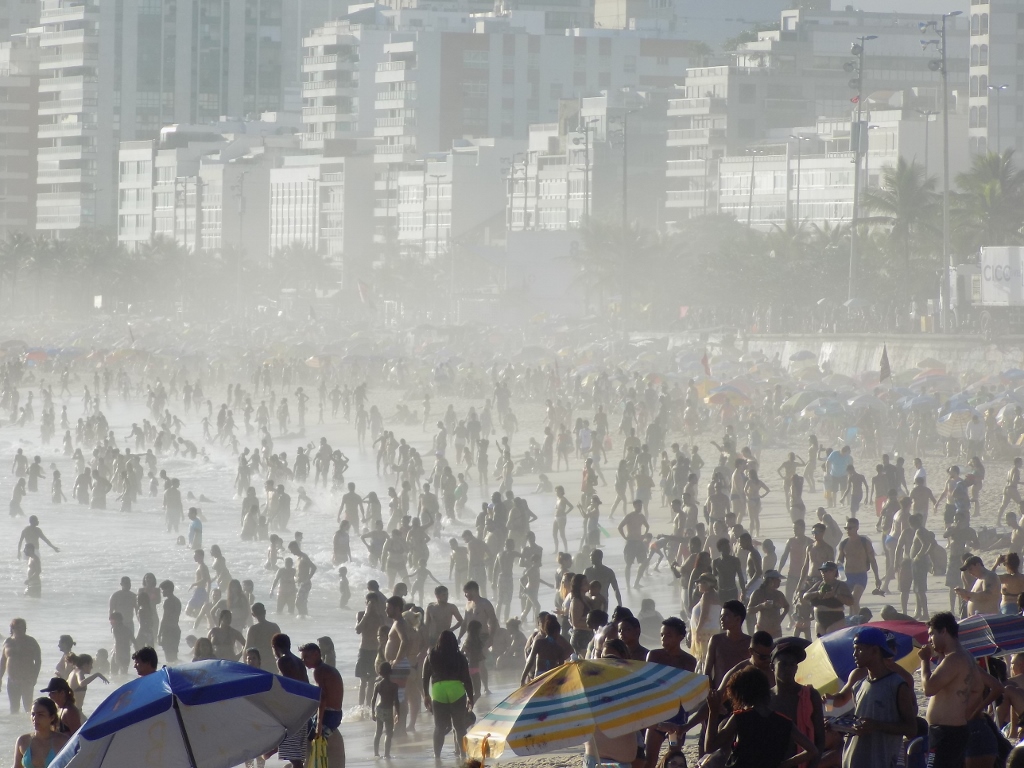 The same thing as in the previous photo, but a little more close up
When we finished with our walk along Ipanema, we moved to the not-too-far Copacabana and there we sat in a café by the beach where we stayed for quite a while. Copacabana was less crowded, plus I found the view prettier since I could see Sugarloaf.

Copacabana at dusk
With time, the daylight inevitably waned and although the photo below has mistakes, it still renders a fine idea of Copacabana as the night came.

Copacabana at the beginning of night
The following day we were to start with our travel around Brazil, as I had envisaged it, but before the final departure from Rio I woke up early in the morning and went to Copacabana only some 30 m or so away from our hotel. There I walked along the beach for around one hour. It was very nice, the city was still waking up, but there were also some people who walked or jogged along the beach...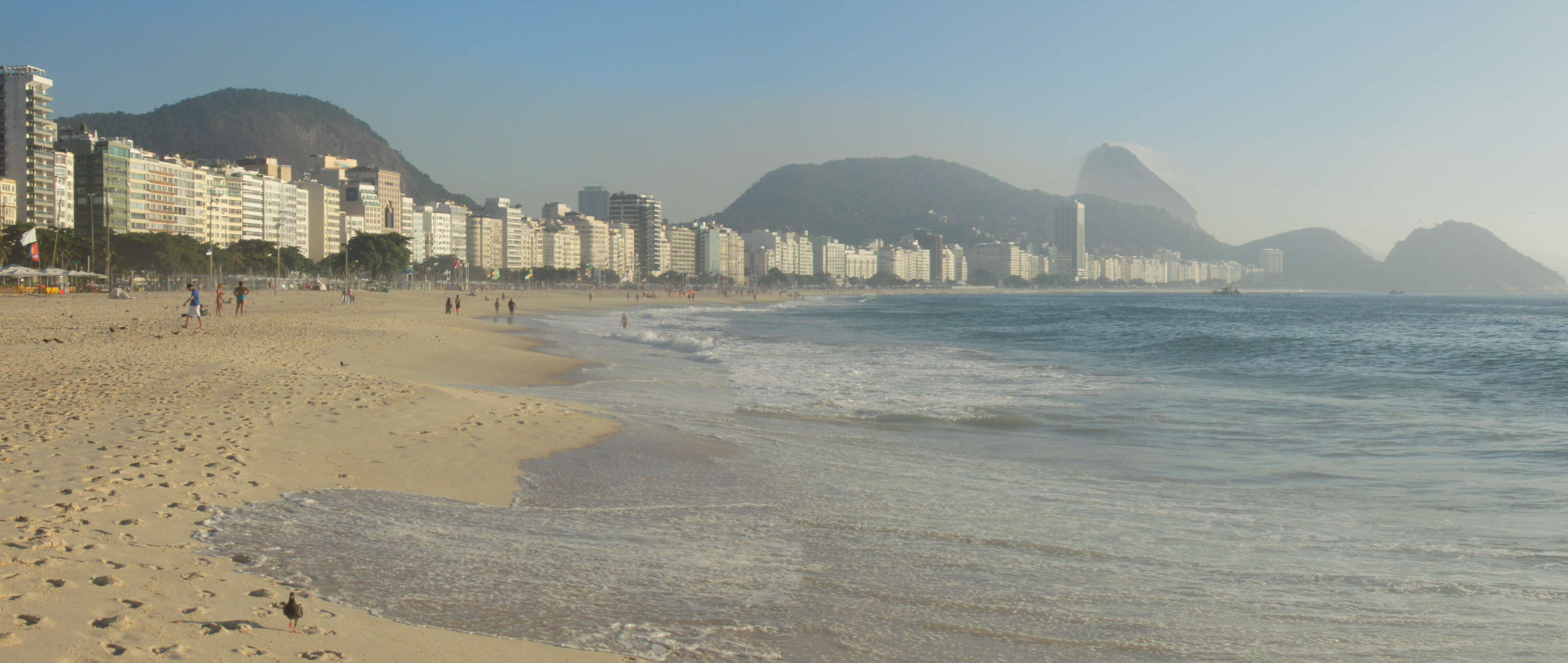 Copacabana in the morning
The first destination after Rio was Paraty, some four hours by coach more to the south from Rio – a cutest colonial town on the coast. It was founded at the end of the 16th century and it used to flourish first on account of gold and then on account of coffee. Now it lives on tourism.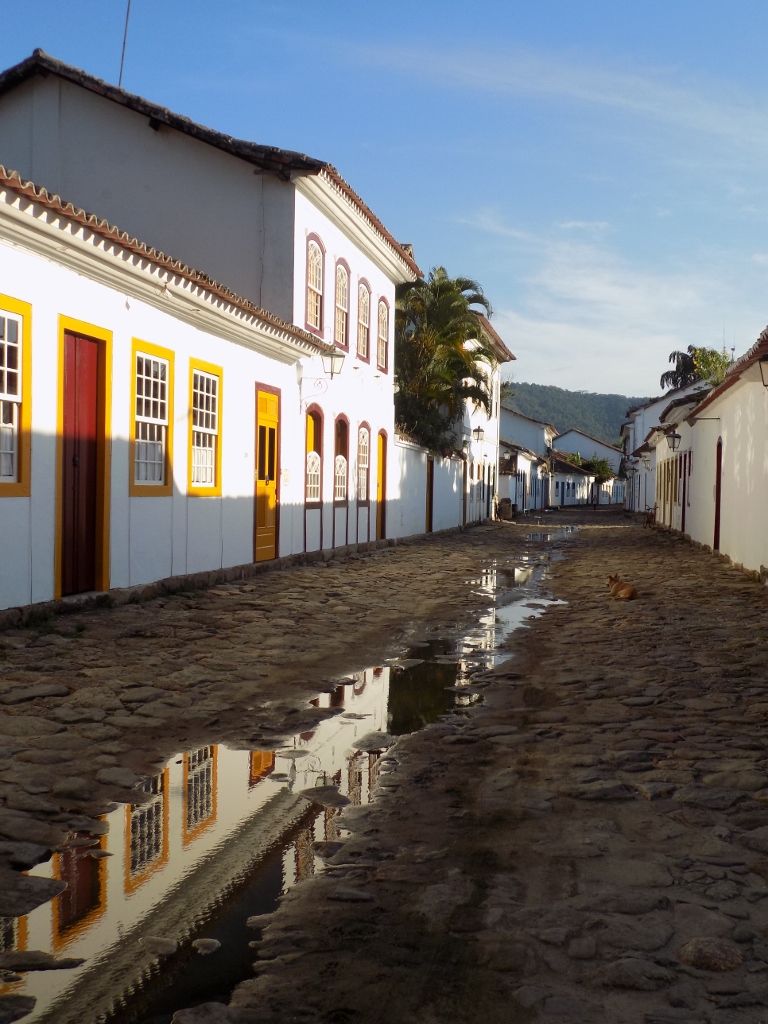 A street in Paraty
There are apparently two beaches in the centre of the town, but they are so unattractive on account of the sludge in the shallows, that I could really not recommend them. However, there are numerous boat excursions around the place, since there is a large number of bays, coves and islands, along with beaches. I presume these are better than the two in Paraty. We came here only for a very short period of time and we were not tanned enough to spend a whole day out on a boat or a beach, so we did not even consider going on an excursion. But, that was more than fine, since the town is so picturesque that it was enough. On the other hand, we also faced a couple of problems here, so any excursion was out of question.
After our arrival, we went for a walk, which was easy since our B&B had a truly great location. Still, we found the heat and humidity rather oppressive, plus we got hungry in the meantime, so we sat at a restaurant and had an early dinner there. Meanwhile, Sneza's severe cold did not calm down (problem no. 1) and she had to start taking antibiotics, so she went back to the room to rest, while I continued walking around the place.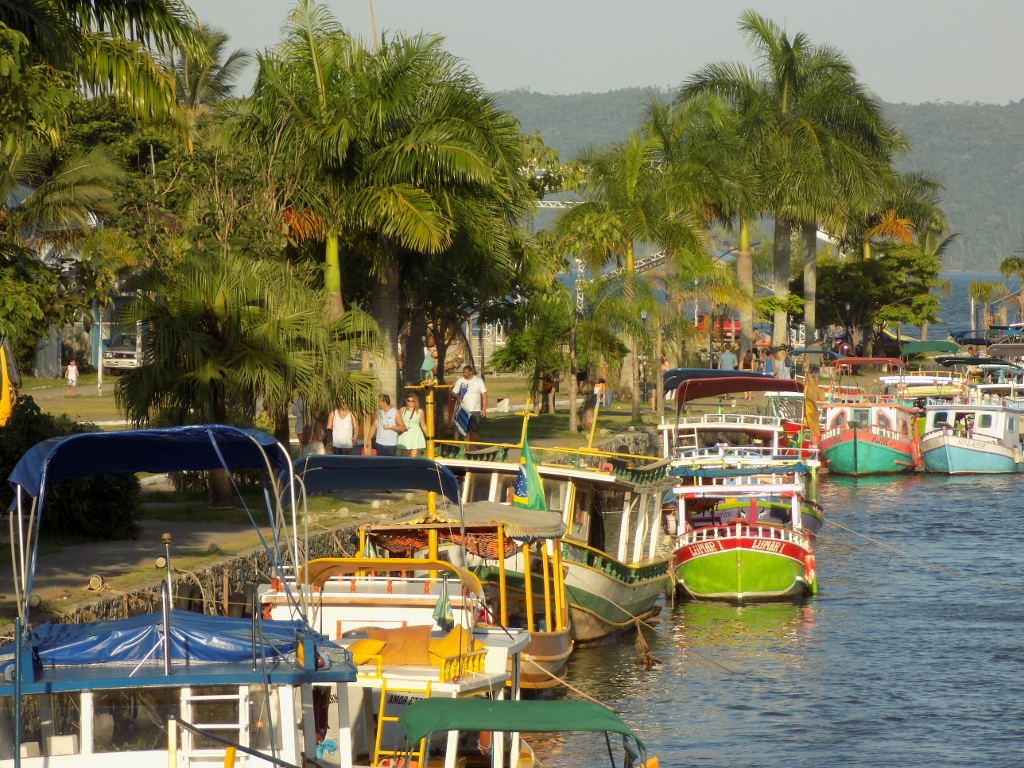 Boats used for numerous tourist excursions in Paraty
I crossed a bridge that leads from the centre of the town and went to the main beach in the place. Although the water did not appear attractive owing to its colour, there were some people who swam there at the time. I did not even approach the water at this point, but rather I only saw that there were a few restaurants in the shade of trees near the beach, which led me to a conclusion that this would be a good place to visit the following day.
Then I went to a nearby fortification that is located on a hillock and overlooks the bay, but in order to do that I had to go uphill, first along some streets and then following a path through a forest, finding this, together with the high air humidity and temperature, quite difficult and I was covered in sweat. Still, I reached the place I wanted, but there was not much to see as far as the fortification was concerned. On the other hand, the view at the bay and fantastic clouds was truly impressive.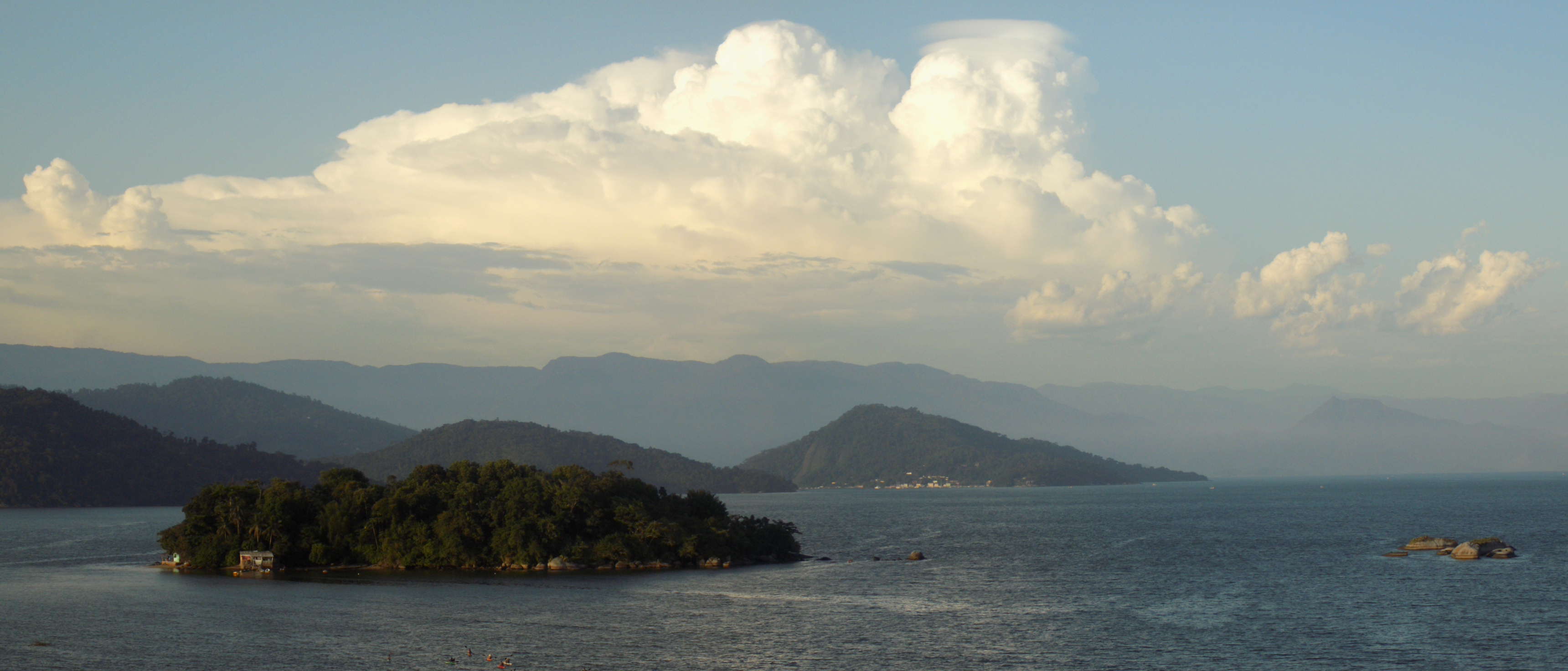 Wonderful view at a bay of the Atlantic Ocean near the town of Paraty
There, from where it is possible to look at the bay, in other words on an elevation that is at least a couple of tens of metres in terms of altitude above the ocean, there was a very interesting sign which warned people of a high degree of accidents with oysters. What!?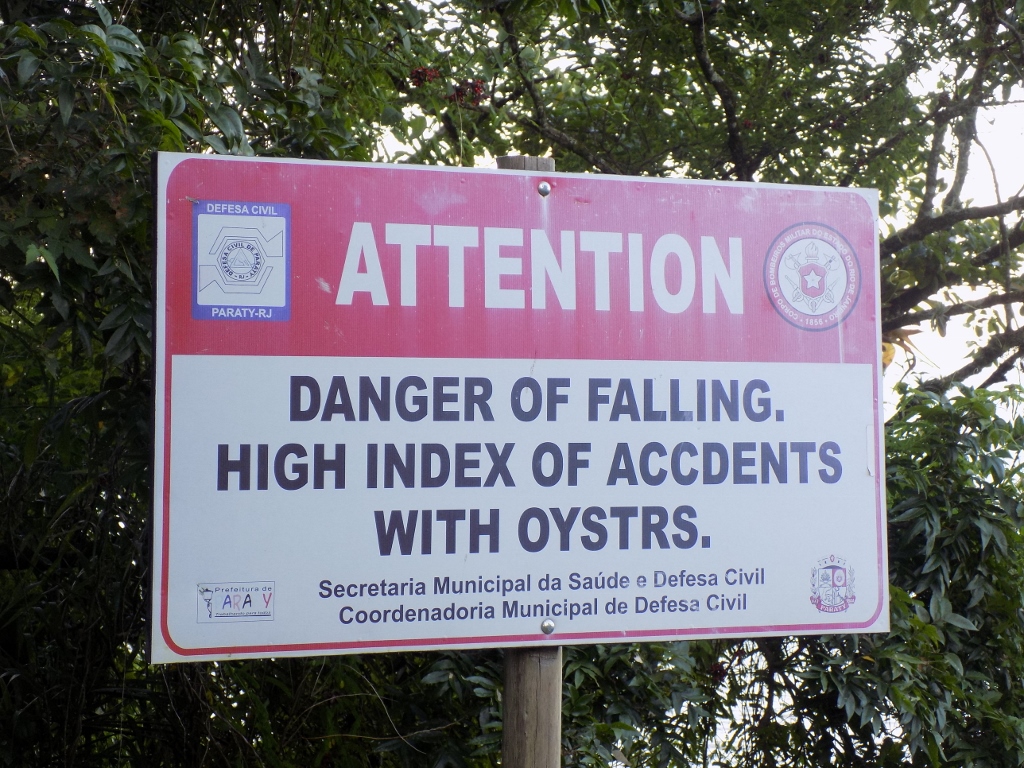 Not spelt properly, but the message is clear
The next day I found out what it was really all about. The path that leads from the sign to the shore is rather steep and if one falls into the water there are numerous oysters there that are quite sharp and therefore one can really get additionally harmed if they hadn't already been hurt from the slipping and the falling.
The following morning I woke up quite early and since I had already planned to spend the afternoon in the room in order to avoid the maximum heat, which also meant that I may take a nap, I got up gladly and went out. As I've mentioned, the B&B was in a great spot which meant that as soon as I went out of the property's gate I faced the ocean and the Sun that was about to spread its rays across the town.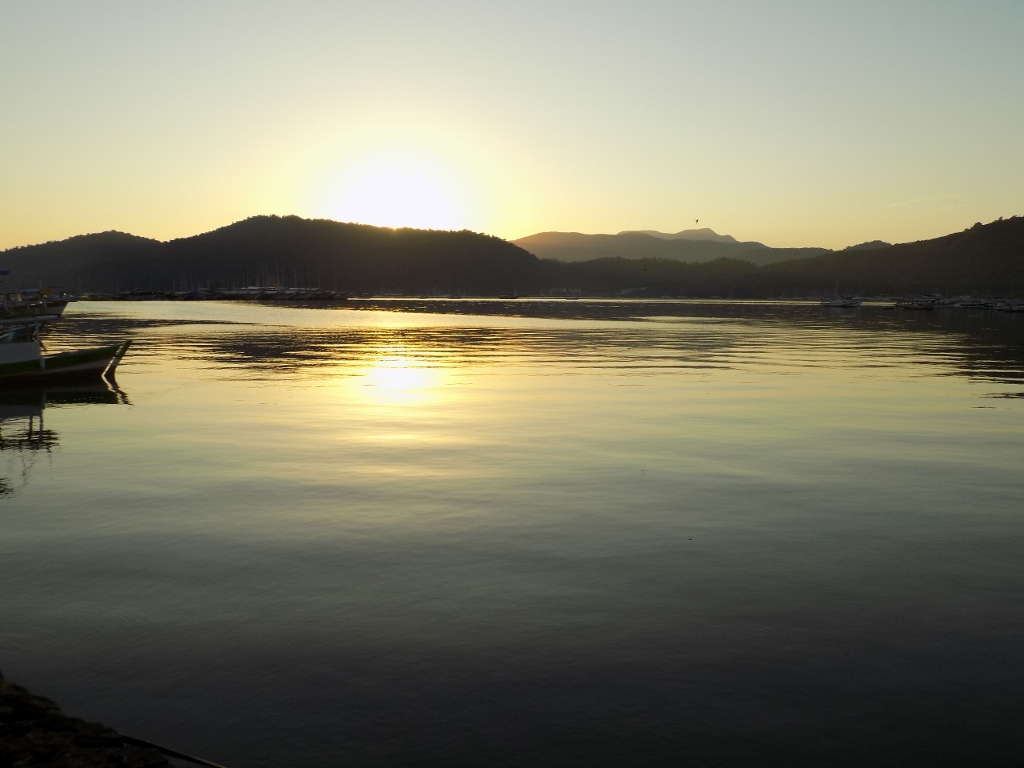 Early morning in Paraty
In the direct proximity of our B&B I passed near the Church of St Rita. I found it quite awesome and incredible that an American black vulture (Coragyps atratus) was calmly standing in front of it, although a little later I also saw a few of them peacefully walking along a shore.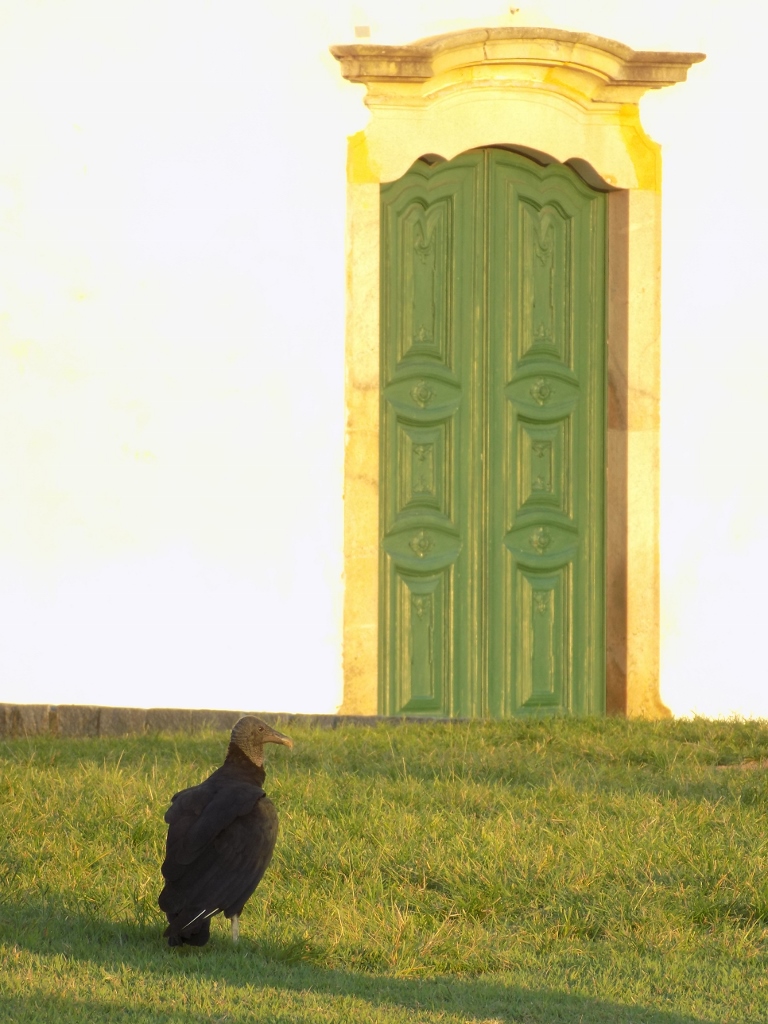 American black vulture in front of a door to the Church of St Rita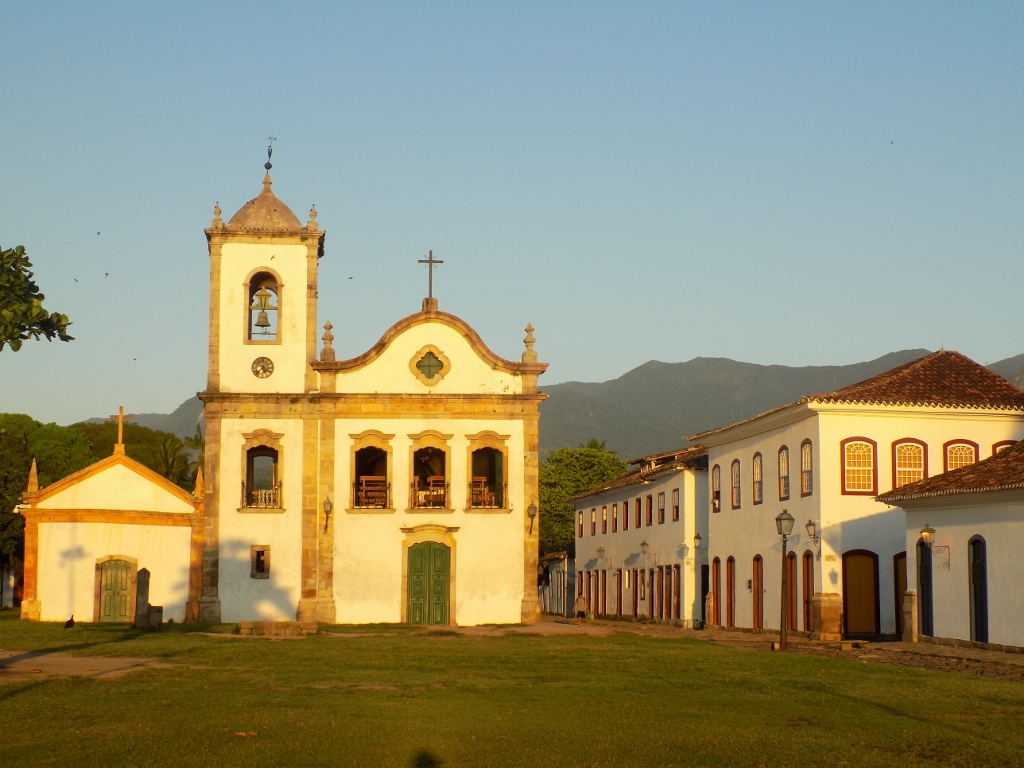 Church of St Rita, on the left-hand side you may see the American black vulture still peacefully walking in front of the church's door
I walked around the centre for about an hour, stopping often in order to take photos. Paraty is an exceptionally picturesque place and in the morning, when there was no excessive heat and only few people in the streets, it was a real pleasure enjoying the beauty of this small coastal town.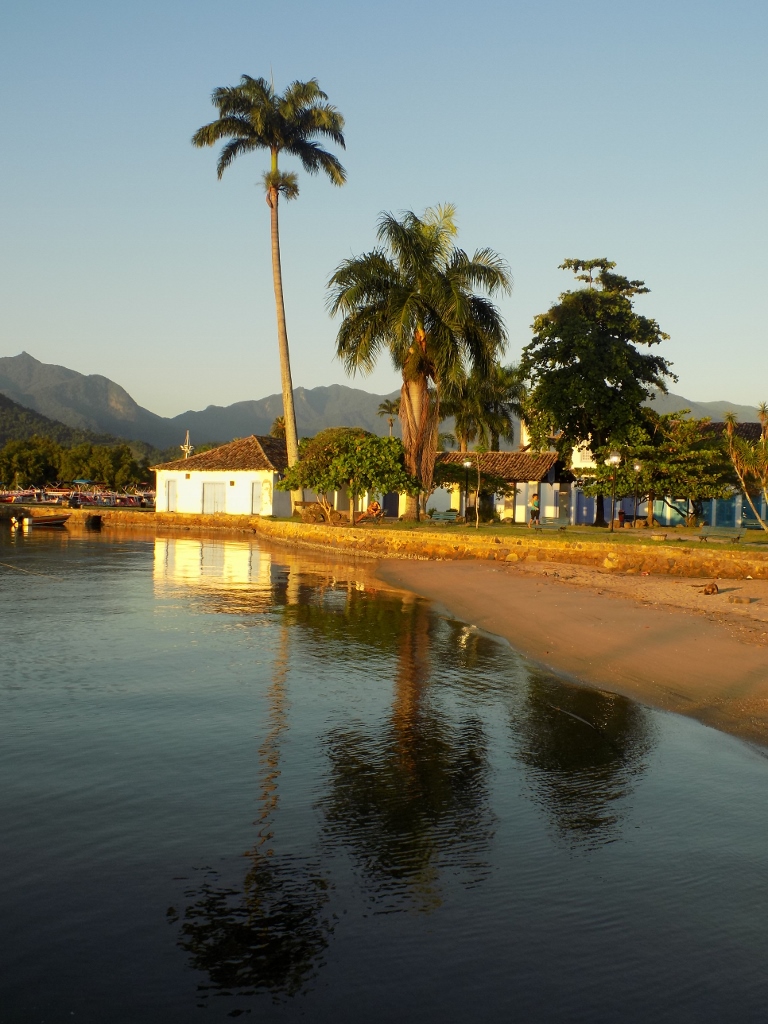 Paraty shore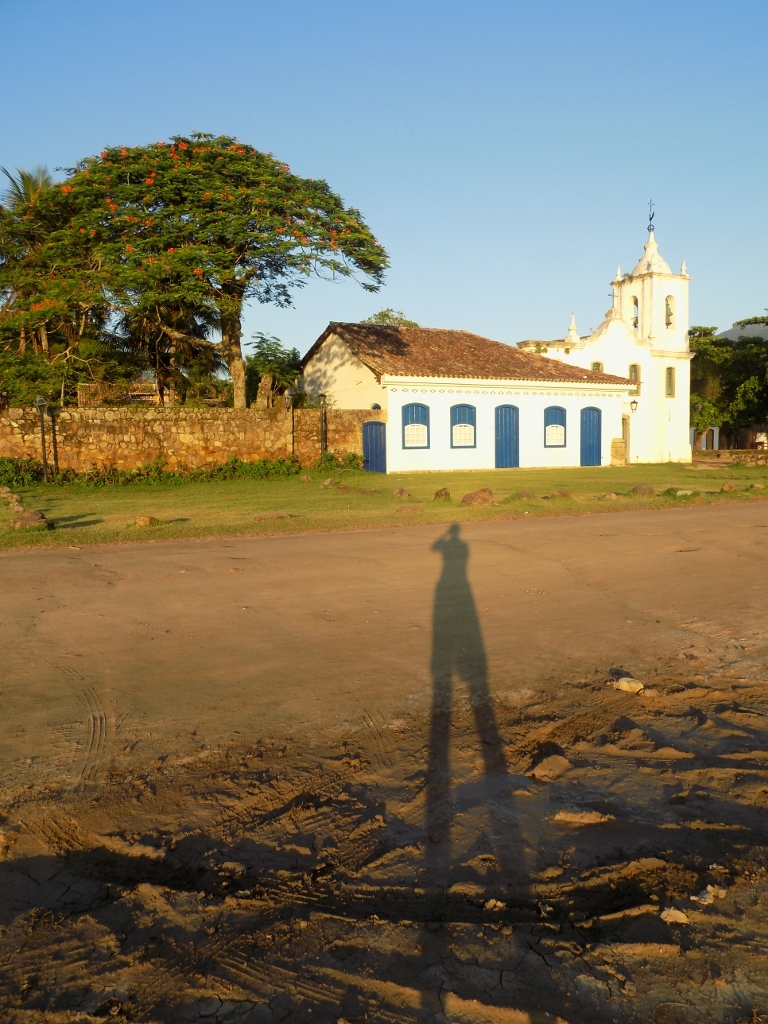 A "self-portrait" with the Church of Our Lady of Sorrows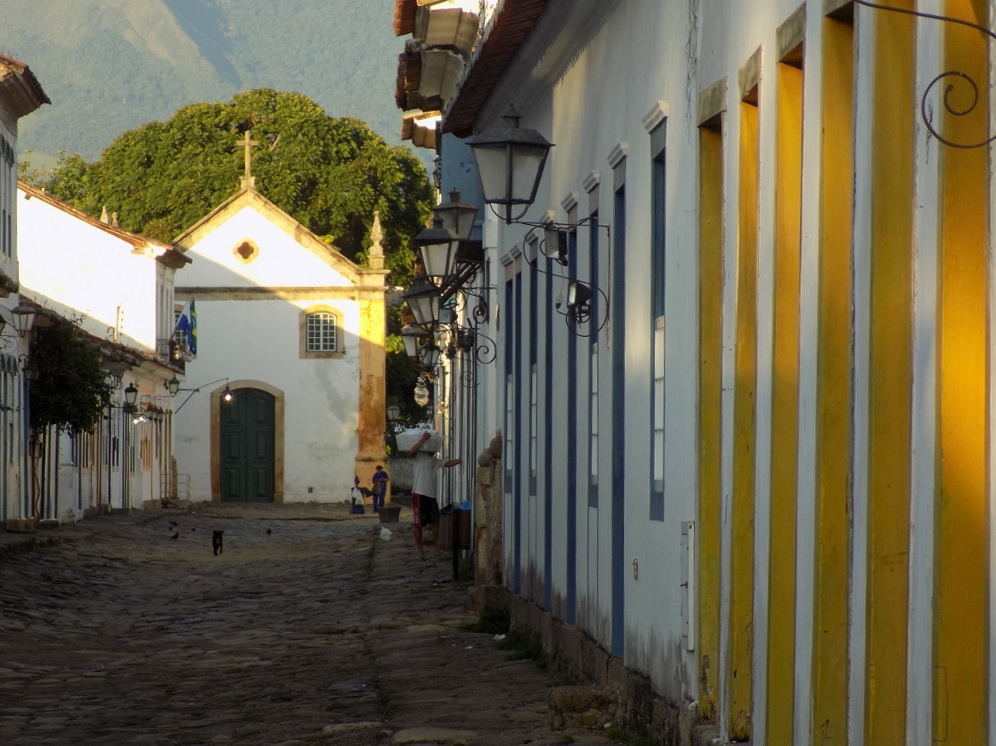 A street in Paraty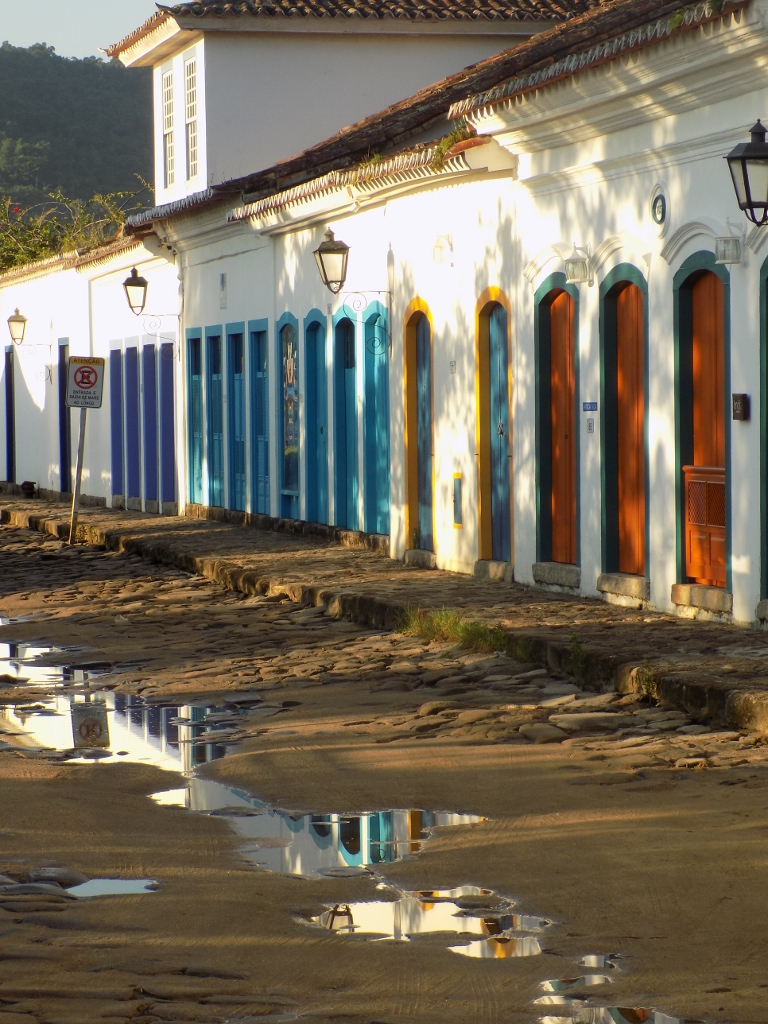 A street in Paraty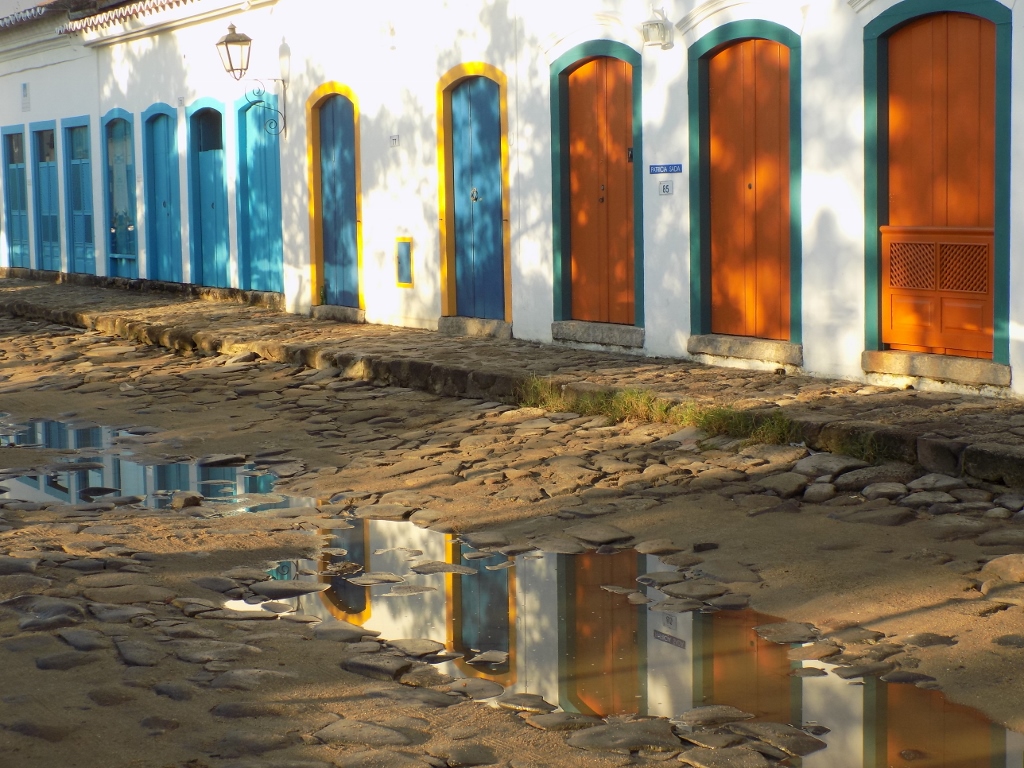 Since I liked the scene, here is a variation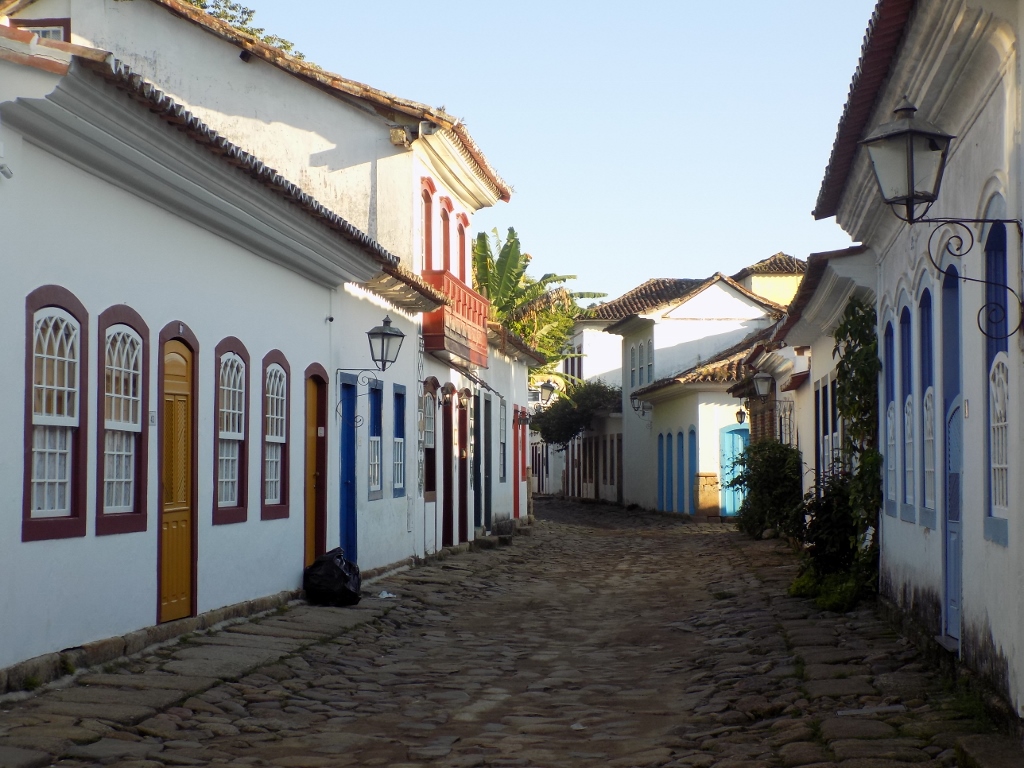 A street in Paraty early in the morning
After having breakfast together, Sneza stayed in the room to keep recuperating, while I went over to the beach. Still, there was no bathing, although the water was quite warm. Namely, as the tide was low, lower than the section covered by sand, I could see the muddy bottom which the ripples unattractively roiled further. Although this seemed quite off-putting, I even ventured into the water up to the middle of my calves, but I felt a very weird base under my feet. When I lifted my leg, I could see that it was all covered in sludge. Quickly I went back to the water line in order to try to wash my feet out and then the next few hours I spent mostly in the shade of one of the bars-restaurants on the beach. When I was not sitting in the shade, I stood out in the sun, revolving a bit and hoping to get some tan as a preparation for the remainder of our stay in Brazil and the unavoidable exposure to the Sun.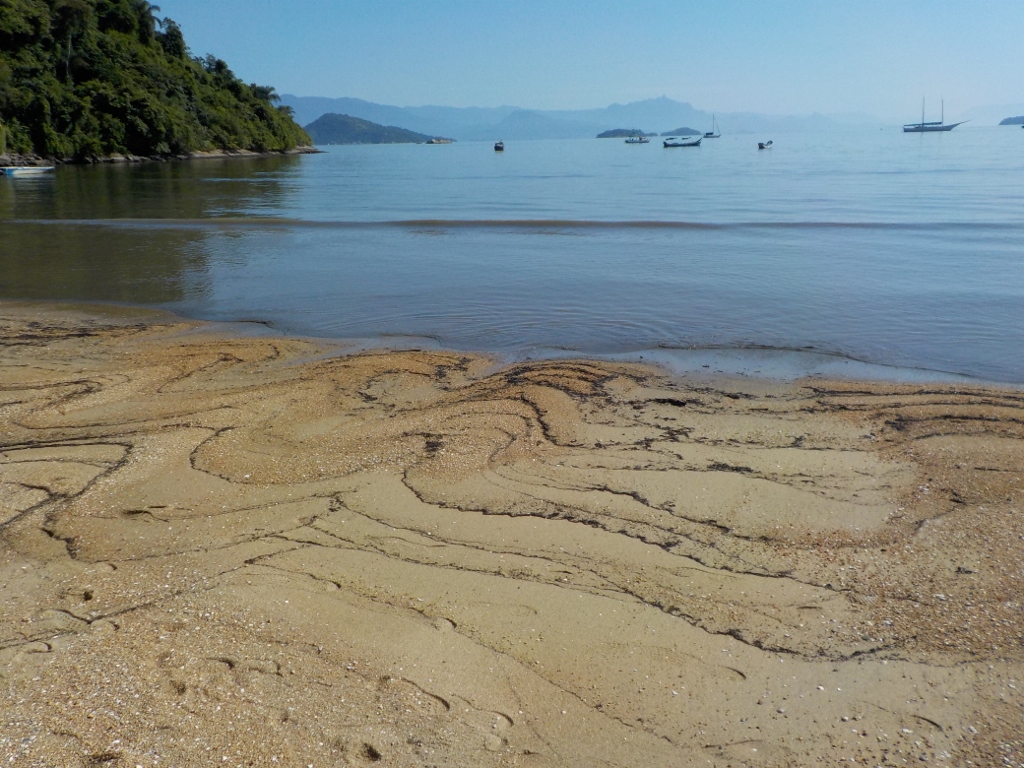 At first glance the beach does not seem too bad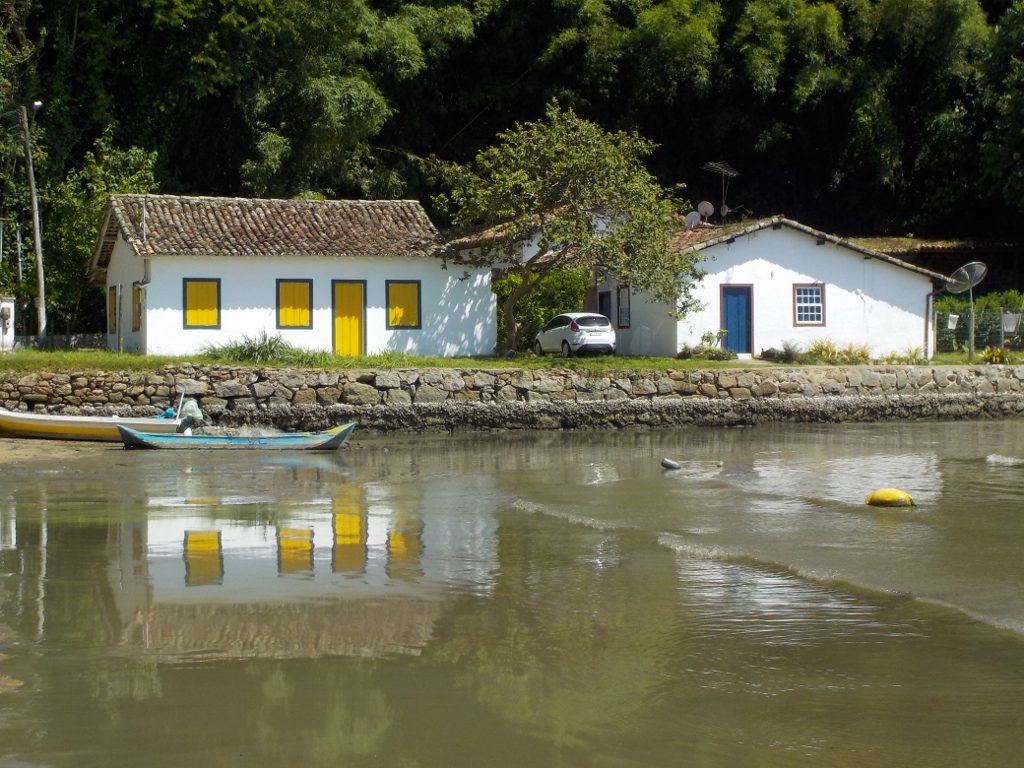 There are even picturesque parts by the beach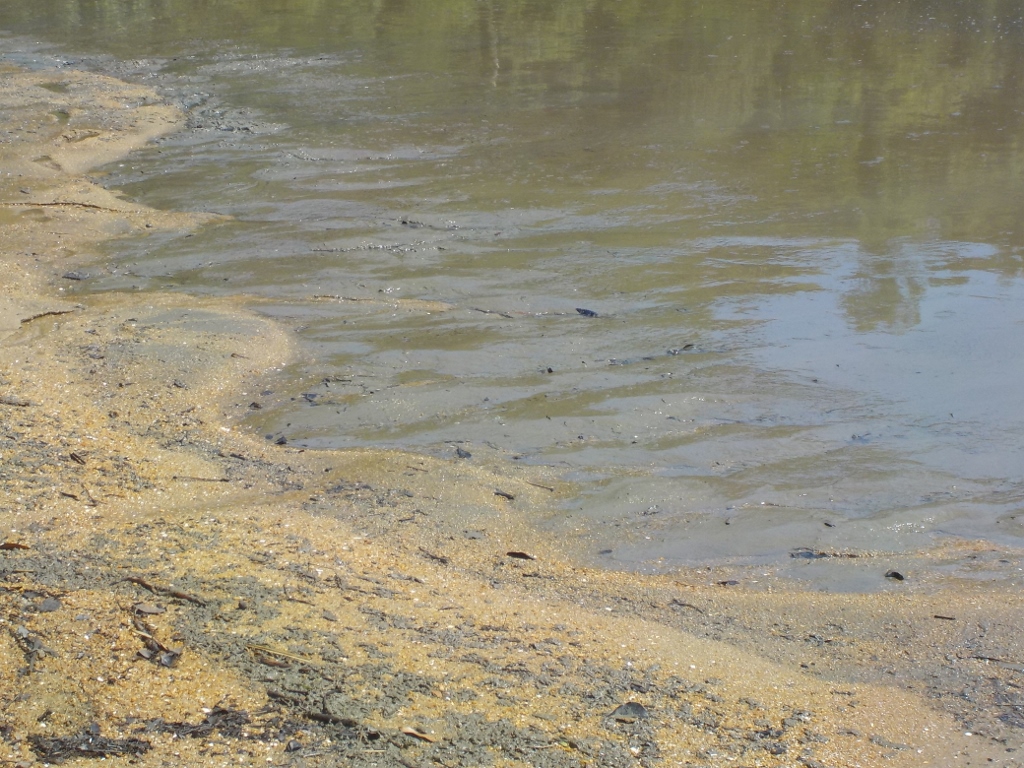 And then you get closer and notice the sludge...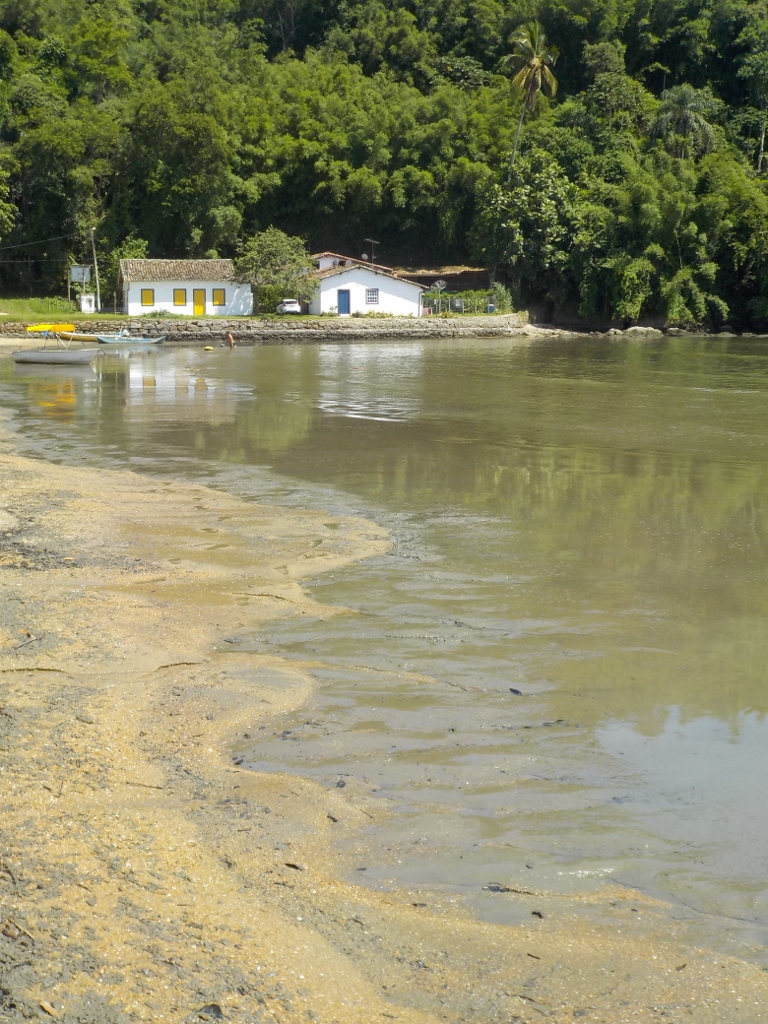 ... and those picturesque parts get quite a different appearance
As the noon was getting closer, I went back to the B&B and on my way I could feel the rise in the temperature quite clearly, while the humidity must have been extremely high all the time.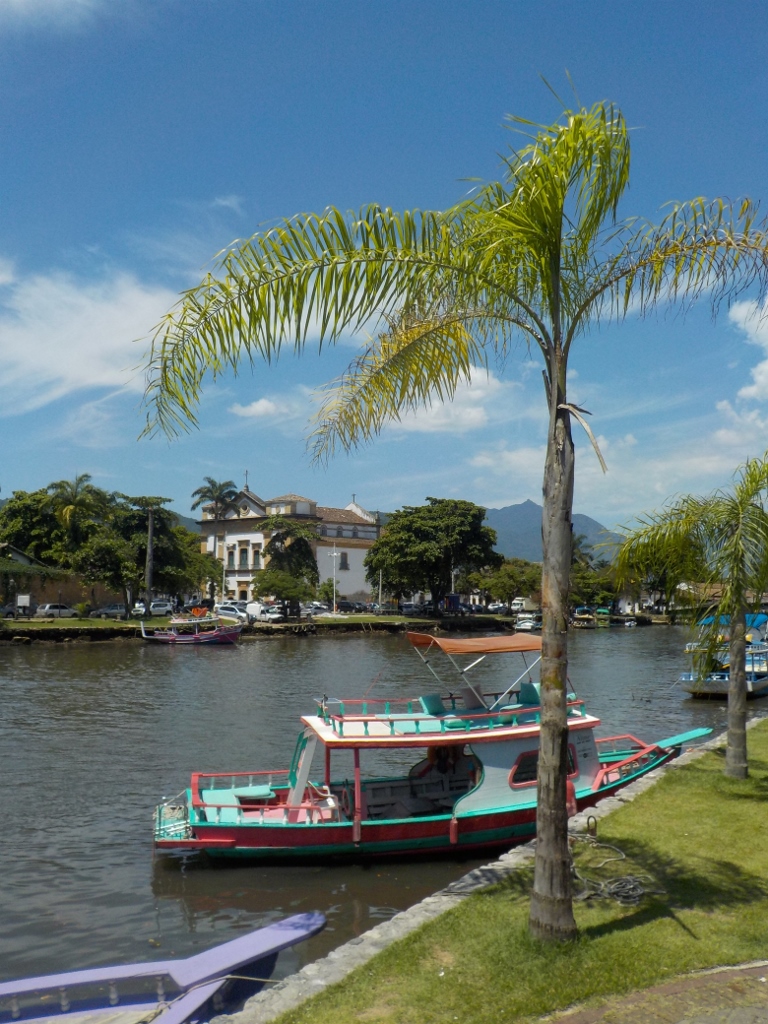 View at the biggest church in Paraty (First Church of Our Lady of the Remedies)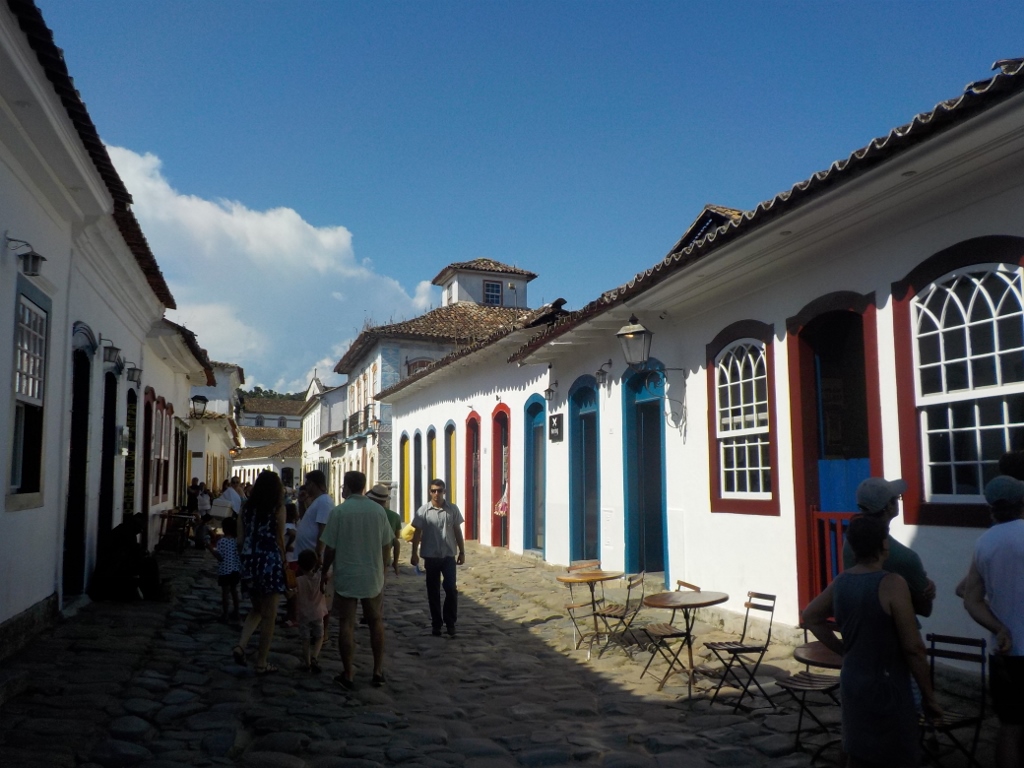 Cobbled streets of Paraty when there are people
First I took a shower and then I just lay down in bed in order to balance my body temperature. When I felt fine, I went down to the reception in order to pay the bill and then something very unpleasant happened.